Pop music is one of the most popular and diverse genres of music in the world. It encompasses a wide range of styles, sounds, and influences, from rock, dance, hip hop, R&B, country, and more.
Pop songs are catchy, and upbeat, and often reflect the trends and culture of the times. But what if you want to create your pop songs, or discover new ones that you might like?
In this blog post, we will introduce you to some of the best pop song generators that you can use online for free.
Let's get started!
What Is Pop Music?
Pop music is a term that refers to popular music that is widely listened to and enjoyed by a large audience.
Pop music is not a specific genre, but rather a category that includes many different genres and subgenres of music that share some common characteristics, such as:
Simple and catchy melodies and hooks
Repetitive and rhythmic patterns
Short and easy-to-remember lyrics
Use of electronic instruments and effects
Appeal to a broad range of listeners
Popular Pop Song Genres You Should Know
As we mentioned, pop music is a very diverse and dynamic category that encompasses many different genres and subgenres of music. Some of the most popular pop song genres that you should know are:
#1. Rock
Some examples of pop-rock artists are The Beatles, Queen, U2, Coldplay, and OneRepublic.
#2. Dance
Some examples of dance-pop artists are Madonna, Kylie Minogue, Rihanna, Katy Perry, and Dua Lipa.
#3. R&B
Some examples of R&B/pop artists are Whitney Houston, Mariah Carey, Usher, Beyoncé, and Bruno Mars.
#4. Country
Some examples of country pop artists are Shania Twain, Taylor Swift, Carrie Underwood, Keith Urban, and Maren Morris.
#5. Hip Hop
Some examples of hip-hop artists are Eminem, Jay-Z, Kanye West, Drake, and Ice Spice.
3 Best Pop Song Generators for You
Now that you have learned more about pop music and its genres, you might be wondering how you can generate your pop songs, or discover new ones that you might like.
Well, you are in luck, because we have found some of the best pop song generators that you can use online for free. Here are our top 3 picks: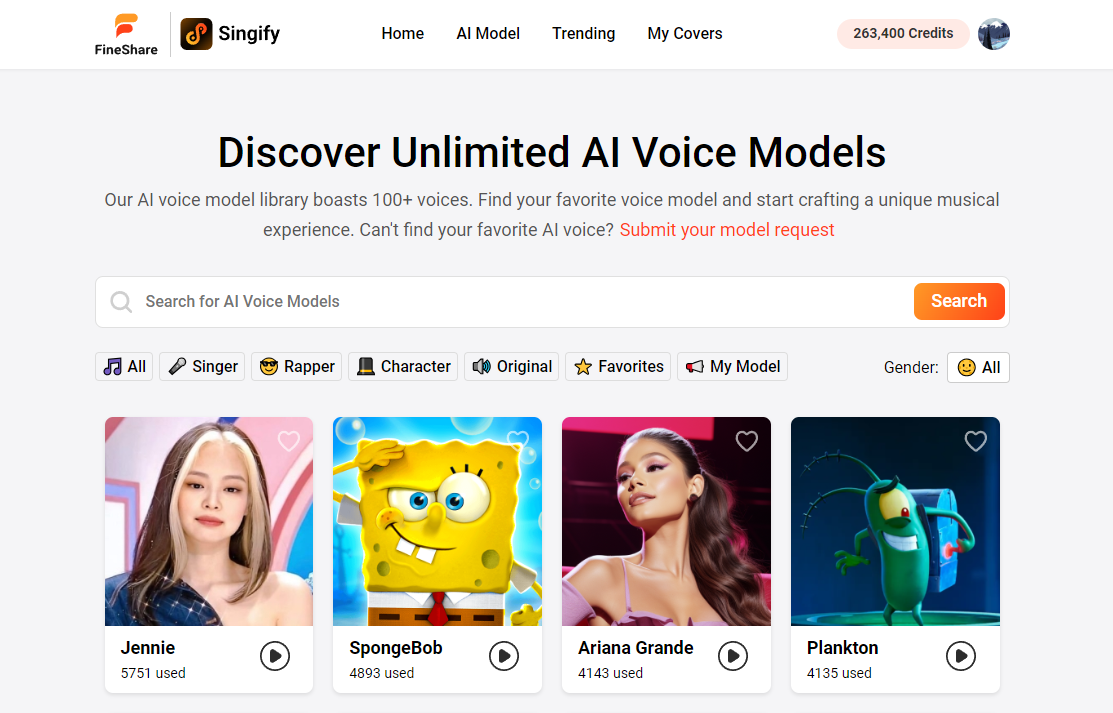 If you want to make your favorite artist sing your pop songs or want to make AI cover videos with any singing voice you like, then you should try FineShare Singify, the best pop song cover generator.
FineShare Singify is an online tool that lets you create your pop song covers in minutes. How to create a pop song cover:
Step 1. Visit the AI song cover generator on your web browser.
Step 2. Choose an AI voice model from the library, submit a model request, or create your own AI voice models.
Step 3. Record your voice using your microphone, upload a pre-recorded audio file, or add a YouTube song to make an AI cover.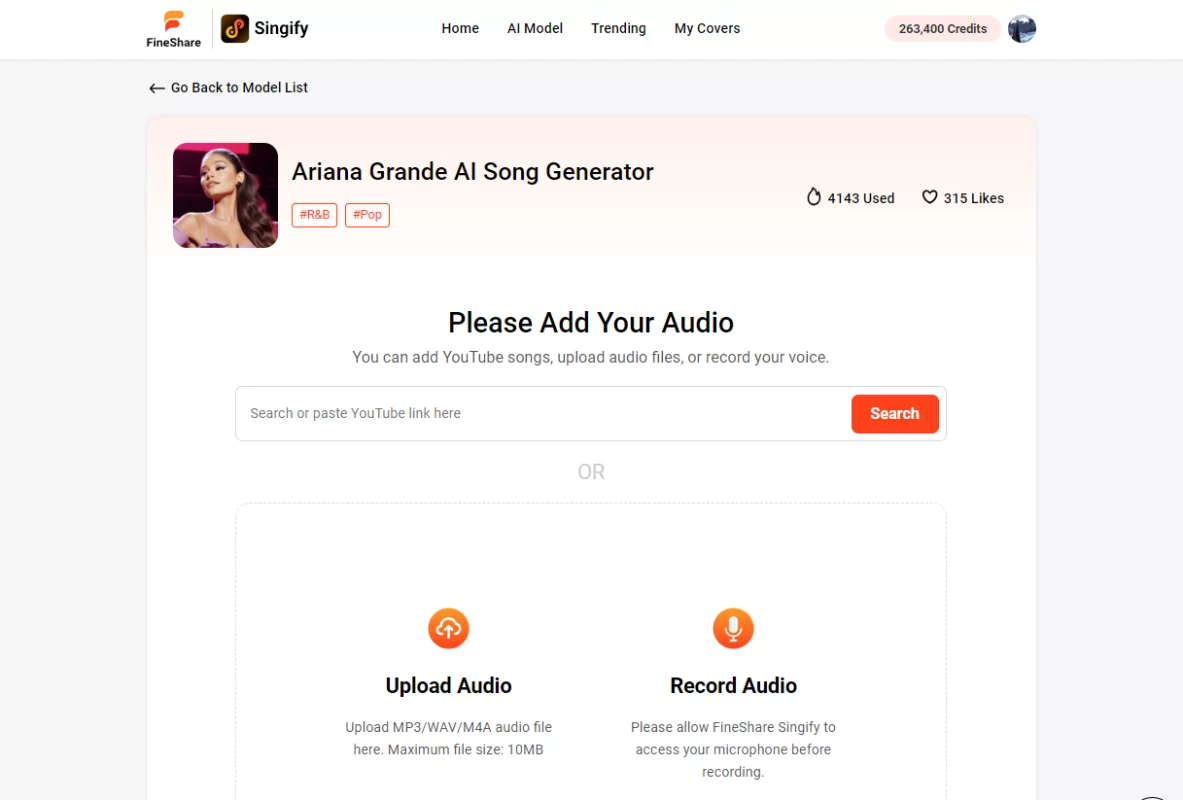 Step 4. Download your pop song cover as an MP3 file, or share it on social media.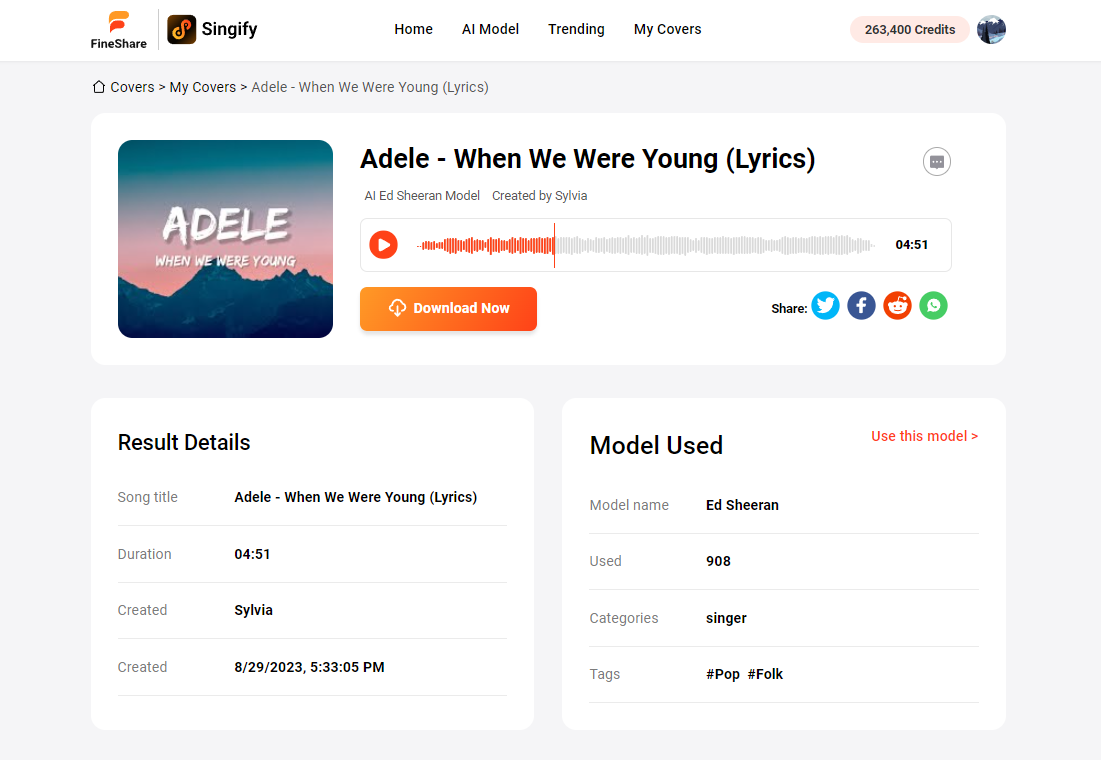 Highlights:
Fun and easy way to make high-quality pop song covers
Free and multiple task submission without mission interruption
Available on any device with a web browser
Play and watch YouTube song videos without visiting YouTube
Various ways to input your original songs
Have fun with other people's pop song covers in Trending
#2. Freshbots – Best AI Pop Song Lyrics Generator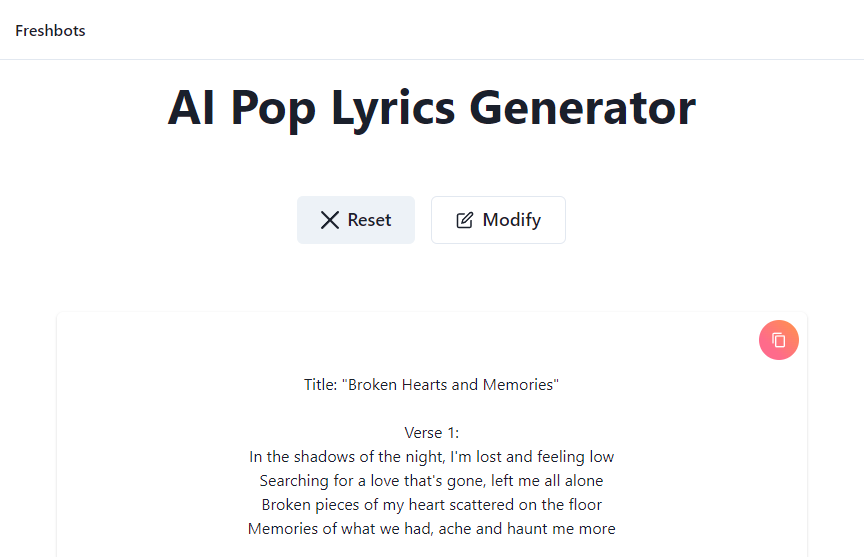 If you have a knack for writing or want to unleash your creativity, then you should try Freshbots, the best AI pop song lyrics generator. Freshbots is an online tool that uses artificial intelligence to generate pop song lyrics based on your input. All you need to do is:
Step 1. Visit Freshbots Pop Lyrics Generator.
Step 2. Choose a pop song genre, such as rock, rap, or country.
Step 3. Enter a topic or a keyword for your pop song, such as love, party, or dream
Step 4. Click the Generate button, and wait for the AI to write your pop song lyrics.
Highlights:
The generated lyrics are original and catchy
Supports custom topics, keywords, and moods
Free to use and accessible on any device with a web browser
You can use the lyrics for your music projects, or just for fun
You can also edit, copy, and share your pop song lyrics with others
#3. Chosic – Best Random Pop Song Generator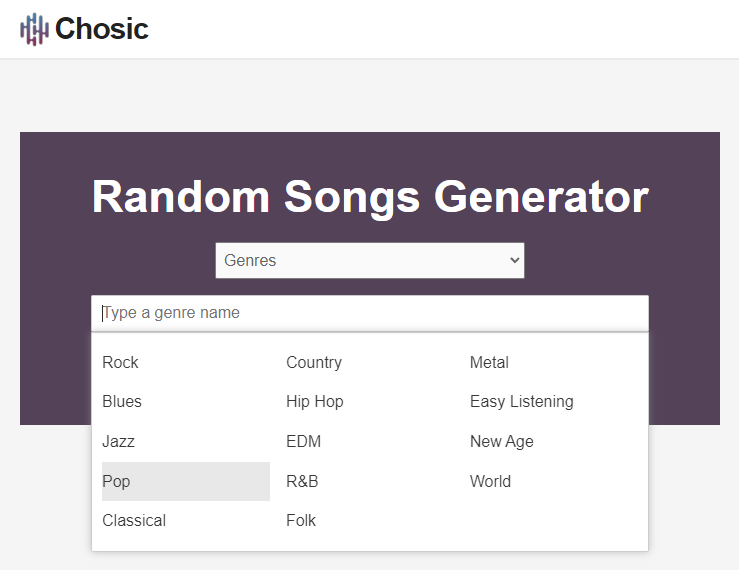 If you are a music lover or want to discover new pop songs that you might like, then you should try Chosic, the best random pop song generator.
Chosic can generate different genres of pop songs for you to listen to without software installation and account registration. Although offering ads, Chosic is a good choice for random pop song playlists. All you need to do is:
Step 1. Visit Chosic and select Genres and Pop as the genre option.
Step 2. Click the Generate button, and enjoy the 50 random pop songs that Choisc picks for you.
Step 3. You can watch the YouTube video or enjoy listening to pop songs with the playlist.
You can also find similar songs, or listen to them on Spotify, YouTube, Amazon, or the Chosic website.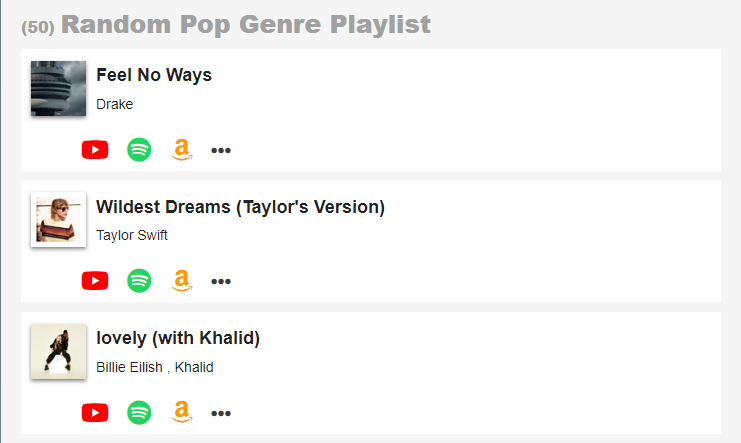 Highlights:
Online tool and easy to use
Free service without registration and installation
Various options to customize a random song playlist
10 Most Popular Pop Songs in the World
Pop music is loved by millions of people around the world, and some pop songs have become global hits that transcend borders, languages, and cultures.
Here are some of the most popular pop songs in the world, based on their streaming numbers, chart positions, awards, and impact:
Despacito by Luis Fonsi ft. Daddy Yankee
Shape of You by Ed Sheeran
Bad Guy by Billie Eilish
Old Town Road by Lil Nas X feat. Billy Ray Cyrus
Blinding Lights by The Weeknd
Dynamic by BTS
I Gotta Feeling by The Black Eyed Peas
Happy by Pharrell Williams
Waka Waka (This Time for Africa) by Shakira feat. Freshlyground
We Are the World 25 for Haiti by Artists for Haiti
These are just some of the many pop songs that have made a huge impact on the world, and new ones are always created and released.
Conclusion
Whether you want to create your pop songs or discover new ones you might like, you can use some of the best pop song generators we have introduced to you in this blog post.
Thank you for reading, and happy pop song generation!
FAQs
#1. How to generate pop songs?
You might think that you to do that. But Thanks to the power of artificial intelligence, you don't need to have musical talent, skills, or equipment to generate pop songs. Utilize the pop songs generator we mentioned above with just a few clicks to create what you want!
#2. What is the best random song generator for pop songs?
There are many tools you can use online, but one of the best ones for pop songs is Chosic. You can also access others like Randommer, Random Lists, and GeneratorMix online for free.
#3. Is there an AI pop song generator to make AI rap songs?
Yes, you can also use FineShare Singify as a rap song generator. Make the AI voices from characters and celebrities to generate AI rap covers.