Webex is an evolving web meeting software that was very popular with international businesses back then. They were used for online meetings of workers and had much success in this area. It was one of the internet's first SaaS (Software as a Service) platforms, a unique achievement for such software.
Eventually, Cisco acquired Webex, and the software had several versions and upgrades. There is the Webex app, Webex Meetings, and Webex Suite, among others. The Webex app is still popular among everyday users despite the arrival of its new competitors, such as Zoom, Google Meet, Discord, Skype, and others. However, Webex had to change with the times to stay in the competition. With this, they employed software updates incorporating the latest AI and online messaging technology intended for virtual meetings and group-based chats.
Virtual backgrounds are the fruits of artificial Intelligence and modern processor technology. If you're a Webex user, you'll want to add them to your meetings. Here are the steps to enable virtual background in Webex without further ado.
How to Use Webex Virtual Background
Virtual backgrounds keep your meeting rooms tidy. Imagine a room filled with messy stuff and trash. This scenario is not conducive to conducting your meetings and can distract you and your colleagues. Fortunately, Webex has incorporated virtual backgrounds into its app, like Zoom, Google Meet, or Discord. However, check this feature's availability on your device as it can sometimes be hardware dependent.
Add Virtual Background for Webex on Desktop
Step 1. Before joining a meeting in Webex, it's good to prepare your communication setup accordingly. This procedure can include choosing a virtual background. So, upon opening the Webex app, click Settings.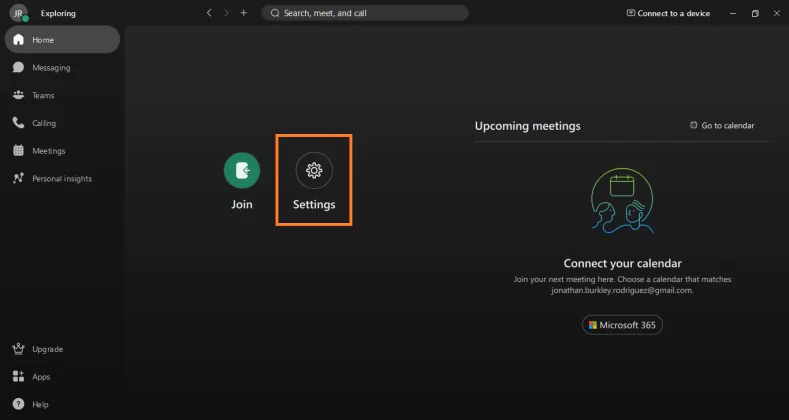 Step 2. Next, under General, choose Video. You should see a preview of your camera by now. Under your preview, click the Change Virtual Background drop-down menu.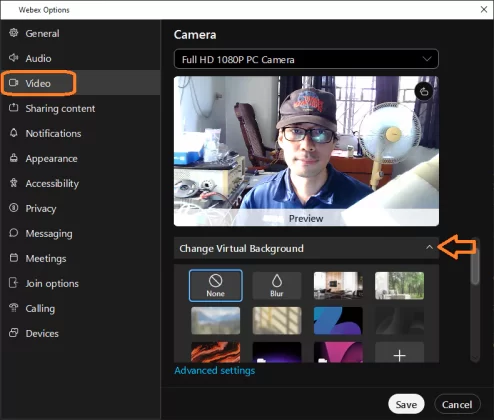 Step 3. Now choose a virtual background that will hide all your messy stuff around you. You can blur your surroundings or replace them with a pleasing environment.
After finishing, click Save. You can now join a meeting with a virtual background.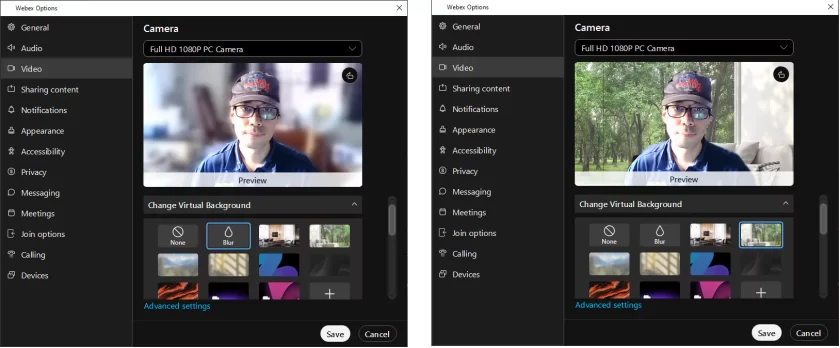 Add Virtual Background for Webex on Phone
Your surroundings can get cluttered even if you're on a mobile device. Sure, you can move to another place if you like, however, you can't do this all the time. Fortunately, adding Webex virtual backgrounds is also available for your mobile devices. Ensure your mobile device can handle it because not all mobile devices can support this feature.
Step 1. Open your Webex mobile app. Join a meeting by creating your own Space or Team or clicking on them. Then click Meet.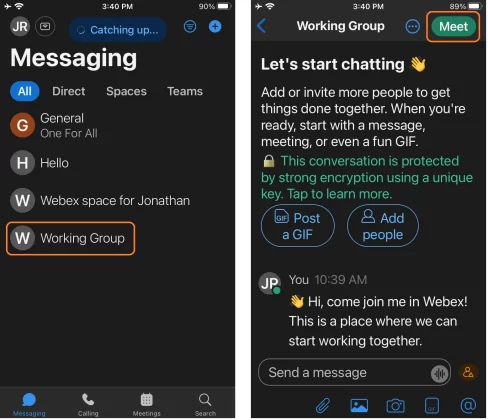 Step 2. You'll have a preview of your camera. Before hitting Join, press the wand stick or effects icon.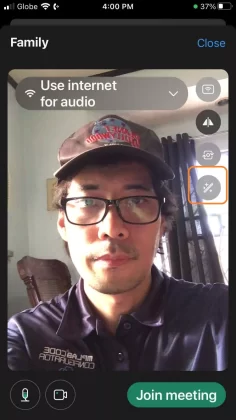 Step 3. You'll have different choices for your virtual background. You can choose to blur your surroundings or choose a pleasant environment. Hit Apply after selecting. After that, join the meeting.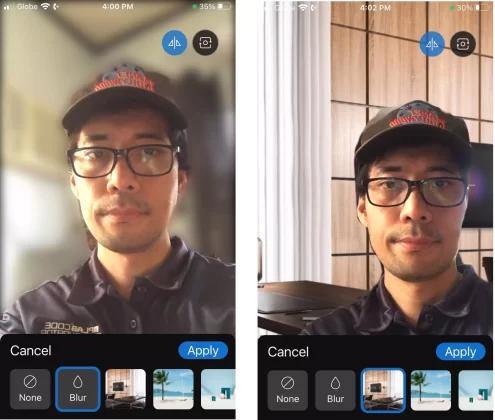 Step 4. Congratulations! You've just added a Webex virtual background on your mobile device.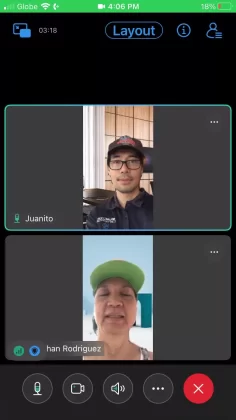 How to Change Webex Virtual Background During a Meeting
In unexpected situations, you may need to change virtual backgrounds while in a meeting. This situation is so natural as you don't have control over your surroundings. With this, you'll need to know what to press to add a virtual background to your Webex app.
Step 1. While you're in a meeting, see the Stop Video button below. There is a drop-up menu beside it. Click it. Then choose Change virtual background from the list.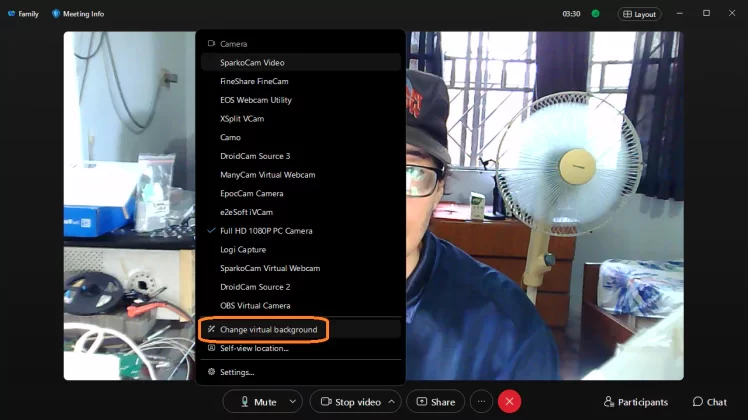 Step 2. Then choose the virtual background you'd like to add. You can also choose to blur your background if you want.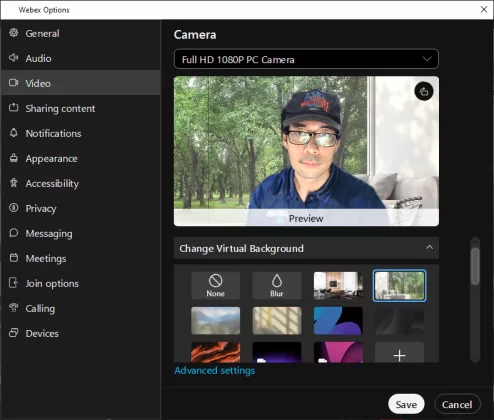 Step 3. Hit Save. You can now enjoy your Webex meeting with your chosen virtual background.
How to Add Custom Virtual Background on Webex
Now that you know how to add a virtual background in the Webex app, would you like to extend this feature by adding a custom background? This process is a great way to show your colleagues your favorite pictures during your meetings. You may even use your PowerPoint presentation as background for this! How do you do it? It's through this useful app called FineShare FineCam.
It's a virtual camera app that lets you use your iPhone as a webcam when you don't have a webcam.
Step 1. Download the FineCam app on the FineShare website.
Step 2. If needed, create or add a scene by clicking the plus sign below.
Step 3. Click on the three dots menu if you want to select your camera.
Step 4. On the right-hand side, you can choose different kinds of virtual backgrounds. You can also blur your background if you like. FineCam can instantly remove your webcam background without green screen.
Step 5. Press + Add Background to add more custom backgrounds.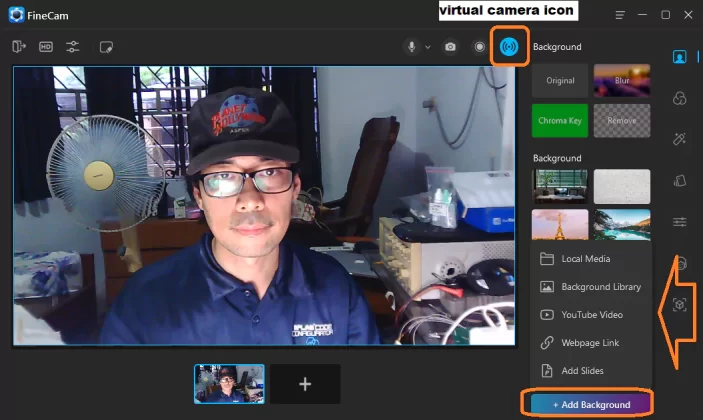 Step 5. As you can see, you can add Local Media such as pictures or movies, a Background library from a vast collection on the internet, YouTube Videos, Webpage Links, and even PowerPoint presentation slides as your virtual background.
Step 6. Once you've added them, click the Virtual Camera icon at the top. This procedure will enable FineCam to be a virtual camera source for your Webex app.
Step 7. On your Webex app, change your Video settings to use FineShare FineCam as a camera source or change it while doing your meetings.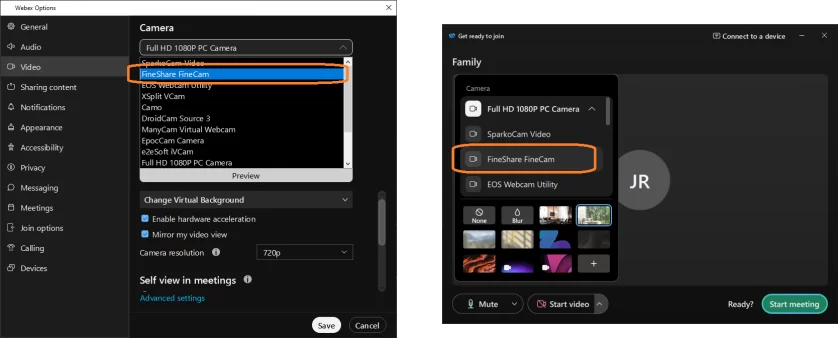 Conclusion
Adding a virtual background in the Webex app is easy. Simply follow the steps detailed in this article. Remember that you can add virtual backgrounds before or during a meeting. This process makes things more flexible. You can add virtual backgrounds both in the desktop and mobile Webex app.
Using the flexible FineCam app tool, you'll be able to add custom backgrounds, videos, or virtual backgrounds during your Webex sessions. This tool can bring more life to your presentations. Additionally, you can use your PowerPoint slides as a virtual background through this feature.