In the era of remote work and online learning, video conferencing has become a vital part of our daily lives. With the increasing demand for video conferencing, many platforms have emerged, but Google Meet and Zoom have become two of the most popular platforms.
In the following section, we will compare Google Meet vs Zoom and help you make an informed choice for your video conferencing needs.
1. Pros and Cons
First, we will compare Zoom vs Google Meet's pros and cons.
Google meet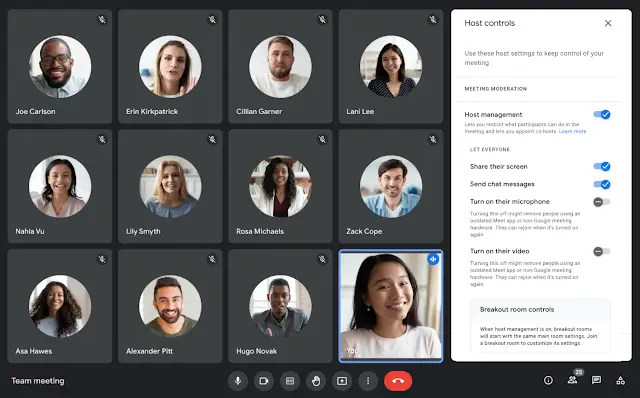 Pros:
Free for people with Google accounts
No need to download or install any apps to use
Integrate with over 200 apps
Good security
Allow adding and banning unwanted guests
Cons:
Only can use one screen share in a meeting
No breakout rooms, polling, whiteboards, etc.
Zoom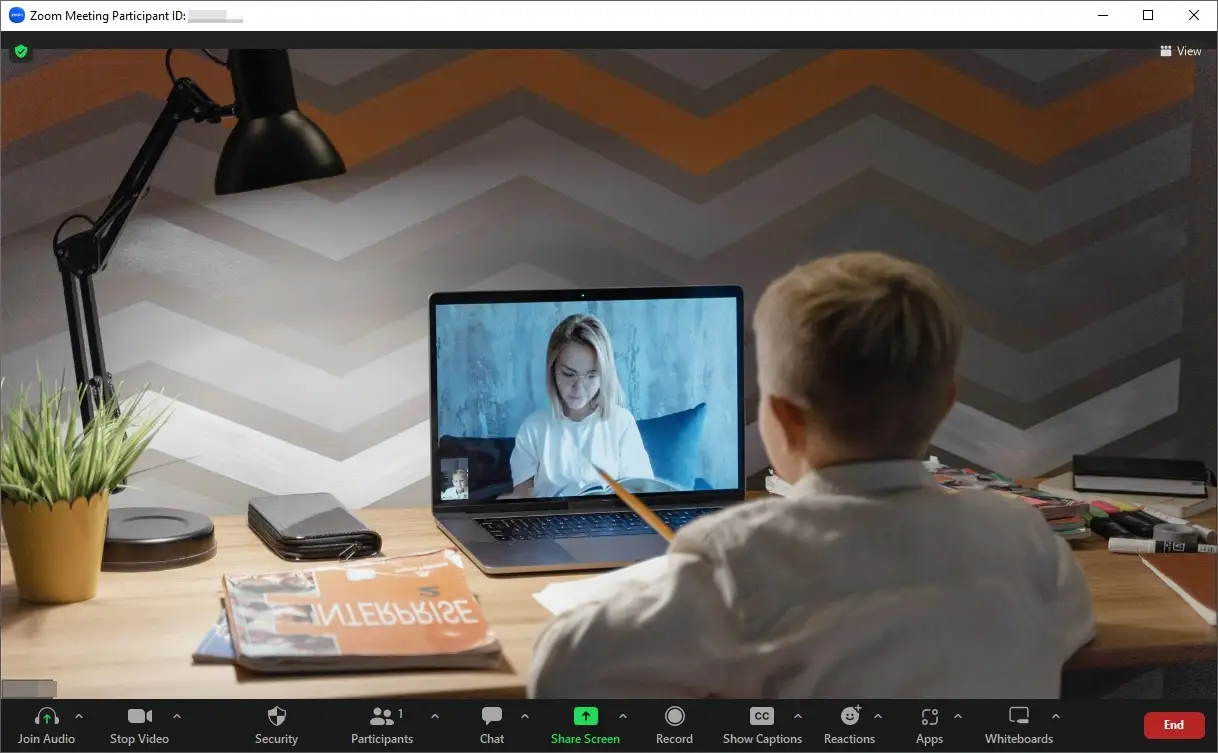 Pros:
Support up to 1,000 participants and 10,000 viewers
Offer breakout rooms, polling, and whiteboard functionality
Support desktop and mobile apps
Integrate with over 1,000 apps and services
Support change virtual backgrounds
Cons:
Very expensive
Face some security issues
High consumption of CPU resources
2. Pricing
Both Google Meet and Zoom have free and paid plans, but they differ in terms of what they offer and how much they cost.
Google Meet is free for anyone with a Google account, making it a popular option for personal use. For businesses and educational institutions, Google Meet is part of the Google Workspace package.
The following table shows the specific charging methods and main functions of Google Meet.
| | | | | | |
| --- | --- | --- | --- | --- | --- |
| | Google Meet | Google Workspace Business Starter | Google Workspace Business Standard | Google Workspace Business Plus | Google Workspace Enterprise |
| Price | $0 | $6 per user per month | $12 per user per month | $18 per user per month | Custom Pricing |
| Group Meeting Max Duration | 1 hour | 24 hours | 24 hours | 24 hours | 24 hours |
| One-on-One Meeting Max Duration | 24 hours | 24 hours | 24 hours | 24 hours | 24 hours |
| Max Participant Capacity | 100 | 100 | 150 | 250 | 250 |
| Google Drive Storage | 15 GB per user | 30 GB per user | 2 TB per user | 5 TB per user | Unlimited |
Zoom's free plan is also popular, but it allows for up to 100 attendees and 40-minute sessions. However, it offers more features than Google Meet's free plan, such as breakout rooms, polls, whiteboards, and meeting notes. Zoom also has three paid plans, starting at $15 per month.
The following table highlights the differences between Zoom's free and paid plans.
| | | | | | |
| --- | --- | --- | --- | --- | --- |
| | Zoom Basic | Zoom Pro | Zoom Business | Zoom Business Plus | Zoom Enterprise |
| Price | $0 | $15.99 per month per user | $19.99 per month per user | $25 per month per user | Custom priced |
| Group Meeting Max Duration | 40 minutes | 30 hours | 30 hours | 30 hours | 30 hours |
| One-on-One Meeting Max Duration | 30 hours | 30 hours | 30 hours | 30 hours | 30 hours |
| Max Participant Capacity | 100 | 100 | 300 | 300 | 1,000 |
| Min Number of Licenses Required | 1 | 1 | 10 | 10 | Unlimited |
| Cloud Storage for Recordings | 0 | 1 GB | 5 GB | 10 GB | Unlimited |
You can increase your meeting capacity to 1,000 attendees by purchasing the Zoom Large Meeting add-on.
3. User Friendliness
Google Meet is one of the most user-friendly platforms on the market. It can be integrated with other Google products such as Gmail, Google Calendar, and Google Drive. It's completely web-based and all you need is a browser and a Google account. You can start or join a meeting with one click from the Google Meet website, or schedule a meeting with Google Calendar.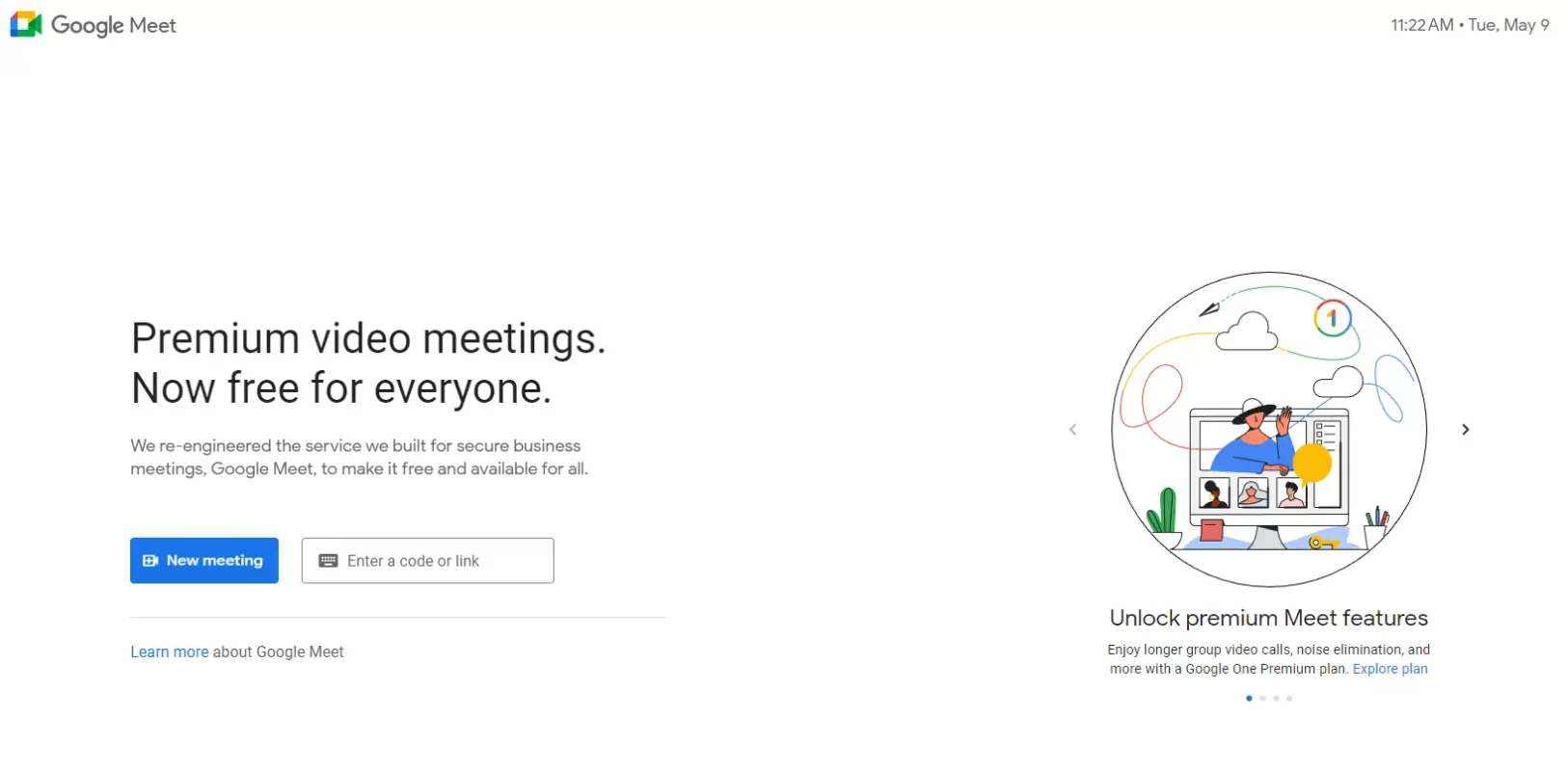 Compare to Google Meet, Zoom can work with many systems, such as Windows, macOS, and Linux. You can also join a meeting from your browser without downloading anything, but you'll have fewer features and options than with the desktop app. You can also use Zoom Mobile to join or host meetings while on the go.
4. Security
When you compare Google Meet vs Zoom in terms of security, Google Meet is the clear winner. It encrypts all calls to ensure maximum security for participants. Some enterprise customers can get additional security features, including a security alert center, security dashboard, Drive Data Loss Prevention (DLP), access transparency, and endpoint management.
Zoom has been plagued by security breaches in recent years, such as Zoombombing, data breaches, and privacy issues. To its credit, Zoom takes these issues seriously and has taken several steps to prevent such incidents from happening again.
If you are suffering from Zoom security, you can read: 5 Best Zoom Alternatives for Video Conferencing 2023.
5. Video Quality
The clarity and speed of your video quality depend on many factors, including your webcam, Internet connection, and other hardware and software. But your video conferencing software also plays a role. Zoom offers more options and flexibility than Google Meet in terms of video quality.
Google Meet video resolution is limited to a maximum of 720k. While Zoom also offers 720p video quality, but only for Pro accounts or higher. And it's only for meetings with up to two participants. Zoom also offers 1080p quality, but currently only for special-purpose situations.
Related article: How to Record a Google Meet on Different Devices?
Tips: How to Make You Look Better in Video Conferences?
Like most people, you may have experienced webcam video quality issues when using Google Meet and Zoom. Maybe the quality of your video is blurry, the background is too cluttered, the angle is weird, etc. These small issues can greatly affect your performance in a video conference.
Fortunately, you can use FineShare FineCam to help you look better in Google Meet and Zoom meetings. It can also use your iPhone as an HD webcam. You can adjust camera settings for the best look, add camera shapes, adjust brightness and contrast, and more.
With FineCam, you can also blur and remove the webcam background so you won't be disturbed on your way to a video conference. It also provides a large number of virtual backgrounds, and you can upload your favorite images.
What's more, you can upload your presentations, meeting materials and YouTube videos to change the webcam background to increase the motivation of your attendees.
With FineCam, you don't need to buy an expensive device or complicated software. Let's download and try more functions of it.
Pros:
Easy to use
Use your iPhone as a webcam
Multiple angle shooting
High-quality video recording software
Support adding various content to your video meeting
Record the webcam and screen at the same time
Provide various filters and adjustments
Cons:
The free vision has a watermark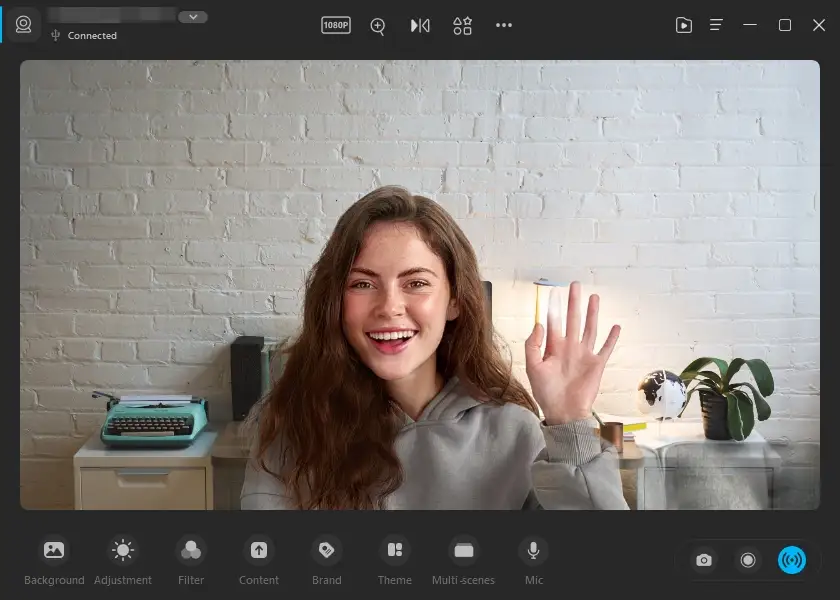 Conclusion
Overall, Google Meet and Zoom are both powerful and reliable video conferencing platforms for your personal and professional needs.
Google Meet is better suited for small, quick, and simple meetings. It's also more convenient and secure for Google users who don't want to download or install anything. Zoom, on the other hand, is better suited for large, complex, and interactive meetings that require more features and flexibility.
FAQS
Is Zoom or Google Meet Better for Students?
When we compare Google Meet vs Zoom for students and teachers, Zoom is usually preferred over Google Meet. This is because it can accommodate more people. In addition, Zoom offers the Zoom for Education program, which makes distance learning easier for educational institutions.
Is Google Meet or Zoom Better for Interviews?
When we compare Google Meet vs Zoom for interviews, Zoom may be a better choice. It can offer more advanced features such as breakout rooms, which are useful for conducting multiple interviews at the same time. Zoom's virtual background feature can help you create a professional and distraction-free interview environment.
However, as far as security is concerned, Google Meet may be a more secure option as it has strong security measures such as end-to-end encryption and two-factor authentication.