No doubt that FPS is one of the most popular video game genres nowadays, from Call of Duty to Battlefield, millions of gamers are enjoying these shooter games around the world. And now you can play different shooting games on Roblox thanks to those FPS lovers on this gaming platform.
But since there are so many shooting games on Roblox, how can you find out the best ones worth spending time with? No worries, here we will show you the 10 best Roblox shooting games you should play in 2023, and we also got a special recommendation about the best voice changer for Roblox.
Counter Blox
Counter-Strike must be the first FPS game that many gamers know. It's a classic FPS game series with a long history, and there are still a lot of gamers playing its latest sequel CS: GO. And now, you can play this game on Roblox.
Counter Blox brings the CS: GO into the world of Roblox. You can find familiar weapons and popular maps in Counter Blox that come from the original CS: GO. And also, don't forget that team communication takes an important role in your team's victory. Remember to get voice chat on Roblox before playing 5v5 team-based firefights in bomb-defusing mode and hostage rescue mode.

Zombie Uprising
Post-Apocalypse, or easier way to say, the zombie is a pretty popular theme in video games. And no exception for FPS games, zombie survival mode has become an important part of games like Call of Duty: Black Ops.
Now, Zombie Uprising enables you to fight against hoards of zombies on Roblox, you can team up with the other 4 players and try your best to survive longer in those never-ending waves of zombies. If you are looking for the best FPS game on Roblox that contains zombie elements, this is the one for you.

Phantom Forces
Phantom Forces combined skills and character classes with the first-person shooter game, making it stands out from other Roblox FPS games.
It's also a good choice for players who like realistic weapons, Phantom Forces provides over 100 weapons based on realistic mechanics like bullet drop and varied recoil. Massive arsenal plus the 4 different classes with unique playstyles, and over 20 maps, FPS lovers will surely have a lot of fun in this Roblox shooting game.

Bad Business
As one of the most popular FPS games on Roblox, Bad Business has more than 380 million visits and nearly 2 million favorites. It's a round-based FPS game that is fast-paced at the same time, you will fight against another team with your teammates on 9 different maps. This game's well-designed progression system will make your gameplay more immersive, and play to unlock new stuff for character customization.

Call of Roblox: Modern D-Day
As you can see from its name, Call of Roblox (CoB) fully replicates the Call of Duty (CoD), so you can play this famous FPS franchise on Roblox.
CoB is a campaign-based game, which means it was designed for a single player. Instead of exciting PvP, CoB provides you with campaigns as well as impressive animations and textures that will remind you of those classic moments in the CoD games you played.

Aimblox
Most FPS players would agree that aim is a determining factor in how well you perform in any shooting game. And if you want to practice your aim ability for Roblox shooting games, try Aimblox.
Aimblox highly focuses on testing and improving your skills in shooting games. There are over 80 weapons for you to choose from, and use them to fight other players or practice on your own in the dedicated aim lobby. Moreover, there will be an update every week to keep the game fresh and charming.

Polybattle
War is a common theme for FPS games, and if you want to find a war-themed game among the best Roblox FPS games, Polybattle is a great candidate.
This game redefines team PvP shooting games on Roblox, it perfectly combines war tactics with team strategy to bring you brand-new experiences. It doesn't have many weapons available, but there will be various battlefield vehicles including tanks and helicopters you can use.

Tower Defense Simulator
FPS and tower defense, both are popular game genres, and what would happen if merge them into one game? Tower Defense Simulator is the answer.
In this game, you will have to stand your ground and defeat waves of enemies coming for you by building up your front line. There are zombies and boss fights, and they will become tougher as time passes by. So remember that no one can survive alone, the best option is to team up with friends and defend yourselves under the attack of enemies.

Energy Assault
Some players love realistic-style games, and the other group might enjoy futuristic sci-fi games more. If you are a fan of the Halo franchise or the Call of Duty: Advanced Warfare games, Energy Assault can bring you a similar experience on Roblox.
Energy Assault offers you an awesome arsenal full of futuristic weapons that shoot energy bullets. In the meantime, the developers also provide you with lots of outfits and weapon skins that make the game always engaging. You might spend dozens of hours in this game to unlock those cosmetic items and reach a higher rank.

The Wild West
The West is no doubt another evergreen theme for FPS games, the combination of revolvers and cowboys is always so attractive. And now, you have the chance to become a cowboy in The Wild West on Roblox.
Whether you want to be a bandit who defies the civil order or become a modern knight who stays on the side of good and fulfills justice, The Wild West has you covered. Any path you want to walk can be found in this open-world game.

Special Recommendation: Best Voice Changer for Roblox
Using voice chat while playing Roblox shooting games with friends is common for the Roblox community, have you ever wondered to add some extra fun by using a voice changer? If so, here we recommend you the best voice changer for Roblox, FineShare FineVoice.
FineVoice is an all-in-one AI voice changer that allows you to change your voice at any time. There are plenty of voice effects you can choose from, such as Zombie, SpongeBob, and Darth Vader. And there are about 200 soundboards that can add some quick sound effects during gameplay. You can take good use of these two functions to give your friends a big surprise on Roblox.
Don't worry if you haven't used a voice changer before, FineVoice has an intuitive interface and you will get to understand how to use voice changer for Roblox very soon. FineVoice is currently free to use on Windows, download now and have a try.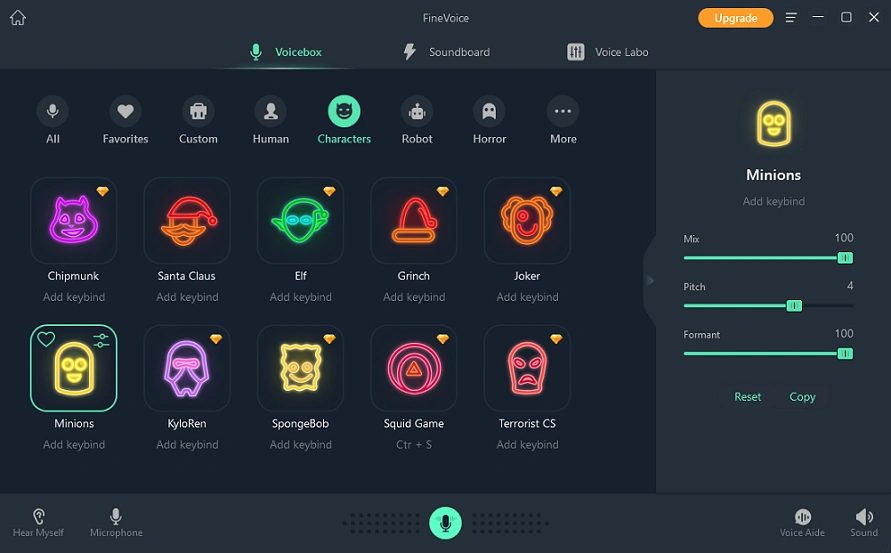 If you want to know more about the best voice changers, check out the following article for information: 15 Best Free Voice Changers and Plugins for PC, Mac, Android, and iOS
Conclusion
Searching for interesting Roblox shooting games can cost quite some time, we hope the listed 10 games can satisfy your needs. Have fun playing Roblox!