Screen recording has been essential for streaming, video calls, meetings, presentations, and other stuff. However, it becomes a problem when you need it instantly. Online ones are helpful, but which one is better?
Here, you will know the 5 best free online screen recorders with audio that will capture your screen and sound. Apart from these 5, you will also learn to do it without downloading anything. So without waiting anymore, Let's Begin!
Part 1. Top Free Online Screen Recorder with Audio
There are many great online screen recorders out there, but finding one that also records audio can be a difficult task. We've handpicked the following five based on the simplicity of their use. Let's explore each one by one:
1. Veed.io Screen Recorder
Veed.io is one of the most popular and user-friendly online tools for screen recording. It offers many features and options, including audio recording, which is unavailable in many other online tools. The best part is that you can use it completely free of cost!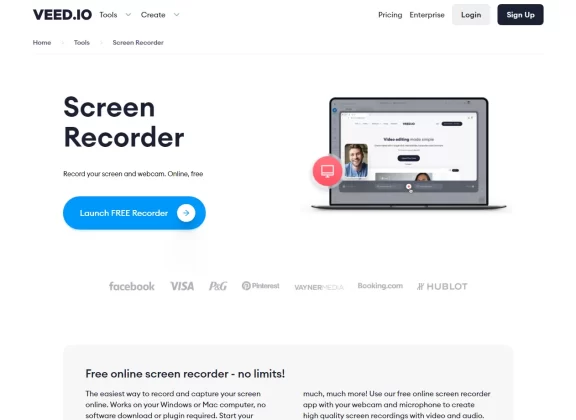 Veed.io allows users to share their recordings with others by providing a unique link or embedding it into a website or blog post. Also, the software allows you to record up to 10 minutes in the free version, which is comparatively more than many other sites. Pretty Interesting!
2. Flexclip – Record Screen, Webcam & Voice
If you're looking for an online screen recorder with audio, FlexClip is a great option. It's an open source-screen recorder that also captures audio and has a simple, user-friendly interface.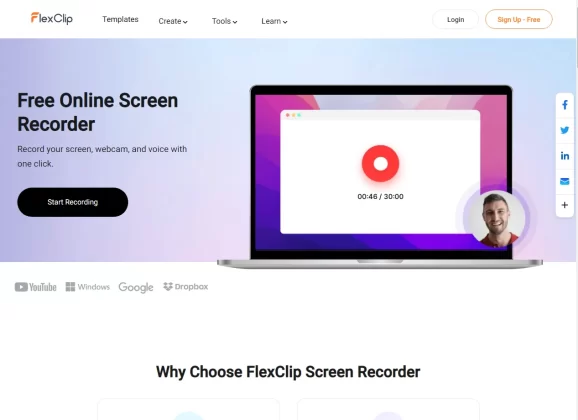 FlexClip supports up to four simultaneous video streams, which is great for capturing multiple sources at once. It is also lightweight so that you can use it on your phone or tablet without any problems. It's available for Windows, Mac, and Linux operating systems.
It's easy to use and records in high quality. You can also use it to record Skype calls or video chats. You can also share your recordings with others easily.
3. Record Cast – Online Screen Recorder
Record cast is another tool that allows you to record and share your screen with others. It also records both audio, i.e. from your computer and microphone.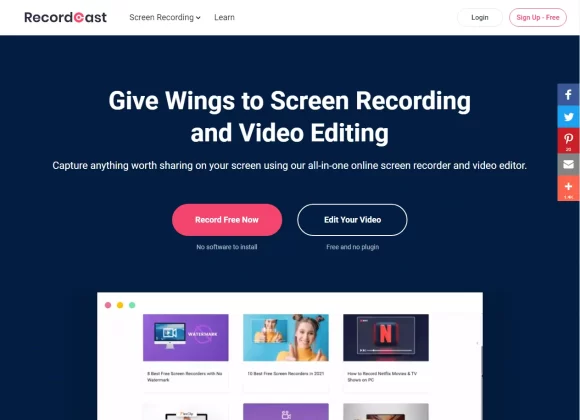 It is free and lightweight browser-based software that you can use anywhere on any device. You can even select whether you want to capture from your webcam along with the screen or not. So, it can also work as an online webcam recorder if you want.
The free version allows you to record up to 5 minutes, which is sufficient for many users. However, the resolution will be only 480p. If you want longer recordings or higher resolution, you will need to buy the premium pack.
4. Screen Capture – Free Online Screen Recorder
Screen capture is another free online screen recorder with audio that is super simple to use. Many famous and most-used browsers, including Chrome, Edge, Opera, and Firefox support it. So, you rarely face compatibility issues.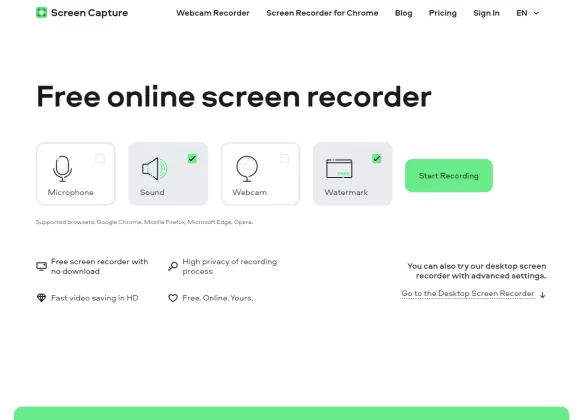 The process is as easy as a baby can operate. You can start capturing your screen right from the interface. Select other options from the screen and click on the "Start Recording" button.
The only drawback is that your video will have a watermark (removed if you buy a plan). Otherwise, Screen Capture is a fantastic and amazingly easy online free tool you can have.
5. Record Joy – Record Screen with Audio
Lastly, another interesting pick is Record Joy. This can be helpful if you want to narrate your recordings or add commentary. It also has a built-in editor, which makes it easy to make quick changes to your recordings.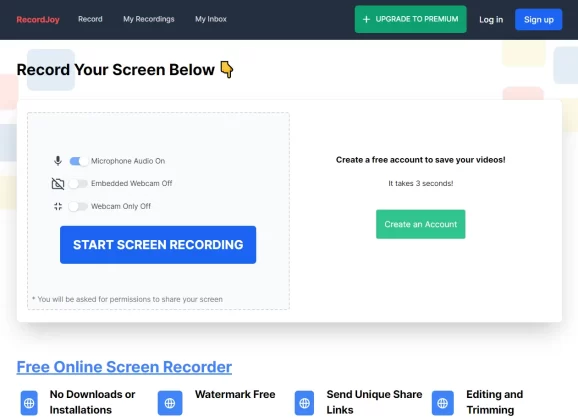 Record Joy is free to use, and there's no registration required. You can start recording right away by visiting the website and clicking the "Start Recording" button. However, the record limit is only 3 minutes. So make sure you capture all the important stuff within this time frame.
Part 2. How to Record Screen with Audio without Downloading
Although each software and tool is a bit different from another, and their recording procedure may vary slightly, the overall method is quite the same for everyone. Here, we will pick Record Cast as an example.
You can also follow the same steps for others, which will be merely different. However, you will get the idea once you start. Let's get into our method:
Step 1: Open the Tool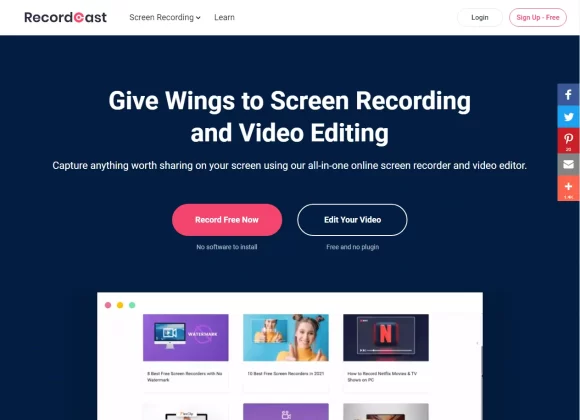 Go to your browser and enter the URL of the online video recorder with audio—for example, Recordcast.com. Click on the Start Recording button.
Step 2: Select Record Mode and Choose Audio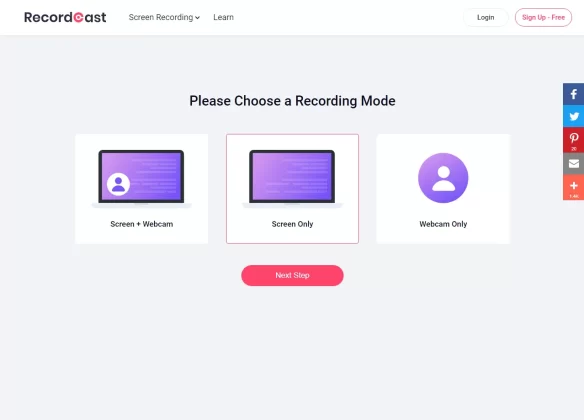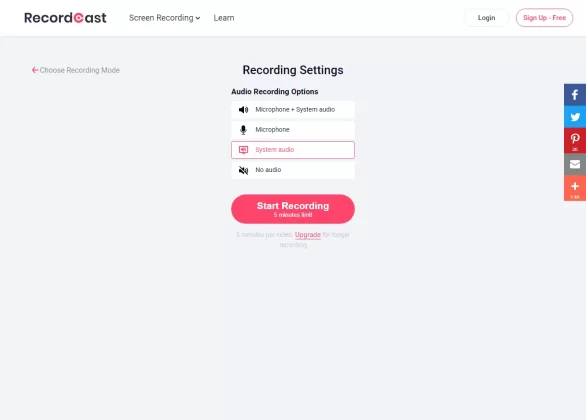 Here, some sites, that allow you to record from a webcam as well, will give you different options like the above. Select the Screen Only option (or any other according to your preference).
In the next option, you can enable system audio. Some sites will also allow you to use your microphone, like the above screenshot. Select what you desire. Otherwise, click on System Audio.
Step 3: Choose What Screen to Record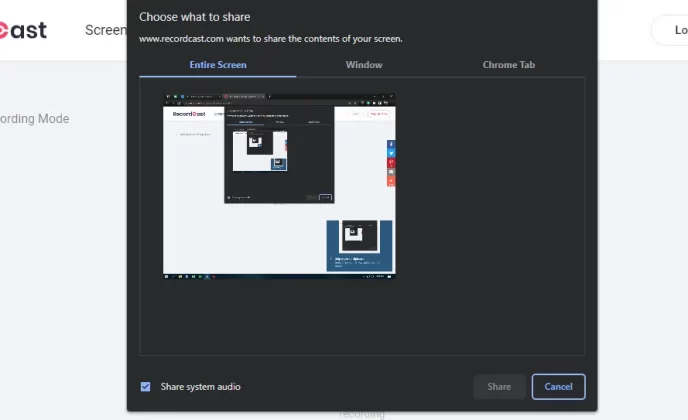 Once you select your desired options, click on Start Recording. You will have three options available. You can choose the Entire Screen option to capture everything you do.
The Window option will capture only the window that you want to record. So, if you switch to another window that doesn't have the authorization, the tool won't record it. And lastly, you can also filter which tab of the browser you want to record and which you don't in the tab option.
Step 4: Start Recording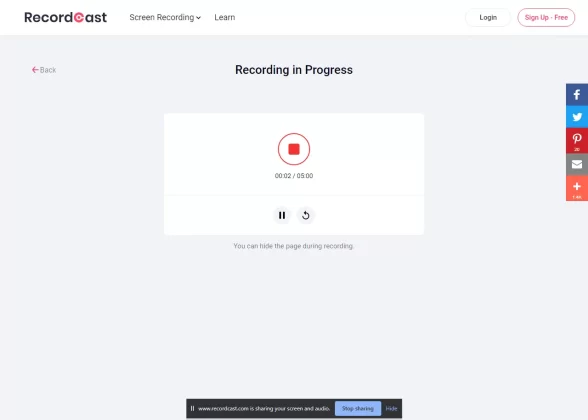 Once you select what you want to record, click Share. It will instantly start capturing the screen. When you are finished, return to the site and click Stop Recording. Now, you can download it to your device (or edit it a little, a feature that a few sites provide you before downloading).
Conclusion
Capturing the screen with the system sound is hard and becomes harder if you don't have the required software on time. But not you know five instant and free online screen recorders with audio that can deliver desired results within minutes. Select the one that suits you the best and capture what you want. Happy Recording!