What Is Girlfriend Soundboard?
A girlfriend soundboard is a virtual soundboard consisting of girl sound clips. Most of the girlfriend soundboards you can find are provided by sound creators. They upload their sound clips to virtual soundboard websites to share with Internet surfers and game streamers.
Let's assume that you are a gamer girl or a female game streamer, you need to interact with your teammates, but you want to protect your privacy or you don't want to overuse your voice. Then an easy-to-access soundboard will be helpful.
Some of them support hotkey playing. With one press on your keyboard, sound clips such as "Follow me", and "Do U need help" will be heard by your teammates and streaming viewers.
So, in this post, we will introduce 8 excellent online girlfriend soundboards to you.
8 Best Online Girlfriend Soundboards You Can't-Miss
Let's look closer at the 8 excellent girlfriend soundboard websites on which you can play or download girlfriend sounds. Most of them are free to use.
#1. 101 Soundboards
Website: https://www.101soundboards.com
The best soundboard website on girlfriend soundboards is 101soundboards.com. 101 Soundboards is a free soundboard website. You don't have to create an account to play and download any audio you like.
You can find the most popular soundboards such as Sponge Bob Soundboard, Meme Soundboard, and Donald Trump Soundboard from more than 2,000,000 audio clips it provides.
How to use 101 Soundboards to find girlfriend soundboards? Type the keywords in the Search box like "girlfriend", "girl", "e-girl", and "girl gamer". Press Enter on your keyboard, and 101 Soundboards will give you everything related.
Only in the E-girl Soundboard, you can find hundreds of sound clips you can use in a multiplayer game. Just click the icon or press the hotkey to play a sound. Or you can download a sound clip to your computer by clicking the hamburger icon beside each sound. The file format is MP3.
#2. SoundCloud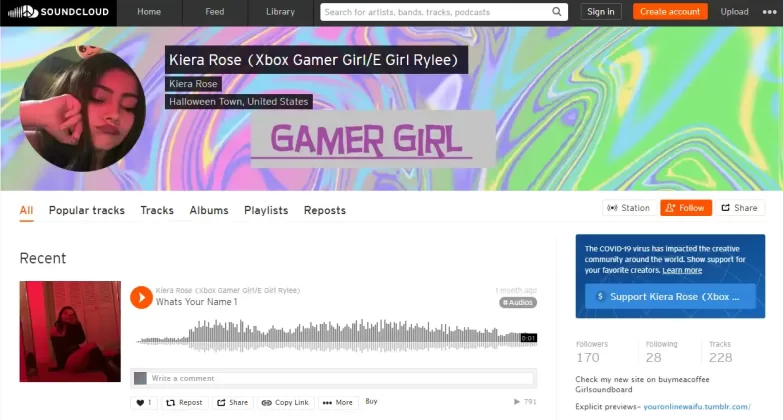 Website: https://soundcloud.com
SoundCloud is an online community of audio creators, artists, DJs, and bands.
It has more than 250 million music tracks uploaded by others in the community. You can listen, copy the link and share all tracks to Twitter, Facebook, Pinterest, and Tumblr for free.
How to use SoundCloud to find girlfriend soundboards? Visit its official website and search for "girlfriend". All results including tracks, playlists, and people will be shown. The duration, artist, and description of each track will be shown.
Just click the orange Play button to play a girl audio track and you can choose the playback mode. Listening is free. But if you want to download a track, please check if there is a Download file selection in the More action menu under the waveform.
#3. Voicy Network
Website: https://www.voicy.network
Voicy Network is an online content platform. You can discover, upload and download soundboards, voice clips, and sound effects on Voicy Network.
There are 12 categories of soundboards, such as memes, comedians, politics, sports, games, series, movies, music, anime, etc. You can download the sound clips of your favorite series like Squid Game, SpongeBob, and South Parth.
How to use Voicy Network to find girlfriend soundboards? Visit the website and search for "girlfriend", you will see the girlfriend sounds results appear in 2 categories – soundboards and sounds.
Click an official soundboard and go to the detailed window. You can see the description of the soundboard and click to playback the soundtracks. Click the Download button to download the MP3 file to your computer without logging in to an account.
#4. Jayuzumi Soundboards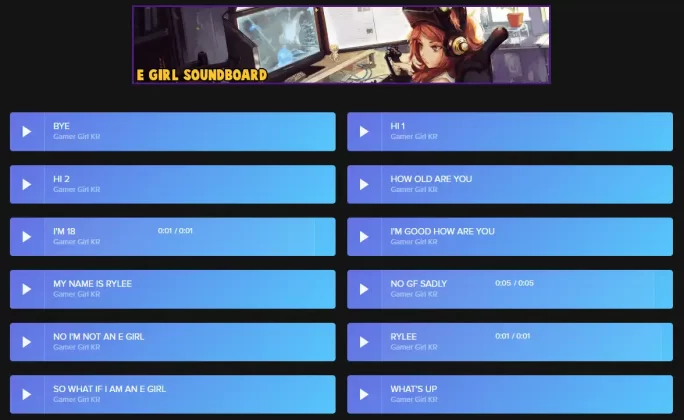 Website: https://jayuzumi.com/
Jayuzumi Soundboards has hundreds of different soundboards you can use on desktop and mobile devices. It divides all soundtracks into 11 categories including cartoons, video games, anime, heroes and villains, horror, and Disney.
You can easily find the sound clips of famous characters in Rick and Morty, South Park, One Punch Man, Alita, etc.
How to use to Jayuzumi Soundboards find girlfriend soundboards? Similarly, search "e girl" on the website. In the official E Girl Soundboard, you can play the 15 common sound clips of e-girl, although there is no way to download any sounds to your computer.
#5. Soundboard.com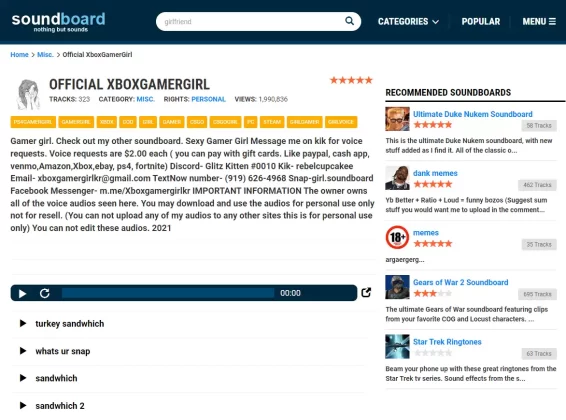 Website: https://www.soundboard.com
Soundboard.com provides more than 164 thousand soundboards and you can listen to 675000+ sound clips by now. You can sign up and build your sound on Soundboard.com. It provides some sound categories you don't easily see elsewhere, which include holidays, misc., history, podcasts, and travel.
#6. Myinstants
Website: https://www.myinstants.com/en/index/us/
Myinstants is another soundboard website. Go to the website and you will find its interface consists of colorful instant sound buttons.
You can simply play a sound by clicking on the virtual button. You don't need to log in to download the MP3 file of a sound. You can also embed an instant sound button on your site by copying the code.
#7. Peal.io
Website: https://peal.io/soundboards
Peal.io is a library of sound clips. You can sort the sound clips by new, top, or hot. The plays are shown on every soundboard, so you can choose the most popular soundboard to use in your games.
Short Responses, Popular Vines, and Rick and Morty are some of the top-played soundboards on Peal.io.
When you click on a soundboard, you will see the sounds in different colors. Click the speaker icon to play it. Or click the name of a sound and you will be on a new window.
You can copy the URL to share with others or copy the download URL and paste it into a new browser window to download the WAV file to your computer.
#8. SoundBoardGuy
Website: https://soundboardguy.com/
SoundBoardGuy is the last girlfriend soundboard we introduce today because it doesn't have many girlfriends sounds as others. The online soundboard website has 150,000+ sounds, and it also provides an instant play button for each sound.
By searching the keywords, you can play a sound by clicking the button, but you cannot play it via a hotkey. Hover the mouse on a button and you will see a Download button to get the sound.
FAQs about Girlfriend Soundboards
Can I get girlfriend soundboards in a voice changer?
You can find girlfriend soundboards in a real-time voice changer – Voicemod. Voicemod has a meme soundboard community called Voicemod Tuna. The users upload and share their soundboards with others in the community.
You can search for girlfriend/girl/gamer girl on https://tuna.voicemod.net/ and download or send the soundboards to your Voicemod. Then you can play the sounds when you are in multiplayer games.
Can I create a custom girlfriend soundboard?
Of course, yes. You can create a soundboard in a voice changer or on a soundboard website.
First, for the former, we take FineVoice as an example. It's a real-time voice changer for Discord, Zoom, Teams, and other voice chat platforms.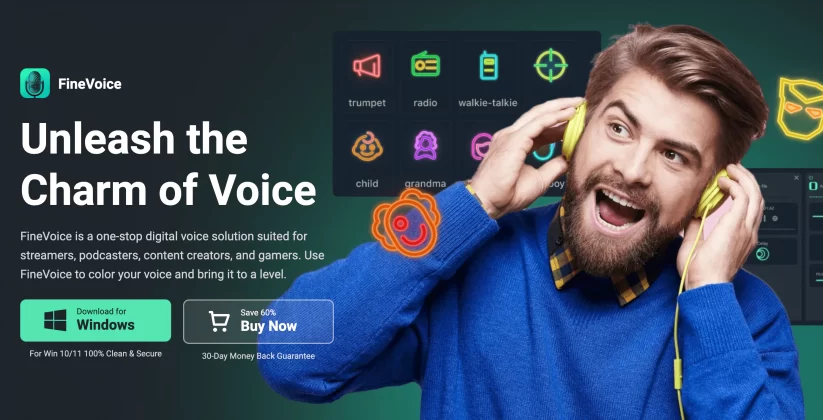 Download this free voice changer and follow the steps below.
Step 1. Record a girl sound clip. You can use FineVoice Voice Recorder to record your voice via a microphone or record it from a game or movie character. You can also use the voice recorder or text-to-speech tool to generate a girl sound clip.
Step 2. Edit your sound clip. Use an audio editor to cut off the redundant audio clips.
Step 3. Upload the modified sound clip to FineVoice. Go to Soundboard > New Category > Import > upload the sound clip. Then you can rename, adjust the volume or add an avatar to the soundboard.
Step 4. Whenever you want to play the girlfriend soundboard in a Discord, PS4, Xbox game, or Google Meet voice chat, click the icon and others will hear the girlfriend sound.
For the latter, we take 101 Soundboards as an example. Let's look at how to make a soundboard.
Step 1. You need to register an account to have your 101 Soundboards Home.
Step 2. On the Home page, click the red Create New Board icon.
Step 3. Add the title and description of your soundboard. And click Add Soundboard.
Step 4. You can upload your sounds by clicking Add Sound. The supported file format includes MP3, MP4, M4A, OPUS, FLAC, WebM, OGA, MID, MOV, AVI, etc.
Conclusion
You can have a lot of fun gaming or pranking your friends with girlfriend soundboards. In this article, we offer the 8 best online girlfriend soundboards to you.
Besides online soundboard websites, you can find gamer girl soundboards in voice changers. If you want to create your girl soundboard for Discord game streaming, there is a guide above. Hope this post will be helpful.