Do you love Jack Black? He has acting roles in films such as School of Rock, Bernie, and The Holiday. And he voice-acted Po from Kung Fu Panda films.
Besides as an actor and comedian, he is also a musician. He is the lead vocalist of Tenacious D and he has maintained a YouTube channel called Jablinski Games.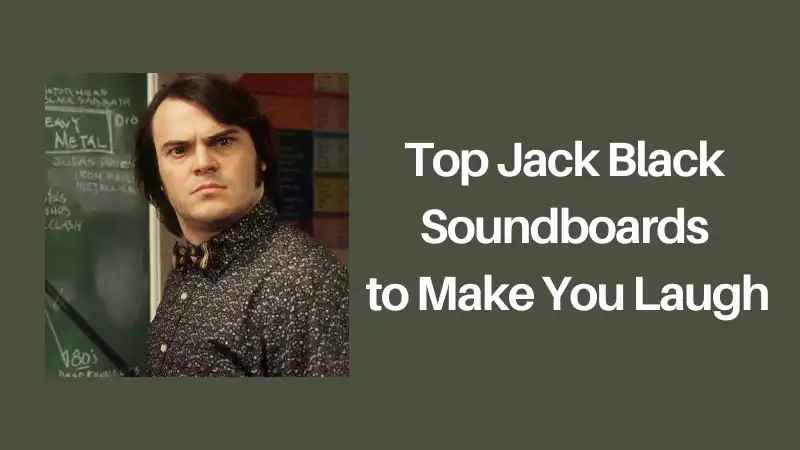 Do you want his soundboard? Read on to get the top 7 Jack Black soundboards. You can play them and download the audio files of Jack Black sounds.
Top 4 Jack Black Soundboards to Play and Download
Firstly, let's learn about the websites support playing the Jack Black soundboard online and offline.
#1. 101 Soundboards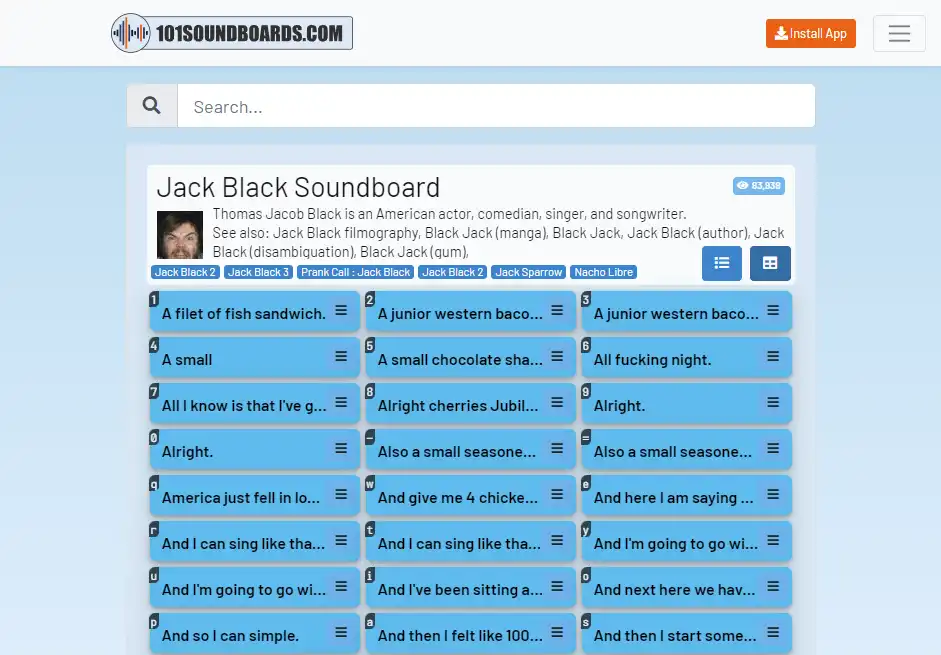 Jack Black Soundboard: https://www.101soundboards.com/boards/10168-jack-black-soundboard
Pros:
The most comprehensive collection of Jack Black's sounds
Sound buttons clickable to play
Supports hotkeys playback.
Sorted Alphabetically with different colors.
The download format is MP3.
Supports link sharing.
Cons:
No classification of the sounds.
Difficult to find what you want in a sea of sounds.
#2. Jayuzumi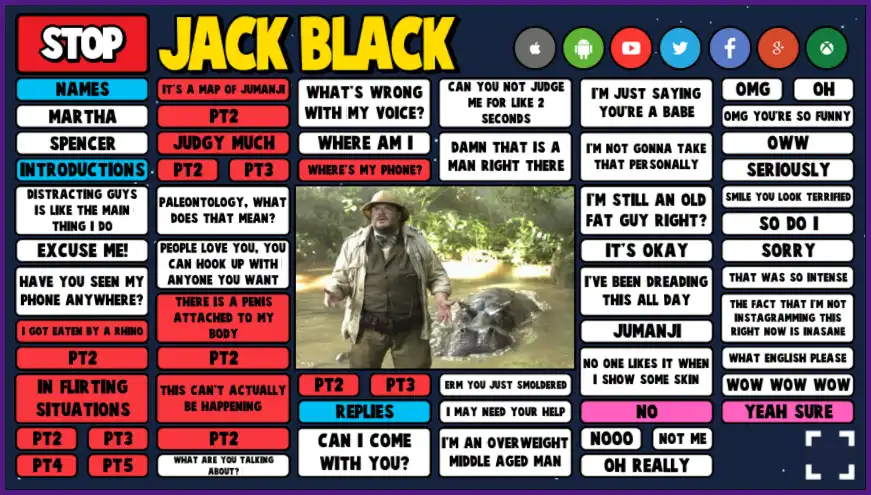 Jack Black Soundboard: https://jayuzumi.com/jack-black-soundboard
Pros:
60 best Jack Black quotes from the film Jumanji
Colorful virtual soundboard
Full-screen playback support
Sounds categorized by different usage scenarios
Support for playing sounds in the music lists
Quick sharing of sounds to social media
Different playback modes and controls are available
Sound clips can be downloaded in MP3 format
Cons:
No more Jack Black quotes from popular films like School of Rock and Kung Fu Panda
#3. Voicy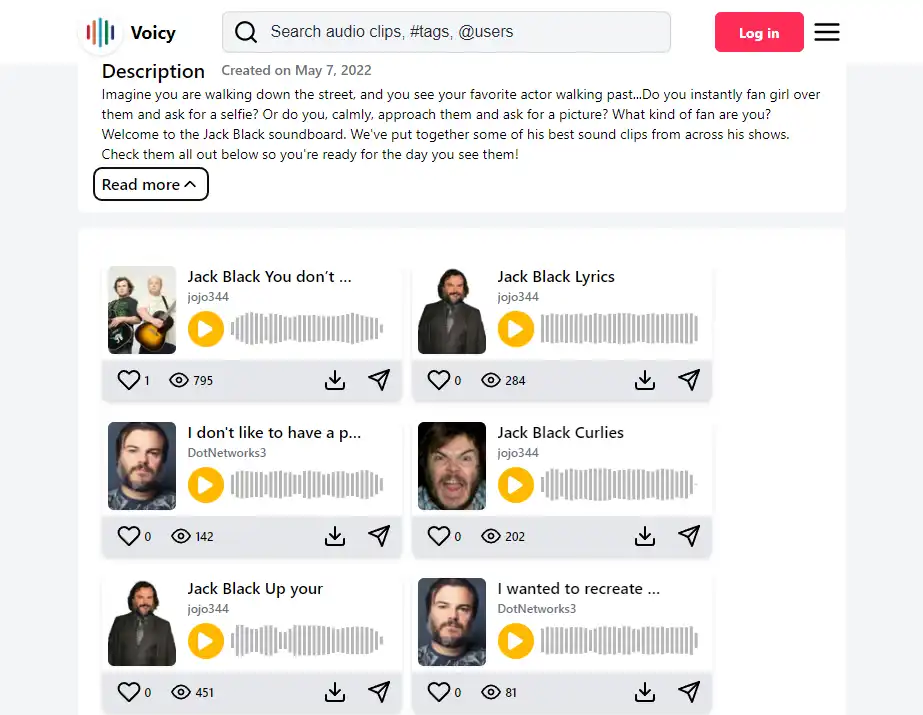 Jack Black Soundboard: https://www.voicy.network/official-soundboards/comedians/jack-black
Pros:
108 Jack Black quotes from his shows
Supports download in MP3 format
Support for link sharing
Audio waveform chart
You can see how many people listened and liked a quote
Cons:
Does not support batch playback
#4. Soundboard.com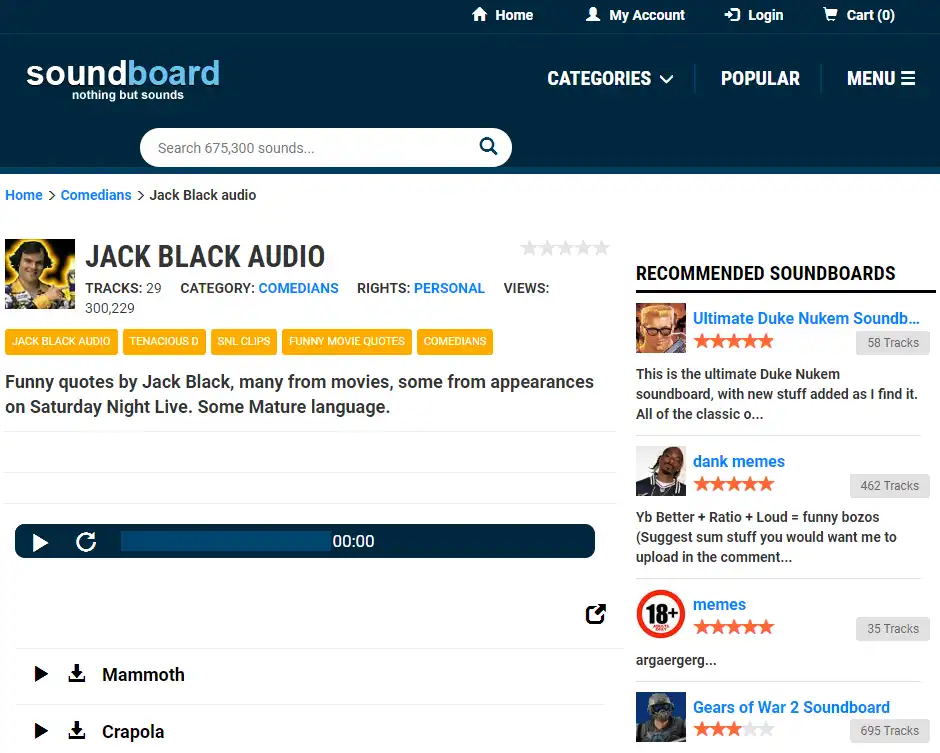 Jack Black Soundboard: https://www.soundboard.com/sb/Jack_Black_audio#
Pros:
29 funny quotes from movies and appearances on Saturday Night Live.
Support for playing sounds on a detached soundboard.
Support for downloading in MP3 format.
Cons:
Can't control playback mode and speed.
Can't share sounds with links.
Does not support batch playback.
Top 3 Jack Black Soundboards to Play Online
Now, let's move to the websites only for Jack Black sounds play online.
#1. Newgrounds.com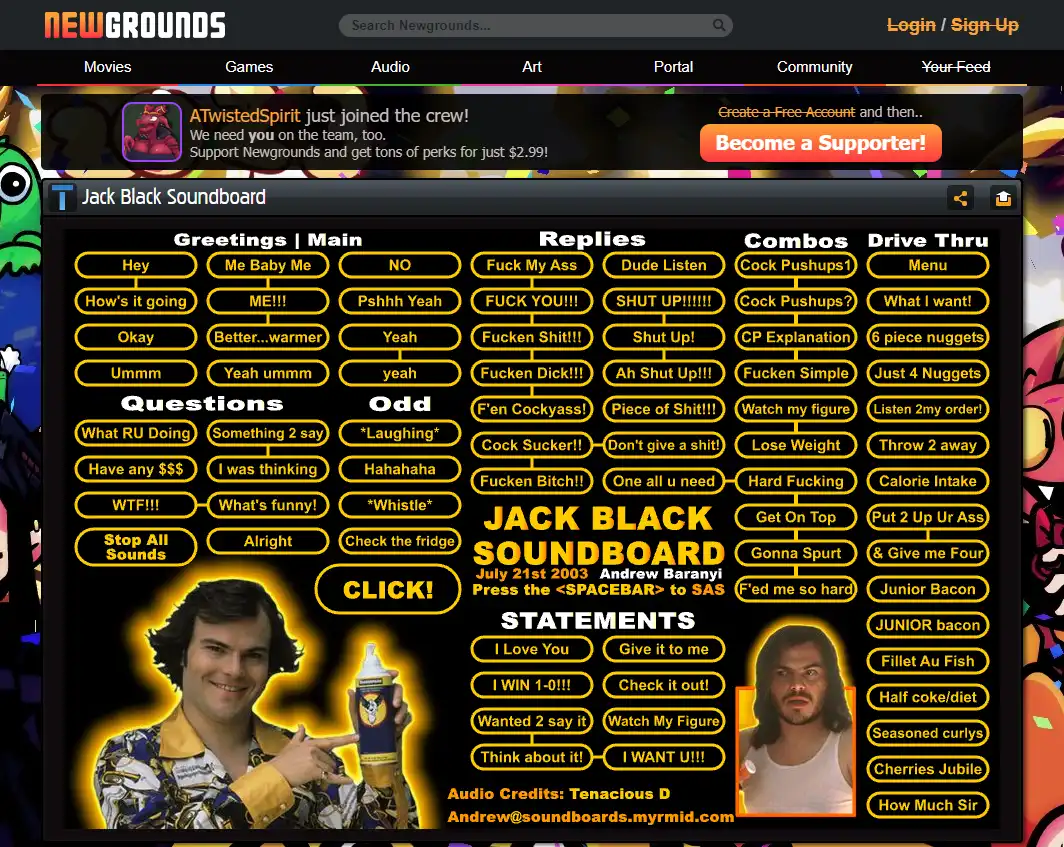 Jack Black Soundboard: https://www.newgrounds.com/portal/view/110840
Pros:
A user-generated game.
Sound categorized for easy finding
High sound quality
Soundboard quick sharing to social media
Cons:
No new quotes included since 2003
No download and sharing options for individual sound
#2. Realm of Darkness.net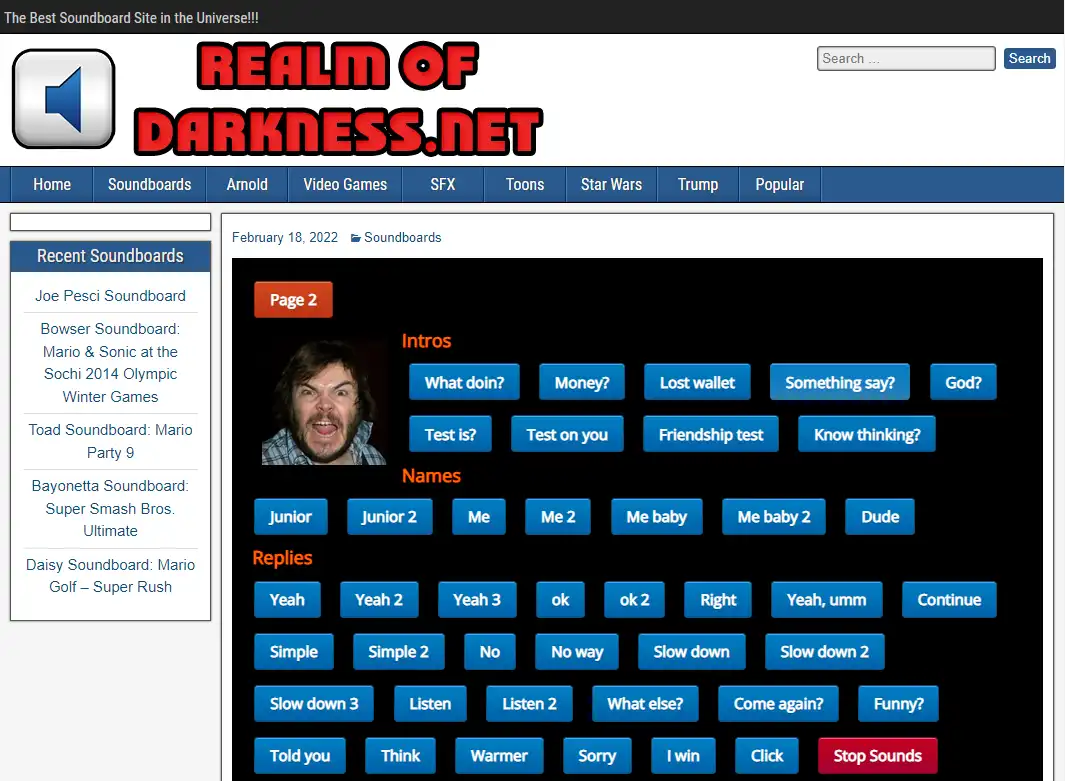 Jack Black Soundboard: https://www.realmofdarkness.net/sb/jb/
Pros:
75 Jack Black quotes for different situations
Click a sound button to play a sound
Stop Sounds button to stop all playing sounds
Cons:
No download option.
Cannot share a single sound with friends or on social media
#3. Blerp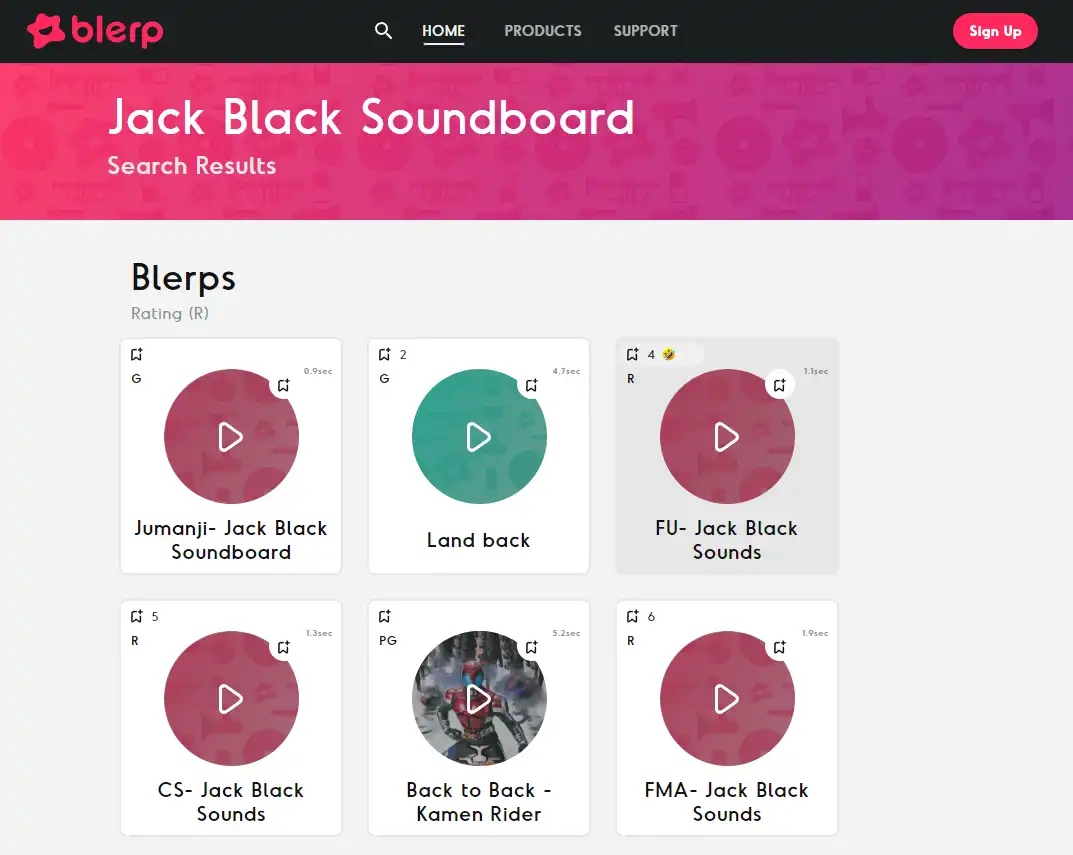 Jack Black Soundboard: https://blerp.com/search?q=Jack-Black-Soundboard&r=R
Pros:
Sounds are rated for different ages.
You can save the Jack Black sounds to your collection.
Comment posting to sound supports
Large community with other Blerp users.
Cons:
Less collection of Jack Black quotes.
Repeated sounds by different users.
No download option.
Manage Jack Black Sounds in Soundboard Software
Bookmarked the websites? Download them to your computer for quick access. And is there any app to manage all your Jack Black sound clips?
Yes, of course. Try the best real-time voice changer for Windows. Install FineVoice. This voice changer enables you to change your voice in voice-capturing platforms. And you can play 200+ sound effects with hotkeys.
You can create new categories and import audio files in MP3, AAC, AC3, AMR, MP2, and WAV. Feel free to use it as a sound player and music player.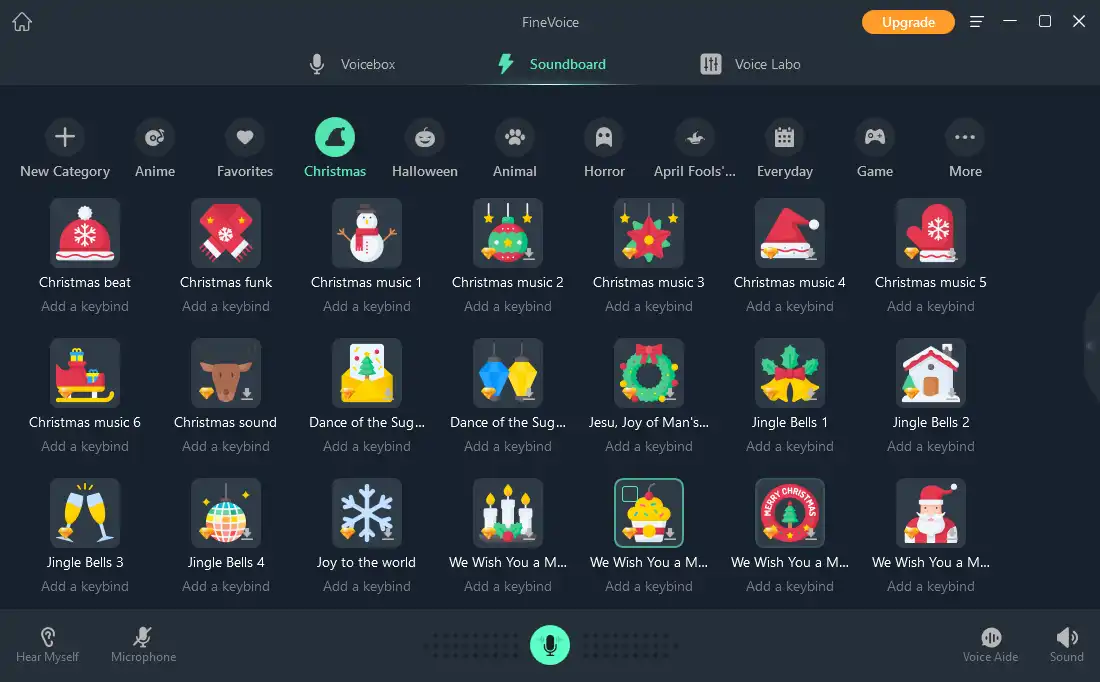 How to use manage Jack Black sounds with FineVoice soundboard:
Step 1. Install FineVoice.
Step 2. Click on Real-Time Voice Changer.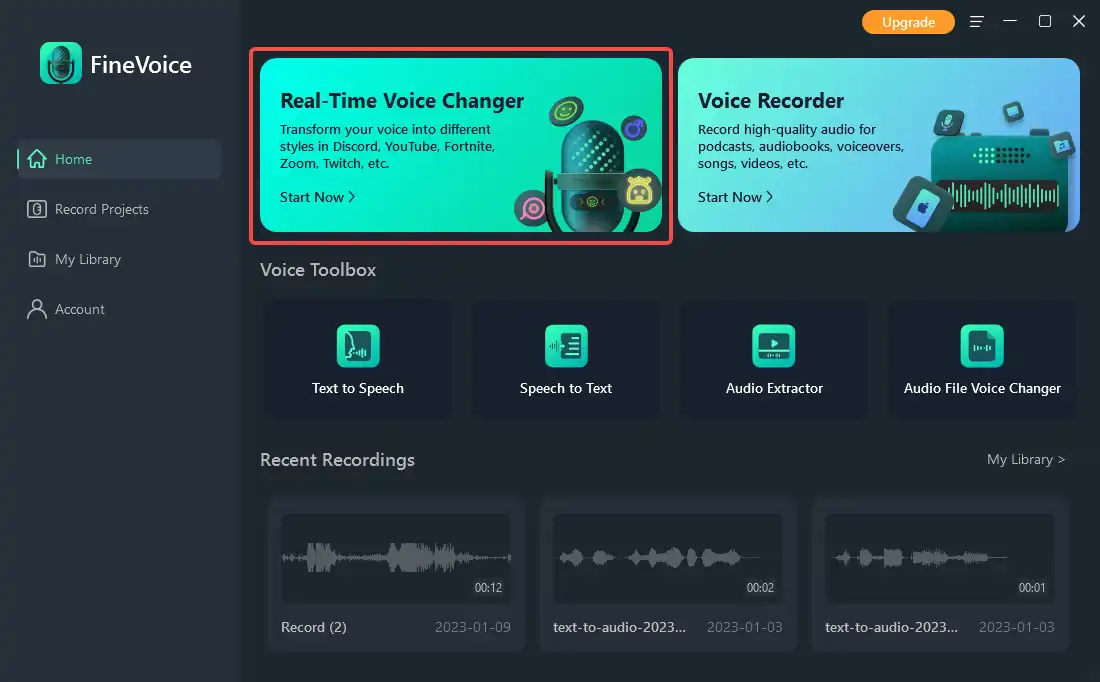 Step 3. Under the Soundboard tab, click New Category.
Step 4. Name the new category as "Jack Black" and import your audio files.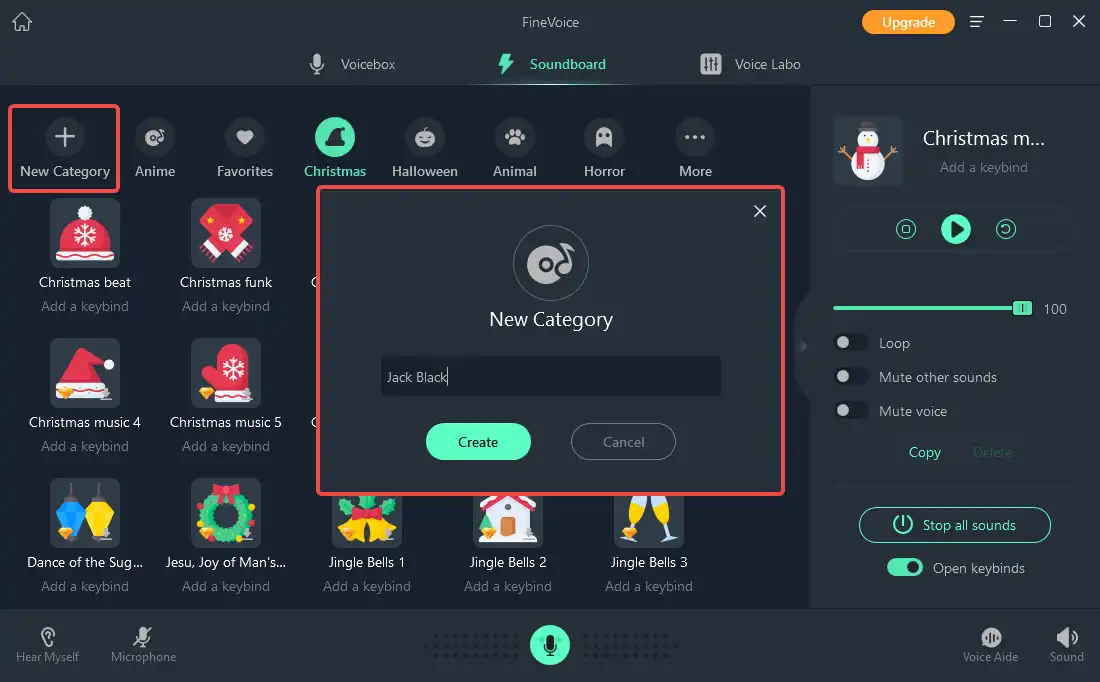 Step 5. Add keybinds to the sounds.
Conclusion
All in all, you have got the top 6 soundboard websites for Jack Black soundboard. You can play and download them freely. And with FineVoice, it's easy to access them with hotkeys whenever and wherever.
Try FineVoice for Free
Powerful real-time voice changer for tuning your voice in gaming, streaming, and chatting. It comes with various voice & sound effects and supports creating custom voice. Get it for free.