Do you play Super Mario? This popular video game is created by Nintendo. And this is the central series of the Mario franchise. Mario is the protagonist of the game. Our task in the game is to help this short, pudgy Italian finish his adventures rescuing Princess Peach.
When we play the games, we are impressed by the various funny sound effects in the adventures. Do you want to play Mario sounds when you are playing other video games?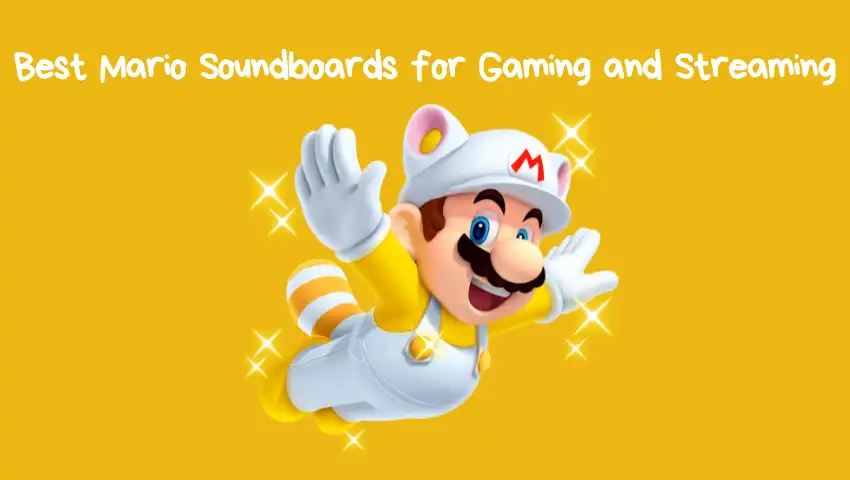 In this post, we give you the best Mario soundboards and play them to add more fun to your games and streams.
Part 1: How to Create Mario Soundboard on a PC
First, we want to tell you how to create your custom Mario soundboard with software. So, you can download sounds from the soundboard website and organize them for quick access whenever you need them.
FineVoice is a real-time voice changer for streaming, gaming and voice chatting. With 30+ voice effects and 200+ sound effects, you can make your content engaging.
There are dozens of sounds for games in the soundboard feature and you can create your custom soundboard.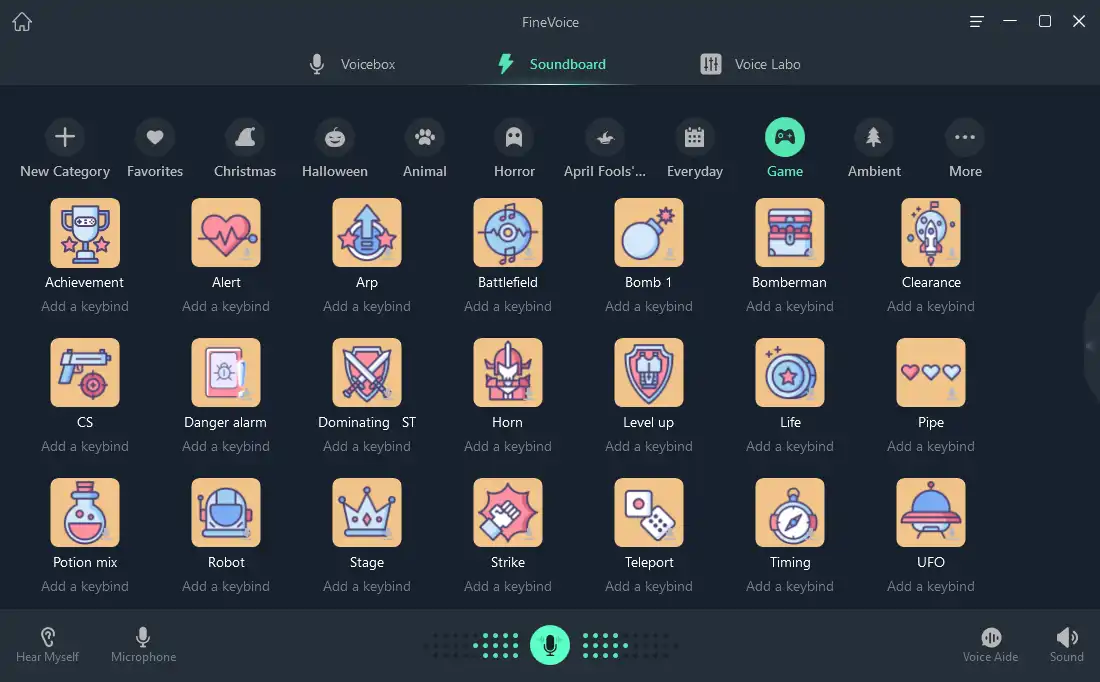 How to create a Mario soundboard in FineVoice?
Step 1. You need to download and install this free voice changer.
Step 2. Launch FineVoice and click the Real-Time Voice Changer on the main interface.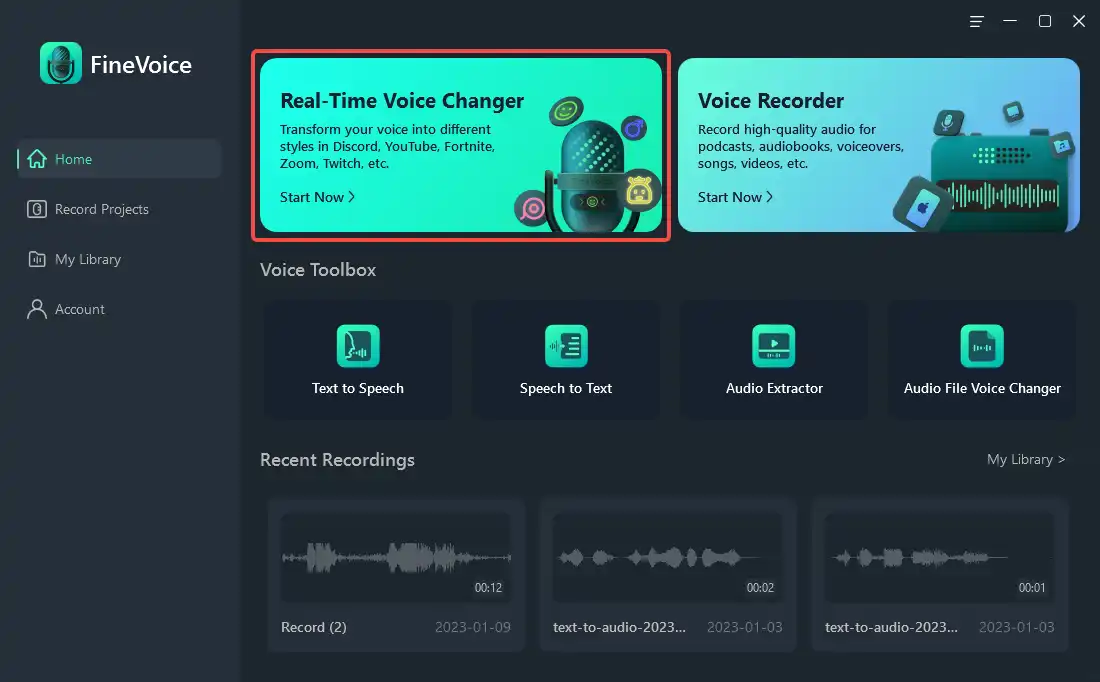 Step 3. You can find all funny voice effects such as Transformers and Minions voices, as well as male-to-female voice changer in the Voicebox.
But here we switch to the Soundboard tab to explore the soundboards and create your ones.
Step 4. Find the New Category button at the top-left corner. Click it to create a new soundboard with a name.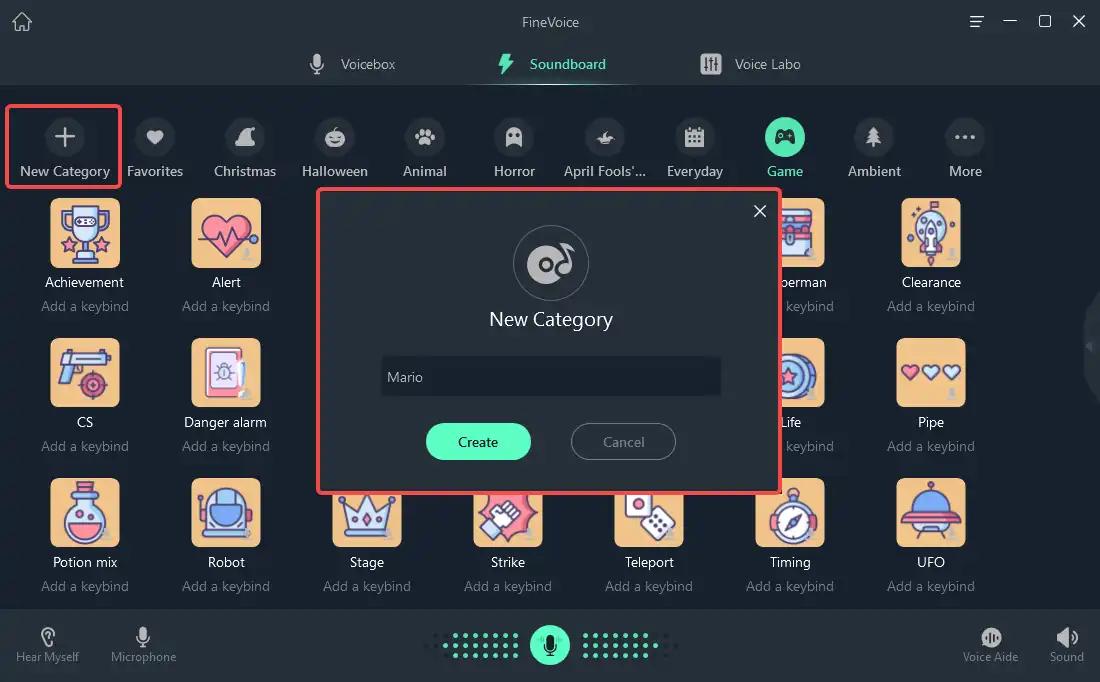 Step 5. Import the audio files downloaded from the internet or recorded in FineVoice high-quality voice recorder (Supported audio formats: MP3, AAC, AC3, AMR, MP2, WAV.)
Step 6. Add keybinds to the sounds. Go to the game and stream platforms and select FineVoice Virtual Microphone as the input audio device. Play the sounds with hotkeys whenever you like.
Part 2: Best Online Mario Soundboards for Super Mario Sounds
You already know how to create a soundboard and manage your sounds. Now let's move on to the best websites to get Mario sounds.
#1. Mario Universe.com
The first online resource for Mario sounds we want to give you is Mario Universe. This website offers maps, soundboards, and sprite sheets from the Mario universe.
It has the most comprehensive collection of all sounds and sound effects from the Mario universe. You can find soundboards of all main characters in Super Mario and other Mario series soundboards like Mario Kart soundboards,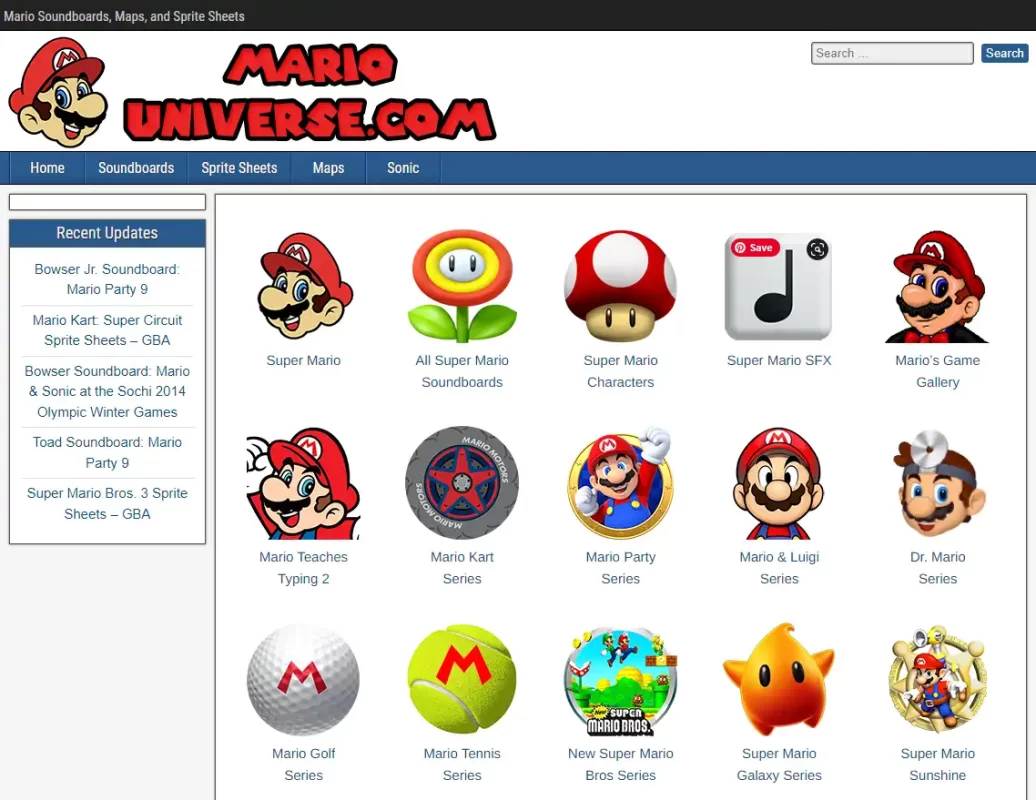 #2. Jayuzumi
The Mario soundboard contains over 80 of his best quotes in Super Mario. Maybe it doesn't have anything you want. But you can download the audio file from Jayuzumi without charging or signing in. And the virtual soundboard is well-designed and easy to share.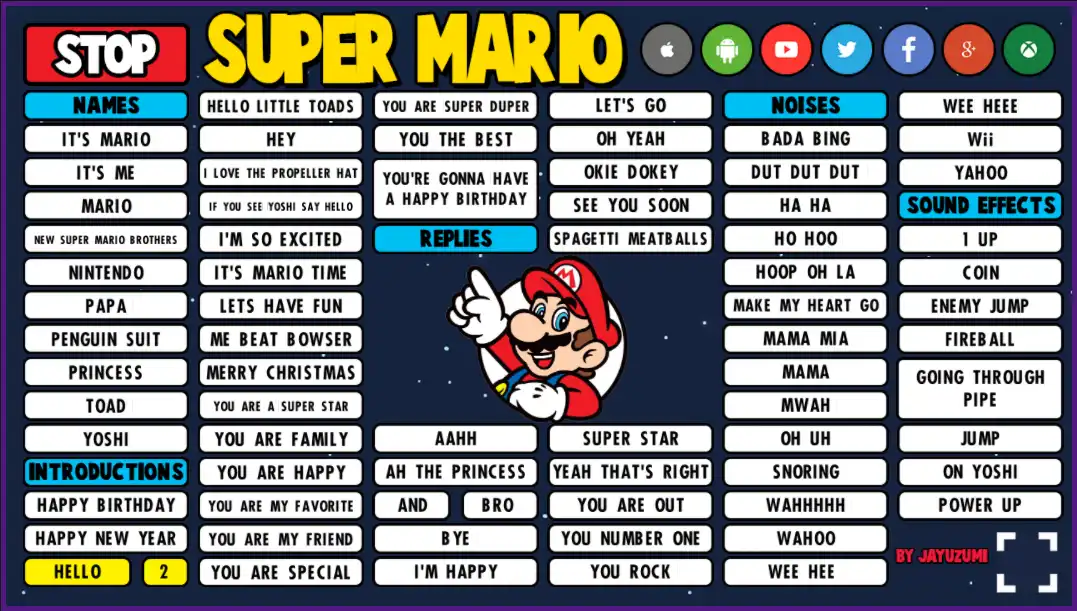 #3. 101 Soundboards
Another powerful soundboard website we want to share with you is 101 Soundboards. It's a website that offers the largest number of free sound effects and sounds from movies, TV shows, memes, and more.
You can play Mario sounds on the 7 soundboards by clicking the virtual buttons. Free download of the MP3 audio file is also supported.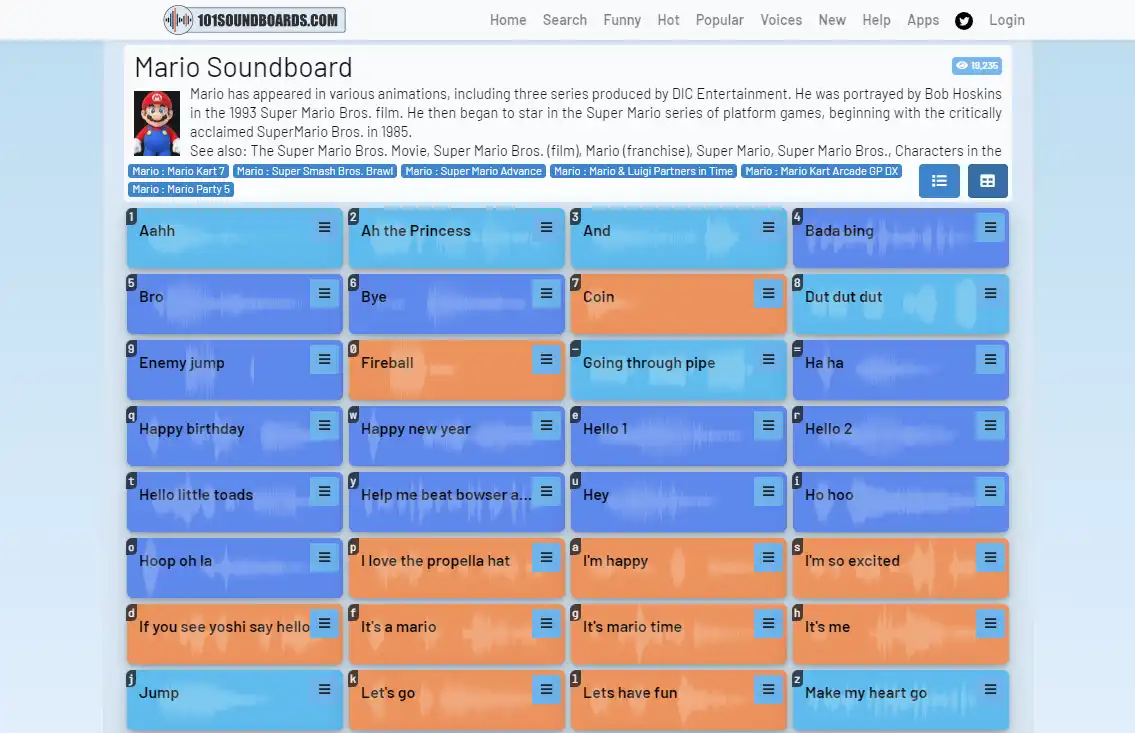 #4. Realm of Darkness
Realm of Darkness is a website specializing in soundboards of celebrities like Arnold Schwarzenegger and Donald Trump and sounds from video games, cartoons, and Star Wars.
The sounds on Real of Darkness are organized by their usage scenarios, which gives big convenience to the users. The Mario soundboard provides dozens of sounds from Super Mario. The only shortcoming is that it is for online playing only.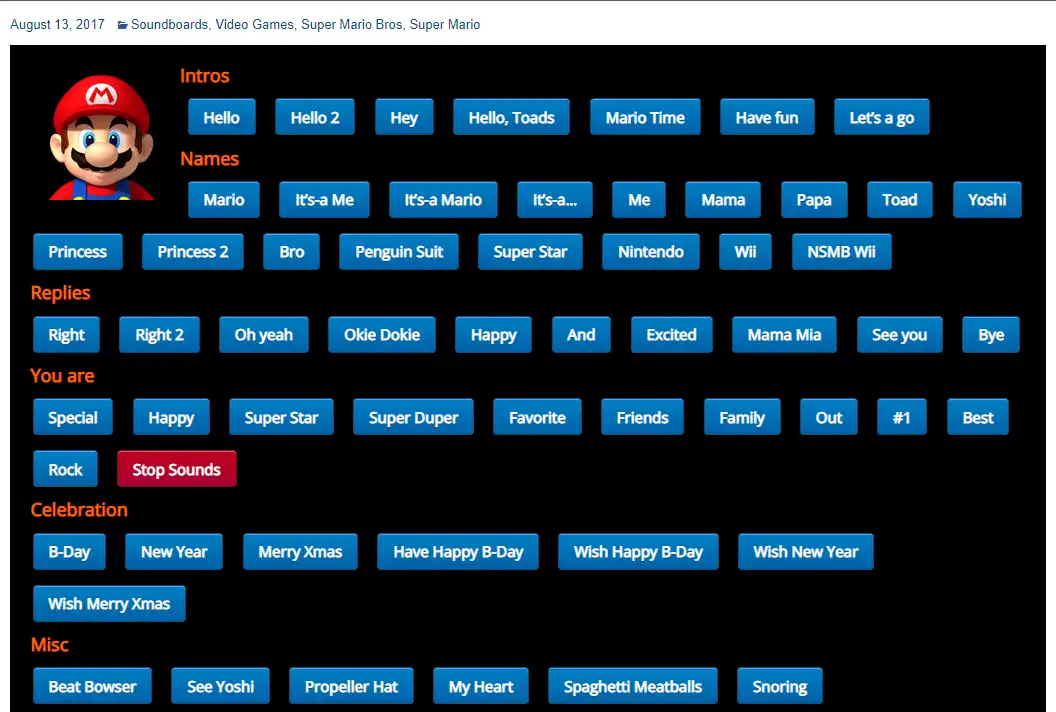 #5. Myinstants
The last but not least, we want you to know Myinstants. This website is full of sounds recorded and uploaded by other users. The sounds are free to play and you can share a single virtual sound button with others with a link.
There are hundreds of Mario sounds on the Mario voice soundboard. However, it may take you some time to find what you want by playing them one by one.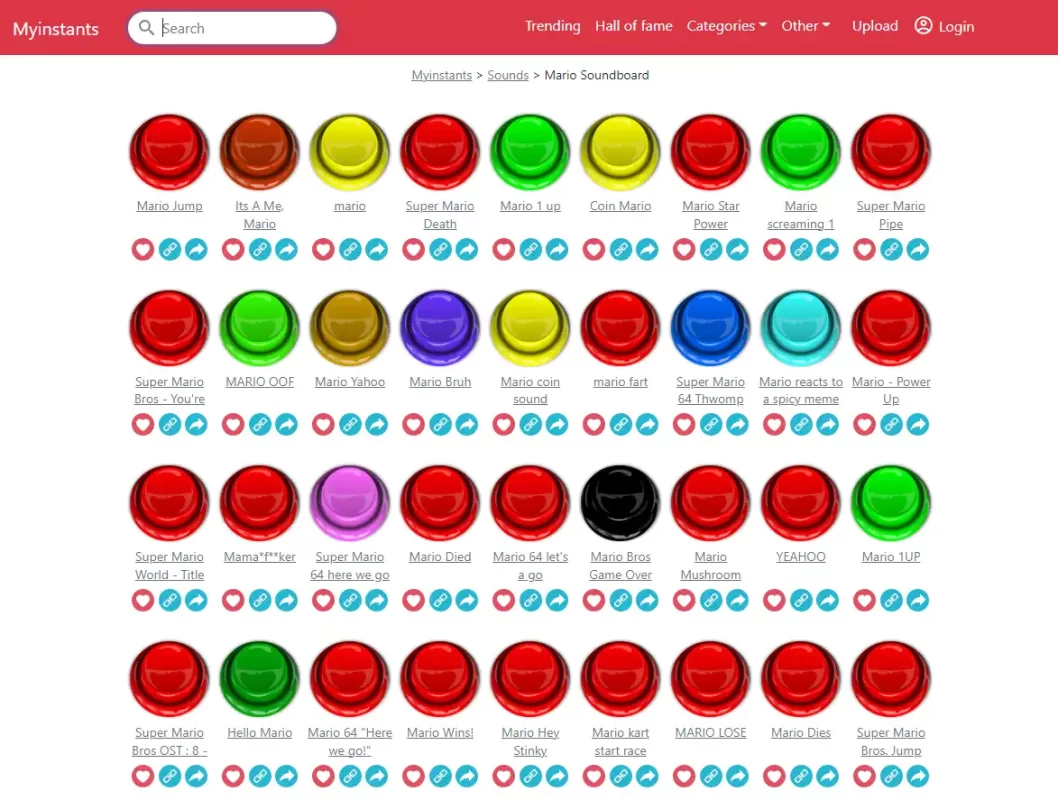 Conclusion
Have anything in your mind? Want to download sounds from Jayuzumi or 101 Soundboards and add all of them to your FineVoice Mario soundboard? Have fun with your Discord game mates.
Try FineVoice for Free
Powerful real-time voice changer for tuning your voice in gaming, streaming, and chatting. It comes with various voice & sound effects and supports creating custom voice. Get it for free.