Amazon Alexa is a cloud-based voice service available on different Amazon devices. Alexa's voice is unique, and many creators are seeking ways of incorporating Alexa's voice into their content. For instance, if you are a streamer, you can use Alexa's voice instead of yours or even when creating YouTube videos.
This post focuses on introducing the 3 best Alexa voice generators. We will also detail the steps to use the Alexa text to speech with FineShare FineVoice. Let's dig in!
3 Best Alexa Voice Generator Text to Speech Tools
Below are the three best Alexa text-to-voice generators worth checking out. From their comparisons, you will get the ideal choice for you.
#1. FineShare FineVoice
FineShare FineVoice is an AI voice solution to allows you to change your voice in real-time, record voice from multiple channels, transcribe music and interviews to text, and generate speech in whatever voice you like.
to let users generate different voices, including celebrity voices. With FineShare FineVoice, you will enjoy its simplicity in allowing you to get the text to speech Alexa voice to help with your content creation.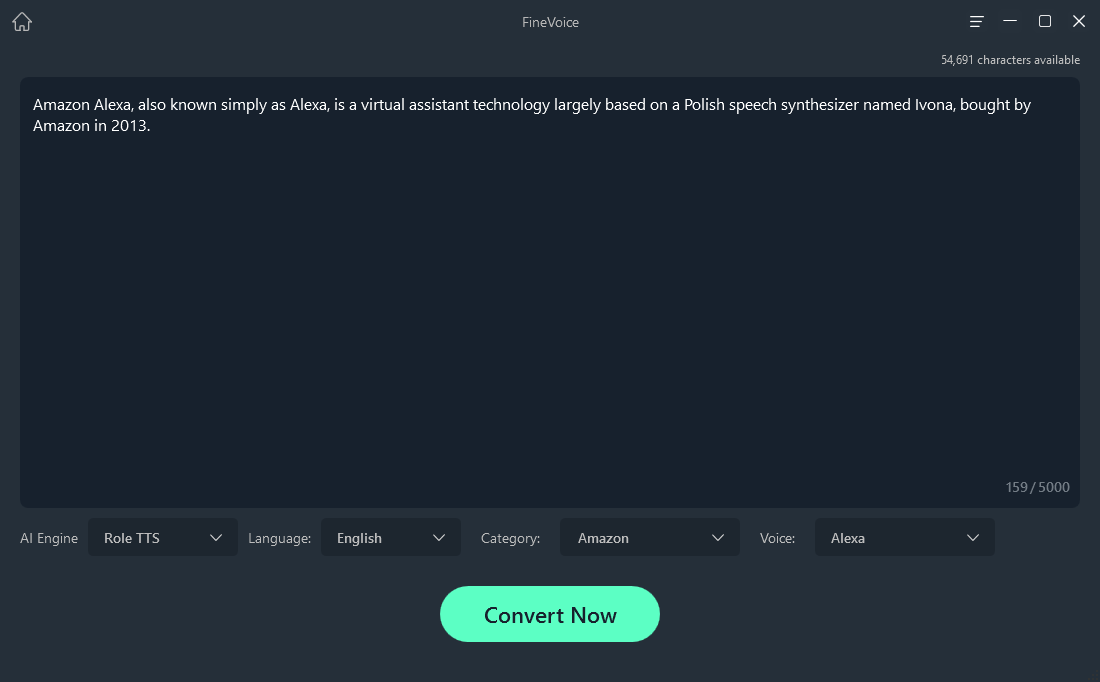 Features:
Allows you to generate voiceovers with 220+ professional voices in 40 languages and accents
Provides a role AI engine for celebrity, anime and cartoon character voices
30+ voice effects and 200+ sound effects for real-time use
Automatic audio saving to local files as MP3
Pros
Simple and easy-to-use interface
Text-to-speech generation within seconds
A large library of realistic and funny voices
Cons
#2. Woord
Woord is an online web reader that offers realistic voices. You can use it as an excellent Alexa voice generator for your text. You can paste a link to your text or type it, then select what voice to use. With its paid plan, you can unlock all its features, including downloading the output audio.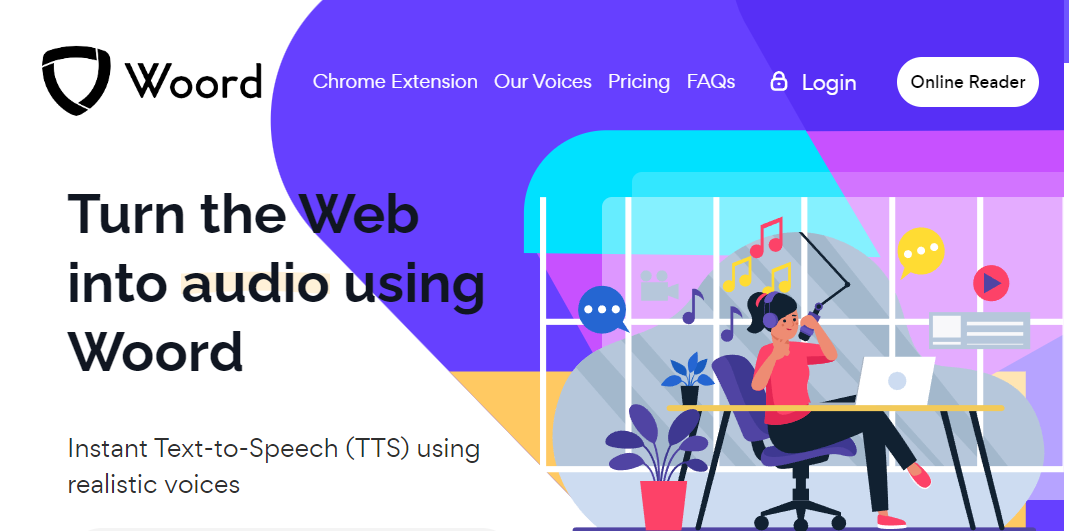 Features:
Over 50 voices in over 21 languages
Allows you to download the generated audioan in MP3 format
Uses AI technology to get the highest quality
Pros
Has male and female voices
Easy to use with only three steps
Web-based and no installation required
Cons
Expensive payment plans
A limited number of audio
No free version offered
#3. NaturalReader
NaturalReader is another text-to-speech tool that offers professional voices like Alexa. It's a voice generator for commercial, personal, and educational use. You can quickly drag and drop the files you wish to get their audio using Alexa's voice and get the MP3 formatted file version.
Features:
Allows you to add documents, text, images, and webpages as source
Offers 11 languages and accents
Offers free and paid options to choose as your need
Pros
Flexible and easy to use
Supports up to 50,000 characters per conversion
Cross-platform for Windows and Mac.
Cons
Most of its voices are for plus and premium users.
It focuses mainly on educational purposes
How to Create Amazing Content with Alexa Voice Generator
FineShare FineVoice is the ideal and most recommended option for quickly creating unique content using Alexa's voice. With its deep-learning technology, you will appreciate how it stands out as an Alexa text to speech software.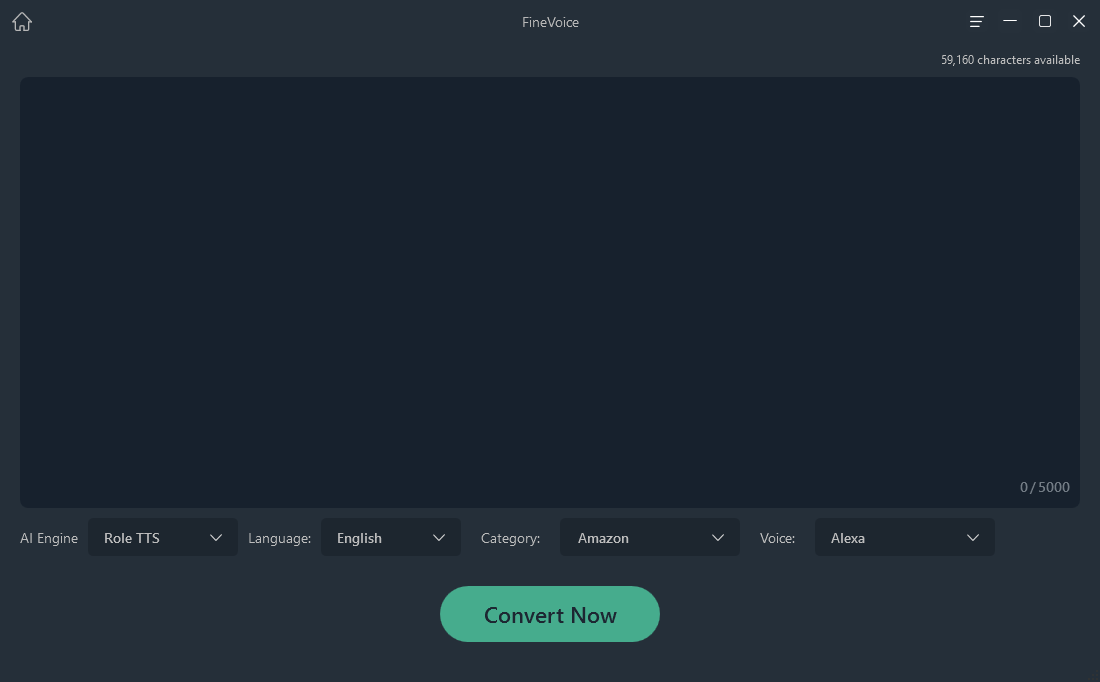 Follow the simple steps below:
Step 1. Download FineShare FineVoice and install it on your PC.
Step 2. Open FineVoice and go to Text to Speech.
Step 3. Add the text. Select the Role TTS and find Alexa from the Amazon category.
Step 4. Tap the Convert Now button.
Conclusion
Using an Alexa voice generator is a creative way of creating engaging content without using your real voice. We've covered the three best Alexa voice generators you should use.
However, if you want an effective and reliable voice generator with all your voice needs, go for FineShare FineVoice. Try it out and enjoy converting your text to speech using Alexa's voice.
FAQ
#1. What is Amazon Alexa and what can it do?
Amazon Alexa is a virtual assistant technology that can respond to voice commands and perform various tasks, such as playing music, controlling smart home devices, ordering products, setting reminders, and more. You can use Alexa on different devices and speakers, such as Echo, Echo Dot, Echo Show, Echo Studio, and more.
#2. How can I get started with Amazon Alexa?
To get started with Amazon Alexa, you need to download the Amazon Alexa app on your smartphone or tablet and sign in with your Amazon account. Then you need to connect your Alexa device to a power outlet and follow the instructions on the app to set it up. You can also customize your settings and preferences on the app, such as your language, location, voice profile, and more.
#3. How can I talk to Amazon Alexa?
To talk to Amazon Alexa, you need to say the wake word "Alexa" followed by your request or question. For example, you can say "Alexa, what's the latest news?" or "Alexa, play some jazz music". You can also change the wake word to "Echo", "Amazon", or "Computer" on the app. You can also use the action button on your device to activate Alexa without saying the wake word.