Do you love anime and want to sound like your favorite characters? Do you want to create your own anime voiceovers and narration for your videos, presentations, and other content? Or do you just want to have some fun with your friends or online communities with an anime voice?
If you answered yes to any of these questions, then you are in luck!
In this post, I will introduce you to 3 of the best free anime voice generator text to speech tools for desktop and mobile.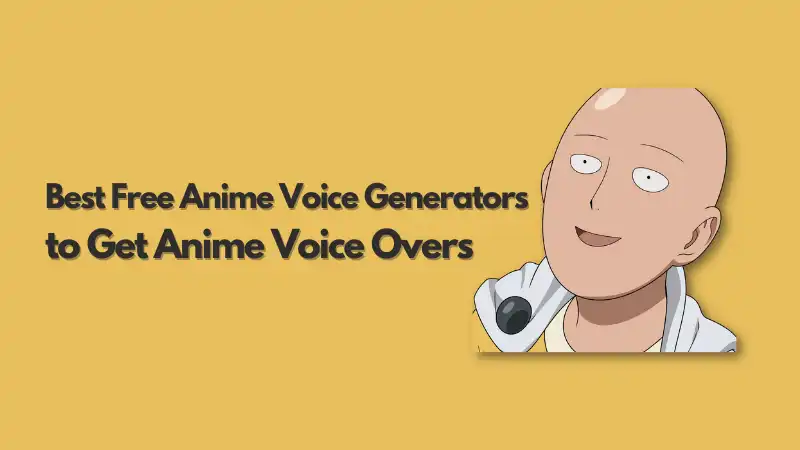 These tools use artificial intelligence to create realistic and expressive anime voice text to speech.
You can choose from a variety of anime characters and styles, or customize your voice to suit your preferences. Whether you want to sound like a cute anime girl, a cool anime boy, or anything in between, these anime voice generator text to speech tools will help you achieve your goal.
So let's dive in and see what they can do!
Part 1: FineShare FineVoice – Best Anime Text to Speech Software
FineShare FineVoice is a free real-time voice changer for PC. Besides the 30+ voice effects and anime soundboards in the voice changer, it offers a powerful voice toolbox including a text-to-speech tool.
You can generate lifelike voiceovers with 220+ built-in natural-sounding voices in 40 languages. And with the newly published role TTS engine, you can generate anime text-to-speech in a few seconds with 1 click.
This anime voice generator enables you to convert Japanese text to speech with 11 male and female voices.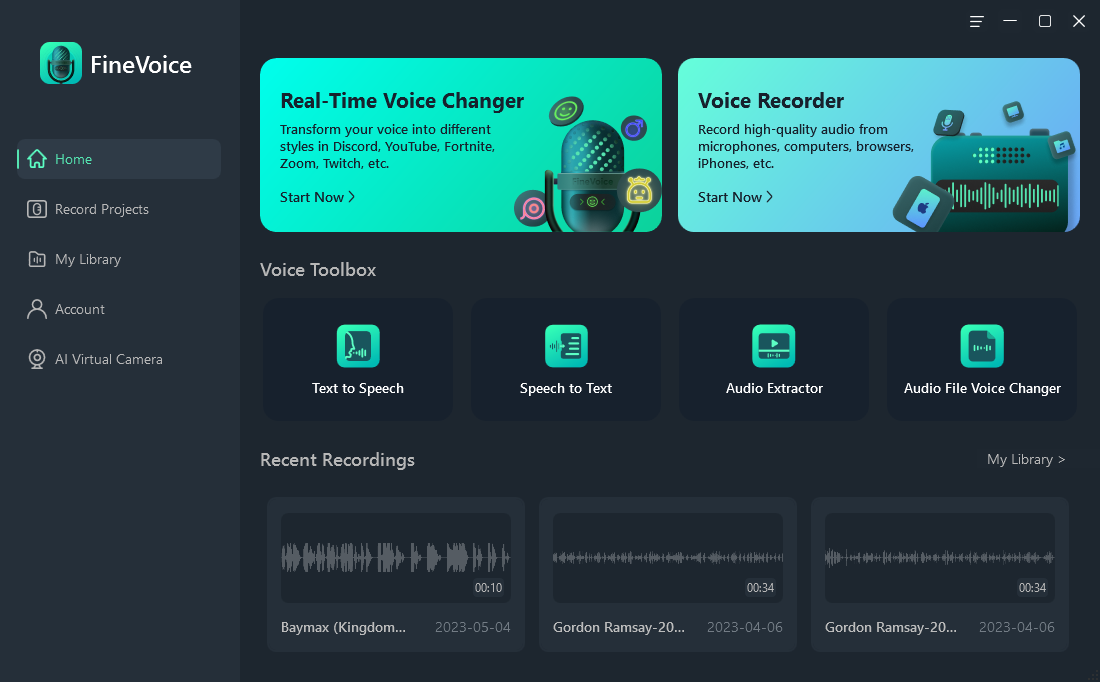 How to use FineShare FineVoice anime character text to speech?
Step 1. Download and install FineVoice on your desktop.
Step 2. Launch FineVoice and click Text to Speech on the main interface.
Step 3. Type any Japanese text in the text box. Set up the Anime voice generator as the following picture show.
Step 4. Click Convert Now to generate the anime TTS.
Step 5. Check the results in FineVoice or your local file.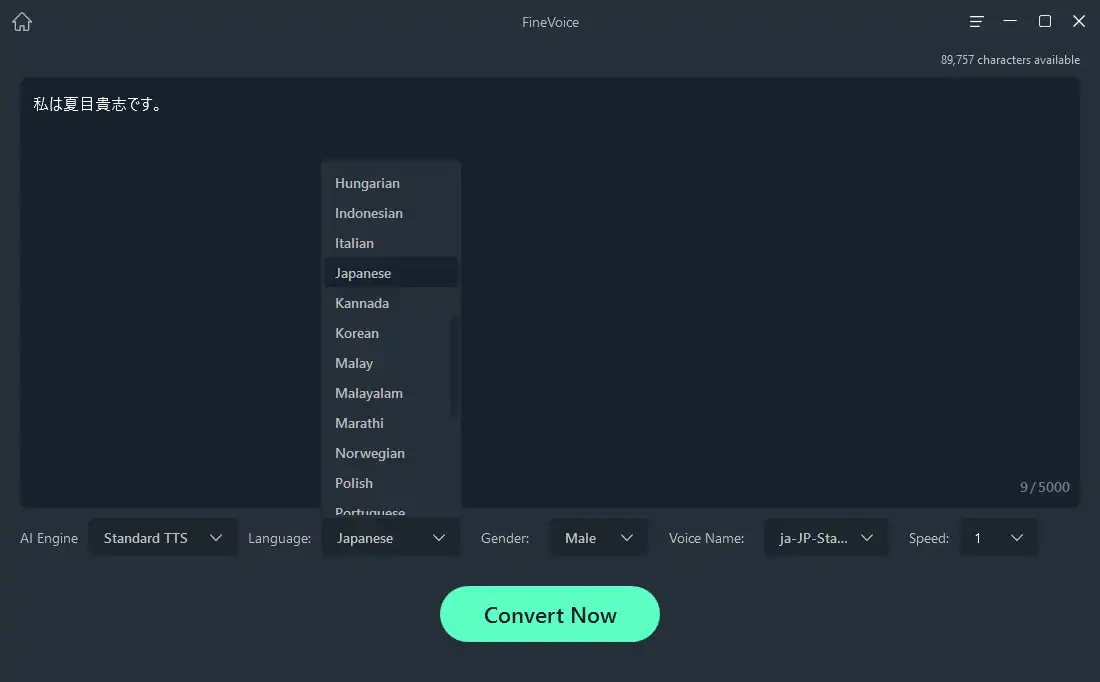 Part 2: Online Anime Character Voice Generator Text to Speech
If you want to generate anime voiceovers on your various devices, there are some free online anime voice generators recommended.
#1. Narakeet
The first one we want to introduce is Narakeet. It is a professional text-to-speech video maker. It's easy to turn a script into a voice-over. The anime voice generator gives you options from 8 Japanese voices.
Besides the language and voice, you can set the volume, speed, format, and output of the generated audio. It makes voice generation an effortless task.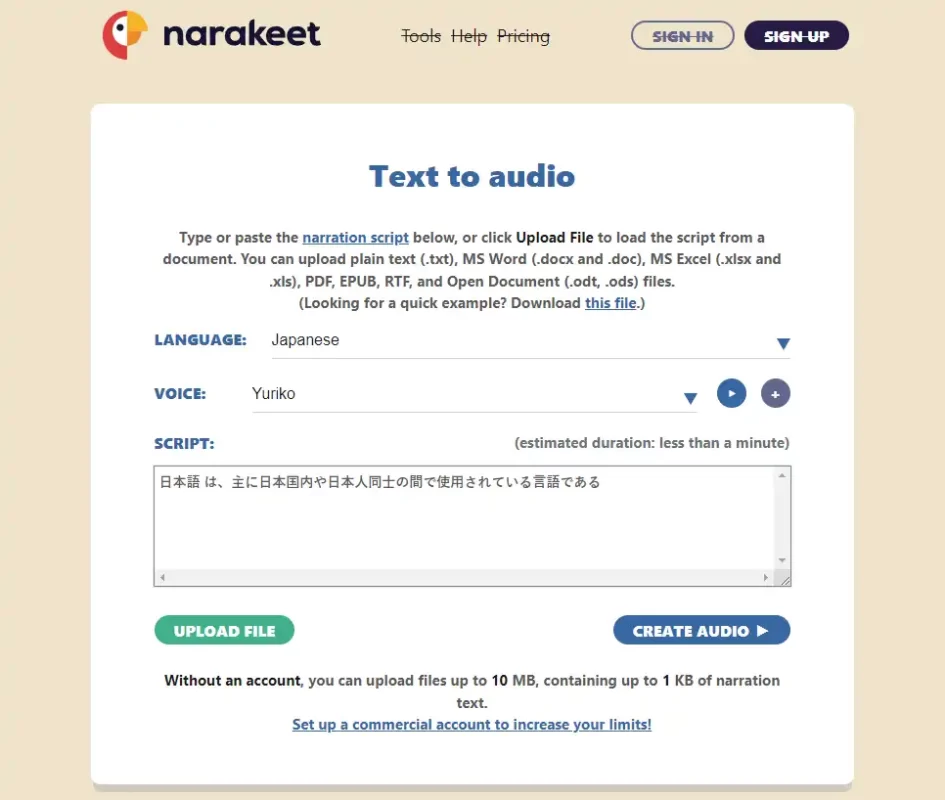 How to use this anime girl text to speech?
Step 1. Visit the text-to-audio tool. (https://www.narakeet.com/app/text-to-audio/)
Step 2. Select Japanese and the speech voice from the list. Change the other settings as you like by clicking the plus icon next to the blue play icon.
Step 3. Type or paste the script, or upload the script from various text files by clicking on Upload File.
Step 4. Click the Create Audio button to generate the audio. Play and download the audio when the conversion is complete.
#2. ttsMP3.com
The other free online anime voice generator we want to introduce is ttsMP3.com. Although it only offers 2 Japanese voices – one is female and the other is male, the voices are natural and lifelike.
It's great for your YouTube videos and e-learning. And Japanese signs are supported in the Japanese language, which is the highlight of this anime text-to-speech tool.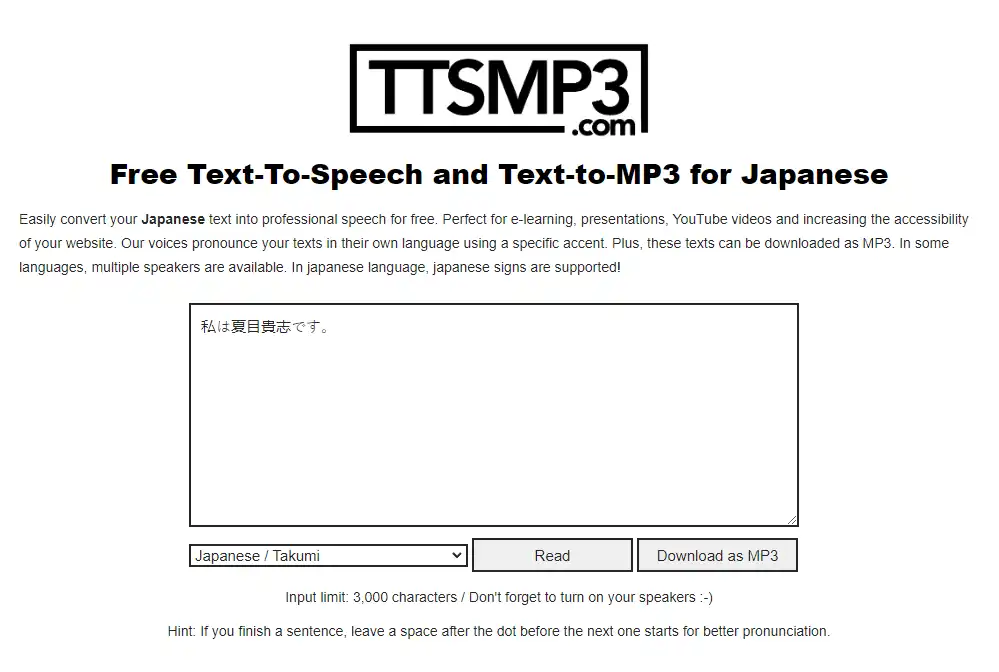 How to use this free anime voice text to speech?
Step 1. Visit this Japanese text-to-speech site (https://ttsmp3.com/text-to-speech/Japanese/).
Step 2. Type or paste the text and select the language and voice to read the text.
Step 3. Turn on your speakers. Click the Read button to listen to the speech. Try other voices if is not satisfying.
Step 4. Click Download as MP3 to get the generated audio file.
Other websites to get anime voices text to speech:
Imtranslator
Uberduck
Play.ht
Murf
Conclusion
Ready to generate anime voiceovers? You don't need to learn voice acting or Japanese. With the anime voice generators in this post, you can generate any Japanese speech at no charge.
Try FineVoice for Free
Powerful real-time voice changer for tuning your voice in gaming, streaming, and chatting. It comes with various voice & sound effects and supports creating custom voice. Get it for free.