In recent years, online classes have been more and more common around the world. Online and offline, there are arguments about which mode is better, but no doubt that teaching online is becoming popular every day. It's also a challenge as well as an opportunity for educators who are used to teaching in an offline way in the past.
If you want to catch up with the opportunity as an educator, it's best to know how to create eLearning voice over since it's a powerful tool for delivering content during online education. In this post, we will show you how to do that with a step-by-step guide. Let's find out.
Create Your Own eLearning Voice Over in 4 Steps
Step 1: Write your eLearning voice over script
A good movie starts with a good script, the same thing for the eLearning voice over, you need a script as the main ingredient of your eLearning voice over.
Before starting to write your script, remember that it should be easy to understand, so use long sentences and complex language carefully. More importantly, make it sounds like you are having a face-to-face talk, rather than reading a news report.
Scripts can build a deep connection between you and your audience. In that case, you should also make the words sound authentic so they can trust you. And using words that your audience is familiar with can make it more efficient to deliver content.
Lastly, there's one good method to check your script, which is to read it out loud, then you will know how the script actually performs after adding voice to it.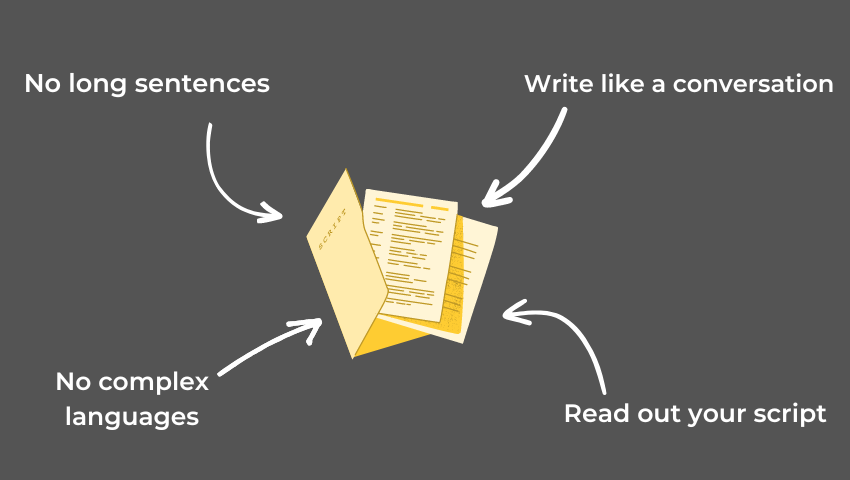 Step 2: Choose the most suitable voice
After making a good voice over script, the second step comes to the voice, the voice that narrates your script.
A dull voice without any inflection can easily put out the interests of your audience, but it's not always the best option to use a voice that sounds active and entertaining. Instead, you should choose a voice that suits the situation in your script. For example, if you are making the eLearning voice over about the emergency escape plan during an earthquake, the voice should sound urgent and clear for the audience to follow. And of course, remember to use languages that your audience can understand, don't cast the voice with German when your audience is from America.
You can cast the voice on your own, or hand it to professional voice actors, which comes to the topic of eLearning voice over rates. Usually, the rates are decided by the number of words or the length of the voice over, you can choose one of them according to the actual situation.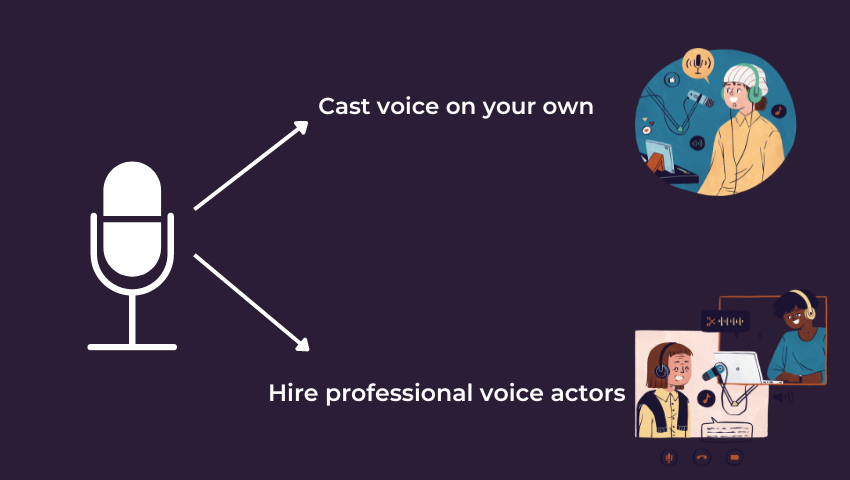 Step 3: Start recording voice over
This step might sound easier, but it also takes a lot of effort to complete, especially when you decide to do it on your own.
A microphone is necessary for sure, and you better pick a good one so the audio won't sound bad in the voice over. Other equipment like a pop filter and a sound shield can also help you secure the final quality of the recording.
If you choose to hire voice actors, they might stumble on words or use an inappropriate tone accidentally, and you have to retake if such things happen. Making mistakes is normal, just take it carefully.
Step 4: Edit and complement the voice over
Finishing recording isn't the end of your eLearning voice over creation, in order to get the ideal quality, you need to edit the voice over and make it sound better.
You can add some background music to attract the audience's attention, remove the background noises so the content can be received correctly, or add some extra silence part to the recording to give some time for the audience to process information.
Tips: Best eLearning Voice Over Software – FineShare FineVoice
Casting voices is difficult for a non-professional, and hiring voice actors sometimes can cost a lot. In this situation, a voice generator is very useful, and FineShare FineVoice would be your best choice for creating an eLearning voice over.
FineVoice is an AI digital voice solution that is integrated with multiple functions including an AI voice changer and an AI voice generator. Its interface is intuitive and user-friendly, even a beginner who has no experience in generating voice over can handle it in a few minutes.
As for the voice generator of FineVoice, there are 30+ different languages with standard tones and accents for you to choose from. You can set a male or female voice gender and adjust voice speed to suit the audience's preference.
FineVoice is now available on Windows systems, you can download it for free. Have a try now!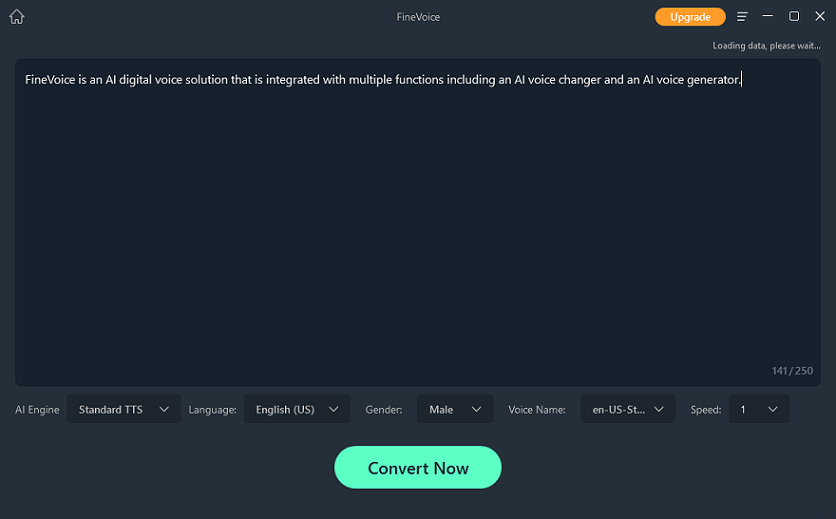 Conclusion
Creating eLearning voice over can be a rewarding and engaging way to deliver online courses to your audience. It works perfectly with other useful EdTech tools that can be used for eLearning courses too. We hope this guide can help you with some questions about eLearning voice over.
FAQ
When to use voice over in eLearning courses?
If you wish your audience to concentrate on the eLearning course more, or learn the content more efficiently, it's time to use voice over. What's more, it also helps the audience who has a visual impairment be able to learn.
How to create eLearning voice over easily?
The most efficient and easiest way to create an eLearning voice over is by using an AI voice generator like FineVoice. Such a tool can deal with the heavy part for you, and save you both time and energy.