Deep learning AI models have made it possible to utilize different text to speech generators. You can use different Goku AI voice generators to disguise your voice when streaming or creating content.
Our focus in today's post will be discussing who Goku is and how you can mimic his voice. We will mention different Goku text to speech generators discussing each in detail and its features. Read on!
Who Is Goku?
Dragon Ball is a famous series, and anyone who watches it can't miss knowing who Goku is. Well, Goku is the main protagonist in the series, and he is introduced as a monkey-tailed boy with excellent martial arts skills and superhuman strength.
Goku journeys to find the seven Dragon Balls, and he has to battle numerous enemies on his quest. He joins different friends to create a strong fighting team and eventually becomes the deadliest warrior.
Goku is a member of the Saiyan race, and he came to Earth when he was sent as an infant before his planet's destruction. His name was Kakarot, but after Son Gohan found him, he was adopted and named Goku.
The hero has different abilities, including teleportation, flight, healing, strength, stamina, speed, etc. Goku has an iconic voice, and you will delight in using his voice in your content creation.
Who Voices Goku?
This video clip highlights Goku's voice in English and Japanese. There are two Goku voice actors. There are English and Japanese voice actors. Sean Schemmel voices the English dub,and he has voiced it since the early 2000s. You will also meet him in other anime series, including Pokémon.
As for the Japanese voice actor, her name is Masako Nozawa. She is a renowned voice actor, and her popularity came in being the voice actor for Goku. With a Goku text to speech generator, we will show you to get your desired voice of Goku.
3 Best Goku Text to Speech Generators
To create content using Goku's voice, you must get a text-to-speech application that supports Goku's voice. Below are the reliable options you can use.
#1. FineShare FineVoice
It is an AI voice changer designed to give you an all-in-one experience to make your voice sound better when using different applications. With its numerous voices, you can easily disguise your voice to sound like Goku with simple steps. You can even use it to sound like Donald Trump.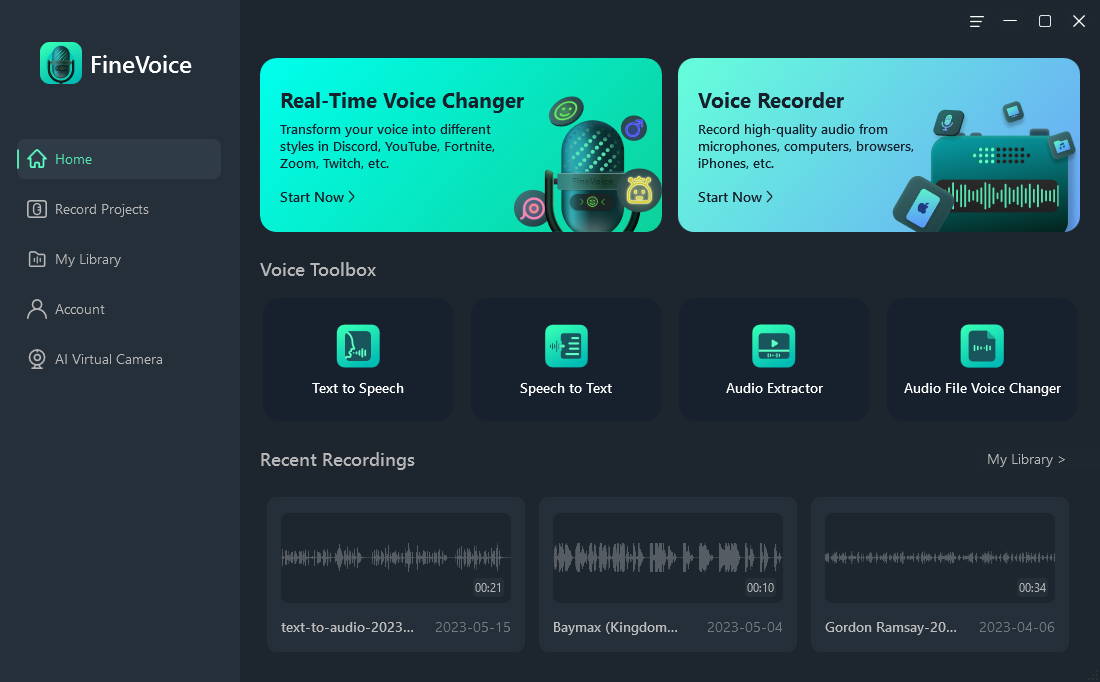 Features:
It can generate over 220 voiceovers in 40 languages.
It is a real-time voice changer.
It atcs as a text-to-speech and speech-to-text.
It offers a high-quality voice recorder.
It has numerous cartoon and anime voices.
Here's how to use FineVoice to generate Goku text-to-speech.
Step 1. Download and install the FineVoice setup on your PC.
Step 2. Open FineVoice and click the Text to Speech option.
Step 3. Type the text you want to convert to speech.
Step 4. Select the Role TTS AI engine.
Step 5. Choose the language as English or Japanese, and select a voice to generate text-to-speech with Goku's voice.
Step 6. Lastly, click on the Convert Now button.
Your text will get converted using the Goku voice to meet your goal. It's that simple.
#2. Murf.ai
It is an AI-powered text-to-speech voice generator designed to give users studio-quality voiceovers. You can use it for official presentations or creating fun content, including podcasts. It simplifies voiceovers with its voice clone and TTS feature. With Murf.ai, you can get a voice for any need, from entertainment to corporate to creative.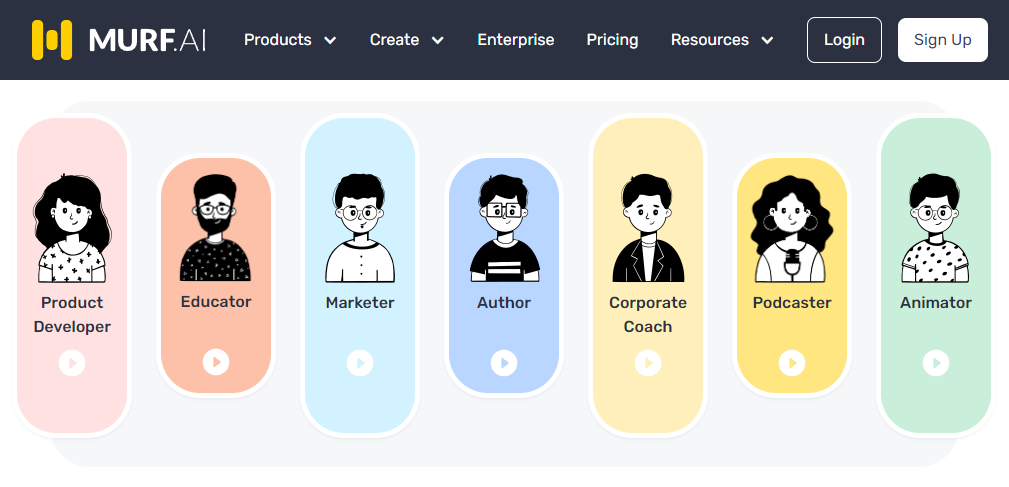 Features:
It has over 120 text-to-speech voices.
It supports 20+ languages including Japanese to generate anime voices.
You can upload audio and video, then add your preferred voice.
You can customize settings, such as pitch.
#3. FakeYou
It is an online text-to-speech tool that generates speech using the selected voice. It offers voices in English, Italian, French, and more. And you can choose from its over 3000 voices. The generated Goku TTS audio can be downloaded and used for other content.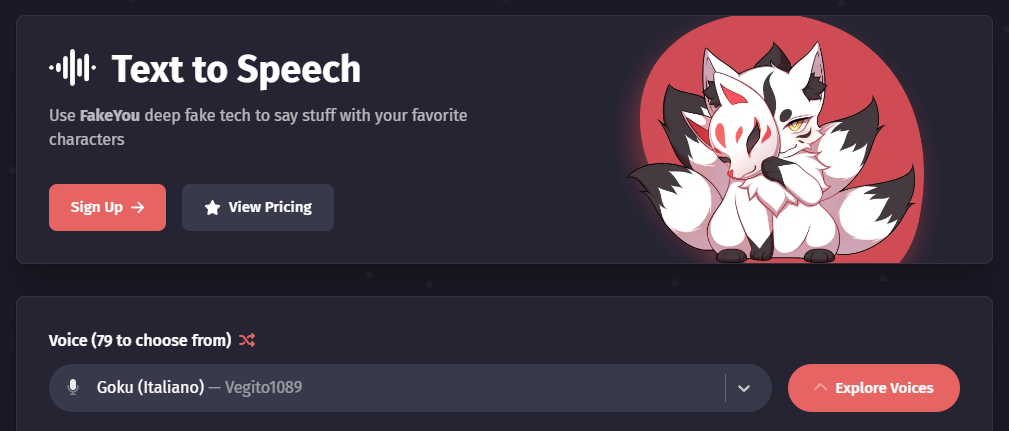 Features:
It is web-based.
It has a free and paid version.
It works as a text-to-speech, voice-to-voice, and video lip sync.
Conclusion
Goku is an iconic character and voice. You can use the Goku voice when creating different content to spice up the experience. This post has introduced who Goku is, who the voice actors are, and the different Goku text to speech options you can use. Hopefully, you can now comfortably get the Goku voice for your content.
FAQ
#1. What is Goku text to speech?
Goku text-to-speech is a popular meme that features a text-to-speech (TTS) engine using the voice of Goku, a character from the Dragon Ball anime series.
#2. Why should I use Goku text to speech for my content?
Goku text-to-speech can help you create awesome and engaging content with the voice of the legendary Saiyan warrior. Whether you're a content creator, gamer, or simply a fan looking to add a unique twist to your communications, Goku text-to-speech can infuse your texts with the electrifying energy of Goku's voice.
#3. Where can I find examples of Goku text to speech in action?
You can find examples of Goku text-to-speech in action on various platforms such as YouTube, TikTok, Reddit, etc. You can also search for keywords such as "Goku text to speech meme", "Goku text to speech video", "Goku text to speech animation", etc. You can also create your own examples by using voice generators and sharing them with your friends or audience.