Do you love Juice WRLD's voice and wish you could make your rap songs with his voice? If so, you're not alone. Juice WRLD was one of the most popular and influential rappers of his generation, and his voice is still in high demand among rap fans and music lovers.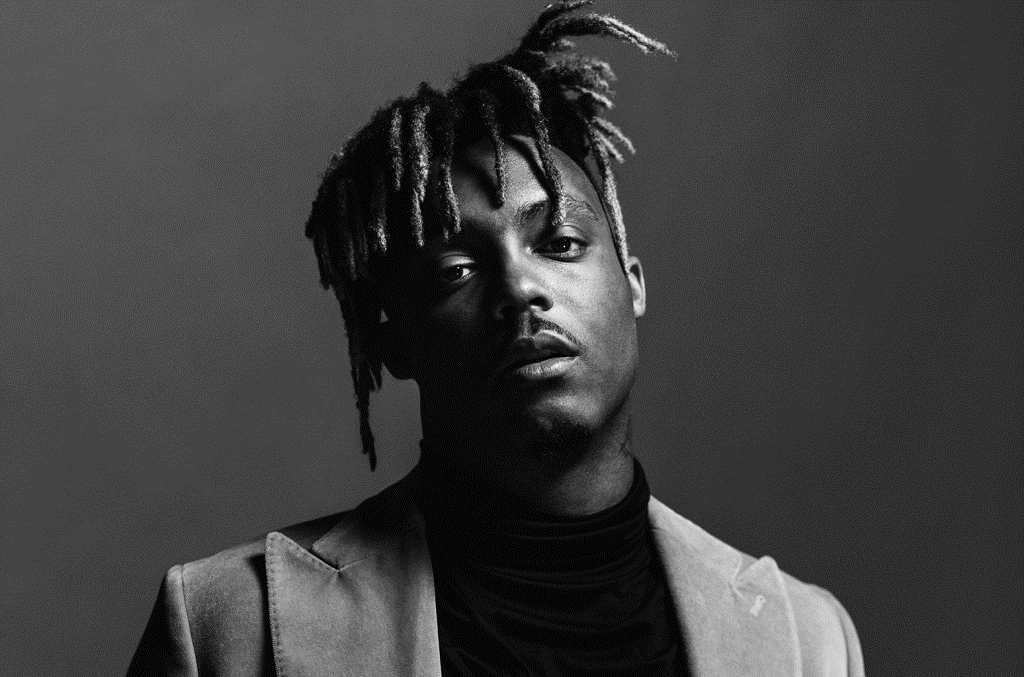 But how can you make rap songs with Juice WRLD's voice if he's no longer with us? The answer is Juice WRLD AI voice generators.
In this post, we'll introduce you to the top 3 Juice WRLD AI voice generators that you can use to make AI rap songs with his voice. By the end of this post, you'll be able to choose the best Juice WRLD voice generator for your needs and start creating your own AI rap songs with his voice.
Best Online Juice WRLD AI Song Maker
Use FineShare Singify to make your Juice WRLD AI songs. You can make Juice WRLD say your rap songs or cover songs of other artists like Ariana Grande and Nicki Minaj. FineShare Singify offers you 100+ AI voice models from singers, rappers, and characters to original AI voices.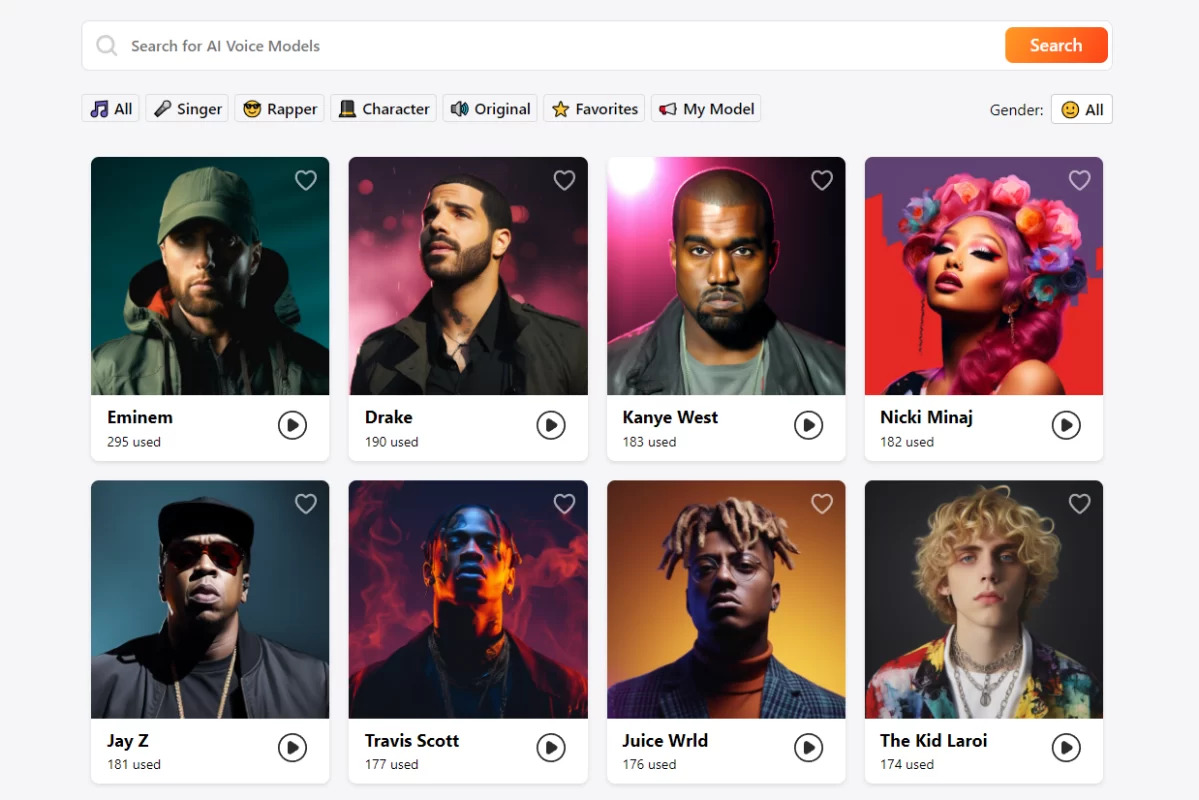 Highlights:
A vast library for rapping song covers creation
Multiple input methods
Multiple tasks creation
Email notification when a task finishes
How to make Juice WRLD AI songs with FineShare Singify:
Step 1. Visit FineShare Singify and click on Create AI Covers Now.
Step 2. Find and click the Juice Wrld voice model.
Step 3. Search for a song you want to make a cover. You can also paste a YouTube link, upload your song file, or record your microphone. Click on Make AI Cover.
Share or download the Juice WRLD AI cover song. You can also use FineShare Online Voice Changer to change your recording and audio file into Juice WRLD speech.
Top 3 Juice WRLD AI Voice Generators for Your Needs
There are many Juice WRLD AI voice generators available online, but not all of them are created equal. Here we've selected the top 3 tools or platforms that perform well.
#1. FineShare FineVoice
First, let's look at software for Juice WRLD TTS. FineShare FineVoice is a voice changer for PC but offers a powerful toolbox as well. In the text-to-speech tool, there are 220+ realistic voices in 40+ languages and accents. And you can also find tons of lifelike AI voices imitating characters, celebrities, and the best AI voices of rappers and singers like Rick Astley, Lady Gaga, and more.
It's very simple to use. Just install the free version and go to the text-to-speech tool. Select an AI engine, language, and the voice you want to generate speech with. A click on Convert Now would bring you the generated audio in seconds.
It gives you better stability and technical support than the 2 online AI Juice WRLD voice generators we will introduce below.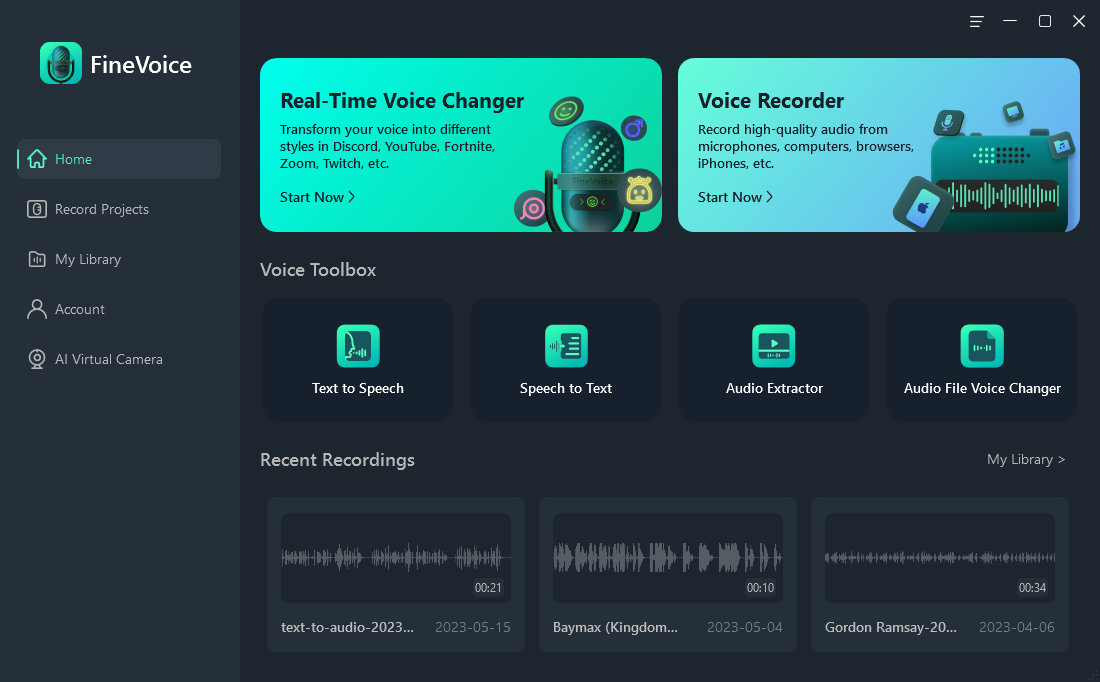 Pros
Easy-to-use interface
Fast text to speech conversion
High accuracy and quality
Auto-save to a local file
Audio quick access from the library
Affordable subscription plan and pay-as-you-go for TTS
Cons
Only for Windows PC users
#2. FakeYou
If you don't want to download software, an online Juice WRLD text to speech tool is a good choice for you. FakeYou is a website specializing in audio generation. You can find text-to-speech, voice-to-voice, and video lip sync.
The text-to-speech tool is their best service. You can find 3000+ voices from the voice list. And FakeYou gives you a clear classification for each voice so you can locate what you want easily. You can find musicians including Eminem, Jack Black, and Snoop Dogg to generate AI rap songs.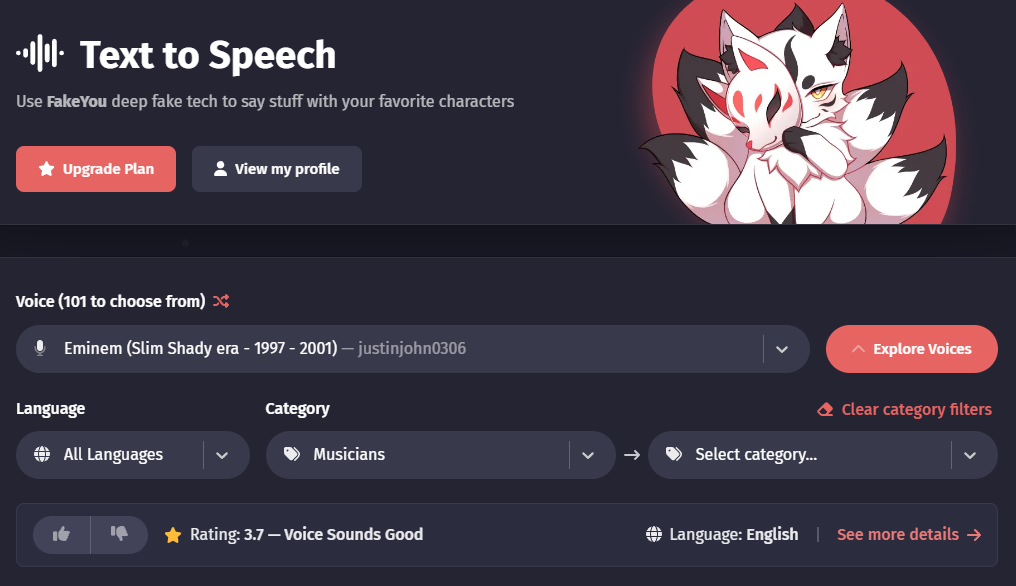 Pros
Simple and good-looking user interface
Hundreds of voices of cartoon characters
Continuously updated voice list
You can upload models to make FakeYou better
Cons
Slow generation speed for free users
Some voices sound unnatural and robotic
Limited time and features for free users
#3. Uberduck
Uberduck is the other online text to speech service we recommend to you for Juice WRLD AI voice. Want to find different Juice WRLD voice AI versions for different uses like generating raps, songs, or speech? If so, Uberduck is your best choice.
Uberduck offers a rappers category for you to find your favorite rap stars like Juice WRLD and Drake. You can use the rapping version to generate freestyles. That's easy without any effort.
There are a lot of memes, creepy, and funny voices in Uberduck like Carmen Winstead, Peter Griffin, and Goku. Have fun with Uberduck!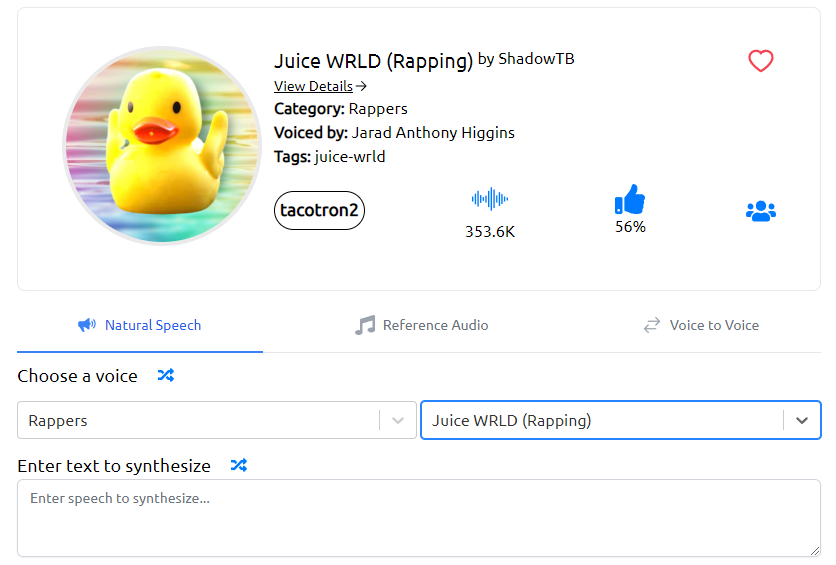 Pros
4000 voices from pop culture, most are movies and shows
Shows the number of files created with a voice
You can see the quality and popularity of a voice
Reference audio feature to generate speech that sounds like a Juice WRLD rap song.
Cons
Sometimes synthesis fails
Confusing voice categories
Bonus Tip: Use Juice WRLD Voice Changer to Create His Voice
FineShare FineVoice is a voice changer for voice modifying on gaming, streaming, and voice chatting platforms you use. It works for Windows PC and is compatible with all your favorite software like Twitch, Discord, Omegle and OBS, etc.
It offers a voice laboratory in the real-time voice changer. You can add a pitch shifter, tremolo, distortion, or other audio effects to make Juice WRLD voice. And use it to record songs, prank your friends and speak with it in games.
You can also use the created Juice WRLD AI voice to make voice-to-voice, that is to change the voice of any audio file to Juice using the audio file voice changer.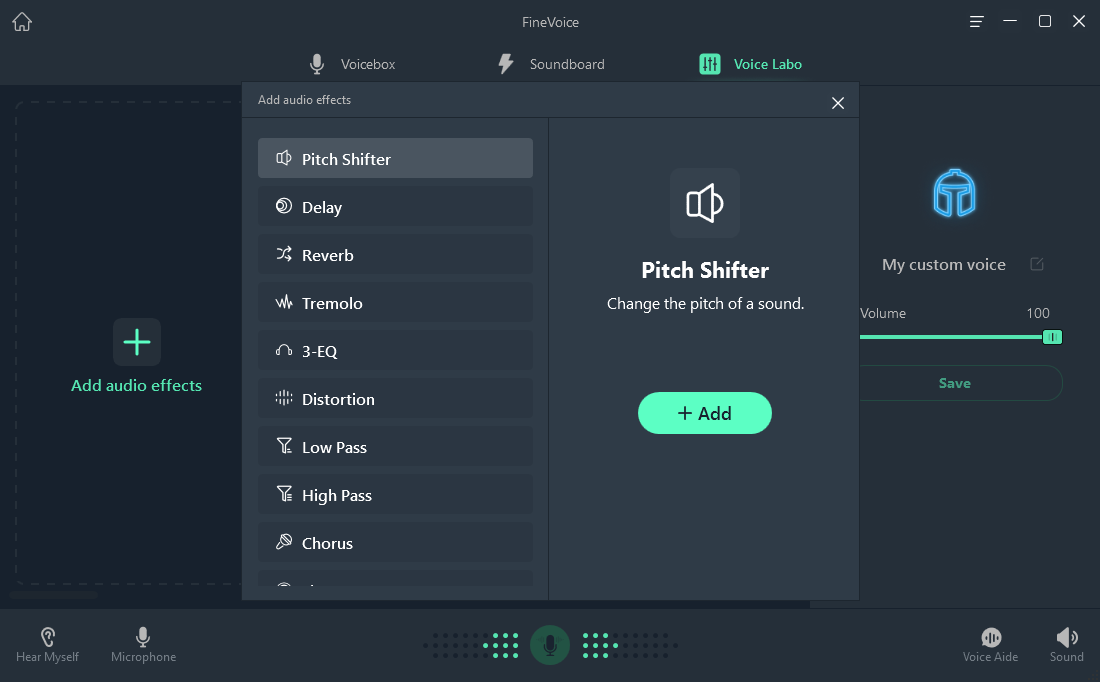 Conclusion
You've just learned the top 3 Juice WRLD AI voice generators on the internet. Whether you want to create realistic and expressive vocals, video clips, or custom voice clones, these tools have got you covered.
Now it's your turn to try them out and create your own AI rap songs with his voice. You'll be amazed by what you can do with artificial intelligence. Don't forget to share your creations with us in the comments below or on social media.
FAQ
#1. Who was Juice WRLD?
Juice WRLD was an American rapper, singer, and songwriter who rose to fame with his hit songs "Lucid Dreams" and "All Girls Are The Same". He was known for his emo-rap style and his freestyle skills. He died in 2019 at the age of 21 from an accidental drug overdose.
#2. Why is Juice WRLD's voice popular?
Juice WRLD's voice is popular because he had a unique and expressive vocal style that conveyed his emotions and stories. His voice was versatile and adaptable to different genres and beats. His voice also resonated with many fans who related to his struggles and themes of love, loss, addiction, and mental health.
#3. What are Juice WRLD AI voice generators?
Juice WRLD AI voice generators are tools or platforms that use artificial intelligence to mimic Juice WRLD's vocal style and tone. They can generate audio that sounds like Juice WRLD's voice from text or speech input. They can help users create music or voiceovers with his voice for fun, tribute, parody, or other creative purposes.