Want to have the voice of Mickey Mouse? Read the full post to get everything you need to know.
Who Is the Original Voice of Mickey Mouse?
We all know Mickey Mouse. He is the mascot of The Walt Disney Company. Mickey first appeared in 1928 and went on to appear in films, comic books, comic strips, and then television series. You can see him in video games as well as at Disney parks.
Mickey was voiced by Walt Disney himself the first time Mickey appeared in 1928. Until now, Mickey Mouse has had four official voices, they are Walt Disney (1928-1947, 1955-1962), Jimmy MacDonald (1947-1978), Wayne Allwine (1977-2009), and Bret Iwan (2009-present).
Do you make a video with Mickey Mouse's voice? Is there a Mickey Mouse voice generator? Yes. Read on, we will introduce the top 3 Mickey Mouse text to speech tools to you and give you a how-to-use guide.
Top 3 Mickey Mouse Voice Generators [Desktop and Online]
#1. FineShare FineVoice
Imagine being able to sound like Mickey Mouse anytime you want. Wouldn't that be awesome? Well, FineShare FineVoice can give you 220+ lifelike voices in 40 languages and tons of character voices. This text-to-speech tool can meet your needs for generating professional or funny voiceovers for videos, voice chats, or pranking.
And you can also record high-quality voiceovers with the multi-track voice recorder. The real-time voice changer makes modifying voice on Zoom, Twitch, Discord, and the video games you like possible.
How to use FineVoice to generate Mickey Mouse's voice:
Step 1. Download FineVoice.
Step 2. Launch FineVoice and open Text to Speech.
Step 3. Type or paste the text you want Mickey Mouse to say.
Step 4. Select Role TTS as the AI engine. And choose English as the language. Find the Disney category and select Mickey Mouse from the list.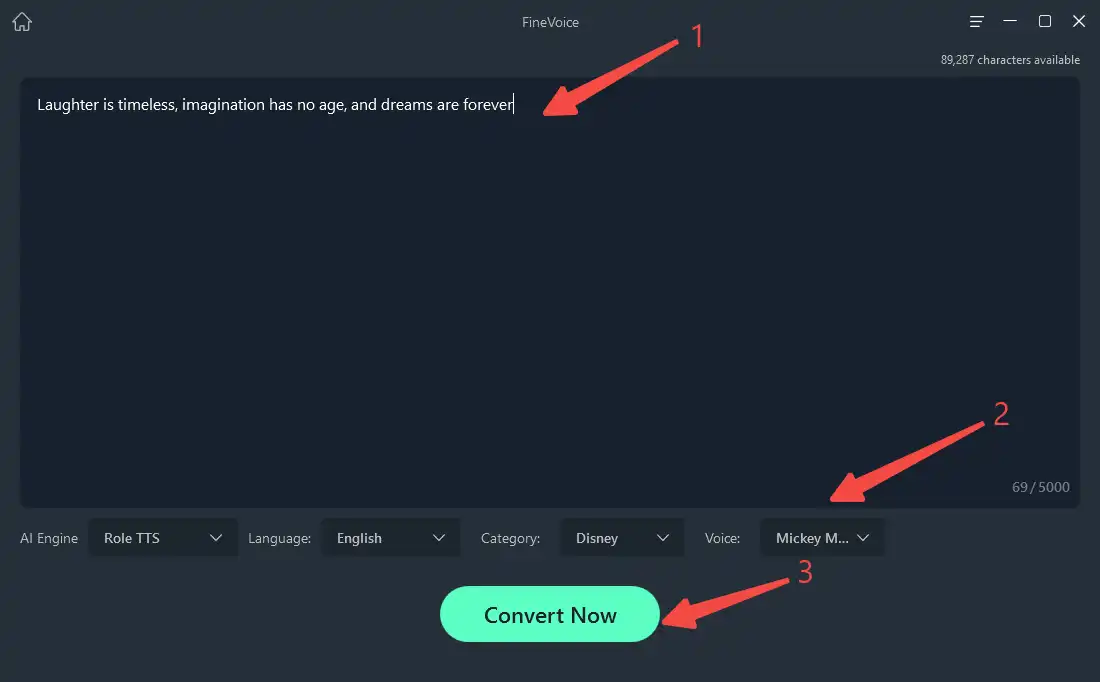 #2. FakeYou
If you want to find a free online Mickey Mouse voice generator, then FakeYou is the one you are looking for. FakeYou offers 2500+ voices to choose from, which include anime, cartoons, games, movies, etc. You don't have to sign up to say something with your favorite characters' voices.
How to use FakeYou as a Mickey Mouse voice generator:
Step 1. Visit https://fakeyou.com.
Step 2. Type the Mickey Mouse in the search box and select the shown voice.
Step 3. Type or paste any text you want to say with Mickey Mouse's voice in the text box. And then click Speak to convert text to Mickey Mouse voice.
Step 4. Wait for a few seconds and the TTS result will appear under the Session TTS Results. Listen to, share, or download the generated audio.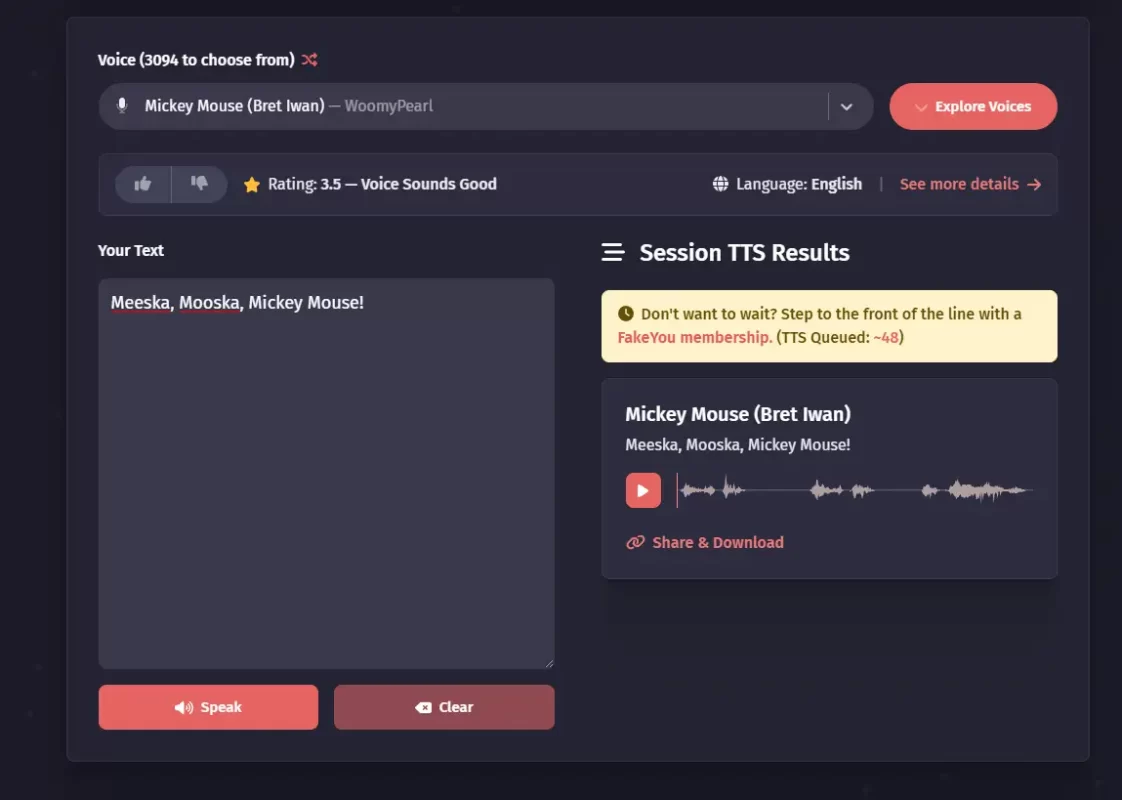 #3. Uberduck
Uberduck is an open-source AI voice-creating platform. It offers text-to-speech, text-to-image, clone your voice, and other features for content creators. You need to log in to use the text-to-speech feature. And free user
How to use Uberduck as a Mickey Mouse voice generator:
Step 1. Visit https://uberduck.ai and log in to an account.
Step 2. Click the Text to Speech icon and in the new window, click the box under Choose a voice to select Disney.
Step 3. Click the next box and you can see all characters of Disney in the drop-down menu. Select Mickey Mouse (Bret Iwan) or Mickey Mouse (Wayne Anthony Allwine) as you like.
Step 4. In the box under Enter text to synthesize, type or paste whatever you want Mickey Mouse to say. And then click Synthesize button to start the process.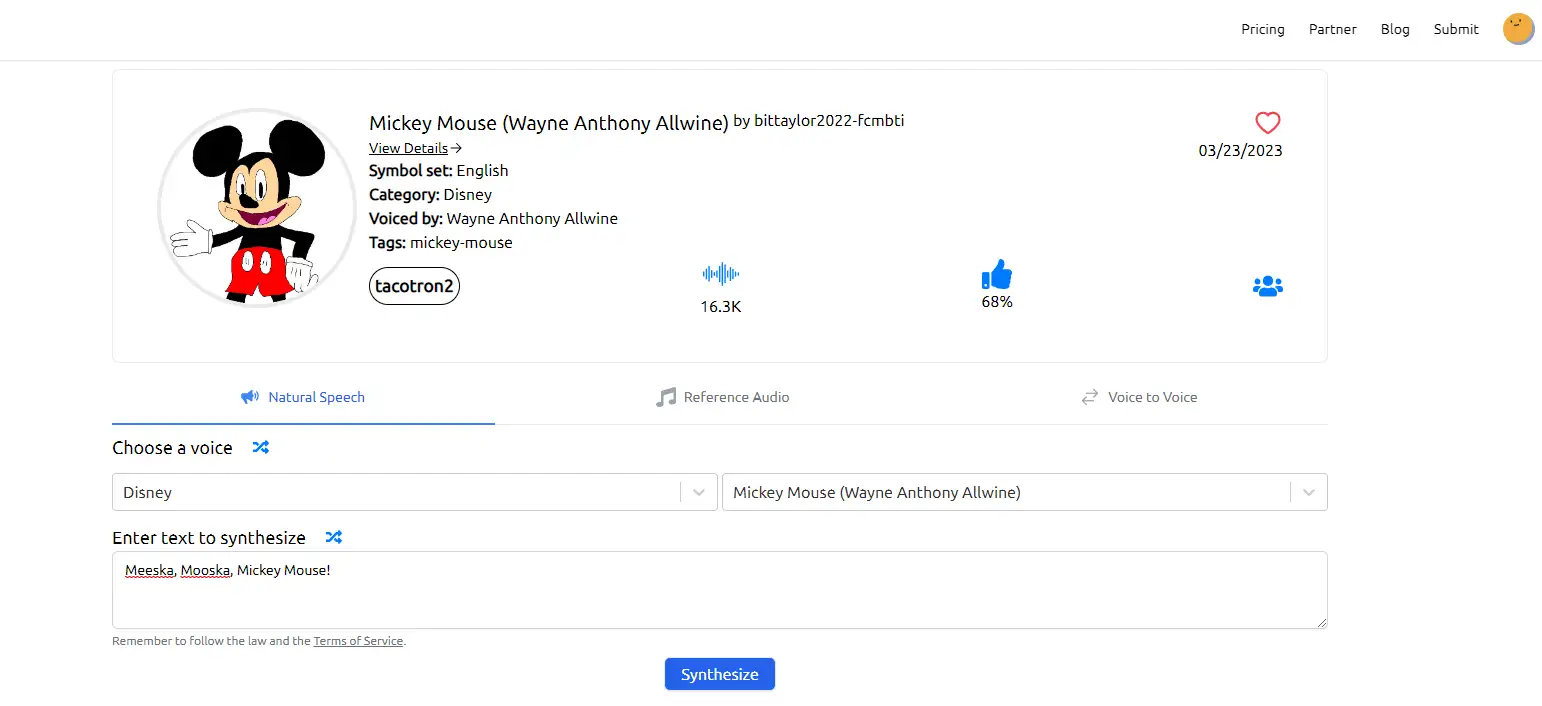 Step 5. You can find the TTS result under Generations. Feel free to play or download the audio.
Best Mickey Mouse Voice Changers
You may have a question about how to sound like Mickey Mouse. Read this part to know more.
FineShare FineVoice
As we mentioned before, FineVoice is an excellent voice changer software that works on Windows PC. This delightful gadget allows you to transform your voice into the iconic voice of everyone's favorite cartoon character, Mickey Mouse. It provides 30+ voice effects and 200+ sound effects. Download and try more features!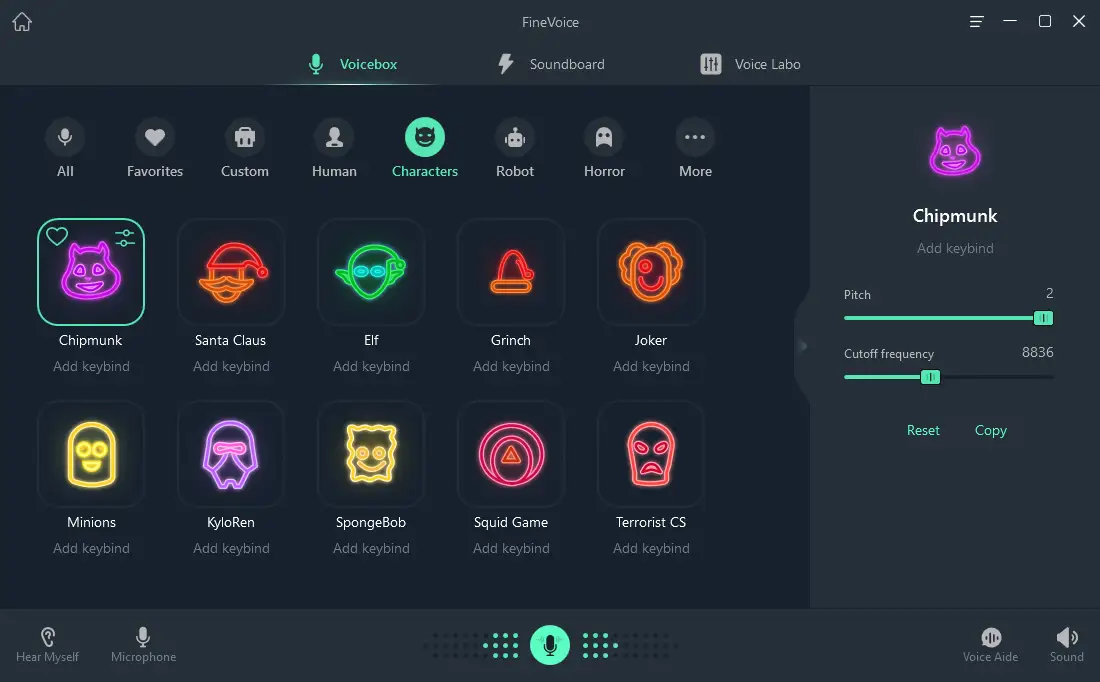 Features:
A variety of voice effects and soundboards for games, chatting, live streaming and more.
Create your own custom voice with 28 audio effects including delay, reverb, equalizer, and Wah.
Audio file voice changing is supported.
Works with almost all apps like Discord, Zoom, Teams, Skype, OBS, FineCam, etc.
Offers other voice tools including text to speech, speech to text, audio extractor, and multi-track recorder.
Related article: 15 Best Free Voice Changers and Plugins for PC, Mac, Android, and iOS.
Bonus Tip: 3 Classic Mickey Mouse Quotes you can try on voice generators
1. "Everybody says, 'Oh, Toodles!'"
2. "Oh, I almost forgot. To make the clubhouse appear, we get to say the magic words: Meeska, Mooska, Mickey Mouse! Say it with me: Meeska, Mooska, Mickey Mouse!"
3. "Best friends stick together."
Conclusion
This article introduces you to 3 perfect Mickey Mouse voice generators and gives you a how-to-use guide. Now, there's no more to say. Have fun!