Text-to-speech is designed to help users convert a given text to voice, and it could be useful in various situations like giving presentations or making voiceovers for videos. Nowadays, more and more people use it to simplify their daily lives via text-to-speech converters.
When using text-to-speech converters, you can select what voice to use, and the famous singer Rick Astley's voice is a quite popular choice. In today's post, we will show you how to utilize a Rick Astley generator in two different ways. Let's get started!
Who is Rick Astley, and What Does RickRoll Mean?
Have you ever been RickRolled? Rick Astley is an English pop star with different hits, and his popularity is partly attributed to the RickRoll prank. The pop star has released hits like "Never Gonna Give You Up."
The RickRoll pranks involve many forms such as creating a website and adding a hyperlink that redirects to this Rick Astley's hit song. You can also share the link with friends or add it to a blog or document. The unknowing target will click the added link and view Rick Astley's songs.
Although the track was released in 1987, Rick Astley is still a popular name in 2023, and people keep RickRolling their friends by using a Rick Astley text-to-speech voice generator.
How to Get Rick Astley Text to Speech on Desktop with FineShare FineVoice
One way of getting Rick Astley's voice in your text-to-speech is by utilizing FineShare FineVoice. It is an all-in-one voice changer that can be used as a handy voice generator too. It enables you to quickly generate realistic voices based on your text. When you have your text in place, you can download and install this tool. The simple interface won't take too long for you to get familiar with it.
As one of the best voice changers, FineShare FineVoice works with numerous apps to help you transform your voice and meet different goals. With its over 200+ voices, you can easily select Rick Astley as your voice to use in the text-to-speech generator. Follow the simple steps below.
Step 1. Download and Install FineShare FineVoice
It's highly recommended to download it from the official website. With FineShare FineVoice installed, open it and proceed with the other steps below.
Step 2. Launch Text to Speech Function and Enter the Text
On the FineVoice interface, locate the Text to Speech section and click on it. Once it opens, enter the text you wish to generate its speech.
Step 3. Fine Rick Astley voice generator option
Then set AI Engine to Role TTS, and find the Singers category where the Rick Astley voice is placed.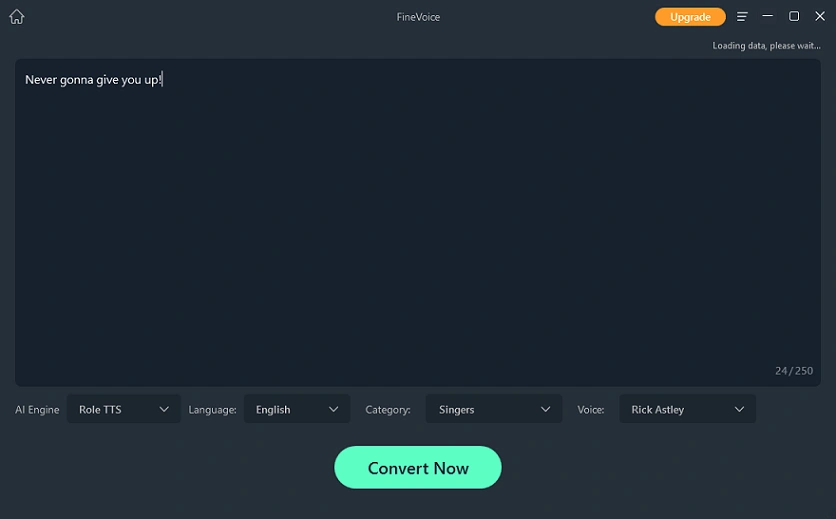 Step 4. Convert the Text
After you enter your text, adjust different settings, such as the language and the speed. Lastly, click the Convert Now button. Once FineVoice finished the generation, you will get the Rick Astley voices based on your text.
Features:
It has over 220 lifelike voices.
It has a simplistic interface.
It creates quality voices with deep learning technology.
You can adjust the speaking rate.
It is secure to use and has 24/7 customer service.

How to Get Rick Astley Text to Speech on Website with Uberduck
You can also get Rick Astley's voice using an AI voice changer. Uberduck generates AI vocals and can be used as a Rick Astley generator.
Step 1. Open your browser and access the Uberduck website.
Step 2. Click the Get Started button and sign up for a free account.
It's possible to use a Google account to sign up. You have to sign in on Uberduck or it won't allow you to use any of its functions.
Step 3. Under the products section, access the Text to Speech section.
Step 4. Select the voice and set it to Rick Astley.
This voice option is located in Singer category, you can tap on the category box to search for this voice directly.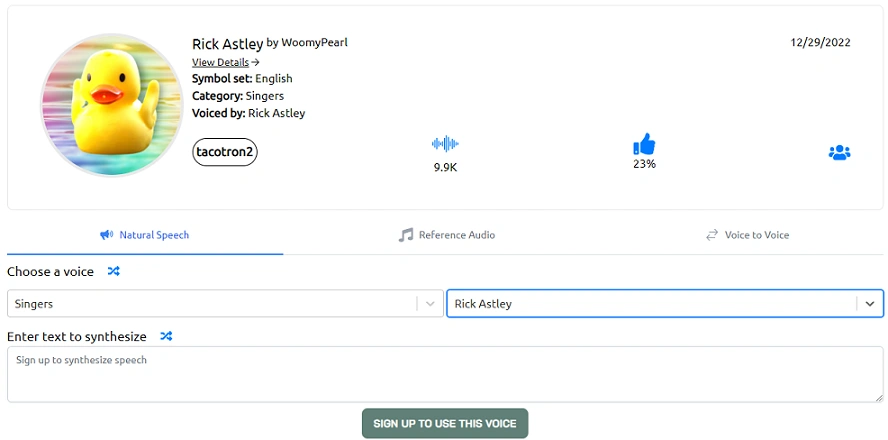 Step 5. Add your text and generate the voice.
Features:
It is an online solution with no download required.
The text-to-speech conversion is straightforward.
It has 5000+ voices.
You can create custom voices.

Conclusion
RickRolling someone is fun, and with a reliable text to speech voice generator, you can indirectly RickRoll someone on various platforms like Discord and Skype.
This post explains two ways of getting Rick Astley's text to speech, we hope you can find what you need. Be sure to try them out and have fun RickRolling your friends using the Rick Astley voice.
FAQs
What happens when you Rickroll someone?
The Rickroll prank is basically you posting a disguised link that unexpectedly directed others to an MV of Never Gonna Give You Up. As an Internet meme, Rickroll has a long history since 2007, and it's still popular nowadays.
Why did Rick Astley's "Never Gonna Give You Up" become a meme?
The Rickroll meme origins from the video game Grand Theft Auto IV in 2007. An anonymous user from the 4chan forum uploaded a so-called GTA IV trailer link that actually leads to the MV of Never Gonna Give You Up. A number of people get trolled by that fake link. After that, Rickroll pranks started to appear everywhere on the Internet and became a meme very soon.