Are you Ready?
I'm ready, I'm ready.
Are SpongeBob SquarePants your childhood memories? This cartoon is maybe one of the greatest shows of all time. The adventures of SpongeBob and his friends in the city of Bikini Bottom never end.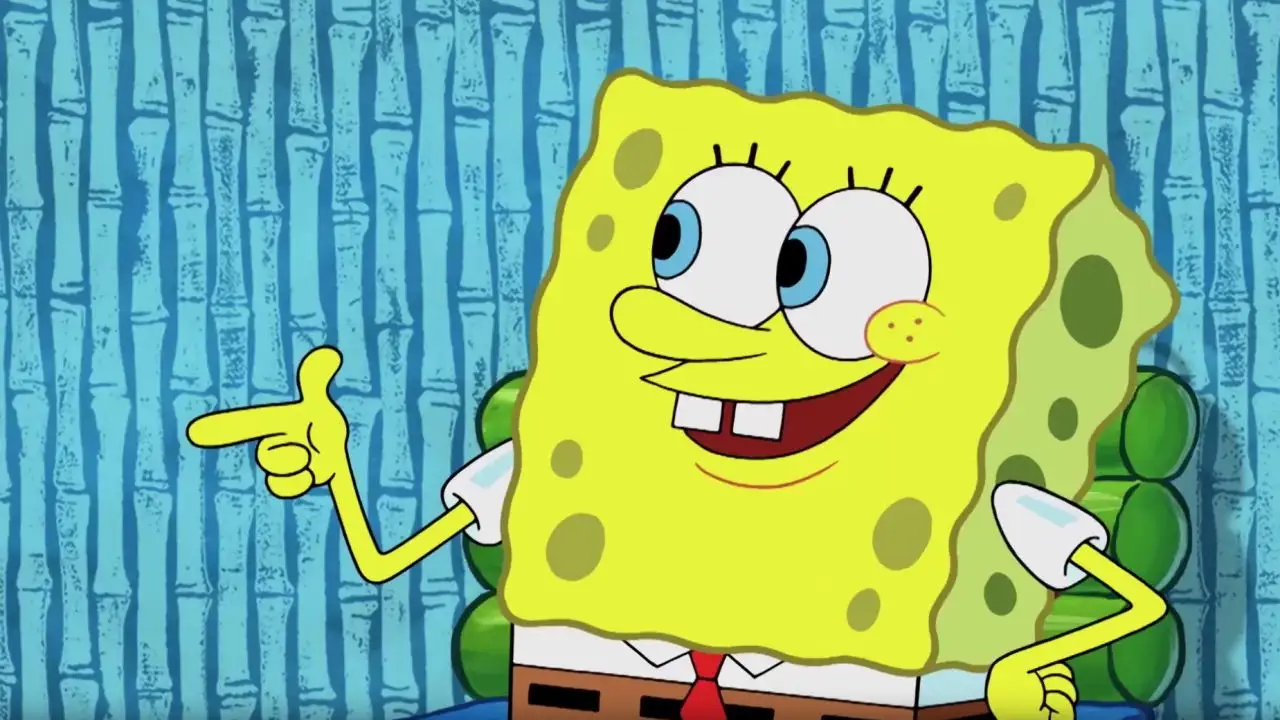 Were you touched by the friendship between SpongeBob and Patrick? Did you laugh at SpongeBob's childish behavior and voice? Have you spent a lot of time imitating SpongeBob's unique and funny voice?
But, it was no easy task. Maybe nothing much has changed after a long time. However, you don't have to worry, now. There are some great SpongeBob voice generators on the Internet. Just with a few simple clicks, you can have the voice of SpongeBob.
Part 1. Best SpongeBob Voice Generator Desktop
#FineShare FineVoice
FineShare FineVoice is a text-to-speech software that offers tons of character voices including cartoon characters' voices, video game voices, celebrity voices, anime voices, etc. Whether you want to prank your friends or play voices in games or streams, you can find a funny voice such as Donald Trump or Yoda.
FineVoice can also give you 220+ lifelike voices in 40 languages, which can meet your need for generating professional voiceovers for videos, books, and communications.
Find Spongebob, Squidward, Mr. Krabs, and other character voices from your favorite SpongeBob Franchise to make them say anything you want. Have fun!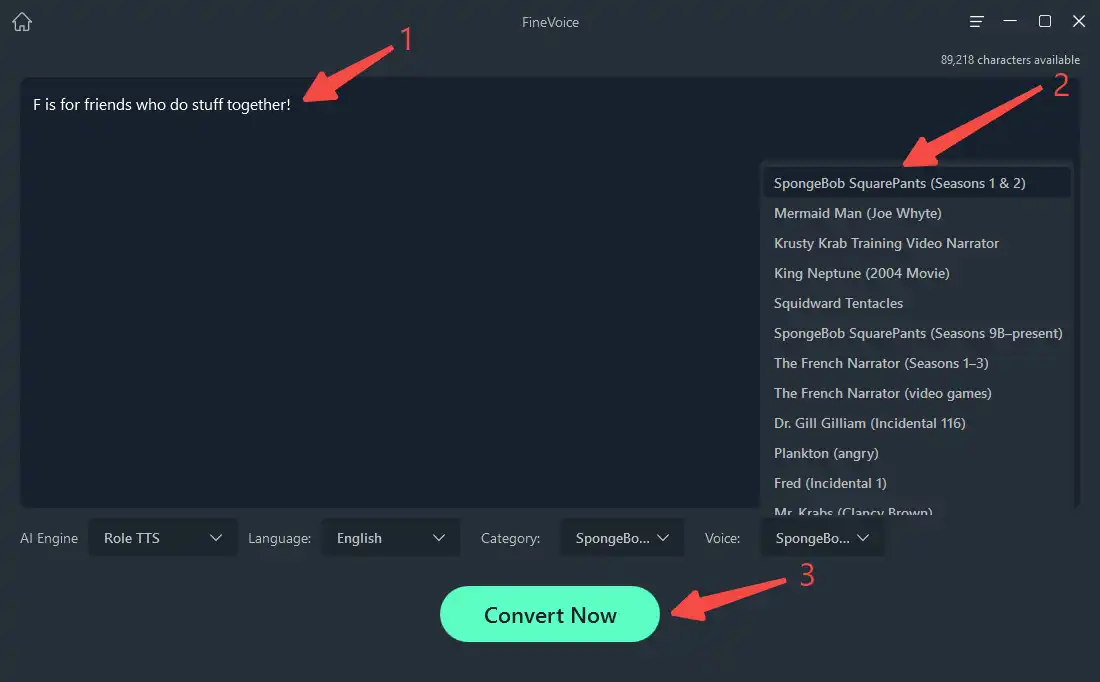 Highlights:
Simple and intuitive interface
Great text to speech tool
Funny voice effects
Abundant sound effects
High-quality voice recorder
More than voice changing
How to Generate SpongeBob Speech with FineVoice?
Step 1. Click to download and install FineVoice.
Step 2. Launch FineVoice and click Text to Speech.
Step 3. Enter the text. And select Role TTS as the AI engine. Choose the English language and select SpongeBob SquarePants as the voice.
Step 4. Click Convert Now to start generating the speech.
Part 2. 2 Best SpongeBob Voice Generators Online
#1. Uberduck AI
Uberduck AI is an open-source AI platform providing tools for audio, images, and notebooks. The text-to-speech tool offers over 4,000 voices to choose from for audio applications.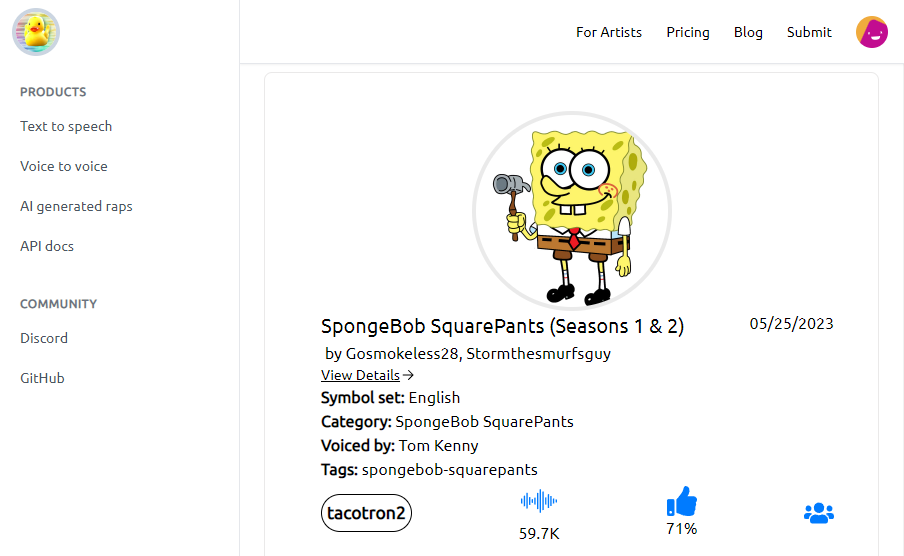 How to Use Uberduck SpongeBob Voice Generator?
Step 1. Visit https://app.uberduck.ai/speak#mode=tts-basic&voice=zwf
Step 2. Type SpongeBob in the box under Choose a voice, and then select the SpongeBob SquarePants category.
Step 3. Click the box next to it and you will see all the voices of the SpongeBob SquarePants TV series. Select a SpongeBob SquarePants voice.
Step 4. Enter some text in the text box and then click the blue Synthesize button to let Ubnerduck speak the text with the SpongeBob SquarePants's voice.
Step 5. You will see all SpongeBob text-to-speech results in the Generations section. You can play, share, download, or export the audio clip as a video.
#2. FakeYou
FakeYou is another online voice generator offering more than 3,000 voices. You don't need to sign up to convert text to speech with the voices of characters of animations, cartoons, and movies to announcers and musicians.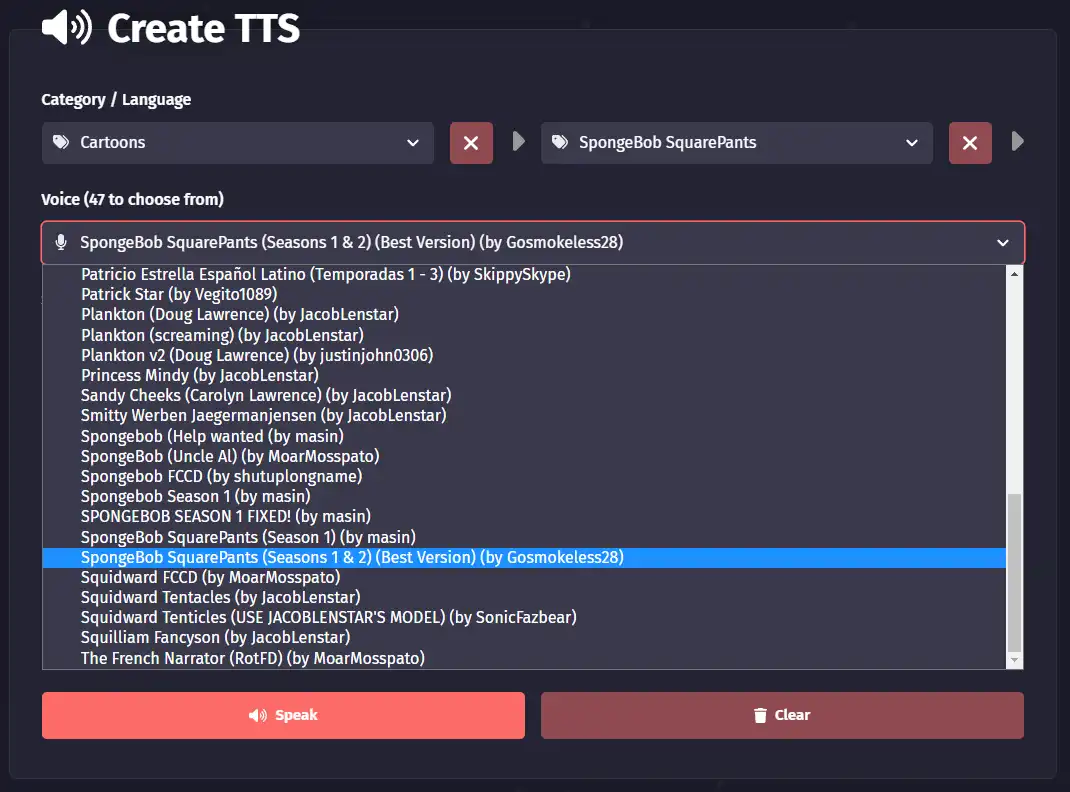 How to Use FakeYou SpongeBob Voice Generator?
Step 1. Visit https://fakeyou.com
Step 2. Select Cartoons and SpongeBob SquarePants in the category boxes.
Step 3. You will have 47 voices to choose from all SpongeBob SquarePants characters, and there are 7 SpongeBob voices.
Step 4. After selecting a voice, type what you want SpongeBob to say in the text box. And then click the red Speak button.
Step 5. You will see the result appears under the Session TTS Results. And you are free to play, share, or download the TTS result.
Part 3. 3 Best SpongeBob Voice Changers Software
In addition to SpongeBob text-to-speech, we can also make a SpongeBob SquarePants voice via a voice changer. We will introduce 3 SpongeBob voice changers for your computer and phone.
#1. FineShare FineVoice
As we mentioned, FineVoice is also a real-time voice changer for Discord, OBS, Twitch, and voice chat platforms. It works perfectly on Windows desktops. FineVoice offers 30+ voice effects and 200+ sound effects for your videos and streaming.
Click the real-time voice changer and you can find a preset SpongeBob voice effect. And you can also change your audio file's voice to make it sound like SpongeBob. And with the Voice Labo and its 25+ audio effects, you can create the voices of all the characters in SpongeBob SquarePants you like.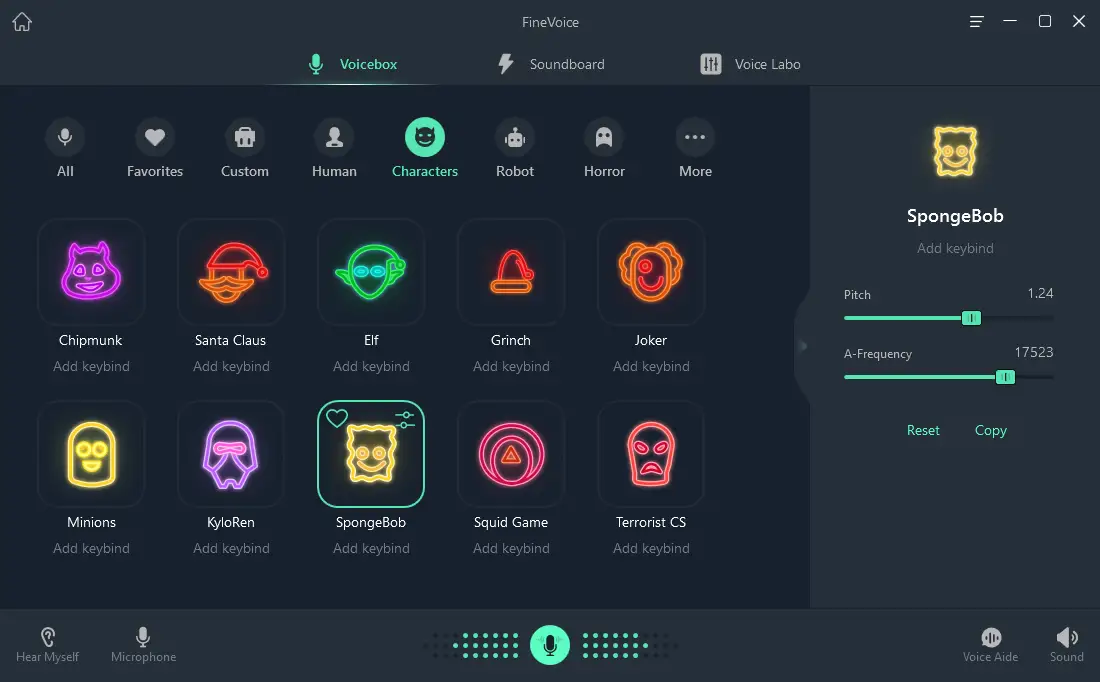 #2. Voicemod
Voicemod is the other option if you want to have SpongeBob voice on Windows. It offers more than 200 voice filters and various soundboards for streaming.
Voicemod doesn't provide a preset SpongeBob voice filter, so you could try to customize a SpongeBob voice in Voicelab. This feature requires a PRO subscription. After upgrading, you can build a SpongeBob voice with more than 10 sound parameters such as Delay, Distortion, Vocoder, and Wah Wah.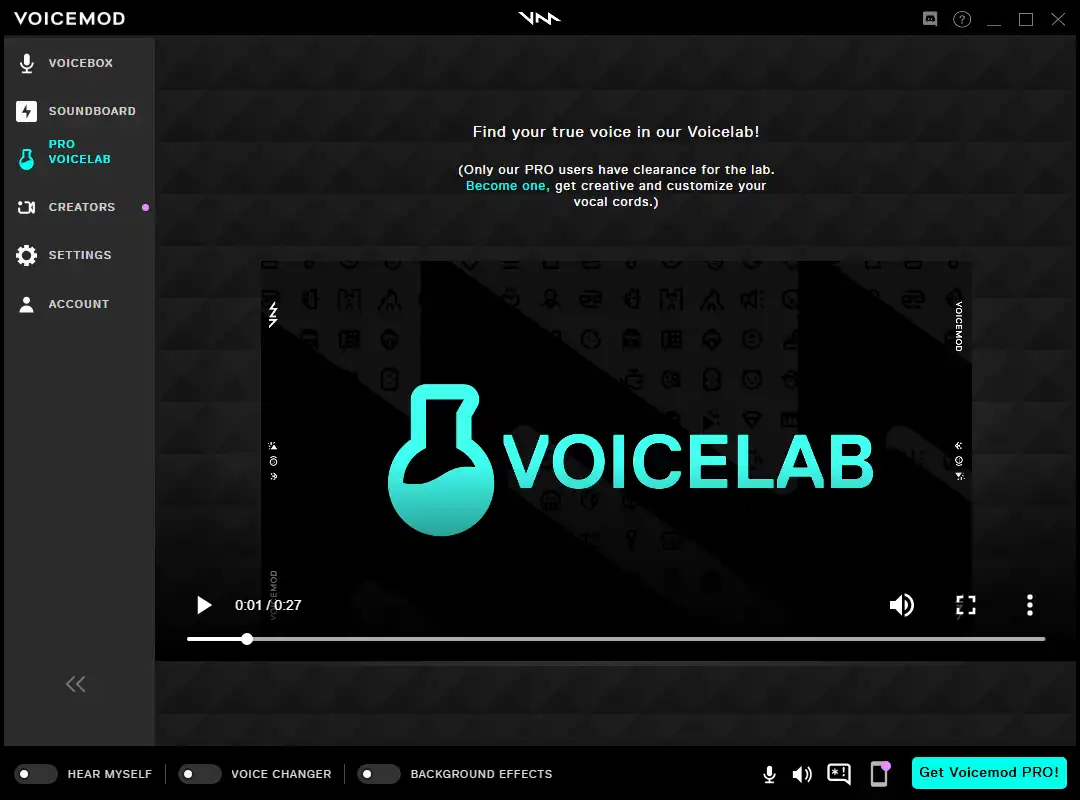 #3. Celebrity Voice Changer
Celebrity Voice Changer is a voice changer app for iOS and Android. It's powered by Voice AI and uses deep learning tech to transform your voice into a celebrity.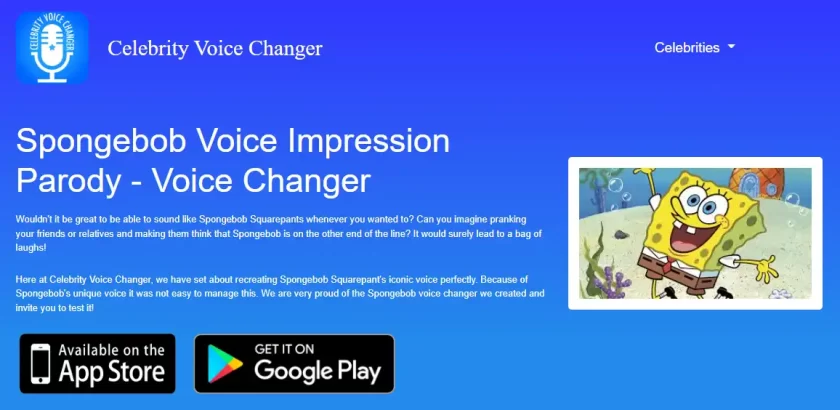 SpongeBob voice impression is a new voice they created lately. How to use this SpongeBob voice changer? You need to make your phone connected to the Internet. And then speak to the microphone. After several seconds, this app will generate a video with the modified sound clip.
Conclusion
Now you know how to have SpongeBob SquarePants's voice using SpongeBob voice generators. But before pranking your friends, you may want to mimic his childish, joyful, and clumsy way of speaking and his catchphrase. Are you ready? Have fun!