Do you like Yoda? Small in size but wise and powerful. He is one of the most charming characters in Star Wars. Yoda trained Jedi for over 800 years. His wisdom and positive impact on the key characters make people in the real world love him so much.
And the legendary Jedi master has a special, low, and deep voice. Do you want to have Yoda's voice? Call your friends and use his voice to speak, they must be amazed.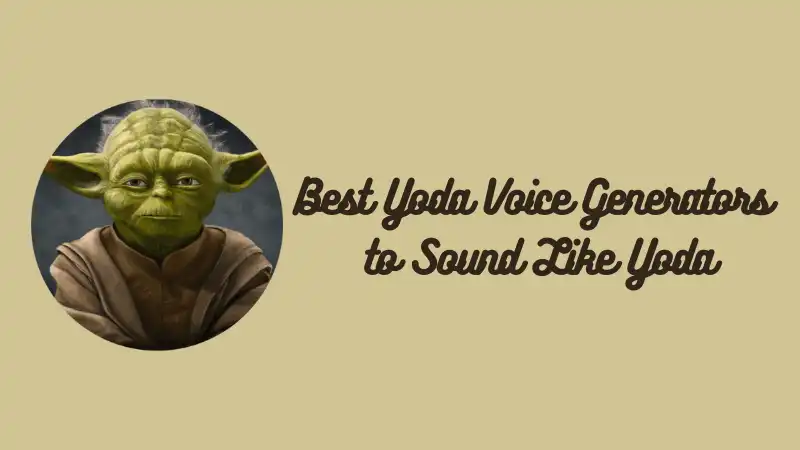 In this post, we will give you the 3 best Yoda voice generators to create natural Yoda speech. Generate this Jedi master's voice and have fun with your friends.
Part 1. 3 Best Yoda Voice Generators to Get Yoda Voice
Are you ready to speak like Yoda? Let's take a look at the best Yoda voice generators one by one.
#1. FineShare FineVoice
FineVoice is a simple-to-use Yoda voice generator on Windows PC. It offers numerous character voices from movies, games, anime, memes, etc. It's a great way to create fun and engaging content. You can turn any text into a speech with Yoda's voice just with one click.
What's more, FineShare FineVoice can save all your audio and projects in the library for easy access. You can use the converted Yoda voice to narrate your stories, videos, podcasts, presentations, or anything else you want.
Highlights:
220+ lifelike voices for professional voiceovers
Hundreds of character voices for gaming, streaming and pranking
Real-time voice changer
Supports custom voices creation
Offers an audio to text trascriber, audio extractor, voice recorder and other useful voice tools
Pros:
Running stable
Easy to use
Fast conversion speed
High accuracy
Cons:
How to Use This Yoda Voice Generator for PC?
Step 1. Install and launch FineVoice.
Step 2. Click Text to Speech and type or paste text in the textbox.
Step 3. Choose Yoda voice and start conversion.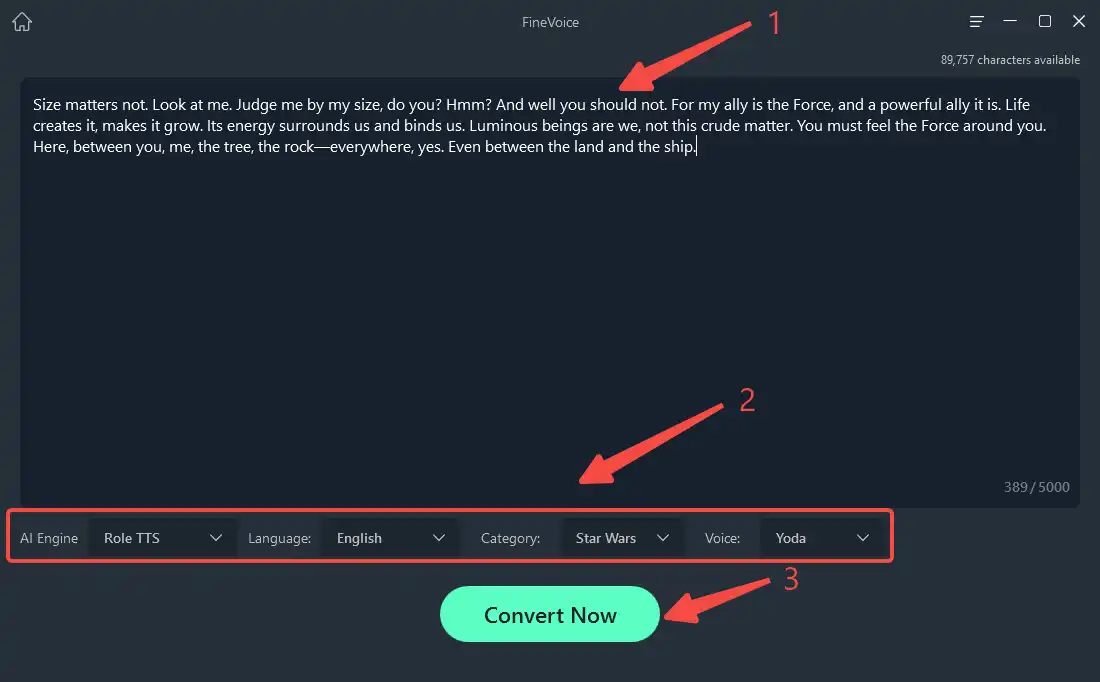 #2. FakeYou
Want to find famous voices in Star Wars? FakeYou won't disappoint you. This website has been working on text-to-speech and voice clones for years. You can find 53 voices in Star Wars. That's wonderful.
How to Use This Yoda Text-to-Speech?
Step 1. Visit www.fakeyou.com
Step 2. Type Yoda in the Search box.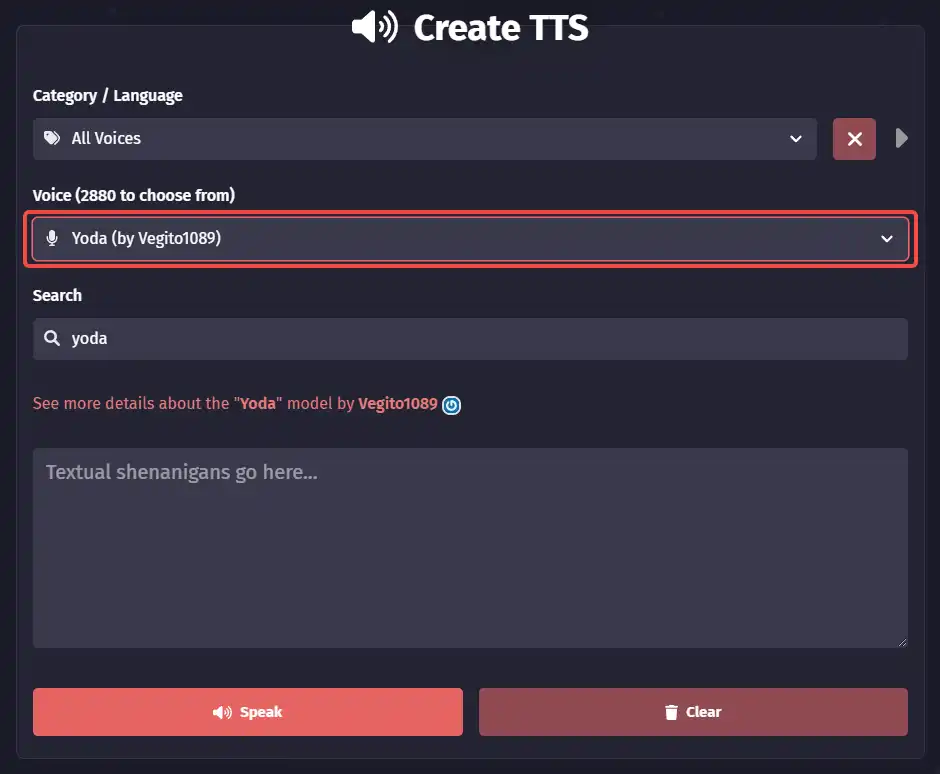 Step 3. Enter text in the textbox.
Step 4. Click the red Speak button.
Step 5. Wait a minute, and scroll down to the Session TTS Results section to play or download the Yoda TTS.
#3. Uberduck
Let's move on to another Yoda voice generator. Uberduck can offer more audio tools than FakeYou. And there are over 4,000 voices from films, memes, celebrities, and TV shows. You can find the voices of the key characters in Star Wars. Explore it and try the wonderful Yoda voice.
How to Use This Yoda Voice Generator?
Step 1. Visit https://app.uberduck.ai/speak#mode=tts-basic
Step 2. Type Yoda in the second box under Choose a voice.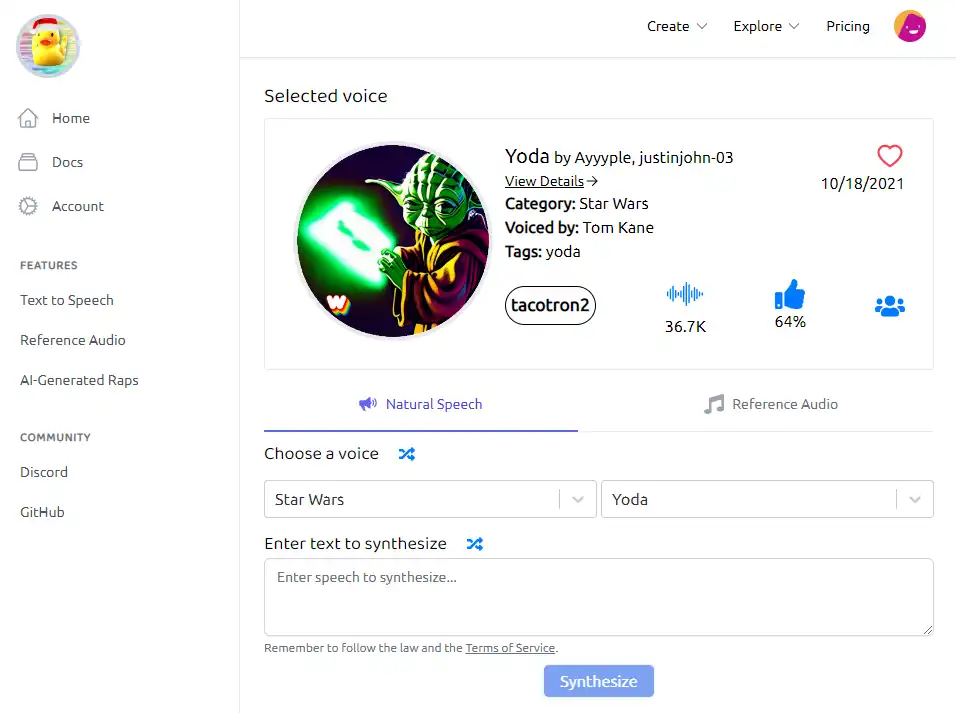 Step 3. Enter text under Enter text to synthesize.
Step 4. Click the Synthesize button.
Step 5. Within seconds, you can find Yoda audio under Generations.
Part 2. Best Yoda Translator to Speak Like Yoda
Now you got and only got Yoda's voice. But to sound like Yoda, you need to also speak like him. How does Yoda talk? The key point is learning his OSV or object-subject-verb sentence structures. Listening to Yoda speaking and keep practicing.
Or, get help from a Yoda translator. Input short sentences in the textbox and click Convert. And you can see how Yoda speaks. You can easily find Yoda translators on the internet.
Try the Yoda translators with jokes, emails, messages, etc, and learn how to talk like Yoda.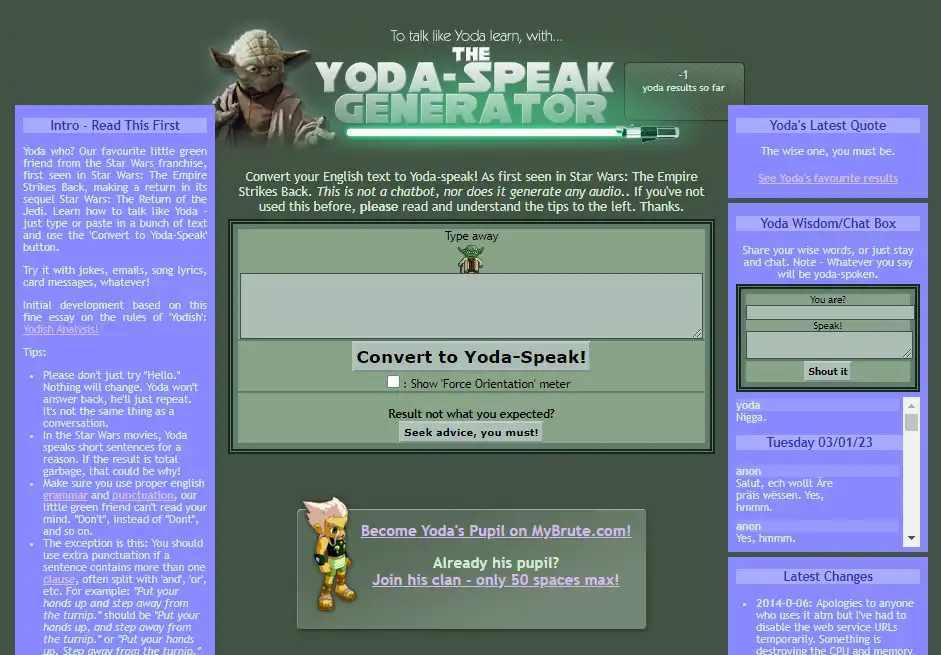 Part 3. Best Yoda Voice Changer to Create Your Yoda Voice
Now you knew how to sound and speak like Yoda. And if you are not satisfied with the Yoda voice given by the Yoda voice generators, you can create a Yoda voice in your style.
Besides the text-to-speech tool, FineVoice is also a free real-time voice changer for Windows. It can change your voice when you are on Zoom, Twitch, Discord, or other voice chatting platforms.
And in this powerful voice changer, you can create any voice with the Voice Labo feature. FineVoice offers 28 audio effects like pitch shifter, delay, distortion, etc. Try out to create your Yoda voice.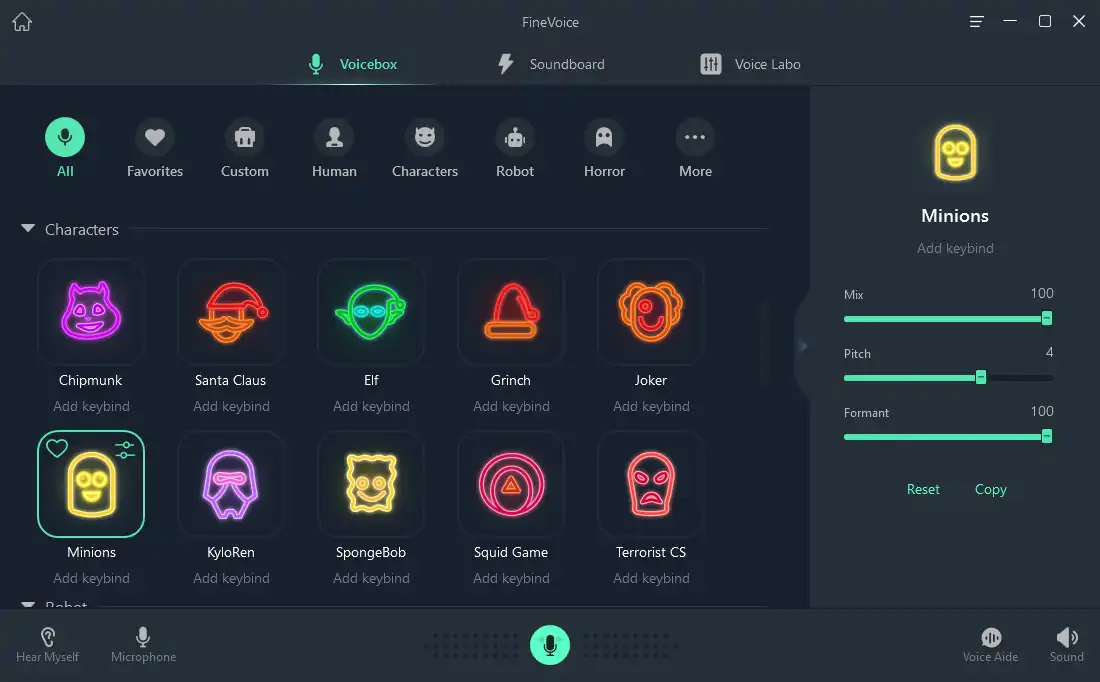 How to use FineVoice as a Yoda voice changer.
Step 1. Install and launch FineVoice.
Step 2. Click Real-Time Voice Changer and switch to the Voice Labo tab.
Step 3. Click Add audio effects to select from the 28 audio effects to make your Yoda voice.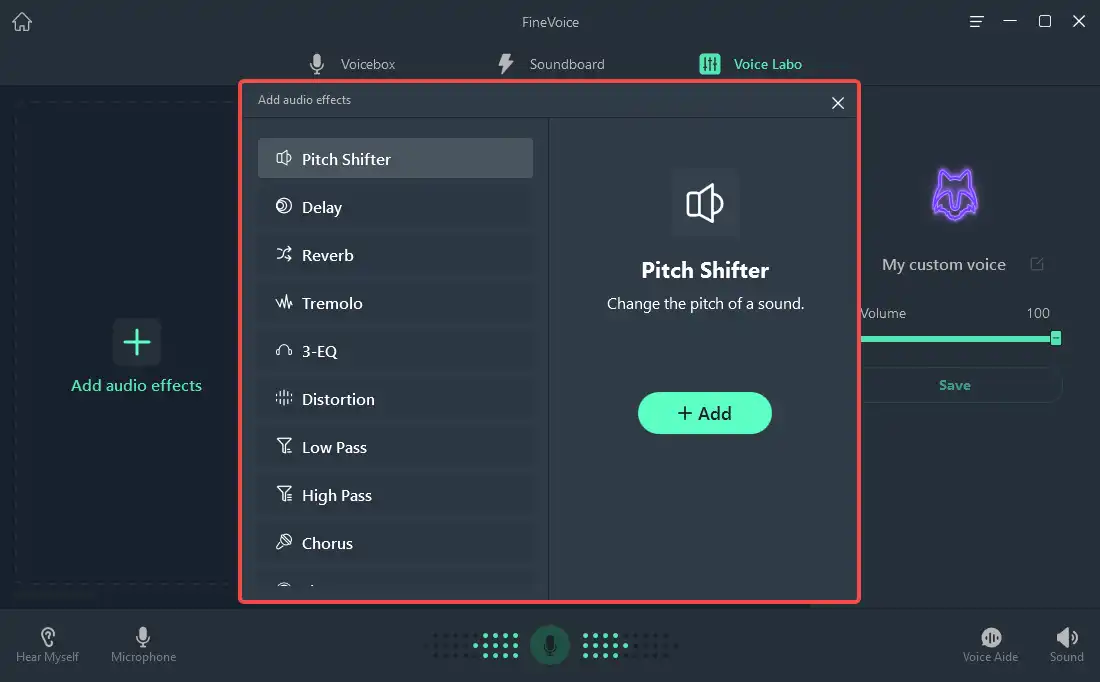 Step 4. Save it to Voicebox with a new name and use it to modify your voice.
Part 4. Best Yoda Soundboard for Yoda Quotes
If you want some Yoda quotes played with your voice, check Yoda soundboards. We take 101 Soundboards as an example. You can find over 100+ Yoda sounds from Star Wars.
With hotkeys, you can play them in a voice call. You can also download Yoda sounds in MP3 format and manage them in FineVoice Soundboard.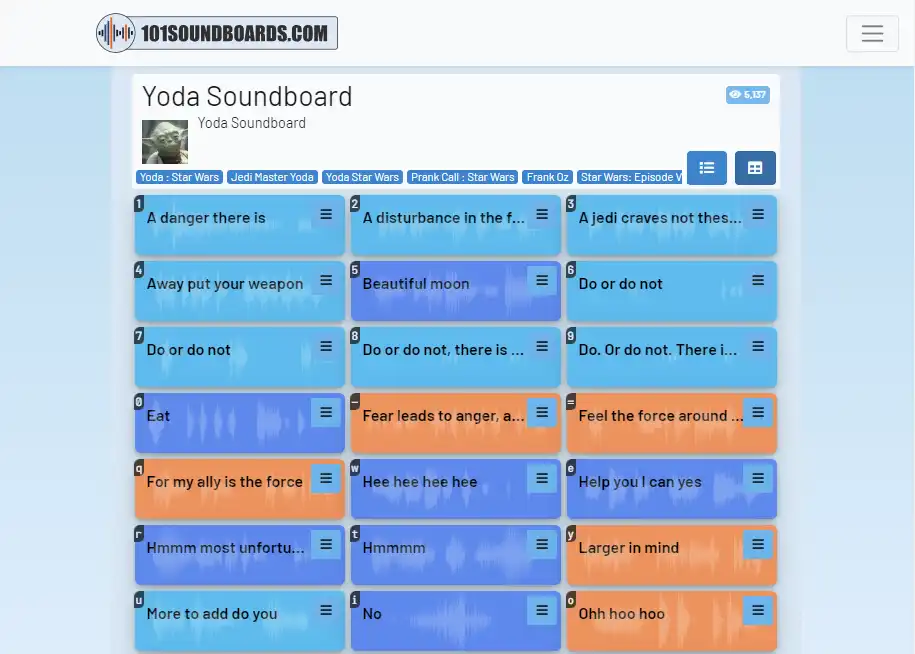 Conclusion
Ready to pretend to be Yoda and call your friends?
Take away the best Yoda voice generators to make Yoda speak. Use the Yoda translator to convert English to Yoda speak. And create a Yoda voice in your style with FineVoice. Last but not least, download Yoda sounds and play them to surprise your friends.