Do you want to get Donald Duck's voice? How to do Donald Duck voice? You may have watched some YouTube videos teaching you how to sound like Donald Duck.
This Donald Duck voice tutorial video has 621K views.
Maybe after a long-time of practice, you still cannot pronounce sounds as Donald Duck do.
You got to the right place. This post will help you get Donald Duck's voice with the help of Donald Duck voice changers.
Who Is Donald Duck Voice Actor?
Donald Duck is a Disney cartoon character. He first appeared in The Wise Little Hen (1934). Donald Duck is known for his distinctive partially intelligible voice and impatient, moody, mischievous personality, and in 2004, he earned a star on the Hollywood Walk of Fame!
Clarence Charles Nash is the original voice of Donald Duck. According to Wikipedia, in 1993, Nash was posthumously made a Disney Legend for his contributions to Walt Disney films.
The other two actors who voiced Donald Duck were Daniel Ross and Tony Anselmo. Tony Anselmo has been the official character voice of Donald Duck since 1985.
Next, we will introduce 4 Donald Duck voice changers. Read on and download the software to do Donald Duck's voice.
Method 1. Use Donald Duck Voice Changer Software
#1. FineShare FineVoice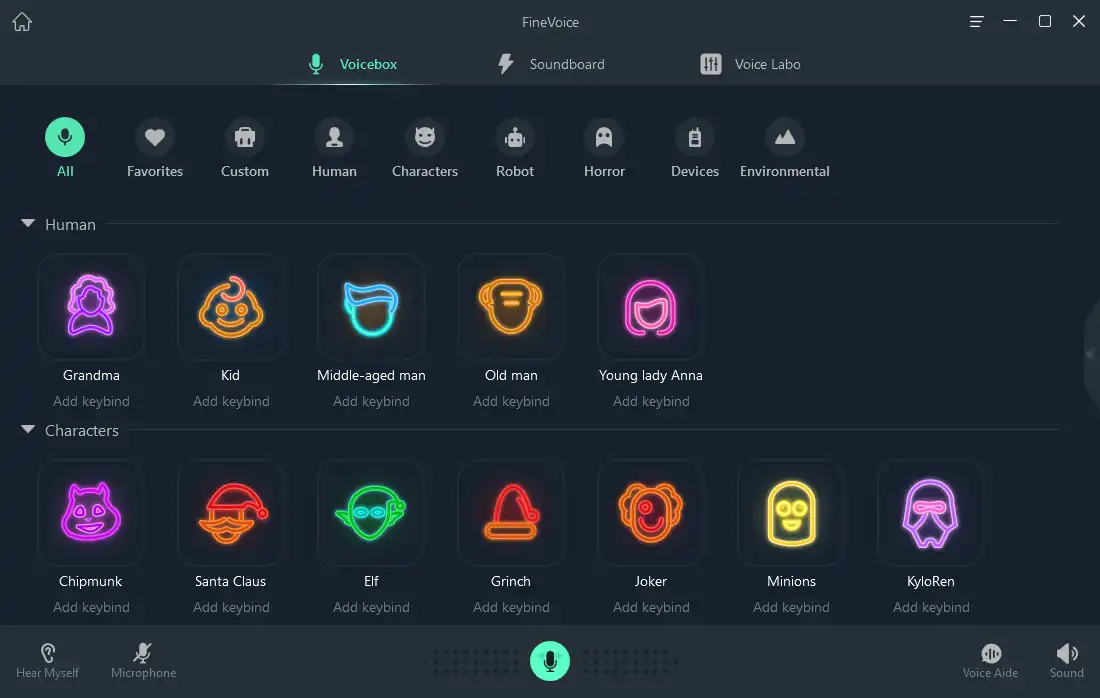 Want a real-time Donald Duck voice changer for your Windows PC? Get FineShare FineVoice. It is one of the best voice changers on the market that you can use for free.
Supported operating systems: Windows 11 / 10
Price: Free
Features:
Offers 30+ voice effects and 200+ sound effects.
Compatible with Zoom, Twitch, Xbox, and Teams.
Changes your voice in real-time for multiplayer games.
Offers text-to-speech and speech-to-text tools.
Pros:
You can create a natural Donald Duck voice with more than 15 audio effects.
You can use the voice recorder feature to record Donald Duck's voice for your audiobooks and videos.
You can upload an audio file and change the voice into Donald Duck.
Cons:
Don't want to install any software? Try out FineShare Online Voice Changer.
It is a free and easy-to-use web app that lets you change your voice into celebrities and cartoon characters. Choose from Minions, Grinch, Chipmunk, and more funny voice to change your recording or audio file voice.
#2. Voicemod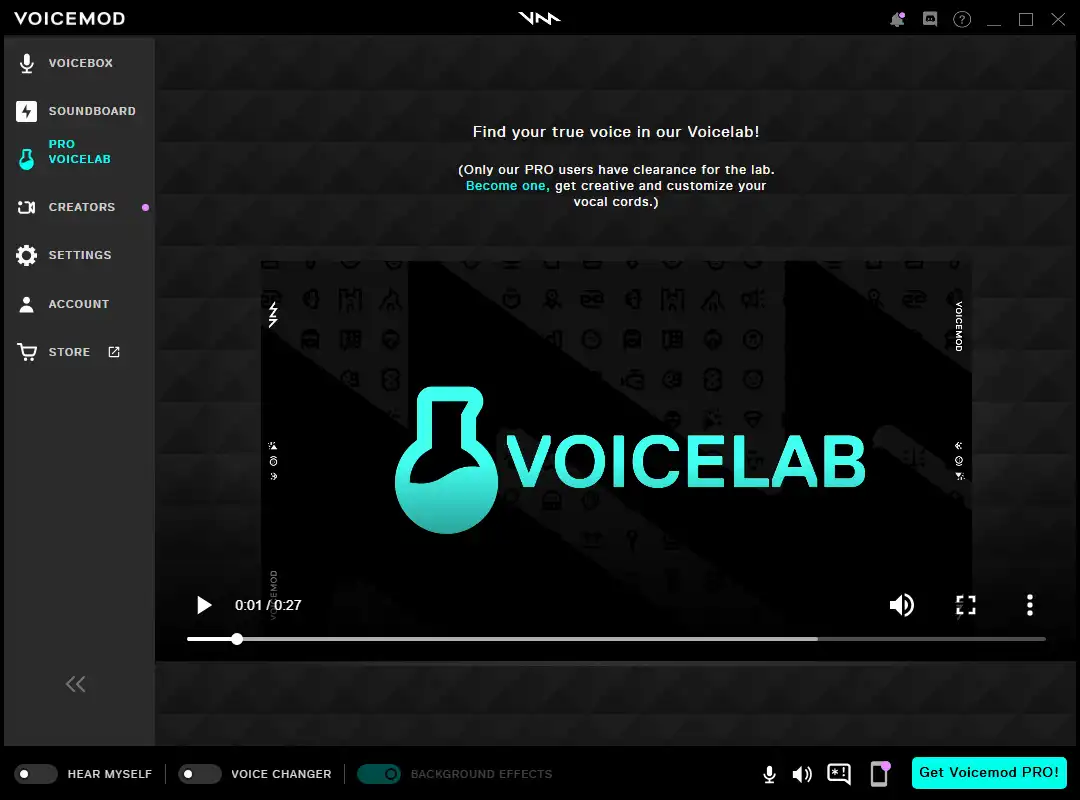 Voicemod is a real-time Donald Duck voice changer software. So many game streamers use it to change their voice to something funny. You can make Donald Duck's voice in the Voicelab section with more than 10 parameters.
Supported operating systems: Windows 10/8/7/Vista/XP
Price: Lifetime license $29.00 with a free version
Features:
There are 200+ voice filters in Voicebox.
Perfect integration makes it a voice changer for Discord, PS4/PS5, Xbox, and Twitch.
Real-time voice changer for Zoom, Microsoft Teams, and Google Meet.
Pros:
You can customize vocal cords in Voicelab.
There are thousands of free sounds in the Voicemod Tuna sound library.
Cons:
Only 8 categories for voice filters.
You cannot find celebrity voices in Voicemod.
You have to get Voicemod PRO to use Voicelab.
#3. Voxal Voice Changer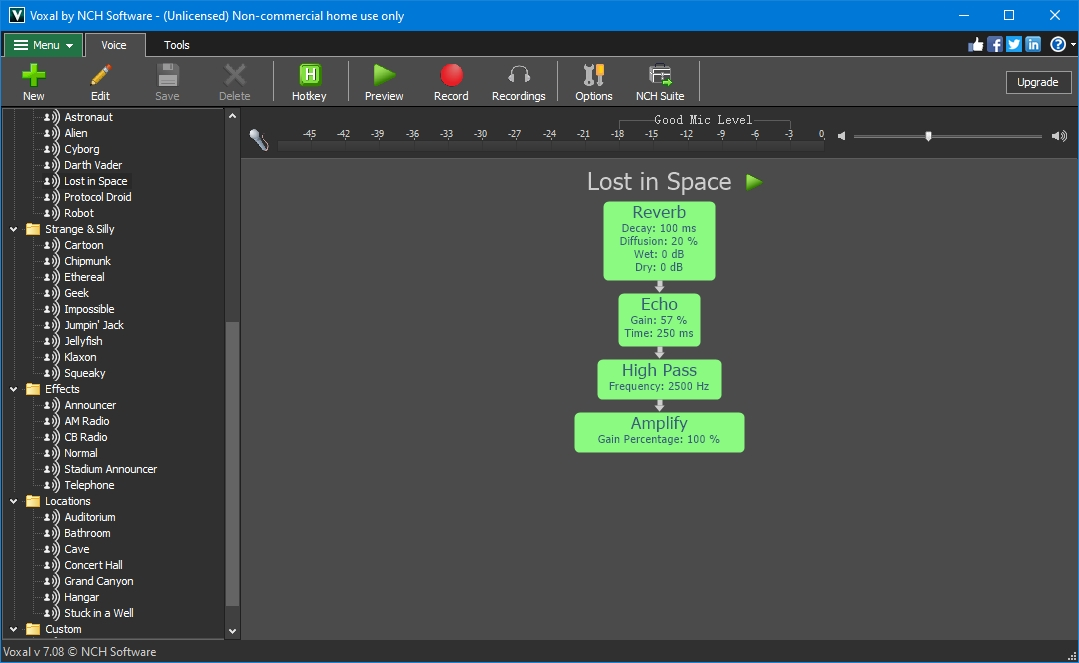 Voxal Voice Changer is a software provided by NCH Software. This company offers more than 80 programs for video, audio, graphics, transcription, and other computer utilities.
Supported operating systems: Windows 10, XP, Vista, 7, 8, 8.1 & 11(64 bit) & macOS 10.5 or above
Price: Commercial License $19.99 with a 14-days trial; Home use only $14.99 with a free version
Features:
Intuitive interface and low CPU usage.
It's easy to record and modify audio.
You can apply effects in real-time when you are voice chatting or game streaming.
You can set hotkeys for the voices.
You can create unlimited, custom voice effects.
Pros:
It is compatible with CSGO, Stream, Discord, Skype, TeamSpeak, and more.
It provides background noise effects including a train, forest, cave, etc.
Cons:
Only a free version for non-commercial, home use, and it is restricted.
Only dozens of voice filters to choose from.
#4. Celebrity Voice Changer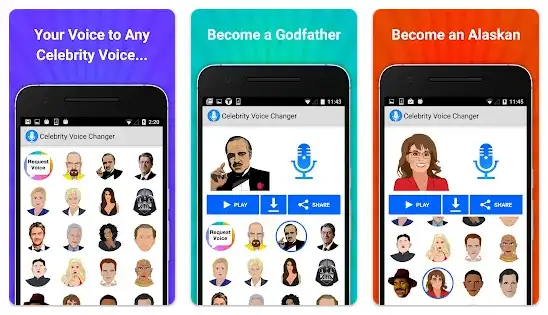 Celebrity Voice Changer is a mobile application that works on Android and iOS devices. It trains the AI with Deep Learning Technology. You can find the voices of celebrities such as Godfather and Donald Trump.
Supported operating systems: Android 4.0 and up; iOS/iPadOS 9.0 or later; macOS 11.0 or later
Price: Free with in-app purchase: unlimited usage $9.99
Features:
More than 100+ voices to use.
You can record your microphone with a voice filter.
Supports download audio files with a changed voice.
It can generate a video with your changed voice and you can share the video.
Pros:
The celebrity voices are natural.
It is safe to use Celebrity Voice Changer without infringement risk.
Cons:
It can't be a real-time voice changer for voice calls or multi-player games.
Sometimes it got problems and you don't know what it is saying.
The updates are slow and you don't have new voices to enjoy.
Only supports English.
Method 2. Use Donald Duck Voice Generator
In addition to using voice changer software to make your Donald Duck voice, you can also use an online voice generator to make Donald Duck say whatever you want him to say directly.
Uberduck AI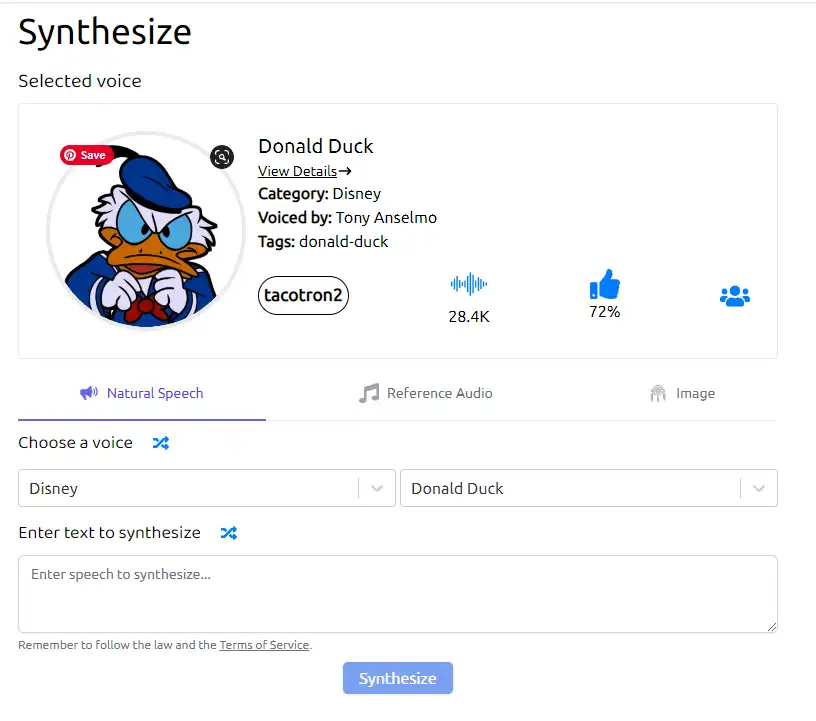 Uberduck is an open-source machine-learning community. So many Tik Tokers use Uberduck Text to Speech to make voice over for their videos. Let's take a look at this online application.
Price: Free for Text to Speech
Features:
AI media tools including text to speech, reference audio, custom voice clones, grapheme-to-phoneme converter, and text-to-image.
Up to now, there are more than 5000 voices to generate AI voiceovers.
Supports downloading audio files, exporting as video, and saving publicly and privately.
You can generate reference audio with one voice and it provides an audio library you can choose from.
Pros:
It's easy to use, just type the voice you want to use in the search box to find the related voices.
You can find 3 Donald Duck voices in Disney, Ducktales, and Impressions categories.
Cons:
Have to create an account before using Uberduck.
Features for a free plan are limited.
Conclusion
We know we must practice again and again for several months to get the voice of Donald Duck. But, with the help of a Donald Duck Voice Changer, we can easily get Donald Duck's voice to make friends or viewers laugh. Hope this article is helpful.