Donald Trump is the 45th President of the United States. His unique vocal style and New York accent make him a standout voice. As a politician with a very distinctive personality, he has also left behind many widely circulated memes.
If you want to laugh with your friends on social media platforms using Donald Trump's voice, then this article is just for you.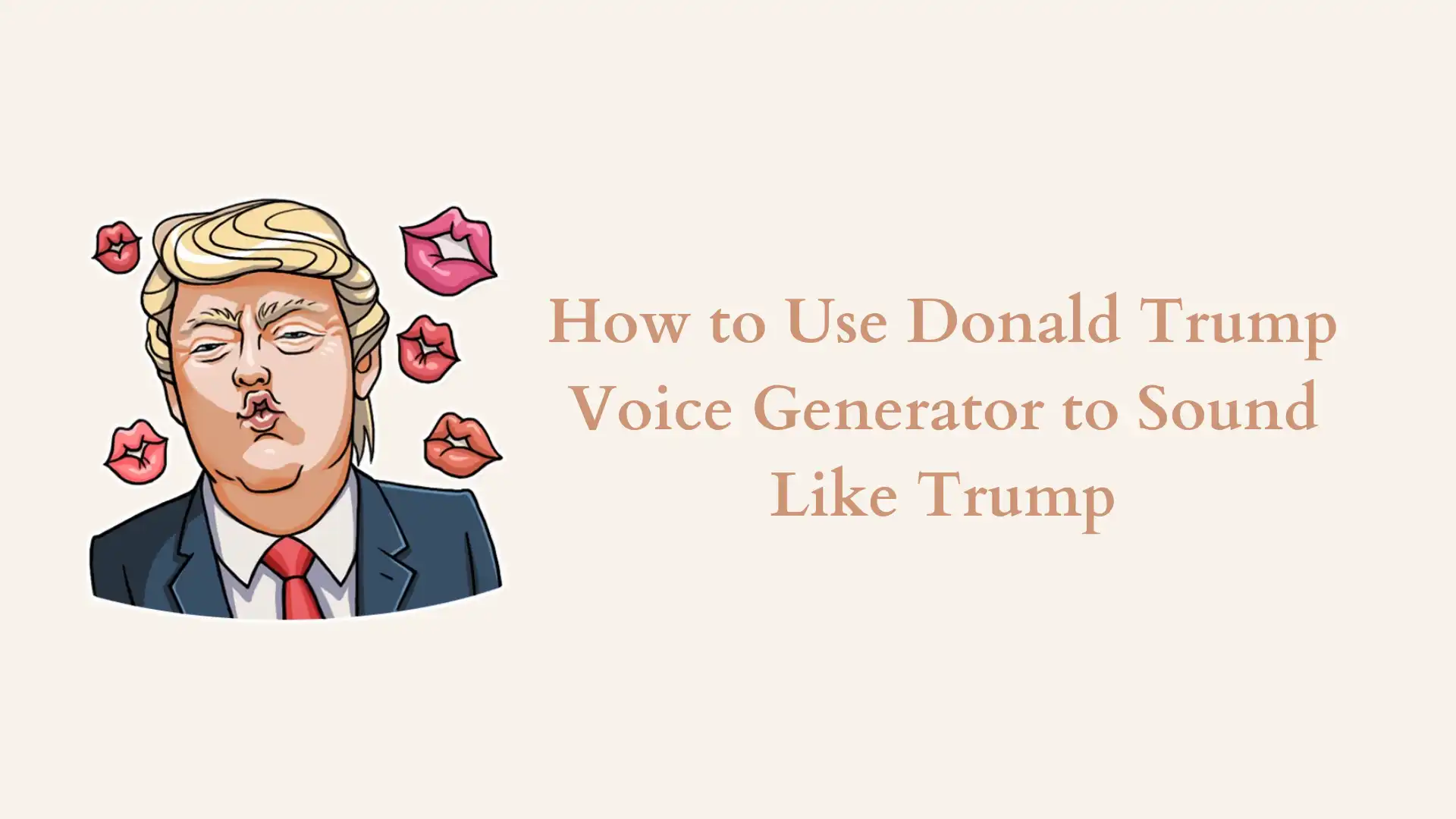 There are already a lot of tools and software that can generate audio with Donald Trump's voice. We will introduce you to several Donald Trump voice generators and how to use them and hope they will make you laugh.
How to Use Online Donald Trump Voice Generator
In this part, I will give you 3 Donald Trump voice generators and show you how to use them. Check them respectively below.
#1. Trumped
Trumped is an easy-to-use Donald Trump voice generator. It is an online tool trained by developers specifically for generating Trump's voice.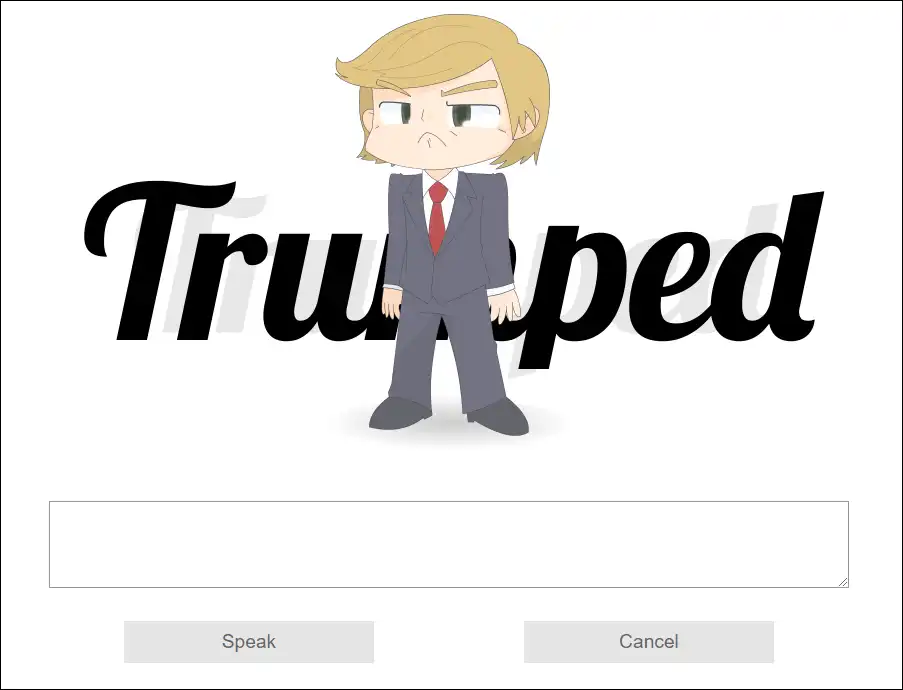 How to use:
Step 1. Visit trumped.com on your browser.
Step 2. Type in the text box. You can start your experience with the example sentences provided by the developer.
Step 3. Click Speak at the bottom of the text box. Wait a moment and you will hear Trump saying what you want him to say.
Notes:
Don't type short sentences.
Try more times to get the best results you want.
Too much text or a busy server can cause errors.
#2. Clash.me
Clash.me is another free Donald Trump voice generator.
The TTS tool works by getting Trump's audio or video from multiple sources on the web, extracting the audio clips of the words you type, and combining them into a speech result.
How to use:
Step 1. Go to clash.me/trump on your browser.
Step 2. Enter what you want to say using Trump's voice, no more than 140 characters.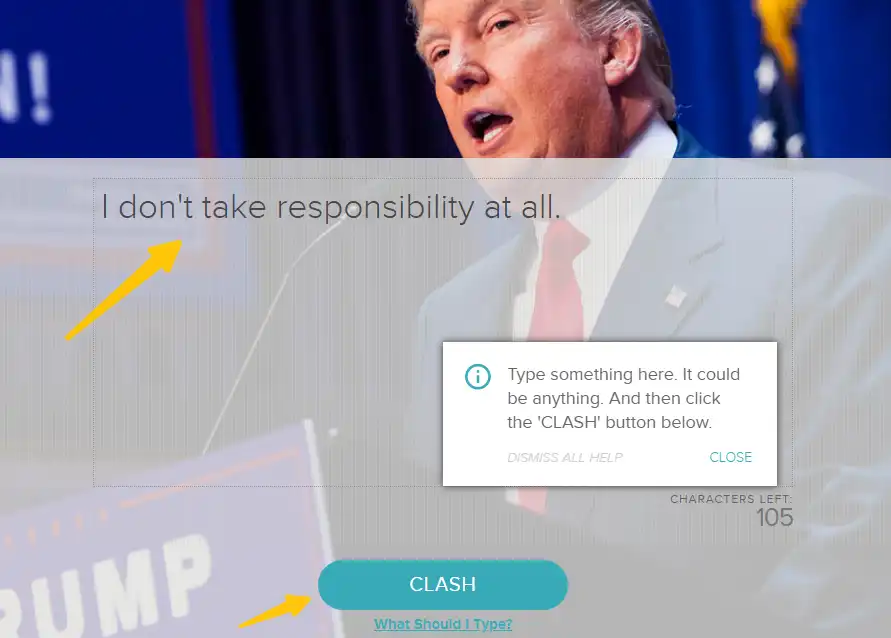 Step 3. Click on Clash to start text-to-speech.
Step 4. After the processing, the generated speech result will be played automatically.
You can change the sound source of the individual word, edit the text, replay the audio, and save or share it.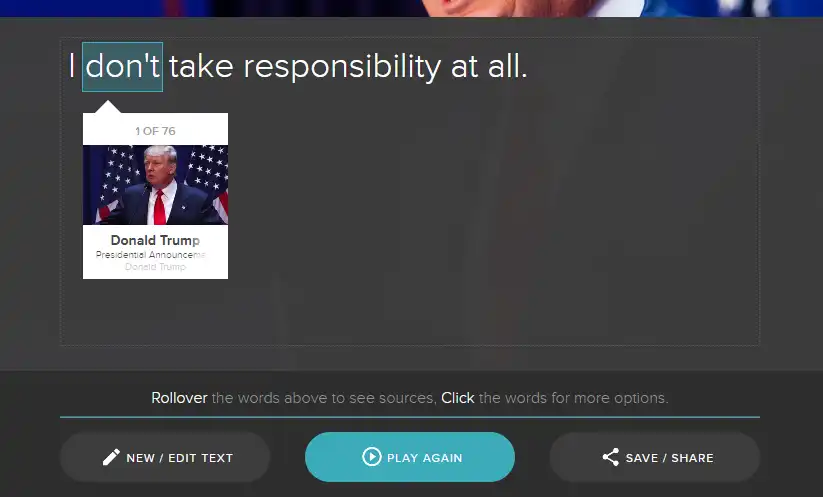 #3. FakeYou
FakeYou is a free online Donald Trump text-to-speech tool. Its web design is a beautiful fox. FakeYou provides 2500+ voices for you to use in text-to-speech.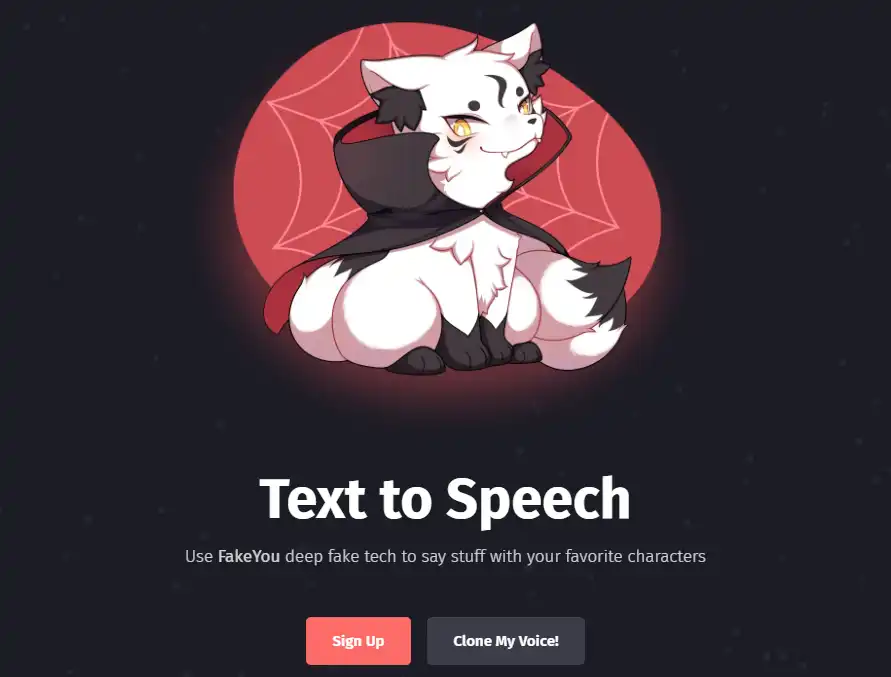 How to use:
Step 1. Visit fakeyou.com in your browser.
Step 2. Find the Create TTS section. Click in each tab bar of Category/Language and select Real People > Politics > US Presidents in the drop-down menus.
Step 3. Click the box below Voice and select a Donald Trump voice in the drop-down menu. Currently, FakeYou offers four Trump voices.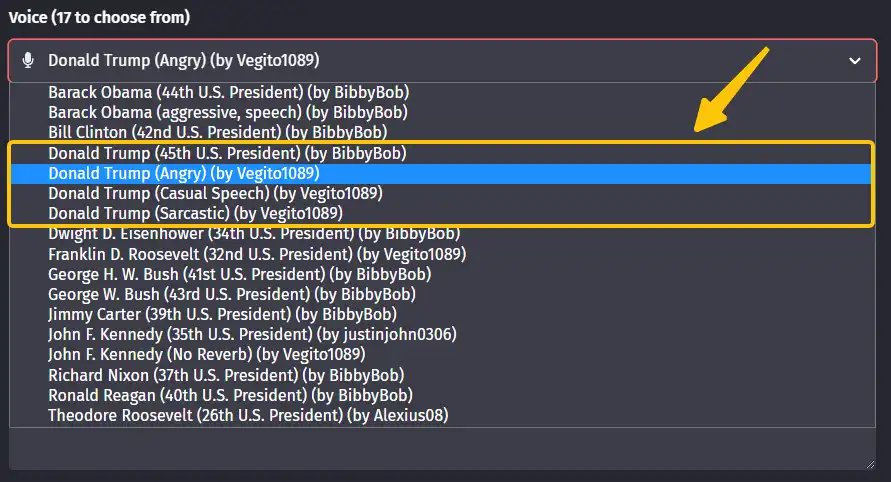 Step 4. Type any Donald Trump quotes or other content into the text box.
Step 5. Click Speak and a list of all your generated voices will appear below the Session TTS Results. You can listen to, share, or download each audio.
Best Desktop Voice Generator with Numerous Voices
To get voices like Duke Nukem, Captain America, and Stan Lee, you can try FineVoice. It offers you tons of AI voices to help you create funny voiceovers for videos.
FineVoice can also be used as a real-time voice changer to make your voice sound more fun in game streaming. And you can use FineVoice to record voiceovers with awesome voice effects or capture sound from your iPhone. It works seamlessly on Zoom, Microsoft Teams, Discord, Twitch, and the popular video games you know.
Step 1. Install FineVoice.
Step 2. Open FineVoice, and click Text to Speech.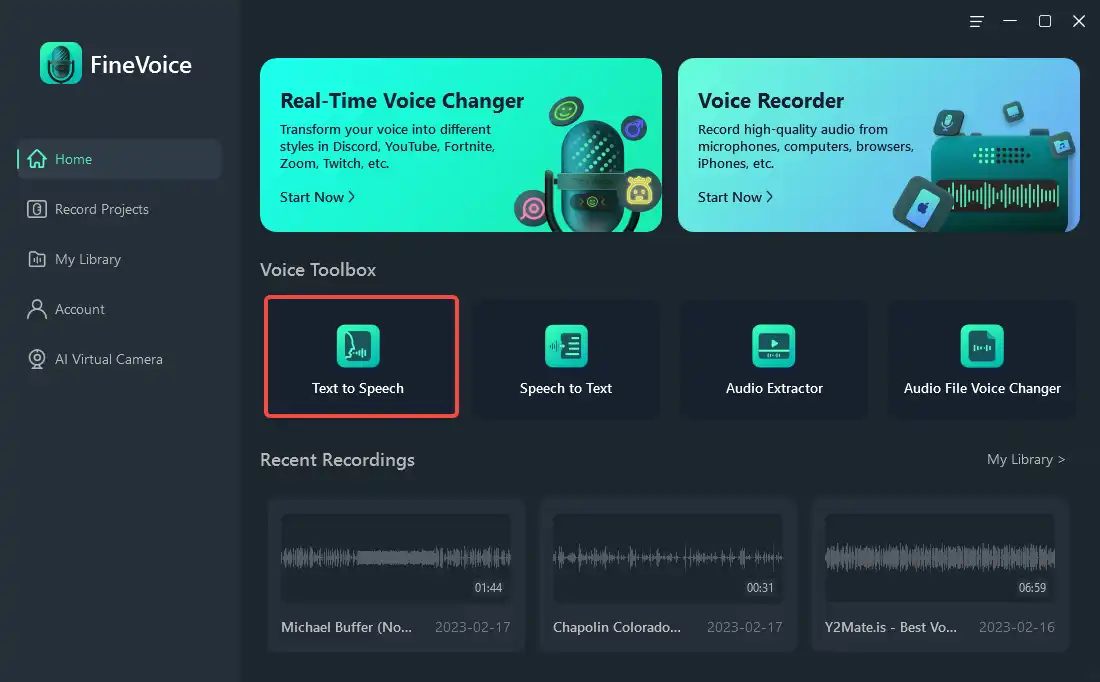 Step 3. Select the Role TTS from the list to load these voices.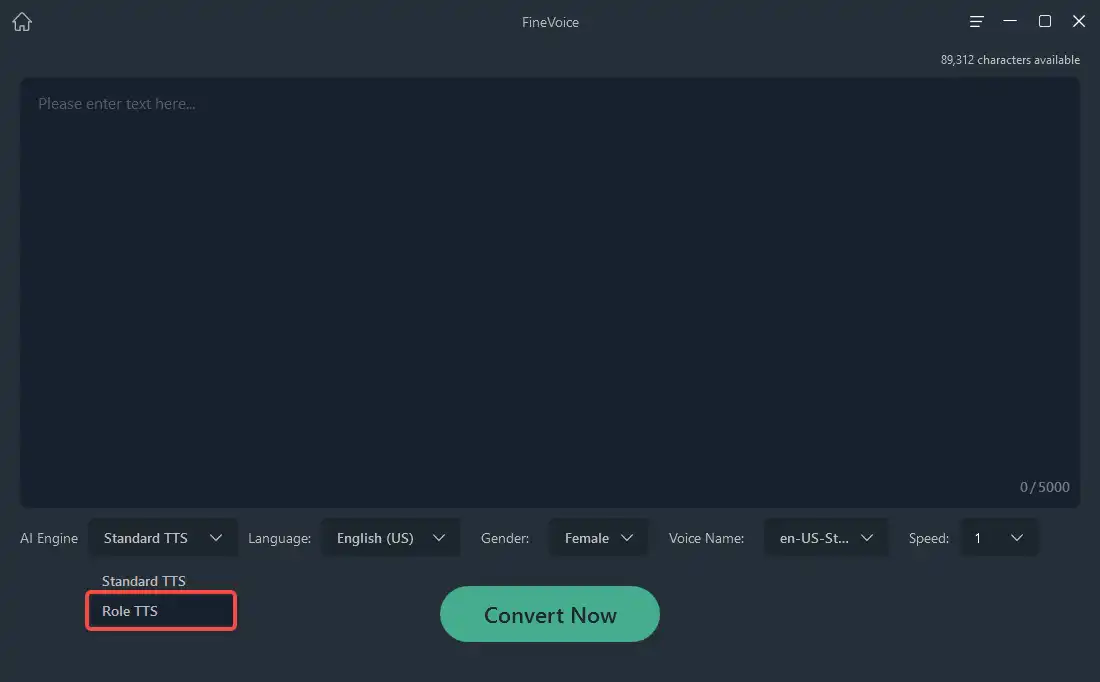 Step 4. Then select a category and choose a voice you like.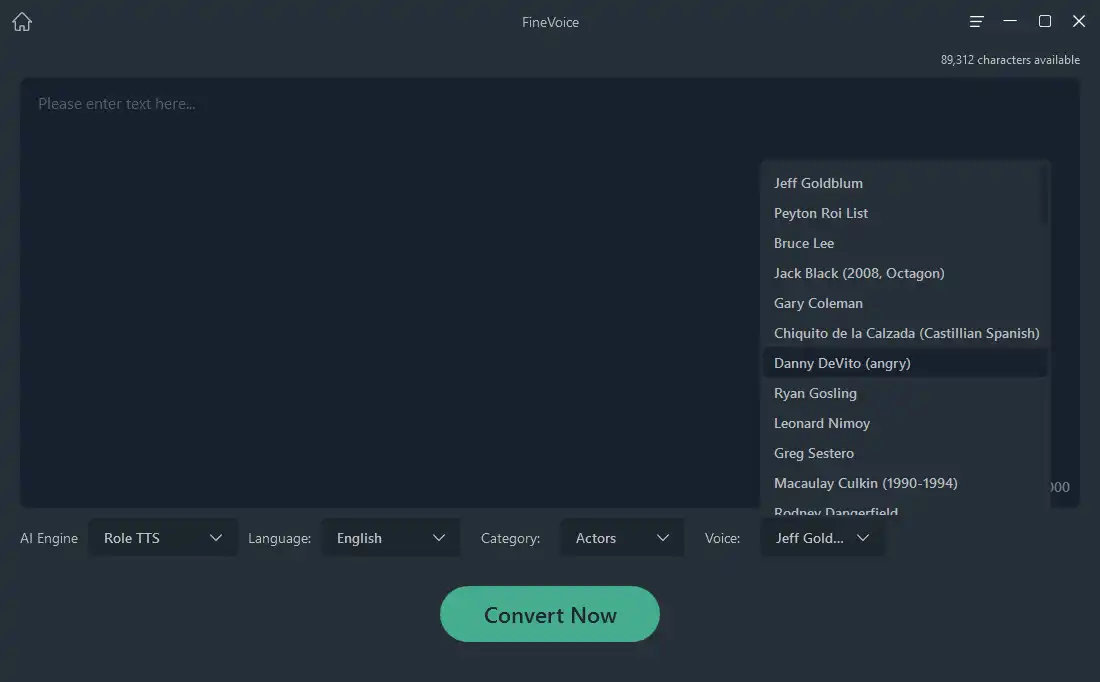 Step 5. Enter the text and click Convert Now to get your voiceovers with your favorite voices.
How to Use Donald Trump Soundboard to Sound Like Trump
You can use a voice generator to say something with Donald Trump's voice and create Donald Trump's voice with FineVoice. Moreover, a Donald Trump soundboard can give you a lot of his quotes to make your video more engaging.
#1. Jayuzumi Soundboards
Jayuzumi Soundboards offers countless sound effects from animations, games, movies, TV shows, etc. I like the design of its webpage. You don't need to download anything, just click to hear Donald Trump's different quotes.
How to use:
Step 1. Copy in your browser to go to jayuzumi.com/donald-trump-soundboard. You can also visit jayuzumi.com to search for Donald Trump.
Step 2. Scroll down to find the soundboard and click PLAY.
Step 3. Click on any effect in the soundboard and you can hear Trump speak in your ear. This soundboard has 2 pages; you can switch pages by clicking on the bottom right corner. There is a Stop button in the upper left corner to control Trump's speech.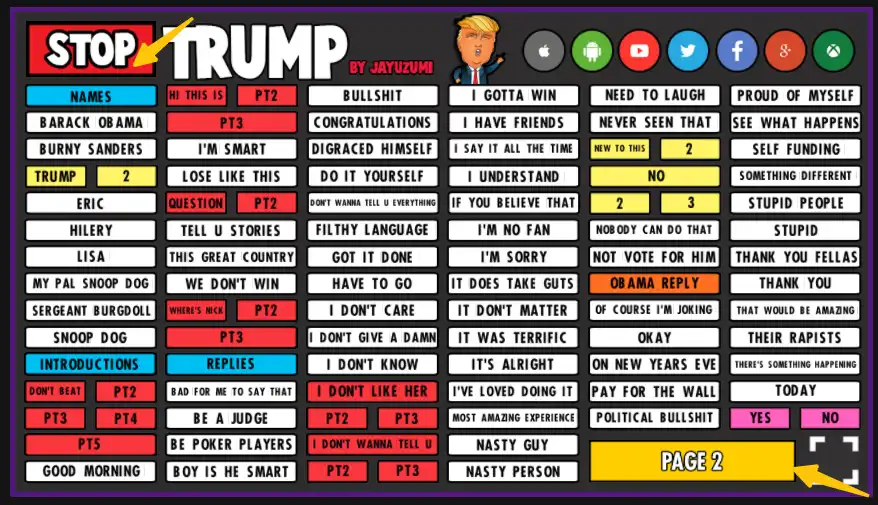 Step 4. You can also find other Donald Trump audios in the list below the soundboard.
#2. Voicemod Tuna
Voicemod is an excellent real-time voice changer. The soundboard that comes with the software provides a lot of sound effects. Although you can't find Donald Trump's sounds directly on the soundboard, we can add our favorite sounds from Voicemod Tuna to Voicemod.
How to use:
Step 1. Install and launch Voicemod on your computer.
Step 2. Click Soundboard on the left sidebar and click on Tuna in the top right corner.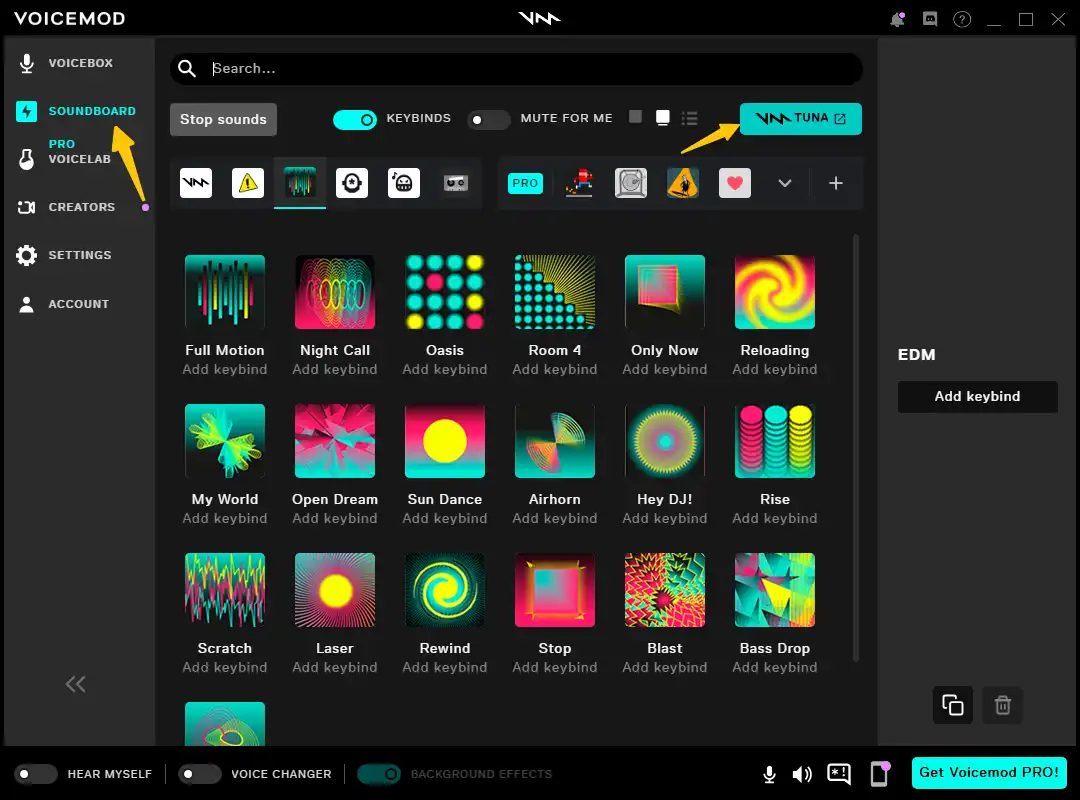 Step 3. Search for Donald Trump in Tuna. And click to hear the sounds.
Step 4. Click the three dots to choose Send to Voicemod. Choose Open in the pop-up window to go to Voicemod.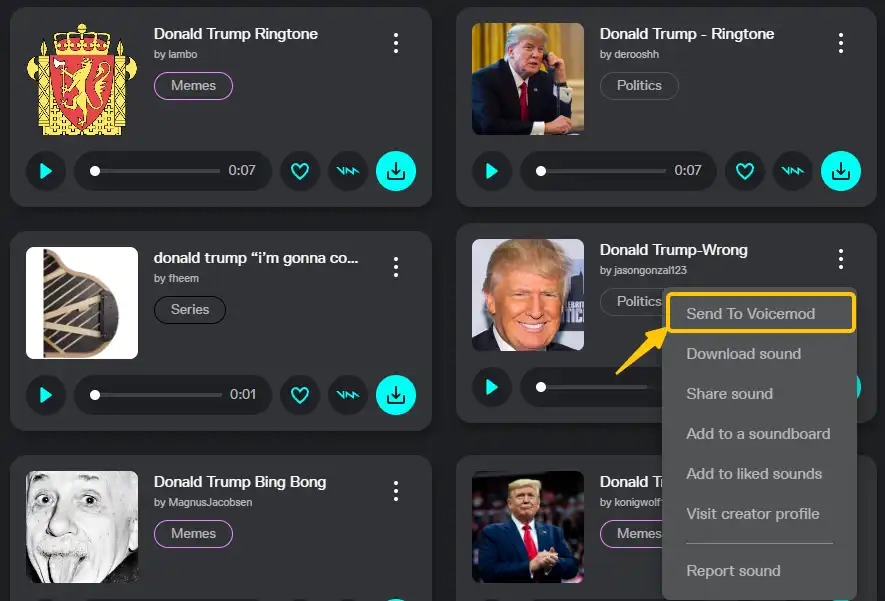 Step 5. Add the sound to your Voicemod.
Conclusion
In this post, we introduce 5 Donald Trump voice generators and soundboards to you. But they can only hope you sound like Trump. A translator like Donald Trump Translator to let you speak like him. You can also use some AI real-time voice changers to speak like him in your game streaming.
Try FineVoice for Free
Powerful real-time voice changer for tuning your voice in gaming, streaming, and chatting. It comes with various voice & sound effects and supports creating custom voice. Get it for free.