Halloween is coming soon! Want to prank your friends at the Halloween party? Read this post for the top 4 Ghostface voice changers. Have fun with your family, friends, or colleagues with Ghostface Voice.
Part 1. Who Is Ghostface?
There's probably a Halloween costume that comes to mind, consisting of a white rubber mask with an expression similar to a screaming ghost, and a black hood and cape.
We all call it Ghostface. But who is Ghostface?
Ghostface is a fictional identity that has been adopted by 11 characters in the Scream series, first appearing in Scream (1996), voiced by Roger L. Jackson.
Ghostface returns this year in Scream (2022). Have you got the newest Ghostface 25th anniversary mask, do you want to have the same deep and scary voice of Ghostface?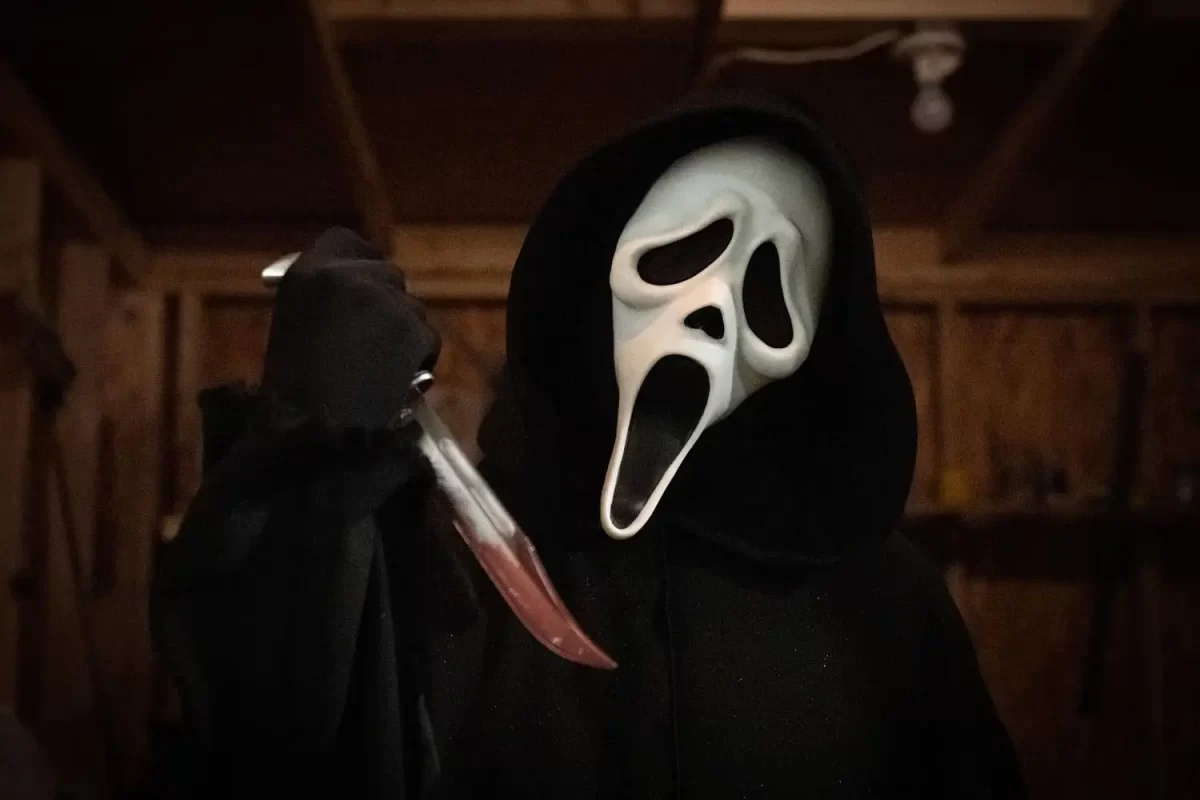 Try a Ghostface voice changer app, so you don't need to buy a voice changer to hide under the mask.
Read this post to get your favorite Ghostface voice changer and download it directly to your desktop or mobile device. Have fun on Halloween!
Part 2. Top Ghostface Voice Changers for Desktop
# 1. FineShare FineVoice [Windows]
FineShare FineVoice is an amazing Ghostface voice changer that works in real-time. It can let you sound like the iconic killer from the Scream movies.
With FineVoice, you can change your voice on any platform. Whether you're gaming on CS: GO, PUBG, Overwatch, or chatting on Discord, Zoom, or Skype, FineVoice can help you sound like Ghostface. You can prank your friends with scary calls or messages. You can also use it to create spooky content for your social media or YouTube channel.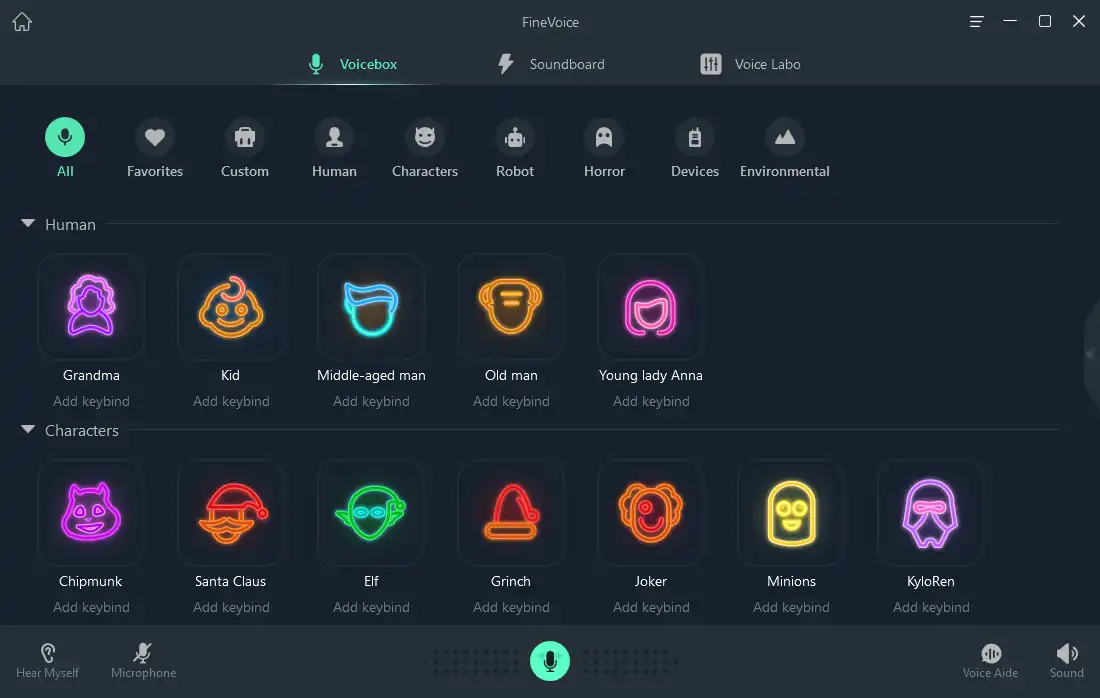 Features:
Offers preset Ghostface voice effect, which can be applied directly or customized.
10+ scream voice filters in the VoiceBox Horror category.
20+ scary Halloween sound effects in Soundboard, and you can add multiple sound effects overlays.
Offers multitrack voice recording. You can use it to record voice from your microphones, system audio, iPhone, and local audio files.
Offers text-to-speech, speech-to-text tools.
You can use it as an audio extractor to extract audio from video.
Pros:
30+ voice effects and 200 sound effects.
Simple and intuitive interface.
High-quality voice recorder.
Cons:
Up till now, FineVoice only supports Windows systems.
How to use the Ghostface Voice Changer?
Step 1. Download and install FineVoice.
Step 2. Launch FineVoice. Open the Real-Time Voice Changer from the main interface.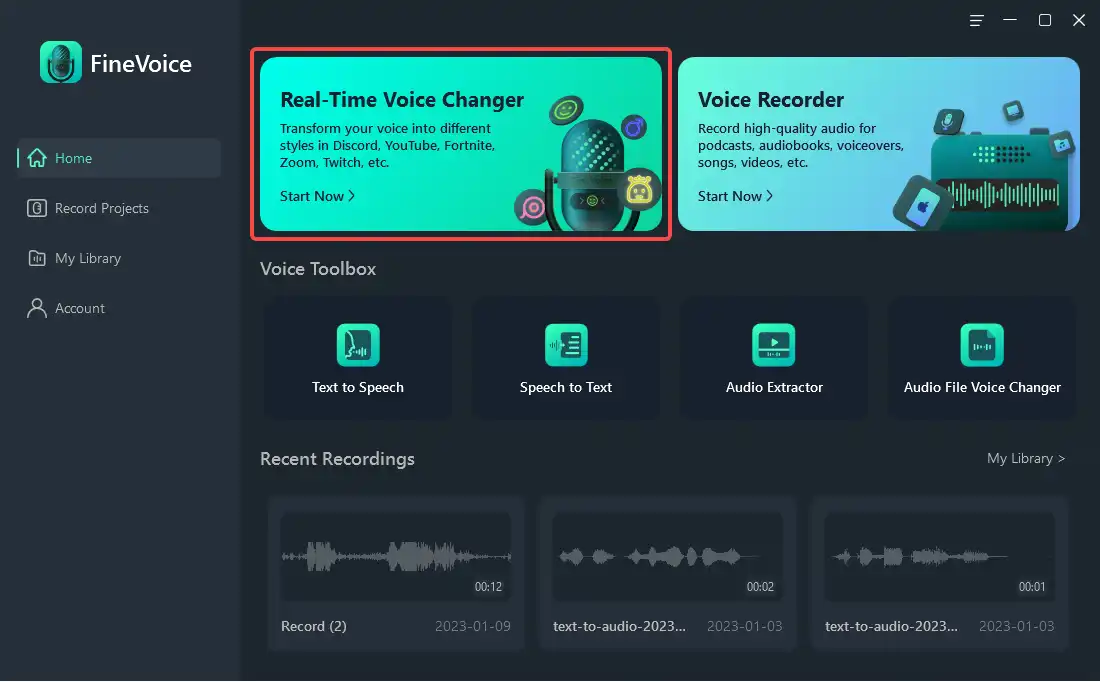 Step 3. Select your microphone and headphones as the input and output audio devices.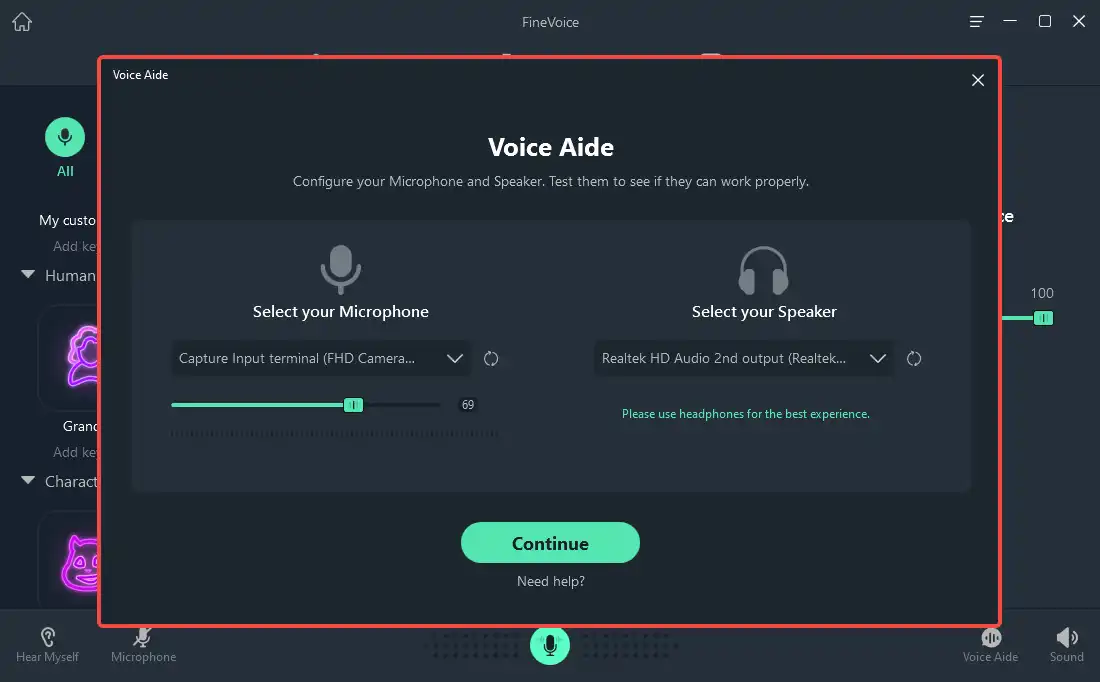 Step 4. Find the Ghostface voice effect under the Horror category.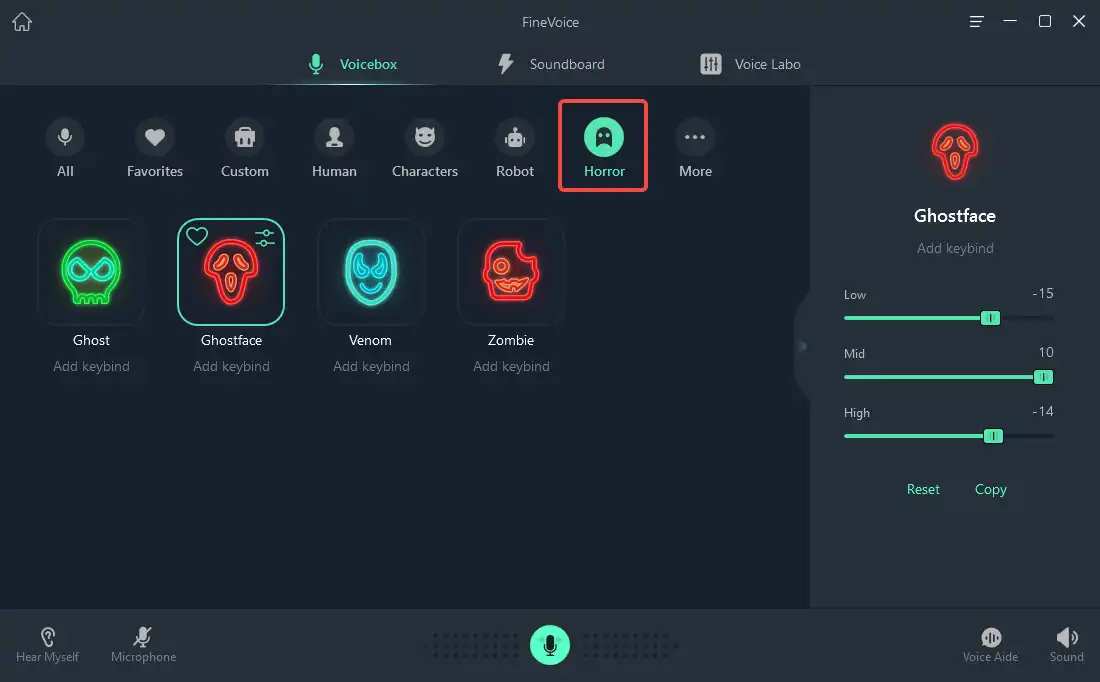 Step 5. Open any voice chat applications and select FineVoice Virtual Microphone as the input audio device. Then have fun with Ghostface's voice.
Want more prank voice changers? You can read: 5 Best Prank Call Voice Changer Apps You Must Try in 2023.
# 2. Voicemod [Windows]
What is Voicemod? Voicemod is another Ghostface voice changer for PC. It is the world's first real-time AI voice changer supporting all gaming and desktop communication applications, including Omegle, Gamecaster, and TikTok Live Studio. It can be a perfect fit for gamers.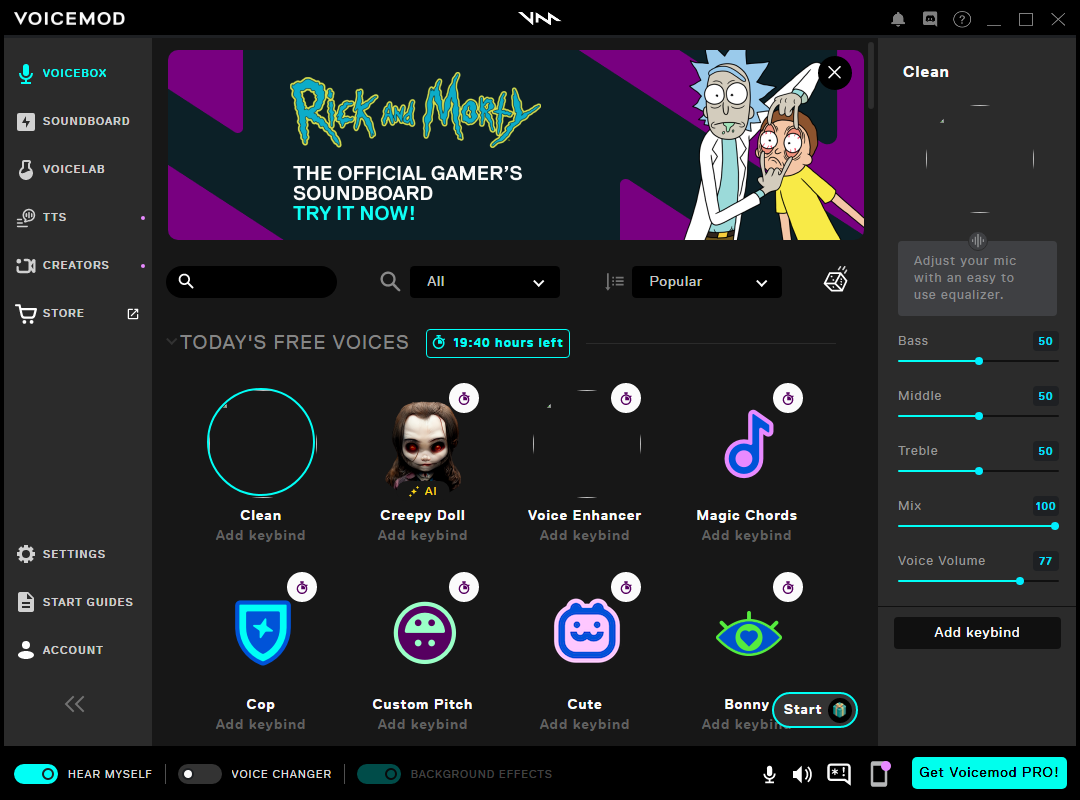 Features:
Provides the most comprehensive range of voice filters, sound effects, and background sounds.
You can upload MP3 or WAV files or record sound.
Soundboard and voice changer can be set up for Xbox, PS4/5.
Support for customizing sounds in Voicelab with professional-grade sound changer parameters.
There are 15 scary voice changers like Ghostface available in Voicebox.
You can choose from 20+ scary meme sounds in Soundboard to match your voice.
Pros:
Allows your viewers to control your voice in streaming via a Twitch Extension – Voice Bits.
Themed sound effects are updated every month.
Support making voice avatars and voice skins.
Provide soundboards
Cons:
The free version has limited features.
Not support Mac.
Related article: Top 6 Tips to Fix Voicemod Not Working [100% Effective].
Part 3. Top Ghostface Voice Changer for Mobile
# 1. Voice Changer with Effects [Android]
Voice changer with effects has been downloaded tens of millions of times in Google Play, with millions of ratings and a 4.4/5 rating. It is an excellent voice changer with a good user base.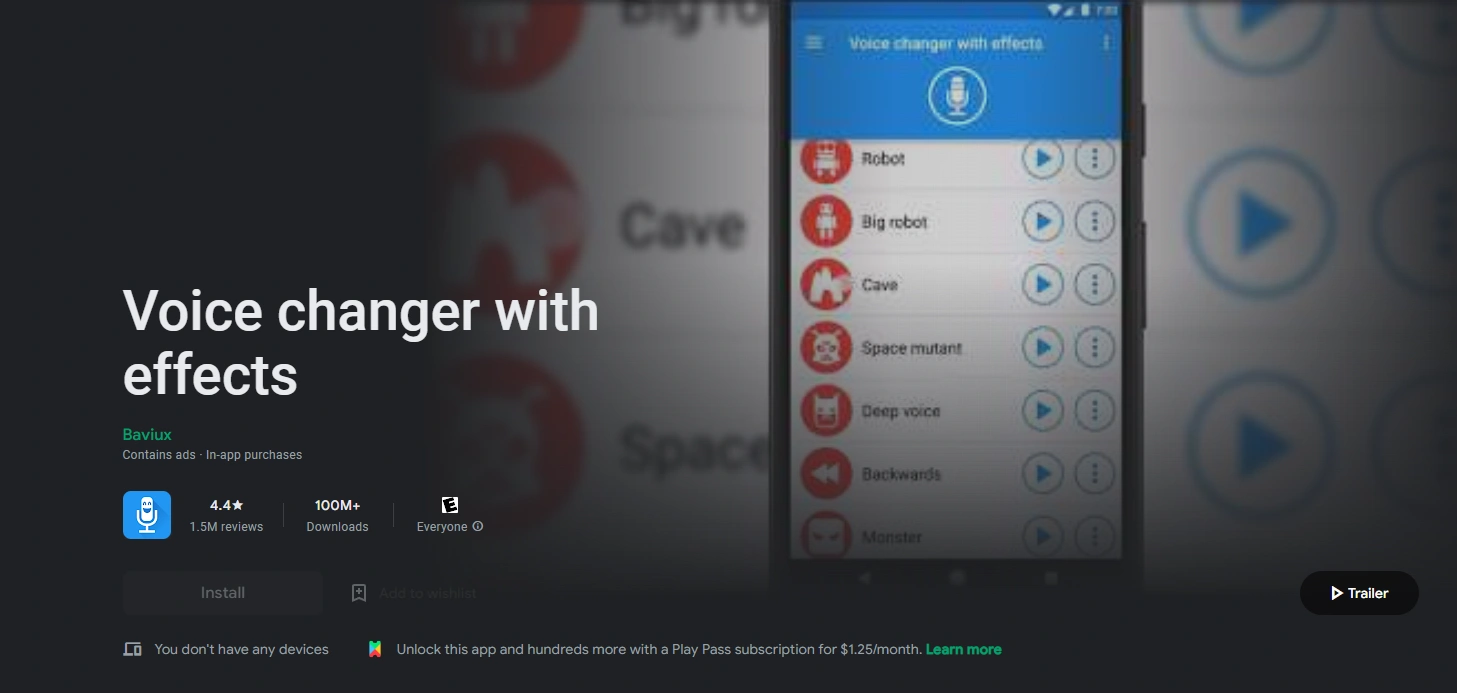 Features:
40+ sound effects. There are monsters, zombies, and other scary sound effects for you to choose from.
You can set the produced audio as a ringtone or notification sound.
Support recording a modified voice, and saving and sharing the recording.
You can create an image with sound and share it on Facebook.
Cons:
The single-item purchase price is a little expensive.
It's not a real-time voice changer
It doesn't have editing options
Related article: Top 5 Batman Voice Changers for PC and Mobile.
# 2. Voice Changer Plus [iOS]
Voice Changer Plus is a voice changer that supports iPhone, iPad, and Mac and has a good reputation among Apple users. It supports more than 10 languages. You can use it as a Ghostface voice changer. Let's move on to its key features.

Features:
55 voice effects and background sounds to choose from.
Supports uploading local recordings to overlay more sound effects.
Audio with sound effects added can be recorded, shared, and saved for free.
You can do basic editing of audio.
Pros:
Offer a variety of voice effects
Provide different background sounds for voiceovers
Allow you to trim recordings
Cons:
Free version with many ads.
It may crash sometimes
You can't miss: 15 Best Free Voice Changers and Plugins for PC, Mac, Android, and iOS.
Conclusion
Now that you know the top 4 Ghostface voice changers, whether you want to use them on desktop or mobile, there's a scream voice changer app for you.
Put on your Ghostface costume and don't resist being a Halloween party host. Feel free to play jokes with your friends and acquaintances. Try FineVoice now and surprise your friends!
FAQs about Ghostface
Who Created Ghostface?
Ghostface was created by screenwriter Kevin Williamson and director Wes Craven for the first Scream movie, released in 1996.
What is the Origin of Ghostface's Mask?
The mask's design was inspired by the painting The Scream by Norwegian artist Edvard Munch. The Ghostface mask, with its elongated, white, ghostly face and wide-open screaming expression, was chosen to embody the essence of fear and horror.
What are Some of Ghostface's Catchphrases?
Ghostface is known for asking his victims "What's your favorite scary movie?" before killing them. He also likes to taunt them with questions like "Do you like scary movies?", "Who's there?", "Do you want to die?" and "What's your name?".