Do you want to get the Minions voice? How to speak like Minions? If you want to learn Minionese and speak it when you are streaming or use it in your videos. You are in the right place.
This post will give you a complete guide for speaking like Minions.
What Do You Know About Minionese?
Have you watched the new Minions: Rise of Gru movie? It is the fifth entry overall in the Despicable Me franchise. The childish little yellow henchmen of their boss – Gru get countless fans around the world.
You may have an interest in the gibberish-speaking language of Minions.
Minionese, also known as the Banana Language, is created by Despicable Me co-director Pierre Coffin and Chris Renaud. It is a combination of Indian, English, French, Spanish, Italian, Korean, and Japanese. Because Minions had been traveling the world in search of the greatest villain to serve before they met Gru.
Who does the voice of minions? Coffin voiced Kevin, Stuart, Bob, Otto, and the rest of the Minions in Minions: The Rise of Gru.
Step 1. Use Minion Translator to Learn Minionese Speaking
If you don't know much about how the Minions language, there is an online Minion speak translator to convert English to Minionese.
Fun Translations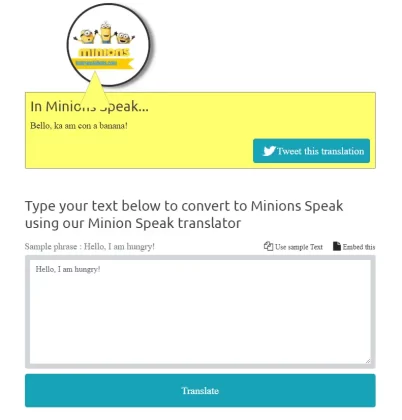 Fun Translations offers some fun translators such as Yoda, Pirate, Valley, Dothraki, Somdarom, and Vulcan translators to convert English to those languages.
Type some common English language in the text box and click Translate. The translator will convert it to Minions Speak.
Use the website to convert what you want to say in your videos and streams. Besides a translator, there is a phrasebook from Minionsallday (https://www.minionsallday.com/minionese-language-of-the-minions/) giving you some Minionese phrases.
Step 2. Use Voice Changer to Get the Minions Voice
The translator only makes you know how to speak in Minionese. And you need a Minions voice changer to sound like Minions before speaking Minionese in videos or live.
FineVoice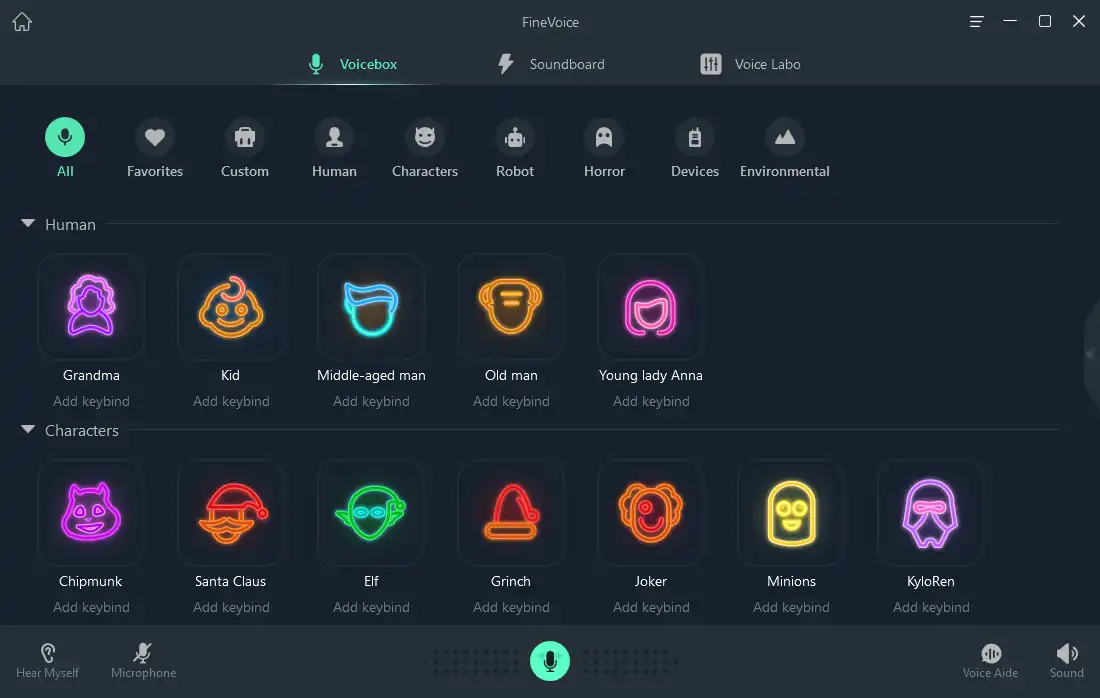 FineVoice is a voice changer for Windows users. Because of its perfect integration with voice chat and stream platforms and with almost every popular video game, we recommend this real-time voice changer for you.
FineVoice offers a preset Minions voice effect. And you can make Bob, Kevin, and Stuart in your style using the Voice Labo.
How to use a Minion voice in FineVoice?
Step 1. Install and open the FineVoice desktop program.
Step 2. Set up FineVoice by selecting the input and output audio devices.
Step 3. Click Real-time Voice Changer on the main interface.
Step 4. Check Hear Myself and find the Minions voice effect in the Characters category.
Step 5. Click to check your modified Minions voice. Then go back to an app like Discord to use the Minions voice by selecting FineVoice Virtual Microphone as the input device.
Bonus Tips: Minions Soundboard Gives You Best Minions Quotes
Now you know how to speak in Minionese and how to get Minion's voice. Here is a Minions soundboard that provides more than the 40 best Minions quotes you can play in your streaming.
Jayuzumi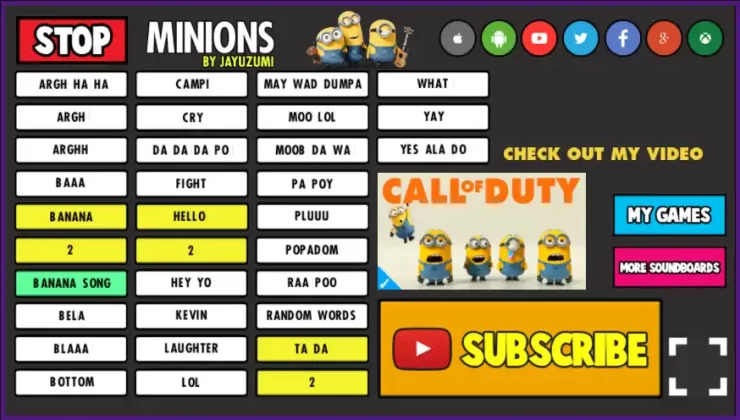 Jayuzumi is a soundboard website that offers hundreds of soundboards from TV shows, games, and animations. You can also find soundboards of Donald Trump, Arnold Schwarzenegger, and other celebrities.
Visit the website (https://jayuzumi.com/minions-soundboard) to play Minion sounds on the virtual soundboard and in the sound playlist down the page.
Conclusion
So many people who love Kevin, Bob, Stuart, and the family. The Minions give the world lots of joy and laughter.
In this post, we tell you how to get the Minions voice and how to speak like them. Hope you have learned everything about Minions voice. Kanpai!
Try FineVoice for Free
Powerful real-time voice changer for tuning your voice in gaming, streaming, and chatting. It comes with various voice & sound effects and supports creating custom voice. Get it for free.