Peso Pluma is one of the most popular and influential artists in the Latin music scene. His unique style of blending traditional Mexican music with contemporary pop and R&B has earned him millions of fans and streams worldwide.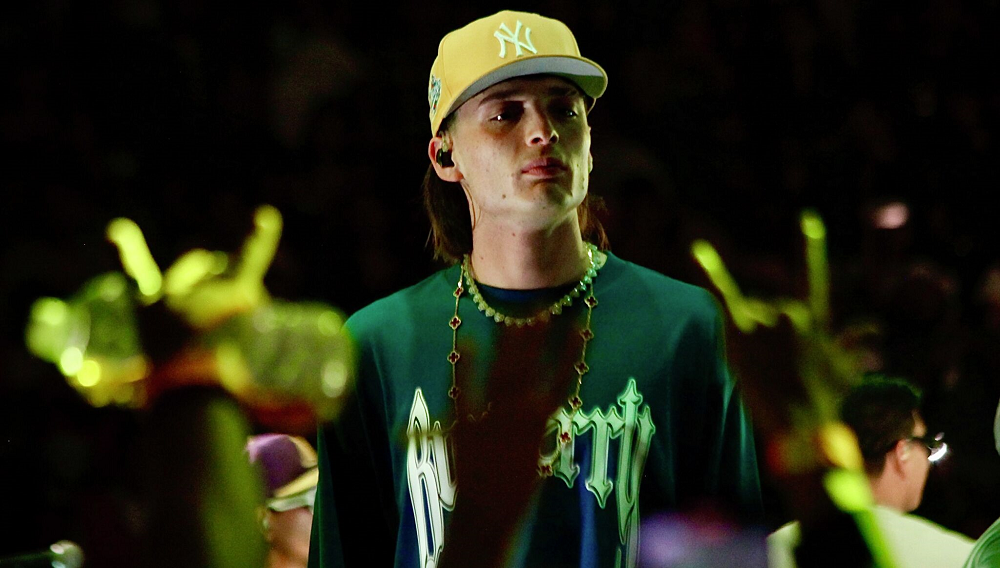 But what if you could create your own Peso Pluma speeches and songs using artificial intelligence? In this post, we will introduce you to the top 5 tools that can help you generate realistic and high-quality Peso Pluma AI voice in minutes.
Who Is Peso Pluma?
Peso Pluma, born Hassan Emilio Kabande Laija on June 15, 1999, in Zapopan, Jalisco, Mexico, emerged as a prominent figure in the music scene. He learned to play the guitar during his teens and started writing songs inspired by regional Mexican music.
He rose to fame with his hit singles and collaborations, such as "El Belicón" with Raul Vega, which went 8× Platinum Latin, "Ella Baila Sola" with Eslabon Armado, which made history as the first regional Mexican song to reach Billboard's top 10, and "Chanel" with Becky G, which became a viral sensation on TikTok and YouTube.
He is also known for his corridos tumbados style, which revived the genre of corridos, a type of narrative folk song that tells stories of love, betrayal, and social issues. He is currently the most streamed artist in Mexico and one of the leading figures in the Latin urban music industry.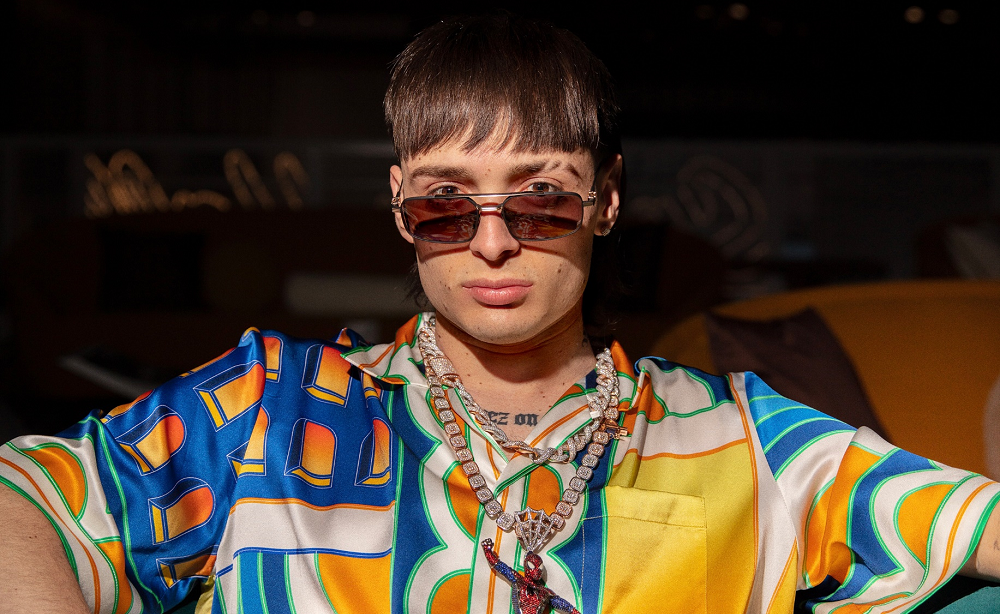 For enthusiasts of Peso Pluma seeking to craft their own speeches and tunes in his distinct voice, these tools are your go-to for crafting authentic and top-quality Peso Pluma AI voice.
2 Leading Online Peso Pluma AI Voice Changers
#1. FineShare Online Voice Changer
FineShare Online Voice Changer offers a seamless way to morph your voice into 110+ realistic characters and celebrity tones. Transform into singers and rappers like Taylor Swift, Ariana Grande, Ice Spice, and more with just a short audio sample of your voice. Record your microphone or upload any audio file, and witness the tool generate a fresh audio clip in your chosen voice in seconds.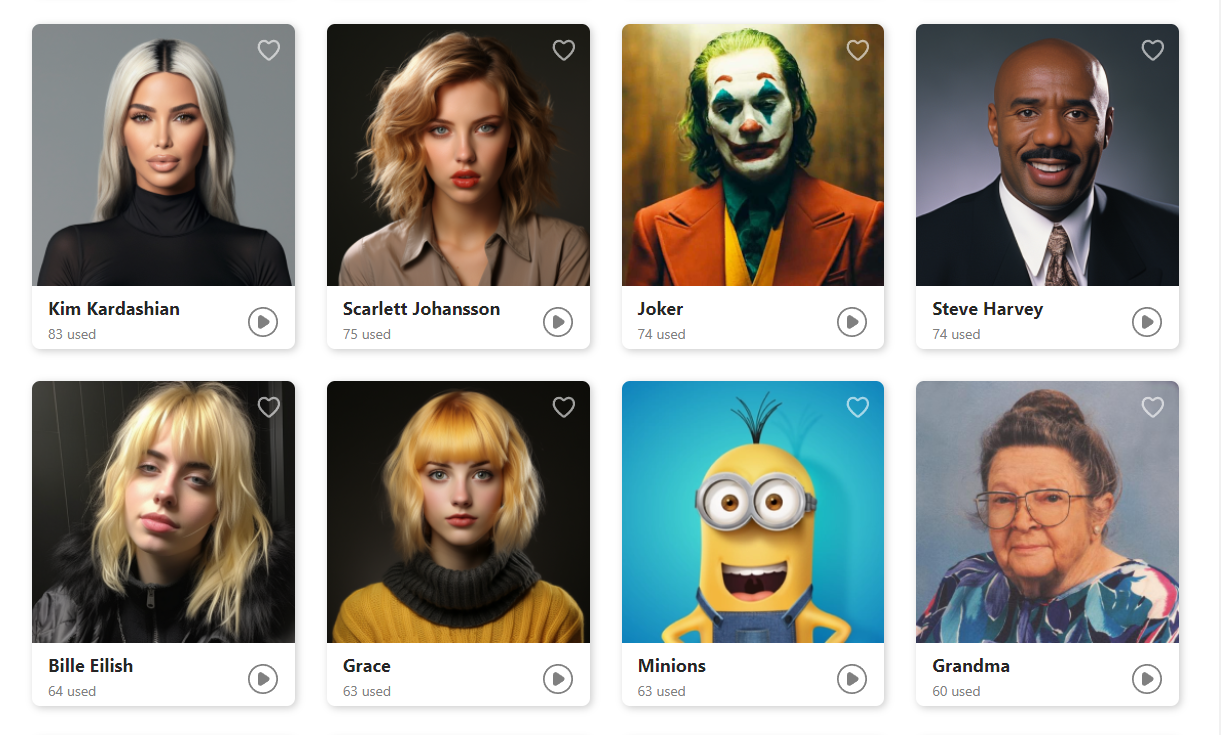 Pros:
Free and user-friendly
Speedy conversion
No need to download and install
Supporting both recording and audio files
Data security with automatic file deletion within 4 hours
Cons:
#2. Voicify
Voicify is your creative AI voice generator for crafting TikTok and YouTube-worthy AI Peso Pluma covers. Transform Peso Pluma's voice into singing or rapping your lyrics, in any style or genre you prefer. Voicify employs advanced neural networks to analyze Peso Pluma's voice and music, crafting new audio that resonates with his signature sound.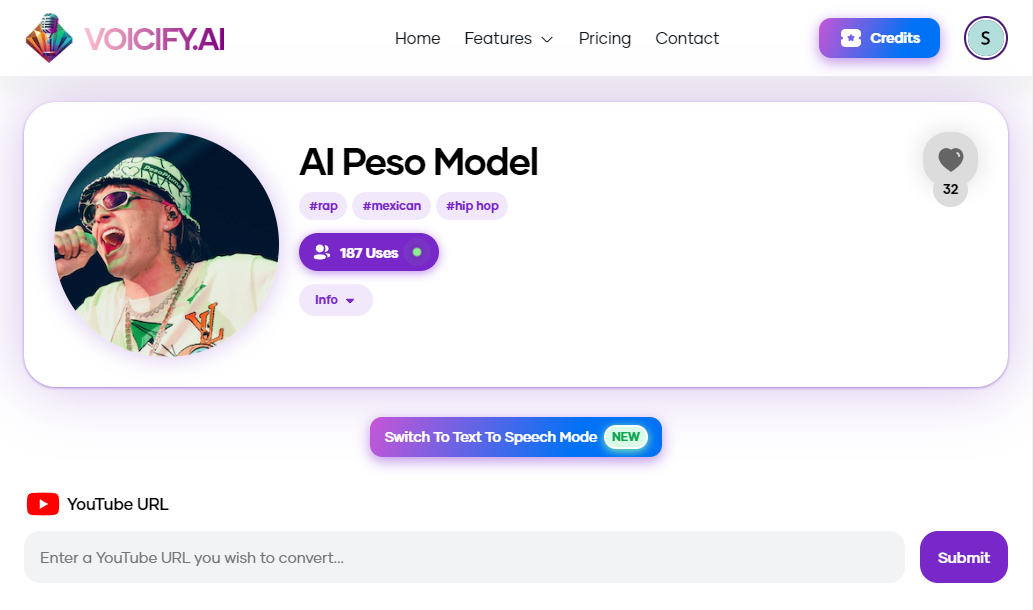 Pros:
Simple and intuitive
Wide range of artist styles and genres
High-quality & realistic AI song covers
Ability to train custom models
Seamless social media sharing
Cons:
Pay for subscription required
Not optimal for long or intricate lyrics
3 Exceptional Peso Pluma AI Voice Generators
#1. FineShare FineVoice
FineShare FineVoice is a versatile desktop app for effortless Peso Pluma AI voice synthesis. Record, alter, create voiceovers, transcribe, extract audio, and convert text to speech with ease. Leveraging AI technology, FineVoice Text to Speech examines and synthesizes Peso Pluma's voice, yielding fresh audio that mirrors his style.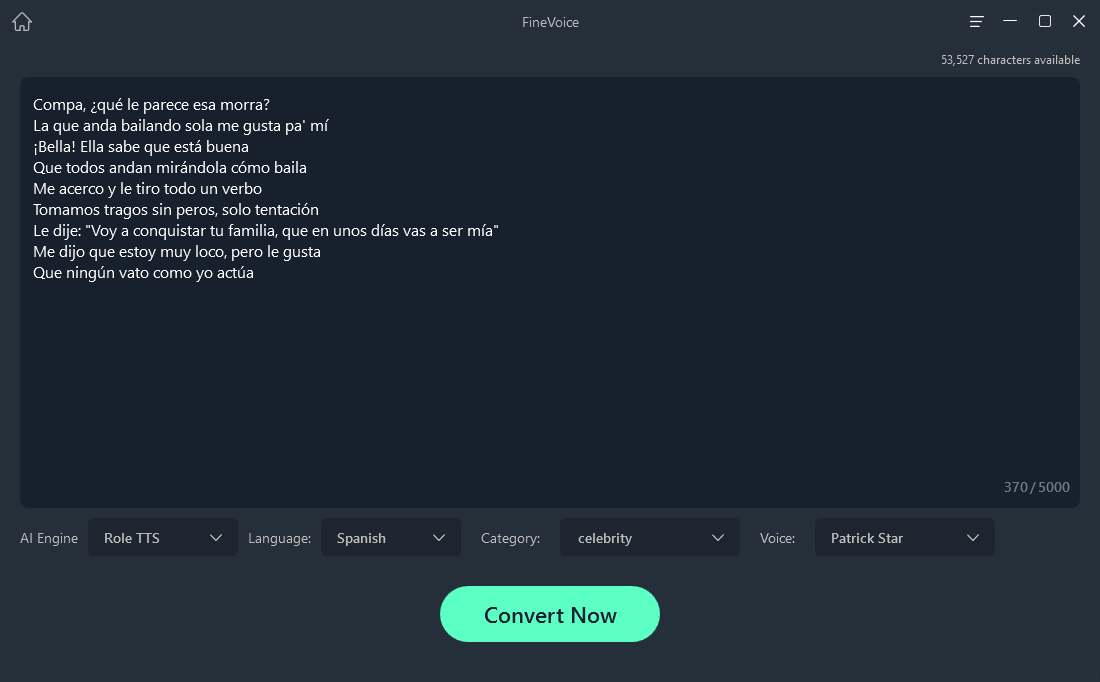 Pros:
The potent and versatile digital voice solution
A wide array of voice and sound effects
Enhanced voice quality and effects editing
Support for 40+ languages and accents
Operates both offline and online
Cons:
You can also create your Peso Pluma AI voice with 28+ audio effects such as distortion, delay, and reverb. Have fun with 30+ voice effects and 200+ sound effects. Try out FineVoice right now and power your voice everywhere!
#2. Resemble AI
Resemble AI boasts powerful AI voice creation capabilities, constructing custom, lifelike voices in minutes. Clone your voice or any other you desire for various applications like conversational AI, film, gaming, and more. Employing deep learning algorithms, Resemble AI dissects unique vocal factors and replicates them with impressive precision.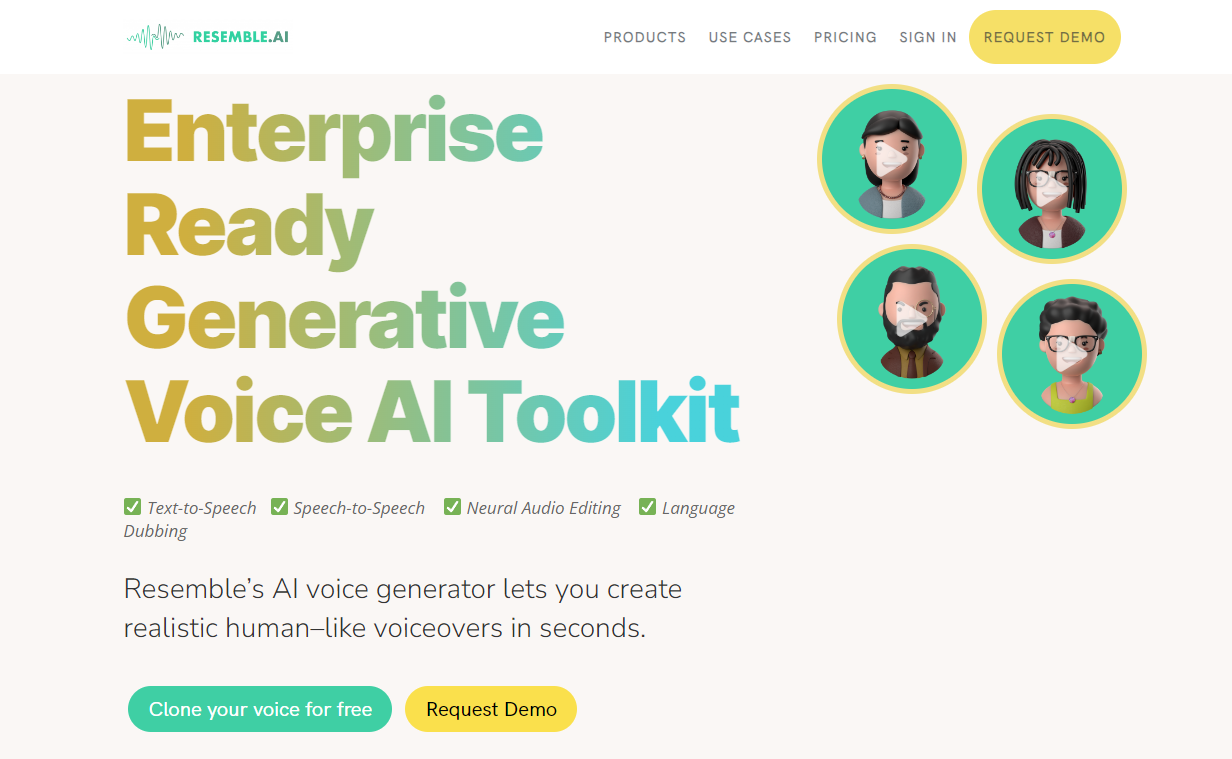 Pros:
Creates high-quality, lifelike synthetic voices
Diverse languages and accents supported
Tone and emotion modulation
User-friendly interface
Cons:
Pay-as-you-go plan required
Better for team and enterprise users than individual users
#3. FakeYou
Formerly known as Vocodes, FakeYou excels in effortless text-to-speech synthesis. Offering voice model uploads for user support, it provides over 3,300 voices including celebrities, characters, and singers. Craft your Peso Pluma AI voice by typing or pasting any text.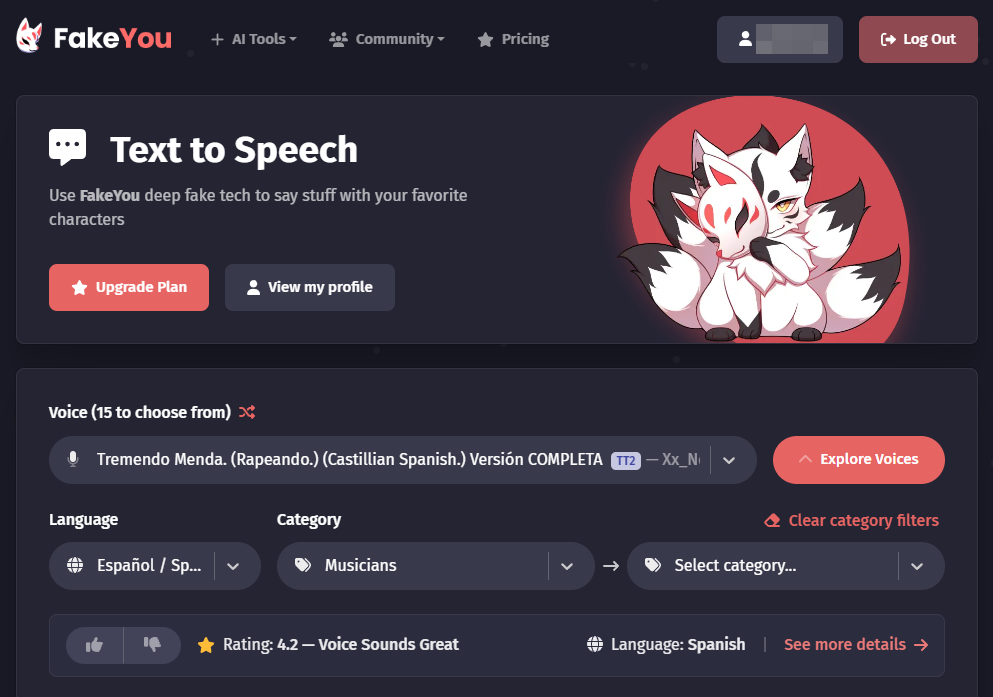 Pros:
Free and simple usage
A wide array of voices and effects
Multilingual and accent-friendly
Easy social media sharing
Cons:
Requires internet connection
Potential challenges in accuracy and naturalness
Not for commercial use
Potential violation of Peso Pluma's intellectual property and privacy rights
Top 5 Peso Pluma Songs You Shouldn't Miss (Best for 2023)
1. Chanel (2023)
A recent hit featuring Peso Pluma and Becky G, the song delves into the story of a parted couple who still harbor affection. Sporting an infectious chorus and seamless synergy between the artists, it's a vibrant romantic tune.
2. Ella Baila Sola (2023)
Another 2023 standout collaboration with Eslabon Armado, renowned for corridos tumbados. It narrates a tale of a solo dancing girl relishing her freedom, set to a captivating reggaeton and corridos fusion.
3. PRC (2023)
In partnership with Natanael Cano and Junior H, prominent names in corridos tumbados, this 2023 track celebrates their culture and lifestyle, rich with references to drugs, firearms, and wealth. A high-energy rhythm complements the potent delivery of all three artists.
4. Tulum (2023)
A Peso Pluma's 2023 solo piece inspired by his trip to Tulum, Mexico. Its laid-back and tropical vibe captures the essence of enjoying life and nature. Featuring a soothing guitar and Peso Pluma's gentle vocals.
5. Lady Gaga (2023)
A 2023 tribute to Peso Pluma's idol, Lady Gaga. A nod to her style and influence, with playful references to her music. It exudes a pop and dance essence, complete with a catchy hook.
Conclusion
Peso Pluma is a talented and successful artist who has captivated millions of fans with his music and voice. If you want to create your own Peso Pluma speeches and songs using artificial intelligence, you can use one of the tools we mentioned above to generate a realistic and high-quality Peso Pluma AI voice in minutes.
However, you should always use these tools responsibly and respectfully, and not infringe on the rights or privacy of Peso Pluma or his label. We hope you enjoyed this post and learned something new about Peso Pluma and his voice.
FAQs
#1. Where does Peso Pluma live?
Peso Pluma currently lives in Los Angeles, California, where he moved in 2021 to pursue his music career. He has also lived in New York and San Antonio, Texas, where he attended high school.
#2. Why is Peso Pluma famous?
Peso Pluma is famous for being one of the leading artists in the Latin music scene, especially in the genre of corridos tumb ados, which is a fusion of regional Mexican music, trap, and reggaeton. He is known for his catchy and innovative songs that showcase his blunt and versatile style of writing and singing. He has collaborated with some of the most popular artists in the genre, such as Natanael Cano, Becky G, and Eslabon Armado.
#3. What song made Peso Pluma famous?
Peso Pluma became famous after releasing his song "AMG" with Natanael Cano and Gabito Ballesteros in 2022. The song is a corridos anthem that talks about their lifestyle and success. The song went viral on TikTok and became a hit on the Billboard charts, reaching the top 10 of the Hot Latin Songs chart and the top 40 of the Hot 100 chart.