Do you ever want to change your normal voice into a cool, mechanical robot voice? Today, we will give you the top 6 robot voice changers. Whether you want to use them on a PC or phone, there is a voice changer that fits your need.
The 3 Most Popular Robot Voices
1. Wall-E Voice
Wall-E is the hero of a 2008 American computer-animated sci-fi film – Wall-E. He is the last robot left alone on earth to clean up the planet. Wall-E's gentle and loving personality and his little child's robotic voice make him such a cutie and generate empathy.
American sound designer, film director and editor, screenwriter, and voice actor, Benjamin Burtt Jr., designed and edit Wall-E's voice. He is also known as the sound designer of the 'voice' of R2-D2 and Darth Vader.
2. Optimus Prime Voice
Optimus Prime is a fictional character. He is the primary hero of the Transformers story. Being the leader of the Autobots in the Transformers franchise, he is an extremely charming role with a strong moral character, excellent leadership, and sound brilliant military tactics.
Peter Claver Cullen, a Canadian voice actor, voiced Optimus Prime in The Transformers TV series.
3. C-3PO Voice
C-3PO is a humanoid robot character in the Star Wars franchise. As a protocol droid and being "fluent in over six million forms of communication" with the vocal tone, C-3PO provides comic relief in the films and become a fan favorite.
Top 6 Robot Voice Changers for You
In this part, we will introduce the top 6 robot voice changers to you. Some of them are real-time, and others can be used as robot voice recorders.
#1. FineVoice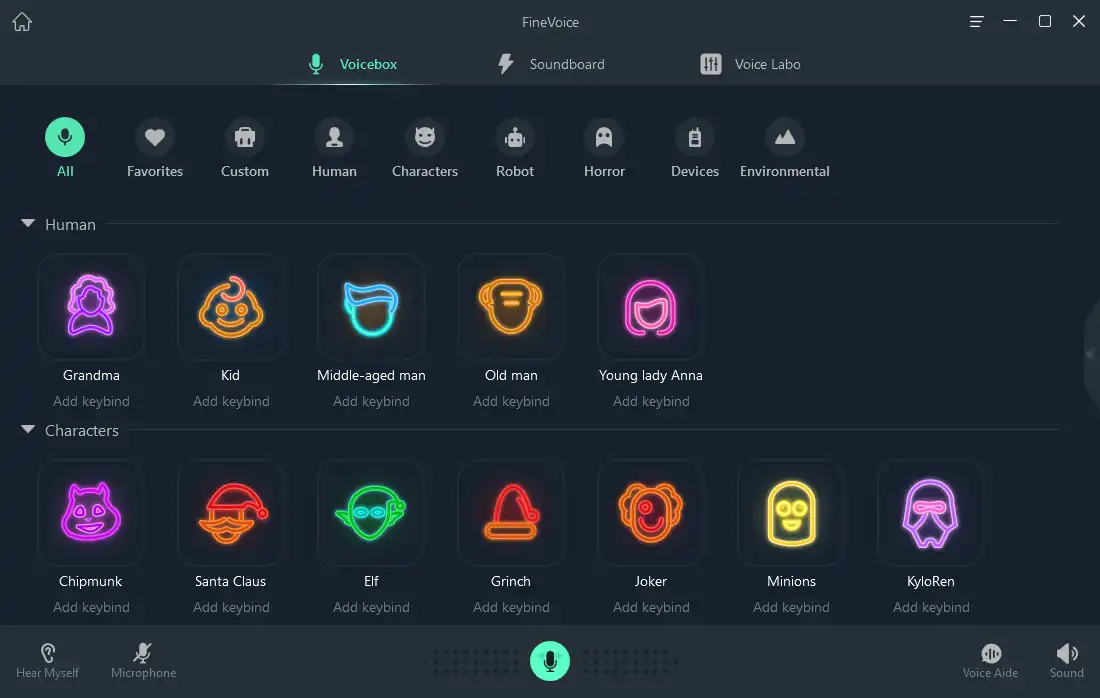 Want the best robot voice changer on Windows? FineShare FineVoice is the correct option. It's a real-time voice changer for Twitch, Discord, PS4, and other game platforms. And it can be seamlessly used on all voice chat platforms including Google Meet, Zoom, and Microsoft Teams.
FineShare FineVoice offers 5 preset robot voice effects. Not only can you find a normal robot voice, but you can find robotic character voices like Warhammer, Megatron, and Darth Vader.
Feel free to explore the real-time voice changer and create your robot voice in the Voice Labo. FineShare FineVoice gives you 25+ audio effects to let you create the funniest voice with your creativity and imagination.
#2. Voicemod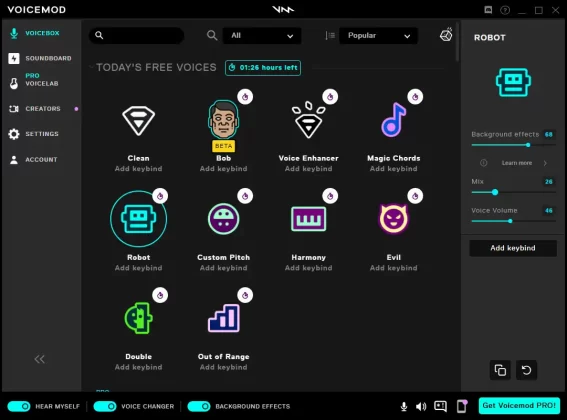 Do you know Voicemod? It's another option for Windows PC users.
There are two ways to change your voice to robotic in Voicemod. The first one is using the voice effects preset in the Voicebox.
Choose the Robotic category and you can find 6 robotic voice filters including Robot, Android, Drone, and Bot. Most of them are for paid PRO users, but sometimes you can find one of them in Today's Free Voices. And you can also use Voicemod Soundboard to find any robotic sounds you want.
The other way is to create a custom robot voice in the PRO feature – Voicelab. By adjusting the sound parameters, you can have a unique robot voice.
#3. Clownfish Voice Changer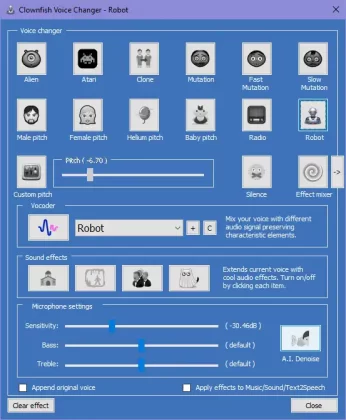 Another robot voice changer for Windows is Clownfish Voice Changer. It's free and easy to use.
You can find 12 voice filters in Clownfish Voice Changer and among them, there is a robot voice effect.
Click to activate the voice changer, and you can select a robot audio signal to mix your voice with. Customizing your unique robot voice is also simple in the software.
#4. Voxal Voice Changer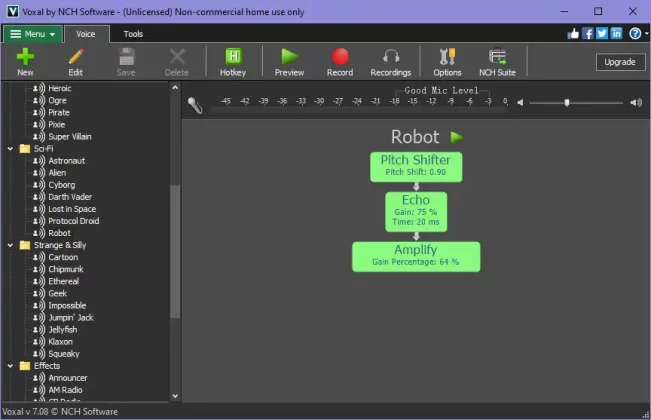 Can you change your voice on Windows and macOS in real time,? Yes! You got to try Voxal Voice Changer. This software offers different versions with licenses for different usage.
If you want to use it for commercial use, it requires you to purchase the license for commercial use. And a free version is restricted.
It offers more than 40 voice filters and the robot one is in the sci-fi category.
Click the robot and the details of the sound parameters show on the main interface. You can edit and add more parameters to get the robot voice you want like Transformers.
#5. FineShare Online Voice Changer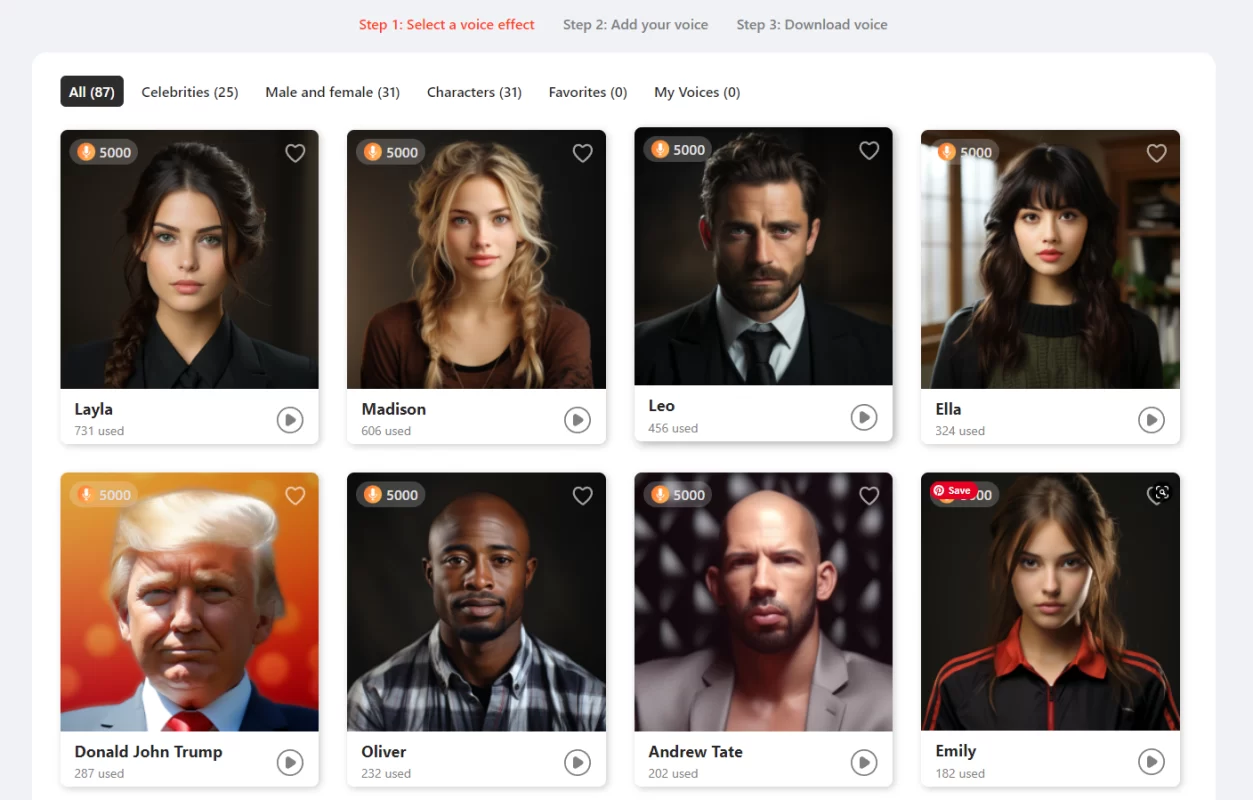 If you want to use a robot voice changer online, you got to try FineShare Online Voice Changer. It supports changing the voice of an uploaded or recorded audio file. Unfortunately, it cannot be used as a real-time voice changer. You can also choose from other voice effects, such as the ghost, alien, chipmunk, Batman, and more.
#6. Voice changer with effects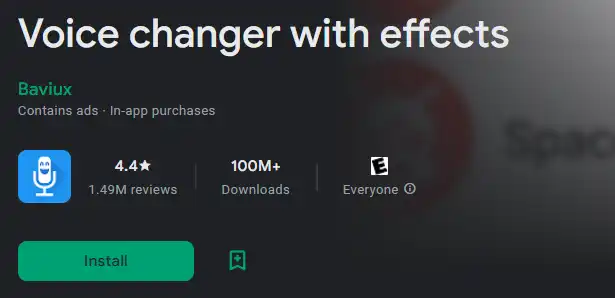 Voice changer with effects is a voice changer for Android users. As the other voice changer apps for mobile, it cannot change your voice in real-time. Besides voice filters, it supports creating an image with sound and creating a voice from the text.
The app offers more than 40 effects to modify your recorded voice. You can apply the mechanical robot voice to your recording and then share or save the recording.
You can also set the customized robotic audio clips as a ringtone or notification sound.
Conclusion
In this post, we have introduced the top 6 robot voice changers. You can use these desktop programs, websites and mobile apps to customize your favorite robot voice.
Enjoy your sci-fi world and have fun.
Try FineVoice for Free
Powerful real-time voice changer for tuning your voice in gaming, streaming, and chatting. It comes with various voice & sound effects and supports creating custom voice. Get it for free.