Christmas is coming soon! Do you want to get Santa's voice? The best Santa voice changer can convert your voice into Santa quickly and help you speak like Santa.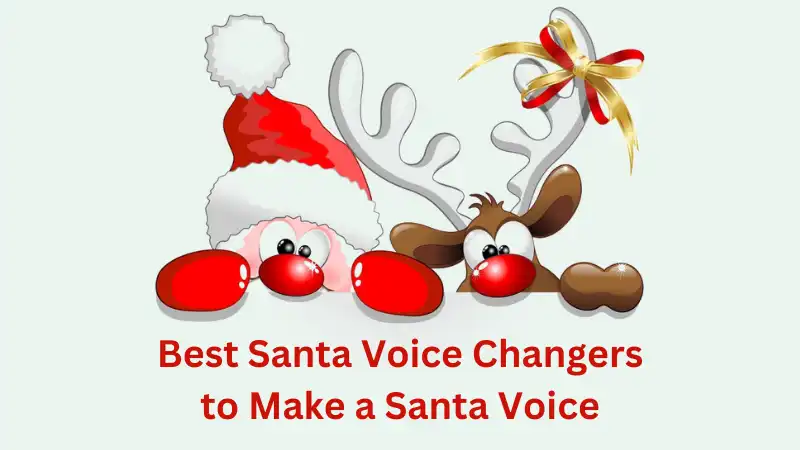 In this post, we offer you 3 Santa voice changers and also teach you how to get Santa voice.
Top 3 Santa Voice Changers
Here are the 3 Santa voice changers that you can trust.
FineShare FineVoice
FineShare FineVoice is a real-time Santa voice changer for computers. You can make your voice fun and interesting with one click whether you are chatting, gaming, or streaming. It works perfectly on Skype, Discord, Zoom, WhatsApp, and other platforms.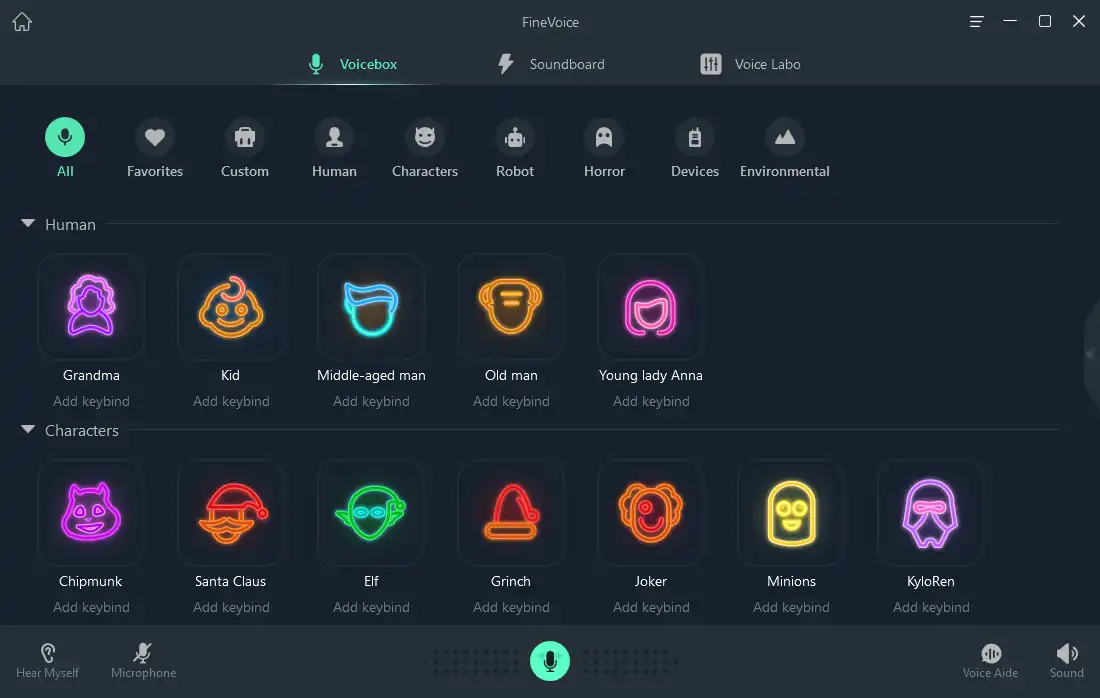 Main features:
30+ voice effects.
200+ sound effects.
It supports creating custom voice effects with audio effects.
Pros:
It offers hundreds of sound effects.
Change your voice in any live streams, games, or chats in real time.
Change your voice quickly and smoothly.
Cons:
It only supports Windows.
Are you ready to become Santa Claus this Christmas? Don't miss Santa Claus Voice Changer Online, a special feature of FineShare Online Voice Changer. It's a wonderful way to spread some holiday cheer and make someone's day. And it's free and easy to use. Try it now and have a merry Christmas!
Voicemod
Voicemod is a real-time AI voice changer and it's very popular for Discord, Xbox, and other platforms. You can add real-time voice effects and custom sound effects to the game and communication desktop app. It suits gamers perfectly.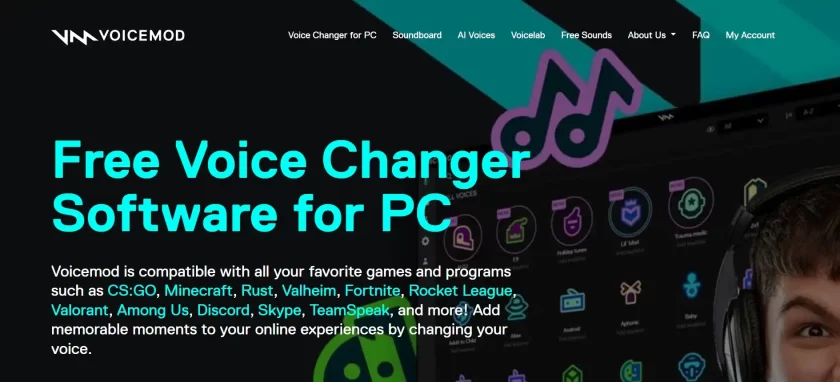 Main features:
It offers voice effects, sound effects, and backgrounds.
It allows you to adjust the tune, pitch, and volume of your voice.
Set your voice modulator.
Pros:
Create a new soundboard and add a new voice and effects to it.
You can search for other sound effects using Voicemod Tuna.
You can download the Santa voice effect from Voicemod Tuna.
Cons:
Only compatible with Windows.
Clownfish Voice Changer
Clownfish voice changer is another voice changer that you can change voice on various platforms. This app has a simple and clean interface that even a new user can learn how to use it quickly.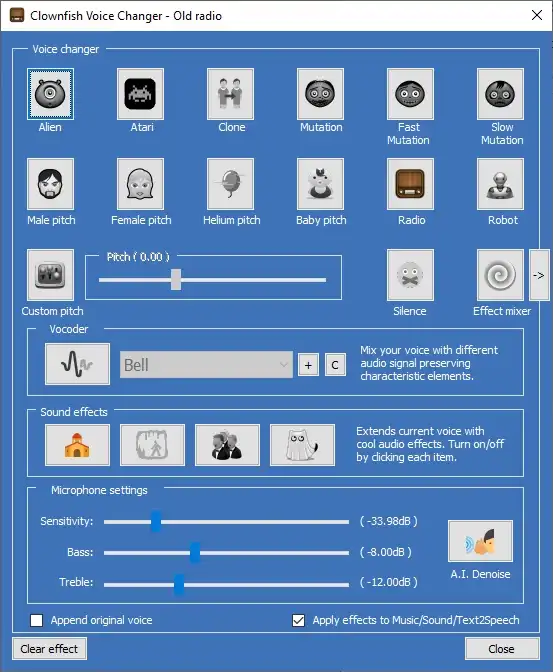 Main features:
Supports VST effects.
It offers 10+ sound effects to change your voice.
It can be used as a music player.
It offers text to speech.
Pros:
It is available for Windows and Linux.
Easy to use.
Cons:
How to Get a Santa Voice with Santa Voice Changer with FineVoice
Here's the step-by-step guide:
Step 1. Download and Launch FineVoice.
First, you should download and launch FineVoice on your computer.
Step 2. Set Microphone and Headphones.
To gain a better voice effect, you would better use a microphone and headphones.
Click Voice Aide and select your microphone and headphone as the input and output devices as in the below picture.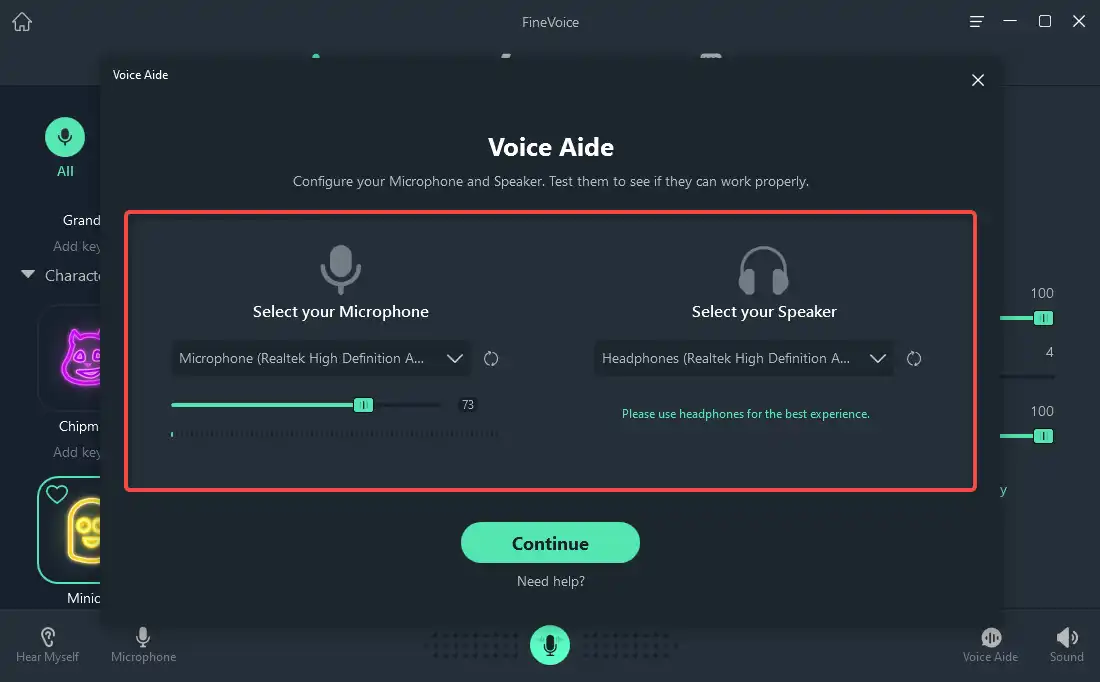 Step 3. Select Santa Claus.
Click Real-time Voice Changer. Click All and scroll down the screen and choose Santa Claus from Characters. Now, you can hear yourself speak in Santa's voice.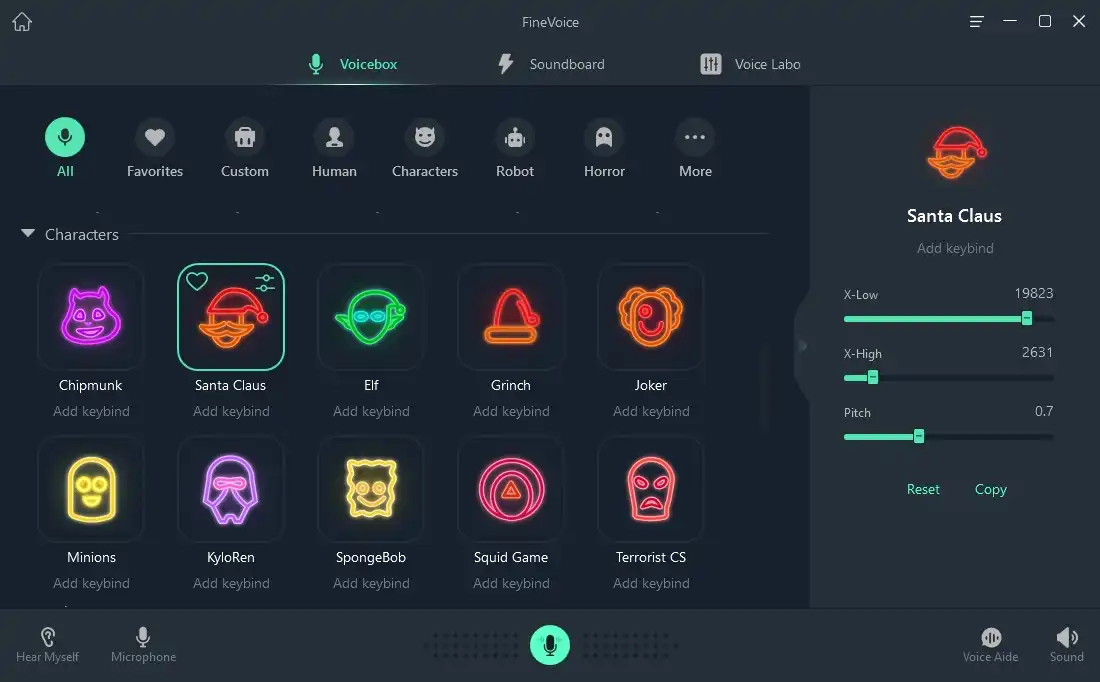 Open the app you want to use with FineVoice. Go to settings and choose FineVoice Virtual Microphone as the input device.
If you want to change your audio file voice, you can click Audio File Voice Changer, and choose Import audio file, and then choose one voice effect (FineVoice offers 30+ voice effects here), click Convert Now.
Conclusion
This post introduces you to 3 Santa voice changers and we hope it is useful. We also hope you have fun on Christmas. Try it now!