Voice is an important part of a video, as a content creator, you may want to change your voice in the videos, and make it sounds better and more interesting to attract more viewers.
How to change the voice in videos? Here we are going to introduce the 5 best video voice changers in 2023, both online and desktop software included.
#1. FineVoice
FineVoice is a free video voice changer software for PC that makes it easy to modify your voice in your videos. With so many voice effects, you can change the voice of your video and make it sound like Darth Vader, SpongeBob, Minions, and more.
Besides, FineVoice supports more functions than other video voice changer apps. For example, it has a voice customization function, you can create a custom voice that suits your video. And if you want to add a voiceover to your video or transcribe a video to text, FineVoice can also help you.
How to Change Voice of Video for Free with FineVoice
To change the voice in videos, you need to extract the audio with FineVoice first, and then change the voice in the audio file. Here are the detailed steps
Step 1. Download and install FineVoice on your PC.
Step 2. Open FineVoice and choose the Audio Extractor.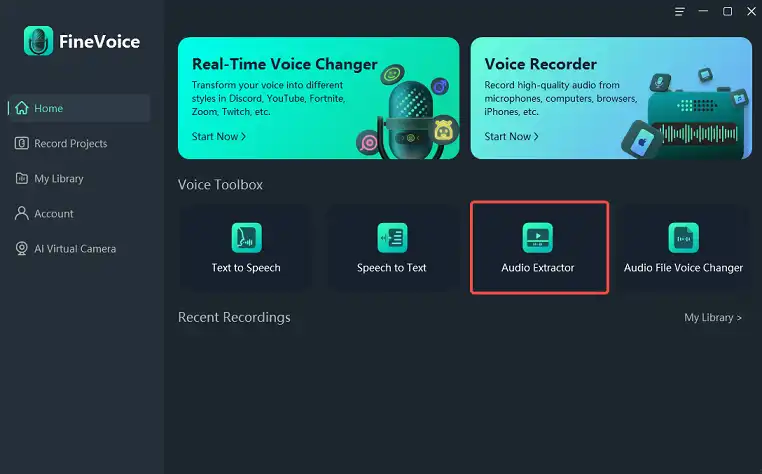 Step 3. Upload your video file and extract the audio part.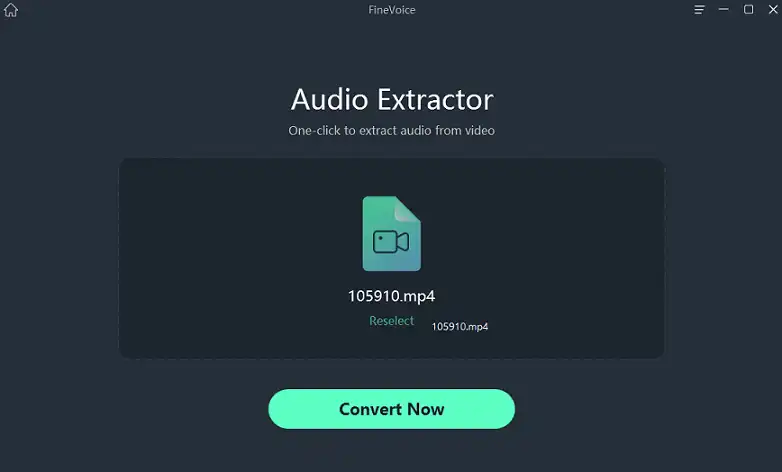 Step 4. Go to the Audio File Voice Changer.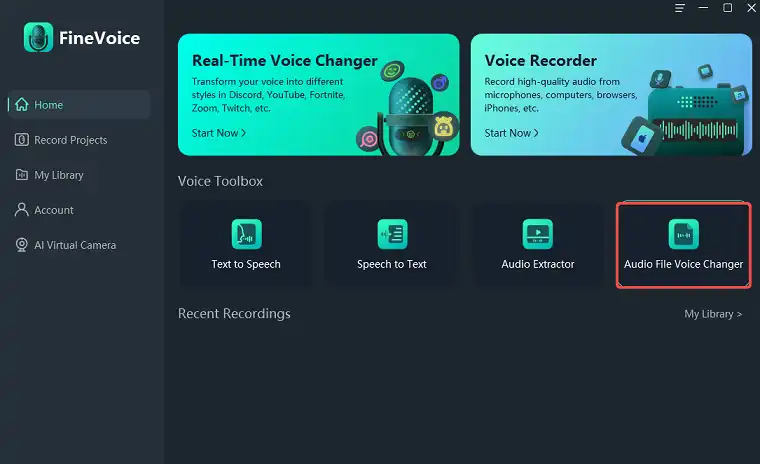 Step 5. Upload the extracted audio file, select any voice effect you want to use, and start converting.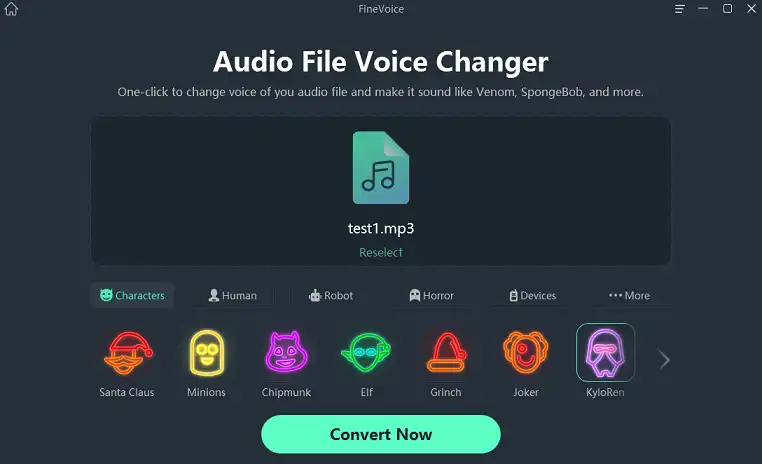 Tip: Create your own voice effect with Voice Labo
If you are not interested in any of the existing voice effects, you can go to Real-Time Voice Changer > Voice Labo, and create a new voice effect.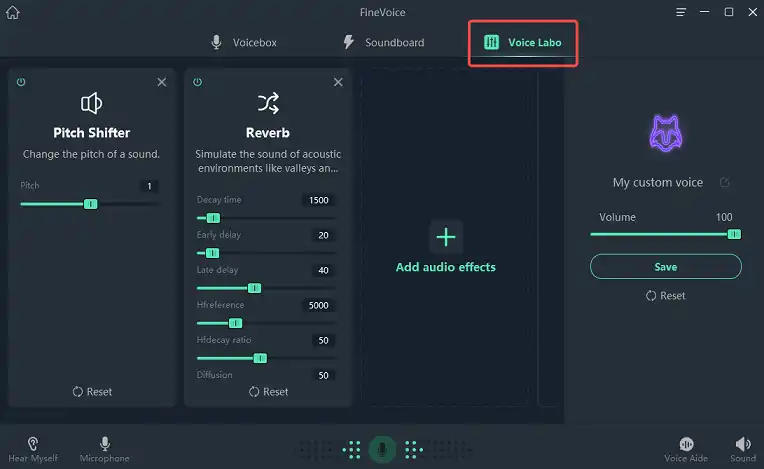 #2. AILab Voice Changer
AILab Voice Changer is an online voice changer, everyone can use it for free and without seeing ads or signing up first.
There are over 20 voice effects for you to use, and well-trained AI will handle the conversion process perfectly, all you need to do is upload and one click, leave the rest to the AI.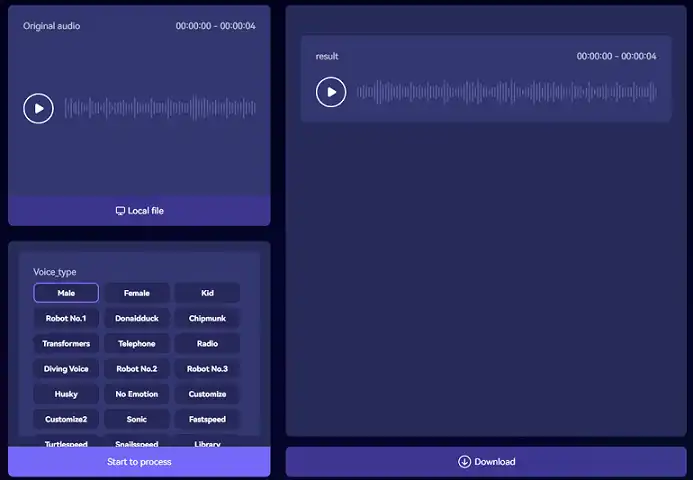 #3. Voicechanger.io
This is a very simple website for changing your voice online. VoiceChanger.io provides over 50 different voice effects you can use to change your voice. Also, you can its voice maker function to create a new custom voice.
The voice effects include different types of aliens, robots, monsters, animals, video game characters, and movie stars. And to get the ideal result, you need to try to imitate the target voice so the conversion can be done better. Talk at a slow pace is also recommended, otherwise, your recording may fail due to the echoes.
Except for uploading an audio file, you can also record your voice directly and download the modified audio. This website also supports generating speech from text, you can upload any text file to do that.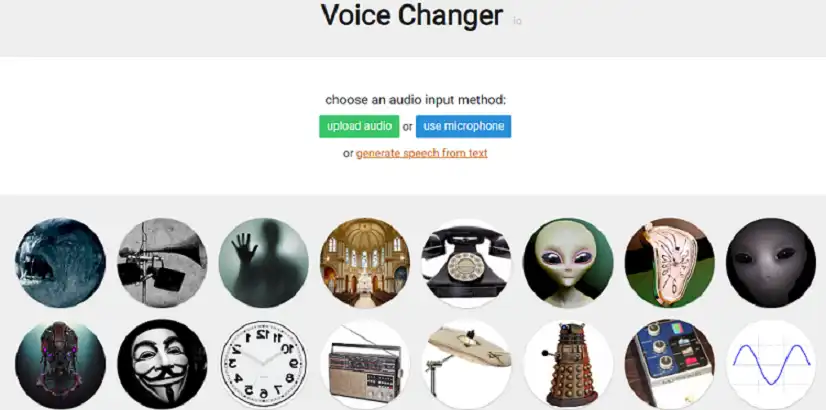 #4 Myvoicemod
Voice effect options of Myvoicemod are quite lesser when compared with other similar tools, but it's still an easy-to-use online voice changer.
It provides 12 voice effects in total to choose from, and it's possible for you to record your own voices through a microphone rather than uploading a local audio file.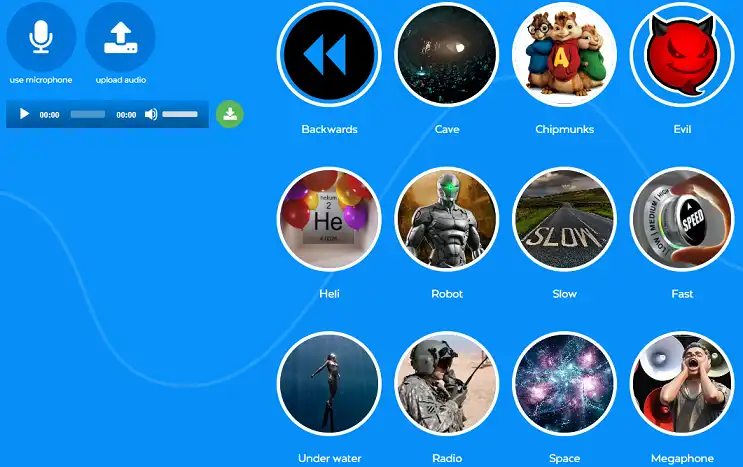 #5 Online Tone Generator
Online Tone Generator helps you tune your voice online quickly. It has multiple functions to use, from the basic voice pitch adjustment to adding some background noise.
Every one of the functions comes with detailed instructions on how to use it, in that case, even a beginner can make the voice changes in no time. They may look difficult at first, but the actual operations are easy, you only need to click some buttons, drag some slides and the changes are done.
Online Tone Generator also has a voice generator function that you can let various voices from Google and Microsoft read the texts you input. If you have instruments like guitar and bass, you can tune them on this website too.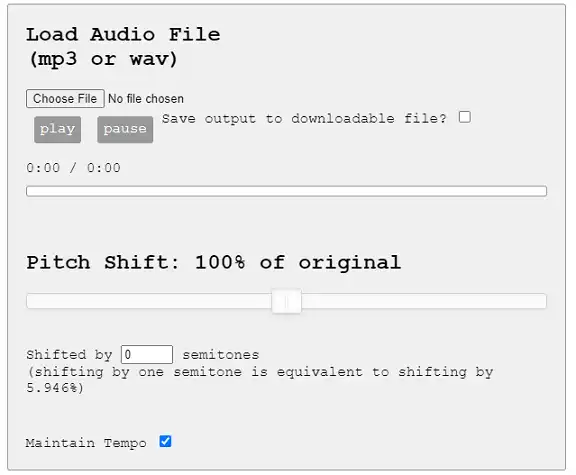 Conclusion
No matter you value your privacy or want to add some flavors to your videos, it's always more convenient with a handy tool to help you.
These 5 video voice changers are carefully picked, you can look through all of them and decide which one to use. Hope you can have fun with these tools.
---