Discord is a great gaming chat software, and it's growing in popularity by the day. It's perfect for gamers because it's free and has cool features like screen sharing, video streaming, and voice chat with other gamers online.
Moreover, Discord voice changers add more personality to your chat experience. It is especially true when you're chatting with friends over Discord, as it helps to make your conversations livelier and fun. And your search for the "best voice changer for Discord" ends here.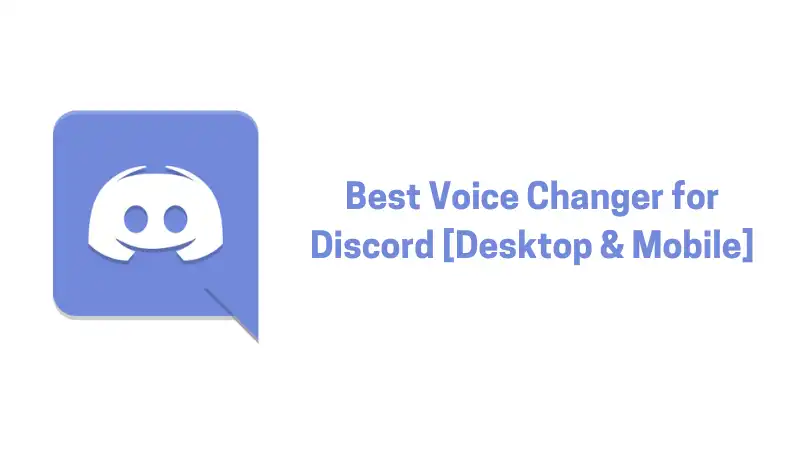 Here are some of the best Discord voice changers for Mac, Windows, and mobile phones. And you can use an online voice changer to modify your recorded voice or audio file. Make sure to bookmark this discord voice changer page so you can return to it later anytime.
PART 1. Top 3 Discord Voice Changer for Windows
#1. FineShare FineVoice
Arguably one of the most popular Discord voice changers out there. As a real-time voice changer for Windows, FineShare FineVoice allows you to change your voice in real-time on every game and communication platform. It's an excellent app for easy, powerful, and simple editing options.
You can easily customize the pitch of your voice or even tweak it so that you sound like a robotic version of yourself. You could even change the speed and volume of your speech! FineShare FineVoice is a solid choice for beginners looking for a Discord voice-changing app with quality options without the complexity.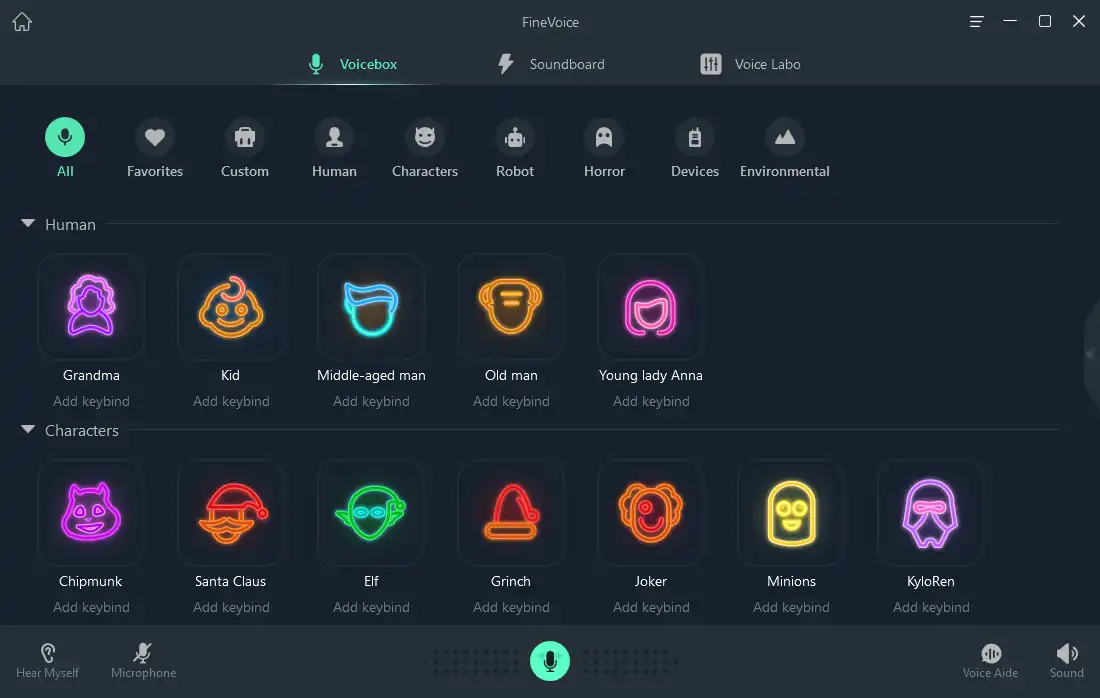 Features:
FineVoice transforms your voice with 30+ human and funny voice effects in your Discord gaming and streaming.
It's easy to use with several clicks.
FineVoice gives you 200+ sound effects to play when streaming.
You can upload audio files to the soundboard to create your custom soundboards
You can create unique voice effects in the Voice Labo with more than 15+ audio effects.
#2. Clownfish Voice Changer
Clownfish Voice Changer is the ultimate lightweight voice changer for Discord. This Windows voice changer software has an automated voice adjustment feature that will let you choose from 14 voice filter templates. The software gets installed on the system level, which means every application, including Discord, that uses a microphone or similar audio capture device will be affected.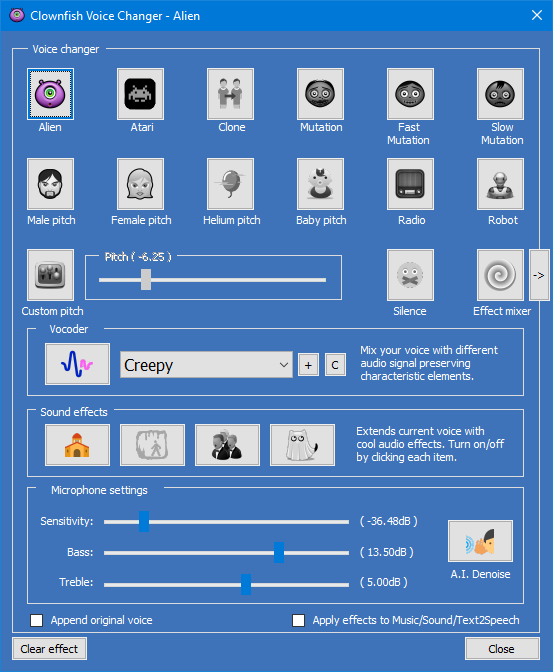 Features:
Native app for Windows 7 and above.
Decent collection of voice filters for Discord.
Intuitive to set up and use.
Additional VST effects support. Meaning you can use Clownfish with your favorite digital audio workstation as well.
Easy to use control knobs. This control knob comes in handy when you want to switch between voices on Discord.
Supports background music playback.
Clownfish ships with an in-built text-to-speech voice assistant.
Supports the playback of sound loops.
#3. AV Voice Changer Software
Unlike its competitors, AV Voice Changer falls in the premier league of Discord voice changers. Apart from voice morphing and recording, the software allows you to cut and mix audio files on the go. According to the company, AV Voice Changer gives you complete control over your voice modulation. Simply put, you will sound as you want; you're in control.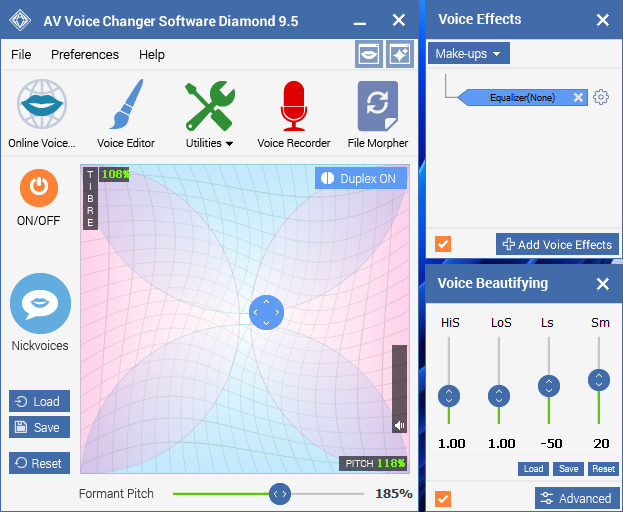 Features:
The software is friendly and easy to use. You can record and preview your work in just a window.
Works out of the box as a voice filter for Discord, Skype, Zoom, Steam, and similar applications.
The software can cut, split, copy, or apply effects to partial or complete morphing results.
The in-built voice recognition controller features high-quality voice output controllers, which allow users to change, tune, improve and morph their voices.
They also offer an extensive, growing online library of free voice and sound effects packs.
PART 2. Top 3 Discord Voice Changer for Mac
#1. Voicemod
Voicemod is another voice changer software for Discord. It works on Windows and macOS. It accumulated many Discord streamers with its real-time voice-changing feature. Voicemod has an intuitive user interface.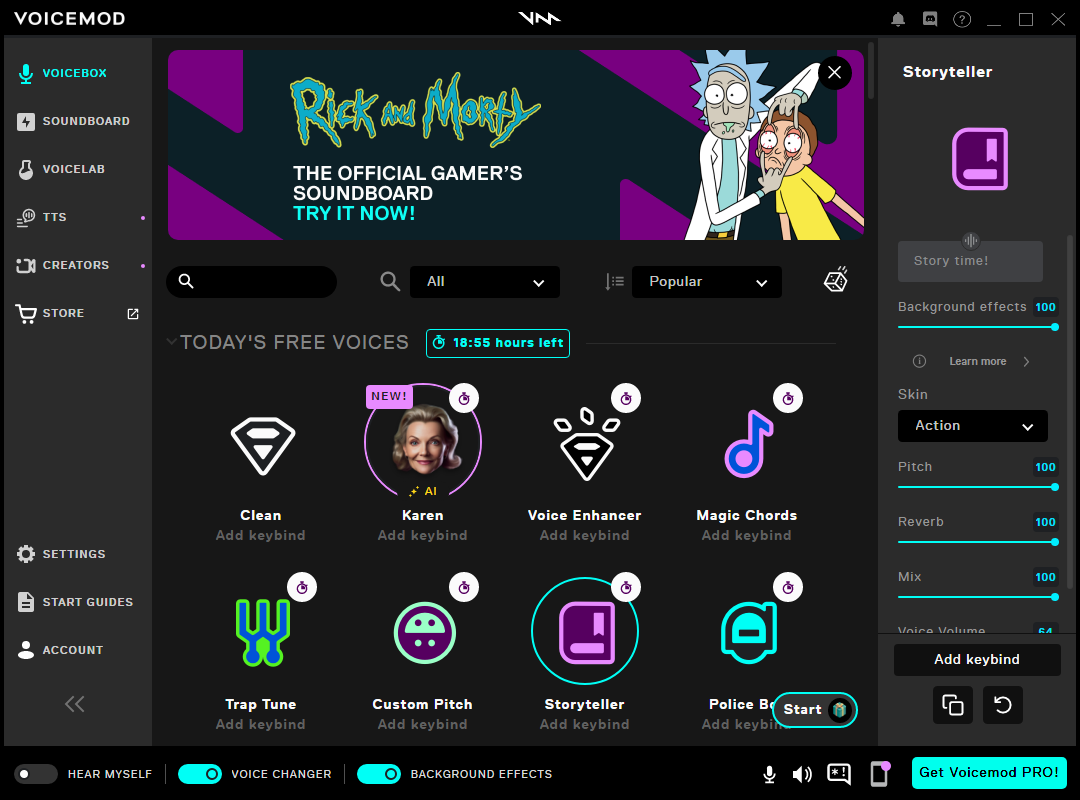 Features:
Voicemod will change your voice in real-time – no recording required.
You can set up the voice modulator in less than 5 minutes.
Voicemod gives you extra tools to make new voices and add those sounds to the soundboard.
It ships with 90 different voices and effects.
You can use the Voicemod voice filter for Discord while gaming, streaming, and chatting.
Works out of the box in games such as Fortnite, CS: GO, PUBG, GTA V, Second Life, Valorant, and more.
#2. MorphVox Pro
MorphVox Pro is a paid discord voice changer for macOS. The voice modulator can make your voice sound like a man, woman, galactic lord, demon, cyborg warrior, or tiny folk. Their built-in voices, sound effects, and intuitive navigation make it easy to use. If you're a beginner, this voice changer app for Discord is for you because it's easy to use.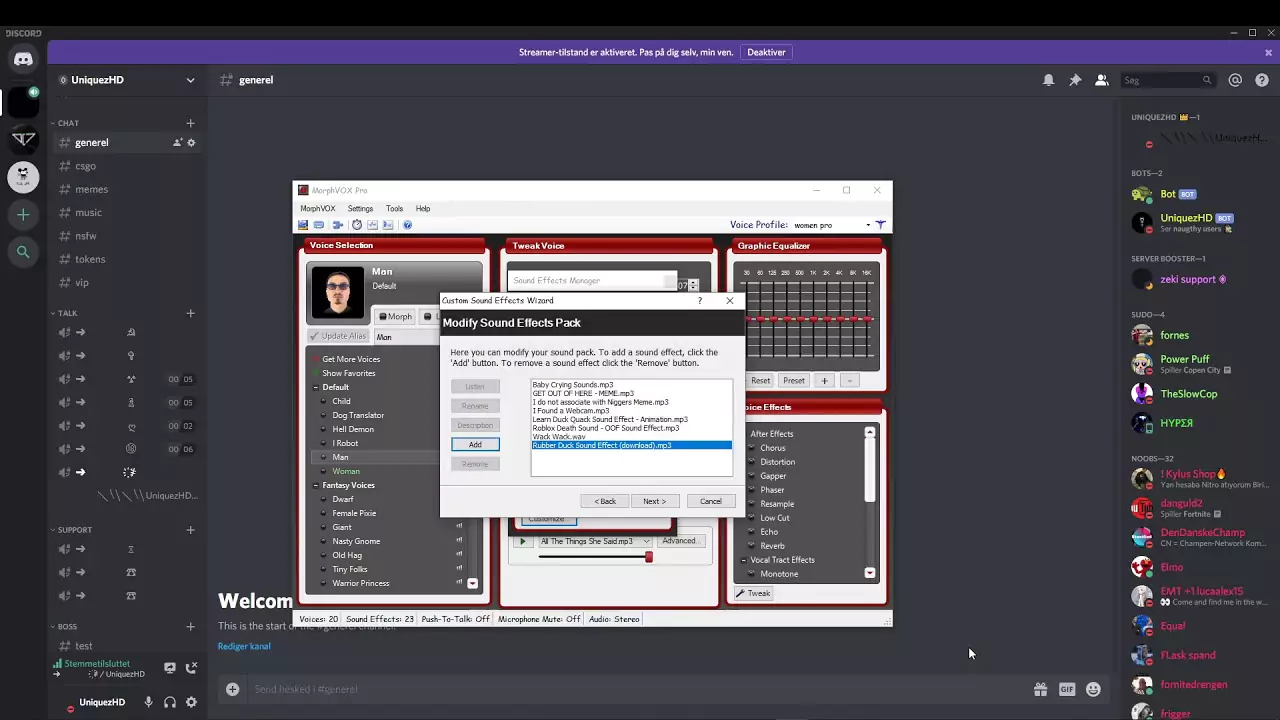 Features:
The voice changer software is compatible with Mac OS X 10.6 and above.
It offers high-quality voice changing software technology.
The software from your input voice for optimal sound quality.
Integrates easily with the most popular online games and chat programs.
MorphVox uses low bandwidth and CPU usage.
Comes with various built-in voices to change.
Excellent collection of built-in sound effects.
#3. Voxal Voice Changer
Unfortunately, Voxal is not a free voice changer for Discord. It's a premium license-based software made for macOS and Windows. This tool can add a new dimension of creativity to your voice by modifying, changing, and disguising it in any application or game with a microphone. Voxal Voice Changers ships with many voice filter templates ranging from 'Alien' to 'Girl.'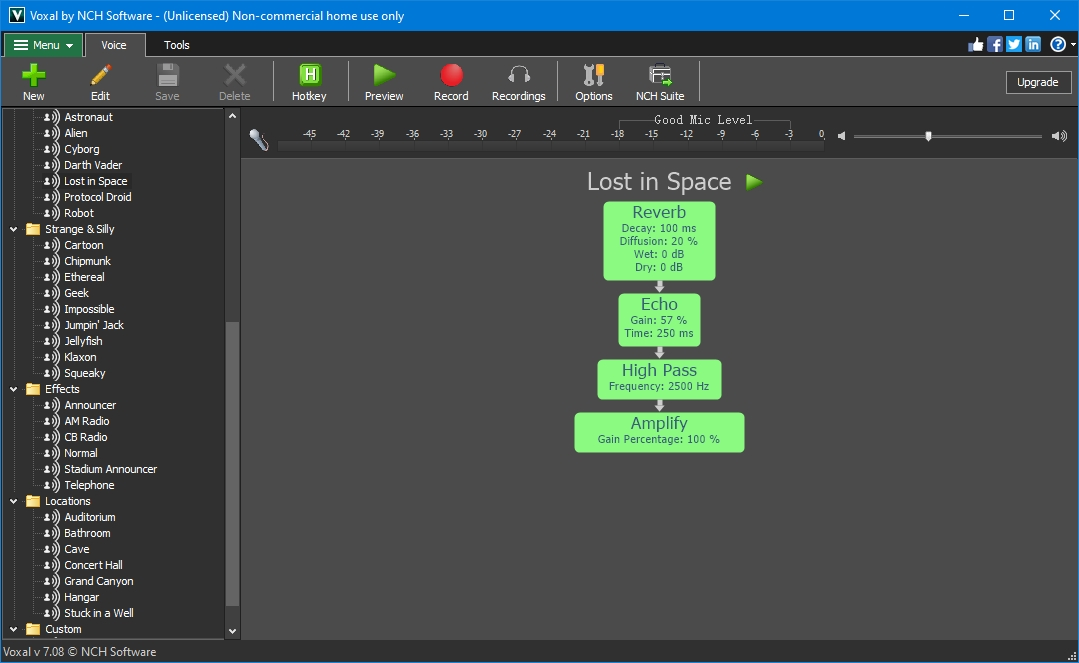 Features:
Change your voice seamlessly during Discord calls.
You can add vocal effects to locally imported files.
Works seamlessly with Discord, Zoom, Skype, and similar apps.
The software won't drop your FPS when gaming.
Add background noise effects, including busy office, train, forest, etc., to your Discord calls.
PART 3. Top 3 Discord Voice Changer for Mobile
#1. Voice Changer (for Android)
A neat Discord voice changer app for mobile phones based on Android. The app offers many characters, including males, females, children, superheroes, aliens, etc. Moreover, you could change the pitch and speed of input audio. The mobile discord voice changer software comes with an in-built audio editor also. The major downside of this mobile app is the Ads. which might adversely affect the overall usability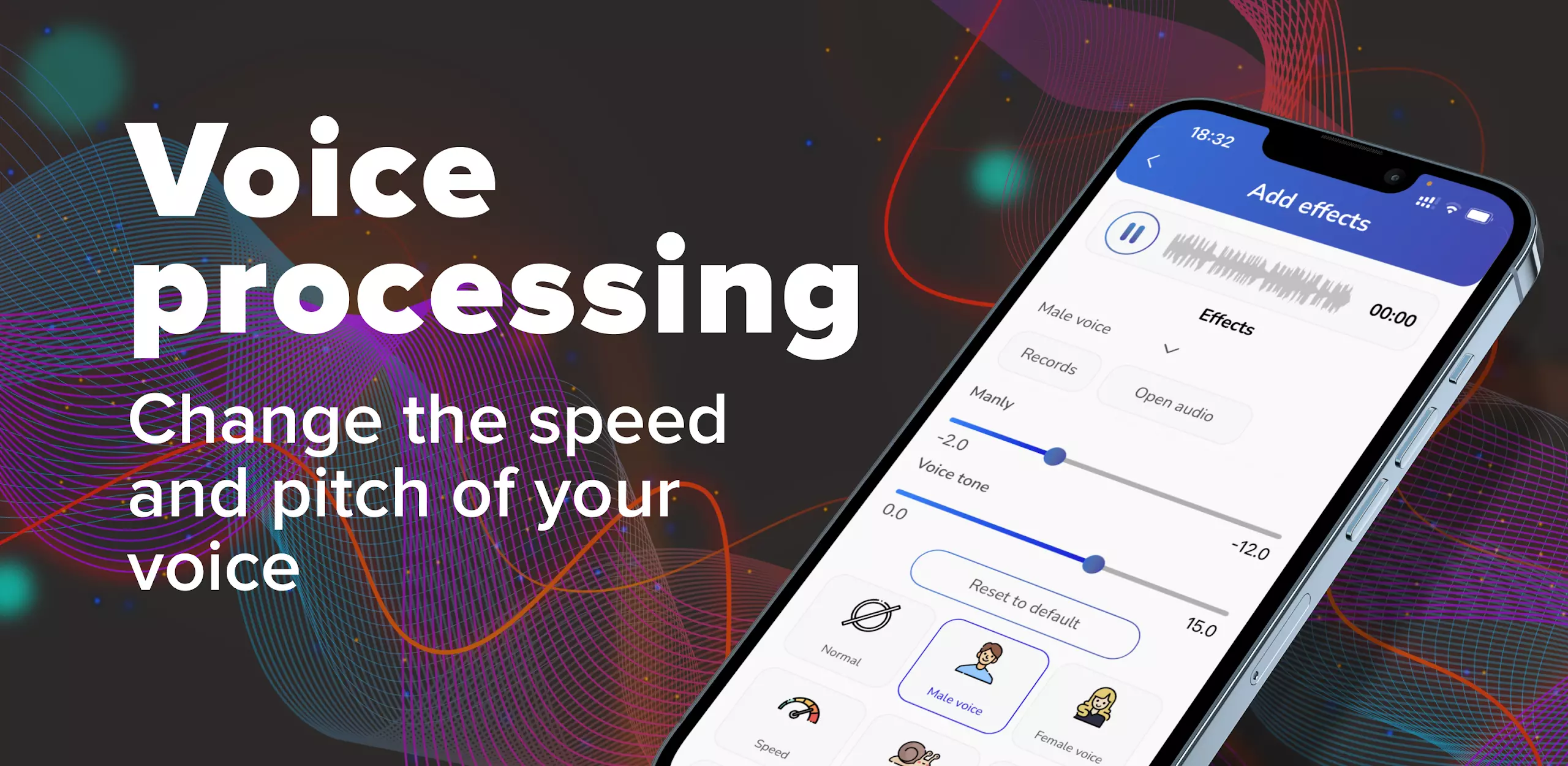 Features:
Ships with an inbuilt autotune setting.
Allows you to change the speed of sound.
Allows changing range of sound, from low bass to high.
Let you add effects such as reverb, echo, etc.
#2. RoboVox Voice Changer Pro
RoboVox Voice Changer Pro is a premium addition to the free discord voice changer apps on PlayStore. The app works as expected and lets you choose from 32 different voice styles. It also offers an X-Y pitch shifter making it incredibly easy to use the app. Once you plug in the headphone, the app switches to the real-time mode for Discord voice changing.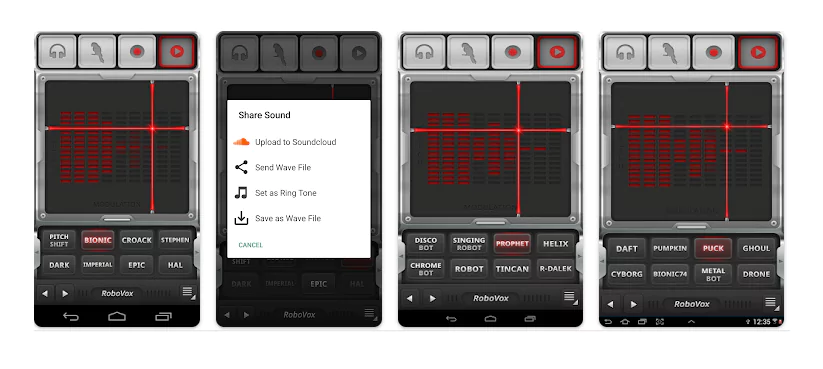 Features:
32 different voice modes to play with.
Offers 3 modes of operation. Real-time, parrot (talk back), and recording.
Uses FFT spectral analysis in the backend.
#3. Voice Changer with Effects
Voice Changer with Effects is a voice-changing app that lets you change your voice and add effects on your Android device. You can use it to sound like a robot, a monster, a drunk, a sheep, or anything else you can imagine. You can also use it to have fun with your friends, make funny videos, or create voiceovers.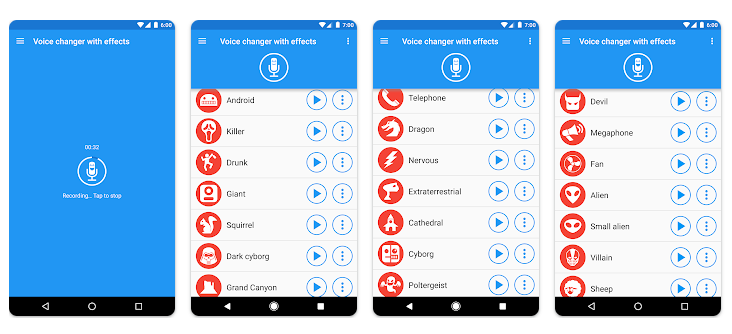 Features:
Offers 40+ voice effects
Supports audio quality adjustment.
Supports image creation with sound.
PART 4. How to Use Voice Changer for Discord
You can use a real-time voice changer for Discord, here we take FineShare FineVoice as an example. The steps are similar to other software.
Step 1. Install FineShare FineVoice.
Step 2. Launch FineVoice. Open the Real-Time Voice Changer to explore the voices.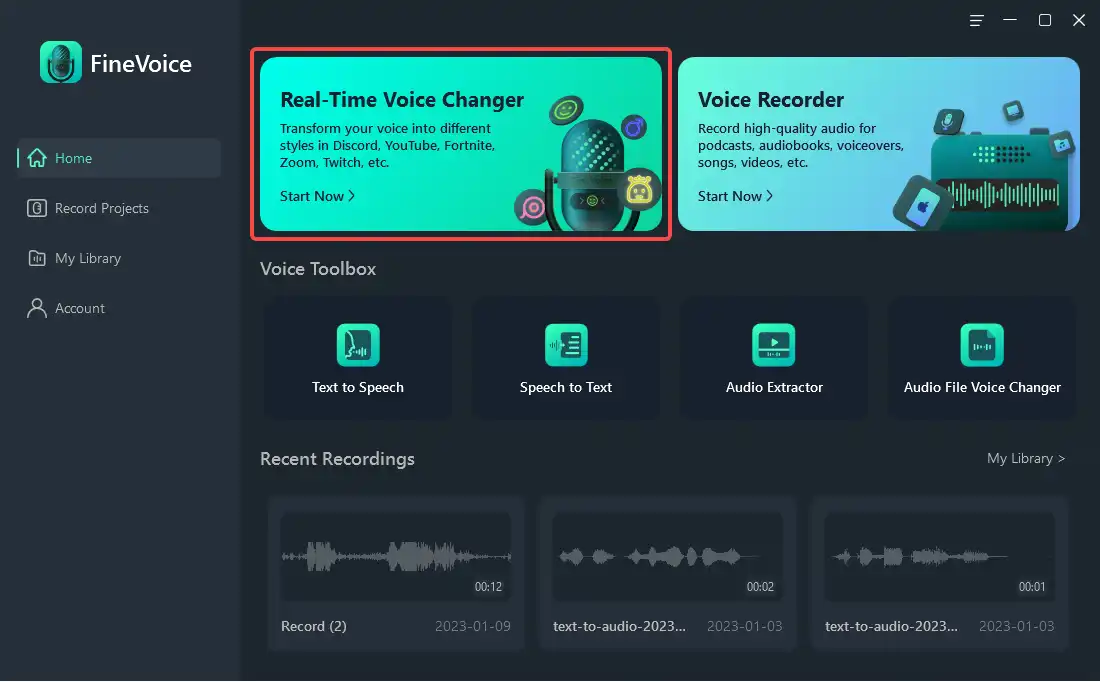 Step 3. Configure your microphone and headphones devices to record and hear your voice.
Step 4. Explore the preset voice and sound effects. You can also create custom voices with 28 audio effects in the Voice Labo.
Step 5. Open Discord. Go to Settings > App Settings > Voice & Video and set FineVoice Virtual Microphone as the input audio device.
Conclusion & Takeaways
To summarize, Discord is an excellent chat service for gamers and communities. And Voice changers make it double for Discord communities. We strongly believe our article has helped you finalize your favorite voice filter for Discord. And if we find a new Discord voice changer for the testing, we'll add it to the recommended list above. Cheers, and wish you a fun time pranking your buddies on Discord!
Try FineVoice for Free
Powerful real-time voice changer for tuning your voice in gaming, streaming, and chatting. It comes with various voice & sound effects and supports creating custom voice. Get it for free.