Do you want to start your podcasting creation? Publishing your podcasts on Spotify will give you more audience because this music streaming service platform has over 450 million monthly active users all around the world. But, how to upload a podcast to Spotify? How much does it cost to upload a podcast on Spotify?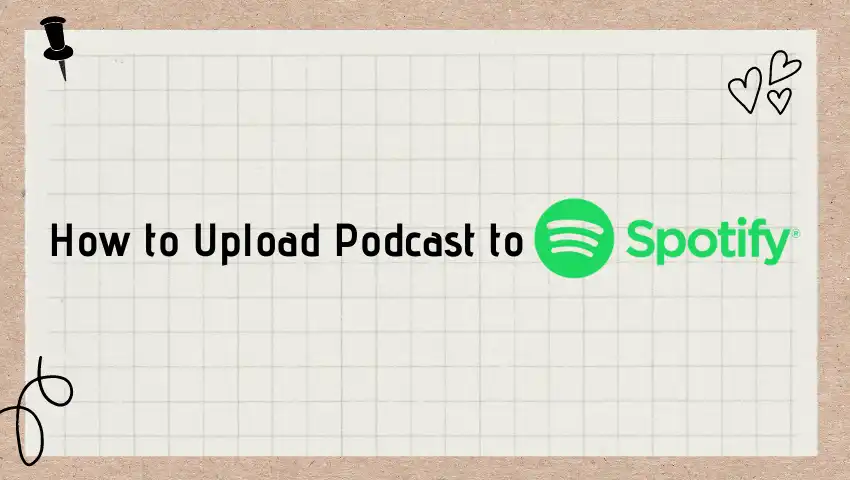 Read this post, we will give you everything you want to know about uploading podcasts on Spotify. The first truth is that Spotify is not a podcast hosting platform, so you don't create any podcasts on Spotify.
Things You Do before Uploading Podcast to Spotify
Step 1: Preparations before recording.
You need to prepare for recording a podcast. Things include but are not limited to choosing a podcast topic, picking a name for your podcast, writing a podcast description, and getting the podcast pictures and music created.
Step 2: Record your podcasts.
You will need a good microphone device to record your podcast episode with high audio quality. And a stable voice recorder is essential to get your recording job done.
The free multi-track voice recorder for PC is a good start for beginner podcasters.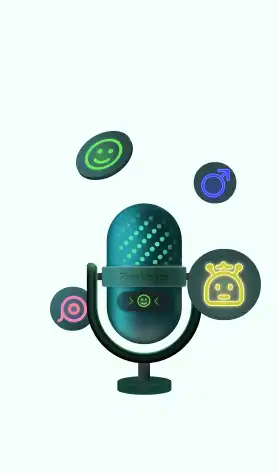 Try Free Multi-Track Voice Recorder for Podcast
Record ideal voiceovers for videos, films, and e-learnings.
Record from microphone, computer, iPhone, audio files, and streaming audio at the same time.
Use 30+ voice effects and 28 audio effects to make professional audiobooks, podcasts, and songs.
Various recording modes such as mix, separate, and bridge recording.
Automatically saving recording files and projects for better project management.
Step 3: Edit before uploading.
Edit always create a miracle. Don't get upset about how bad you are. Audio editing software or DAW like Adobe Audition and Audacity could be helpful if you want to improve your performance through technology.
Step 4: Upload your episodes.
Don't let perfectionism stop you from becoming a famous podcaster. It's not uncommon to perform poorly in the beginning. Keep pushing.
Publish your episode on podcast hosting platforms like Anchor, Bazzsprout, Castos, and more. Get feedback and keep improving. Do better in every episode you will create.
How to Upload Podcast to Spotify with Spotify for Podcasters
Now you should do this: Grow your audience and let the world discover you.
Upload your podcast episodes on Spotify. Spotify doesn't charge you a cent for listing your podcasts. And Spotify for Podcasters analyzes the data and insights to help you grow your audience.
Let's see how to upload a podcast to Spotify. This step-by-step guide is for everyone who hosts podcasts on any platform.
Step 1. After you publish a podcast episode, go to find and copy your show's RSS feed link.
Step 2. Visit Spotify for Podcasters (https://podcasters.spotify.com/).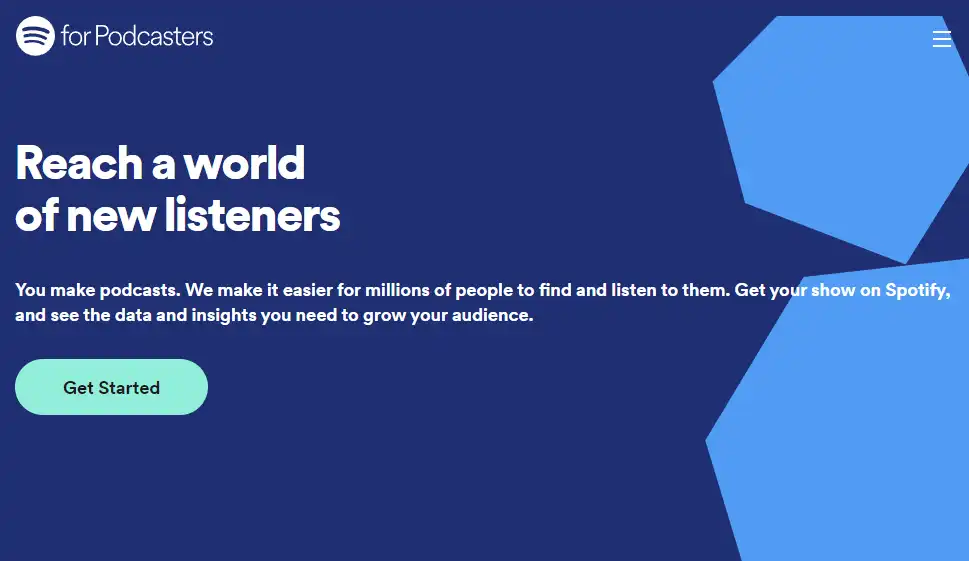 Step 3. Click Get Started. You need to create a Spotify account to publish your podcast if you don't have one.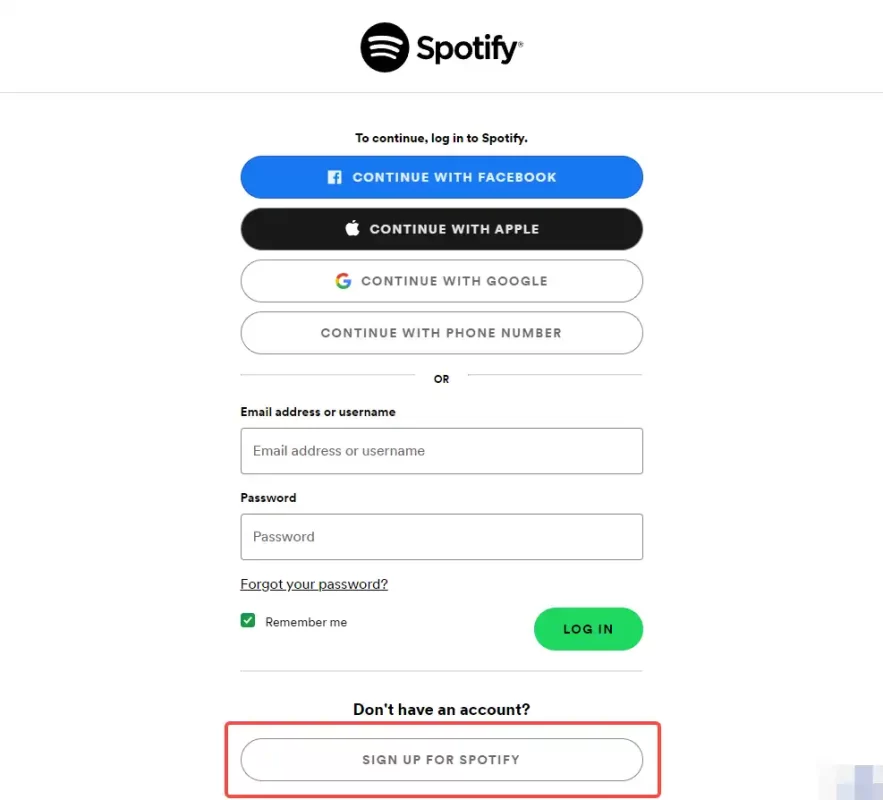 Step 4. Click Get Started andpaste in the RRS feed link you copied. The link tells Spotify where to download your podcast and get the information on it. Spotify will show you a preview of that show. Click Next.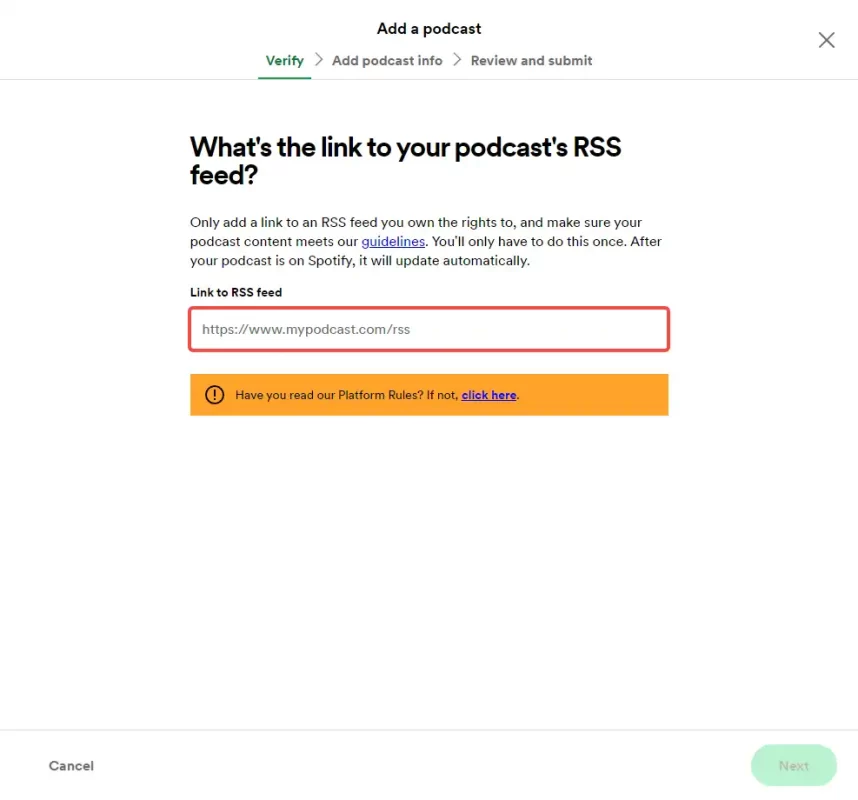 Step 5. Spotify will send a verification email to make sure you are the owner. Click Send Code and go to the email address to get the 8-bit code.
Step 6. At the Add podcast info step, you need to verify the information of your show.
Step 7: Review and submit. Check if everything looks OK. And once you submit the podcast, there is no way to edit the information of your podcast.
Step 8: Click the Submit button. It takes hours to set your podcast live on Spotify. And Spotify will automatically list your newly uploaded episodes every time.
Conclusion
Don't know how to upload a podcast to Spotify? It's not a question anymore. This post gave you a step-by-step manual guide on uploading podcasts on Spotify. Share your podcast on this free streaming platform and get your audience from all over the world.