Are you a die-hard fan of Sonic the Hedgehog and his iconic voice? Have you ever dreamt of creating your very own Sonic voice to bring your imagination to life? Well, get ready to embark on an adventure like no other!
In this article, we'll unveil 3 Sonic text to speech generators that will let you channel your inner hedgehog and use your very own Sonic voice for endless fun and creative purposes.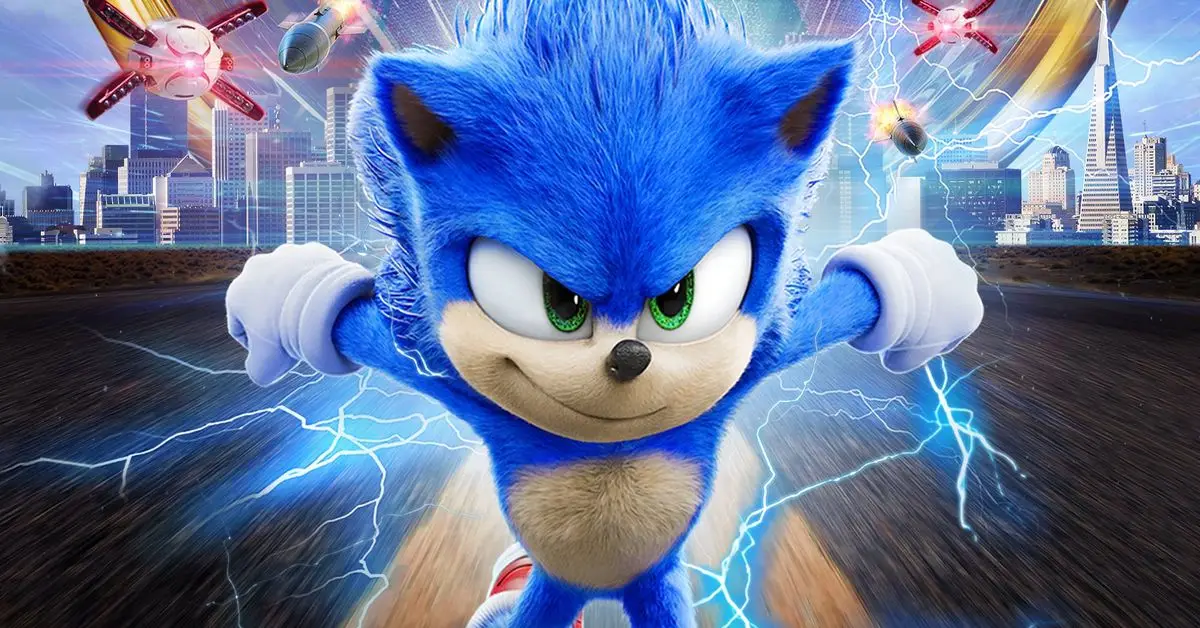 Learn More About Sonic The Hedgehog
Sonic the Hedgehog has captivated the hearts of millions since his debut in 1991, blazing through video games, comics, cartoons, and even the silver screen. His electrifying blue presence, lightning-fast speed, and unmistakable voice have become legendary among fans worldwide.
From the lively Jaleel White to the energetic Roger Craig Smith, Sonic's voice has evolved over the years, each actor bringing their unique spin to the character.
Best Sonic Text to Speech Software
Are you ready to take your Sonic experience to the next level? Look no further than FineShare FineVoice, the ultimate Sonic the Hedgehog text to speech software that brings Sonic's voice to life like never before.
FineVoice has a simple and intuitive interface, making it perfect for newcomers. You can enter your text, choose from different languages and accents, and adjust the speed and pitch of your voice. No matter what you want Sonic to say in Chinese, Spanish, French, or even Japanese, FineVoice can do it for you.
You can use FineVoice to create your voiceovers, podcasts, audiobooks, or songs. You can also have fun imitating the voice of your favorite celebrity, influencer, politician, or person. For example, you can narrate a movie trailer with Morgan Freeman voice, create a podcast with Walter White voice, or a song with Snoop Dogg voice. You can download the audio as MP3 files and share it on social media platforms.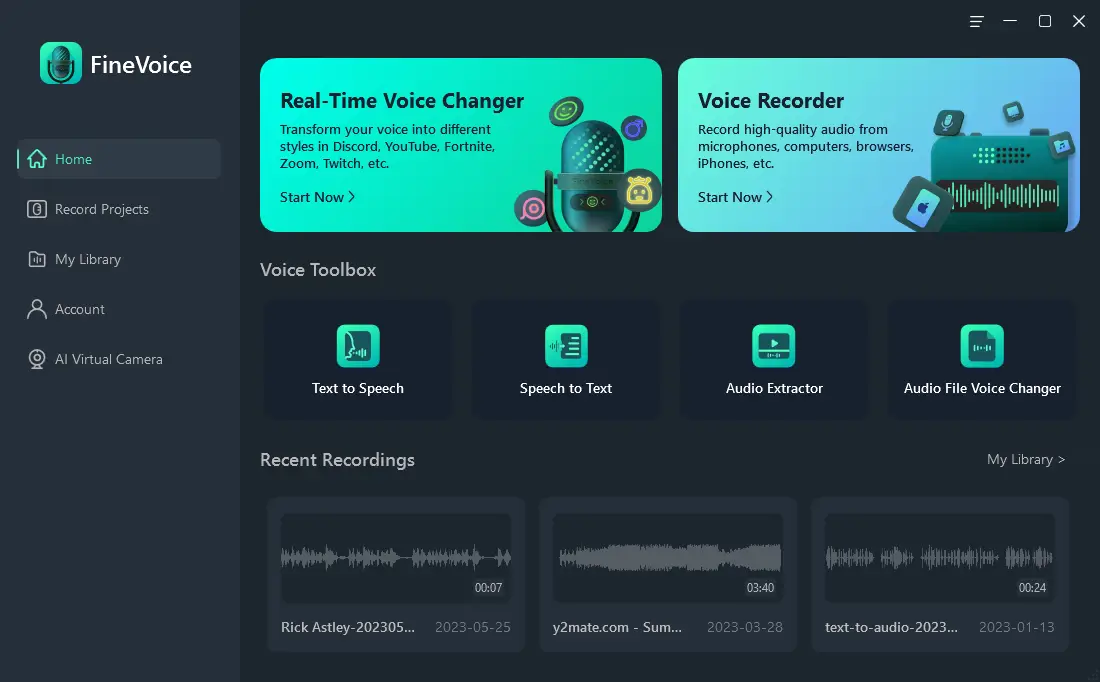 Pros:
Clean and intuitive interface
Realistic Sonic AI voice generator
Over 5,000 voices for optimal fun
Change your voice in real-time with various effects and filters
Record your voice with high quality and clarity
Fast and accurate automatic transcription
Extract audio from the video
Cons:
FineVoice is also a great Sonic voice changer. You can change your voice to the voice of Sonic the Hedgehog in real-time. Furthermore, it includes a library of voices and sound effects, including the robot, Venom, Chipmunk, Grinch, KyloRen, Middle-aged man, Young lady, Santa Claus, CS Zombie, and more.
Related article: 3 Best Knuckles Text to Speech Tools to Sound Like Knuckles.
2 Best Online Sonic Voice Generators
Below are the 2 most famous Sonic text to speech online websites.
FakeYou
Fakeyou is a famous online Sonic text to speech generator that allows you to say something funny, or inspiring or even sing a song with Sonic voice. You can type or paste any text to generate high-quality voices and create hilarious conversations. You can also adjust the speed, pitch, and volume of the sound to your liking.
Fakeyou is great for creating short audio clips such as greetings, jokes, quotes, or memos. You can also use it to prank your friends or family or to surprise them with special messages or gifts. For instance, you could use the voice of Ryan Reynolds to record a birthday greeting, the voice of Scarlett Johansson to record a love letter, or Donald Trump to record a prank call.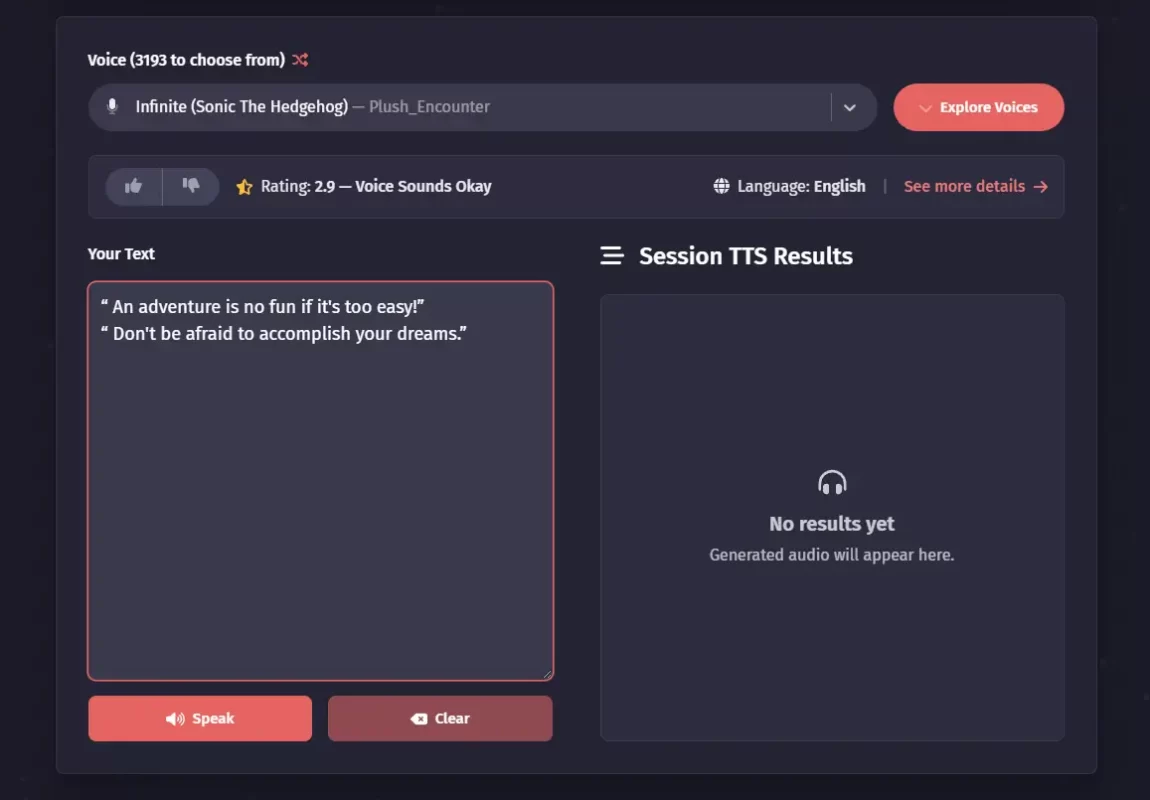 Pros:
A free online and open-source platform
High-quality voices
Wide range of celebrity voices
Support multiple languages and various dialects
Sharing on social media platforms is simple and fast
Cons:
Potential ethical issues
May require an internet connection
Limited customization options
Uberduck.ai
Uberduck.ai is an online Sonic text to speech platform that you can use to make Sonic sound like he is talking in real life. You can also adjust the style and emotion of the voice, such as casual, formal, happy, or sad. And if you want to personalize your voice, you can create your custom voice clone by recording a few sentences of your voice. You can then use your voice clone to generate audio with any text you want.
With Uberduck.ai, you can also mix and match different voices to create unique combinations. For example, you can make Sonic sound like Spongebob, or let Spongebob sound like Sonic. You can choose from a large and diverse library of characters, including celebrities, singers, rappers, cartoon characters, and more.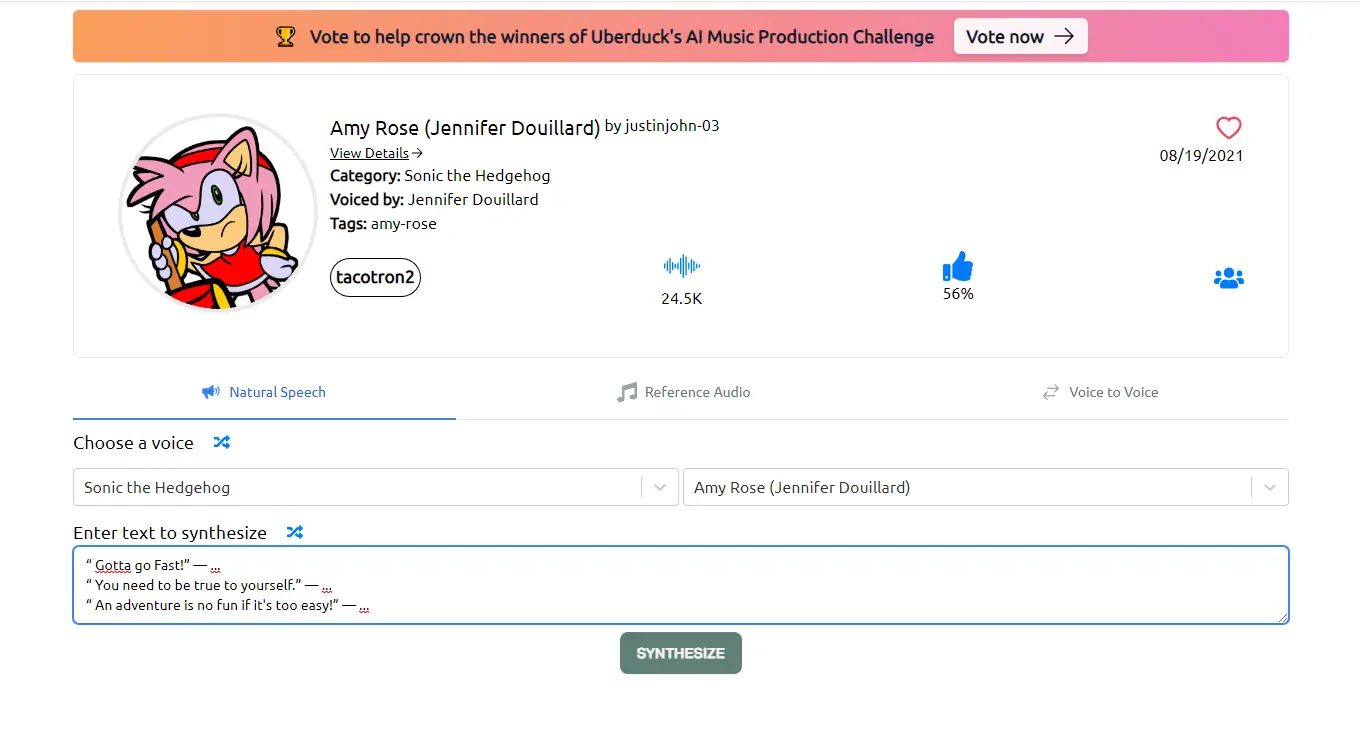 Pros:
An online tool so you don't need to download any software
Immersive Sonic text to speech voiceovers
A diverse library of characters
Create your own custom voice clone
Mix and match different voices
Adjust the style and emotion of the voice
Cons:
Involve certain costs
Sometimes the audio lacks the desired level of naturalness
Conclusion
So, gear up, fellow Sonic enthusiasts, and get ready to dive into the thrilling world of Sonic text to speech generators. Brace yourself for an adrenaline-pumping experience that will leave you feeling like the ultimate hedgehog hero!
Download FineVoice to bring your dreams to life and embrace the power of your own Sonic voice and let your imagination take flight!
FAQs About Sonic the Hedgehog
Who Created Sonic the Hedgehog?
Sonic the Hedgehog was created by the Japanese video game company Sega. The character was designed by artist Naoto Ohshima, and the development of the first game was led by Yuji Naka and Hirokazu Yasuhara.
What are Some of Sonic's Abilities and Power-ups?
Sonic is known for his incredible speed, which allows him to run at supersonic levels. He can also perform the Spin Dash move, where he curls into a ball and rapidly spins to attack enemies or overcome obstacles.
Has Sonic Appeared in Other Media Besides Video Games?
Yes, Sonic has appeared in various other forms of media. He has starred in animated TV shows, such as Adventures of Sonic the Hedgehog, Sonic X, and Sonic Boom. Sonic has also made appearances in comic books and had his own live-action/CGI hybrid film titled Sonic the Hedgehog released in 2020.