Chipmunks are great, and their voice is excellent. Do you know there is a voice changer that can turn your voice or audio to make it sound like a chipmunk? Yes! You heard that right. You can upload record or upload audio to a chipmunk voice changer and let it convert the voice for your audio.
The output will sound like a chipmunk talking. That way, you can prank your friends or enjoy your music with the chipmunk voice instead of the original voice. Various chipmunk voice changers exist.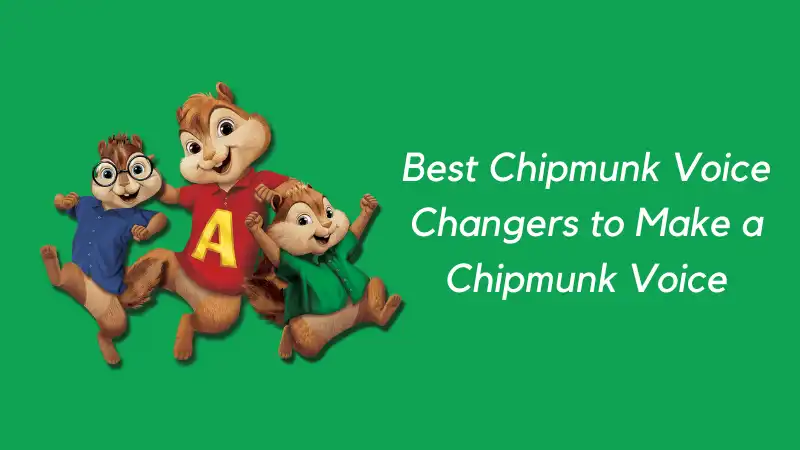 This guide presents the 10 best chipmunk voice changers for Windows, Android, iOS, and macOS. Take a look!
Best Chipmunk Voice Changer for Windows and macOS
To use a chipmunk voice changer, you can try the below chipmunk voice apps on your Windows and macOS to discover the one that works best for you. Let's dig in!
1. FineShare FineVoice
What is the best chipmunk voice changer for Windows? Try FineShare FineVoice. This real-time voice changer changes your voice into a squeaky chipmunk voice. You can prank your friends with a chipmunk voice in voice chat on Omegle, Discord, and other voice chat platforms. Streaming on TikTok, Twitch, YouTube or other streaming platforms with chipmunk voice is also feasible.
The high-quality voice recorder feature allows you to record voiceovers, audiobooks, or podcasts from multiple audio sources with a chipmunk voice.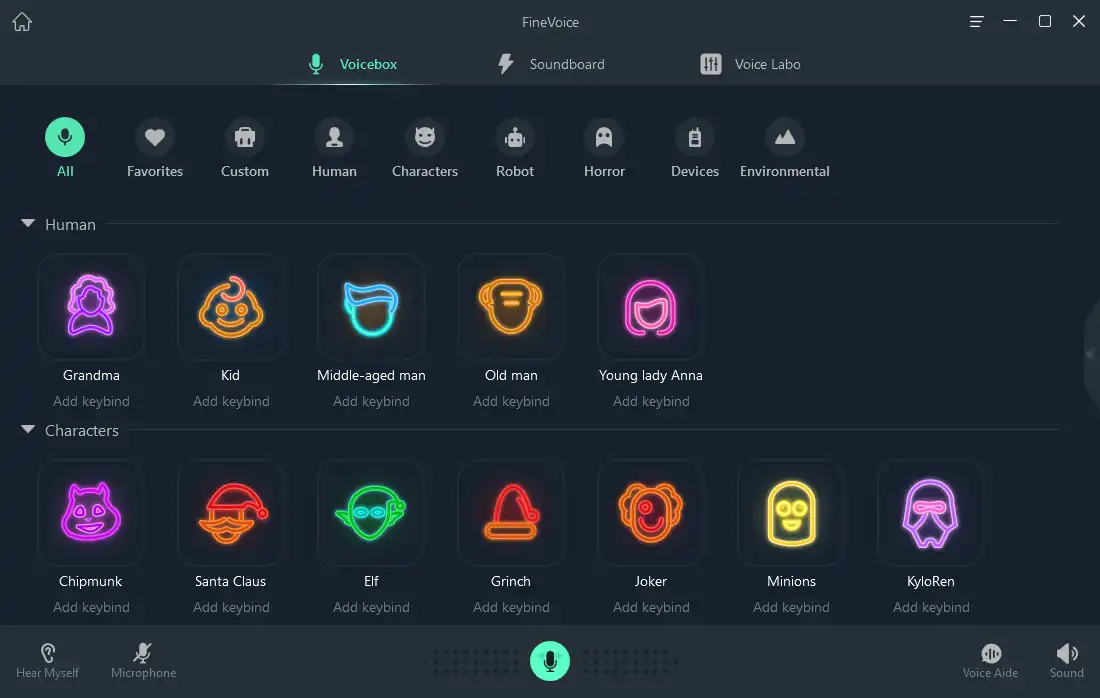 Highlights:
It offers 30+ voice effects.
It offers 200+ sound effects.
It offers TTS and STT tools.
It allows you to create custom voice effects with audio effects.
It works perfectly as a multiple-sources voice recorder.
It can extract audio from a video.
How to use the chipmunk voice changer?
Step 1. Click the button to download and install FineVoice.
Step 2. Launch FineVoice and click the Real-Time Voice Changer button on the main interface.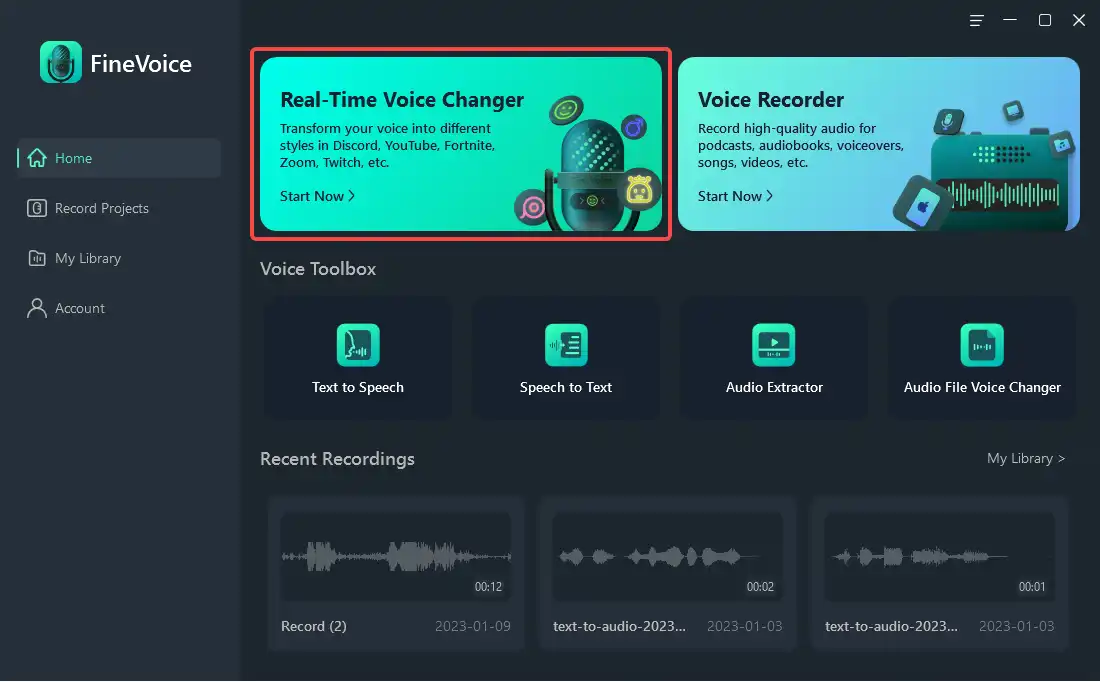 Step 3. Allow FineVoice to capture your microphone and paly back for you by selecting a microphone and headphones as the input and output audio devices.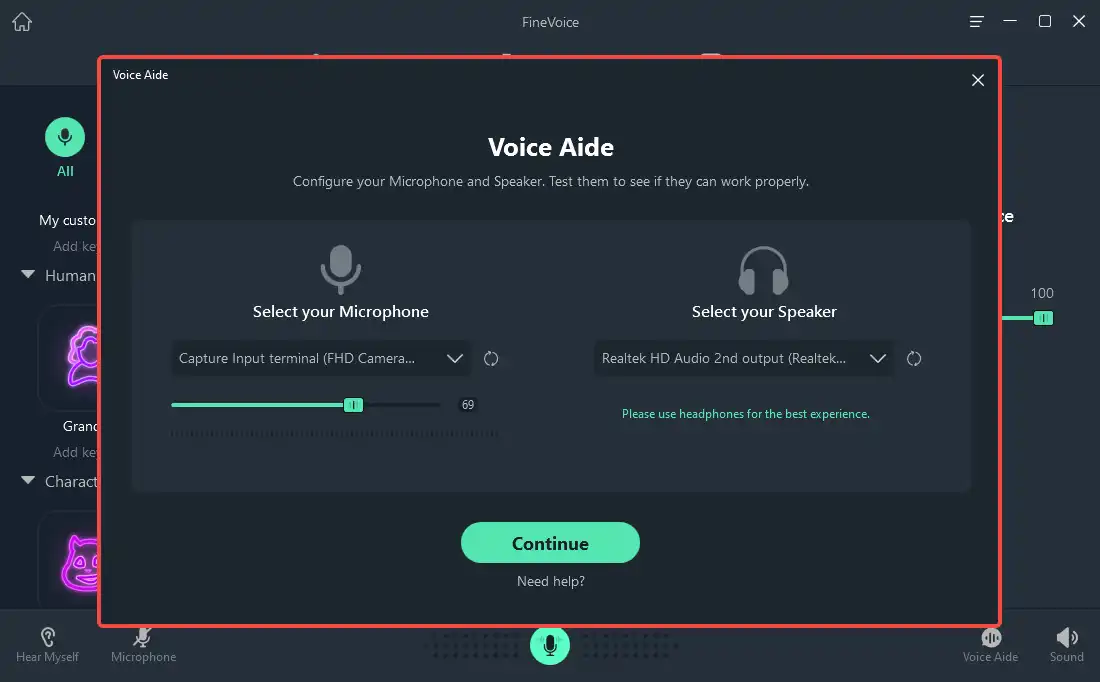 Step 4. Scroll down to find the Chipmunk voice effect in the Characters category.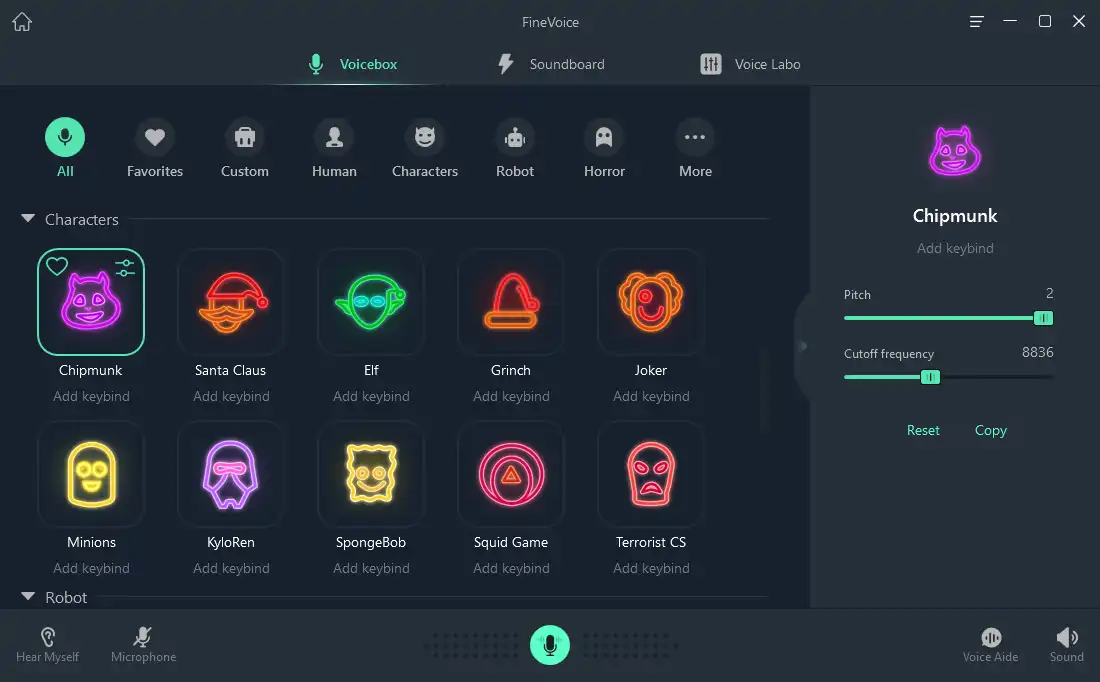 Step 5. Open voice chat applications. Select FineVoice Virtual Microphone as the input audio device. Have fun with your friends with the chipmunk voice.
2. Voice Candy
Voice Candy is a voice changer for macOS. The tool lets you set your preferred voice effect, chipmunk, before recording your voice. That way, the recorded voice will have the chipmunk effect.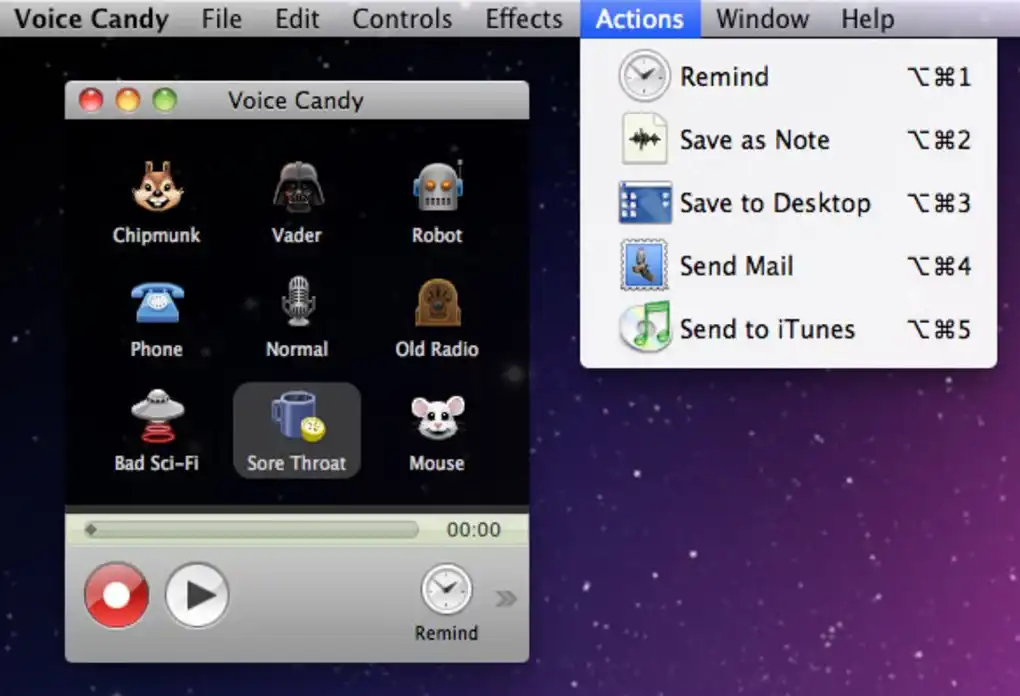 Highlights:
It supports sending the recorded voice recordings to iTunes.
It offers 8 voice effect templates.
It allows the setting of a reminder.
It works perfectly as a simple voice recorder.
The tool is easy to use.
3. Voxal Voice Changer
It is ideal for someone looking for a chipmunk voice changer that lets you add pre-recorded files or use it directly to change your voice in real-time. The best part is how the voice changer app is compatible with various applications, such as Discord, thanks to its low CPU usage.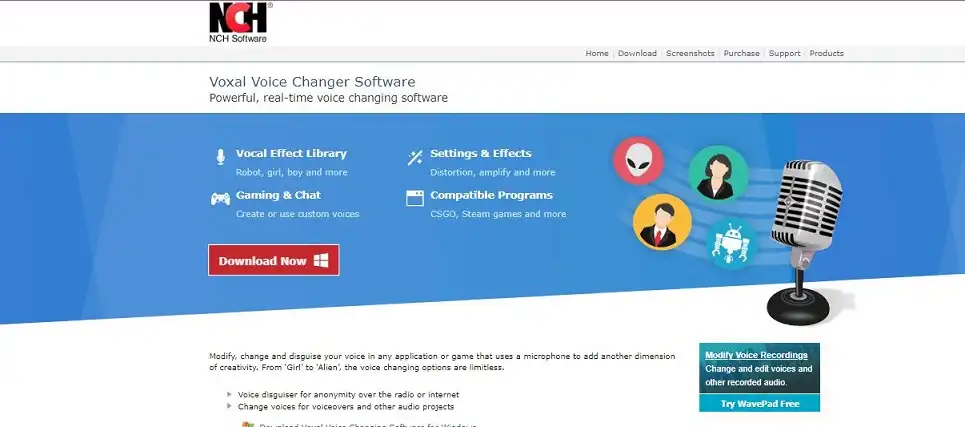 It gets better since the Voxal voice changer supports Windows and macOS, and its configuration is simple.
Highlights:
Low CPU usage.
It supports Windows and macOS.
Easy integration.
Compatible with gaming and chat applications.
Supports text-to-speech.
It supports adding background noise effects.
It has a free non-commercial version.
Best Online Chipmunk Voice Changers
Some voice changer apps are web-based, meaning you can use them online from their website. Still, online voice changers offer similar services to desktop and mobile voice changers. Check out the below chipmunk voice changers available online.
1. FineShare Online Voice Changer
FineShare Online Voice Changer is a fun and easy way to transform your voice online. You can use it to sound like a chipmunk, a robot, a monster, or anything else you can imagine. Just upload an audio file or record your voice, choose from a variety of effects, and download or share your new voice.
FineShare Online Voice Changer is free to use and works on any device with a web browser. Try it now and have some fun with your voice!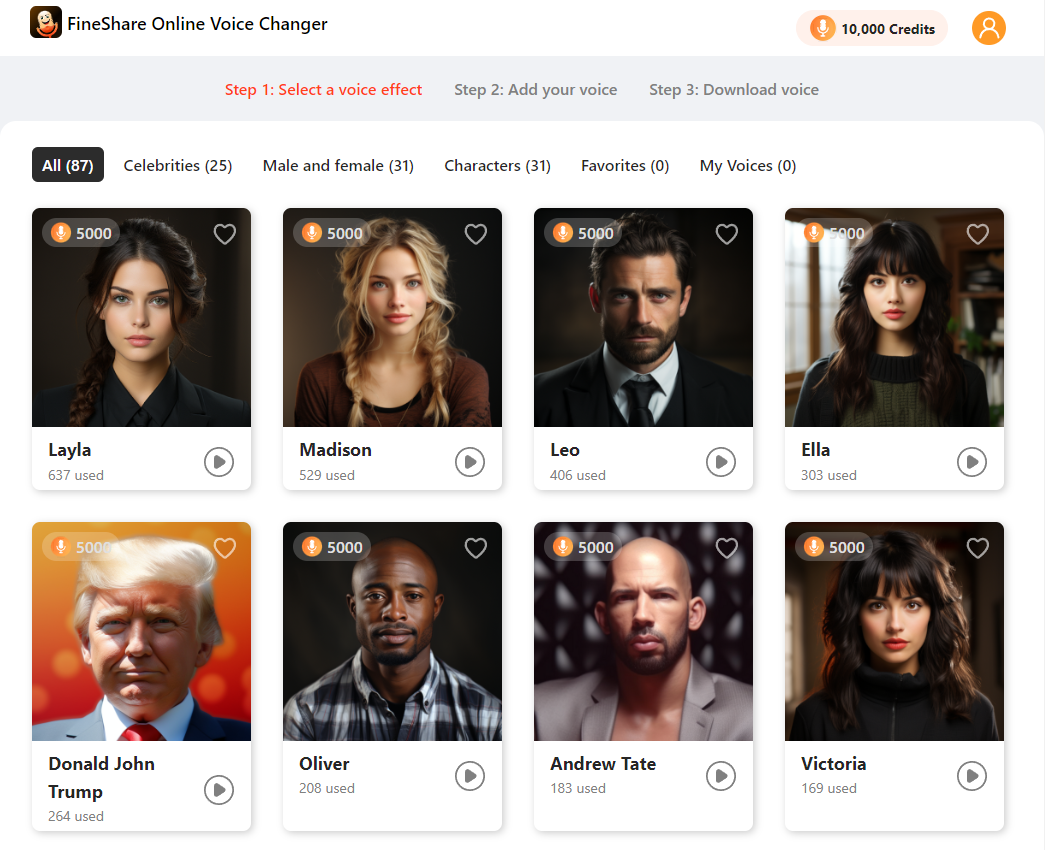 Highlights:
It offers 87+ voice effects.
Supports uploading of audio files in various formats.
It has a fast conversion speed.
It offers multiple voice effects to change your voice gender.
You can use it for free.
2. LingoJam
LingoJam chipmunk voice changers come first on our list. With it, you can record yourself utilizing its various chipmunk sounds or upload an audio clip, then convert it with the chipmunk sound.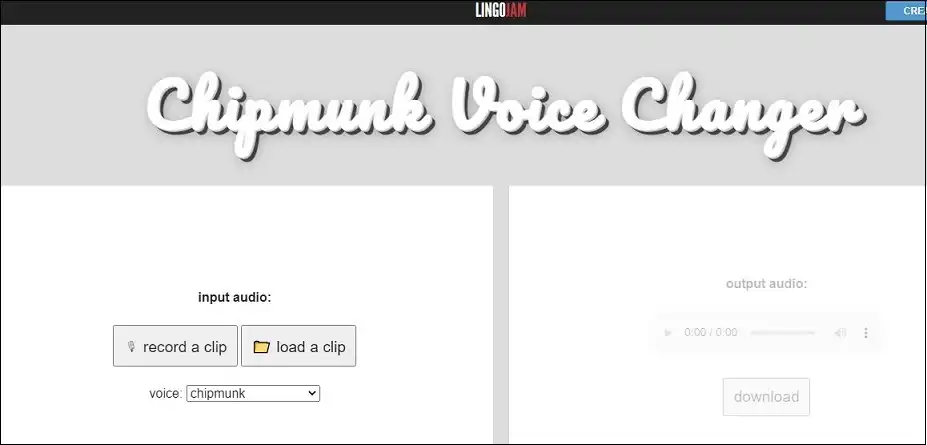 The good thing about LingoJam is that it offers different chipmunk voice options, from low pitch to high pitch. Moreover, its interface accommodates anyone, and you can straightforwardly work around it.
Highlights:
It has a user-friendly interface.
Supports uploading of audio files and recording of voice.
It has a quick conversion rate.
It offers multiple voice changer options.
It is a free online voice changer app.
3. Voice Changer.io
While most voice chipmunk voice changers focus on allowing users to record or upload audio files for conversion, voice changer.io goes the extra mile to allow using the chipmunk voice even for the Text-to-Speech.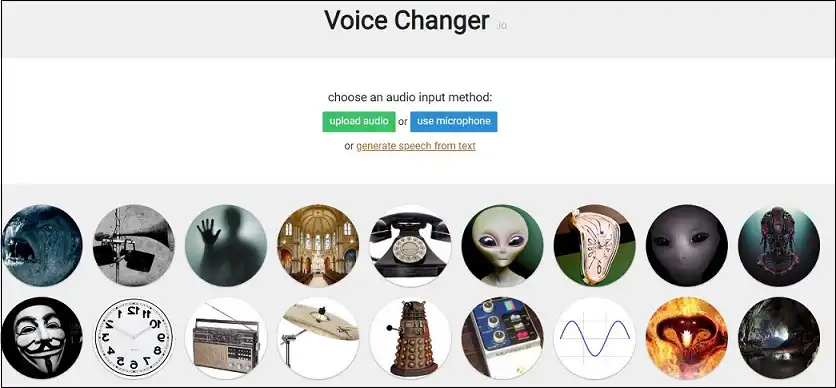 Besides, you can use any input/upload method, including a microphone, uploading audio files, or the TTS feature. You will delight in how easy it is to use the online voice changer.
Highlights:
Allows creating custom voice.
It offers various upload methods.
It offers a voice changer for the TTS feature.
It has plenty of voice options.
It allows commercial usage without any credit required.
4. My Voicemod
One notable feature of My Voicemod is its five variants for changing your voice. Besides, it has an incredible interface, and all its features are listed on the same page. You only need to click on what you want to use and upload your audio or create one using the microphone.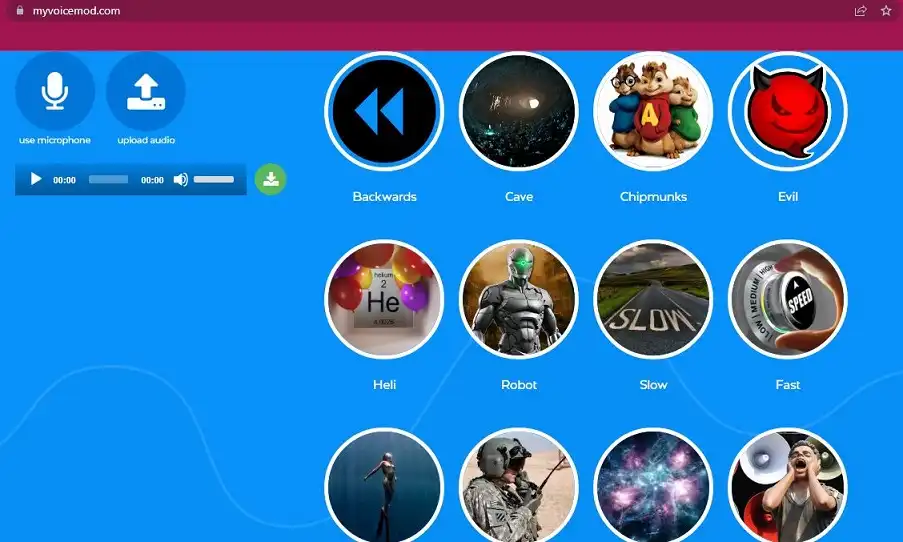 Still, with My Voicemod, you can preview the available voice changer effects before choosing which to use for your recording or audio file.
Highlights:
It offers the backward voice effect.
It has five voice variants.
It has a real-time preview for various voice changers.
Its interface is adorable.
Best Chipmunk Voice Changer for Android and iOS
So far, we've covered voice changers apps available online and those for macOS and Windows. How about discussing those available for iOS and Android? Read on to find out.
1. Chipmunk Voice Changer Editor
The app is available for Android and iOS. With this app, you can conveniently record your voice and choose the effect you prefer using to make your output sound hilarious among its various chipmunk effects.

It is ideal for someone looking to entice their friends by making serious conversations sound funny.
Highlights:
Compatible with Android and iOS.
The app is easy to use.
You can conveniently install it via its website.
It offers many voice changer options.
2. Chipmunk Voice Effect – Funny Sound Editor
The app is designed for iPhone, and you will delight in how easy and convenient it is to convert your sound to match that of Alvin and the chipmunks.

You can use it for your audio files and songs. Ideally, you can use it for all your audio files, such that your music list will get played using the chipmunk voice effect.
Highlights:
It works only for iPhones.
It offers ease of use.
It can be used as a music player to apply the chipmunk effect to all the songs you want to play.
3. Celebrity Voice Changer
It is an Android app that lets users experience the celebrity effect by converting their recordings or audio files to use the voice of their favorite celebrity. In our case, the app lets you set the chipmunks as your celebrity, then converts the voice to that of the chipmunks.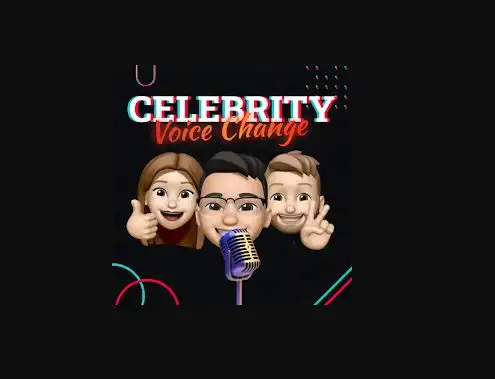 Highlights:
It supports Android devices.
It is available on Google Play Store.
It offers multiple celebrity voices to choose from.
It offers funny voice effects.
Allows creating prank sound effects.
Conclusion
There are various chipmunk voice changers that you can use. Whether you prefer online voice apps, desktops, or mobile apps, there is a chipmunk voice changer for everyone. This guide has covered the 10 best voice changer apps you should consider whenever you want to convert your recording or audio file to chipmunk voice. Try them out!
Try FineVoice for Free
Powerful real-time voice changer for tuning your voice in gaming, streaming, and chatting. It comes with various voice & sound effects and supports creating custom voice. Get it for free.