Why do you want kid voice for streaming?
You may have heard of Tiko. He is a famous YouTuber who posts his Fortnite game videos with a funny kid voice on YouTube. Have you watched any of his videos? The kid voice changer gives him a lot of audience and subscribers.
Do you also want to try a kid voice changer and create your unique kid voice for streams?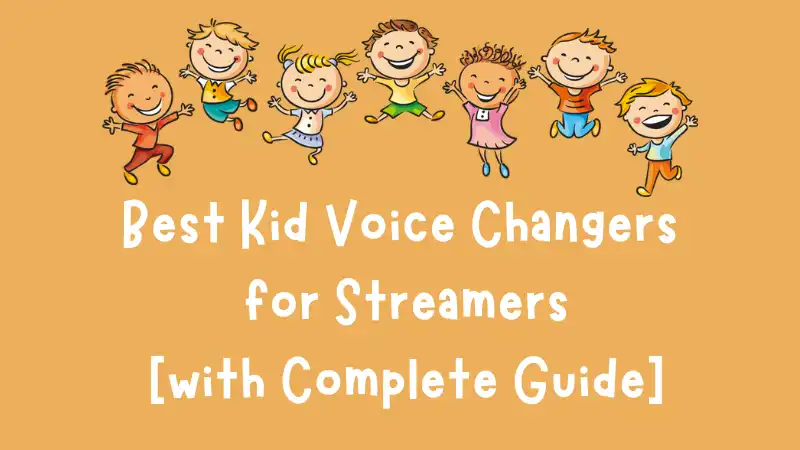 Read this post, we will give you the 5 best kid voice changers which can modify your voice in real-time when streaming on Discord, Twitch, Xbox, and other streaming platforms.
5 Best Kid Voice Changers for Streamers
In this part, we will introduce the 5 best kid voice changers to you one by one.
#1. FineVoice
If you want to find a kid voice changer you can use for almost every stream platform, this one is the best choice. FineVoice is a real-time voice changer integrated with Steam, OBS, Streamlabs, Discord, Twitch, and Xbox. And you can also use it to change your voice in meetings on Google Meet, TeamSpeak, Skype, and Zoom.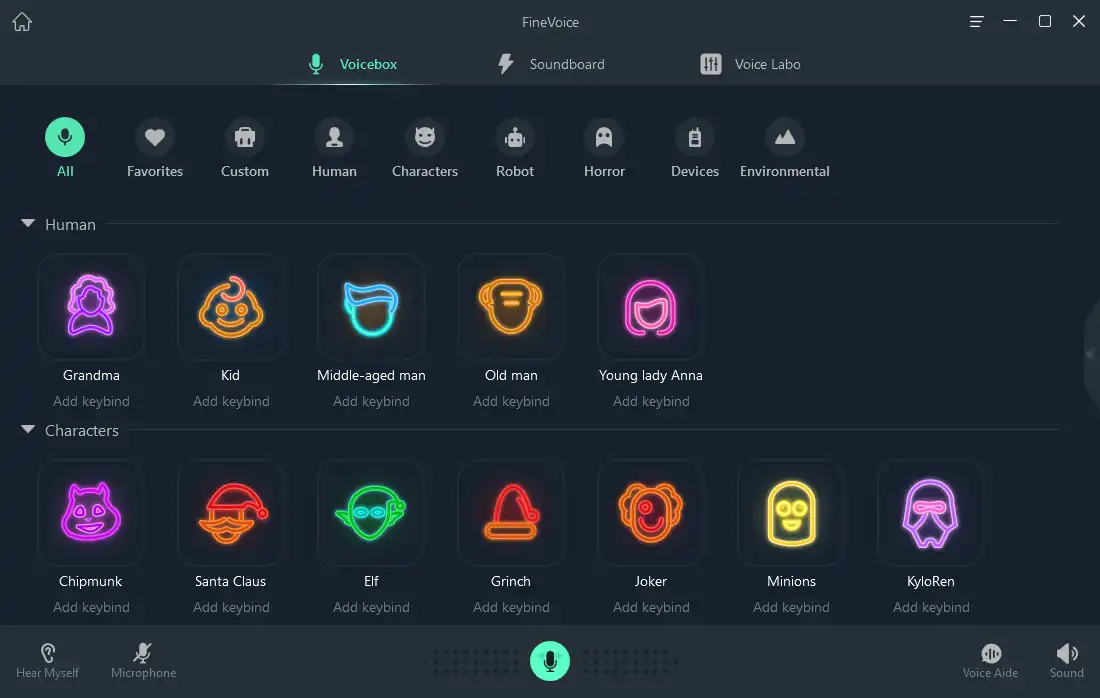 Features:
30+ voice effects with a preset kid voice.
200+ sound effects in the Soundboard.
You can create funny or serious kid voices with 25+ audio effects in the Voice Labo.
A powerful audio toolbox including an audio extractor, audio file voice changer, voice recorder, and text-to-speech and speech-to-text tools.
How to use a kid voice changer for streaming?
Step 1. Install FineVoice voice changer on your computer.
Step 2. Launch FineVoice and click the real-time voice changer.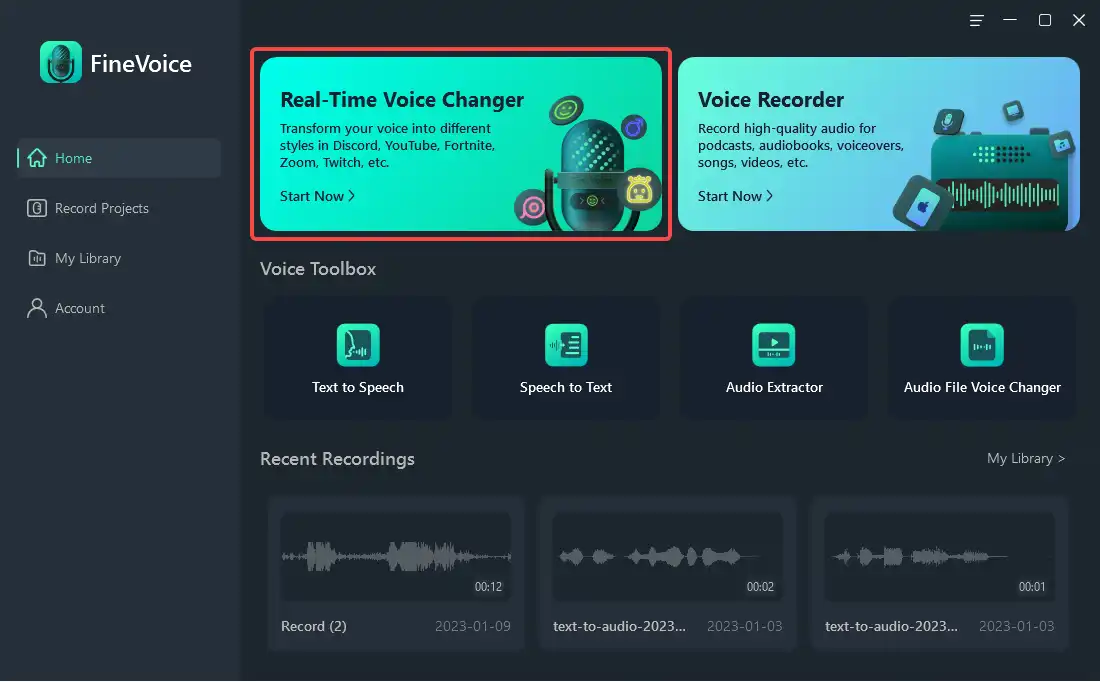 Step 3. Set the microphone and speaker you want to use for streaming as the input and output audio devices. Turn on Hear Myself and Microphone at the bottom left to hear your voice.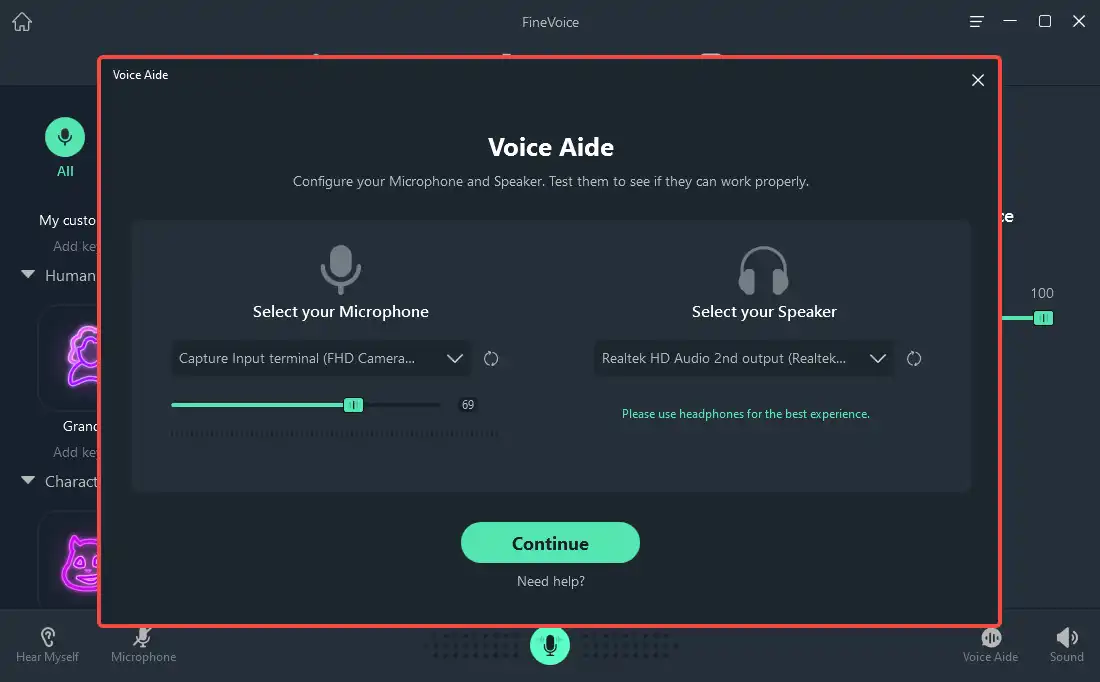 Step 4. Find the Kid voice effect under the Human category. Click to try it. Add a kinbind to it for easy access while streaming.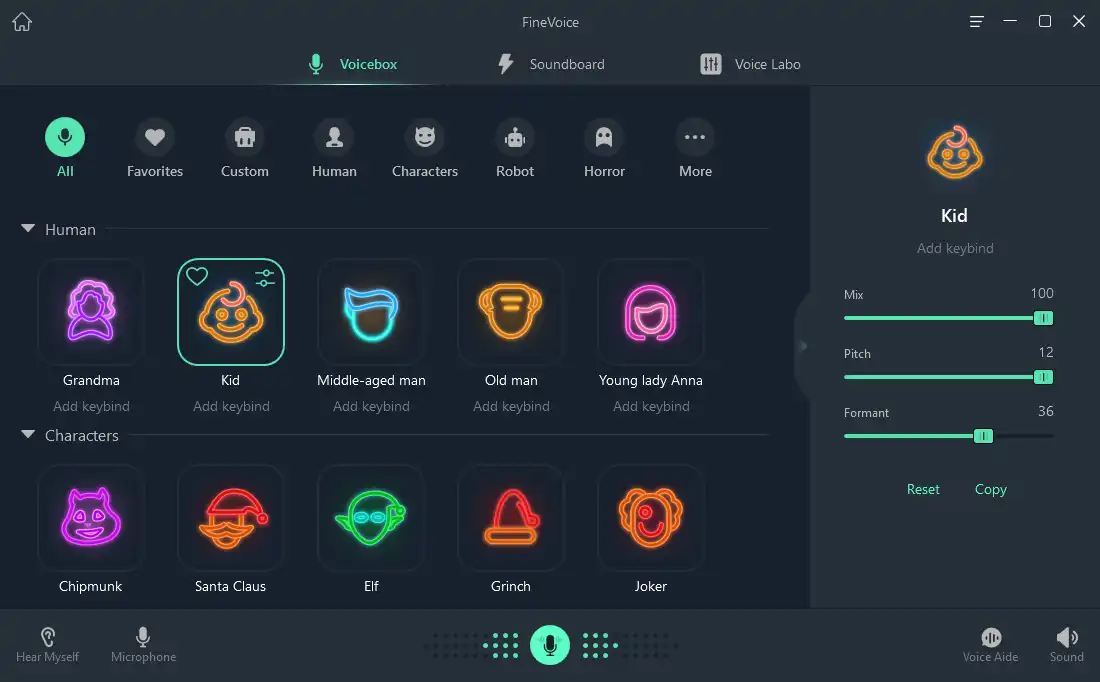 Step 5. Go to the live stream platform and set FineVoice Virtual Microphone as the input audio device in the audio settings.
#2. Voicemod
Do you know Voicemod? This is a great real-time voice changer that has been developed for 8 years and has accumulated many loyal users. It offers natural voice effects to make you sound professional in a business or entertainment environment.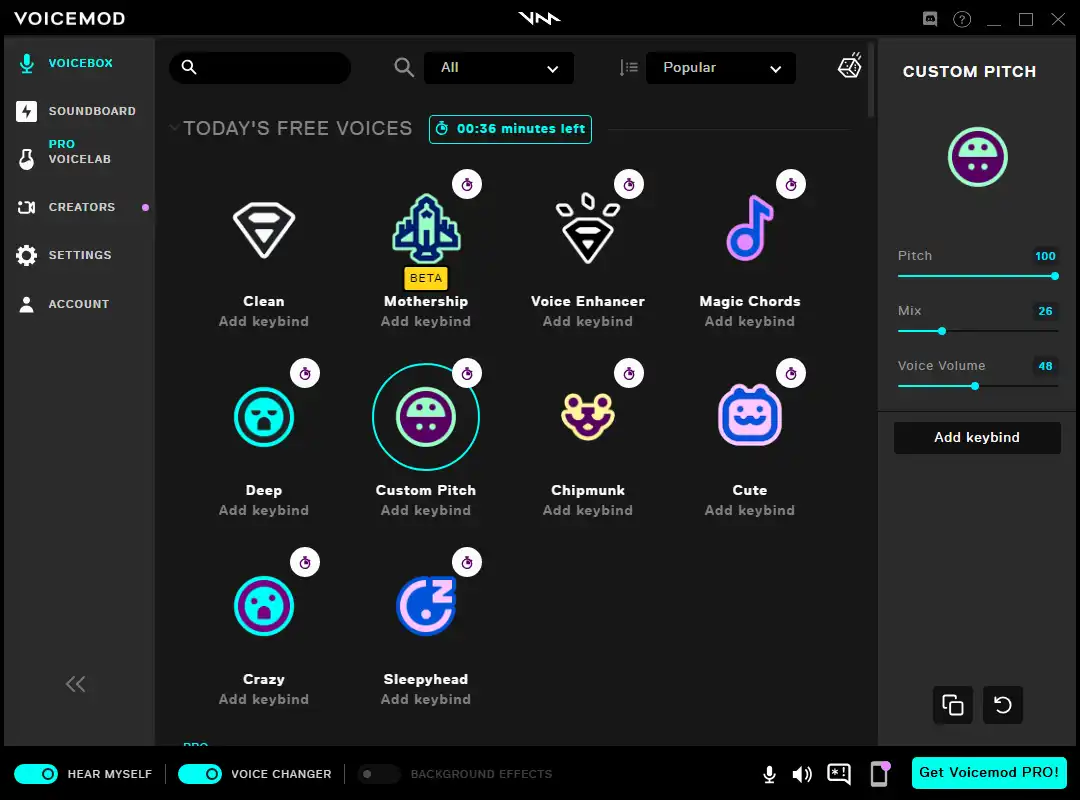 Features:
Various voice effects; a preset baby voice.
Hundreds of sound effects in Soundboard.
A professional Voicelab for custom voice creation.
An extension for Discord live stream.
#3. Voxal Voice Changer
If you want to try a voice changer with a clean and easy-to-use user interface, and you want a voice changer with low CPU usage, then you can try Voxal Voice Changer. This real-time voice changer was developed by NCH Software and it's compatible with Windows and macOS systems.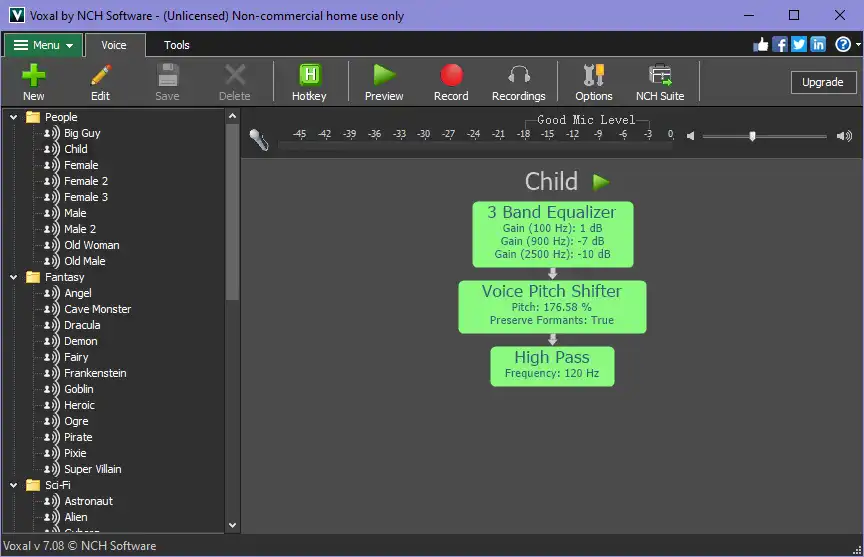 Features:
9 human voice effects; a preset child voice.
Supports customizing any preset voice effect with 10+ audio effects.
Supports changing voice effects with hotkeys.
Offers 10+ background effects and location effects.
Supports background noise reduction and setup.
#4. Clownfish Voice Changer
Want about a system-level voice changer? You may want a free real-time little kid voice changer for Discord. Try Clownfish Voice changer. It can meet your needs. This voice changer has an intuitive user interface and you can use it for free.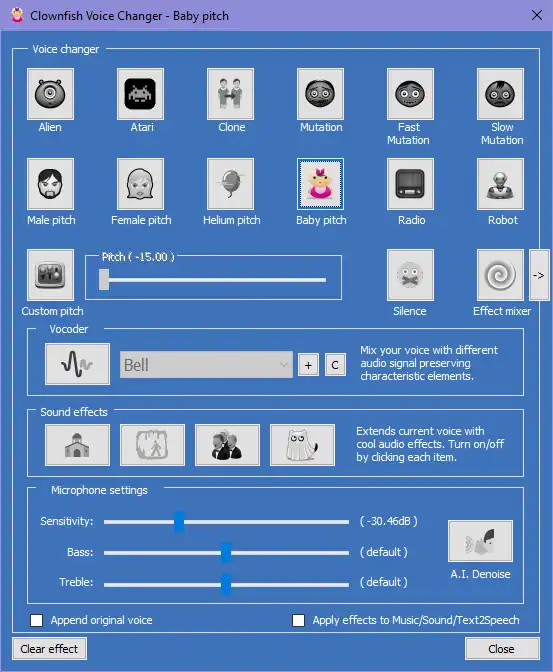 Features:
14 voice effects; a preset baby pitch voice effect.
Supports pitch custom and effect mixer.
Offers denoise tool and other microphone settings.
Offers music and sound player.
Supports various VST plugins.
Offers text-to-speech tool.
#5. Voicemeeter
Voicemeeter is a virtual audio mixer and can be used as a kid voice changer because it lets you adjust the pitch of an input source. Based on the different versions you installed, you can mix voice from different audio channels.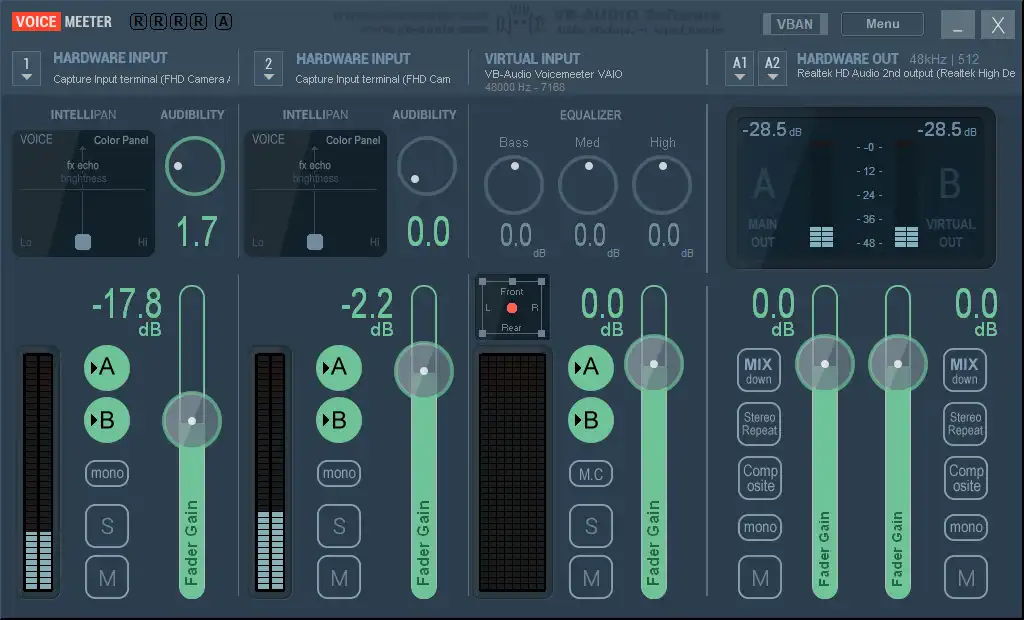 Features:
Used to mix your music with your voice for live streaming.
Supports adjusting the voice of each audio input and output channel.
Supports audio interfaces including MME, Direct-X, KS, WaveRT, WASAPI, and ASIO.
Conclusion
In this post, we give you 5 kid voice changers. You can use them to create a real-time little kid voice while you are streaming on Discord, Twitch, or PS4/PS5. A kid voice will crack your audience up and hope you will have fun with it.
Try FineVoice for Free
Powerful real-time voice changer for tuning your voice in gaming, streaming, and chatting. It comes with various voice & sound effects and supports creating custom voice. Get it for free.