The world of work has become increasingly remote, with millions of people worldwide making video calls for professional and personal purposes more frequently. Likewise, social media influencer and online gaming communities have created a need for relevant tools to enable high-quality video recording, live streaming, and visual content creation.
A significant proportion of people want to keep the interior of their homes private when they join professional calls from home. Some people also feel anxiety about their environment and would get a confidence boost from being able to use creative filters and change their virtual backgrounds as desired.
Top 5 Free Webcam Background Removal Software
Webcam background removal software is a valuable tool for personalizing video calls and improving the quality of streaming content. It also boosts comfort and protects privacy by helping users hide their real backgrounds. The best part is it allows you to add filters to your virtual backgrounds to beautify, blur, and tone.
Outlined below are the five best free software to remove your webcam background during Zoom calls, online meetings, virtual classes, and other video calls. (Most of them support only Windows 10 / macOS 10.13, and above.)
1. FineShare FineCam Webcam Software
Fineshare FineCam is a virtual webcam software developed for recording, streaming, and video chatting. Asides from background removal, blurring, and green screen effects, you can also find numerous virtual backgrounds from the library or upload local videos or photos as webcam backgrounds.
It's also free video recording software to capture your video call, online course, product demo, and tutorial. Using this virtual camera, you can add multi scenes for a complex live video for teaching, presentation, and even for simple streaming.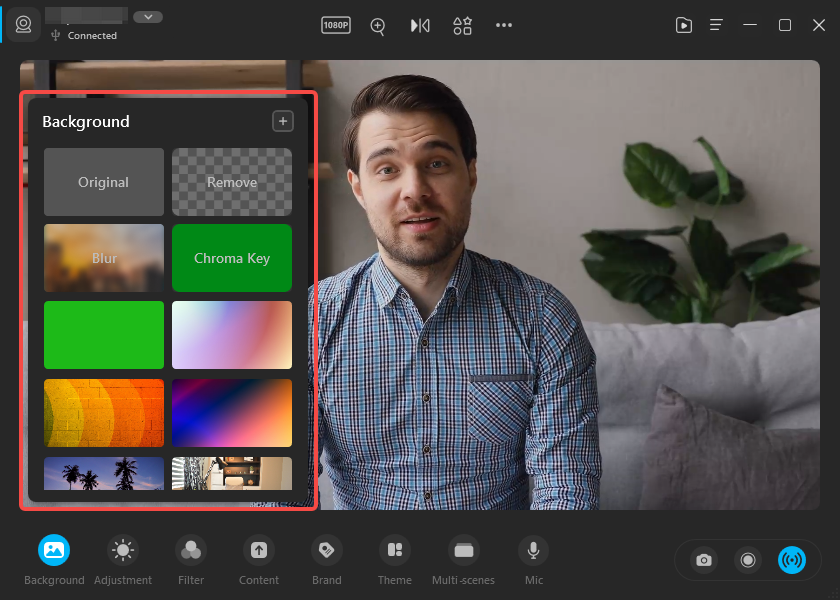 Pros:
Remove, blur or change to virtual backgrounds without a green screen.
Supports Chroma Key.
Unsplash image library packed in.
Support uploading local images as virtual backgrounds.
Supports adding content sharing, including PowerPoint slides, YouTube videos, webpages, app windows,iPhone/iPad screens, and local photos and videos.
Webcam Effects & Filters.
Supports multiple scenes.
Cons:
Watermark inserted. (free edition)
2. Xsplit VCam – Webcam Removal Software
Xsplit VCam is a background removal and blurring tool for webcams. This tool eliminates the need for green screens in PC/Mac setups. Furthermore, Xsplit offers a high-quality blurring effect to the webcam and an adjustable blur slider. Also, it allows you to replace your virtual background with a wide range of image formats and web pages. Xsplit VCam further offers auto-framing technology, which keeps the streamer in the center frame at all times.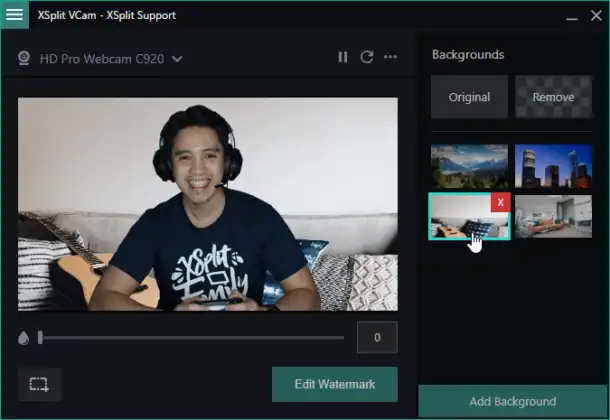 Pros:
User friendly
Unlimited streaming and recording space
Flexibility to add custom backgrounds from photos and webpages
Allows you to pause the camera during a live feed
Light use of PC resources
Auto-framing capability
Cons:
The camera feed for free licenses is watermarked
Users cannot use content created under the free license commercially
3. OBS Studio – Background Removal Plugins
OBS Studio is one perfect webcam software for streaming, which was developed by an open-source community and allows video mixing during a live stream. With some background removal plugins like Background Removal – Portrait Segmentation, you can easily remove the background using Chroma Key.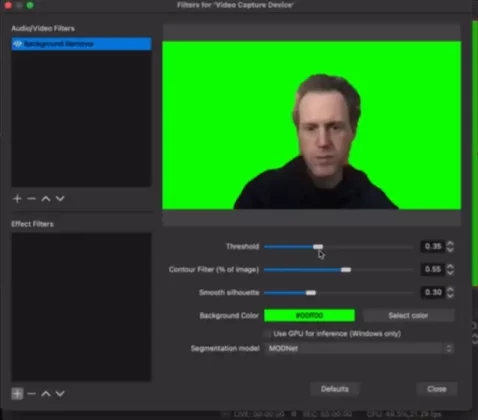 OBS studio offers a wide range of features and settings. It also includes a wizard that helps to optimize the video streaming/recording setup, especially for novices. It is a highly regarded option for producing highly professional-looking video streams.
Pros:
Completely free and open source.
Built-in scene templates for scenes and audio.
The audio mixer offers noise suppression and gain.
Allows multiple video sources.
Flexible, customizable configuration options.
Cons:
More resource-heavy than alternatives.
More useful for advanced users.
The operation would be complex for beginner users.
4. Logitech Capture for Logitech Camera Users
Logitech Capture is a video recording and streaming software that brings ease and speed to webcam video content. It enables streamers to personalize content by applying filters, borders, transitions, blurs and other effects to live and recorded videos. It also includes a feature called 'Chroma Key' which allows users to eliminate their backgrounds.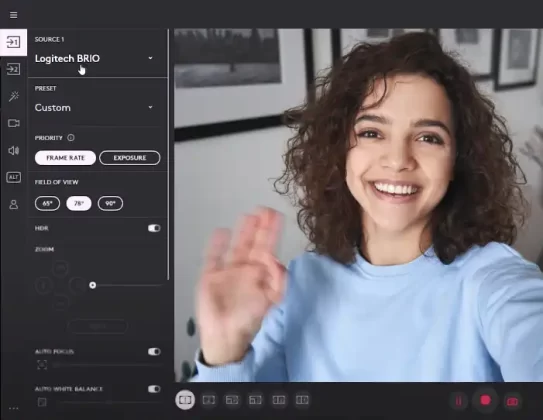 Pros:
Switch between up to six different scenes
Record from multiple sources
Create multiple settings under distinct profiles
Integrates with major streaming platforms
Cons:
A tiny selection of scenes and transition effects
Doesn't support recording on its own
5. ChromaCam
ChromaCam enables the blurring of virtual backgrounds for all types of webcams. It works with all leading video conferencing software, including Zoom, Google Meet, Microsoft Teams, Cisco WebEx, and BlueJean.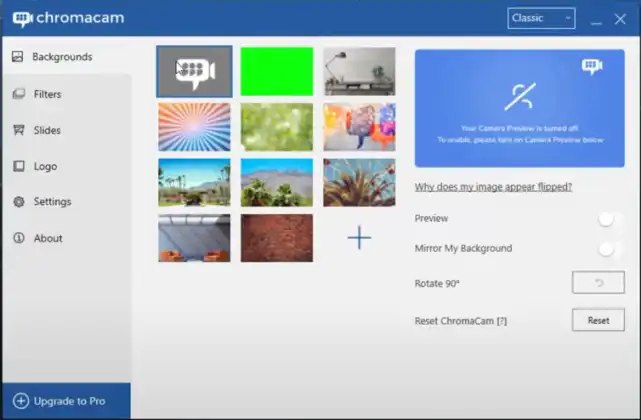 For Windows PCs, ChromaCam recommends at least Windows 8 with a minimum of 4GB memory and Intel 6th generation or the AMD equivalent processor chip for the best background replacement experience. ChromaCam's free license is called ChromaCam lite.
Pros:
Integrates with OBS, XSplit, and Twitch.
Can make the background invisible and animated.
Standard image backgrounds.
Cons:
Watermarked camera feed on free license.
Limited blur on free license.
FPS limits.
Conclusion
Replacing virtual backgrounds with an image during a video call or live stream is a handy trick. Bright colors may affect photosensitive viewers, and certain images may come across as busy during a business call. Thus, in several instances, it is best to keep things visually neutral and use colors that are easy on the eyes. Webcam background removal and blurring tools come in handy here as they provide access to a wide range of options. Hence, ensuring that you can appeal to all kinds of viewers while maintaining privacy, security, and quality.
We have compiled the best free tools for subtracting, blurring, or adding filters to virtual webcam backgrounds. With these, you can take control of your virtual space during live streams and bring your best and most confident self to every virtual call.