For those who don't know, green screen software enables you to composite one image or video over another, giving the appearance that two things are in the same scene or location together when they aren't.
With the ever-increasing popularity of video content, it's no surprise that the usage of green screen software and chroma keys has seen incredible growth in the past few years.
When used correctly, green screen software can be an invaluable tool to help you create amazing videos and live streams that appear to be shot in exotic locations worldwide.
Typically, the best green screen software for Mac and Windows does the heavy lifting regarding video effects and enhancements, making it easy to achieve studio-quality results that can put your videos over the top in terms of production value.
With so many software options on the market, how do you choose which green screen software is best? This guide lays out the best green screen software in 2022 and analyzes its features. Check them out and see which one can help you achieve your goals in the long run!
#1. FineShare FineCam
FineShare FineCam is an AI-powered virtual camera that can be also used as professional green screen software for live streaming. The software works on both Mac and Windows devices seamlessly. It allows you to turn iPad, GoPro, DSLR cameras, and even use iPhone into an HD webcam, so your budget for a high-quality webcam can be saved.
Moreover, FineCam AI technology can instantly remove the webcam background and make you look great on Zoom, Twitch, Teams, Discord, OBS, Adobe Premiere Pro, etc. FineCam also supports changing the webcam background, you can set things like a webpage, local image, YouTube video, or slides show as background.
If you are looking for the best green screen software for Mac and Windows, FineCam is the ideal candidate. Download now and have a try for free!
Features:
Unlimited camera devices per machine
AI-powered webcam color and image correction
Capture snapshots & record videos – up to 1080 full HD
Use iPhone, iPad, GoPro as HD webcam for PC
Remove, blur, and change the background without a green screen
Change webcam background using Chroma Key
Cinematic filters & effects
Shot iPhone's front/rear cameras in one window
Custom branding
Create multiple videos scenes
#2. Adobe Premiere Pro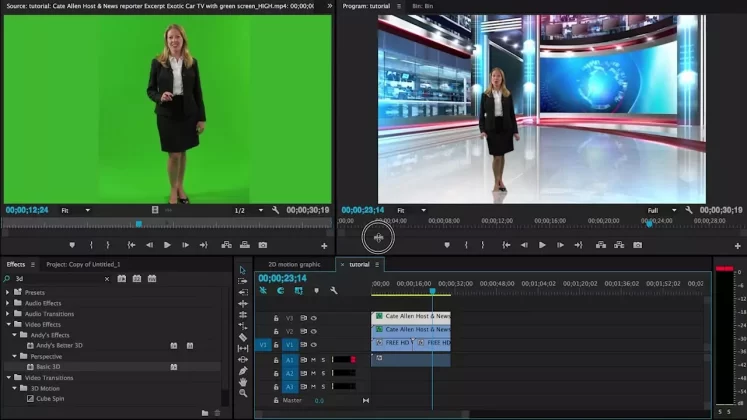 Adobe Premiere Pro is an excellent timeline-based video editing software and the number one choice among filmmakers who look for the best green screen software for Mac and Windows. It has an elegant, user-friendly interface that simplifies the video editing process by reducing the amount of work it takes to organize and import footage.
Adobe Premiere Pro also offers powerful tools for audio, graphics, titles, color correction, motion graphics, time remapping, noise reduction, and chroma keying (green screen). Other notable features include drag-and-drop functionality for seamless transitions between clips and resizable window frames for optimum viewing on any screen size.
One imposing feature is Adobe's 360° immersive video playback which displays your virtual reality content in stunning 4K quality at 60 fps on virtually any hardware configuration with no plugins needed!
Features:
Motion Graphics templates
VR editing
Effects, transitions, video titling & graphics
Regional closed caption standards
Labels
Lumetri support
Multiple video types, multiple formats support
Chroma keying and green screen

#3. DaVinci Resolve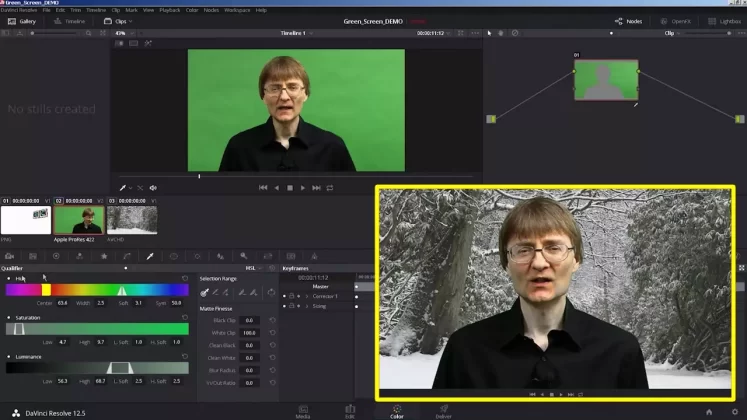 DaVinci Resolve is a comprehensive free video editing software for Mac, Windows, and Linux users. This software is as close to perfection in green screen correction as you will find.
Its capability to simultaneously process unlimited video and audio tracks makes it the best option for 3D modeling in video editing, which cannot be done with other software without a time-consuming process.
This software also has advanced stereoscopic 3D editing tools that allow the video editor to output stereoscopic 3D clips and interactive transcripts on Blu-ray discs or websites.
Features:
Non-destructive, non-linear video editing
Utilizes Metal for improved performance
The 64-bit application works on macOS Mojave and later
Capable of editing HD, 4K, 8K, and 360-degree video
Chroma Key and green screen
Additional programs, compressor and Motion, are available to purchase

#4. Final Cut Pro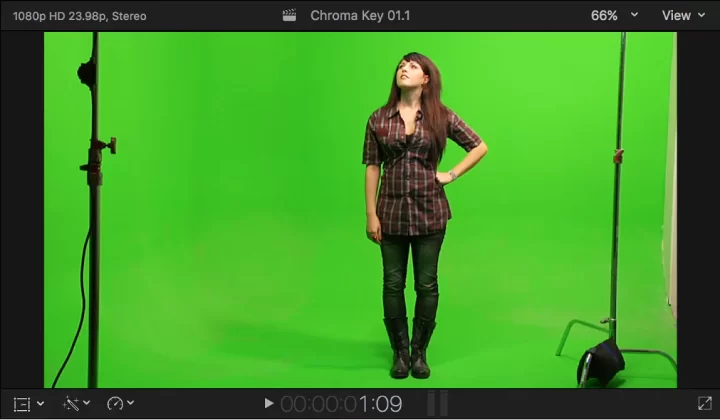 The Final Cut Pro is a professional non-linear video editing software made by Apple for OS X (macOS) users. It does an excellent job of providing users with all the tools they need to make a professional green screen video for YouTube or TV.
In addition, it's also super easy to use and has some great post-production features as well. It also has built-in audio recording tools to get the timing right. This program will work seamlessly on your Mac if you use macOS Sierra or later.
The interface is intuitive, meaning it won't take too long for you to figure out how everything works. If you are someone who needs professional and high-quality video editing for your business, give this software a try!
Features:
Non-destructive, non-linear video editing
Utilizes Metal for improved performance
The 64-bit application works on macOS Mojave and later
Capable of editing HD, 4K, 8K, and 360-degree video
Chroma Key and green screen
Additional programs, compressor, and Motion, are available to purchase

#5. Vegas Pro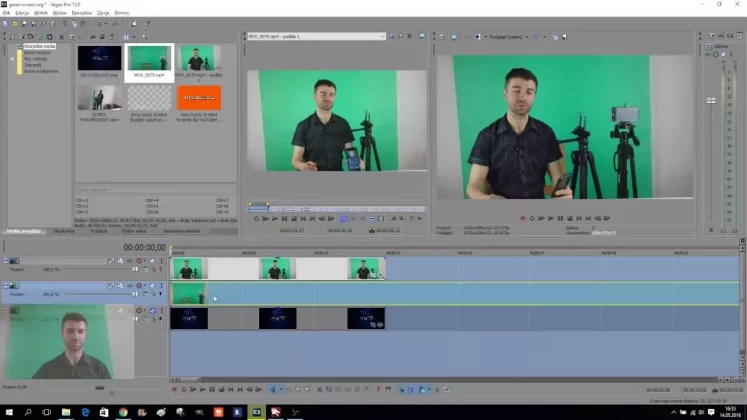 This video editing software is a great way to create green screen effects, but it might break the bank. It offers basic features like non-linear editing and the ability to render videos on an external hard drive.
If you are looking for more than just essential tools, Vegas Pro has powerful new features that may be worth considering. It supports 3D editing (3D projection) and stereo 3D titles, as well as support for MXF files.
You can also work with subtitles and customize your keyboard shortcuts to meet your specific needs. In short, Vegas Pro would be an ideal green screen software for professional editors and creators.
Features:
OFX Plug-Ins
DVD & Blue-ray Disc authoring
Enhance user interface
Fast & smooth timeline editing
Create projects in 3D
Green screen
4K support
Video effects & compositing tools, automatic crossfades

#6. HitFilm Pro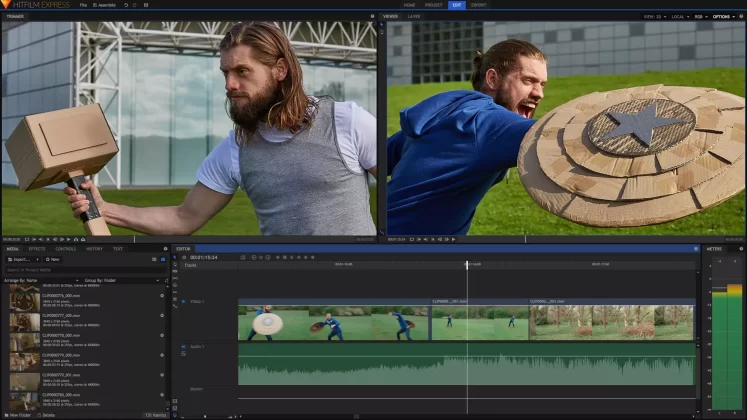 HitFilm Pro by fxhome is an outstanding, user-friendly VFX and video editing software that makes adding or changing background footage, backgrounds, green screens, and foregrounds easy.
Plus, it has an easy-to-use track view interface so you can see what's going on in real-time. It also offers impressive graphics tools to give you the most realistic graphics possible, not to mention the power to make video animations without leaving the program!
The icing on the cake is that HitFilm Pro is FREE for non-commercial use. It's perfect for beginners who want high-quality results without all the expense.
Features:
Preset & custom color grades
True 3D space, import 3D animation
Professional visual effects
Linear color space
Built-In Rigging & Animation Tools
360-Degree video filters
Chroma Key and green screen
Planar tracking & corner Pinning
VFX library
Audio visualization

#7. Avid Media Composer First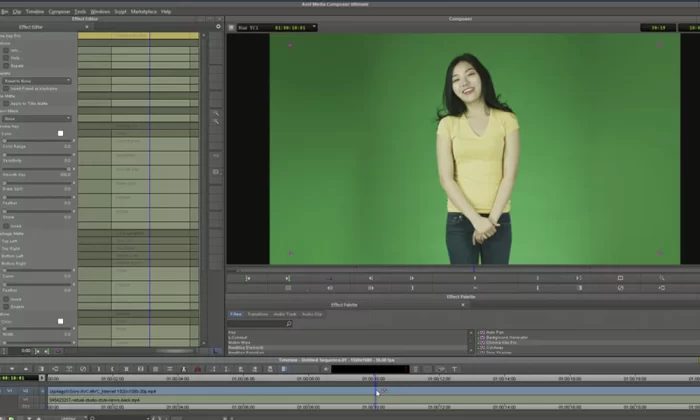 In 1989, Avid released a video editing software revolutionizing film editing. Media Composer First is considered one of the best green screen software options today because it allows you to use your creativity without limitations.
There are also no recurring monthly costs for Avid Media Composer First, which means you can save money for other aspects of your filmmaking and editing endeavors.
Plus, with free export capabilities, this tool is easily compatible with both Windows and Mac platforms–no matter what device you prefer to work on!
Features:
Best-in-class trim tools
Smart tools
Create sequences based on the selection
Group clips
Swap banks
Limited core set
Chroma keying and green screen
Source side motion Effects

#8. iMovie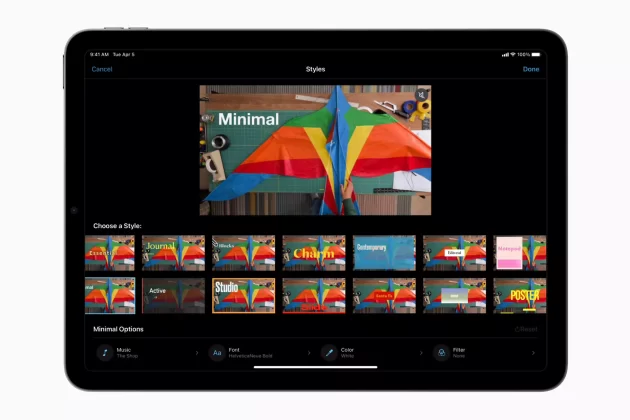 iMovie is easily one of the best green screen software for the Apple ecosystem. It is an excellent option for beginner and advanced users who want to edit video footage and use the green screen capability. You can download iMovie free in the App Store. This means iMovie works on Mac, iPad, and iOS devices only.
It doesn't allow third-party plugins such as Boris FX or Trapcode Particular but does offer some basic ones that may suffice for less advanced users (like wipes and slides), and you won't be able to export your work with voiceover support.
Feature Highlights:
Chroma keying and green screen
HD & 4K video support
Video color settings
Stabilization
Video effects & transitions
Video speed change (speed up/slow down)
Photo & music import
Pre-built themes & backdrops
Real-time titling
Open multiple projects simultaneously

#9. Camtasia Studio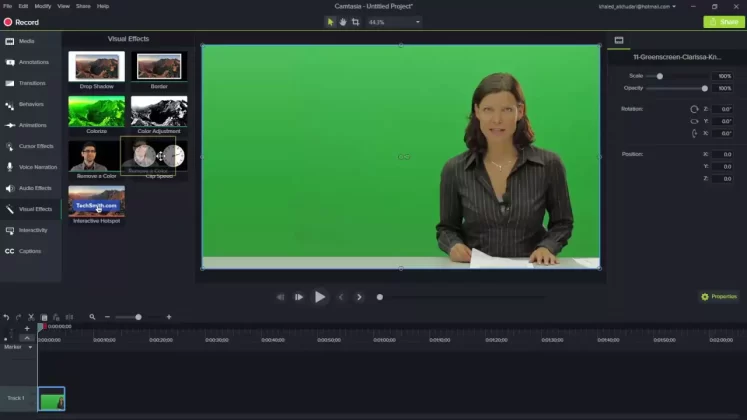 Camtasia Studio by TechSmith offers a sleek interface and a slew of features that give you the ability to make your green screen look even better than if you were using real-life props in-game.
It also has an integrated tutorial that helps get you up and running. Finally, it offers cost-effective pricing with continuous updates to keep it current with the latest developments in its field.
Features:
Templates
Camtasia packages
Favorites & Presets
Recording
Simplified editing
Pre-built assets
Interactivity +
Cursor FX and path editing
Remove a color (greenscreen)

Conclusion
Green screen technology has become increasingly important in today's world. And the number of green screen (chroma-keying) software will only grow as time goes on. If you are a beginner, you need to ensure the green screen software can surely cater to your needs. And if you are a gamer or streamer, FineCam would be the ideal green screen software that fits your streaming needs.
Look Superb in All Videos
FineCam is an AI-powered virtual camera for Windows and Mac. It makes you look better in Zoom, Teams, YouTube, makes video production easier, and tunrs your phone into an HD webcam. Get it for free.