Do you know the former American presidents Barack Obama has become a popular subject of memes? There are countless images and GIFs of Obama memes spread on the internet.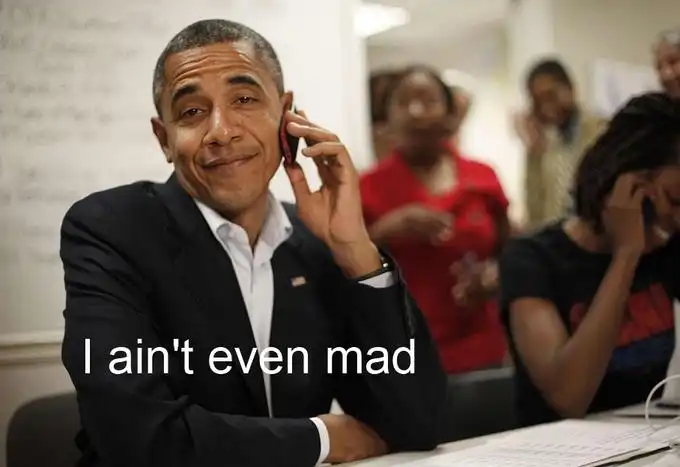 Do you want to make funny Obama audio GIFs? Read this post to get the 4 best Barack Obama voice generators. Use them to make Obama say anything. Combine the generated audio with his video clips. The audio GIFs will get you more attention on social media.
4 Best Barack Obama Voice Generators
Let's look at the 4 best Barack Obama voice generators to make Obama say anything.
#1. FineShare FineVoice
The first voice generator I want to introduce is FineShare FineVoice. With it, you can make former president Obama say anything you like without any effort.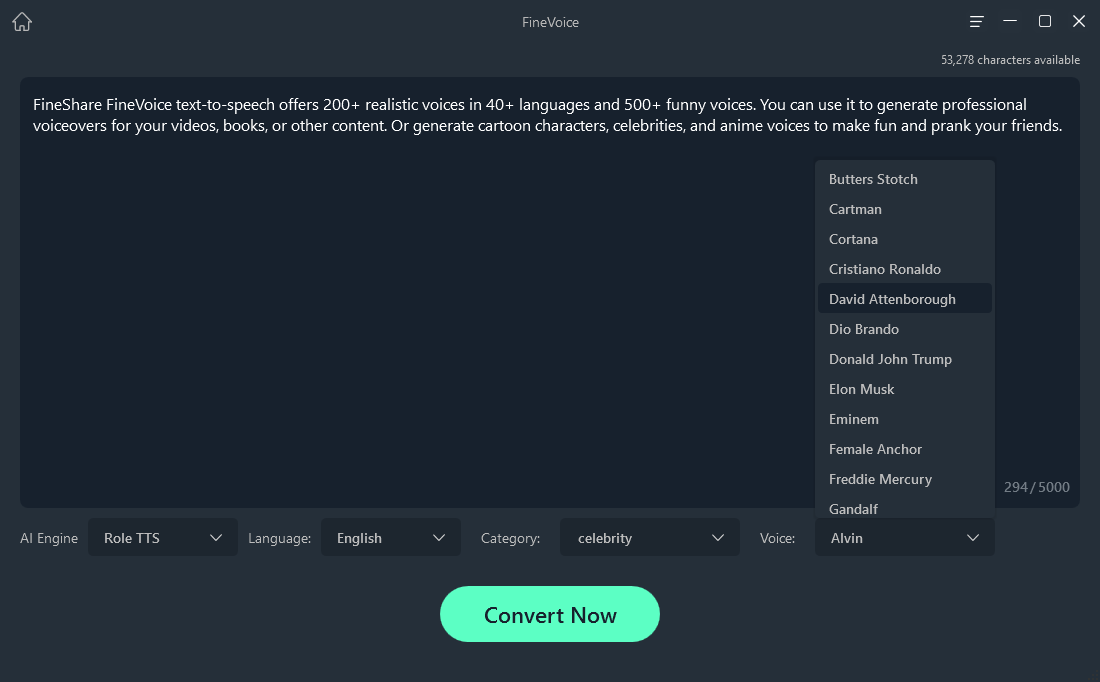 Highlights:
Hundreds of character voices to generate funny speech for pranking, gaming and streaming.
220+ natural sounding voices in 40+ languages to get high-quality voiceovers for videos, podcasts, presentations, etc.
Real-time voice changer with 30+ voice effects and 200+ sound effects.
High-quality voice recorder records audio from multiple sources.
Powerful voice toolbox for audio to text transcription, audio file voice changing, and audio extraction.
Let's take a look at how to use this Barack Obama voice generator.
Step 1. Download and install FineVoice.
Step 2. Launch the client and open Text to Speech.
Step 3. Select Role TTS. And find Obama's voice in the Politicians category.
Step 4. Click Convert Now to start conversion.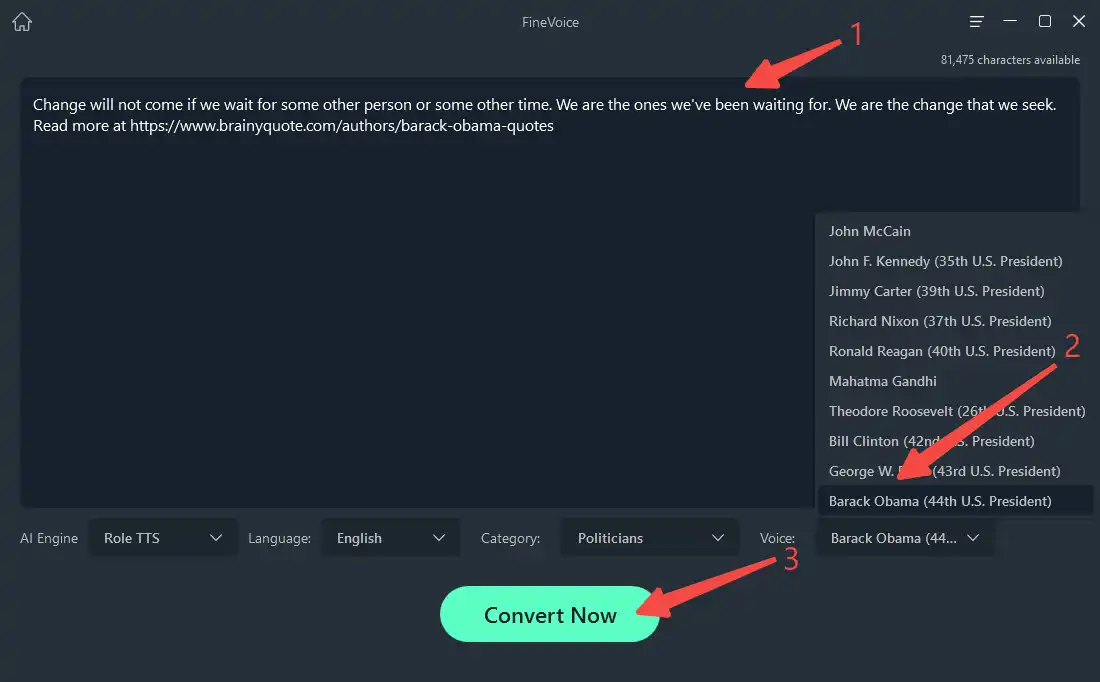 #2. FakeYou
FakeYou offers 3100+ voices and all of them are free to use. And you can create a customer voice on FakeYou with the Voice Clone feature. The clear web design and the clarity of classification on this website make FakeYou Text to Speech an easy-to-use text-to-speech tool.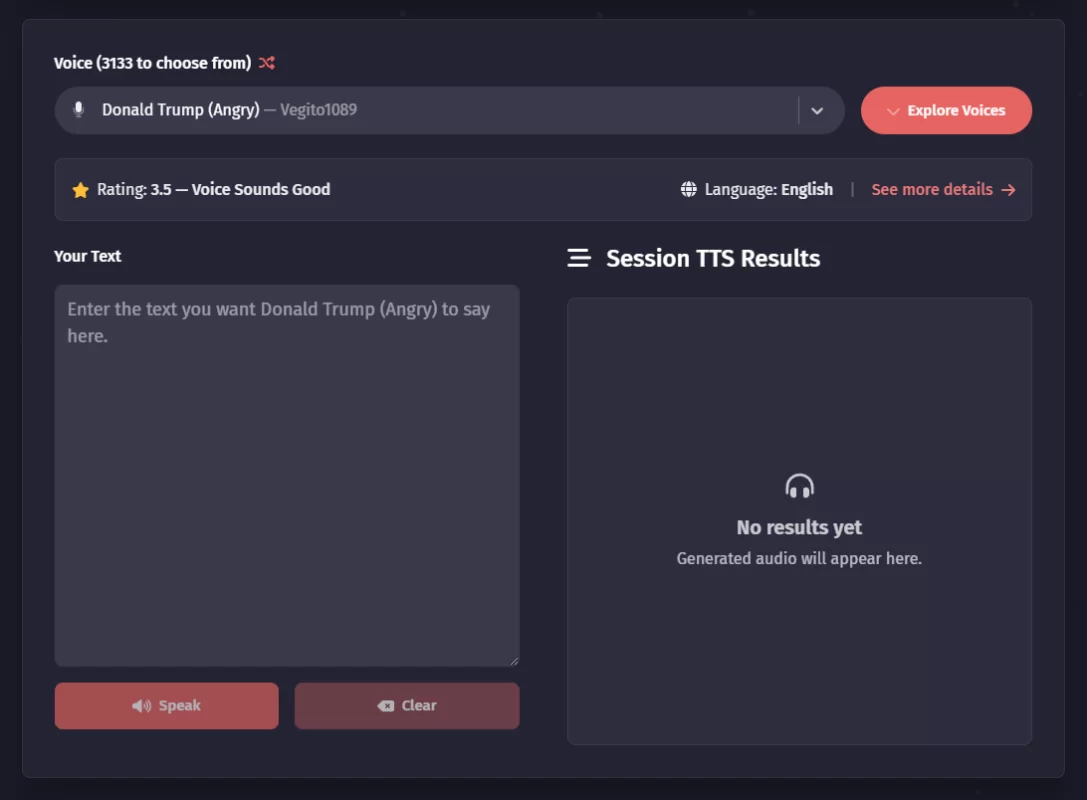 How to generate audio with this online Barack Obama text-to-speech tool?
Visit https://fakeyou.com/ and scroll down to the Create TTS section.
Type "Obama" in the search box to find a specific Obama voice style you like.
Enter whatever you want Obama to say in the textbox.
Click Speak to start the generation.
Find the generated audio in the Session TTS Results list.
Play, download, or share the audio with others.
#3. Uberduck
Fascinating, right? Uberduck gives you a better text-to-speech experience. It offers 4000+ voices for free. And it has lower latency of generation compared to FakeYou.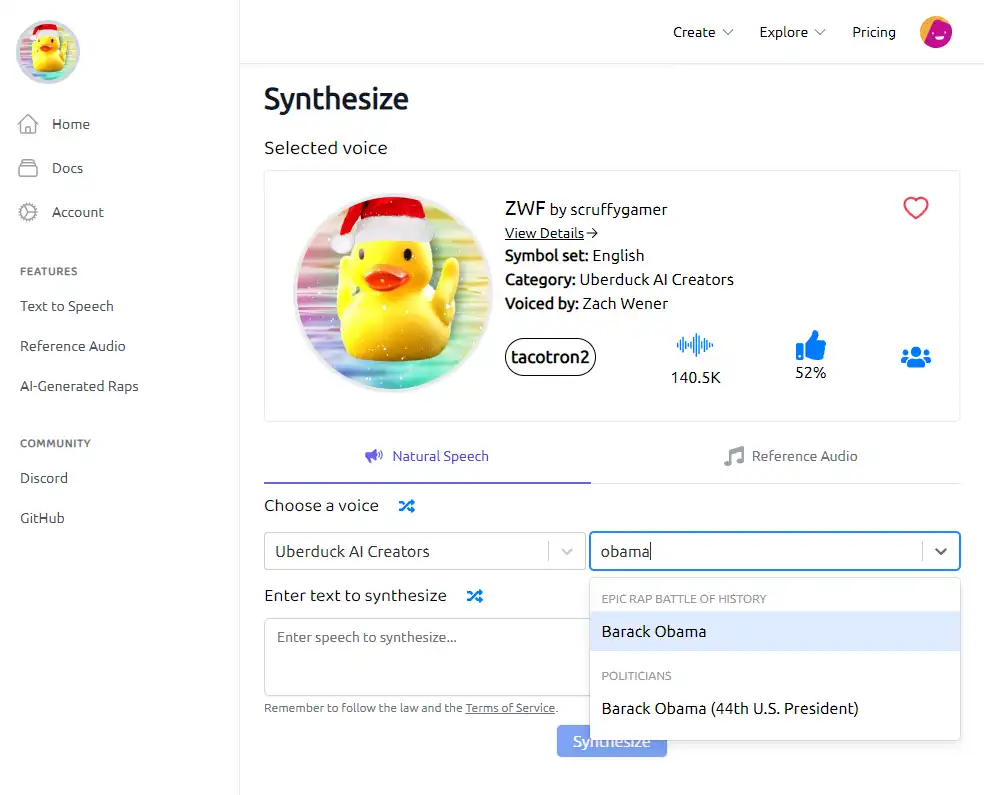 How to use this Barack Obama voice generator to make Obama prank calls?
Open https://app.uberduck.ai/speak#mode=tts-basic&voice=zwf on your browser.
Type "Obama" in the Select a voice… box under Choose a voice.
Enter text and click the Synthesize button to synthesize the speech.
After seconds you can see the result under Generations.
You can download it in MP3 format or export it as a video. With an Uberduck account, you can save the audio for quick access in the future.
You can even make Obama sing Jingle Bells by adding reference audio. The audio will be synthesized with the same itch and rhythm as the reference audio.
#4. Talk Obama To Me
Technically, this website is not a voice generator, but a video generator.
Talk Obama To Me is the "official unofficial Obama video robot". It generates videos based on the text you input. You can download the "official" Obama speech in Mp4 and prank your friends. It gives you funny Obama time.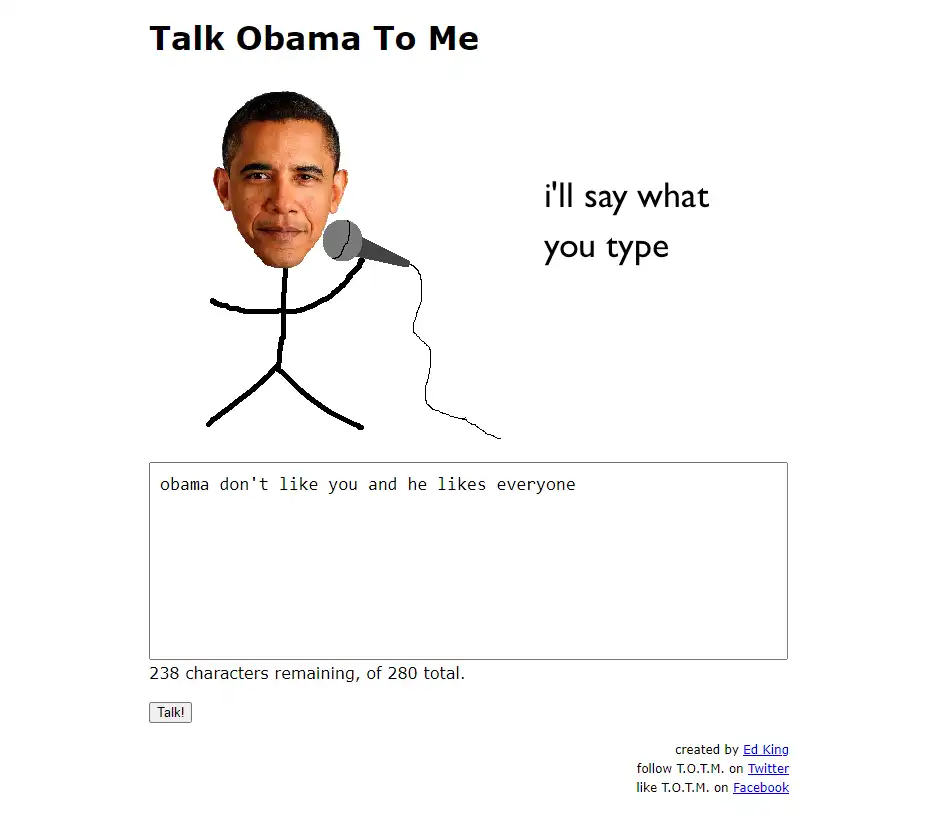 How to use it?
Access http://talkobamato.me/ on any browser
Input whatever you want Obama to say (within 280 characters).
Click Talk! to start the generation. The website will automatically create a video with the clips saying the words or syllables you entered.
2 Best Obama Voice Changers for Desktop and Mobile
You can use the mentioned Obama text to speech to make Obama say anything. But with a voice changer, you don't need to input text to use Obama's voice to say something you like.
#1. FineVoice – Windows
FineVoice also offers a real-time voice changer for gaming, streaming, and pranking. You can find 30+ voice effects and 200+ sound effects in this powerful voice changer, such as Chipmunk and Transformers.
With 28 audio effects in the Voice Labo feature, you can create Barack Obama's voice and use it when you are streaming on Discord, Twitch, or YouTube.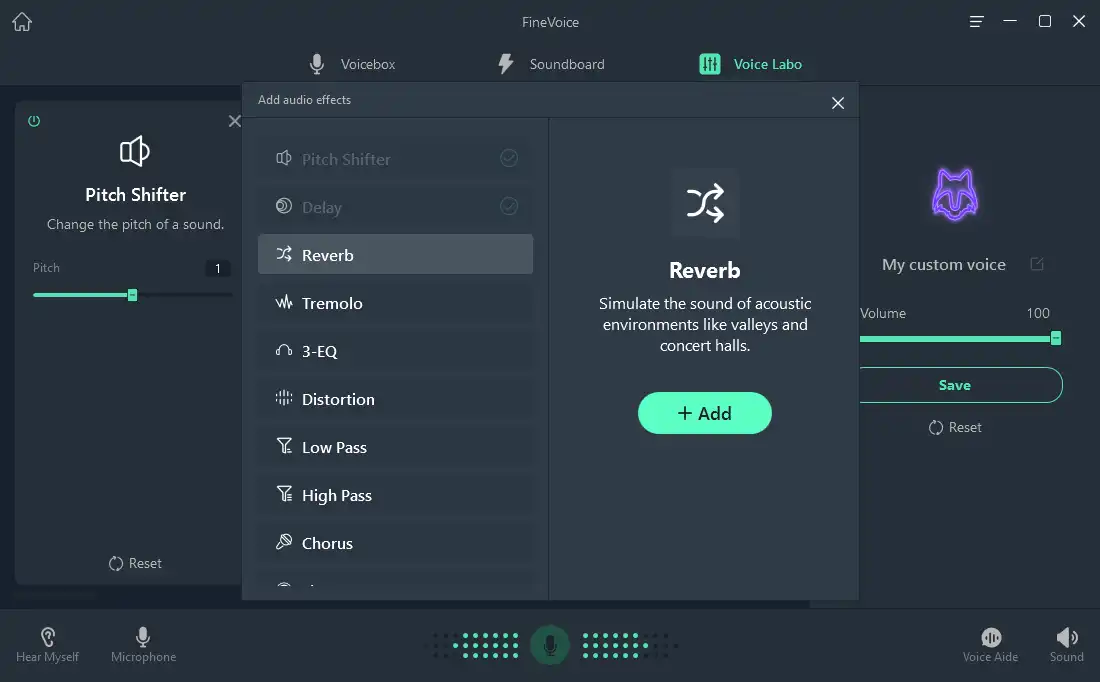 #2. Celebrity Voice Changer – Android & iOS
If you want to say something with Barack Obama's voice, you can try this voice changer – Celebrity Voice Changer. This one is not a real-time voice-changing app so you cannot use it to make a prank call.
But you can use it to record your microphone with Obama's voice. It will generate a video based on the recorded audio. And the app offers both versions for Android and iOS mobile phones.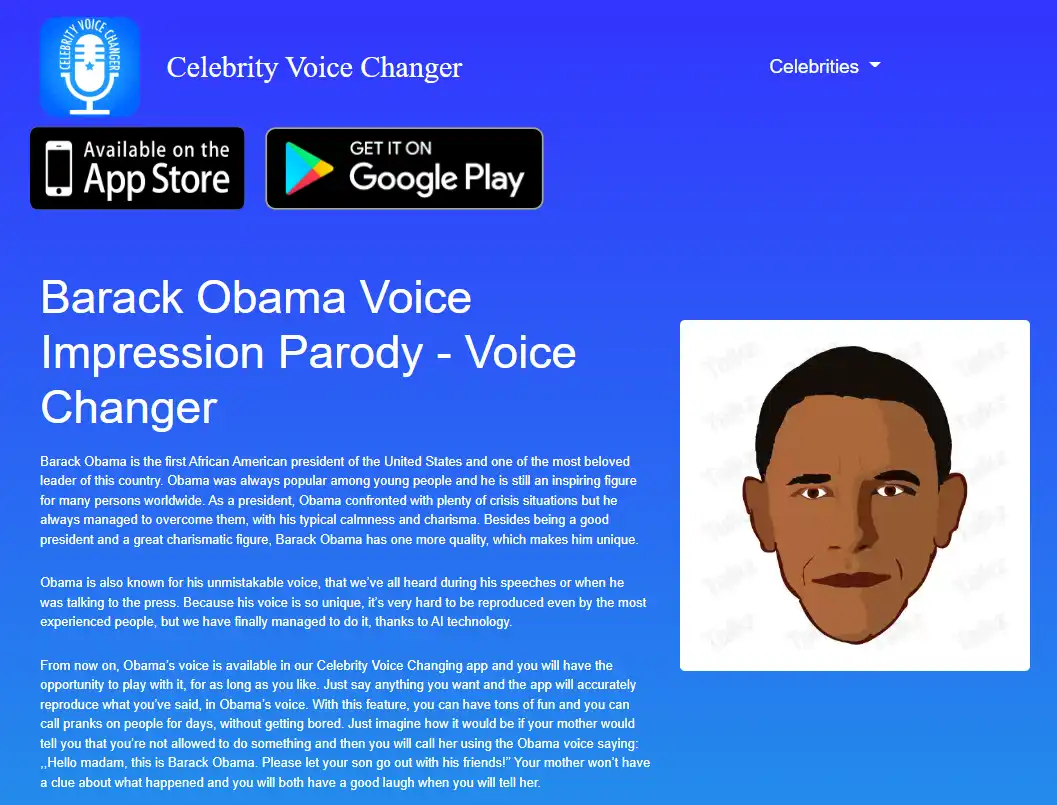 Conclusion
In this post, we give you the 4 best Barack Obama voice generators. With the help of these websites, you can generate funny Obama audio and create audio GIFs for Obama memes.
And don't forget you can create an Obama voice with FineVoice. Use the voice to make a prank call or make your live streams more engaging.
Try FineVoice for Free
Powerful text-to-speech tool with 220+ lifelike voices in 40 languages and numerous funny meme voices to generate voiceovers for Work & Leisure. Bring your content to life with FineVoice at any time. Get it for free.