Content creators who have British audiences may need to add British accent voiceovers into videos, and teachers who teach British can use the same tool to get teaching materials quickly. No matter what you need to do with British accent audio, a handy British accent generator can be helpful.
In this post, we will introduce you to the 5 best British accent generators ready for you to get.
Best British Accent Generator for Desktop
In fact, using online British voice generators may be inconvenient since most of them are unable to work without a network connection, and there's a risk that your privacy might get leaked during usage. In this situation, it's best to use a desktop application for British accent text to speech.
If you are looking for software giving you more flexibility with British accent text to speech, FineShare FineVoice will be the best choice.
FineVoice is a British accent generator that allows you to get the ideal British accent voice with ease. There are over 50 different British accent voices available, you can also set the voice gender and speed.
Besides the text to speech British accent, FineVoice also offers other languages for you to choose from. And there are hundreds of role voices and cartoon character voices that you can use to add extra fun to your content. It may sound complex, but FineVoice's intuitive interface will make sure even a beginner with no experience in operating such software can handle FineVoice in a short time.
How to generate British accent voice with FineVoice
Step 1. Click to download FineVoice.
Step 2. Click the Text to Speech tab on FineVoice's main interface.
Step 3. Type or paste the text to the text box (in English or another language).
Step 4. Select Standard TTS as the AI Engine. And select English(UK) as the language. Then you can try the gender, voice name, and voice speed according to your preferences.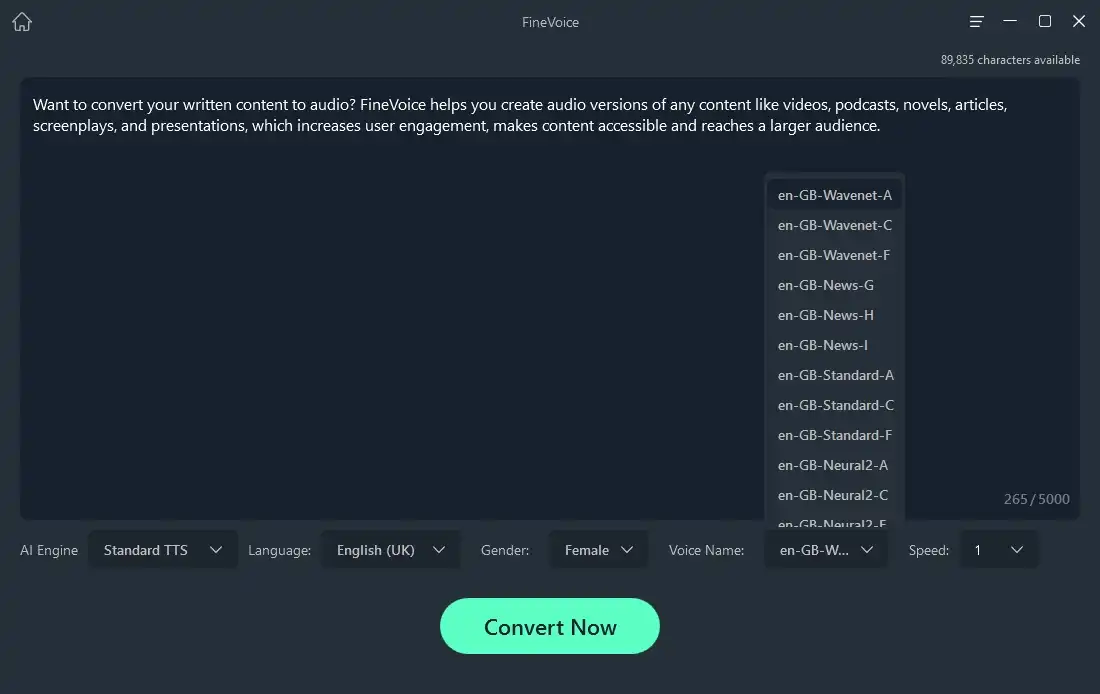 Step 5. Click Convert Now to start conversion. FineVoice will automatically generate a British accent voice file and save it locally. You can check them in FineVoice My Library.
4 Best Online British Accent Generators
#1. ttsMP3.com
ttsMP3.com is a free British text to speech tool to convert your text into professional and human-like British accent speech. As you can see from the name, it will save your audio file in MP3 format.
ttsMP3.com offers about 28 different languages in total, and 3 of them are British accent voices. You can use this British TTS tool for various purposes like a presentation, a YouTube video, and website accessibility. And the best part of this British accent generator is that you can customize your product by adding breaks, emphasizing words, and changing speed or voice pitch to make higher-quality British text to speech files.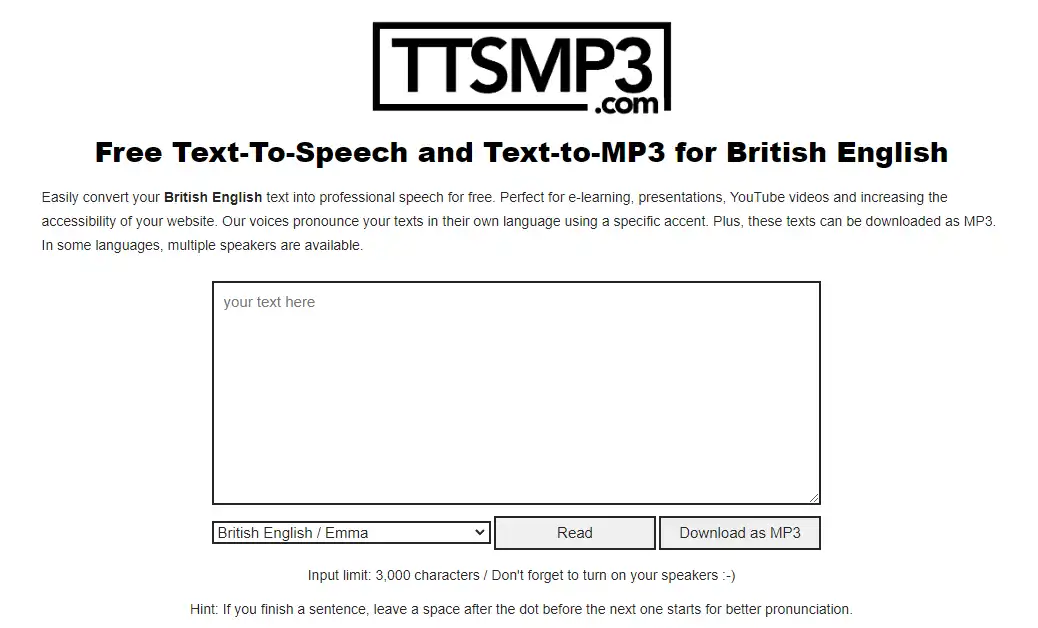 To use ttsMP3.com for British text to speech, just follow these steps.
Step 1. Visit https://ttsmp3.com/text-to-speech/British%20English/
Step 2. Type or paste the text to the text box.
Step 3. Select a British accent voice and click Read to listen to the speech.
Step 4. If you like the voice, click Download as MP3 to get the audio file.
#2. Narakeet
Narakeet is an online British voice generator tool that can help you. Besides being a British accent generator, Narakeet also offers more than 80 languages and over 500 voices from English to Urdu in text to speech function, you can even choose to make the voice sounds like people of different ages, varying from an old man to a young kid.
Narakeet saves you a lot of time recording the voiceover for videos and it provides some key tips to help you generate the most human-like voiceover in British voice.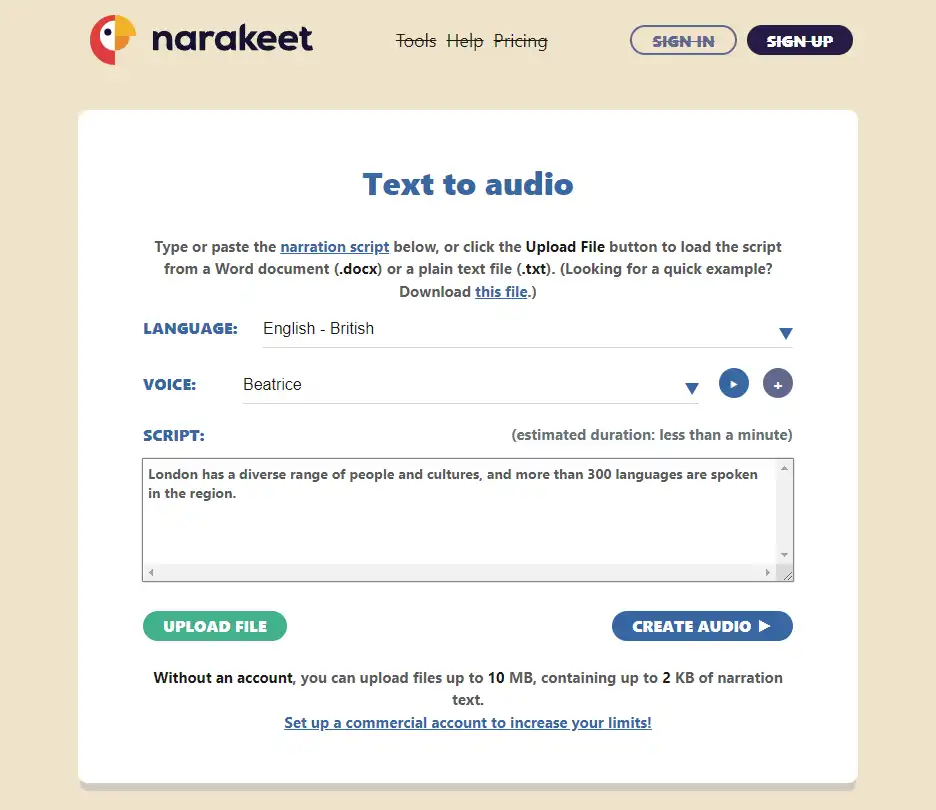 If you want to use Narakeet as a British accent generator, the following steps can help you.
Step 1. Visit Narakeet British English Text to Speech Voices (https://www.narakeet.com/app/text-to-audio).
Step 2. Type or paste the narration script in the Script box. You can also upload a DOCX or TXT document.
Step 3. Choose the language as English – British. Select a voice you want to use from the 31 British accent voices.
Step 4. Setting the output audio before creating. Click the Play button to preview the voice. Click the grey Plus button to set the volume, speed, and format of the audio.
Step 5. Click Create Audio to generate a voiceover with a British accent. After the converting process finish, you can play and download the MP3 audio file on the result page.
#3. ResponsiveVoice Text to Speech
ResponsiveVoice is an HTML5-based British text to speech library offering 51 languages in total for you to use.
ResponsiveVoice supports common browsers such as Chrome, Safari, IE, and Firefox. And it's compatible with mobile devices too, you can easily access it on iOS and Android. And don't worry while using ResponsiveVoice on different platforms, its Voice profile feature will make sure you have a consistent experience no matter the devices and platforms.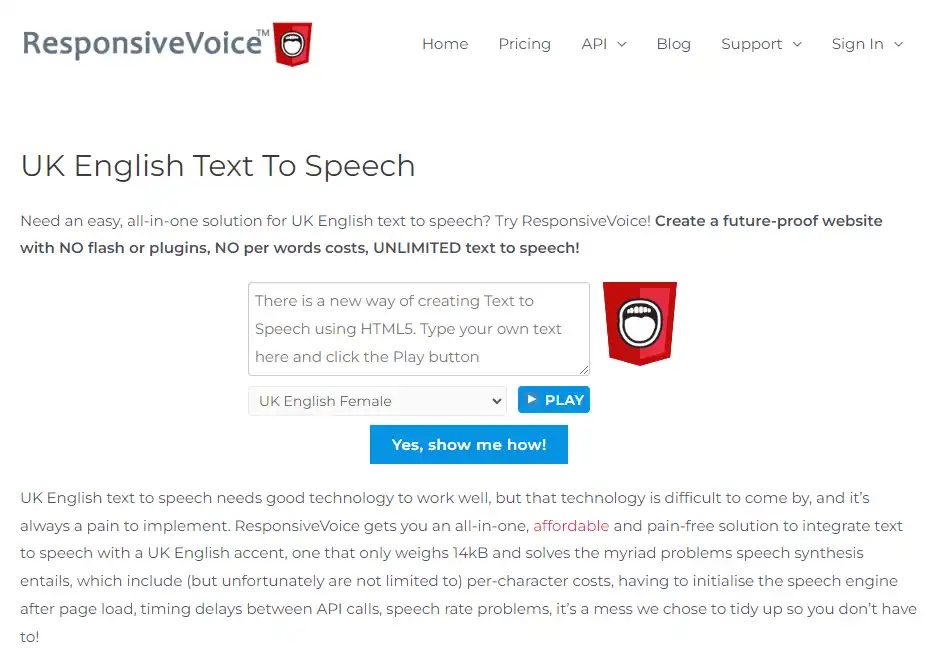 You can following the steps below to use ResponsiveVoice as a British accent generator.
Step 1. Visit ResponsiveVoice (https://responsivevoice.org/)
Step 2. Type or paste the English text. And choose a voice from UK English Female/Male.
Step 3. Click Play to let it read the text with a British accent English.
Step 4. Click the options to add voice to your website or videos.
#4. Play.ht
Play.ht is another British voice generator that offers text to speech synthesis function powered by AI technology. It comes with a Chrome Extension, WordPress Plugin, and an inter API. You can generate speech not only in a British accent, but also in many other languages like German, French, Turkish, and Italian.
You can try Play.ht for free with limited features, and you need to upgrade to a paid plan to use the British accent generator.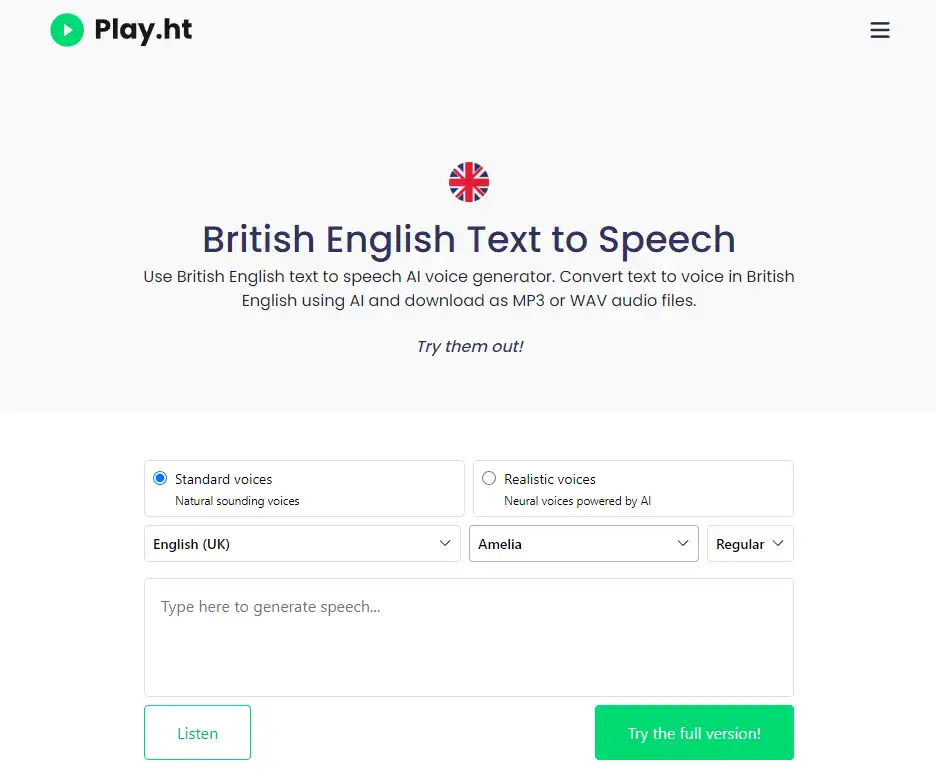 These steps will show you how to use Play.ht as a British accent generator.
Step 1. Visit https://play.ht/text-to-speech-voices/british-english/
Step 2. Type or paste text in the text bar.
Step 3. Select the language, voice, and speaking rate.
Step 4. Click the Listen to check if you like. Click Convert to Speech to get the audio file.
Conclusion
A handy tool can make things easier in our daily lives. We hope the introduced 5 best British accent generators can satisfy your needs. If you still can't make a decision, you can give FineVoice a try.
Try FineVoice for Free
Powerful text-to-speech tool with 220+ lifelike voices in 40 languages to get professional voiceovers. And get speeches with hundreds of character and celebrities voices for entertainment. Bring your content to life with FineVoice at any time. Get it for free.