You don't have to be Chinese to speak Cantonese. Thanks to AI advancement, numerous text to speech have been developed to allow users to learn Cantonese easily. For someone longing to convert their text to speech using Cantonese as their desired language, this post will guide you on the tools to use. Read on!
What Is Cantonese Text to Speech?
Cantonese is a Chinese dialect that people mainly speak in the Hong Kong and Guangdong provinces. A Cantonese text to speech is a service designed to allow a user to type in the text and then convert the text to speech where the speech is in Cantonese language.
A Cantonese text-to-speech can be an online converter or an application supported by a PC, Mac, or mobile device. We will cover examples of different Cantonese text-to-speech tools in this post.
FineShare FineVoice: Best Cantonese Text-to-Speech Software
FineShare FineVoice is the best text-to-speech converter for anyone looking to turn their dream into reality. With over 220 AI voices, FineVoice guarantees that you can quickly use it to convert your text to Cantonese. Moreover, it supports different languages, and you can utilize it in real time.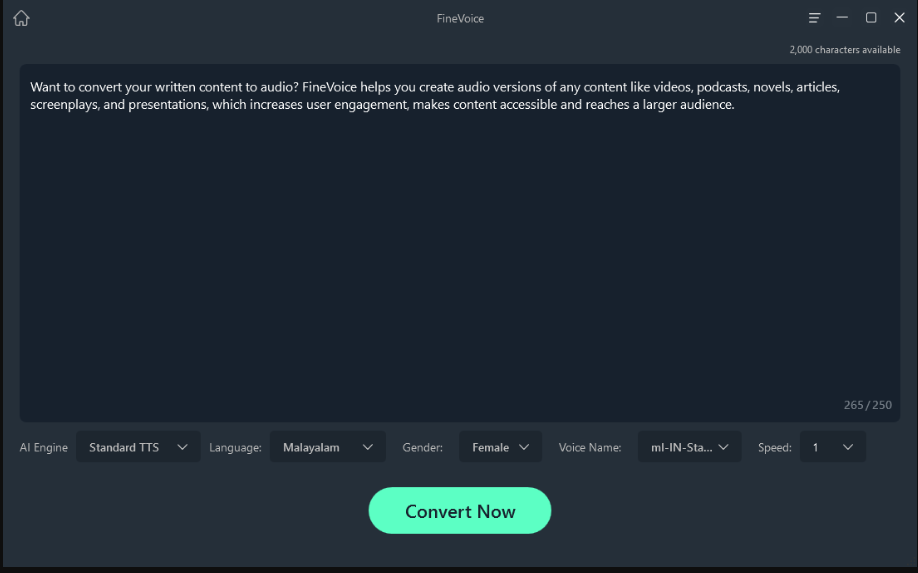 Key Features:
It has over 220 voices and supports 40+ languages.
It offers 100+ AI voices of your favorite characters and celebrities
It generates realistic human-like voices.
It can extract audio files from videos and convert the language.
You can use it to transcribe audio files.
Pros:
It has a rich AI voice library.
It works in real time.
It is free to download.
It has a simple interface.
Cons:
You must install it on your device.
It only works for Windows PCs.
Top 6 Online Cantonese Text to Speech Tools
Here is our pick of the 6 best Cantonese text-to-speech online tools you should consider using.
#1. TTSFree
It is an online speech synthesis tool that lets you type your text and generates natural sounds with a lifelike effect. You can adjust different sound effects, such as voice speed and pitch, and then proceed to convert your text.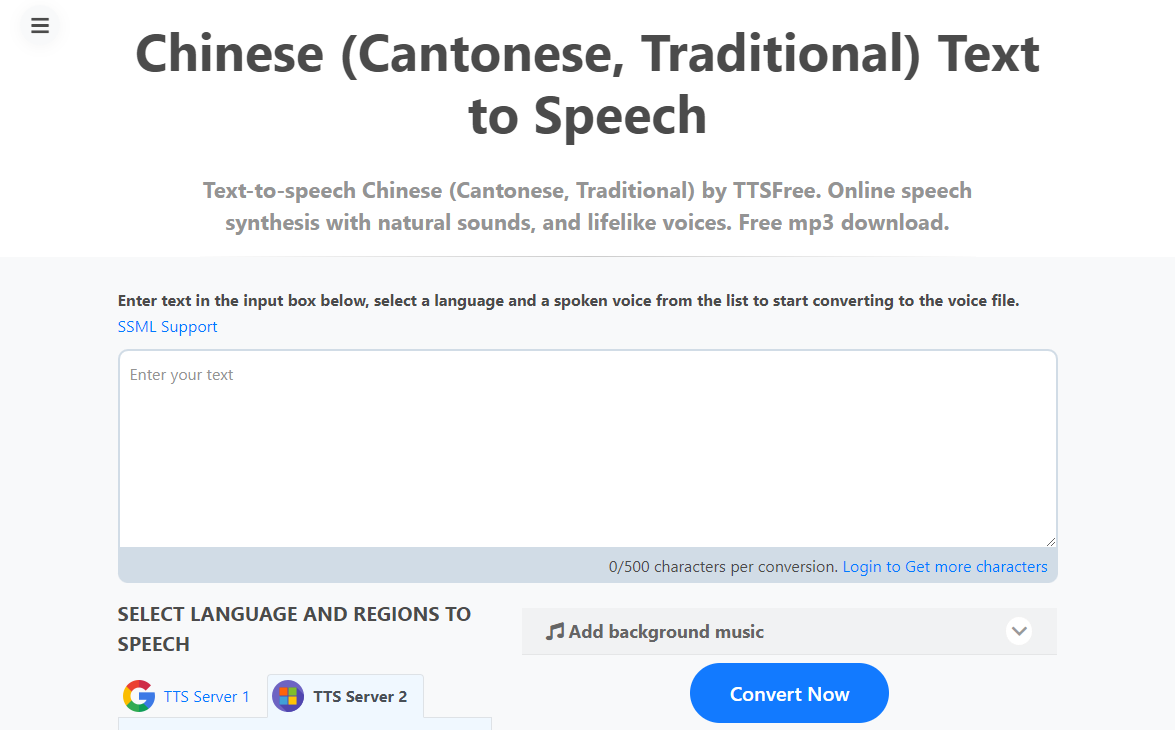 Pros:
It is free to use.
It supports adding background music.
Only three steps are required.
Cons:
It has limited features.
It only supports MP3 output format.
#2. Listnr
It is a Cantonese reader that has two male and female AI voices and lets you quickly convert your text for free. Sign-up is required to unlock its full version and enjoy more features.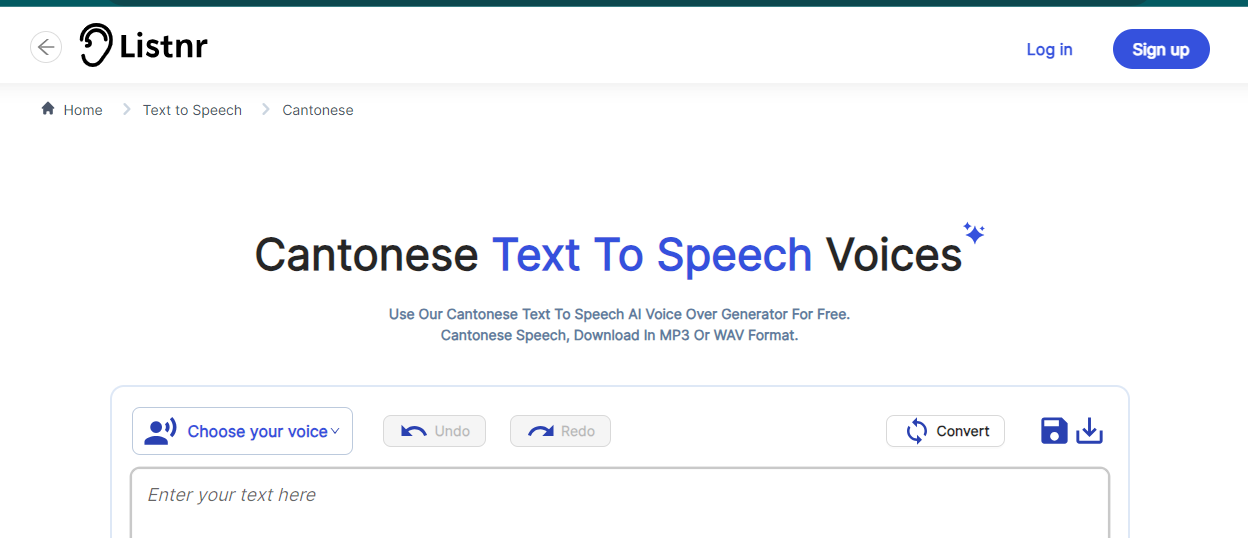 Pros:
The output is in MP3 or WAV format.
It supports male and female voices.
Cons:
It has a word limit of 100 words.
It has limited features.
#3. Micmonster
Micmonster utilizes revolutionary text-to-speech technology to transform any text you type into natural Cantonese audio. With its pro version, you can enjoy an advanced editor to generate more realistic voices.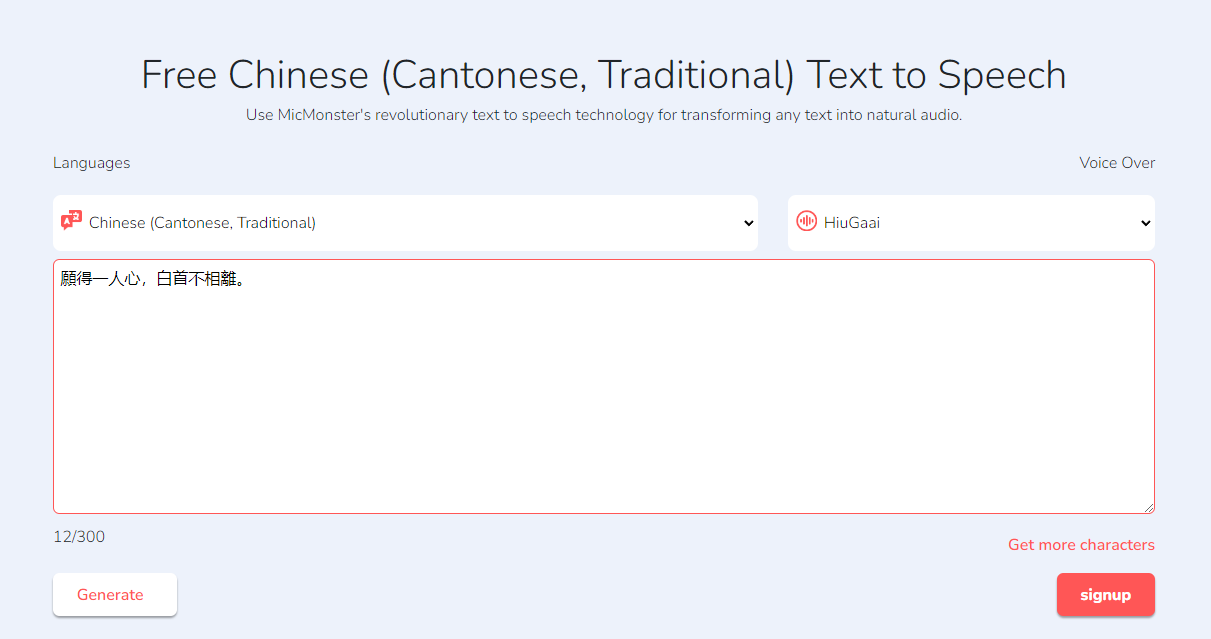 Pros:
It has free voice samples.
It supports 140 languages from Italian to Australian.
It offers male and female voices.
Cons:
The free version has limited features.
Sign-up is required to unlock more features.
#4. Cantonese Tools
It is a Cantonese learning tool designed to help people easily learn Cantonese. Once you type your text, it will read it aloud to ensure you get comfortable learning Cantonese.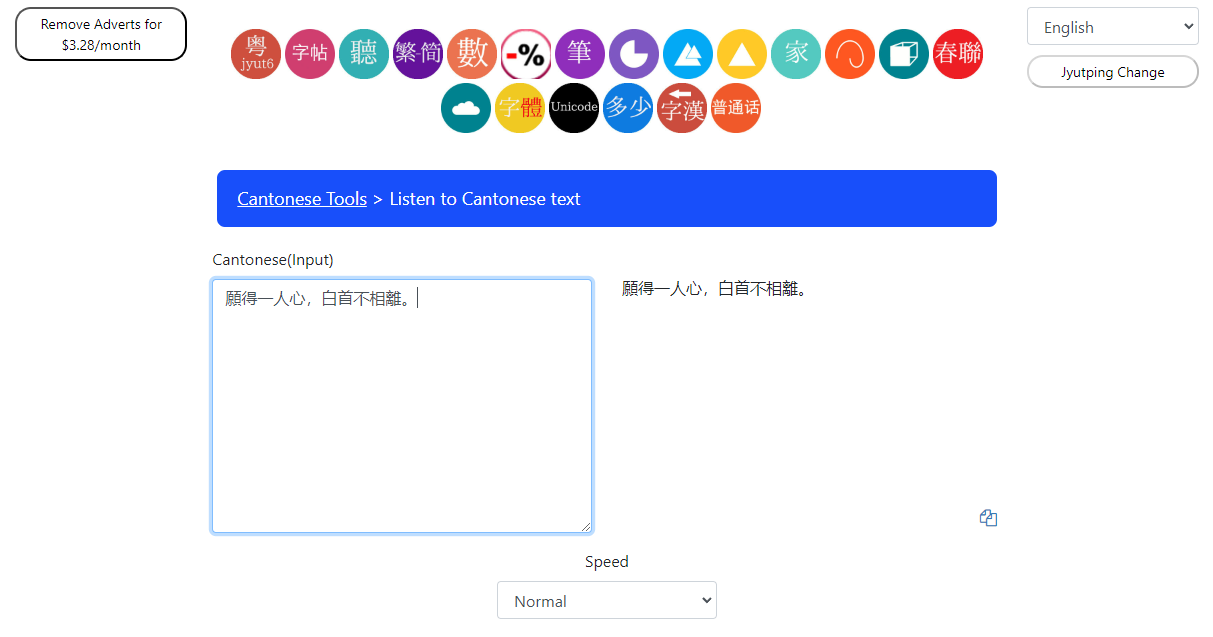 Pros:
It lets users adjust different sound elements, such as the speed.
It supports adding text in different languages.
Cons:
You can only read aloud the text and not save it.
It doesn't offer pronunciation for all characters.
#5. Ekho
It is a free multilingual Cantonese TTS that supports Linux, Windows, and Android platforms. The tool is open source, meaning anyone can utilize it to convert their text to speech.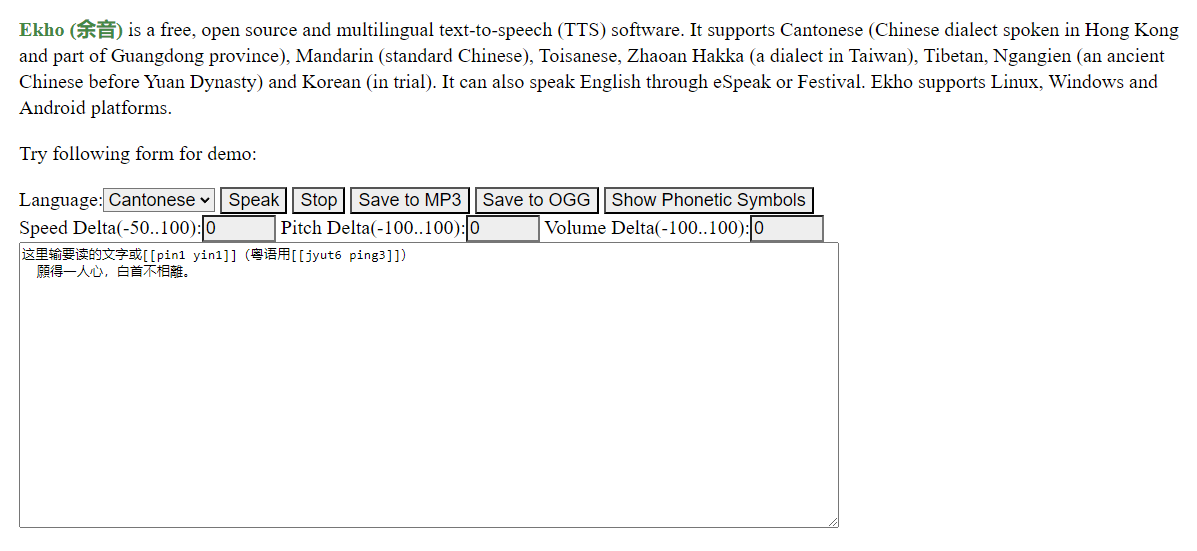 Pros:
It supports numerous languages, including Cantonese, Mandarin, Tibetan, etc.
It works on different platforms.
Cons:
It is not easy to use.
For other platforms like Android, you must download it to use it.
#6. Narakeet
Narakeet is mainly used for creating Cantonese voiceovers to help in language lessons and videos for someone looking to learn Cantonese.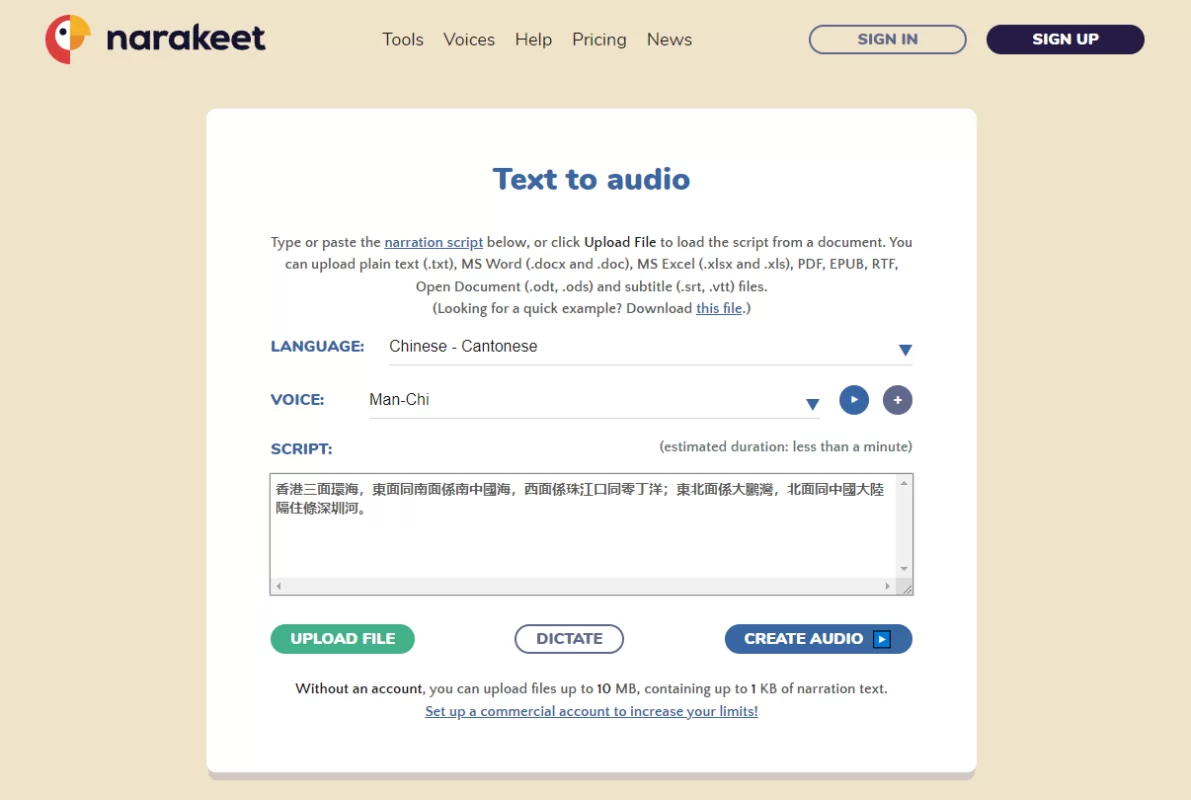 Pros:
It supports over 600 tts voices.
It supports 90 languages.
It allows the uploading of files.
Cons:
It has limited features.
It supports only three output formats.
Conclusion
Today's post has explained the 7 best Cantonese text to speech tools to help you achieve different functionalities. Among them, FineShare FineVoice stands out as the most reliable and an all-in-one option to use. Have fun sounding Cantonese!
FAQs
#1. What is the Best Cantonese Text to Speech App?
FineVoice is the best Cantonese tts. It has numerous features and voices that you can select from. Besides, its easy interface makes it the most recommended Cantonese tts to use.
#2. Where to Find the Best English to Cantonese Translators?
The best option to find Cantonese translators is to use Cantonese text-to-speech tools, as they let you easily learn Cantonese from the comfort of your device.
#3. How Do You Use Cantonese Speakers?
To use a Cantonese speaker, find a Cantonese tts and add your text. Next, convert the text to Cantonese language and play the output audio.