Do you want to sound like Chills, the YouTube narrator who has a unique and creepy voice? Do you want to add some suspense and horror to your YouTube videos with his voice?
If the answer is yes, then you are in the right place. You can get the same Chills" voice for your YouTube videos using a text-to-speech tool. In this article, we will share 3 excellent Chills text-to-speech tools to help you generate Chills voice in minutes.
Best Chills Text to Speech Desktop Software
FineShare FineVoice
Do you want to sound like Chills? FineShare FineVoice can help you achieve that and more. It stands out as one of the premier voice generators, and its Chills Meme text to speech tool is no exception.
With FineVoice, you can convert written text into Chills' narration effortlessly, immersing your audience in an eerie and suspenseful experience. You can use this Chills voices on your videos, podcasts, or audio presentations.
You can also choose from many realistic voices, such as the legendary Morgan Freeman or the adorable SpongeBob.
Pros:
Simple and user-friendly interface
Support multiple languages and voice effects
Offer a wide range of celebrity and movie role voices
Change your voice in real-time
Compatible with popular streaming applications
High-quality voice recorder
Cons:
Only provide the Windows version
How to Generate Chills Voices with FineVoice?
FineVoice offers various customization options. You can customize your own voice with the Voice Labo feature, which lets you apply 28 audio effects to create any voice you want. You can also adjust the pace, tone, and emphasis to match your creative vision.
Now, we will show you how to use FineVoice to make a Chills YouTube voice in a few easy steps.
Step 1: Download and install FineVoice on your computer.
Step 2: Register on it and create a new account.
Step 3: Choose the Real-Time Voice Changer in the menu.
Step 4: Click the Voice Labo and then you can Add audio effects to create Chills Youtube voice.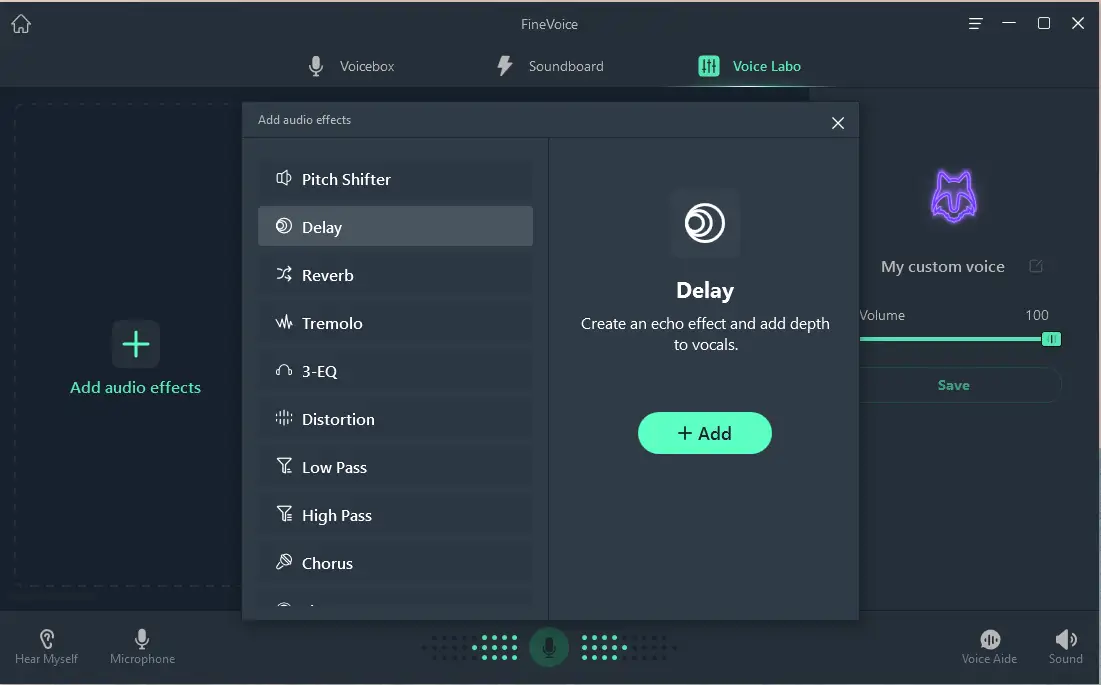 Step 5: You can adjust the sound effects to better match the sound of Chills in your mind. Then you can give it a name and save the sound. You can find the custom Chills voice in Voicebox > Custom.
Step 6: Launch any voice chat app and go to settings > voice/audio settings > choose FineVoice Virtual Microphone as the input audio device. Have fun with Chills's voice.
Best Chills Voice Generator Online Websites
Do you want to create hilarious TTS videos with the Chills Youtube AI Voice Generator? Uberduck is a free online tool for your fun experiments!
With it, you can generate a Chills YouTube voice with high quality and accuracy. You can create exactly similar AI vocals and voiceovers with more than 5,000 different types and styles of voices. You can also synthesize Chills' voice with your own custom voice clones.
Moreover, you can join the Uberduck ML community and turn AI research into a tool for creators.
Pros:
Intuitive interface
Accurate voice replication
Provide various voices, including celebrity and cartoon character voices.
Offer a preview of generated vocals in real time
Cons:
Lack of naturalness
Limited voice selection
Step 1: Go to Uberduck.ai and sign up for a new account.
Step 2: Select YouTubers>Chills directly under Choose a voice.
Step 3: Type or paste the text you want to convert into Chills voice in the input field.
Step 4: Click the SYNTHESIS button.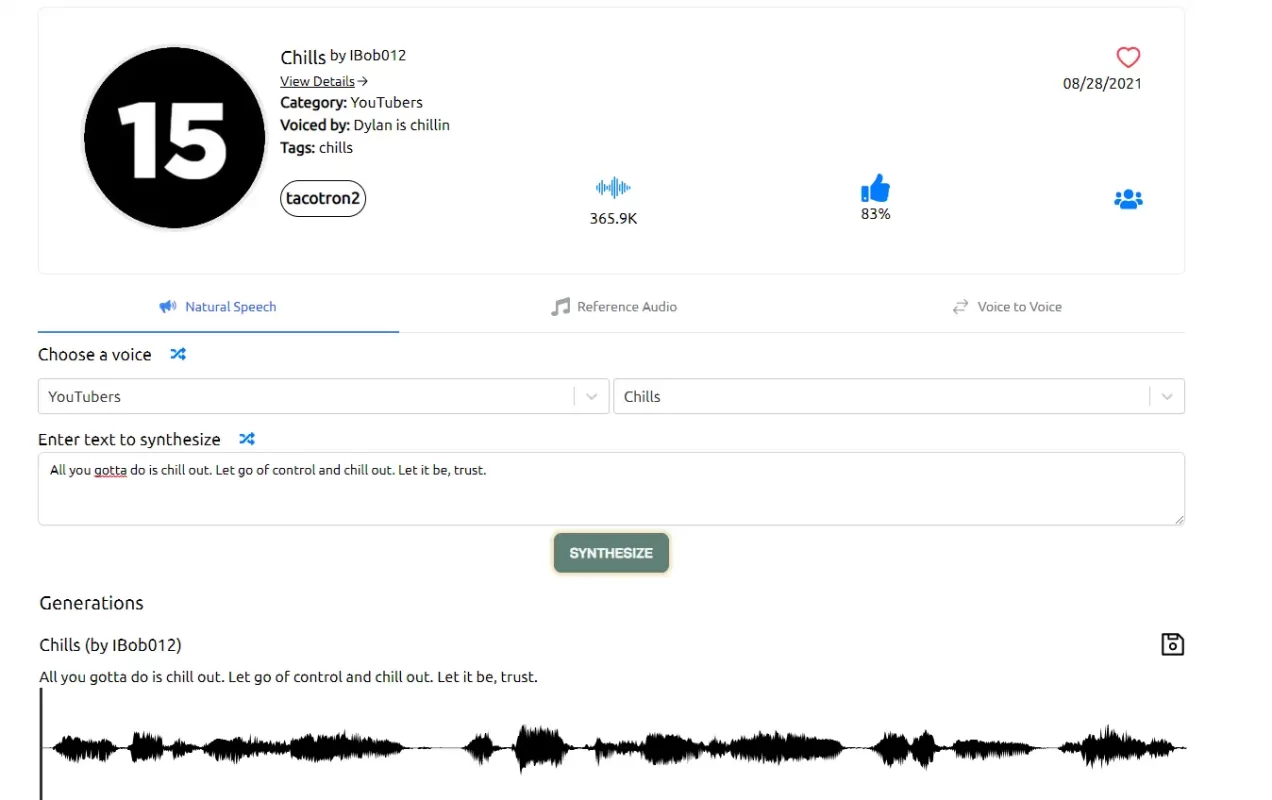 Step 5: After waiting a few seconds, you will have a realistic and expressive text-to-speech audio file of Chills Voice.
Fakeyou
Like Uberduck, Fakeyou is one of the best online tools for converting text to Chills voice. It has a simple and user-friendly interface that makes it easy for anyone to use.
With FakeYou, you can create voiceovers with over 3000 voices. You can generate high-quality speech in English, Spanish, French, and German. And you can also have some fun with Duke Nukem, Donald Trump, and other funny voices.
Pros:
Free and easy to use
Offer a diverse selection of voices
Provide extensive customization features
Update and grow the voice database constantly
Cons:
Limited Naturalness
Encounter occasional challenges with accurately pronouncing certain words or names
How to Use Fakeyou Chills Voice Text to Speech?
Step 1: Visit Fakeyou.com and select Text to Speech.
Step 2: Select Chills in the Voice option.
Step 3: In the text box below, enter the custom text to generate Chills voice.
Step 4: When done, click the Speak button.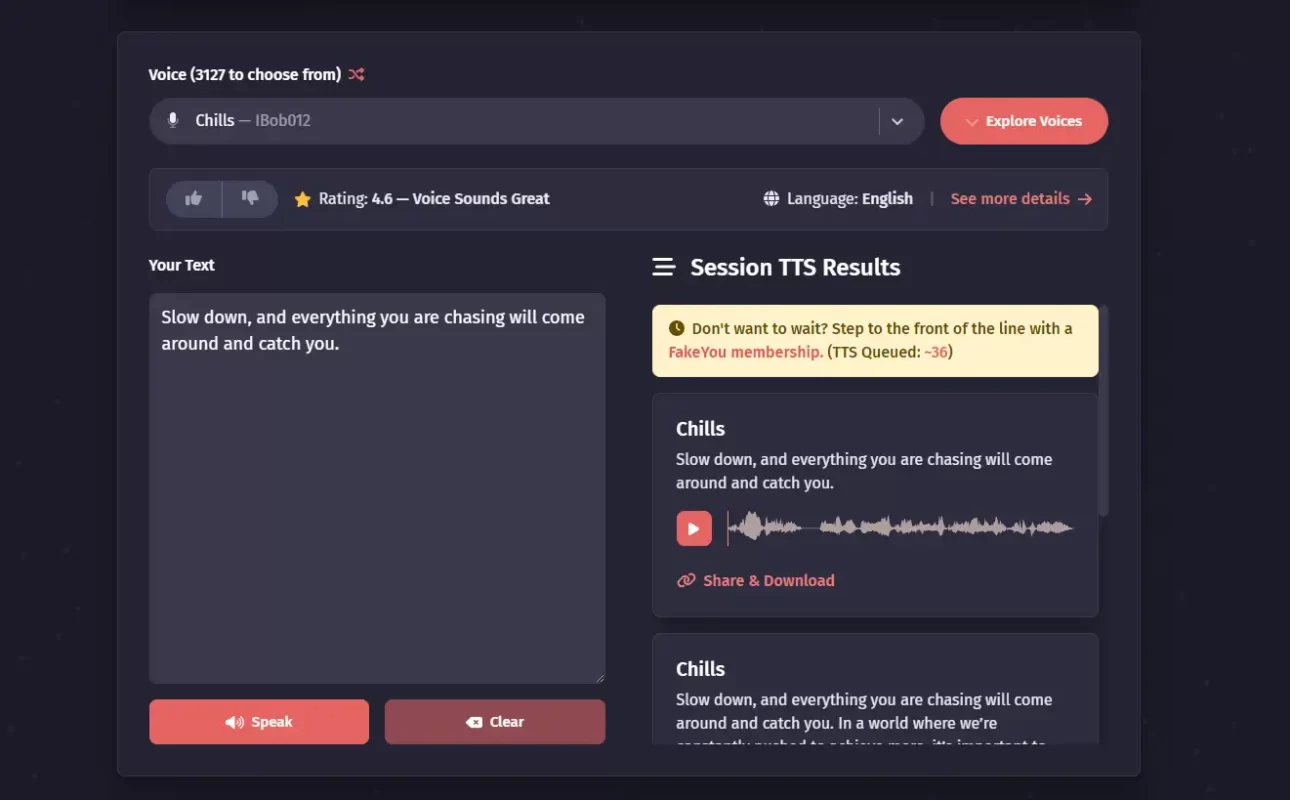 Step 5: It will generate your desired audio file within seconds.
Related article: FakeYou Deep Fake Text to Speech 2023 Review and Best Alternatives.
Conclusion
In conclusion, the Chills voice generators through TTS technology have opened up a world of possibilities for content creators and enthusiasts alike.
Whether you're looking to evoke suspense, mystery, or a sense of the unknown, these Chills voice text to speech tools can bring his distinctive aura into your work and captivate your audience.
Here, we highly recommend you download FineVoice to infuse your projects with the captivating narration of Chills.
FAQs about Chills, the YouTuber
How Many Subscribers Does He Have?
As of June 12, 2023, he has over 6.12 million subscribers on his Chills channel and over 8.34 million subscribers on his Top 15s channel.
What are Some of His Most Popular Videos?
Some of his most popular videos are Top 15 Scary Videos Filmed by Doorbell Camera (over 4 million views), Top 15 Mysteries Solved by 4Chan (over 3.8 million views), Top 15 Scary Videos That Will Keep You Up at Night (over 3.6 million views) and Top 15 Scary Videos That Will Make You Say NOPE (over 3.5 million views).
Does He Make Music?
Yes, he does. He has released several songs and an EP called I Hope You're Doing Well. Some of his songs are All In My Head, Red Eyes, Dreamland, and Sidelined.