Duke Nukem is the protagonist of the Duke Nukem series. In this famous FPS game series, he is a fictional American hero who repeatedly saves Earth from aliens and evil scientists. The games themselves are very fun to play and Duke Nukem has become one of the most popular game characters around the world.
Have you ever wanted to have Duke Nukem's voice? Or do you want to know if there are any tools to generate his voice? In this article, we will give you the 3 best free Duke Nukem text to speech voice generators, including one desktop application and 2 online websites.
Who is the Duke Nukem Voice Actor?
Duke Nukem is a video game franchise with a long history, the first game was published in 1991, and the developers didn't give this protagonist too many voice lines. A few years passed, and in 1996, voice actor Jon St. John joined Duke Nukem's latest game Duke Nukem 3D, and casted voice for this confident and hyper-masculine hero, which has been proven to be a brilliant idea.
Jon St. John is best known for being Duke Nukem voice actor. His deep, magnetic voice makes the Duke even more charming, and received a high reputation among players and the media. Some even commented on this game character as an action star in video games.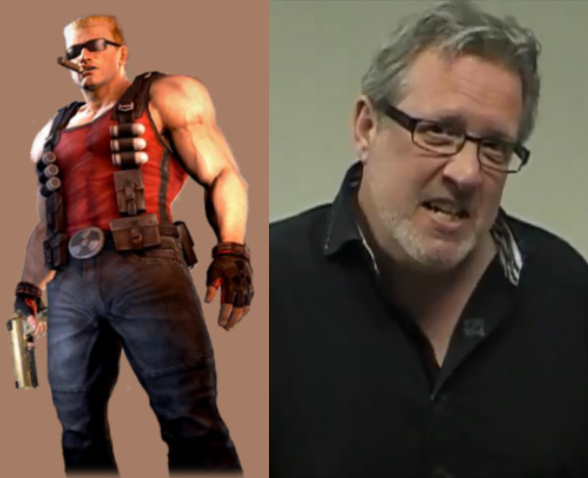 3 Best Free Duke Nukem Text to Speech Tools for All Devices
#1. FineShare FineVoice
Do you want a Duke Nukem voice generator that can make your text pronounced by that charming voice? Or do you want to manage your Duke Nukem TTS files with more options? If you do have such needs, FineShare FineVoice could be the best choice.
With 220+ lifelike voices in 40 languages, FineShare FineVoice allows you to generate realistic voiceovers like news reporter voices for videos, presentations, and audiobooks. And it offers a vast collection of voices from cartoon characters, memes, movies, and even celebrities.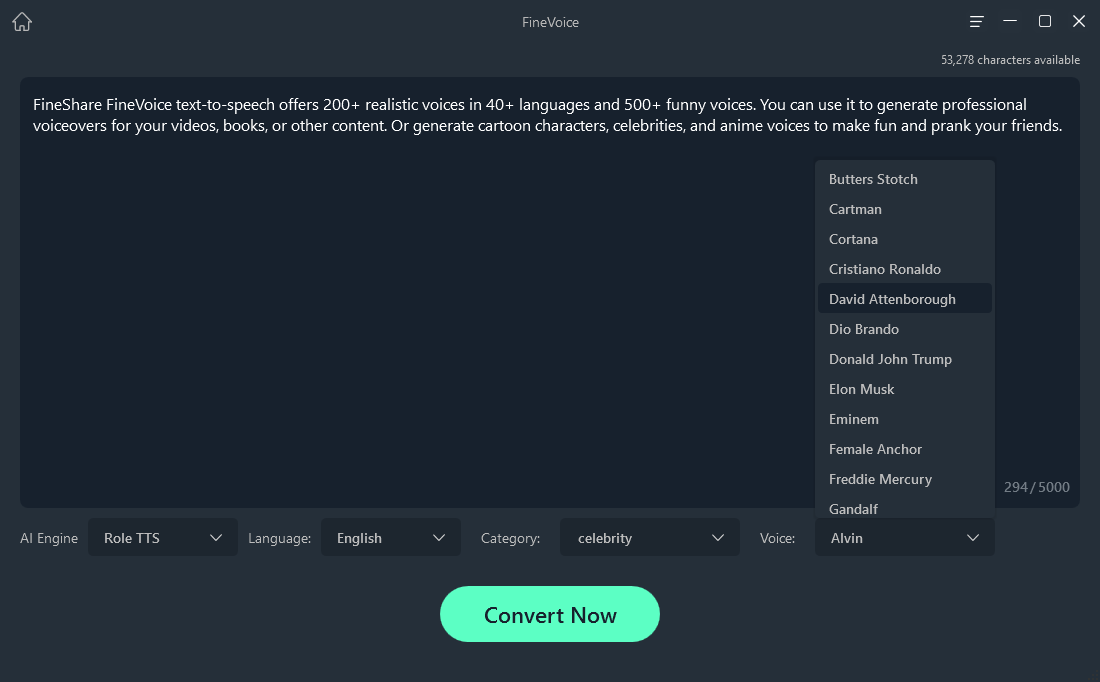 How to create Duke Nukem text to speech using FineShare FineVoice
Step 1. Download and install FineShare FineVoice on your Windows PC.
Step 2. Open Text to Speech and type or paste your text.
Step 3. Select Role TTS AI engine and choose Duke Nukem voice from the list and click Convert Now.
#2. FakeYou
FakeYou is the first free website for Duke Nukem text to speech we want to give you. This website offers deep fake text to speech services. You can use it to make your favorite characters talk by converting your text or voice into their voice.
On FakeYou, there are more than 3000 free voices created by deep fake tech, you can find film character voices like Yoda, meme voices like Quandale Dingle, and celebrity voices like Donald Trump and Barack Obama.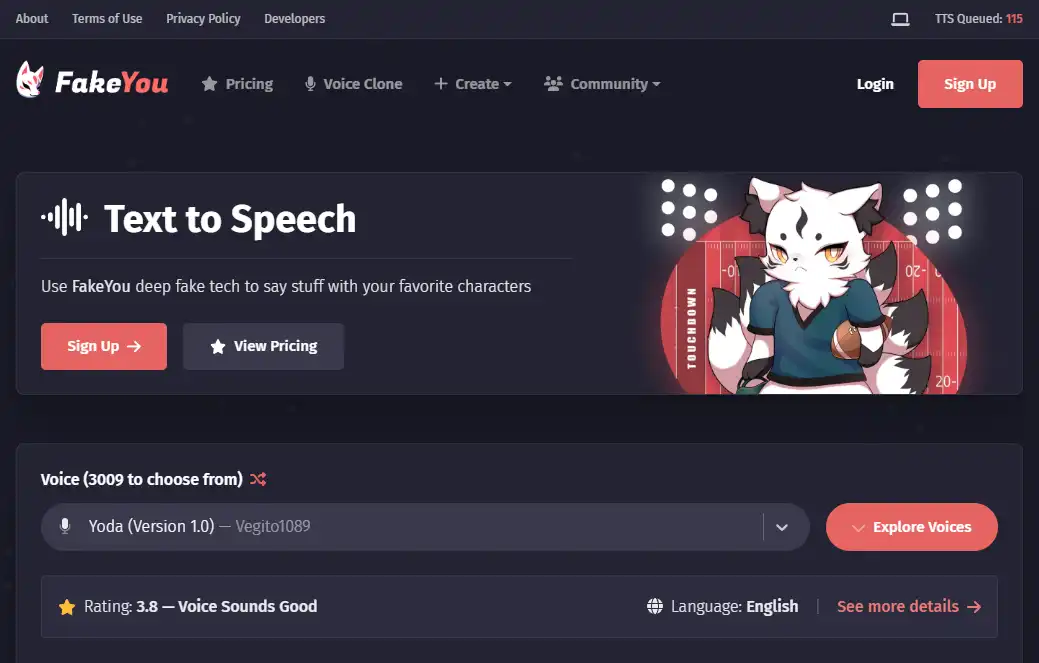 How to use Duke Nukem text to speech with FakeYou
Step 1. Visit fakeyou.com and you can choose whether to register an account.
Step 2. Type "Duke" in the box to find the Duke Nukem voice generator. Select the version you want.
Step 3. Enter the text you want to use for Duke Nukem text to speech in the You Text box. And click on Speak to start the generation process.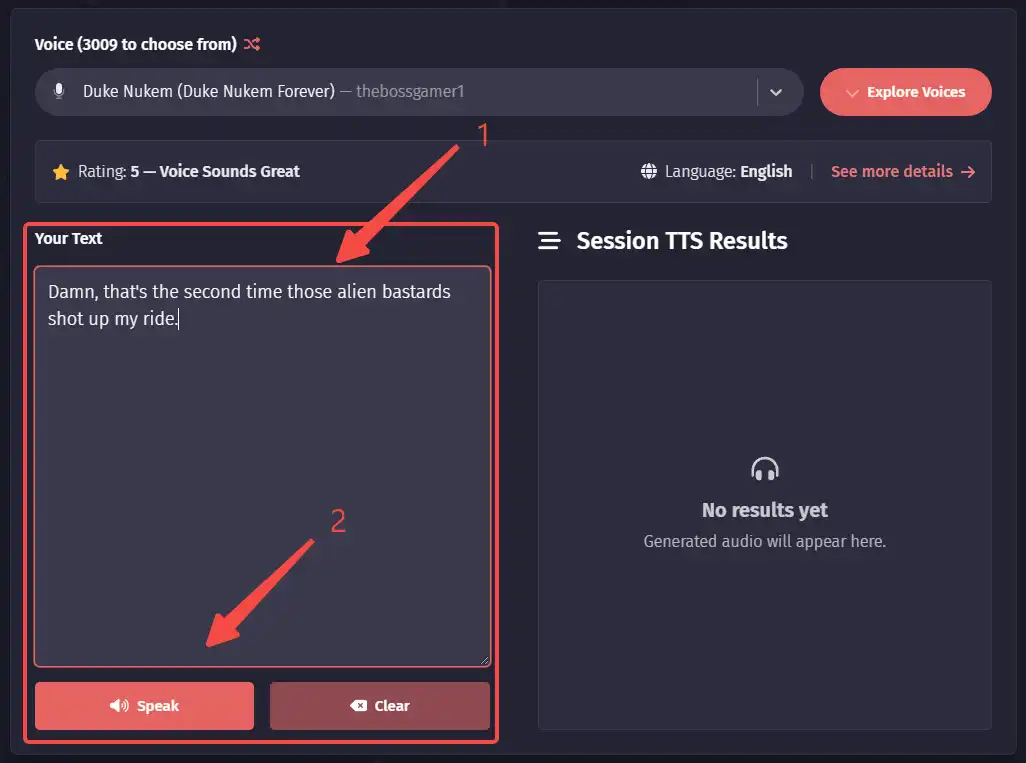 Step 4. View the generated audio under Session TTS Results. If you want to download the audio, click on Share & Download. FakeYou requires you to register an account to download the audio file.
#3. Uberduck
Uberduck ai is another website that offers a Duke Nukem TTS feature. You can choose from 4000+ celebrity, character, and meme voices and generate audio with the text to speech service. And of course, Duke Nukem text to speech is also available.
This website comes up with text-to-song and AI-generated rap features too, if you are interested, they can also be very helpful. Now, let's see how to use this powerful Duke Nukem voice generator.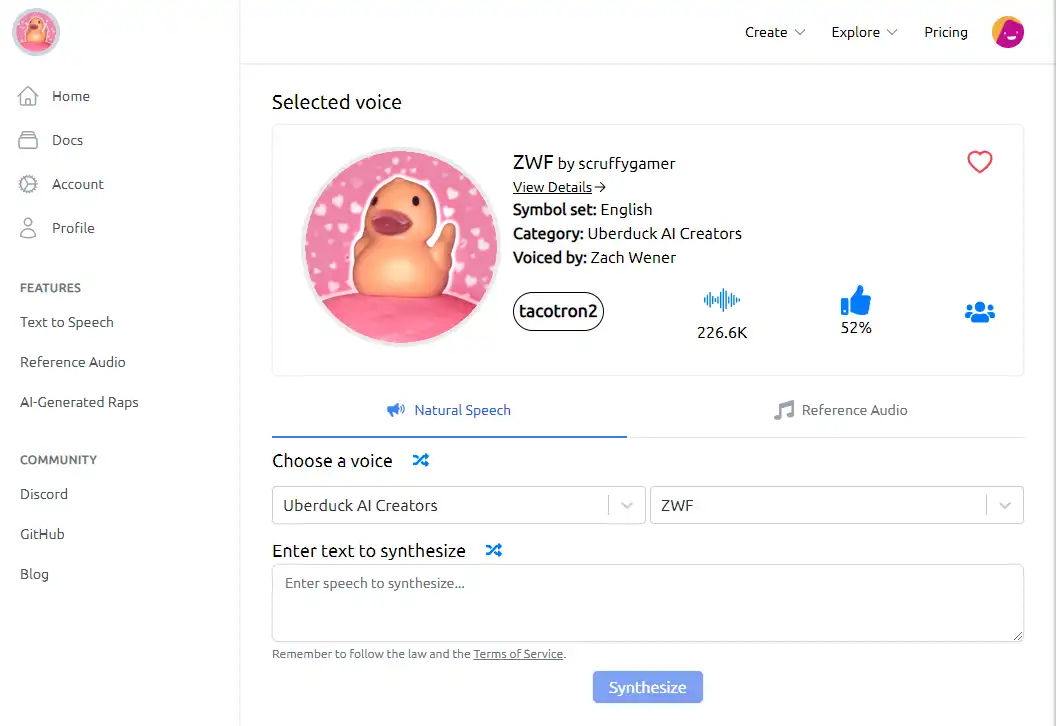 How to use Duke Nukem text to speech with UberDuck
Step 1. Visit Uberduck.ai and select Text to Speech.
Step 2. Type "Duke" in the box under Choose a voice to search for the Duke Nukem text to speech option.
Step 3. And click the right box to choose a voice. Type and paste any text in the Enter text to synthesize box. Then click Synthesize. (You need to sign up to synthesize speech)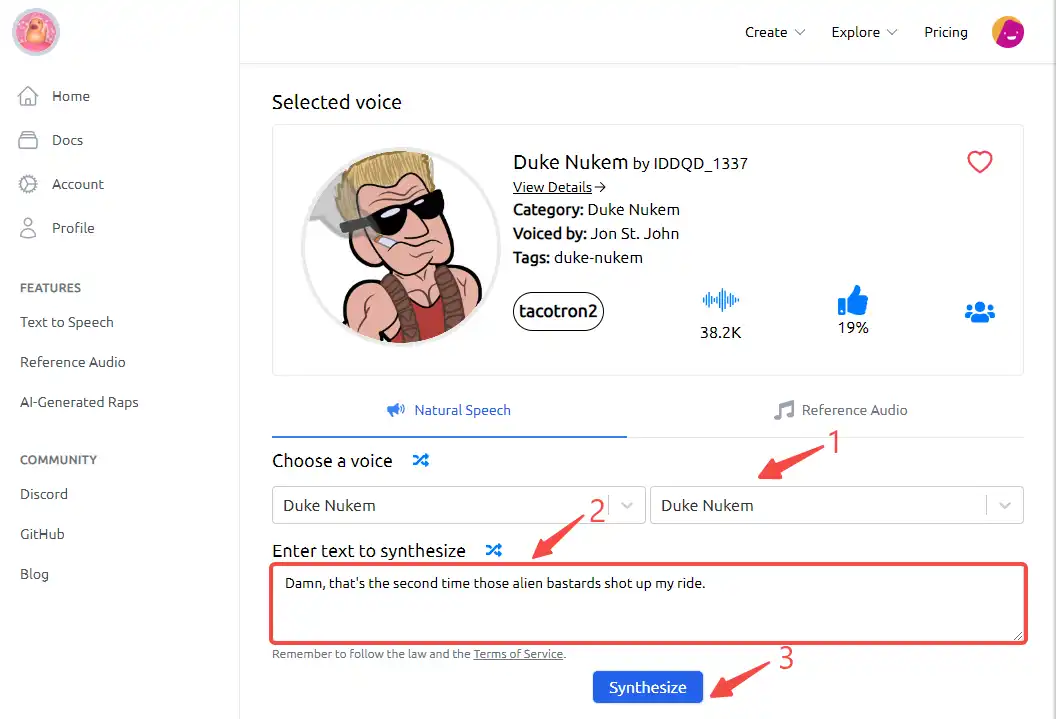 Step 4. Scroll down to view the result in the Generations section. You can download the audio or export it as a video.
Bonus Tip: Create Your Duke Nukem Voice
Besides using it as a Duke Nukem text to speech tool, FineVoice can also work as a voice changer for streaming, gaming, and voice chatting. It works seamlessly for multiple platforms like Discord, Twitch, Zoom, PS4/PS5, and all voice-capturing applications. If you want a Duke Nukem voice changer, this is the one you need.
With 30+ voice effects and 200+ sound effects, FineVoice can make your content engaging with ease. Moreover, if you are not satisfied with the Duke Nukem voice generator, you can use 28 audio effects to make Duke Nukem's voice with the Voice Labo feature. We will show you how to do that in detailed steps.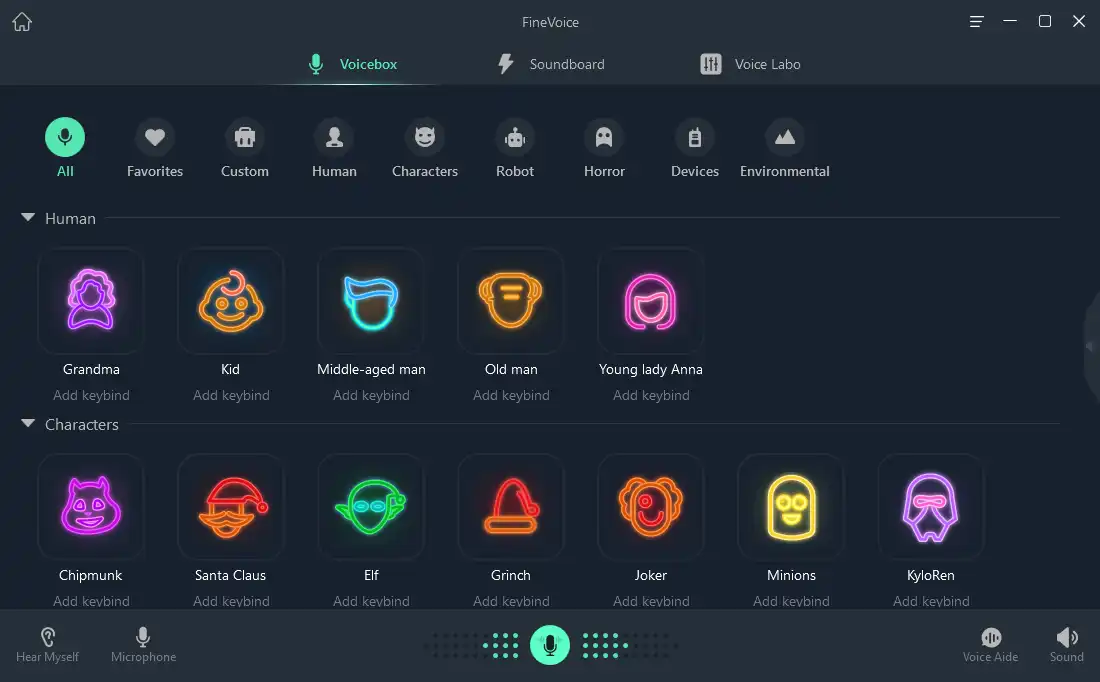 How to make Duke Nukem voice with AI technology on FineVoice
Step 1. Install and open FineVoice.
Step 2. Click on Real-Time Voice Changer. Configure your microphone and speaker on the pop-up window.
Step 3. Switch to the Voice Labo tab. And turn on Hear Myself and Microphone to capture and hear your voice. And add audio effects to create a Duke Nukem.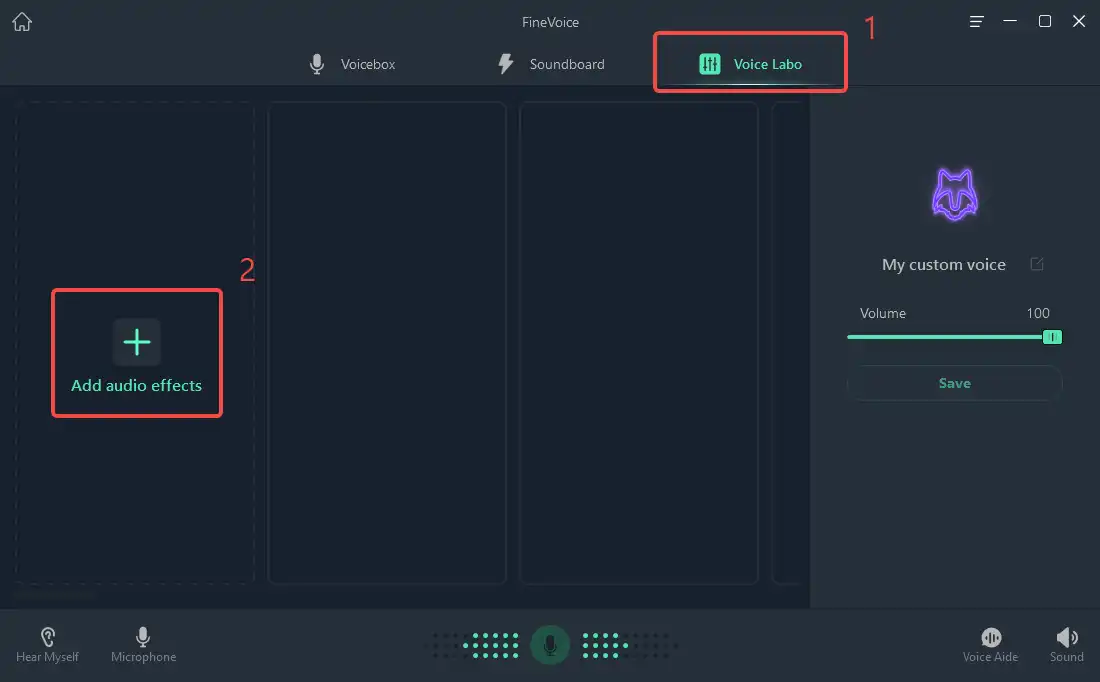 Step 4. Adjust the effects to make it match your voice better. After you get a satisfying voice, name it and save the voice. Then you can find the voice in Voicebox > Custom.
Step 5. Open any voice chat application and go to settings > voice/audio settings > select FineVoice Virtual Microphone as the input audio device. You can have fun with Duke Nukem's voice.
Conclusion
We hope the listed 3 Duke Nukem voice generators can help you find the ideal voice you need. And if you are not sure which one to choose, try FineVoice to get the best Duke Nukem text to speech function.
Try FineVoice for Free
Powerful real-time voice changer for tuning your voice in gaming, streaming, and chatting. It comes with various voice & sound effects and supports creating custom voice. Get it for free.