Do you love Elmo, the cute and friendly red monster from Sesame Street? Have you ever wondered how to imitate his unique voice and laugh? Do you wish you could make your own Elmo voice and have fun with it?
In this article, we will introduce you to FineShare FineVoice, the best Elmo voice generator. And we will show you how to use it, what features it offers, and some FAQs about Elmo.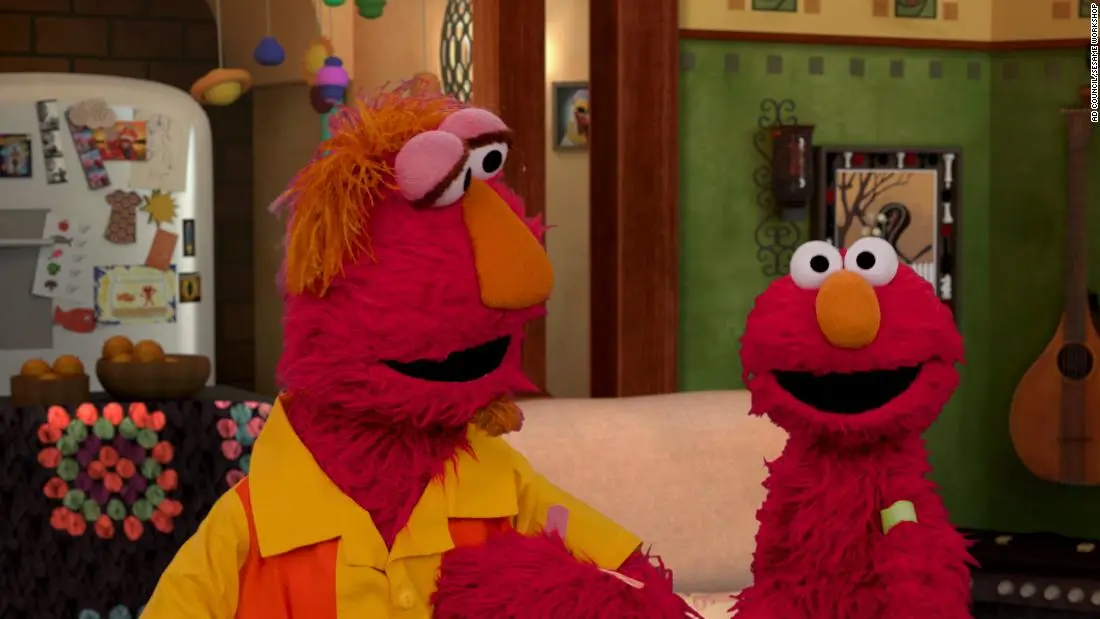 Who is Elmo and Who Provides Elmo's Voice?
Elmo is a well-known character from the children's television show Sesame Street. He is a small, red monster with a high-pitched voice and an infectious laugh. Elmo is known for his childlike innocence, curiosity, and his catchphrase, "Elmo loves you!"
Elmo made his first appearance on Sesame Street in the early 1970s. However, he didn't become a prominent character until the mid-1980s when puppeteer Kevin Clash took over as Elmo's voice actor and puppeteer. Clash brought Elmo to life with his distinctive high-pitched voice and energetic performance.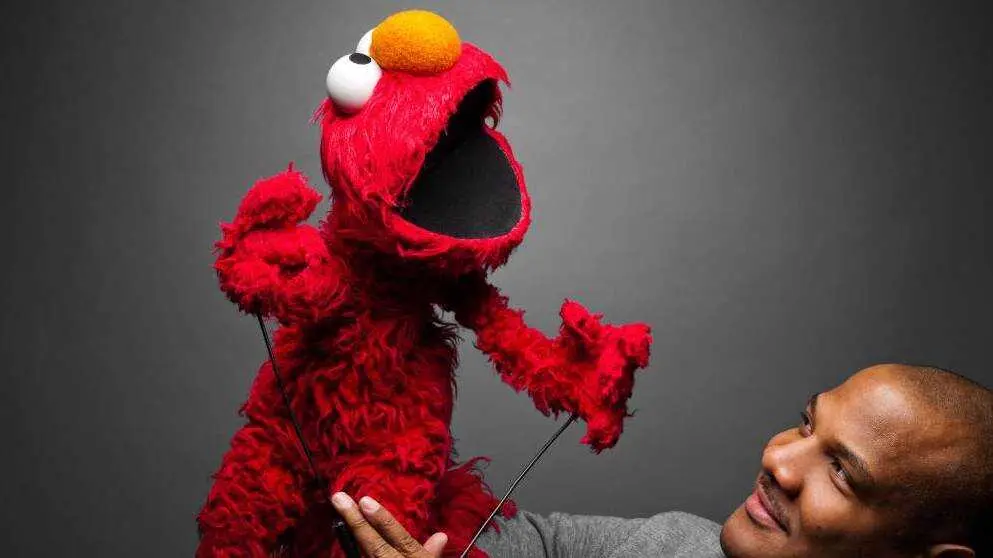 Famous Elmo Quotes or Catchphrases
Elmo is known for his adorable and endearing catchphrases on Sesame Street. Here are some popular Elmo quotes and catchphrases.
"Elmo loves you!"
"Elmo's World!"
"Elmo wants to know!"
"That tickles, Elmo!"
"Elmo's thinking."
"Elmo has a question."
"Elmo's so happy!"
"Elmo's got a friend in you."
"Elmo's excited!"
"Elmo wants to play!"
You may also want to read: Embrace the Brilliance of Doctor Who Quotes.
Best Elmo Text to Speech Tool: FineShare FineVoice
FineShare FineVoice is an amazing Elmo voice generator that can convert any typed text into the voice of Elmo using artificial intelligence and machine learning.
FineVoice can create realistic and natural-sounding voices for over 40 languages and 220+ different voices and accents. You can use them to create fun and engaging audio messages, stories, podcasts, or videos with Elmo's voice.
With FineVoice, you can access over 5000 voice effects to spice up your voice and make it sound amazing. You can choose from a wide range of celebrities such as the legendary Morgan Freeman, the pop star Taylor Swift and more, cartoon characters such as the hilarious Squidward, the iconic Mickey Mouse, and more, animals like loyal dogs, chirpy birds, and more, robots like the heroic Optimus Prime, the sinister HAL 9000, and many more.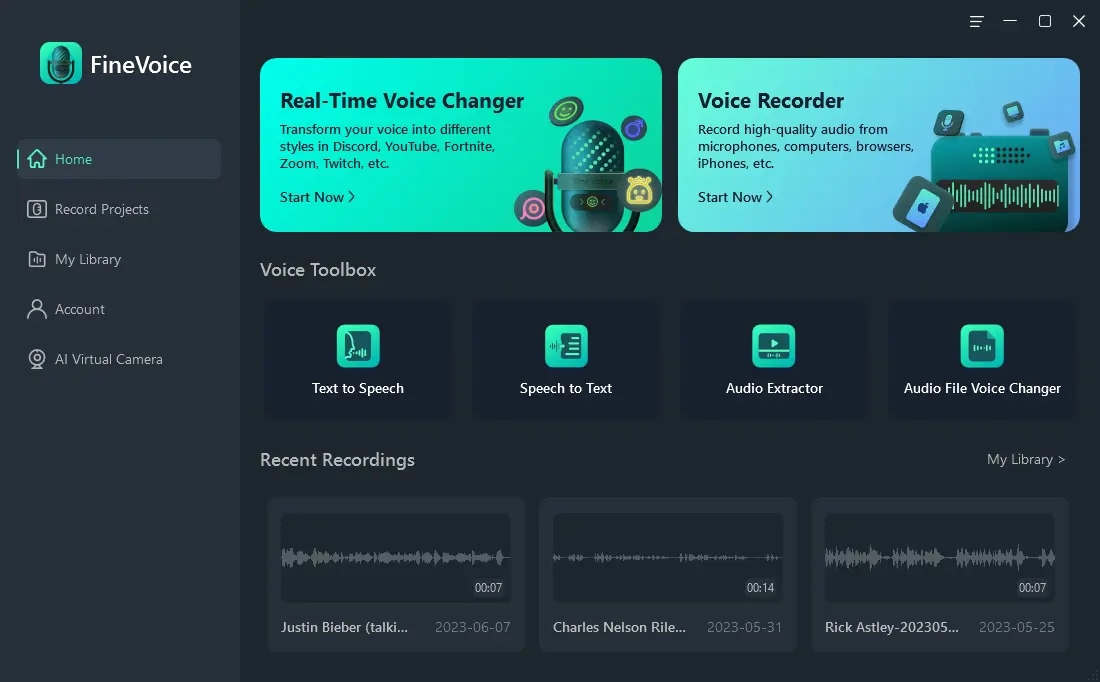 Additionally, FineShare FineVoice is a fun and easy way to change your voice in real-time. You can sound like Elmo, Cookie Monster, or anyone you want.
Feature Highlights:
Simple and intuitive interface
Excellent Elmo text to speech generator
Generate lifelike voiceovers for 5000+ popular characters
Support over 40 languages in 200+ voices
Real-time Elmo voice changer
Numerous sound effects, voice effects, and soundboards
Quickly transcribe your conversations, Zoom meetings, and interviews
Record high-quality audio
Extract audio files from videos and save them in different formats
Related article: The 2 Best Garfield Text to Speech Tools You Need to Try Now.
How to Use FineShare FineVoice to Make Elmo's Voice?
Using FineVoice to create Elmo's voice is a simple and enjoyable process. You can just follow these simple steps.
Step 1: Download and install FineVoice.
Step 2: Launch FineVoice and select Text to Speech from the main window.
Step 3: Type or paste the text you want to turn into Elmo's voice in the input box.
Step 4: In the AI Engine, choose Role TTS, and then select the appropriate Language.
Step 5: Choose Elmo from the Voice menu.
Step 6: Click Convert Now to listen to the generated audio.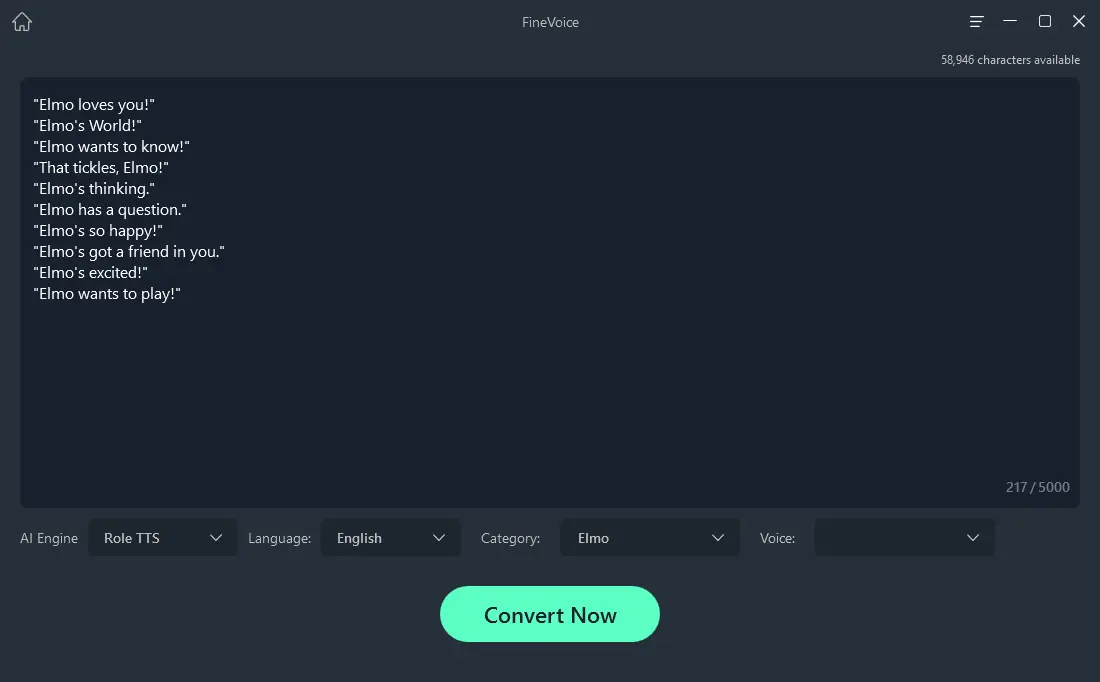 Step 7: You can click the View button to the audio files on your computer. And you can also find them in My Library in FineVoice.
Don't miss: How to Sound Like Pony with My Little Pony Text to Speech Tool.
Conclusion
How easy and fun it is to create Elmo's voice with FineVoice! You can make Elmo say anything you want, from jokes and stories to songs and poems. You can create fun and engaging audio content with Elmo's voice for yourself or others. You can surprise your friends and family with personalized voice messages from Elmo.
So, don't wait any longer! Download FineVoice now and let's make the world a brighter place with the power of Elmo's voice. Happy voice generating!
FAQs about Elmo, the Adorable Red Monster From Sesame Street
Is Elmo a Boy or a Girl?
Elmo is portrayed as a male character on Sesame Street. Although he is often referred to with male pronouns, Elmo's gender is not explicitly discussed on the show, and the character is generally seen as gender-neutral.
Why is Elmo so Popular?
Elmo's popularity stems from his relatability and his ability to connect with young children. His friendly and playful nature, coupled with his distinctive voice and infectious laugh, has made him a beloved character among kids and adults alike.
Are there any Elmo Merchandise or Toys Available?
Yes, there is a wide range of Elmo merchandise and toys available for purchase. These include plush toys, books, clothing, DVDs, games, and more. Elmo's popularity has led to a significant presence in the toy market.