Today, we will tell you everything about Fake You Text to Speech. Let's learn about what is FakeYou, and how it uses deep fake text to speech tech to say stuff with your favorite voices. Then we will go through tips to fix FakeYou not working and give you the best FakeYou alternatives.
Hope this post will help you to use FakeYou text to speech more quickly and easily.
What Is FakeYou? FakeYou Deep Fake Voice Generator Review in 2023
Have you tried anything about voiceover or dubbing? If you are a YouTuber or TikToker, you must know the in-built text-to-speech features, which help you generate voiceovers for your videos. But these features don't have much flexibility.
But with FakeYou, you can make voiceovers with the 3100+ voices it offers. From high-quality speeches in English, Spanish, Arabic, and German to funny audio with Duke Nukem, Donald Trump's voice to prank your friends, Fake You deep fake text to speech helps you work efficiently and make fun.

Why is FakeYou So Popular?
3100+ voices including voices of cartoon characters, politicians, and superheroes
Free for unlimited generations and all voices
Wav2Lip feature to to generate lip-sync videos
Pros:
Free to access all voices
Social media sharing is easy and quick
Cons:
Slow processing speed for free users
Up to 12 seconds tts generation for free users
With ads
How to Use FakeYou Text to Speech (Easy Guide)
Let's move on to the easy guide for Fake You text to speech.
Step 1: Visit the Fake You website.
Step 2: Choose a voice you like from the list.
Step 3: Enter the text you want this voice to say. Click Speak to generate text to speech.
Step 4: Wait for a moment, and the generated result will show under Session TTS Results.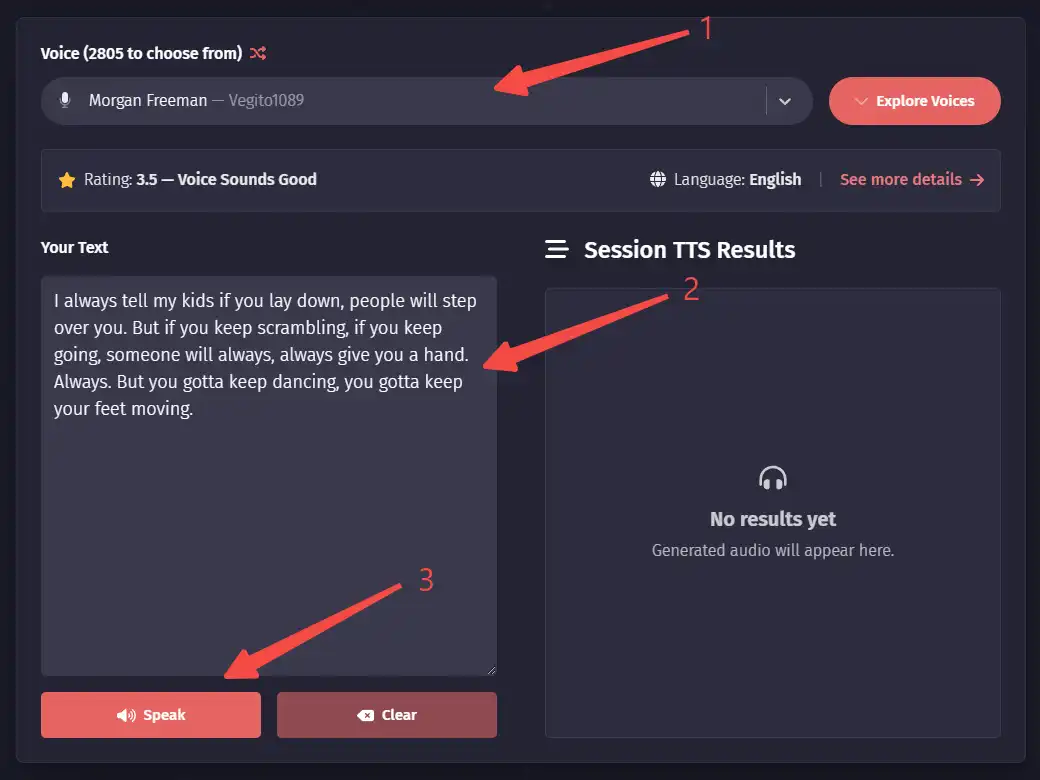 Next, we will introduce the 2 best FakeYou deep fake voice generator alternatives to meet all your voice generation needs.
FineShare FineVoice – Best FakeYou Text to Speech Desktop Alternative
FineVoice is an all-in-one AI voice changer working on Windows PC. It offers various voice tools including a voice generator, audio transcriber, audio extractor, and audio file voice changer.
FineShare FineVoice text-to-speech offers 200+ realistic voices in 40+ languages and 500+ funny voices. You can use it to generate professional voiceovers for your videos, books, or other content. Or generate cartoon characters, celebrities, and anime voices to make fun and prank your friends.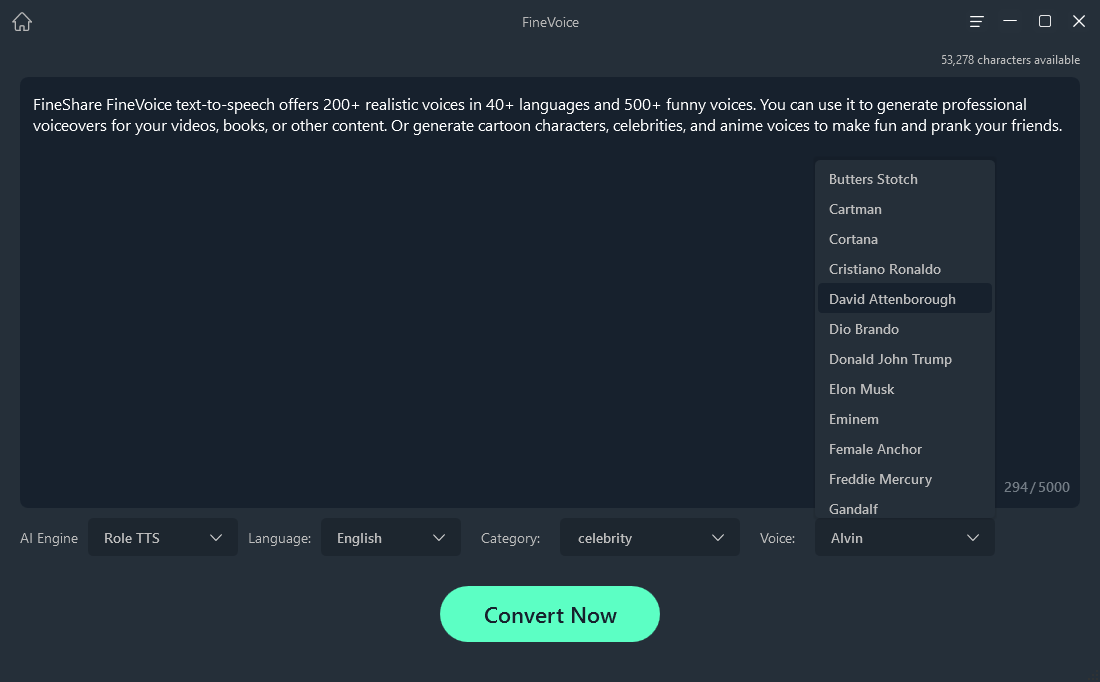 Pros:
Free of ads
Running stable and easy to use
comprehensive integration with all voice capturing platforms.
Cons:
New product with limited users
Not for MacBook
How to use this free FakeYou text to speech alternative:
Step 1. Install FineVoice, and open Text to Speech.
Step 2. Type or paste any text you want to convert from text to speech.
Step 3. Select the TTS engine and the language, category, and funny voice you want FineVoice to speak with.
Step 4: Click Convert Now to generate audio based on the text. Once finished, you can preview the audio or view it in the local file.
Maybe the character voice you want to generate is not natural, don't worry. You can use FineVoice to create custom voices with 28 audio effects.
Uberduck.ai – Best FakeYou Text to Speech Online Alternative
Uberduck is an online AI voice platform. It provides voice tools including text-to-speech. Like FakeYou, you can synthesize speech with the voice from memes, movies, TV shows, and other mass media.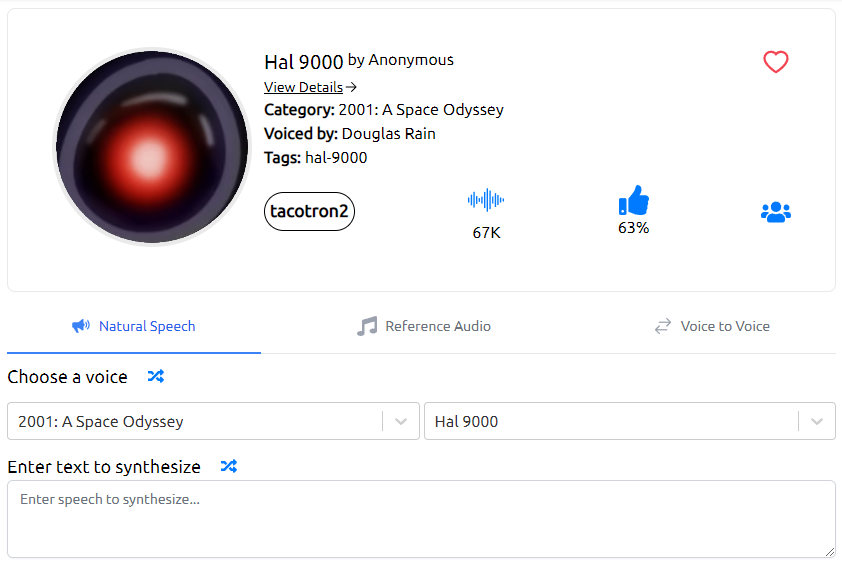 Pros:
5000+ voices for free users
Easy to use
Faster generation speed than FakeYou
Various audio tools
Cons:
Limited saving audio for free users
Confusing voice classification
Difficult to find the voice you need
Follow the steps to use this Fake You text-to-speech alternative.
Step 1: Visit Uberduck.ai.
Step 2: Choose a voice and type the text in the box.
Step 3: Sign up to Synthesize the text.
Step 4: Find the result under Synthesize, download the audio, or export it as a video.
Want to find more FakeYou voice generator alternatives? Here are 5 places:
AItoolMall: It's one of the best AI tools directory. Just enter "text to speech" or "voice generator", and then you will find more websites like FakeYou.
Futurepedia: This is the most popular AI website where you can find AI voice generators.
Future Tools: This website collects all the hottest and newest AI tools. Just check the Text-to-speech category on its homepage to find FakeYou alternatives.
Best Tips to Fix FakeYou Text to Speech Not Working
Now you know how to use FakeYou text-to-speech and the 2 best FakeYou Text to Speech alternatives. But sometimes you may encounter problems when accessing fakeyou.com.
Why is fakeyou.com not working? How to fix the problem? Read on, in this part, we will give you the best tips to fix this problem.
#1. Tip for Webpage Address Related
Check if you have visited the correct FakeYou URL (https://fakeyou.com/).
Try the old URL (https://vo.codes/) as well.
#2. Tip for Browser Related
Close the tabs and create a new one. Enter fakeyou.com to load up the page.
Close the browser and restart it. Reopen fakeyou.com.
Open the private mode or try to load up fakeyou.com on a new incognito tab.
Close the browser extensions. Disable them on fakeyou.com.
Change the browser. Try to open FakeYou on other browsers.
#3. Tip for Network Related
Check your Internet connection.
Use a VPN to bypass the ISP's blocking of the website.
#4. Tip for Anti-virus Software
Exit or uninstall the anti-virus software you are using
Conclusion
In summary, when it comes to finding the best text to speech software or websites, there are several options available. While FakeYou provides a wide range of voices and features, some users may prefer a more reliable and secure platform.
With numerous funny voices and professional AI voices, FineVoice and Uberduck are great FakeYou text-to-speech alternatives with better flexibility and reliability.
Try FineVoice for Free
Powerful text-to-speech tool with 220+ lifelike voices in 40 languages and numerous funny meme voices to generate voiceovers for Work & Leisure. Bring your content to life with FineVoice at any time. Get it for free.