Today, we will tell you everything about the FakeYou website from what is FakeYou to how to use FakeYou, from tips to fix FakeYou not working to the best FakeYou alternatives – Uberduck and FineVoice.
Hope this post will help you.
What Is FakeYou?
Did you do voiceovers? Do you know you can dub your videos with other's voices? FakeYou is an online website specializing in text-to-speech. It was formerly known as Vocodes.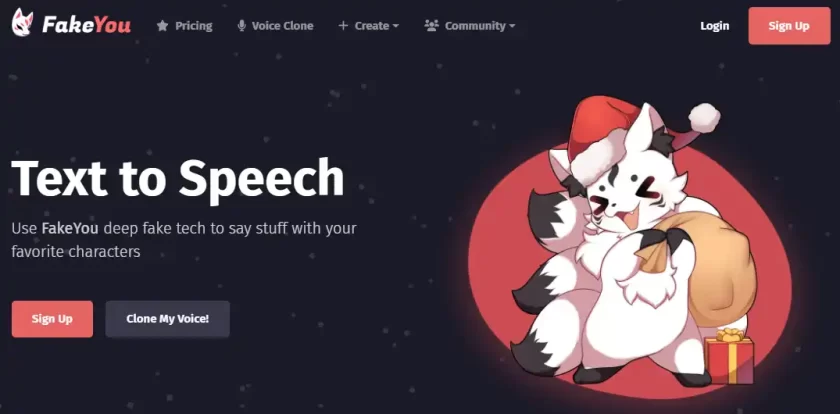 Why is FakeYou so popular? FakeYou provides 2700+ voices. You can make cartoon characters do voiceovers. You can let American presidents say everything. You can get two villains from two different superhero movies to become friends in your video.
One highlight of FakeYou text-to-speech is that it is free for unlimited generations. You don't need to upgrade to unlock the voices.
Another pro of FakeYou is that you can generate lip-sync videos of up to 12 seconds without upgrading. FakeYou provides 32 video templates based on Wav2Lip.
You can use FakeYou to generate audio with characters, and then upload the audio file to make a lipsynced video. Share with your friends or post it on TikTok or YouTube to inspire joy.
A Detailed Guide on How to Use FakeYou Text to Speech
In this post, we will give you a detailed guide on how to use the text-to-speech feature on FakeYou.
Step 1: Visit the FakeYou website (https://fakeyou.com/).
Step 2: Scroll down to the Create TTS section.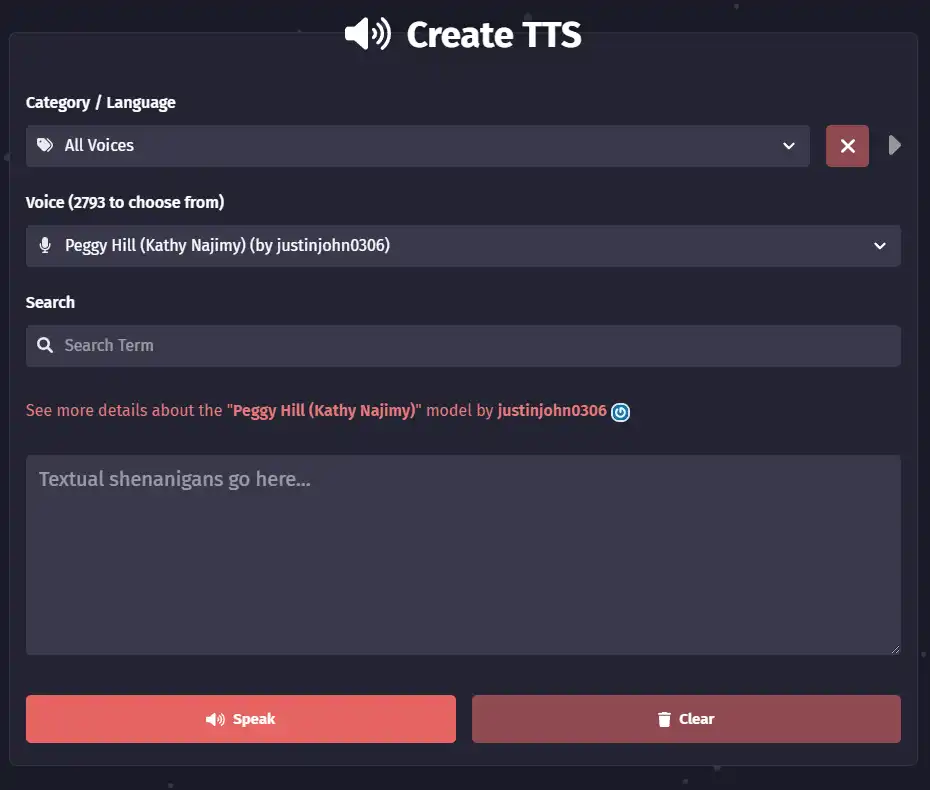 Step 3: Decide who you want him/her to say stuff. And select the Category / Language from the dropdown menu. You may need to select a subcategory based on different categories.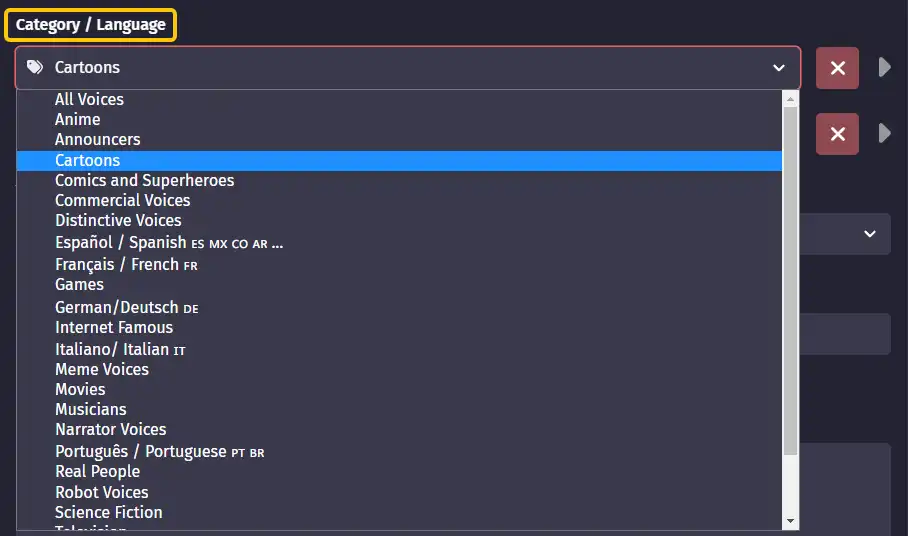 Then all voices under the category will be shown on the dropdown menu of Voice. Choose the character.

(You can also type the character name in the Search box to retrieve the character.)
Step 4: Type or paste the text you want to say with the character in the textbox. And then click the Speak button to start the conversion process.

For free users, the TTS is up to 12 seconds of audio. And your TTS is pending for the processing priority of a registered free user is the lowest.
Step 5: Scroll down to the Session TTS Results section to check the generated results. All TTS will be listed under there. You can play the audio to preview it.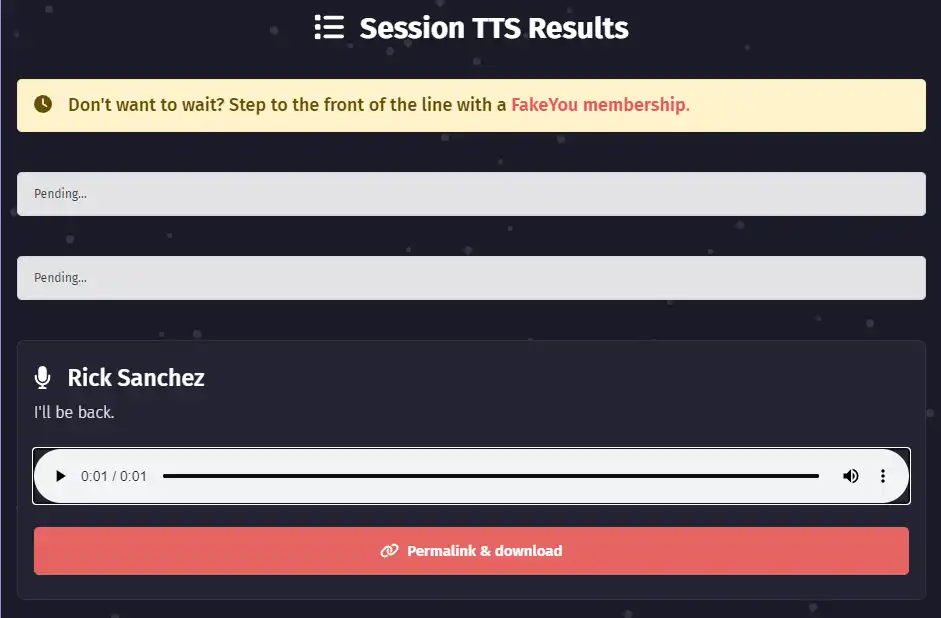 Step 6: Click the Permalink & download button. You will be on a new webpage. There you can check the TTS detailed information. And it's convenient to share or download the audio in MP3 format.
That's all about how to use FakeYou text-to-speech.
2 Best FakeYou Alternatives Desktop and Online
Next, we will introduce the 2 best FakeYou alternatives to meet all your voice generation needs. The first one is a voice-changing software – FineVoice. The voice changer provides a text-to-speech tool with 30+ languages and voices.
The second one is an online AI voice platform – Uberduck. It provides voice tools including text-to-speech. Like FakeYou, you can synthesize speech with the voice from memes, movies, TV shows, and other mass media.
#1. FineVoice
FineVoice It's a one-stop digital voice solution working on Windows PC.
The software provides a real-time voice changer, which can be used to change your voice when gaming, meeting, streaming, or podcasting on Discord, Twitch, Zoom, or other voice chatting platform.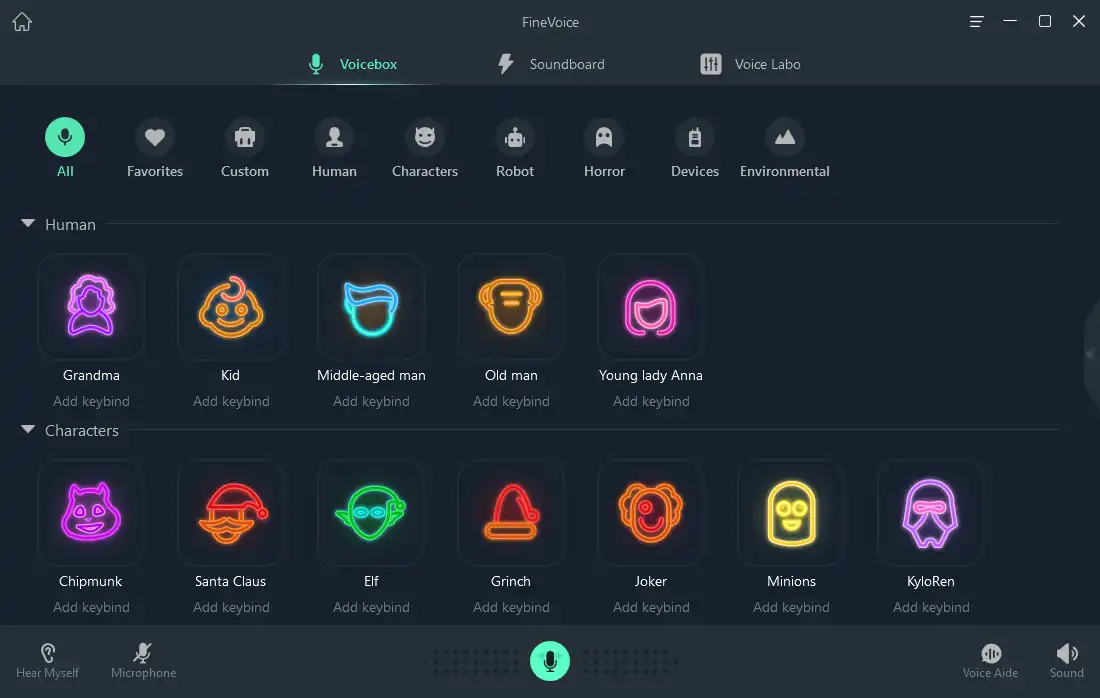 There are 30+ voice effects like Transformers and 200+ sound effects including a fart soundboard available in the real-time voice changer.
In this powerful voice processing software, you can also access a multitrack voice recorder, audio extractor, audio file voice changer, text-to-speech, and speech-to-text tools.
This text-to-speech tool offers a choice of over 40 languages from around the world. And you can choose the gender of a voice and the speed of the speech.
Let's take a look at how to use this powerful tool.
Step 1: Install FineVoice.
Step 2: Open Text to Speech.
Launch FineVoice and click the Text to Speech tab under Voice Toolbox.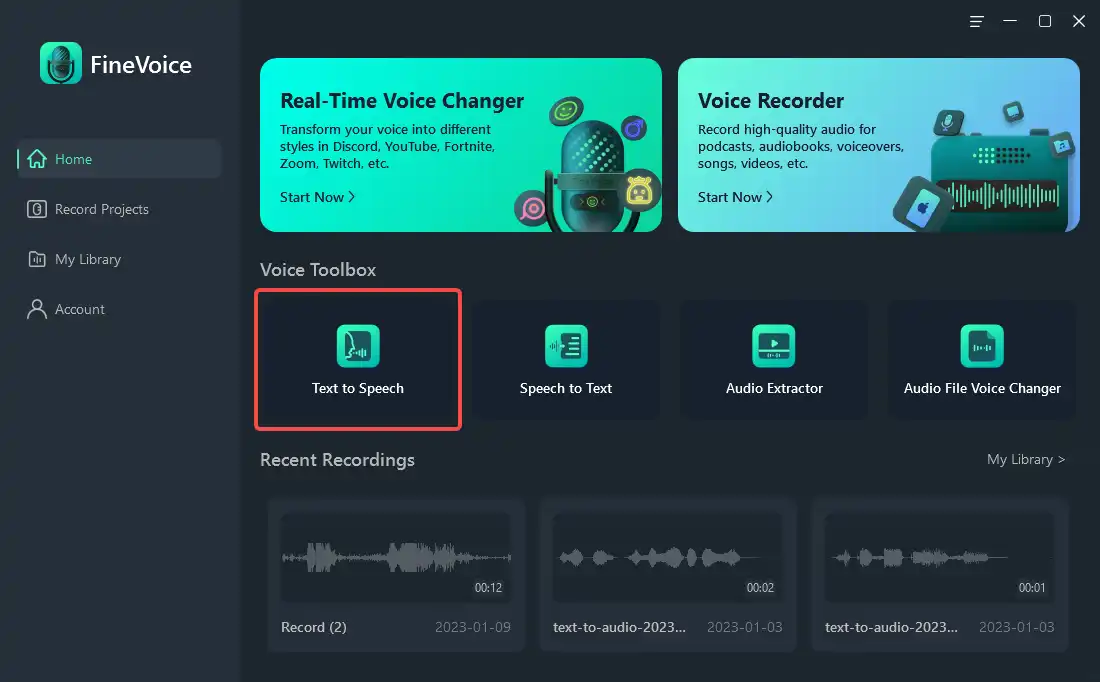 Step 3: Input text.
In the textbox, please type or paste any text you want to convert to audio.
Step 4: Select language and speed.
Select the language and accent you want FineVoice to speak with. And then choose a voice gender and speech speed.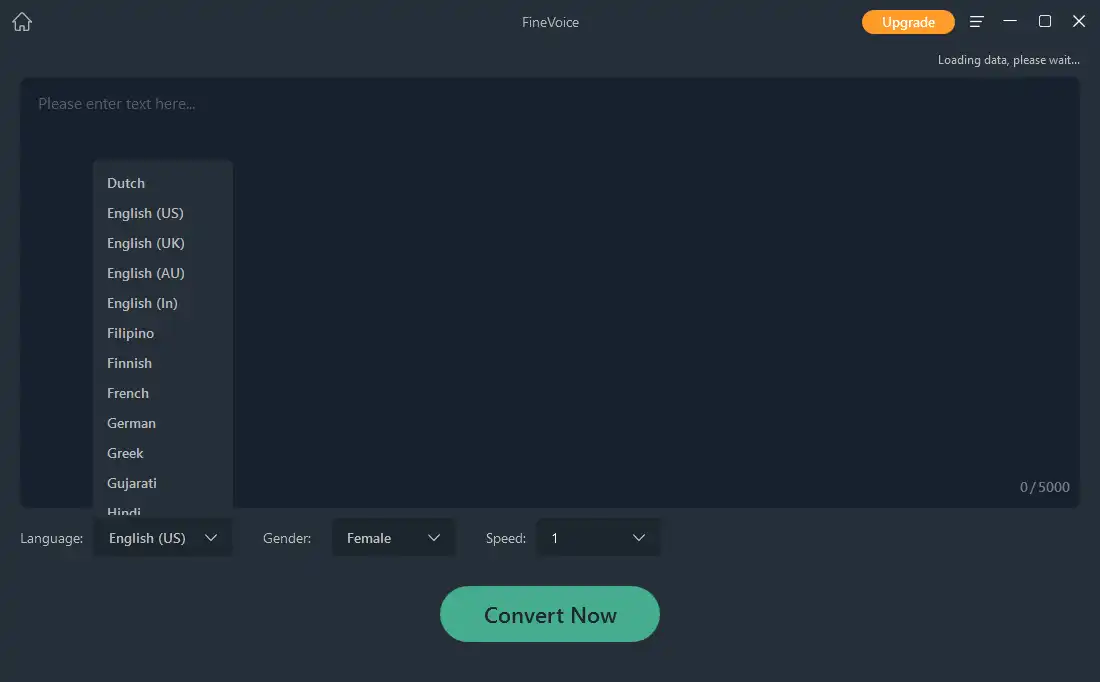 Step 5: Start converting.
Click Convert Now to generate audio based on the text. Once finished, you can preview the audio or view it in the local file.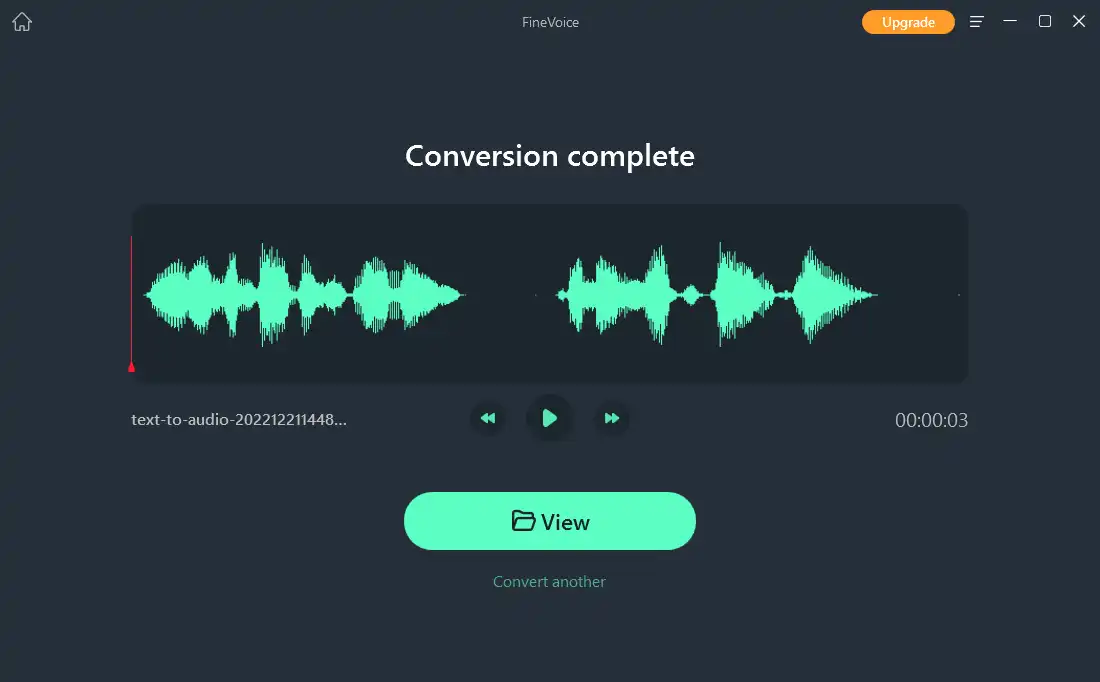 Now you know how to use the text-to-speech tool in FineVoice. Use it to generate voiceovers for your audiobooks or videos.
#2. Uberduck
If you are interested in an online text-to-speech website like FakeYou, Uberduck is a perfect option for you.
Uberduck has more voices than FakeYou. But the classification of voices is not intuitive. Uberduck can work better when you already have the voice name in mind.
You don't need to subscribe to pricing plans to use all 4000+ voices. But if you want to save the generated audio on Uberduck, a subscription is required for more than 5 saved audio clips.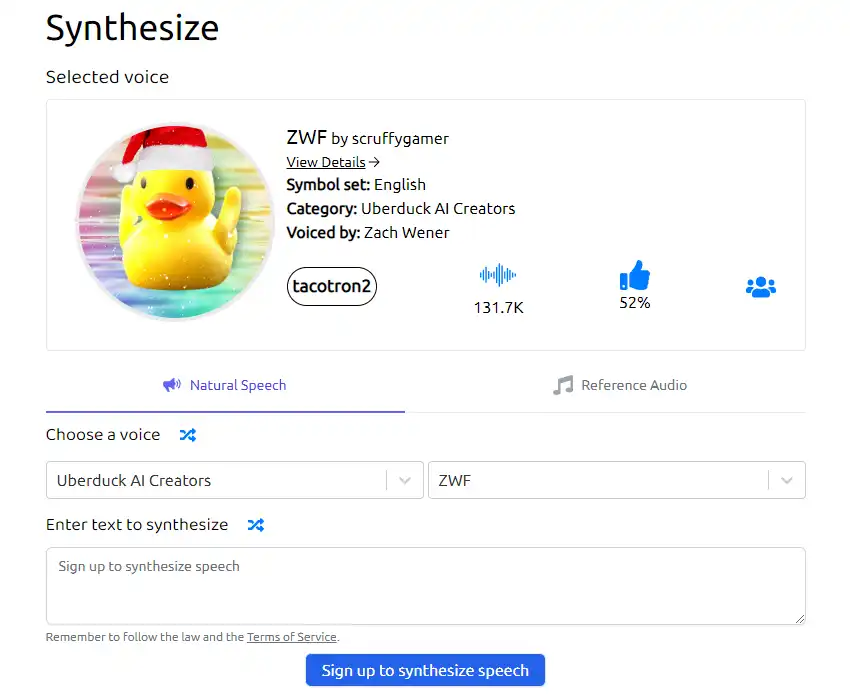 Now, take a look at how to use Uberduck text-to-speech. It's similar to that of FakeYou.
Step 1: Visit the Uberduck text-to-speech webpage (https://app.uberduck.ai/speak#mode=tts-basic).
Step 2: Look at the two boxes under Choose a voice. The left one shows the names of the shows. The right one shows the names of the characters.
Click on the box and type a character name directly to search for a voice.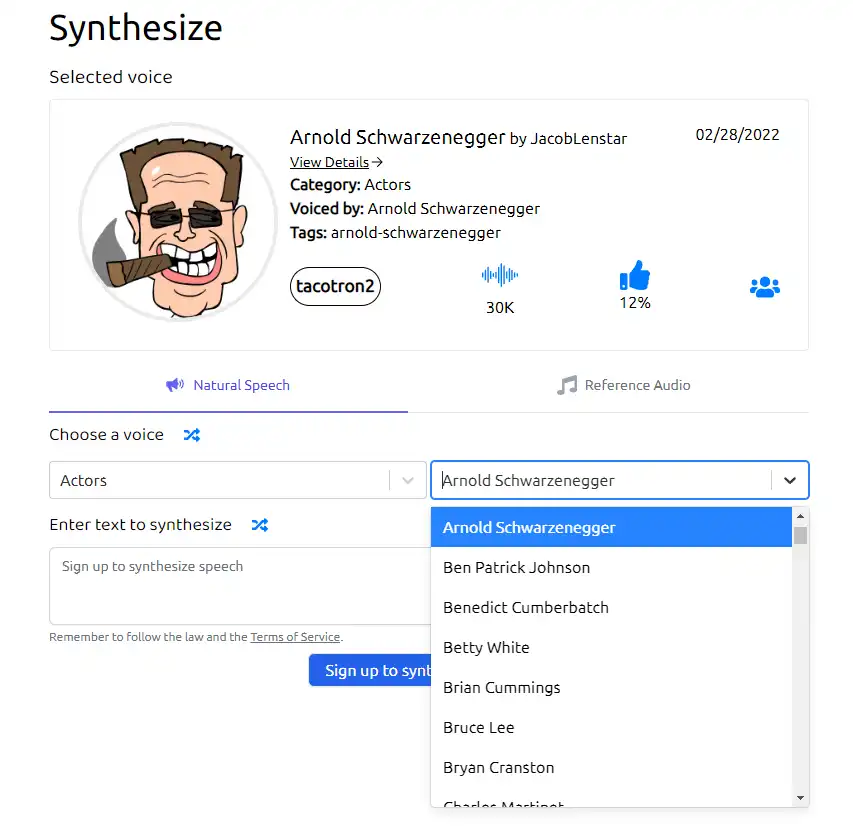 Step 3: Type the text in the box under Enter text to synthesize. You need to sign up to synthesize the text. Then click the Synthesize button.
Compared with FakeYou, the converting speed of Uberduck is far faster.
Step 4: After the generation finishes, the result will be shown under the Synthesize button.
You will see the waveform of the audio. You can play to preview if it fits your need. And with the Actions button, you can download the audio in MP3 format. And you can export the audio as a video and download the MP4 file.
As you know, saving audio is available as well but with a 5-number limit.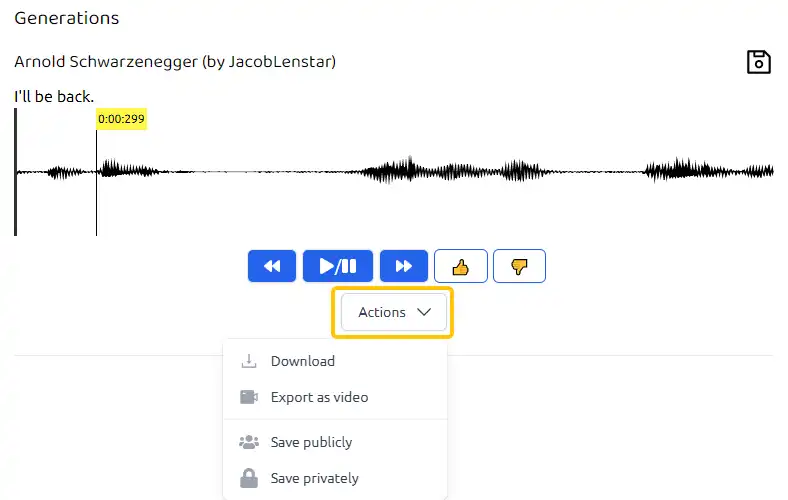 Tips to Fix FakeYou Text to Speech Not Working
Now you know how to use FakeYou text-to-speech and the 2 best FakeYou Text to Speech alternatives. But sometimes you may encounter problems when accessing fakeyou.com.
Why is fakeyou.com not working? How to fix the problem? Read on, in this part, we will give you the best tips to fix this problem.
Tip 1: Website Related
Check if you have visited the correct FakeYou URL (https://fakeyou.com/).
Try the old URL (https://vo.codes/) as well.
Tip 2: Browser Related
Close the tabs and create a new one. Enter fakeyou.com to load up the page.
Close the browser and restart it. Reopen fakeyou.com.
Open the private mode or try to load up fakeyou.com on a new incognito tab.
Close the browser extensions. Disable them on fakeyou.com.
Change the browser. Try to open FakeYou on other browsers.
Tip 3: Network Related
Check your Internet connection.
Use a VPN to bypass the ISP's blocking of the website.
Tip 4: Anti-virus Software
Exit or uninstall the anti-virus software you are using
Conclusion
We hope we can help you if you have any questions about FakeYou text-to-speech. In this post, we introduced FakeYou to you. You must know how to use FakeYou according to the detailed guide.
For FakeYou not working, we also gave you the 2 best FakeYou alternatives and some tips to fix it.
Whether you want to generate voice in different languages or synthesize text with character voices, the two great tools can help you. Get wonderful voiceovers, prank your friends and have fun.
Try FineVoice for Free
Powerful real-time voice changer for tuning your voice in gaming, streaming, and chatting. It comes with various voice & sound effects and supports creating custom voice. Get it for free.