Do you love Garfield, the lazy and witty orange cat who always makes you laugh with his antics? Have you ever wished you could make him say whatever you want, or hear him rap, sing, or tell jokes?
In this article, we will show you the top 3 Garfield text to speech tools that you can generate Garfield's voice from any text.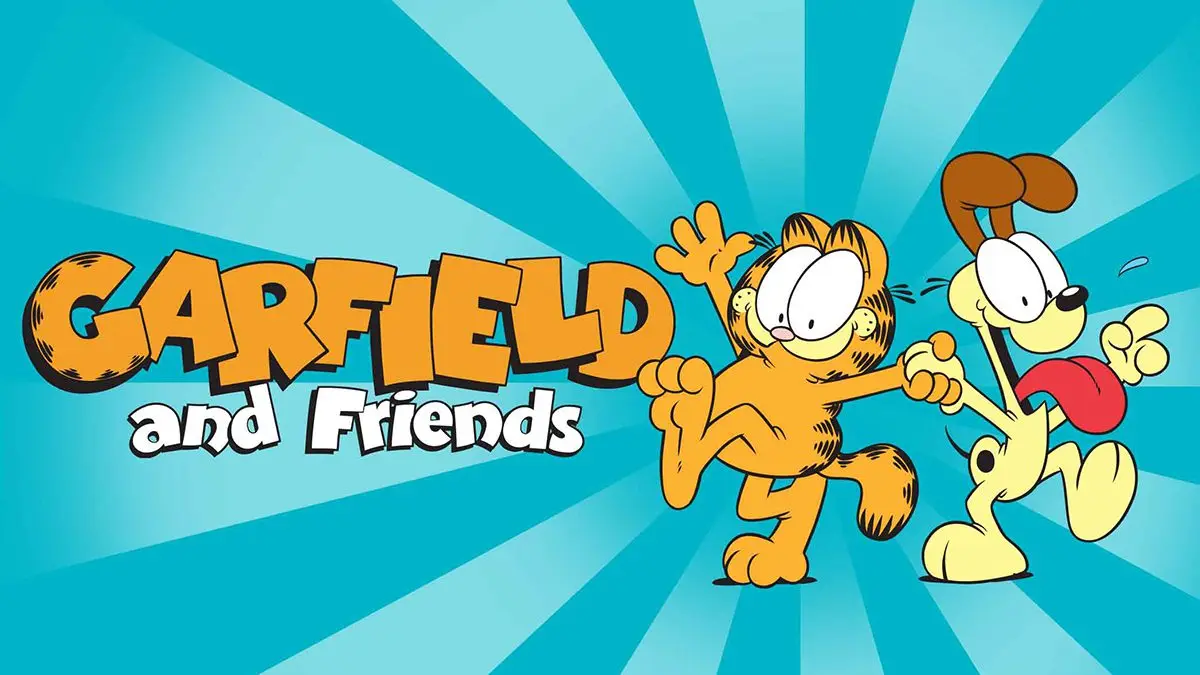 Garfield and Garfield Voice Actor: Everything You Need to Know
Who is Garfield?
Garfield is one of the most popular and beloved comic characters of all time. He is a fat, lazy, orange cat who loves lasagna, hates Mondays, and often annoys his owner Jon and his dog friend Odie. He was created by Jim Davis in 1978 and has since appeared in thousands of comic strips, books, TV shows, movies, and merchandise.
Learn more about Garfield Voice Actors
But do you know who is behind Garfield's voice? Garfield has been voiced by different actors over the years, depending on the medium and the version of the character. Here are some Garfield voice actors as follows.
Lorenzo Music: He was the first and most famous voice of Garfield in animation. He also voiced Garfield in several commercials and video games. He had a distinctive raspy voice that matched Garfield's dry sense of humor.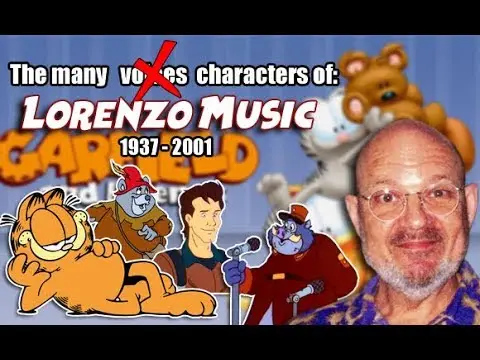 Bill Murray: He was the voice of Garfield in two live-action movies that feature a computer-animated Garfield interacting with real actors and animals. He had a sarcastic and witty voice that suited Garfield's personality.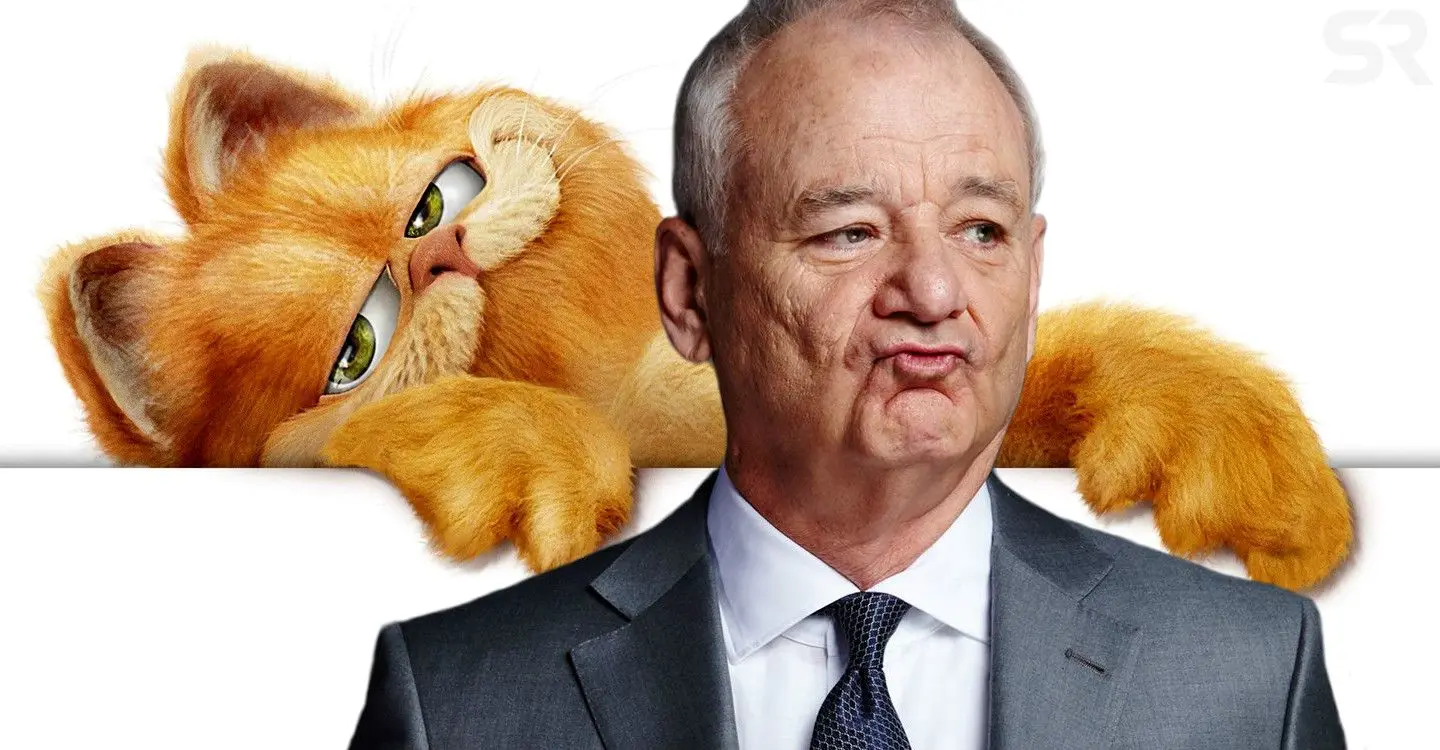 Frank Welker: He is the current voice of Garfield in animation. He has a versatile voice that can mimic many sounds and characters.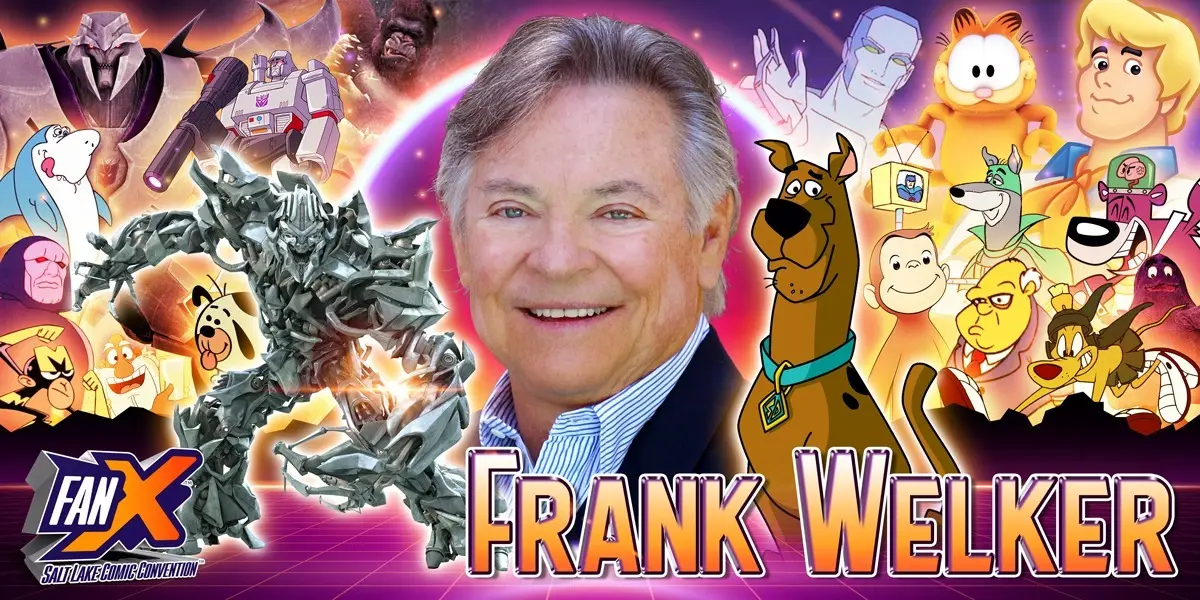 Some of Garfield's Catchphrases and Quotes
Garfield has a repertoire of memorable catchphrases and quotes that have delighted fans throughout the years. Here are some of Garfield's iconic lines.
"Love me, feed me, never leave me."
"When the lasagna content in my blood gets low, I get mean."
"I'm not overweight. I'm undertall."
"Eat your heart out, [person]."
"I hate Mondays."
"I'm not messy. I'm organizationally challenged!"
"Big fat hairy deal."
"Who ever should be dragged out into the street and shot."
"Diet is 'die' with a 't.'"
"I never met a lasagna I didn't like."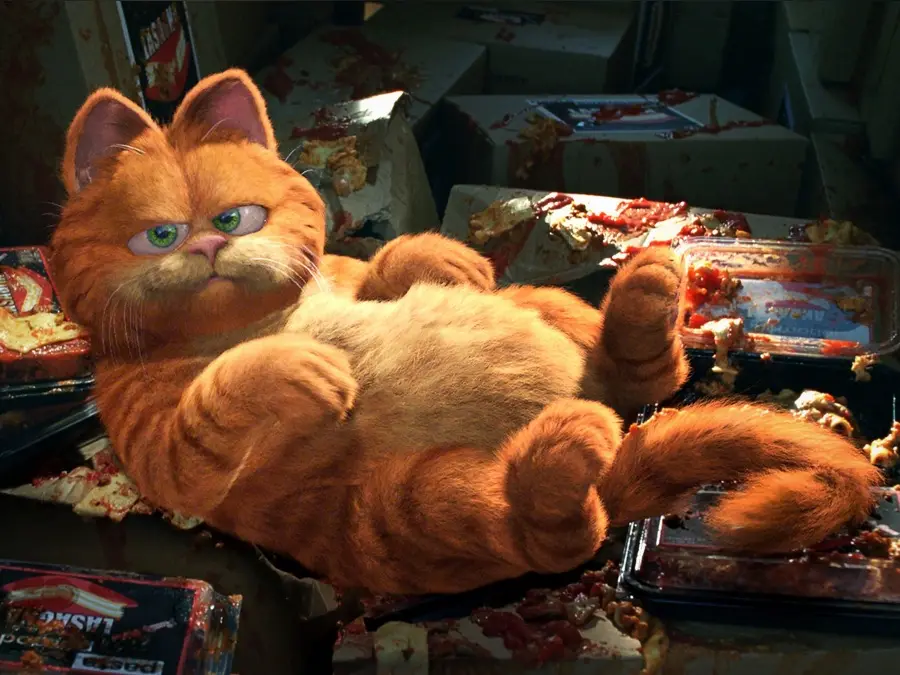 Don't miss: Embrace the Brilliance of Doctor Who Quotes.
2 Best Garfield Text to Speech Tools
FineShare FineVoice
Have you ever wished you could convert text to Garfield's voice with just a few clicks? Now you can create realistic and lifelike voice-overs for your videos, podcasts, books, and presentations without hiring voice actors or buying expensive recording equipment. That's exactly what the FineShare FineVoice Garfield voice generator can do for you.
FineVoice supports more than 40 languages, including Chinese, French, German, Spanish, Korean, and more, ensuring that your content reaches a global audience. You can also select people of different genders, ages, and accents to generate high-quality speech. You can even choose from 5,000 celebrity and cartoon character voices, such as those of cartoon characters like Garfield, Sonic, Homer Simpson, and Bugs Bunny, or celebrities like Morgan Freeman, Taylor Swift, Bill Gates, and more.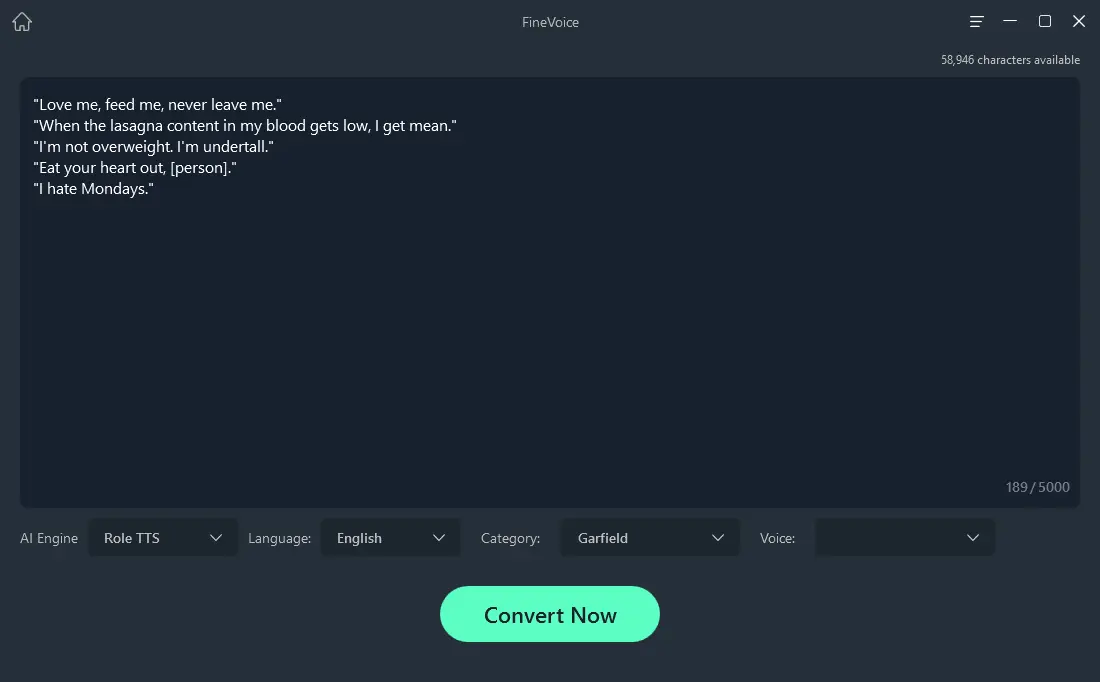 FineVoice can also change your voice into Garfield's voice in real-time. You can also use this voice on different platforms, such as Zoom, Google Meet, Twitch, etc. You can also use FineVoice in online meetings, live streaming, podcasts, video production, chat, games, and other scenarios.
You may also want to read: How to Sound Like Pony with My Little Pony Text to Speech Tool.
Uberduck.Ai
Are you looking for an amazing online AI voice platform that can provide natural, expressive voices for any audio application? Look no further than Uberduck.Ai.
With Uberduck.Ai, you can find the perfect voice for your project. You can choose from many lifelike voices, including cartoon characters like Garfield, Squidward, and Mickey Mouse, and celebrities like Abraham Lincoln, Obama, and Snoop Dogg. You can also use these AI voices to make music, voiceovers, and raps.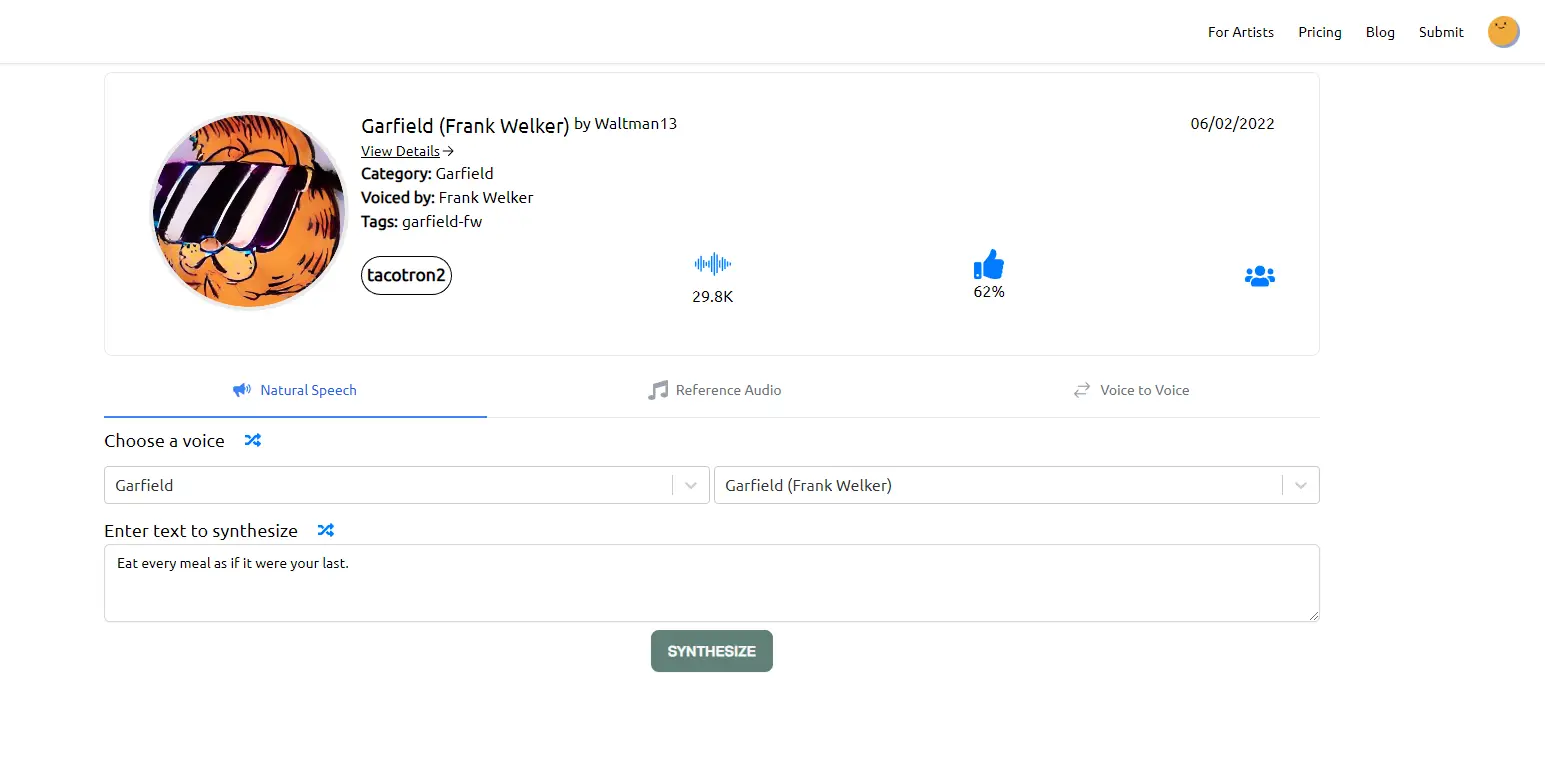 Don't miss: Create Authentic Mario Voice with 3 Best Mario Voice Generators.
Conclusion
With the power of 2 best Garfield text to speech tools at your fingertips, there's no limit to the creative possibilities that await you. Whether you're an animator, content creator, or simply a Garfield enthusiast, these tools will bring your projects to life with Garfield's unmistakable voice.
Download FineVoice today and let Garfield take center stage in your creative endeavors!
FAQs You May Want to Know about Garfield
What are Some of the Spin-offs and Adaptations of Garfield?
Garfield has spawned many spin-offs and adaptations over the years, such as:
Animated TV specials: Here Comes Garfield (1982), A Garfield Christmas Special (1987), and Garfield's Halloween Adventure (1985).
Animated TV series: Garfield and Friends (1988-1994), The Garfield Show (2008-2016).
Live-action movies: Garfield: The Movie (2004), Garfield: A Tail of Two Kitties (2006).
Does Garfield Have any Merchandise?
Yes, Garfield has a wide range of merchandise available, including books, toys, clothing, and collectibles. The character's popularity has led to the creation of various licensed products featuring Garfield's image and catchphrases.
Is There a Garfield Theme Park or Attraction?
No, but there are some places with Garfield rides or mascots, such as:
Kennywood Park: A park in Pennsylvania with a 3D dark ride called Garfield's Nightmare.
Silverwood Theme Park: A park in Idaho that had Garfield and Odie as mascots from 2001 to 2021 and a section called Garfield's Summer Camp.
Johnson Parks: A fictional park company that plans to open a Garfield-themed park in Indiana in 2023, but it is not official.