Do you remember how Goofy's iconic voice made you laugh out loud as a kid? Have you ever wished you could have your Goofy voice to bring joy and laughter to those around you? Well, the wait is over!
In this article, we will show you the best Goofy voice generator FineShare FineVoice, and how to use it to sound like Goofy. And we will also introduce Goofy and who voiced Goofy. Read on and get ready to have some fun!
Learn More about Goofy in Disney
Goofy is a beloved Disney character known for his distinctive voice, clumsiness, and humorous antics. He first appeared in 1932 in the animated short film Mickey's Revue and has since become one of Disney's most recognizable and cherished characters.
From 1939 onwards, Goofy took the lead in his series of short films, which gained popularity throughout the 1940s and early 1950s. Notably, two of these shorts, How to Play Football (1944) and Aquamania (1961), received Oscar nominations. After a brief hiatus from theatrical animation, Goofy made a comeback in 1983 with the heartwarming Mickey's Christmas Carol. His most recent appearance on the big screen was in 2007's How to Hook Up Your Home Theater, solidifying his status as a beloved character with a lasting presence in the world of animation.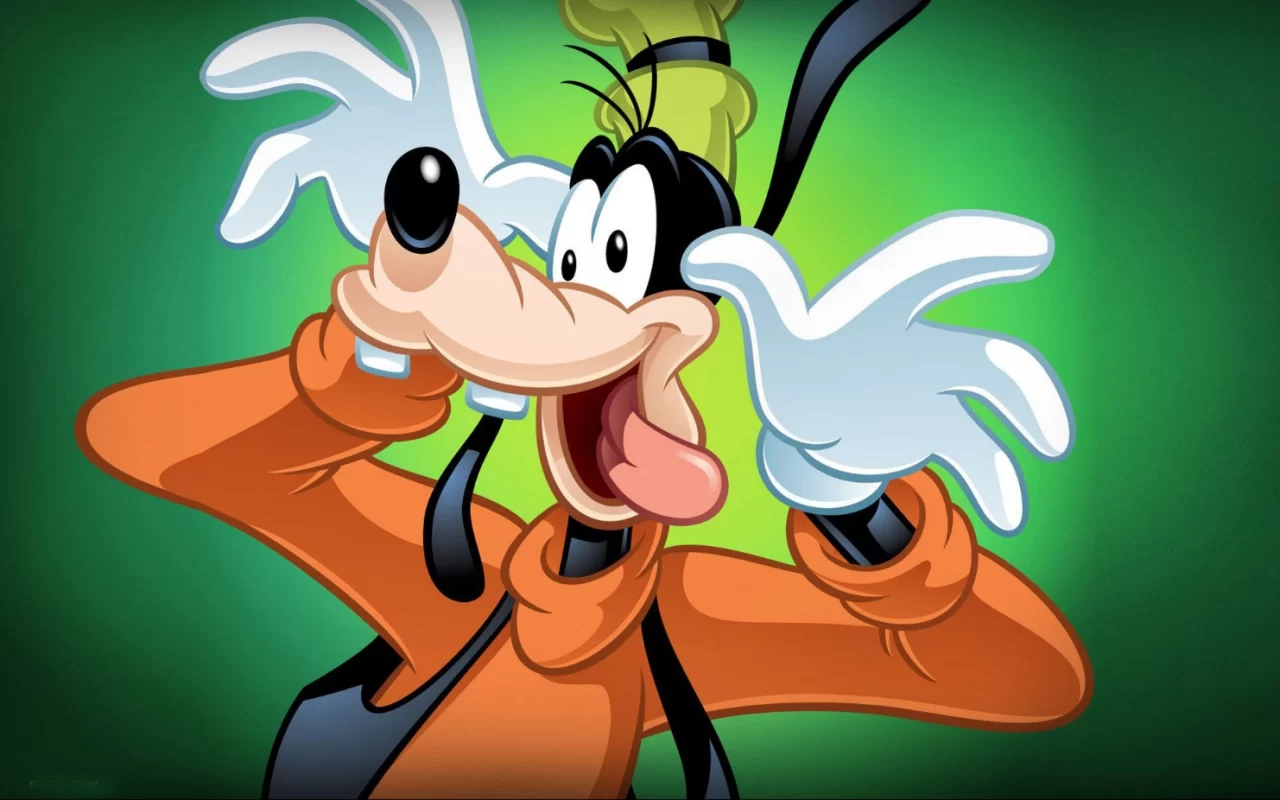 Who is Goofy's Voice Actor?
One of the key contributors to Goofy's enduring charm is the talented voice actor behind the character, Bill Farmer. Since the late 1980s, Farmer has been the iconic voice of Goofy, bringing the beloved character to life with his exceptional vocal talents.
Over the years, Bill Farmer has lent his voice to numerous Disney projects, including films, TV shows, video games, and theme park attractions. Beyond Goofy, Bill Farmer has also provided voices for other iconic Disney characters, such as Pluto (Mickey Mouse's faithful companion) and Horace Horsecollar.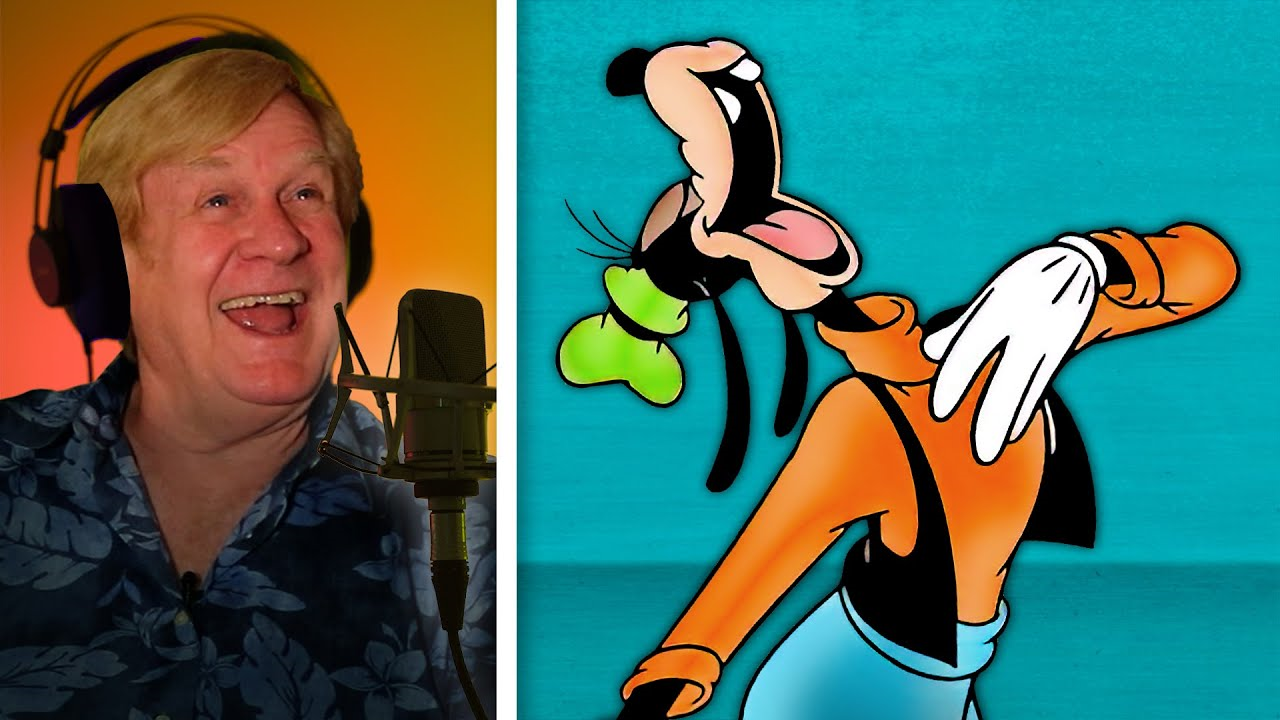 Best Goofy Voice Generator: FineShare FineVoice
Have you ever wondered what it would be like to sound like Goofy or any other cartoon character? FineVoice is a realistic AI Disney Goofy voice generator. You can use it for various purposes, such as creating voiceovers, podcasts, narrations, audiobooks, and more.
With FineVoice, you can bring beloved characters to life by using the appropriate voice. From iconic characters like Goofy, Mickey Mouse, Sonic, and SpongeBob to superheroes, princesses, and villains, you have a wide range of character-style voices to explore.
But that's not all. You can also use FineVoice to create celebrities' and famous movie characters' voices, including Morgan Freeman, Arnold Schwarzenegger, Ellen DeGeneres, Harry Potter, Iron Man, etc. You can also make any text speak in a natural and realistic voice in different languages and accents, such as Chinese, Russian, Spanish, French, and many more.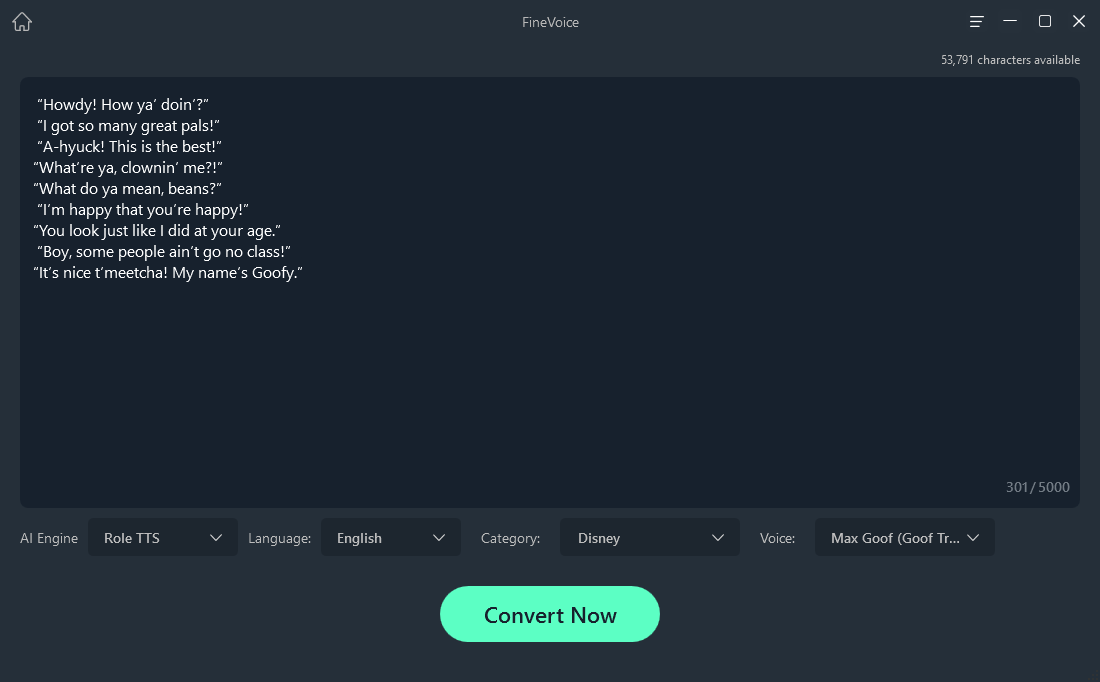 Features:
Easy and secure to use
Natural and realistic Goofy Voice Generator
Convert voice recording into text with fast and accurate results
Get the audio from any video file
Change your voice in real-time
High-quality voice recorder
Modify the voice of audio files with various effects
Make your custom effects with the Voice Labo feature
FineVoice is also a great Goofy voice changer because it's simple, fast, and fun. You can use this to have a prank call on your friends, make funny videos, or disguise your identity.
How to Sound Like Goofy with FineVoice Goofy Text to Speech Tool?
Sounding like Goofy with FineVoice is easy and fun. You can just follow these steps.
Step 1: Install FineVoice on your PC after downloading it.
Step 2: Launch FineVoice and select the Text to Speech option.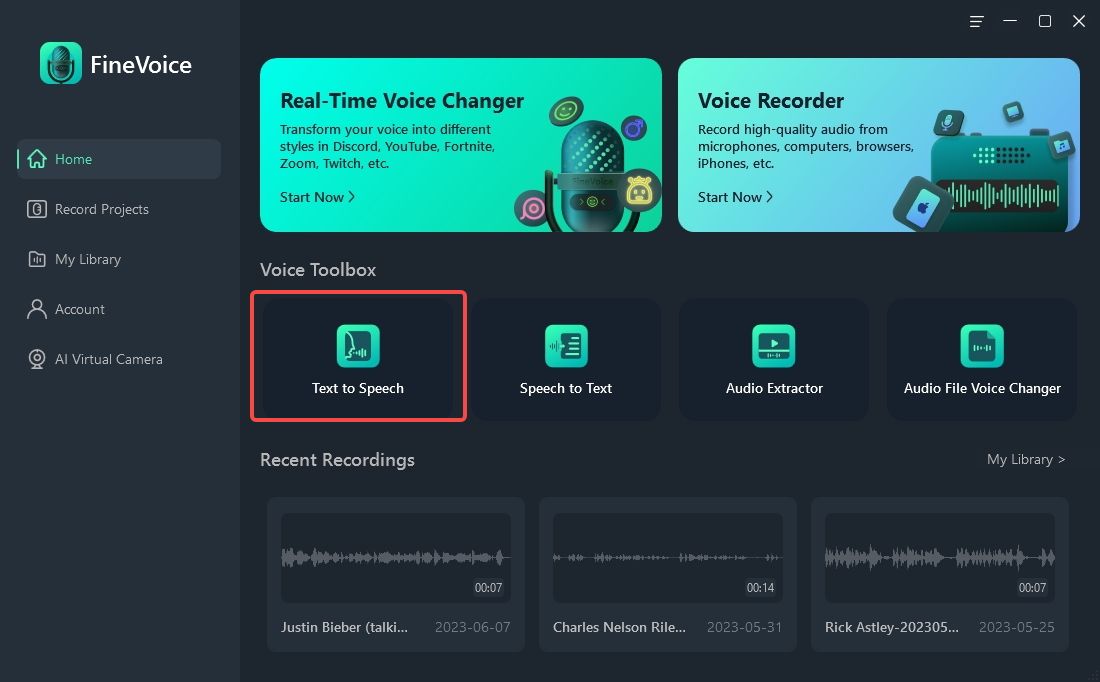 Step 3: Enter or copy and paste the text that you wish to transform into the distinctive Goofy voice.
Step 4: Select Role TTS in the AI Engine and the right Language.
Step 5: Choose the Goofy voice from the list of voices in the Disney Category.
Step 6: Click Convert Now to enjoy your Goofy voice with this Disney Goofy voice generator!
Step 7: Save and View the audio in your preferred format.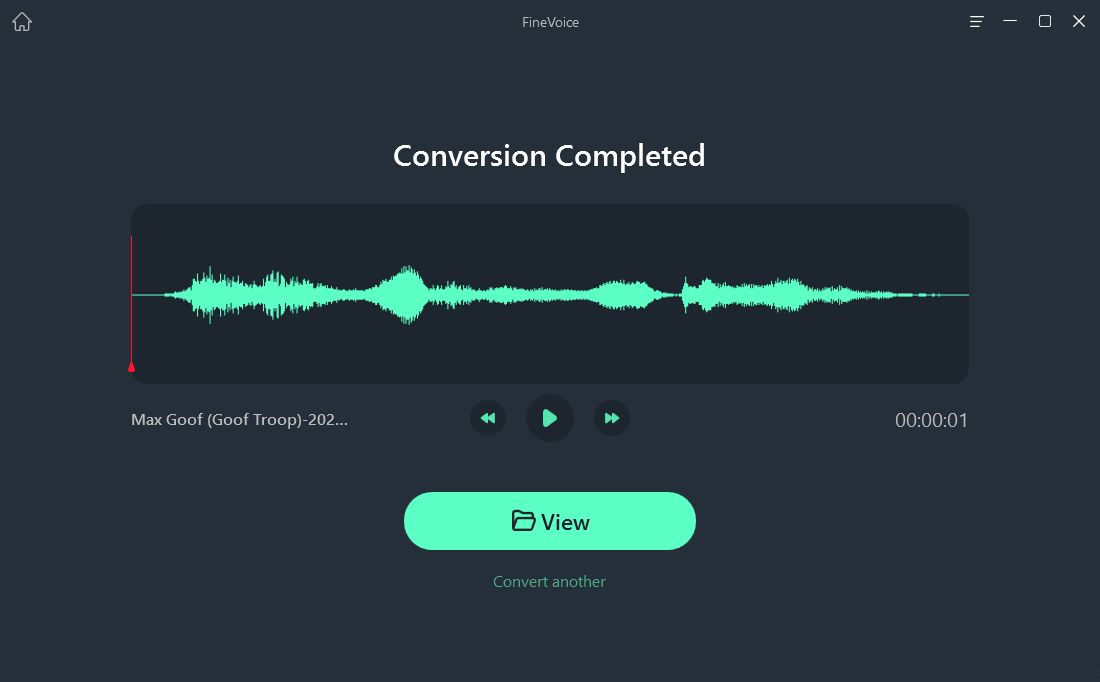 Conclusion
Goofy is a classic Disney character that has made us laugh for generations. Now you can make your Goofy voice with a Goofy ahh voice generator.
So don't wait any longer! Download FineVoice today and start having fun with Goofy voice! You won't believe how realistic and hilarious it sounds! Oh, Gawsh!
FAQs about Goofy
What is Goofy's Full Name?
According to some sources from the Goof Troop continuity, Goofy's full name is G.G. "Goofy" Goof, likely about his 1950s name George G. Geef. However, this name is not consistently used in other Disney media.
What are Some of Goofy's Catchphrases?
Goofy has a few iconic catchphrases that fans love, including Gawrsh! (a minced oath for "gosh"), A-hyuck! (his distinctive laugh), Yaaa-hoo-hoo-hooey!, and Oh, golly!
Has Goofy Appeared in Theme Park Attractions?
Yes, Goofy has appeared in numerous Disney theme park attractions worldwide. Notably, he is featured in Mickey's Toontown and various parades and shows, bringing joy and laughter to park visitors of all ages.