Nowadays, it's common for people of different careers to make use of text to speech tools. Those tools can be useful in various situations like content creation, online teaching, product demo, and employee training. They help simplify our daily lives and work in an efficient way.
Among all the options of text to speech tools, Indian accent voice is a popular one. In this article, we will lead you to find out the top 5 Indian voice text to speech tools and show you their features. Let's start it.
5 Best Indian Accent Voice Text to Speech Tools
FineShare FineVoice
FineVoice is an AI digital voice solution that is integrated with multiple functions including a powerful Indian voice generator. You can use it to generate realistic Hindi and Indian English speech from any text you input.
Whether you need to create voice overs, podcasts, audiobooks, or e-learning materials, FineVoice can help you produce high-quality audio content with natural and expressive voices.
Moreover, if you are tired of the standard voices, you can try the role voices that allow you to generate voices of fictional characters and celebrities like Morgan Freeman, Rick Astley, and Kanye West. With FineVoice, you can add some fun and personality to your voice projects and impress your audience. You can access it on Windows and download it for free.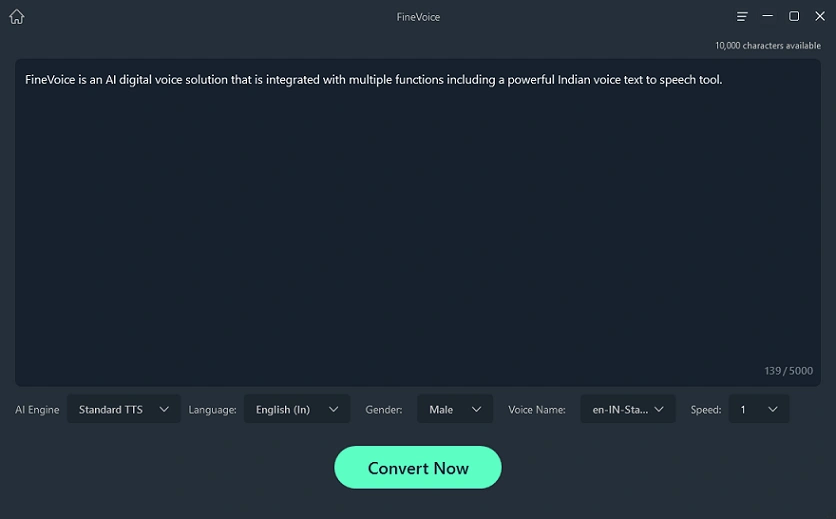 Features:
Intuitive and simple interface
Supports 40+ languages
A massive voices collection of 5000+ different voices
Customizable voice gender and speed

Narakeet
Narakeet is a well-known Indian voice text to speech tool based on web pages, and it's a quite handy Indian voice generator. It provides you with several voice options for Indian voice text to speech, and you can preview each voice before actually generating audio files with it.
Narakeet also supports anyone using its API for integration, so you can use this tool on other platforms like Discord and have fun with friends.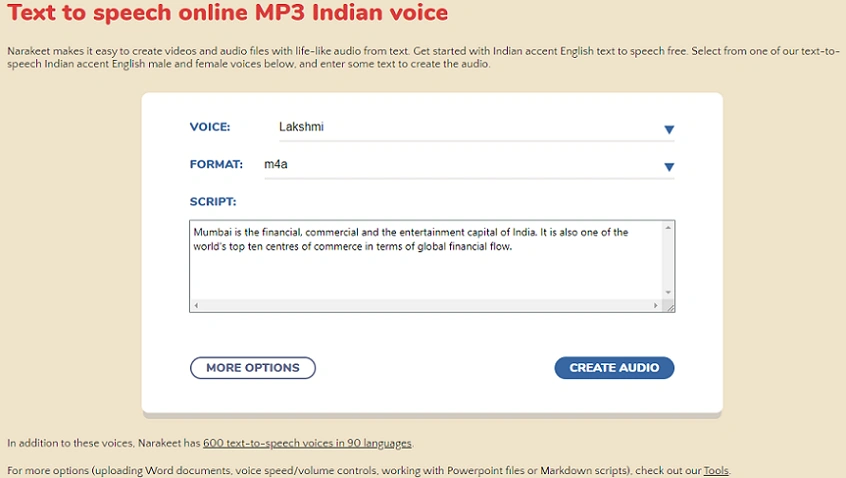 Features:
Multiple output formats for different usage
Generate Indian voice text to speech online
Free to use API for integration

Play.ht
Play.ht is a text to speech tool that you can use for free to create voiceovers with an Indian accent. It is an open-source tool, which means that anyone can access and modify its source code.
It offers two different modes for generating voices, depending on your needs and preferences. The standard voice mode will provide you with natural sounding voices that are based on recorded human speech. The premium voice mode will use artificial intelligence technology to create neural voices that are more realistic and expressive.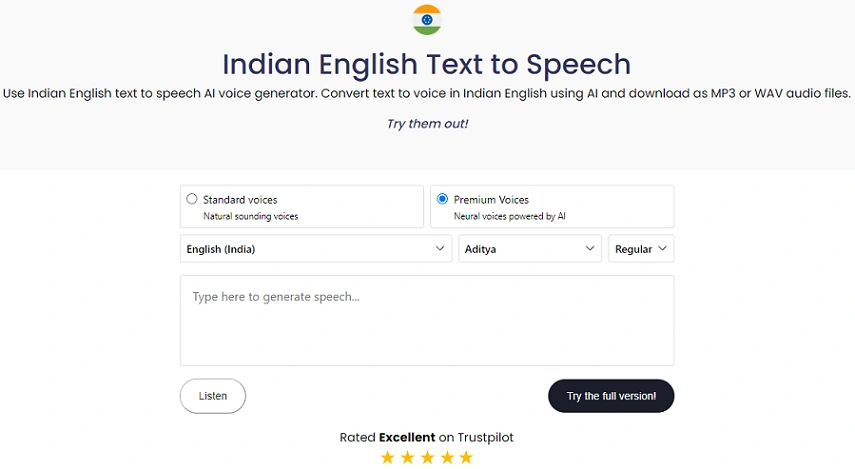 Features:
Use SSML tags to enhance the audio with pauses, breaks, etc
Preview the paragraph before converting it
Customizable pronunciations

MicMonster
MicMonster is another online text to speech tool that can generate realistic Indian accent voice for you. It has the advantage of supporting more than 100 languages and accents including Spanish, French, German, etc, which makes it versatile and flexible for different use cases.
But unfortunately, it has a limited number of voice options compared to some other tools, the Indian language has only two voices to choose. In this situation, it might not be suitable if you need a lot of variety and diversity in your text to speech files. Nevertheless, MicMonster is a decent option if you are satisfied with the quality and simplicity of its voices.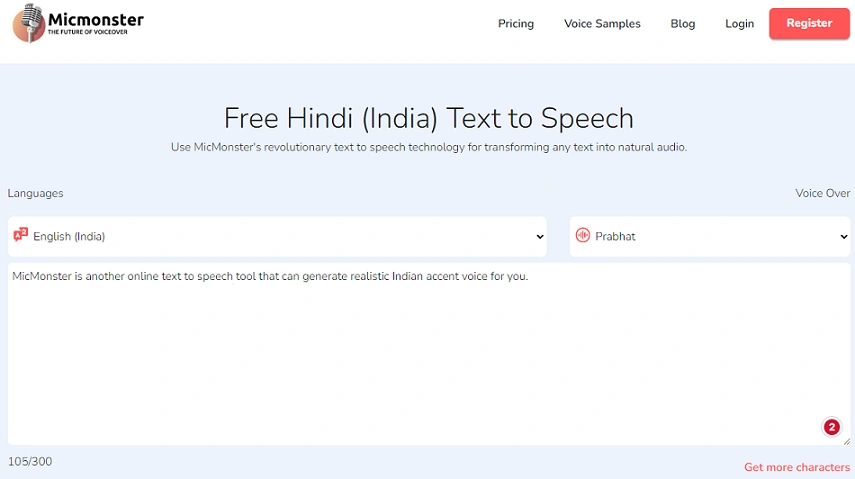 Features:
More than 100 languages and accents
Can be integrated with writing software like Google Docs, Medium, etc
Full commercial rights for audio files you generated

Listen2it
Listent2it is an Indian voice text to speech tool that is integrated with AI technology too. With Listen2It, you can convert any text into realistic and natural-sounding speech in a variety of languages and accents. It also allows you to use the pre-built audio player with customizable designs, colors, and buttons to match your brand and leave a deeper impression with your audience.
However, Listen2it isn't completely free to use, it requires you to register and log in before using it, and after the free trial is over, you need to subscribe to a paid plan or keep using its free plan with limited features.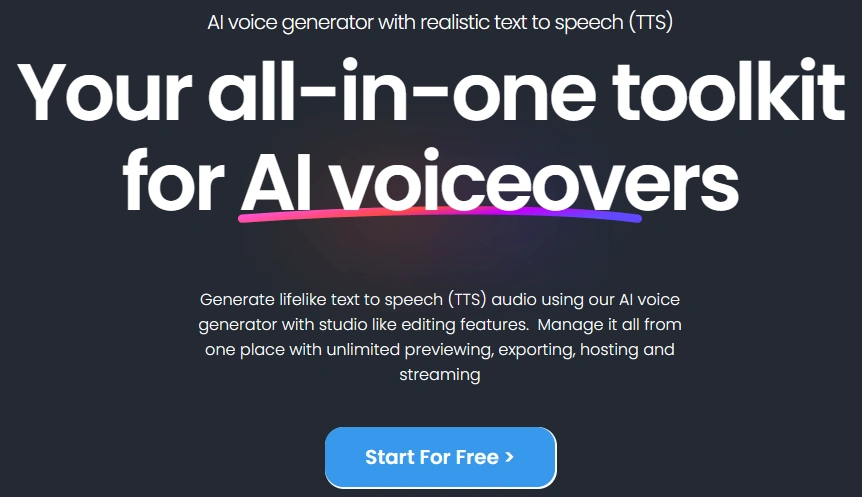 Features:
Adjust voice details like pitch, speed, and tone
Can be embedded to in your website
Provide you the analytics to show how your audio is performing

Conclusion
Using Indian text to speech can be a great improvement in your work. We hope you can find the most suitable tool for you in this article. If you have no idea which one to go first, give FineVoice a try.
FAQ
How to convert Indian voice online for free?
There are many online tools can generate Indian voice text to speech for free. You can try Narakeet, Play.ht, MicMonster, etc.
Which is the best Indian voice text to speech tool?
Online text to speech tools based on web pages are more convenient, but there are risks of personal information leaking when you use them. To better protect your privacy, FineVoice is a better choice in comparison, and its powerful functions can satisfy every need of yours.