Have you ever wondered what it would be like to have a conversation with Joe Rogan, the famous podcaster, comedian, and UFC commentator? What if you could ask him anything you want, and hear his opinions on any topic you choose?
In this article, we will introduce you to FineShare FineVoice, the best Joe Rogan text to speech tool. And we will show you how to use it to make your own Joe Rogan podcast.
Who is Joe Rogan?
Joe Rogan is a dynamic and multifaceted entertainer. He is an American comedian, podcast host, actor, and mixed martial arts commentator. With his diverse career and wide-ranging interests, Joe Rogan has established himself as a prominent figure in the entertainment world, known for his unique voice and his ability to spark engaging conversations across various platforms.
He gained initial fame as the host of Fear Factor and later became known for his color commentary during UFC events. Rogan's podcast, The Joe Rogan Experience, has achieved immense success, featuring fascinating conversations with various guests.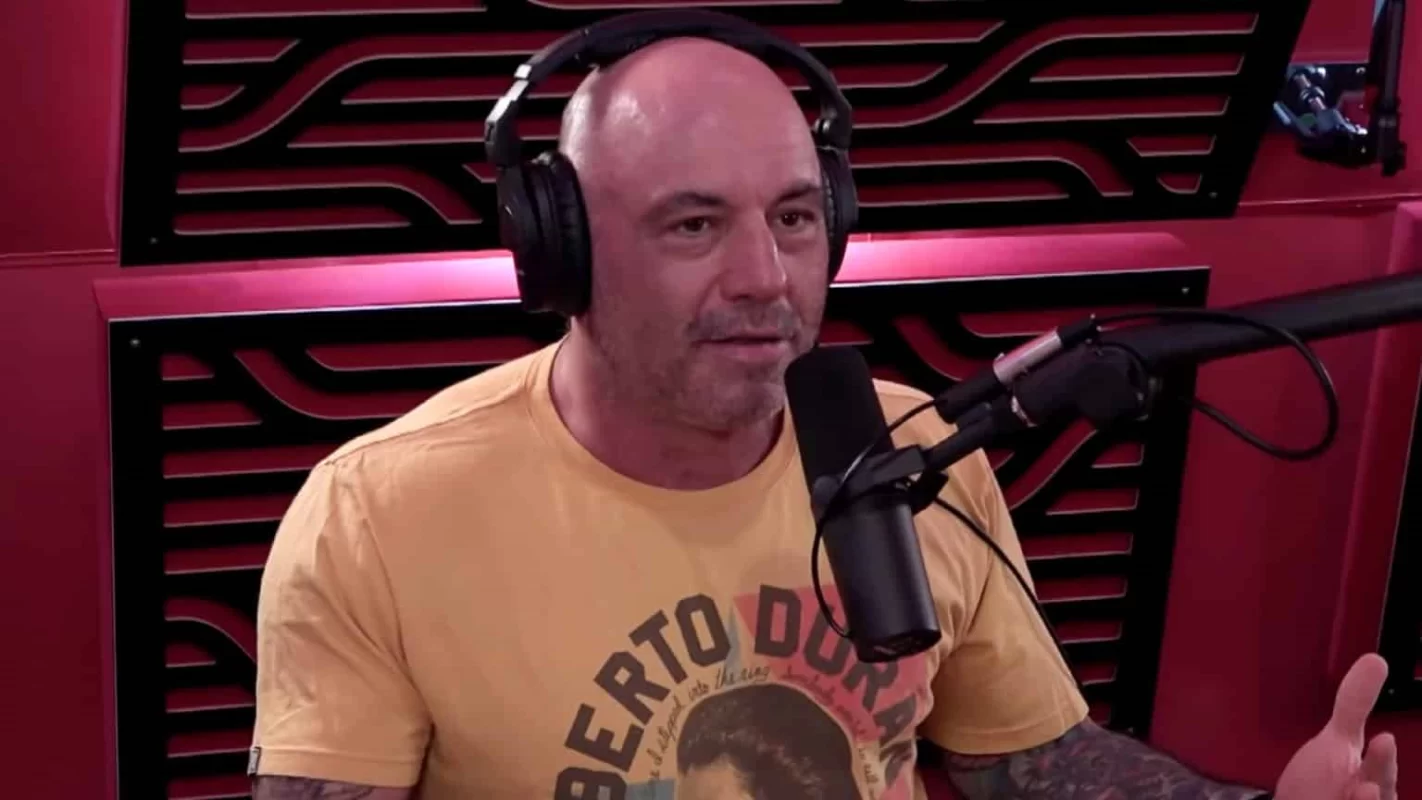 Best Joe Rogan Text to Speech Tool: FineShare FineVoice
Do you want to turn your text into Joe Rogan's voice? Want to sound like him and create your podcast with his voice? Then you can try the best Joe Rogan voice generator: FineShare FineVoice. It's a powerful and easy-to-use voice solution that empowers you to optimize and enhance your voice.
FineVoice is perfect for online meetings, games, chats, live streaming, content creation, and more. You can choose from over 3000+ voices and 70+ languages. It also has a range of vocal styles and accents, from celebrities to cartoon characters, from animals to robots, and more. For example, you can sound like Joe Rogan, Morgan Freeman, or Taylor Swift, or like Sonic, Goofy, SpongeBob, or Squidward. You can use this tool to generate high-quality and natural-sounding audio files that sound like anyone you want.
Whether you want to prank your friends, create a parody, or just have some fun, this tool will help you unleash your creativity and imagination. Try it today and see for yourself how amazing its Joe Rogan AI text to speech tool is. You will be blown away!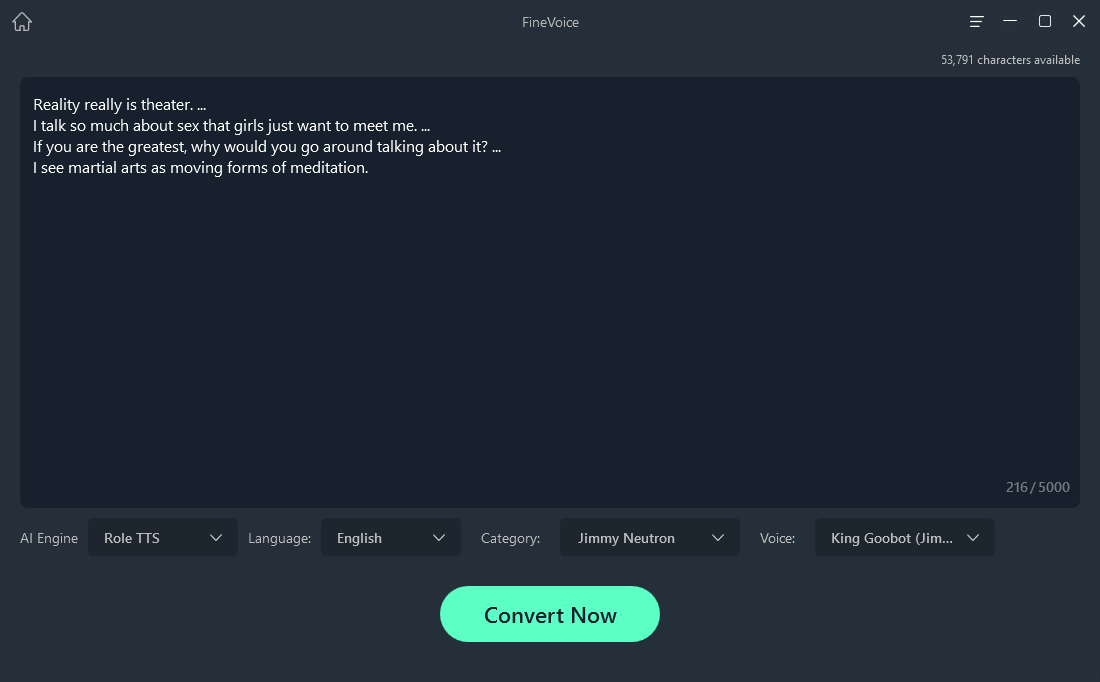 Features:
Real-Time Voice Changer: You can transform your voice into any voice you like with 30+ voice effects, 300+ sound effects, and 28+ audio effects. You can also create your custom voice effects and play or upload sound effects.
Voice Recorder: You can record high-quality audio from multiple sources, such as microphones, computers, iPhones, and iPad. You can also apply voice and audio effects to shape your voice and save your recording project settings for future use.
Text to Speech: You can convert any text into natural-sounding voiceovers in 40 languages and 220 voices. You can use it to create audio versions of your videos, podcasts, novels, articles, screenplays, and presentations.
Speech to Text: You can transcribe any audio into text with high accuracy and speed. You can use it to transcribe conversations, meetings, phone calls, lectures, and interviews.
Audio Extractor: You can extract audio files from videos in various formats, such as MP4, AVI, MOV, WebM, WMV, M4V, F4V, and FLV.
Audio File Voice Changer: You can change the voice of any audio file without worrying about compatibility problems.
How to Sound Like Joe Rogan with FineVoice Joe Rogan Voice Generator?
To use FineShare FineVoice to sound like Joe Rogan, you need to follow these simple steps.
Step 1: Click the button below to download and launch FineShare FineVoice.
Step 2: Choose Text to Speech feature in the main window.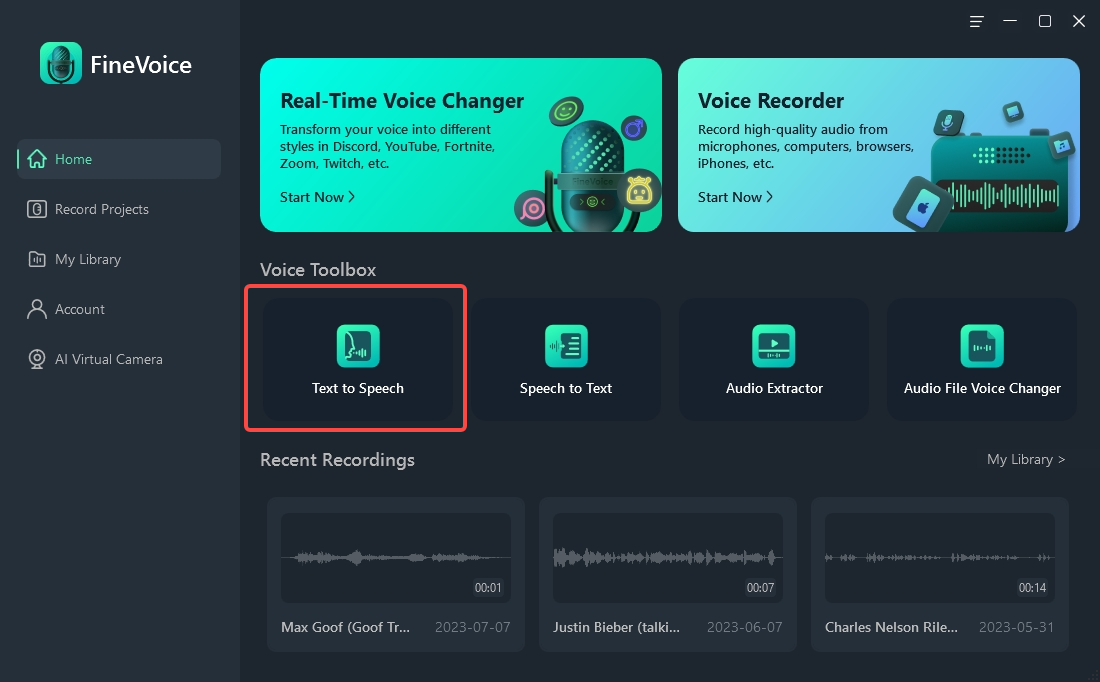 Step 3: Enter or paste your text or script into the box. You can write anything you want, such as jokes, stories, questions, opinions, or facts.
Step 4: Select the Role TTS and the Language and the accent of the voice.
Step 5: Select the Joe Rogan voice from the drop-down menu.
Step 6: Adjust the speed, pitch, volume, and emphasis of the voice as you wish.
Step 7: Click on the Convert Now button to create the audio. You can preview the audio by clicking on the play button.
Step 8: If you are happy with the result, you can download the audio file by clicking on the download button.
Conclusion
So what are you waiting for? Try FineShare FineVoice today and have fun sounding like Joe Rogan's voice with the Joe Rogan text to speech tool. You might be surprised by the results. Don't forget to show off your work to your loved ones. They will surely be amazed by your skills and creativity.
And who knows, maybe one day you will get a chance to talk to the real Joe Rogan himself. Until then, you can always use AI to sound like him and make your podcast with his voice. It's the next best thing!
FAQs about Joe Rogan
What is The Joe Rogan Experience Podcast?
The Joe Rogan Experience is a long-form podcast where Rogan engages in conversations with a diverse range of guests, including celebrities, experts, and thought leaders. The podcast covers a wide array of topics, including comedy, science, politics, philosophy, and more.
Why is Joe Rogan Controversial?
Joe Rogan is controversial because he often expresses opinions that are seen as insensitive, offensive, inaccurate, or harmful by some people. He has been criticized for spreading misinformation about Covid-19 vaccines, making racist and anti-trans remarks, promoting conspiracy theories and right-wing myths, and giving a platform to guests who share his views or challenge him.
What is the Deal with Spotify and Joe Rogan?
Spotify is the exclusive distributor of The Joe Rogan Experience since December 2020, after reportedly paying him $100 million to move his podcast from YouTube and other platforms. According to Spotify, The Joe Rogan Experience was the most streamed podcast globally in 2020 and 2021. According to Podtrac, it had an average of 11 million downloads per episode in 2019.