Kanye West (Ye), one of the most popular rappers and the world's best-selling music artists, has won 22 Grammy Awards and the Billboard Artist Achievement Award. He is also a singer, songwriter, record producer, and fashion designer.
Do you like listening to his songs? Now deep learning AI technology makes text generation with Kanye's voice happen. Does it sound too good to be true?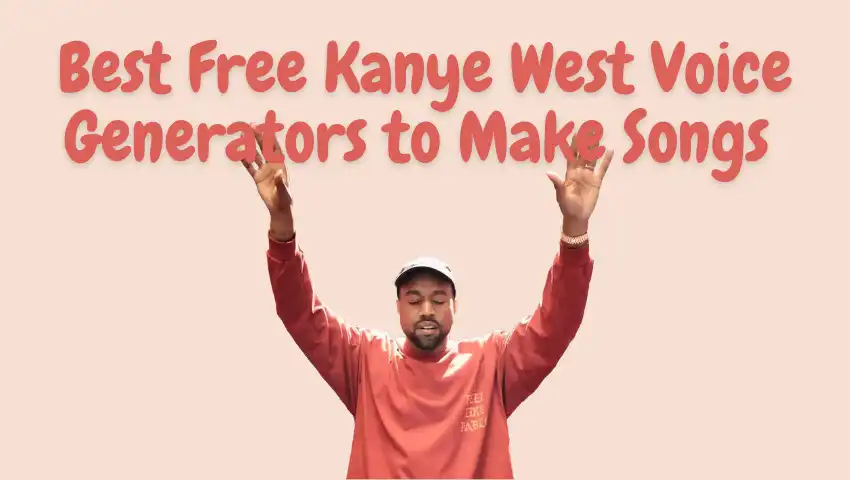 In this post, we will give you the 3 best free Kanye West voice generator websites. Grab the guide and try them out to make your rap songs.
Part 1: Best Desktop Kanye West Voice Generator
Are you looking for Kanye West voice generation software for your podcast, audiobook, and YouTube video voiceover?
FineVoice
FineVoice is a voice software that comes up with a powerful text-to-speech tool. It offers numerous voices from mass media. You can find celebrity voices like Barack Obama and Stephen Hawkings. And meme voices like Bonzi Buddy and Quandale Dingle are available as well.
Besides the funny voices for fun, FineVoice gives you 220+ lifelike voices in 40 languages to generate professional voiceovers with high-quality voices for your videos, books, and presentations.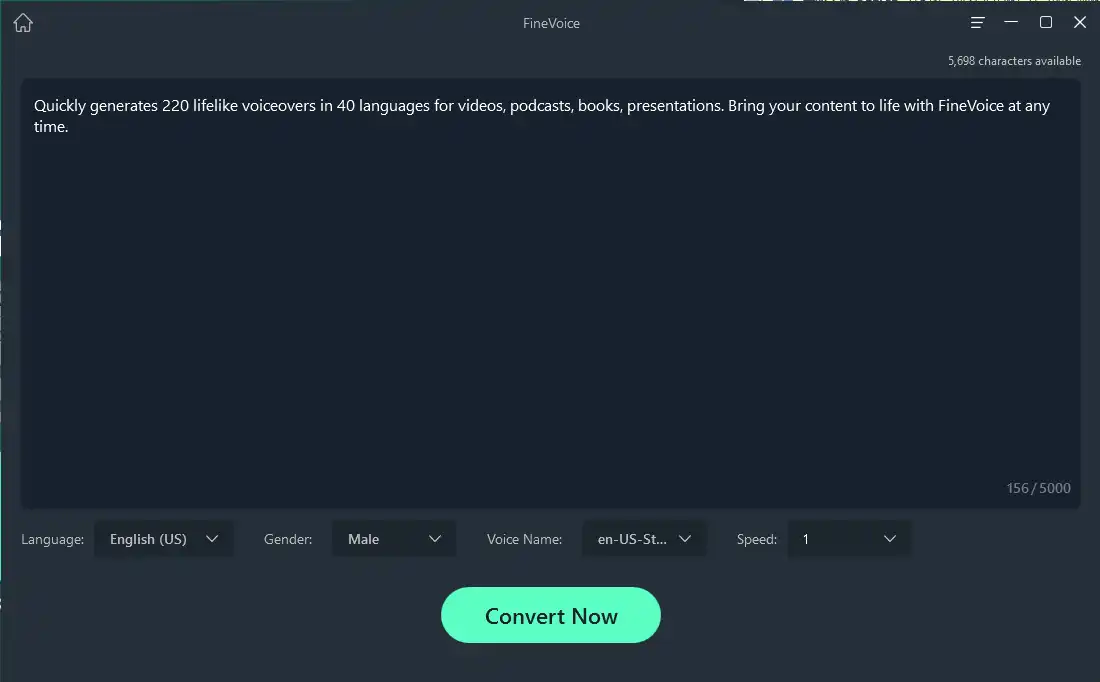 Highlights:
Easy to use with 1 click
Accurate generation and high conversion speed
Stable running
Provides projects and generations saving feature
How to use Kanye West text to speech with FineVoice
Step 1. Download and install FineVoice.
Step 2. Click the Text to Speech button under Voice Toolbox.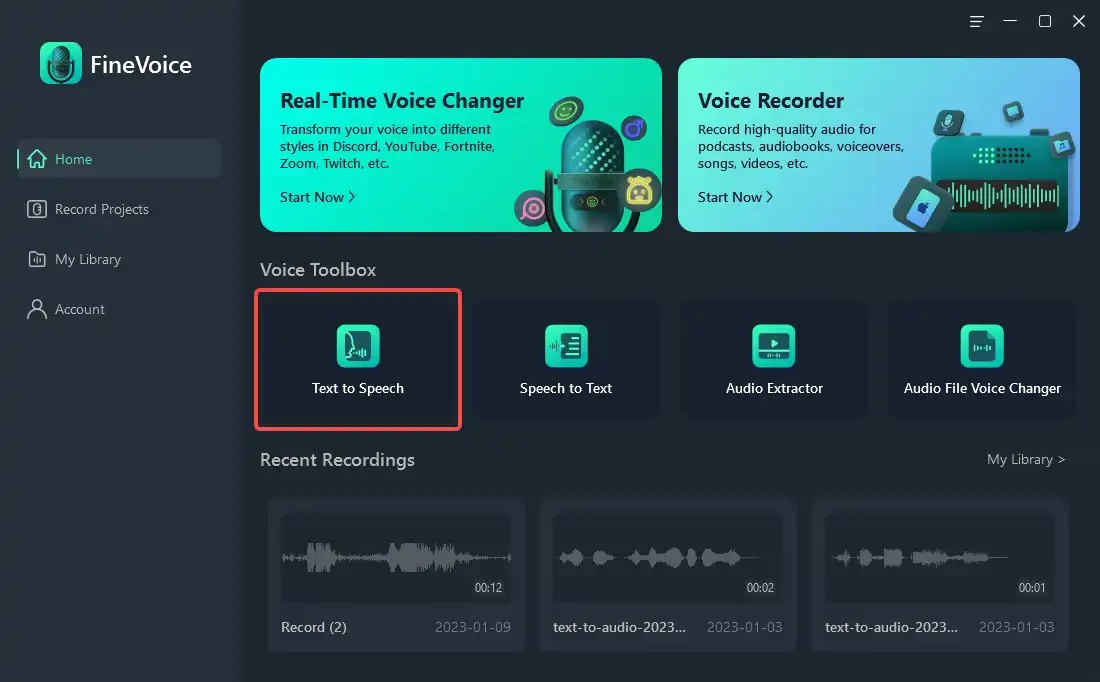 Step 3. Enter text and select the Role TTS and English language. Choose Kanye West (Ye) under the Rappers category.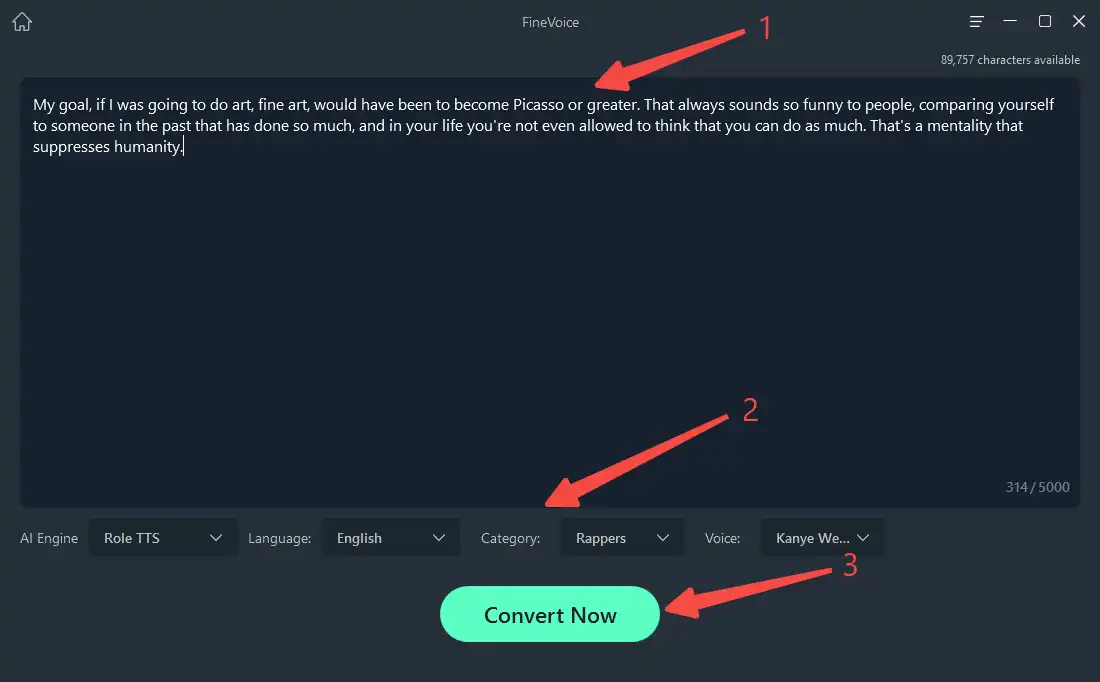 Step 4. Click the Convert Now and after a few seconds, you will be in the result window. You can view all your generated audio in a local file or FineVoice My Library.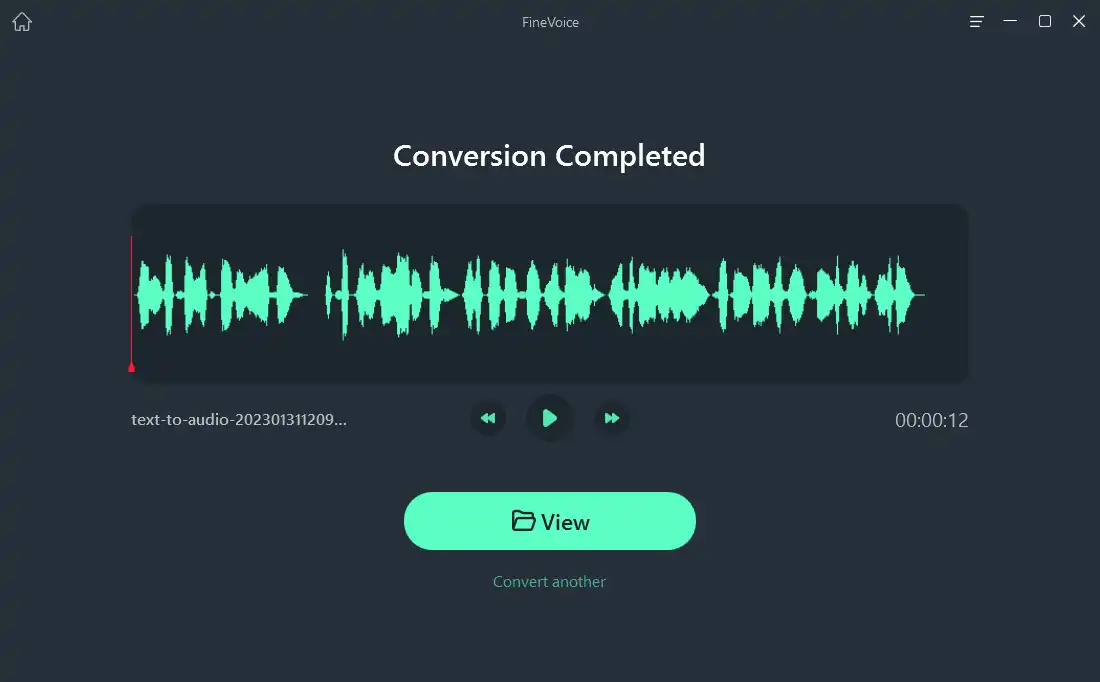 Part 2: 2 Best Online Kanye West Voice Generators
We will walk you through the 2 best online Kanye West Voice Generators one by one.
#1. FakeYou
FakeYou is a website specializing in voice generation and voice cloning.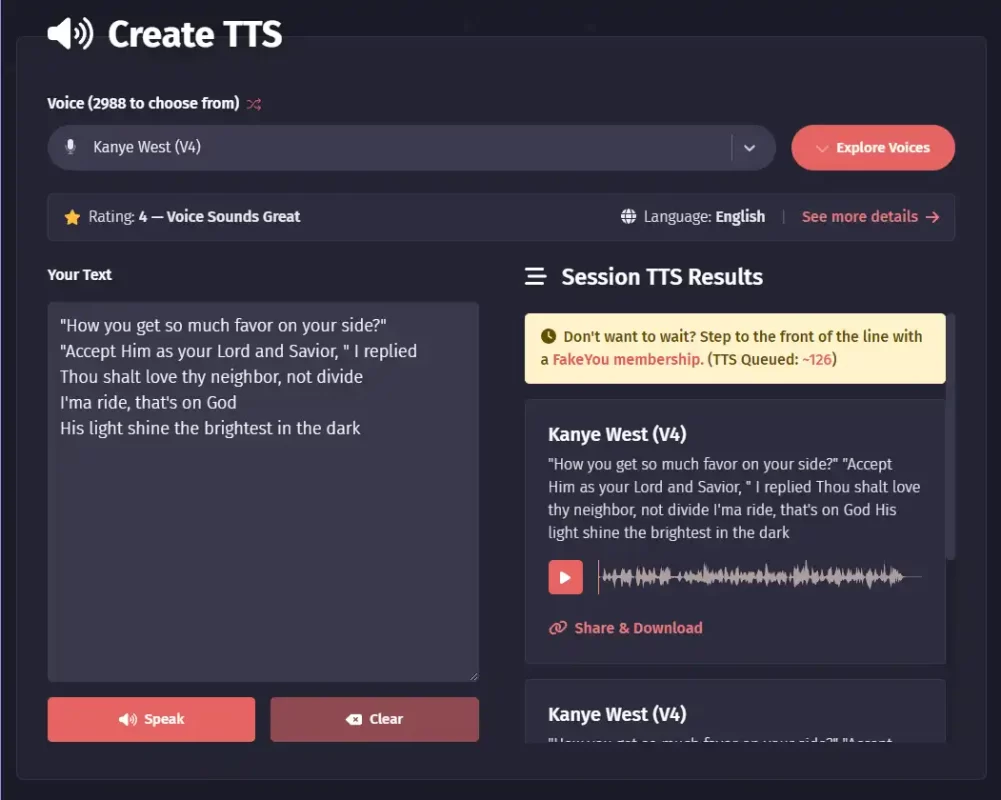 Highlights:
2000+ voices
All kinds of voices from cartoons, anime, movies, celebrities
Good looking and clear UI
Easy to use
Clear classification
Sign up to download or share generated audio
How to use Kanye West text to speech with FakeYou
Step 1. Visit fakeyou.com.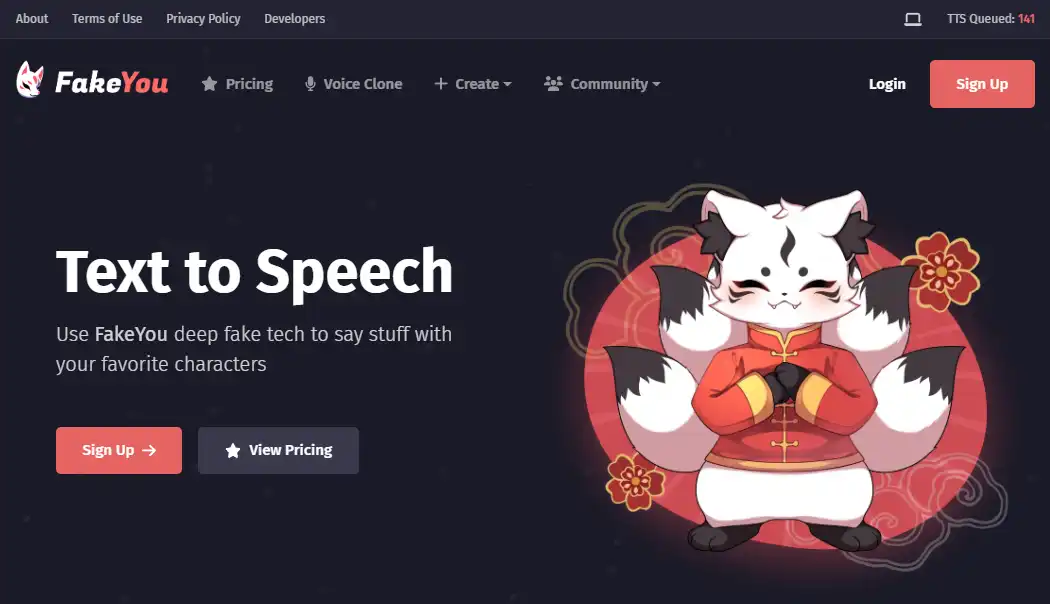 Step 2. Scroll down to the Create TTS section. Type "Kanye West" to retrieve the voice in the list.

Step 3. Type or paste text in Your Text box. And click the red Speak button.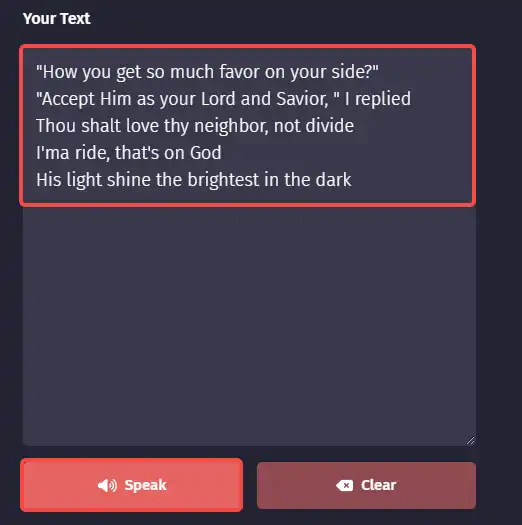 Step 4. Wait for the generation process to finish. Then you can see the generated audio under the Session TTS Results.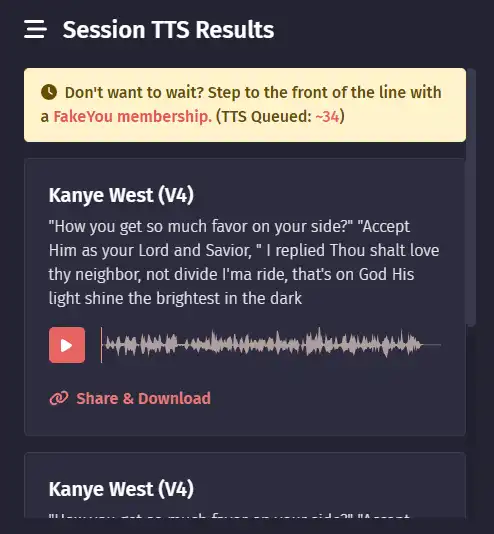 Step 5. If you want to download or share the audio, click Share & Download to open a new result window. You need to sign in to download the file.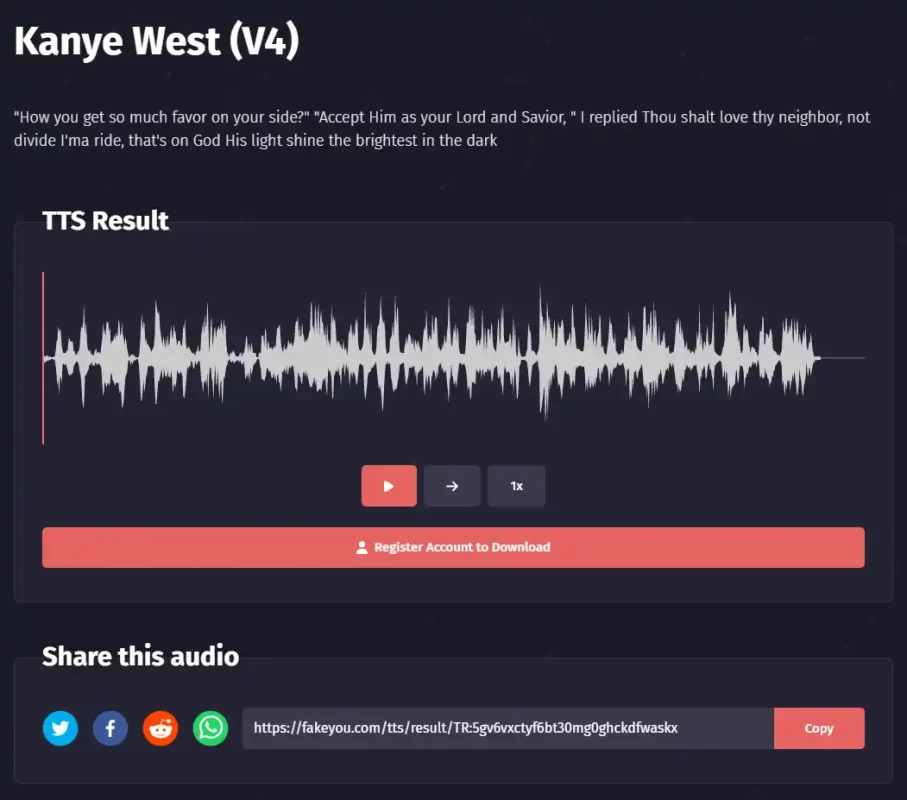 #2. Uberduck
Uberduck is the website that offers the largest number of voices for text-to-speech. It gives you two Kanye West voice generators.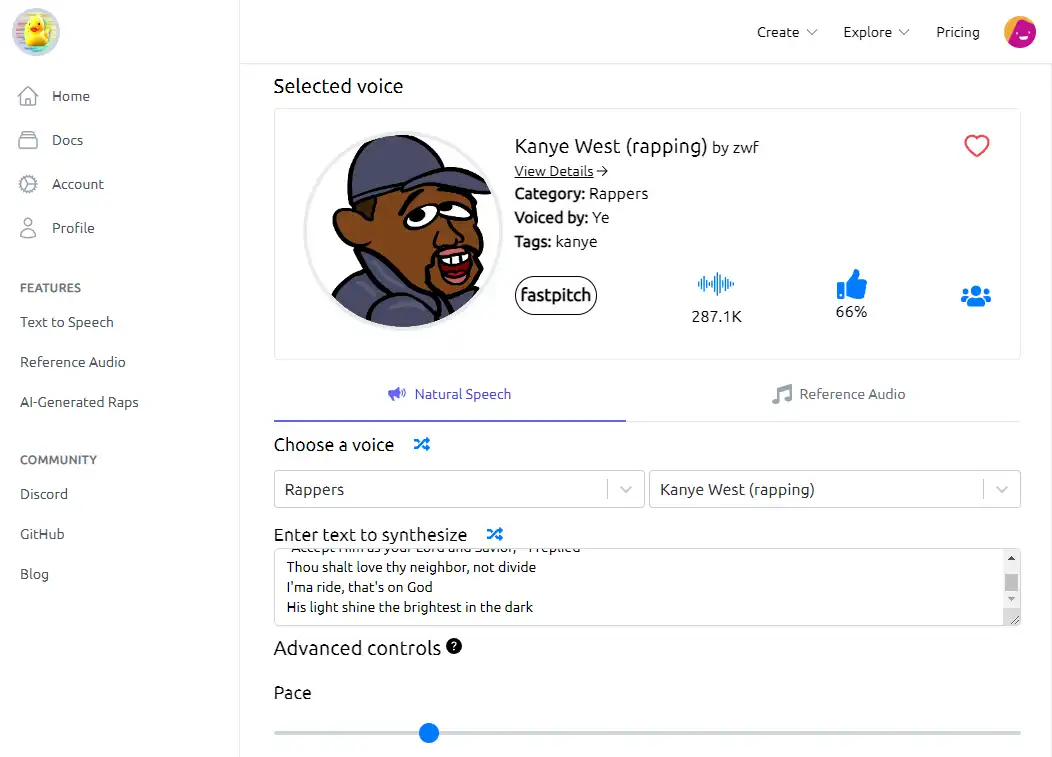 Highlights:
4000+ voices
Support voice generation with melody
AI-generated raps feature for paid users
Fast generation speed
Support WAV audio file download without sign in
How to make songs with this rapper voice generator
Step 1. Visit Uberduck.ai (https://app.uberduck.ai/speak#mode=tts-basic&voice). You need to sign in first to make the speech synthesis available.
Step 2. Type "Kanye West" in the right box under Choose a voice, and select the rapping version.

Step 3. Type or paste your lyrics in the textbox. Scroll down you can see Advanced controls but the options are uncheckable. Click the Synthesize button to generate the rapping voice.
Step 4. After several seconds, you can see the generated audio in the Generations section.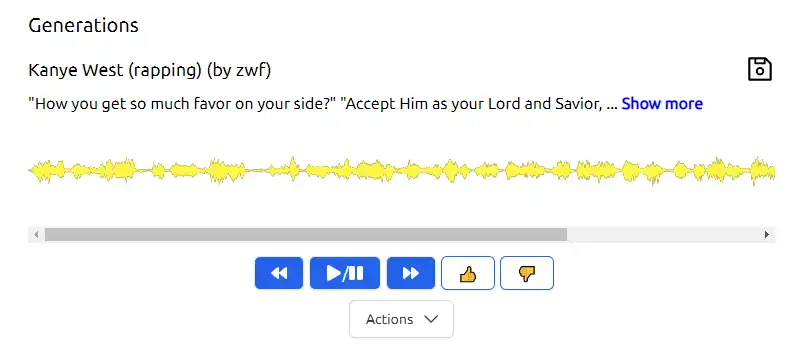 Step 5. Now you can scroll up back to the Advanced controls section.
You can move the indicator to change the rap pace. And click the buttons to adjust the pitch and duration.
You can also do adjustments for each word on the chart.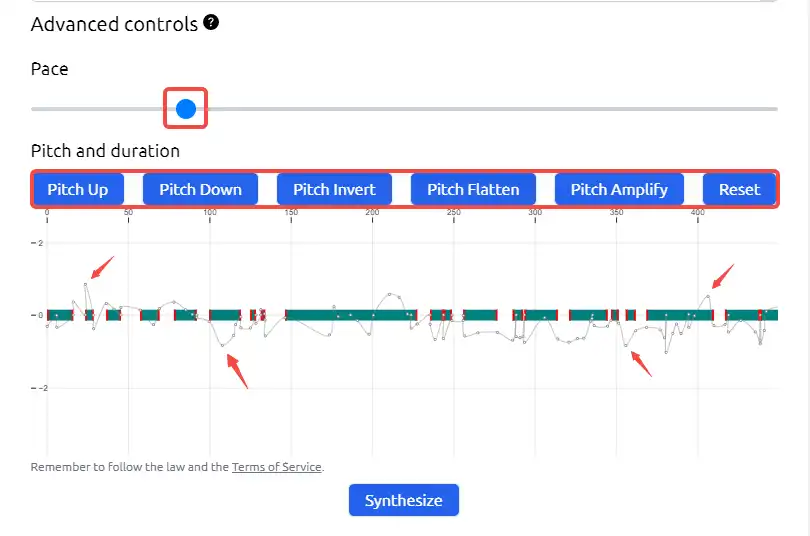 Step 6. Synthesize again and see the difference. Open the Actions menu to download the audio file to your local file.
Conclusion
Take away the best Kanye West voice generators we gave you. Try them out and make your rap songs with Ye's voice. Use FineVoice to record, generate and manage your music in FineVoice.
Try FineVoice for Free
Powerful text-to-speech tool with 220+ lifelike voices in 40 languages and numerous funny meme voices to generate voiceovers for Work & Leisure. Bring your content to life with FineVoice at any time. Get it for free.