Have you ever dreamed of being a pony in the magical world of Equestria? Have you ever wondered what it would be like to talk like Pinkie Pie, Rainbow Dash, Fluttershy, Rarity, Applejack, or Twilight Sparkle? If you are a fan of My Little Pony, you probably have.
But what if we told you that you can sound like your favorite pony with just a few clicks? Yes, you heard that right. Thanks to My Little Pony text to speech app FineShare FineVoice. With it, you can generate computer-generated speech in the style of My Little Pony characters.
Are you excited to start this incredible adventure? Let's dive into the world of My Little Pony and meet the voice actors behind your favorite ponies!
Meet Your Favorite My Little Pony Voice Actors
My Little Pony is a beloved franchise that has been entertaining children and adults alike since the 1980s. The colorful and magical world of Equestria is populated by adorable ponies, each with their personality and voice.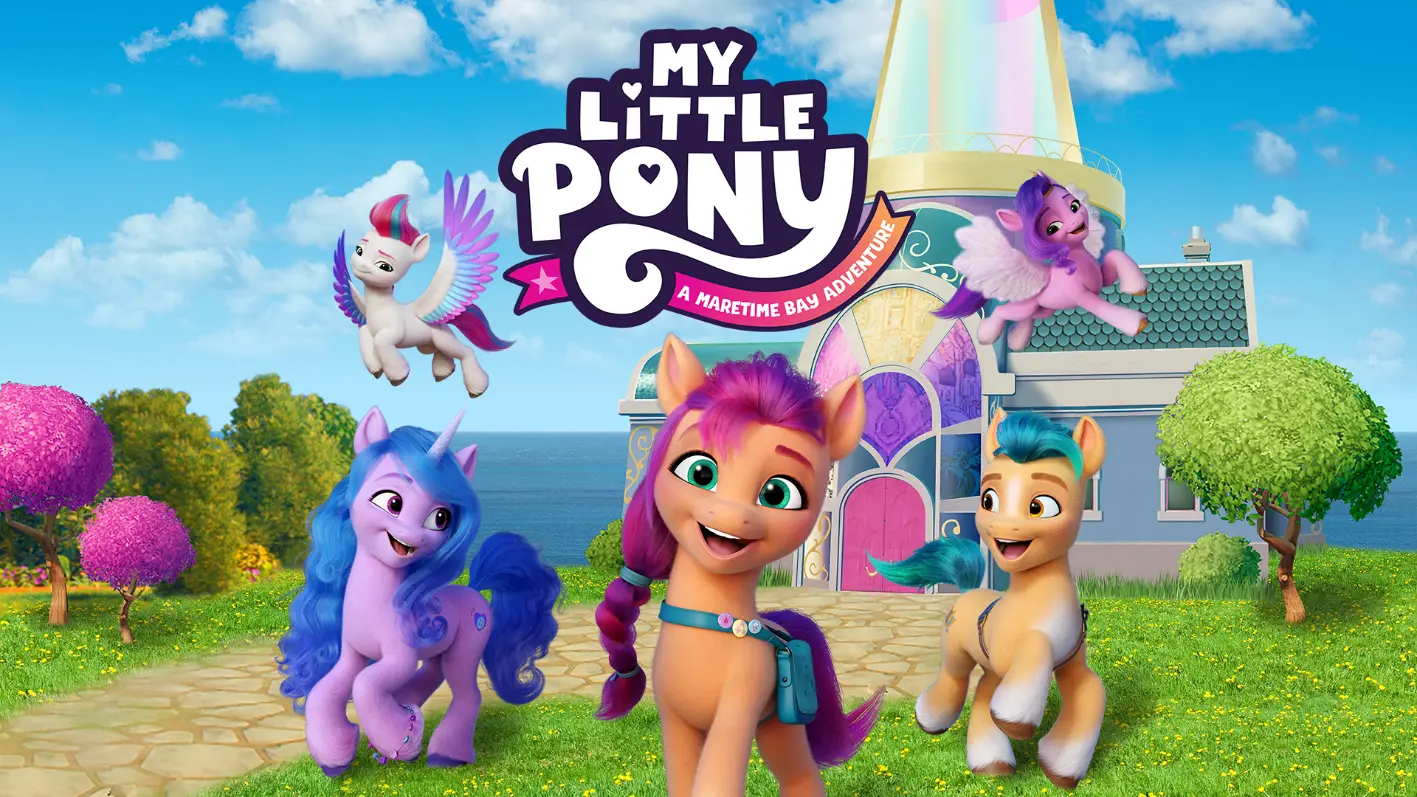 Here are remarkable voice actors who are the heart and soul of the My Little Pony characters we know and love.
Tara Strong as Twilight Sparkle
Tara Strong is a talented voice actress who brings life to the intelligent and magical character of Twilight Sparkle.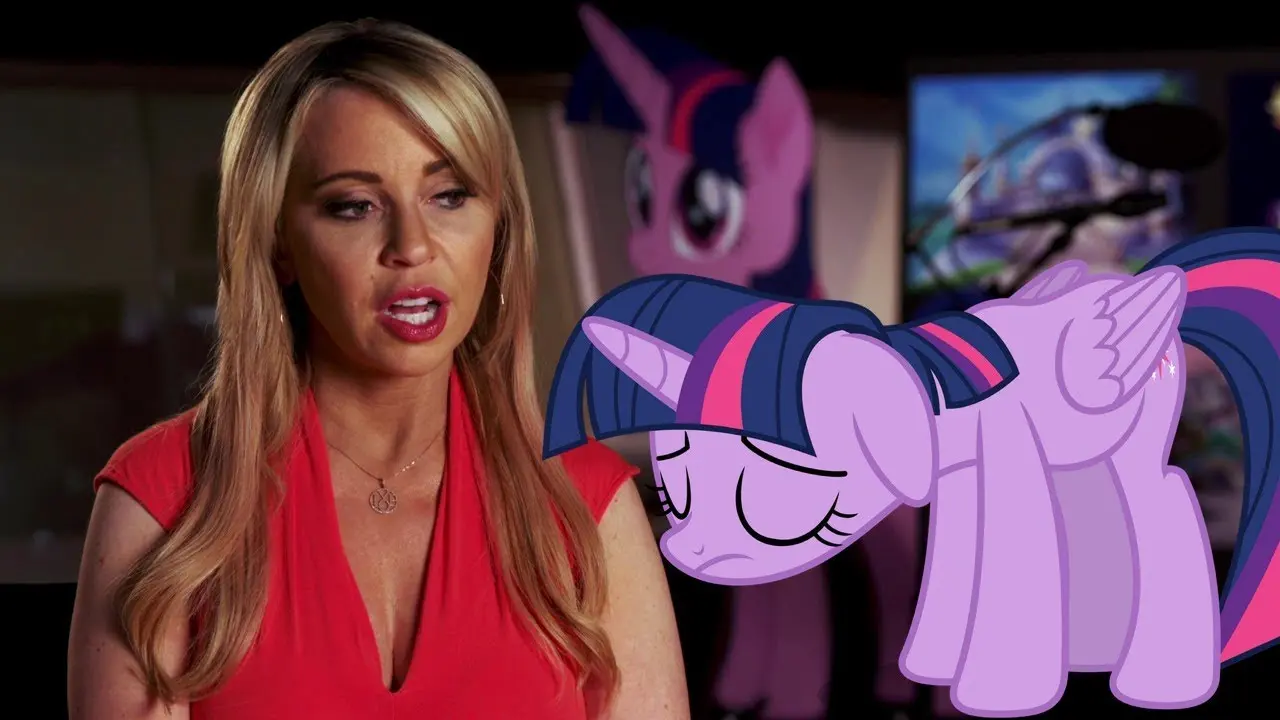 Ashleigh Ball as Rainbow Dash and Applejack
Ashleigh injects each character with their distinctive traits. Rainbow Dash exudes fearless determination, while Applejack embodies a down-to-earth and dependable nature.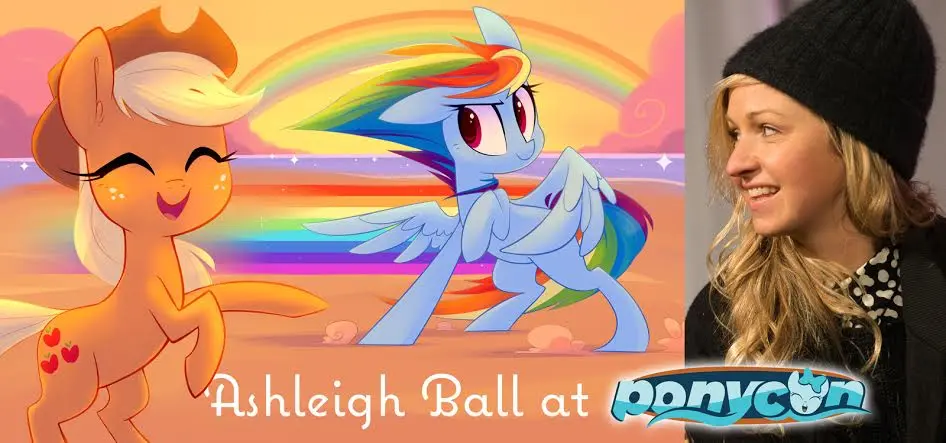 Andrea Libman as Pinkie Pie and Fluttershy
Andrea Libman lends her vocal prowess to two beloved characters: the exuberant and party-loving Pinkie Pie, and the gentle and soft-spoken Fluttershy.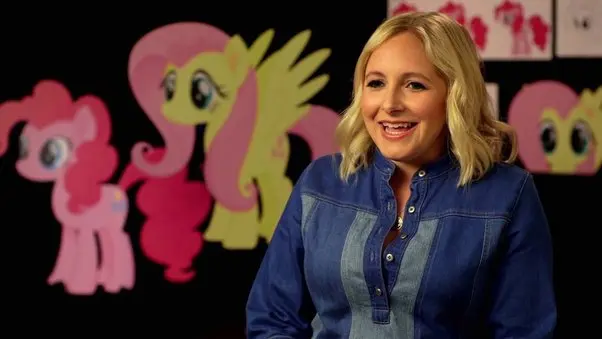 Tabitha St. Germain as Rarity
Tabitha St. Germain mesmerizes audiences by portraying the elegant and sophisticated Rarity.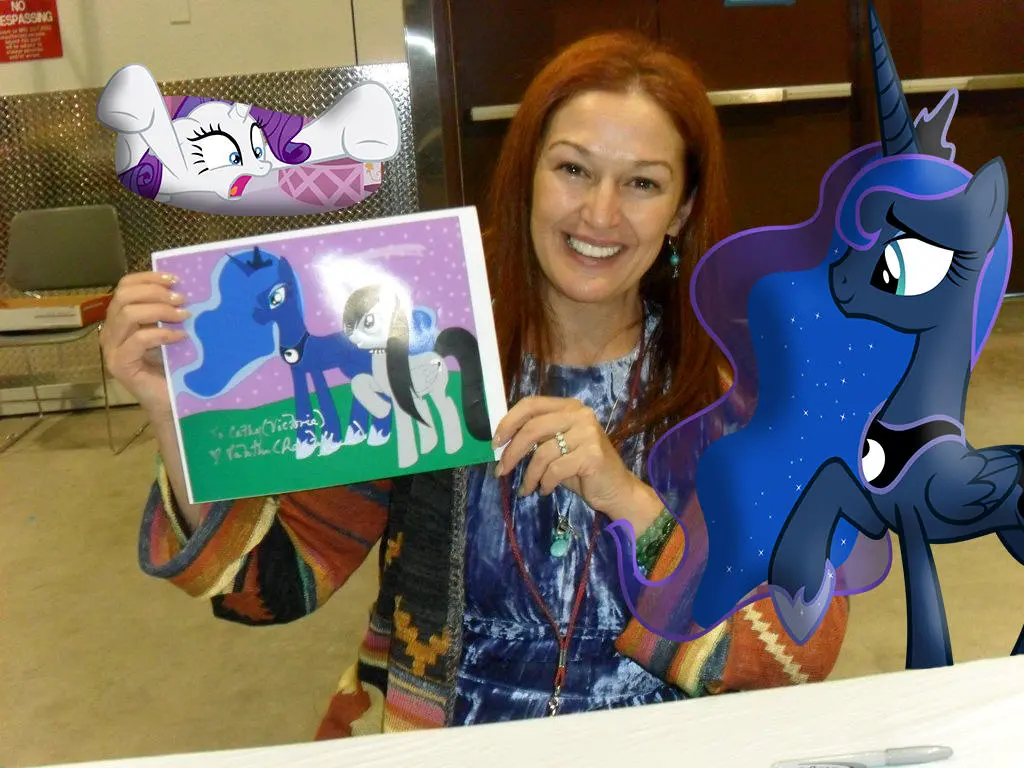 Best My Little Pony Text to Speech Tool: FineShare FineVoice
Do you love My Little Pony and want to sound like your favorite character? Do you want to create great voiceovers for your fan videos and podcasts? FineShare FineVoice is the ultimate software for My Little Pony text to speech lovers.
FineVoice makes text to speech much easier and faster. You can choose from over 220 real voices in 40 languages and accents. You can also adjust the speed and pitch of your voice to your liking.
But that's not all. It offers more than 5000 lifelike AI voices that perfectly imitate movie characters like Wiseguy and Walter White, celebrities like Morgan Freeman and Donald Trump, rappers like Snoop Dogg and Juice Wrld, and your favorite cartoon character voices like Mario, SpongeBob SquarePants, and more. You can also mix and match different sound effects to create your unique pony sounds.
FineVoice is also a powerful all-in-one AI voice changer. You can change your own voice to My Little Pony characters' voice in real-time. And you can use it with many popular apps or games, such as Zoom, Twitch, YouTube, CS: GO, Minecraft, Valorant, and more.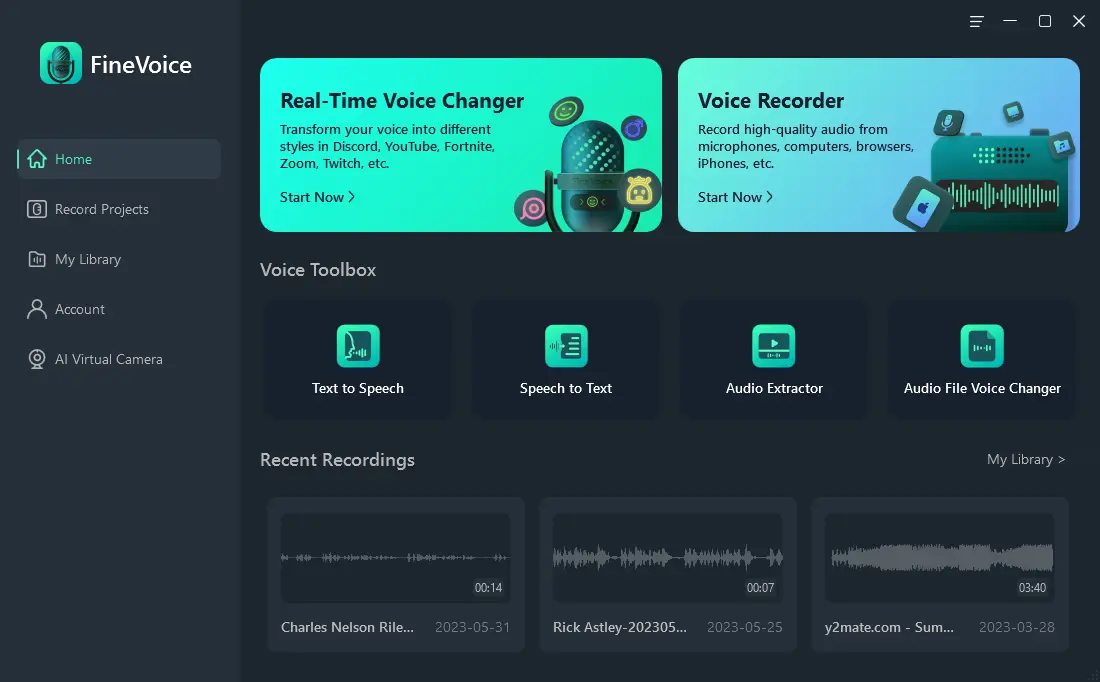 Highlights:
Friendly to beginners
Realistic My Little Pony voice generator
Support multiple languages
Provide a variety of voices, including celebrities, cartoon characters, rappers, anime, etc
Change your voice in real time with many voice effects and sound effects
Record high-quality audio
Play various sound effects from a soundboard
Convert your recordings or audio files into text with high accuracy and speed
Extract audio from a video file
Related article: Squidward Text to Speech: How to Create Funny Squidward Voices.
How to Use FineVoice to Sound Like Your Favorite Pony?
Using FineVoice to sound like your favorite pony is very easy. Here are the steps you need to follow.
Step 1: Download and install FineVoice on your computer.
Step 2: Run FineVoice and select Text to Speech.
Step 3: Type or paste the text you want to generate My Little Pony speech.
Step 4: Select Role TTS in the AI Engine and then choose the appropriate Language.
Step 5: Type My Little Pony in the Category.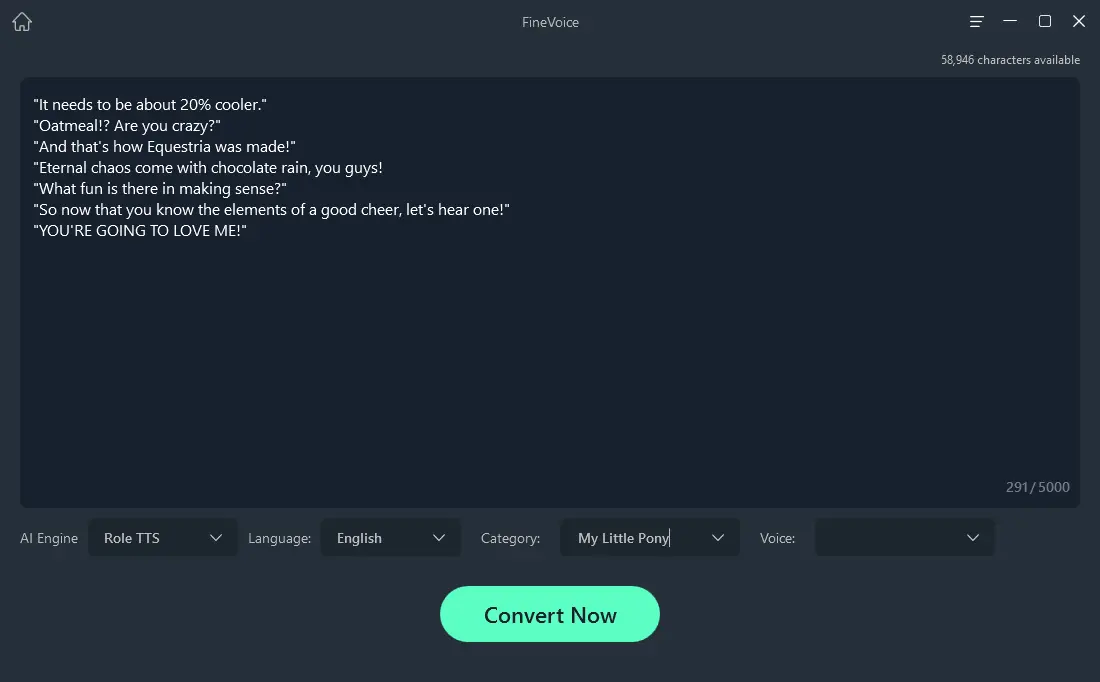 Step 6: From the Voice menu, pick your favorite My Little Pony character.
Step 7: Click Convert Now to hear your writing read aloud by a My Little Pony.
Step 8: You can share the audio file with others or download it in MP3 format.
Don't miss: Sonic Text to Speech: How to Sound Like Sonic the Hedgehog.
Conclusion
My Little Pony text to speech tool is a fun and creative way to enjoy the magic of Equestria and sound like your favorite pony. Whether you want to be a part of the Mane Six, the Cutie Mark Crusaders, or the Royal Family, you can find a voice that suits you and your mood.
Don't wait any longer. Try FineShare FineVoice today and unleash the charm of your voice!
FAQs About My Little Pony
Who Created My Little Pony?
The My Little Pony original toy line and media franchise was developed by Bonnie Zacherle, Charles Muenchinger, and Steve D'Aguanno.
The most popular animated series My Little Pony: Friendship is Magic, was created by Lauren Faust.
Is There Any Official My Little Pony Merchandise or Toys Available?
Yes, there is a wide range of official My Little Pony merchandise and toys available, including plush toys, action figures, clothing, and collectibles.
What are Cutie Marks in My Little Pony?
Cutie Marks are special symbols that appear on a pony's flank, just above their hind leg. They represent the pony's unique talent, skill, or special attribute. Cutie Marks are earned when a pony discovers their true passion and purpose in life.