What if you could make the world's most beloved ogre Shrek say whatever you want, in his voice? Imagine the possibilities: you could make him confess his love for you, roast your enemies, or rap your favorite song. Sounds fun, right?
In this article, we will introduce the best Shrek text to speech tool that you can do all that with it.
Who is Shrek?
Shrek is the titular character of the animated film franchise, known for his distinct appearance and lovable personality. He is an ogre who lives in a swamp and prefers a solitary existence away from the judgmental world. Shrek is initially portrayed as grumpy and reluctant to interact with others, but he possesses a kind heart beneath his rough exterior.
Despite Shrek's intimidating looks, Shrek proves that one should not judge based on appearances and that true beauty lies within. He has become an enduring symbol of individuality, acceptance, and the power of true friendship, capturing the hearts of audiences of all ages and solidifying his status as an iconic animated character.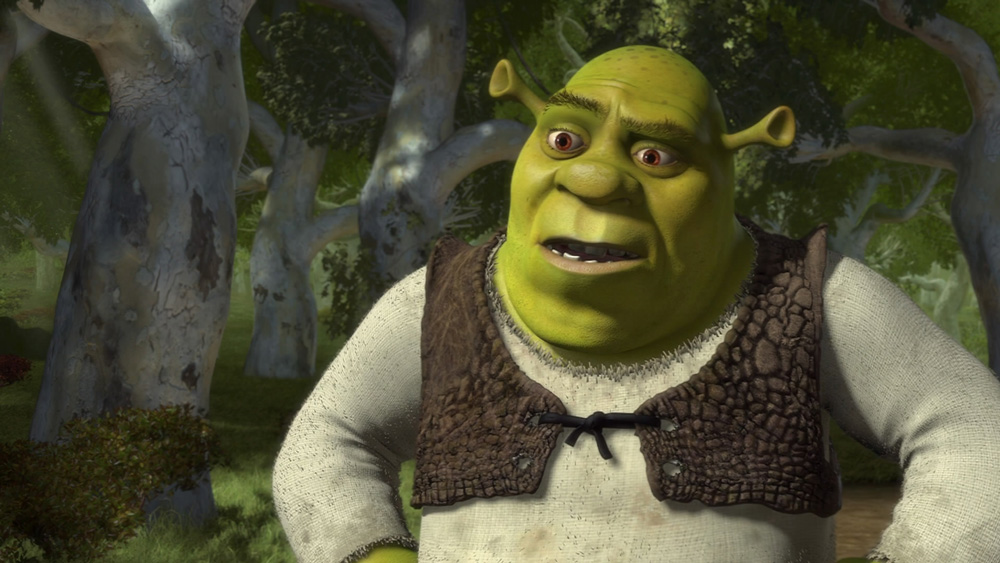 Who Does the Voice of Shrek?
The character of Shrek is voiced by actor Mike Myers. Myers provided the iconic voice for Shrek in all of the Shrek films released thus far, including Shrek (2001), Shrek 2 (2004), Shrek the Third (2007), and Shrek Forever After (2010).
His vocal performance, complete with a Scottish accent and unique comedic timing, has played a significant role in shaping Shrek's lovable and memorable character.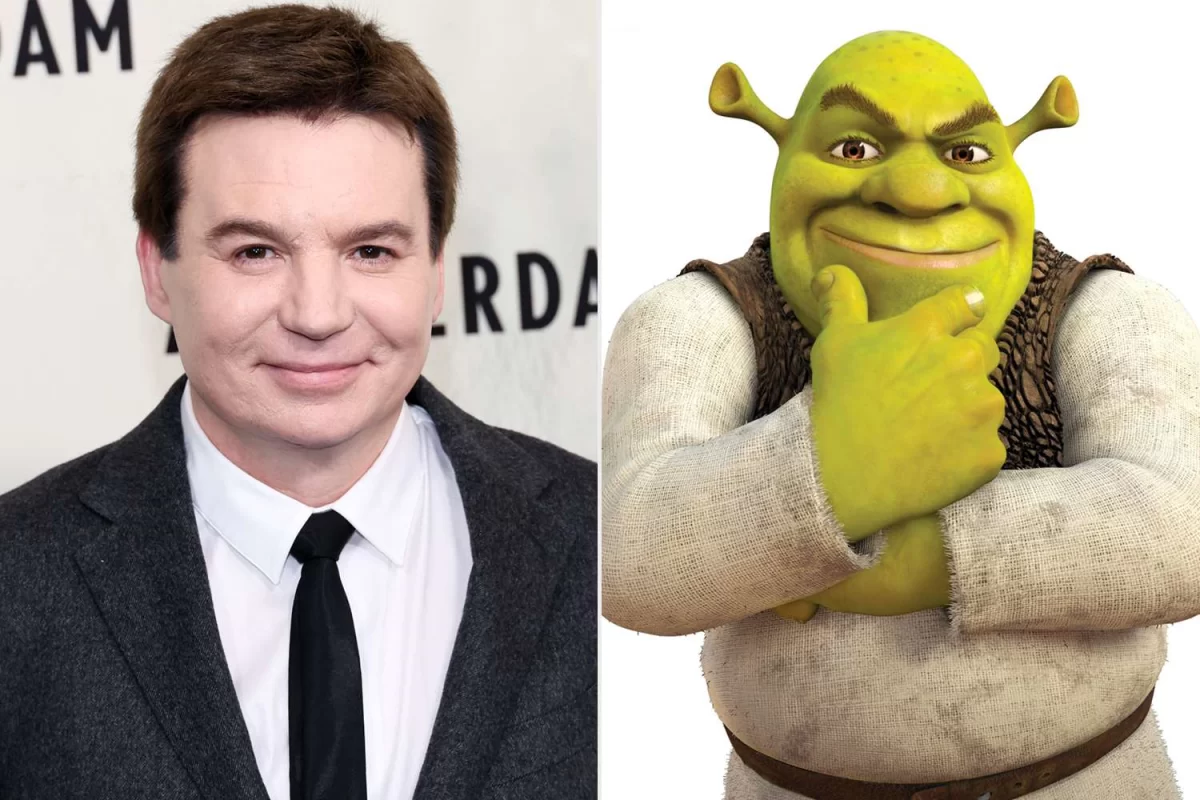 Famous Shrek Quotes from the Shrek Films
Shrek is a series of animated films that feature a green ogre, his donkey sidekick, his princess wife, and many other fairy tale characters. Here are some of the most famous Shrek quotes from the Shrek films.
"That'll do, Donkey. That'll do."
"That must be Lord Farquaad's castle. Do you think he's maybe compensating for something?"
"Ogres are like onions."
"What are you doing in my swamp?!"
"No! I'm an ogre! You know, 'Grab your torch and pitchforks!' Doesn't that bother you?"
"Better out than in, I always say!"
"Donkey, I'm alone. There's no one here beside me."
"I'm an ogre! You know, 'grab your torch and pitchforks'?"
"After a while, you learn to ignore the names people call you and just trust who you are."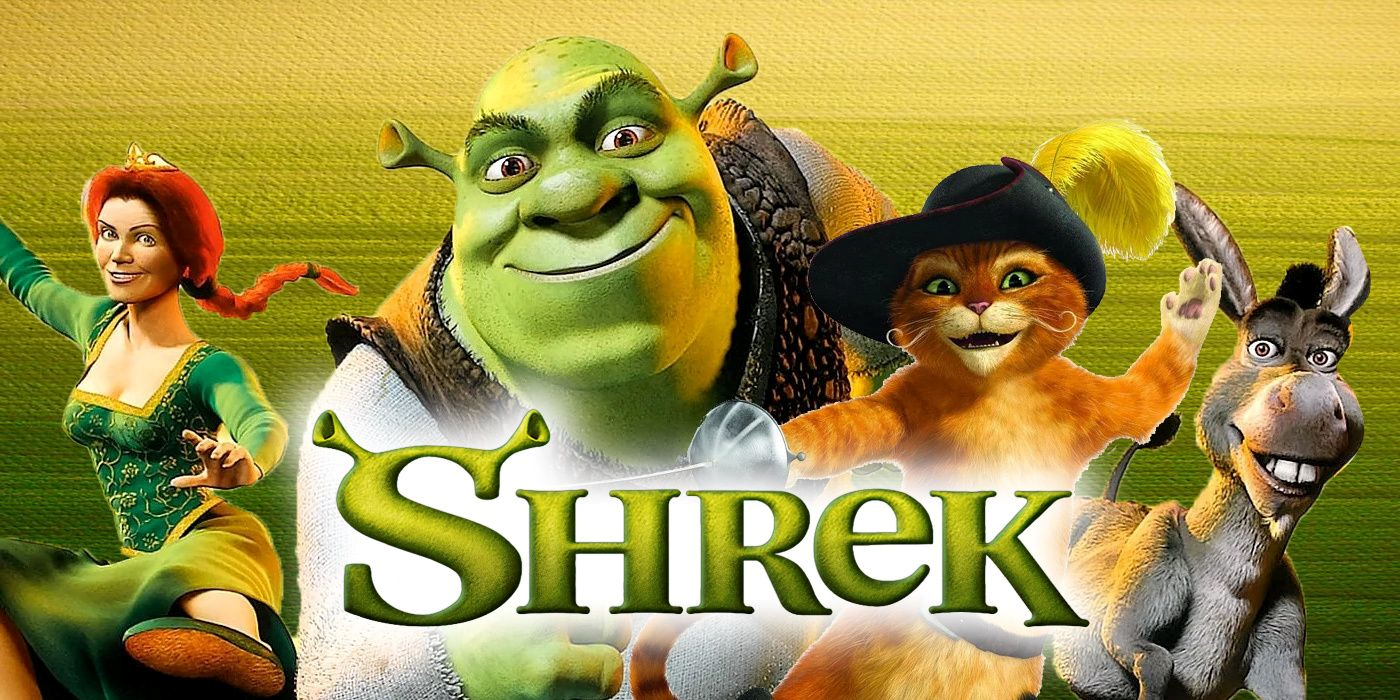 Best Shrek Text to Speech Tool: FineShare FineVoice
Do you love Shrek and his Scottish accent? Do you wish you could hear him say anything you want? Well, now you can, thanks to FineShare FineVoice, the best Shrek text to speech tool ever.
FineVoice is an AI digital voice solution that allows you to make Shrek say anything you want, in his unique voice. But it's not only limited to Shrek's voice. You can also choose from various voices in different languages, genders, and accents. You can make other celebrities, movie roles, or cartoon characters say anything you want, such as Morgan Freeman, Taylor Swift, Wiseguy, Walter White, Homer Simpson, Mickey Mouse, Sonic, and more.
You can download your Shrek voice as an MP3 file and use it for any purpose, such as pranking your friends, creating your own Shrek memes or videos, or just having some fun.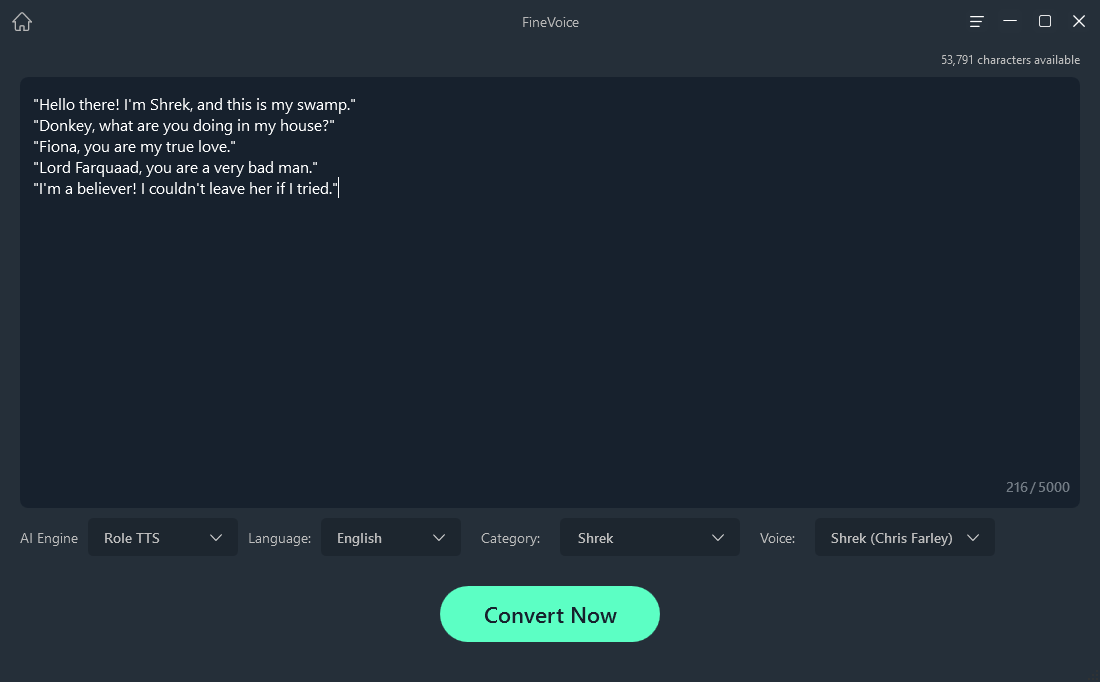 FineVoice can also as a Shrek voice changer. You can change your voice in real-time, with fantastic voice effects and sound effects to choose from. You can sound like a robot, a baby, a Space Marine, a celebrity, a YouTuber, or anything you can imagine.
How to Sound Like Shrek with FineVoice Shrek Voice Generator?
Using the FineVoice Shrek text to speech tool to generate Shrek voice is very simple and fast. Here's how to do it:
Step 1: Download and install FineVoice. It's easy and safe to use.
Step 2: Launch the program and choose the Text to Speech feature from the main menu.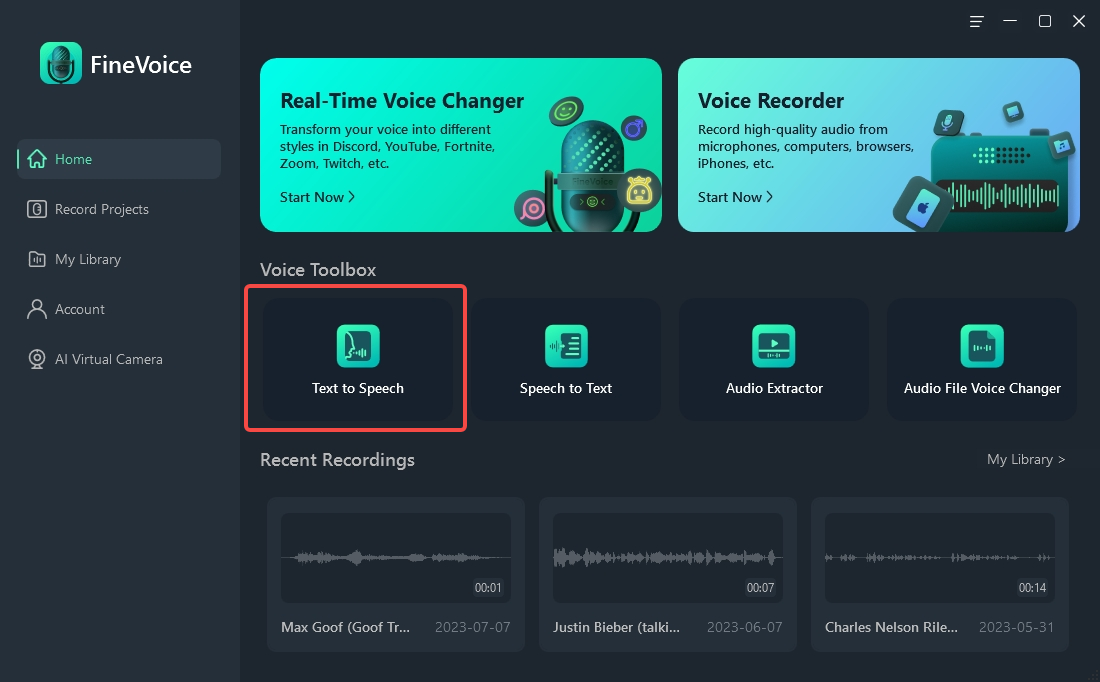 Step 3: Type or paste any text you want Shrek to say in the text box.
Step 4: Choose Shrek voice from the voice list. You can also adjust the speed and pitch of the voice as you wish.
Step 5: Click on the Convert Now button and wait for a few seconds while the tool processes your text.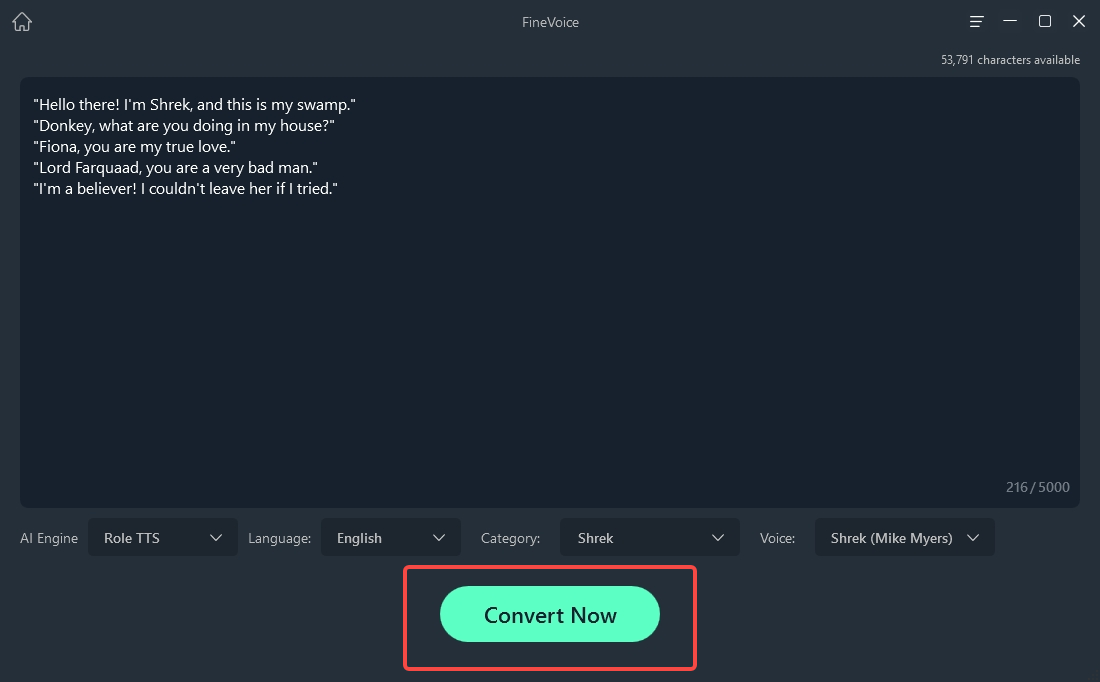 Step 6: Listen to the generated audio clip and enjoy Shrek's voice.
Step 7: You can also download the clip as an MP3 file or share it on social media.
Step 8: Repeat the process as many times as you want with different texts.
Conclusion
Shrek text to speech tool is a fun and easy way to create your own Shrek audio clips in minutes. You can use it for any purpose you want, as long as you don't hurt anyone's feelings. So what are you waiting for? Grab your onion and download FineVoice to start making Shrek say anything you want!
Have fun making Shrek speak with the AI Shrek voice generator!
FAQs about Shrek
Is Shrek Based on a Book?
Yes, Shrek is based on a children's picture book of the same name by William Steig. However, the movie adaptation took creative liberties and expanded upon the original story to create a rich and immersive animated world.
Why Does Shrek Have a Scottish Accent?
Shrek's distinctive Scottish accent is primarily attributed to the voice actor who portrays him, Mike Myers. Myers, a Canadian actor of Scottish descent, chose to infuse Shrek's character with a Scottish accent to add a layer of authenticity and uniqueness to the role.
What is the Name of the Land Where Shrek Lives?
Shrek lives in a land called Far Far Away, which is a parody of fairy tale kingdoms and Hollywood. Far Far Away is home to many fairy tale characters, such as Cinderella, Snow White, Pinocchio, and the Three Blind Mice. It's also ruled by King Harold and Queen Lillian, who are Princess Fiona's parents.