Discord is a popular platform for voice communication for gamers and streamers. Text to speech (TTS) is a built-in feature on Discord. With text to speech bot Discord, you can improve your experience with other members during the calls. In this article, we introduce you to how to use text to speech on Discord.
How to Use Discord Text to Speech
In this part, we will illustrate to you how to use TTS in Discord step by step.
Part 1. How to Enable TTS in Discord
First, Let's see how to turn on TTS in Discord.
Step 1. Open the Discord app on your computer.
Step 2. Click the User Settings in the bottom-left corner of the screen.
Step 3. Click the Notification at the sidebar.
Step 4. Scroll down the screen and find the Text-to-Speech Notifications. Discord offers you three text-to-speech notification options.

For all channels: If you choose it, you can hear every text to speech message in all channels.
For currently selected channels: The option will restrict text-to-speech to the current channel.
Never: Selecting never will disable the feature.
Step 5. Click Text & Image on the left.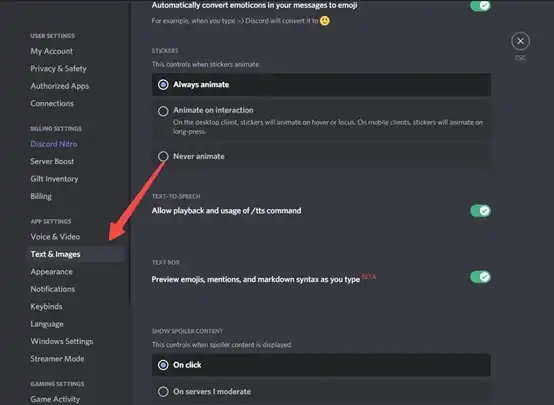 Step 6. Scroll down the screen and find Allow playback & usage of the/tts command and then switch the toggle on next to it.
Part 2. How to Use TTS on Discord
Now, Discord text-to-speech is enabled. In the second part, we will show you how to use text to speech on Discord.
Step 1. Open Discord and find a channel you want to send a message to.
Step 2. Type "/tts" before your message.
There is a space between the command and your message. For instance, "/tts Hello, how are you today?"
Step 3. Send the message. The message will be read by a voice bot. Your member on this channel will hear your message.
If your members turn off text-to-speech, they cannot hear the audio you sent.
How to Fix TTS Not Working
Sometimes, you may encounter difficulties in using TTS on Discord. Text to speech on Discord does not work and is a common problem, but fixing it is easy. You can use the following methods to address your problem.
Method 1. Update Windows
Before trying other methods, you would better make sure the Windows operating system is the latest version.
Step 1. Press Win+ I to open Settings.
Step 2. Click Update & Security.
Step 3. Click Check for updates.
Step 4. Click Install now. Download and install the latest updates. And last restart your computer.
Step 5. Launch Discord and test the text-to-speech function to check if it works properly.
Method 2. Update or reinstall the Discord app
Discord stops working because of a bug on the app. You can try updating the app to fix the bug. Here are two options for you.
Option 1. Go to directly Microsoft store and update the Discord app.
Option 2. Uninstall the Discord app on the computer and then go to the Microsoft store and install the Discord app again.
Now, check if Discord text to speech is working fine.
Method 3. Set notifications correctly
Discord's text to speech bot cannot read your message if it has not the right to gain your message. Reset Discord can help you address this issue.
Step 1. Open Discord and find Settings.
Step 2. Click Notifications.
Step 3. Scroll down to Text-to-speech Notifications. You can check the For all channels option or For current selected channel option.

Step 4. Restart Discord, and check whether Discord text to speech is working.
Conclusion
That's all about enabling and using text to speech on Discord. And we also discuss how to fix the Discord text to speech not working. Besides the computerized voice of Discord, you can access 220 natural-sounding voiceovers in 40 languages and tons of character voices with FineVoice text to speech.
Try FineVoice for Free
Powerful text-to-speech tool with 220+ lifelike voices in 40 languages and numerous funny meme voices to generate voiceovers for Work & Leisure. Bring your content to life with FineVoice at any time. Get it for free.