The Batman voice changer has become a popular tool for cosplayers, Halloween enthusiasts, and anyone looking to add some excitement to their voice.
If you've ever dreamed of becoming the Dark Knight, now you can unleash your inner Batman with the top 5 Batman voice changers on the market.
Should I Purchase a Batman Helmet Voice Changer?
The Batman Helmet Voice Changer is ideal for the complete Batman cosplay experience. It has a built-in voice modulator that alters your voice to sound like the Dark Knight himself.
The Voice Changer Helmet's sound quality is undoubtedly top-notch, but it's expensive and only has a few phrases. If you just want to have some fun changing your voice, there are many free voice changers. Wouldn't it be more enjoyable to play a game while using Batman's voice?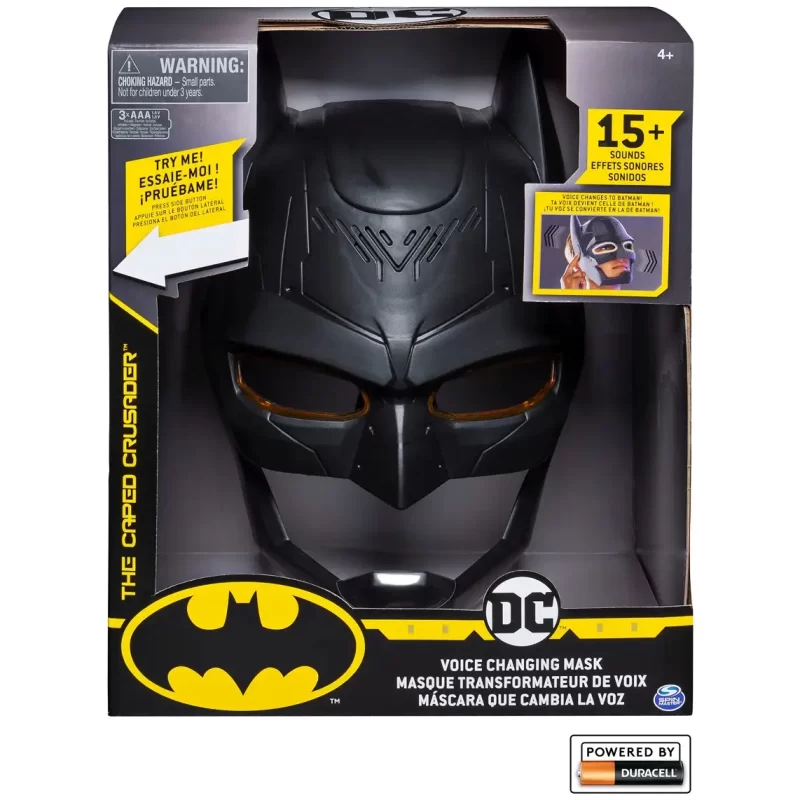 5 Best Batman Voice Changer for PC and Mobile
With so many options on the market, it can be challenging to find the best one. So we will talk about the functions and features of each Batman voice changer in detail.
1. FineShare FineVoice
Want the best Batman voice changer for Windows? FineShare FineVoice is the right option for those looking to emulate the deep and menacing voice of Batman. It gives you professional audio quality in meetings, streaming, and gaming.
Its interface is clear and easy to understand, and you will soon be proficient in how to use it. FineVoice also supports changing your voice on popular platforms like Twitch, Discord, YouTube, Zoom, etc. You can also use it while playing games such as CS: GO, League of Legends, and Minecraft.
FineVoice offers more than 30 voice effects and 200 preset sound effects. Here you can find not only the voice of Batman but also the voice of Transformers, Megatron, Chipmunk, Donald Duck, and other famous characters. Besides, this voice changer is customizable, so you can use your creativity and imagination to create custom voices.
FineVoice can change the voice of audio files and extract audio from video files. With the text-to-speech tool, you can generate various voices, including Morgan Freeman, Emma Watson, and SpongeBob SquarePants.
Download and create your own Batman voice!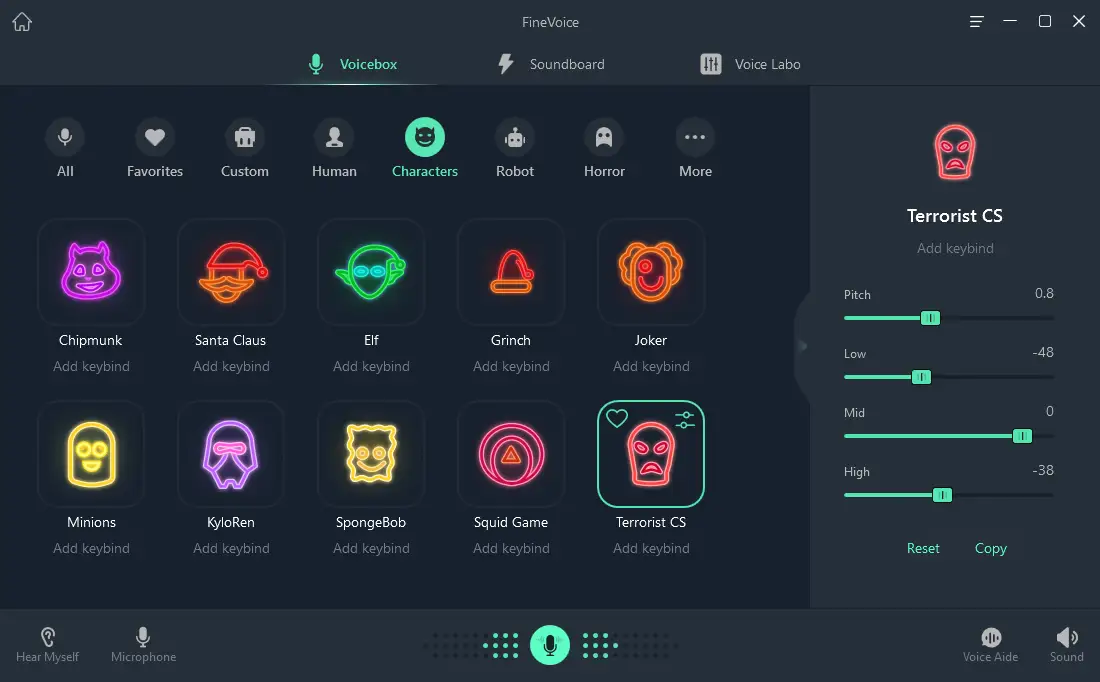 Features:
Easy to use and suitable for beginners
Change your voice into Batman in real-time
Offer 30+ voice effects and 200+ preset sound effects
High-quality voice recorder
Audio extractor
Generate voice in 30+ languages with a text-to-speech tool
2. Voxal Voice Changer
Voxal Voice Changer is one of the oldest and most reliable voice generators for anime. With it, you can create a convincing Batman voice easily and impress your friends or add some excitement to your next cosplay event.
Voxal Voice Changer offers a superhero voice effect specifically designed to imitate the voices of comic book heroes like Batman. You can change your voice to sound deeper and more commanding. You can even make your own voice sound like Batman from a different era. It also has a pitch shift effect. For example, you can use it to create harmonies or use reverb to add a hint of echo to your voice to make it more dramatic and intimidating.
Voxal Voice Changer is compatible with Windows and Mac systems. You can use it with popular communication platforms such as Discord, Skype, etc. In addition, Voxal offers a free trial version, so you can test it before buying the full version.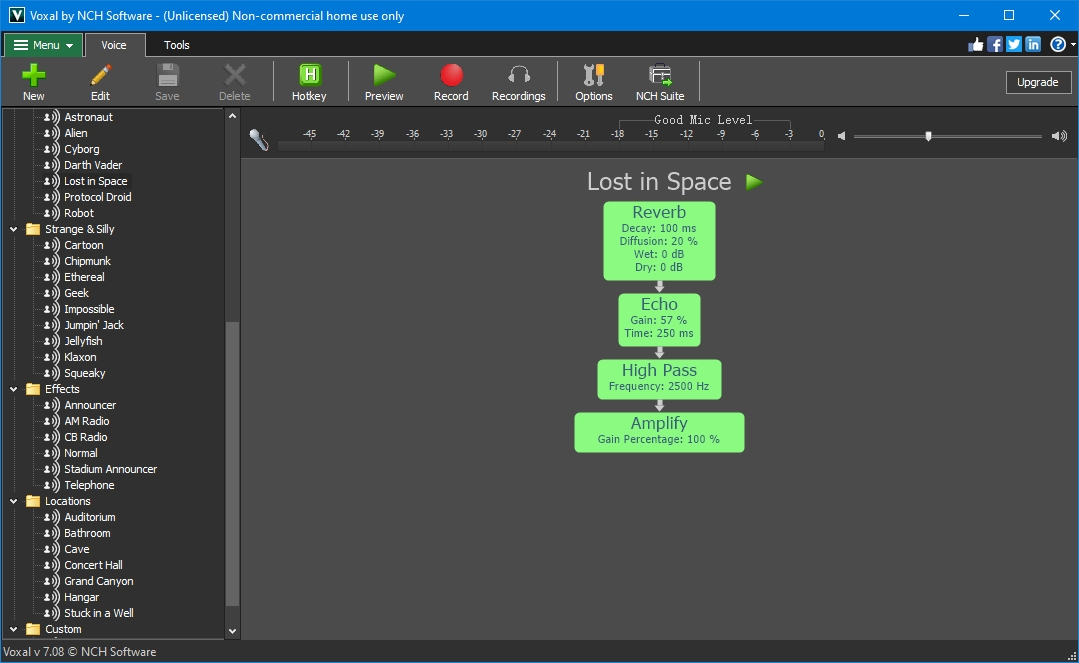 Features:
Huge library of vocal effects
Support for creating unlimited, custom voice effects
Change your voice in real-time
Voice filter library
Add background noise effects
3. MorphVox Pro
Whether you are a content creator, a streamer, or just want to add some excitement to your voice, MorphVox Pro is perfect for you. You can use it to create the iconic voice of Batman, as well as the voices of many celebrities and cartoon characters. The tool is very easy to use and you can fully integrate it with online games and chat programs such as Skype, Facebook Messenger, Hangouts, TeamSpeak, etc.
With MorphVox Pro, you can change your voice in real time to create unique and interesting sound effects. You can also create custom voice effects by adjusting pitch, tone, and other parameters. MorphVox Pro will take your Batman cosplay or voiceover skills to the next level and create a truly immersive experience.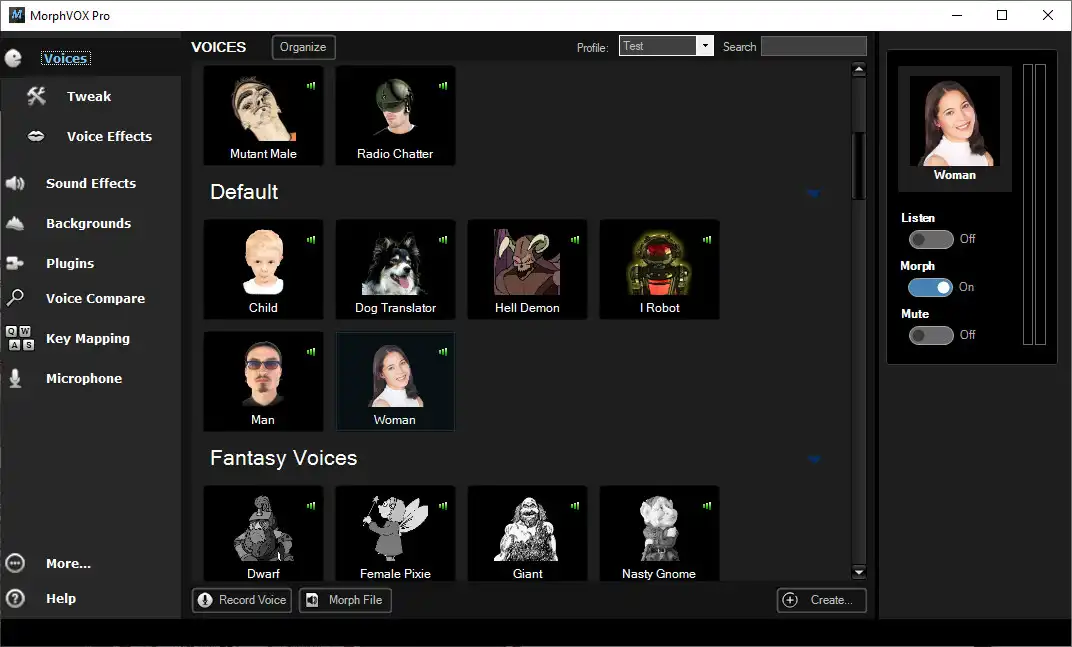 Features:
Superior voice learning technology
A huge library of free sound effects
Support adding any ambient sound as you speak
Advanced vocal channel filters
Audio Alarms
4. Clownfish Voice Changer
To transform your voice into a variety of iconic voices of different characters including Batman, Clownfish Voice Changer is a great choice for anyone who wants to change their voice. It's compatible with Windows and MacOS. And it's also a fun and easy-to-use application.
Clownfish Voice Changer has many different voice effects such as male to female, baby, alien, Atari, clone, mutation, helium, robot, etc. You can also add your voices and effects, and play background music and sounds. You can use sliders or numeric values to adjust your voice pitch or use the voice assistant to test your voice.
Clownfish Voice Changer can convert different voices from text to speech. You can choose local voices such as SAPI4, and SAPI5 or online voices such as Google, IBM, etc. It also supports VST plugins and you can enhance your voice with additional effects and filters.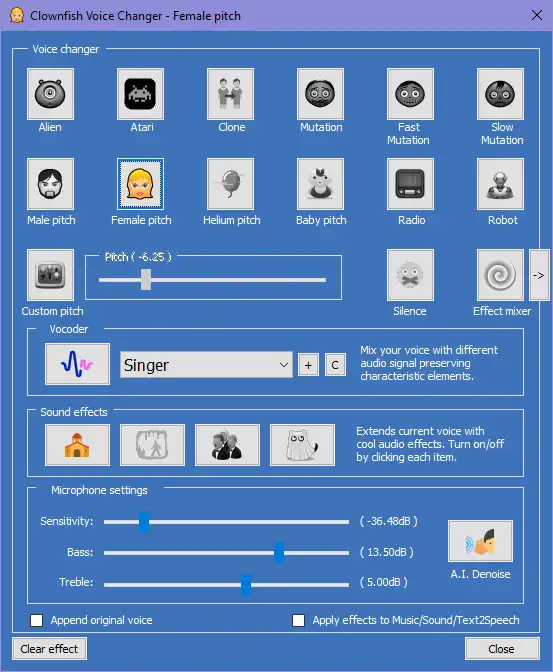 Features:
Attractive interface
Real-time voice changer
Provide a wide variety of voices
Support text-to-speech
Tone control
5. Celebrity Voice Changer
Celebrity Voice Changer is the best Batman voice modulator app you can choose for your mobile. It's very user-friendly for beginners and has been downloaded over 1 million times so far. The app can work with both iOS and Android.
Celebrity Voice Changer uses deep learning technology and artificial intelligence to make your voice can sound like your favorite celebrity. You can choose from a huge library of celebrity voices such as Taylor Swift, Donald Trump, Darth Vader, or Venom.
One of the best things about this software is that it's updated weekly with new sound effects. And you can also send requests to the developers to add your favorite sounds or modify existing ones. You can use it for entertainment, prank calls, spoof content, or any other purpose you like.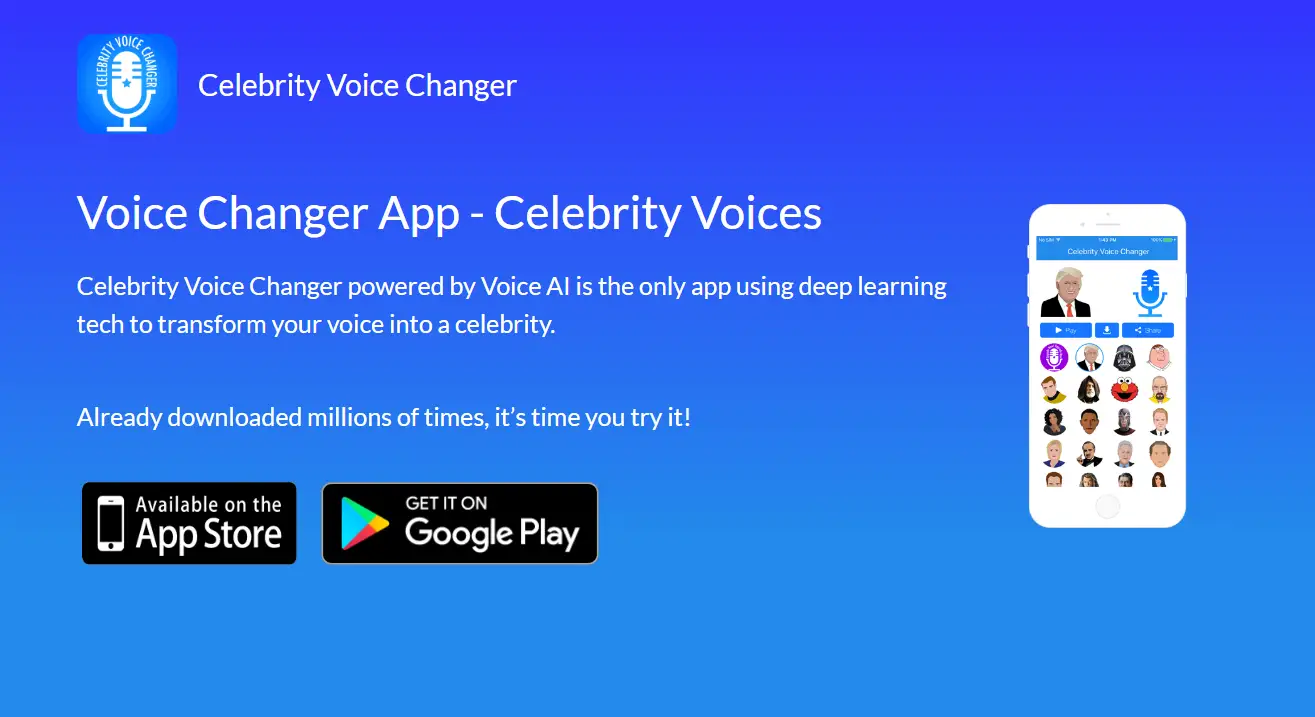 Features:
Simple user interface
Includes a large collection of celebrity voices
Compatible with iOS and Android devices
Allows importing audio files or creating your own audio files
Support requests to add new celebrity voices or improve existing ones
Conclusion
The Batman voice changer is an essential tool for anyone looking to add some excitement to their voice. Out of all these, FineVoice deserves a special mention. Download and start emulating the voice of the Dark Knight today!