Do you want to turn into Darth Vader and scare your teammates in a game? There are now many voice changers that can help you do just that.
Read this post, we introduce 5 Darth Vader voice changers to you.
Part 1. Who Is Darth Vader?
"No … I am your Father …"
Have you ever heard of Darth Vader? He is a charming villain in Star Wars films.
His voice terrifies moviegoers across the galaxy, and much of that needs to be attributed to James Earl Jones' interpretation.
James Earl Jones is 91 years old and has announced that he will no longer be voicing the character of Darth Vader, whose voice will be taken on by a learned AI program.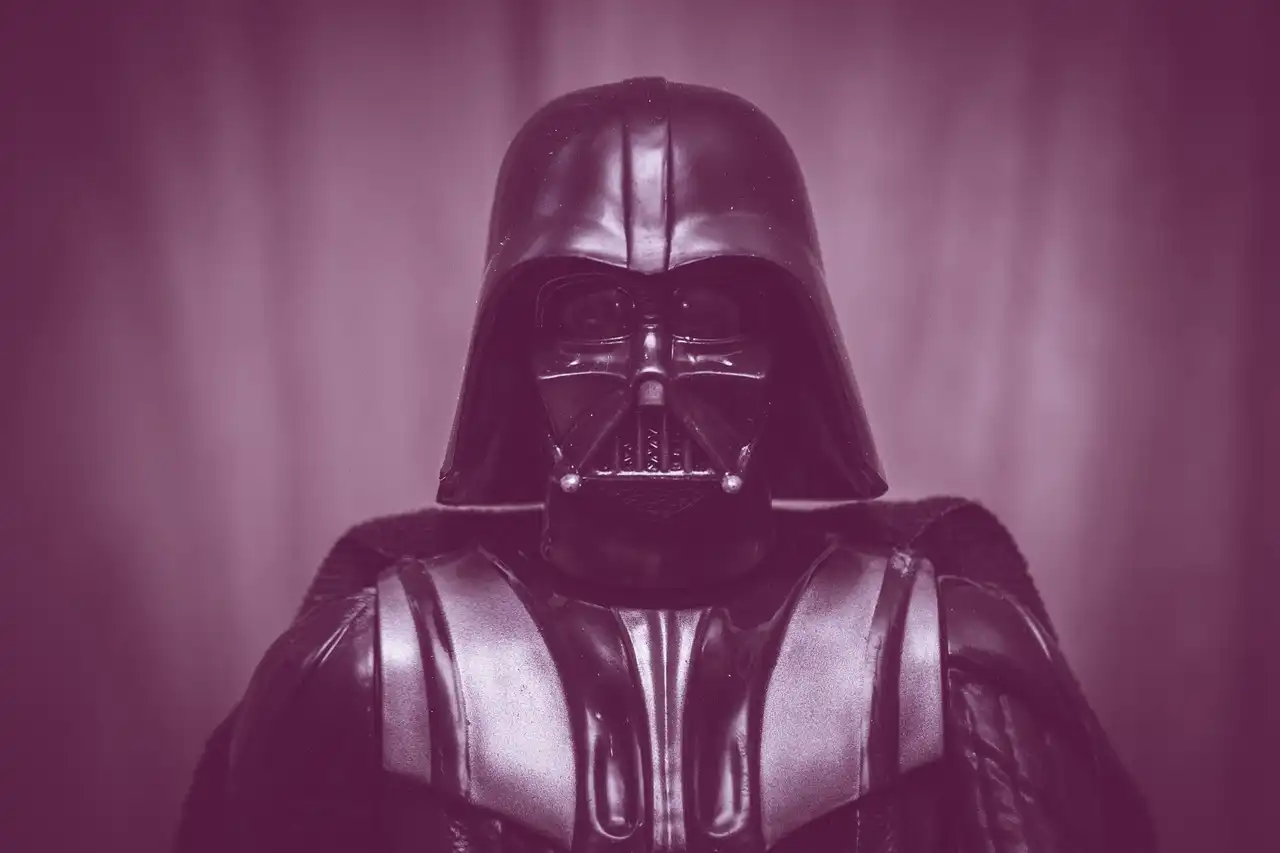 How to get Darth Vader's voice? Do you need to spend hundreds of dollars to buy a Darth Vader voice changer helmet?
No need. Just like the Darth Vader voice in the movie can be achieved by AI programs. We can also use voice changer software to get Darth Vader's voice. In this post, we will walk you through the best Darth Vader voice changer one by one.
Part 2. 3 Best Darth Vader Voice Changers for Desktop
Let's start with the Darth Vader voice changers that support computers.
#1. FineShare FineVoice
FineShare FineVoice is a real-time voice changer software. It offers you 30+ voice effects and 200+ sound effects and gives you professional audio quality while meeting, streaming, and gaming.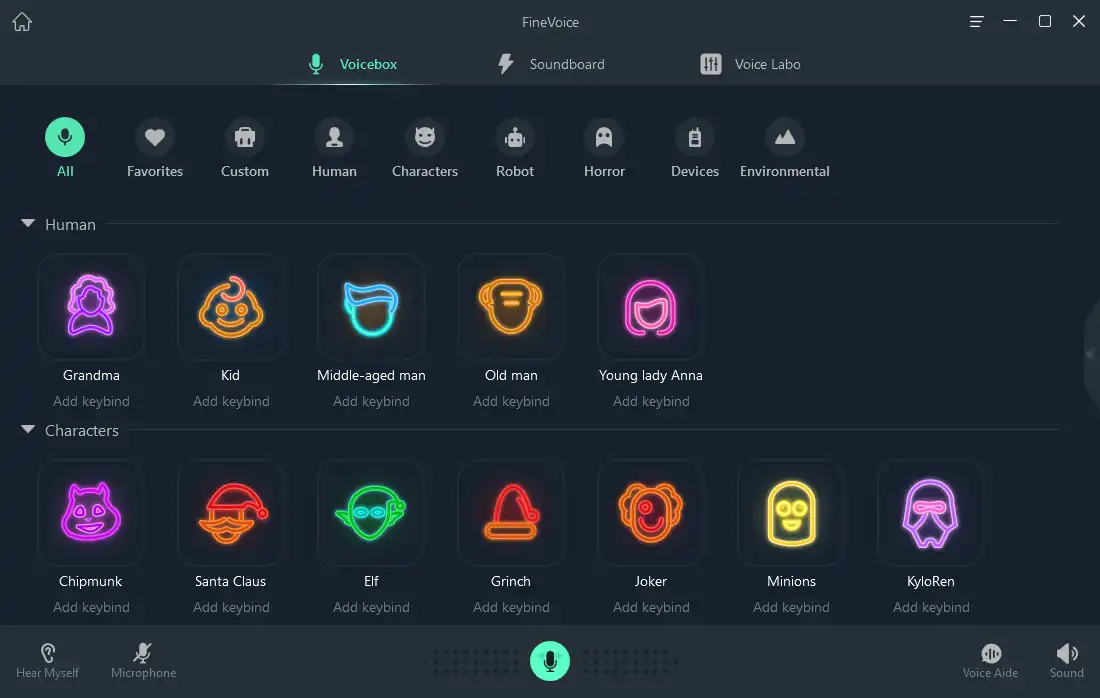 Pros:
Offers a preset Darth Vader voice effect.
You can create your Darth Vader voice in Voice Labo with audio effects.
You can record voice from microphones, audio files, and your iPhone.
You can upload a local audio file and change the voice to Darth Vader's voice.
Change your voice in real time
Cons:
FineVoice only works on Windows computers.
How to use the Darth Vader Voice Changer?
Step 1. Click to install FineVoice on your Windows computer.
Step 2. Click the Real-Time Voice Changer button to open this feature.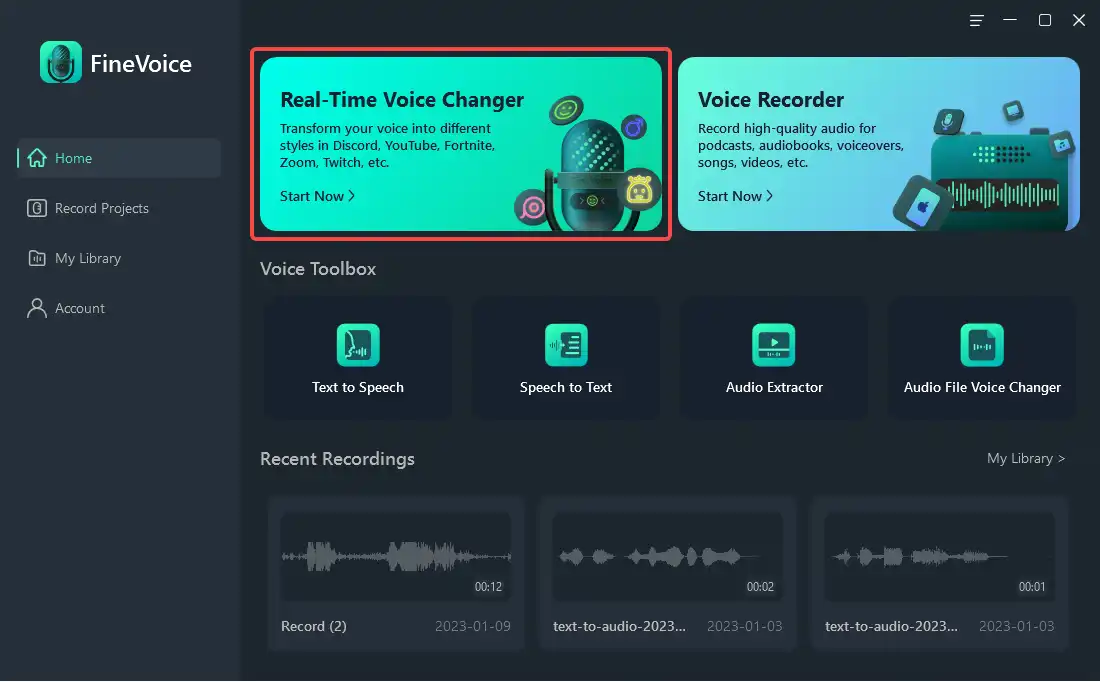 Step 3. Select your microphone and headphones as the input and output audio devices.
Step 4. Find the Darth Vader voice effect under the Robot category.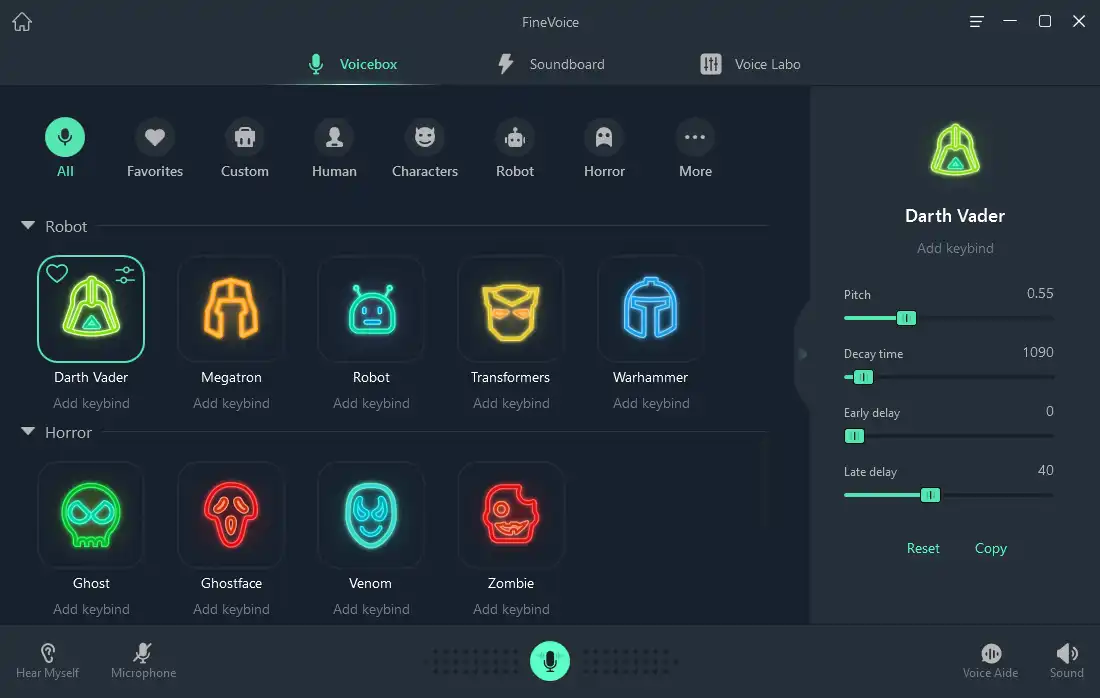 Step 5. Open the voice chat application you are using, and select FineVoice Virtual Microphone as the input audio device in the audio settings. Prank your friends with Darth Vader's voice.
Related article: Top 5 Batman Voice Changers for PC and Mobile.
#2. Voicemod
Voicemod is an old-school voice changer, and the features in it have been very well developed. It can be used as a real-time Darth Vader voice changer for Discord and other live-streaming platforms.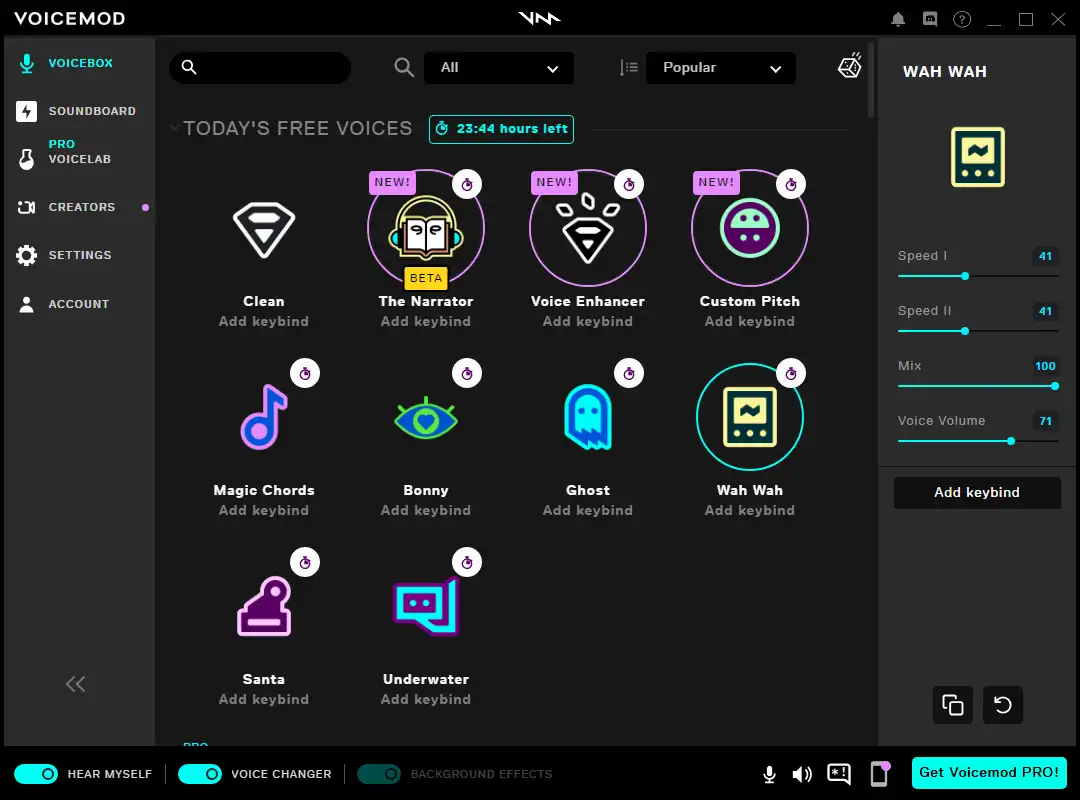 Pros:
You can turn your voice into Darth Vader's with more than a dozen professional tuning parameters in Voicelab.
You can go into Voicemod Tuna and search for Darth Vader sound effects uploaded by other users.
Cons:
Voicemod only supports Windows.
There is no preset Darth Vader sound filter in Voicebox.
Only available to Pro users.
#3. Voxal Voice Changer
Voxal Voice Changer by NCH Software is another real-time voice-changing software. It works on game and chat platforms, such as GSGO, Steam games, Skype, and Discord.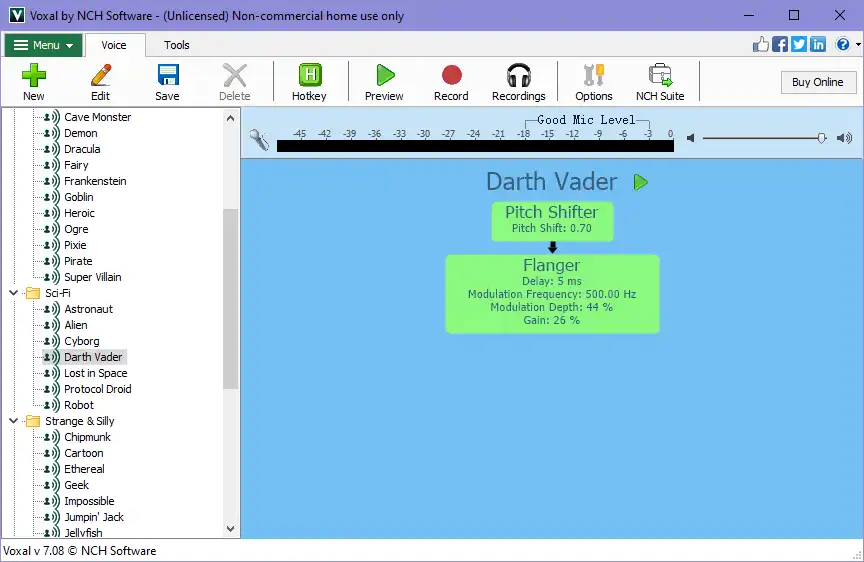 Pros:
Can work on Windows PC and Mac.
The sound filter library includes 50 sound filters in six categories: People, Fantasy, Sci-Fi, Strange & Silly, Effects, and Locations.
You can find Darth Vader in Sci-Fi and make real-time adjustments to this sound filter based on 15 tuning parameters.
The free version includes the features mentioned above.
Cons:
The HCN Suite is bundled and installed without prompting when you download the software.
The software user interface is not very intuitive and there are learning costs associated with using the software.
You can also read this article: 5 Best Alternatives to Voxal Voice Changer Software in 2023.
Part 3. 2 Best Darth Vader Voice Changer Apps for Phone
Can we have Darth Vader's voice on our phones? Let's learn about the two voice changer apps below.
#1. Voice Changer Voice Editor App
Voice Changer Voice Editor App has been downloaded more than 5 million times in Google Play.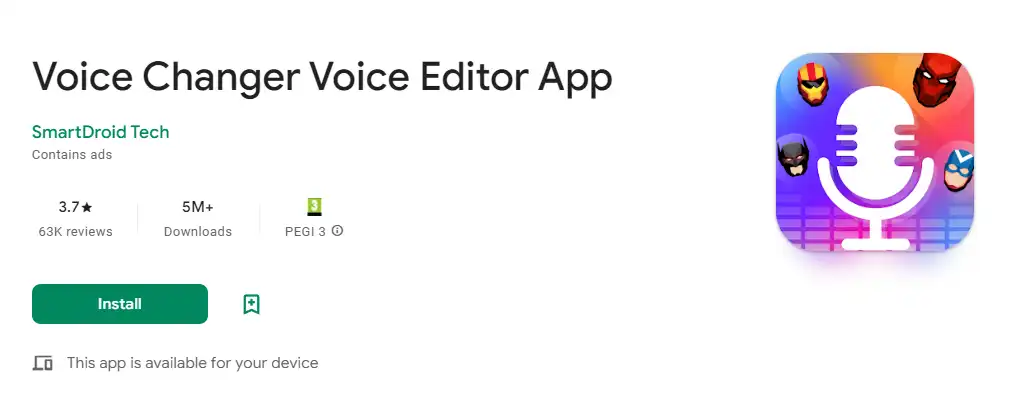 Pros:
Provides 20+ celebrity sound filters.
You can use this software to record, edit, save and share audio.
Audio can be set as a ringtone or notification sound.
Cons:
Only supports Android devices.
Unable to change voice in real-time in chat.
Don't miss: 20+ Popular Virtual Halloween Party Ideas for Remote Work 2023.
#2. Vader Breath
Vader Breath is more like an application for pranking than a voice changer.
It offers three different kinds of Darth Vader breaths. You can wear a Darth Vader costume on Halloween, put on his helmet, and then use your phone to play the deep breathing sound of Darth Vader.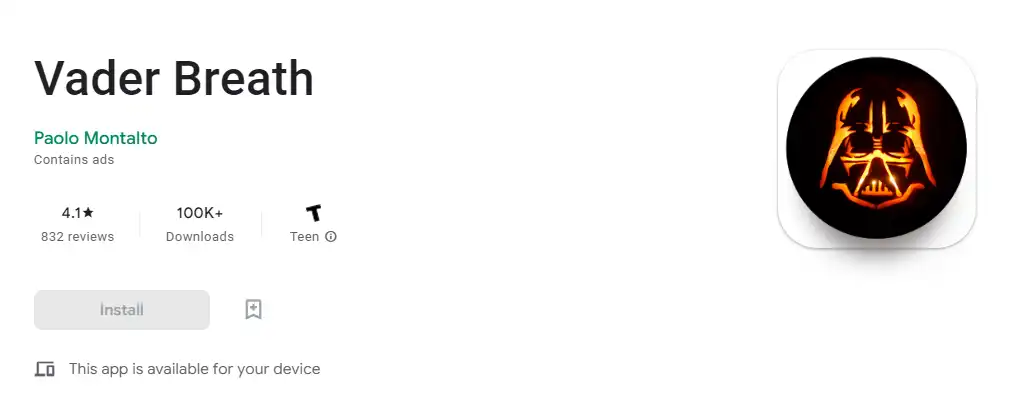 Pros:
A very simple user interface.
It's free.
Cons:
Cannot record within the app.
Cannot change voice in real-time, can only play the Vader breathing effect already built into the software.
Want to make a prank call for your friends? You can read: 5 Best Prank Call Voice Changer Apps You Must Try in 2023.
Part 4. Best Darth Vader Online Voice Changer
Do you want to sound like Darth Vader, the iconic villain from Star Wars? If so, you need the best Darth Vader online voice changer: FineShare Online Voice Changer!
It's a free and easy-to-use online tool that lets you transform your voice into Darth Vader's in seconds. You don't need to download or install anything, just open the website, allow microphone access, and start speaking. Try it now and unleash the power of the dark side!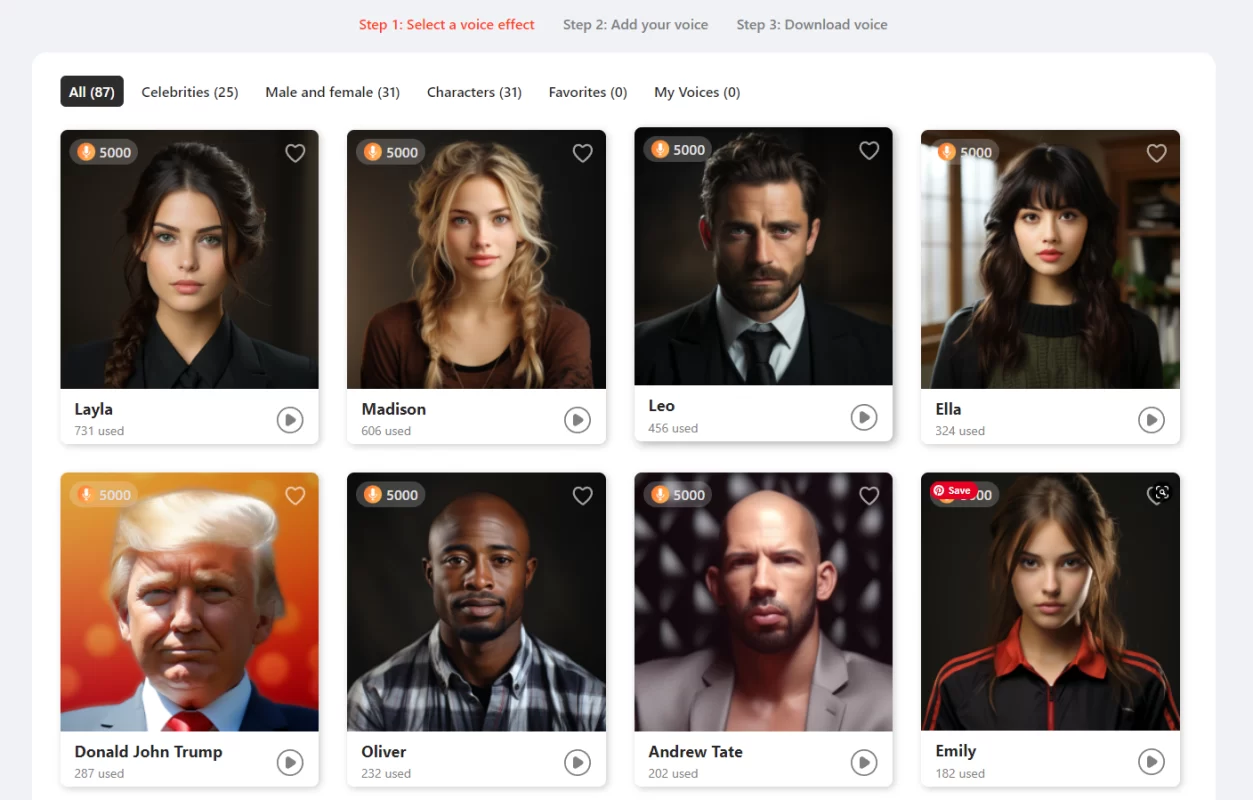 Conclusion
This article introduces you to 5 Darth Vader voice changers, whether you want to use them on your computer or your mobile phone. Find your favorite Darth Vader voice changer.
Don't wait any longer! Download FineVoice now and become Darth Vader for Halloween. Impress your friends and have a good laugh at the Halloween party.
FAQs about Darth Vader
What is Darth Vader's Real Name?
Darth Vader's real name is Anakin Skywalker. He was a Jedi Knight before succumbing to the dark side and adopting the persona of Darth Vader.
What is the Origin of Darth Vader's Suit?
Darth Vader's suit is a life-support system that keeps him alive after he was severely injured by Obi-Wan Kenobi on Mustafar. Although the suit increases his strength and shields him from threats, it also hurts him and restricts his mobility.
What are Some Famous Quotes by Darth Vader?
"I find your lack of faith disturbing."
"No, I am your father."
"The Force is strong with this one."
"You have only seen the smallest glimpse of the dark side."
"Give yourself to the dark side. It is the only way you can save your friends."
"You underestimate my power."
"You have learned much, young one."
"You are a part of the rebel alliance and a traitor. Take her away!"
"Perhaps I can find new ways to motivate them."
"Just for once let me look on you with my own eyes."