Pop Smoke was a rising star in the rap industry, known for his distinctive voice and style. He was also a victim of a brutal murder that shocked the world. But what if you could bring him back to life with the power of artificial intelligence?
In this post, we will show you the 6 best AI voice tools to create a realistic and authentic Pop Smoke AI voice. Whether you want to have some fun, make some music, or pay tribute to the late rapper, you will find some useful tools and tips in this post. Read on and discover how to sound like Pop Smoke.
Who Is Pop Smoke?
Pop Smoke was a talented and influential rapper who was born and raised in Brooklyn, New York City. He started his musical career in late 2018 with his debut single "MPR (Panic Part 3 Remix)". He became famous for his breakout singles "Welcome to the Party" and "Dior" in 2019, which were part of the Brooklyn drill genre.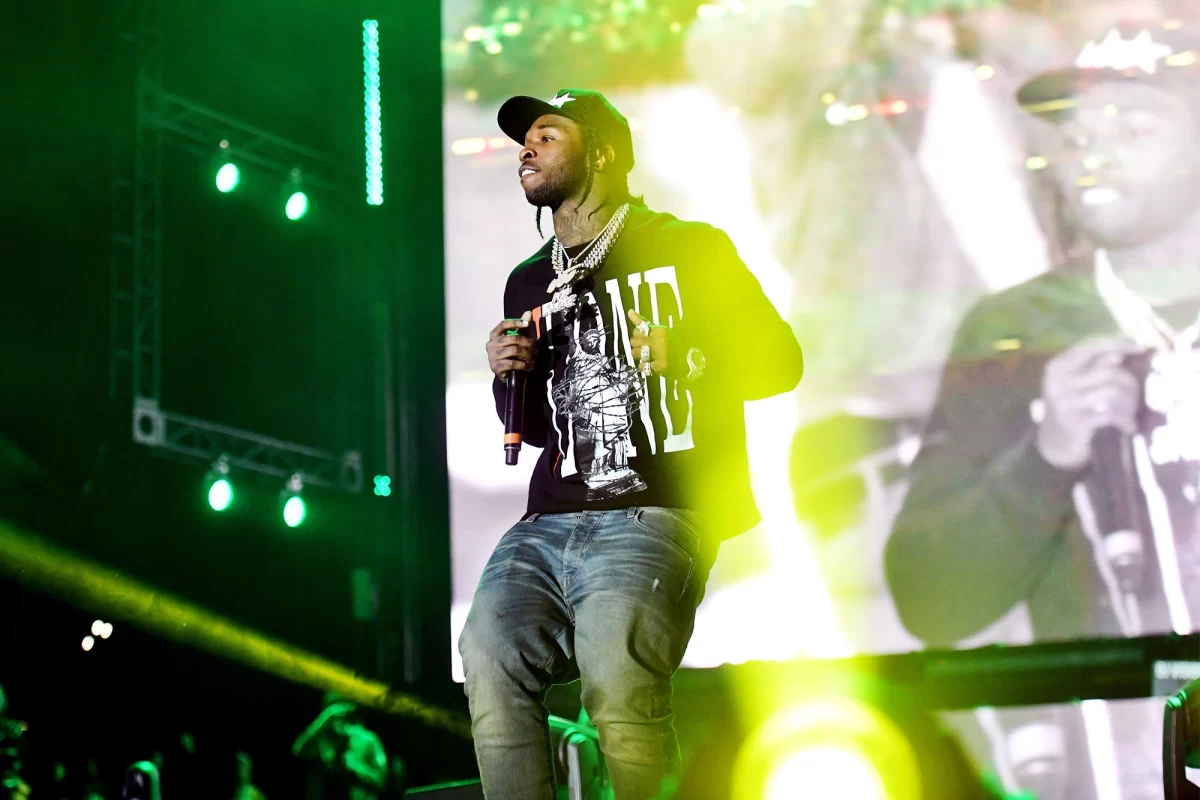 He released two mixtapes, Meet the Woo and Meet the Woo 2 before he was tragically killed during a home invasion in Los Angeles in 2020. His posthumous albums, Shoot for the Stars, Aim for the Moon, and Faith, topped the charts and earned him many accolades.
Best Online Pop Smoke Rap and Song Cover Generator
Want to make rap songs with Pop Smoke's voice? Want to listen to him sings other artists' songs? FineShare Singify is the most simple and a free option for you. This AI singing voice generator allows you to make any rap covers with your favorite rap star.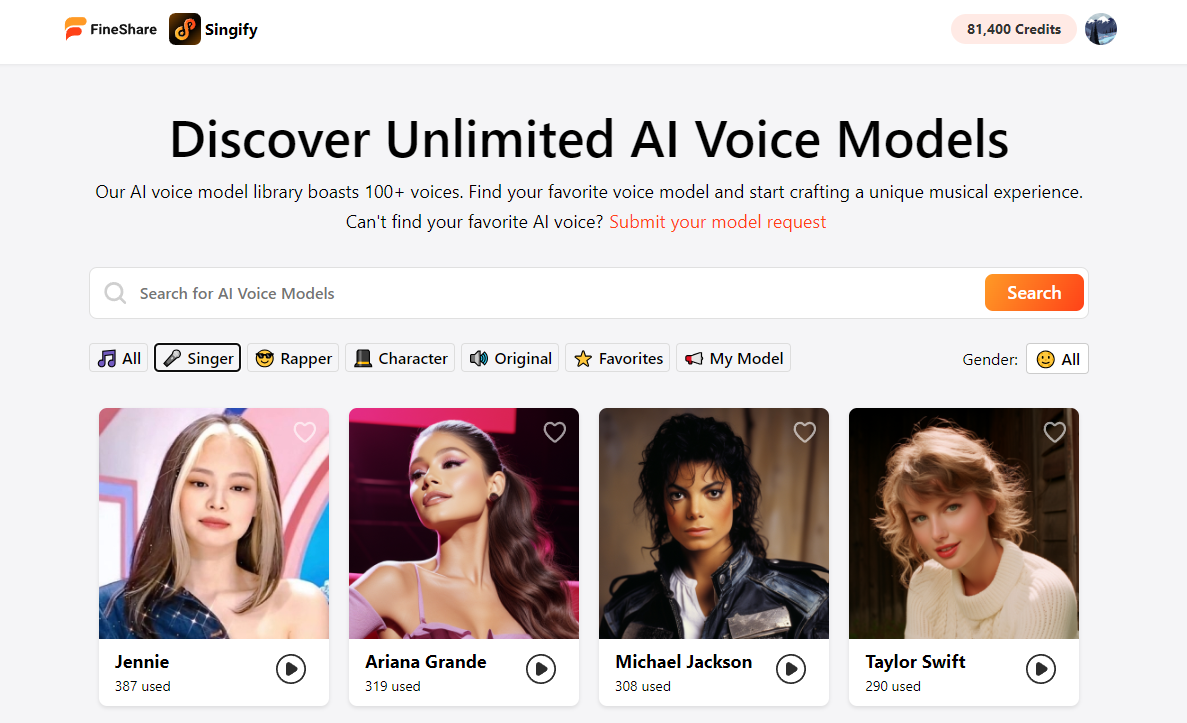 Pros:
Easy to create song covers in 3 steps
100+ AI voice models of singers and rappers
Multiple audio and video input ways
Search in the app to find any YouTube video for song cover
Cons:
Need you to wait in line for conversion
2 Best Pop Smoke AI Voice Changers
#1. FineShare Online Voice Changer
Revamp your vocal persona with FineShare Online Voice Changer, a free virtual tool for realistic AI voice transformation.
It offers a spectrum of effects and filters, including realistic voices to hide your gender and age.  And you can choose from cartoon presets and celebrity voices from Billie Eilish and Kanye West, to Juice WRLD and Peter Griffin, to make your voice becomes a canvas.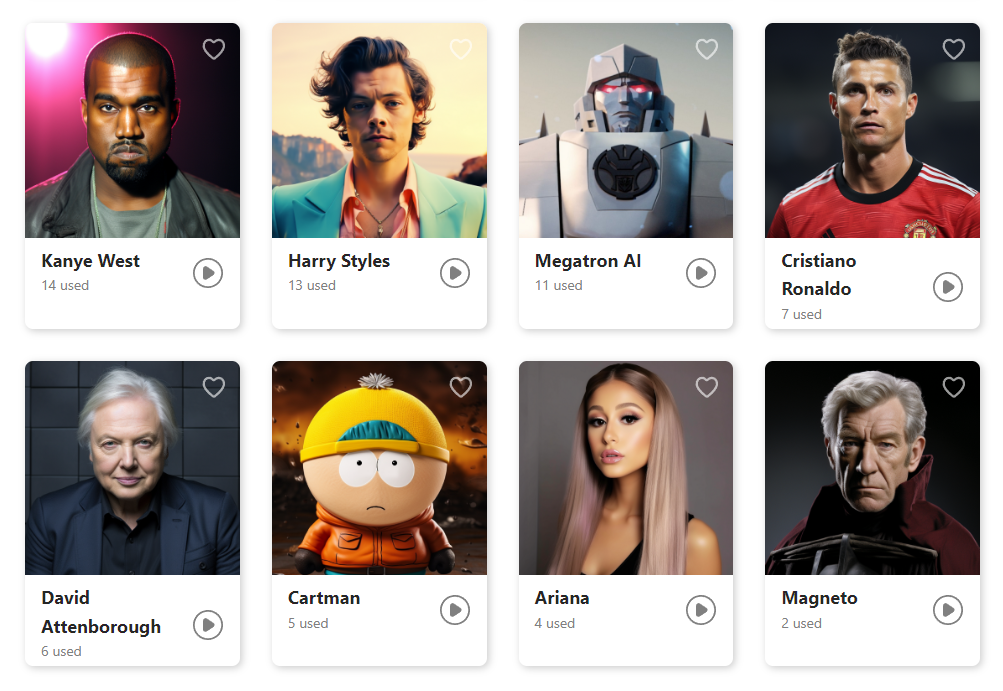 Pros:
Effortless to use with no installations required
100+ effects and filters for that tailor-made tone
Fast transformation speed and high accuracy
Integrated with most all web browsers and devices
Cons:
Audio quality depends on the voice model you are using
#2. Voicify AI
Dive into the world of celebrity-like vocal alterations with Voicify AI. This cutting-edge online tool leverages AI technology to morph your voice into different personas, offering over 100 voices including iconic figures like Ice Spice, Donald Trump, SpongeBob SquarePants, and even Pop Smoke.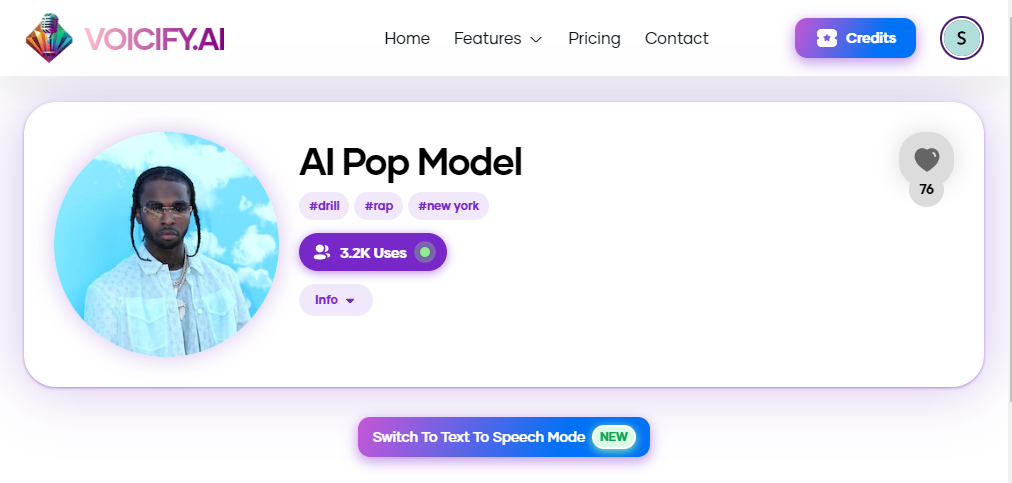 Pros:
Harnesses advanced AI for utterly convincing, lifelike song covers
A treasure trove of diverse voices to choose from
Supports both videos, audio, and text-to-speech mode
Voices adding regularly and custom model creation supports
Cons:
Not a free offering; subscriptions or credits are needed
Generation time varies based on text or audio length
Voice repertoire might not encompass all your preferences
3 Best Pop Smoke AI Voice Generators
#1. FineShare FineVoice
Craft lifelike voices from mere text with FineVoice Text to Speech, a versatile AI voice generator. Diverse languages, accents, and genders, are at your disposal. Select from Joe Biden to Ariana Grande, from Minions to Winnie the Pooh. Just input your text, and experience the transformation.
FineShare FineVoice is more than just a Pop Smoke AI voice generator. It's a one-stop digital voice solution that empowers you to optimize and enhance your voice. You can use it to create your Pop Smoke AI voice and record or transcribe Pop Smoke interviews and speeches, as well. It's easy to use, perfect for online meetings, games, chats, live streaming, content creation, etc.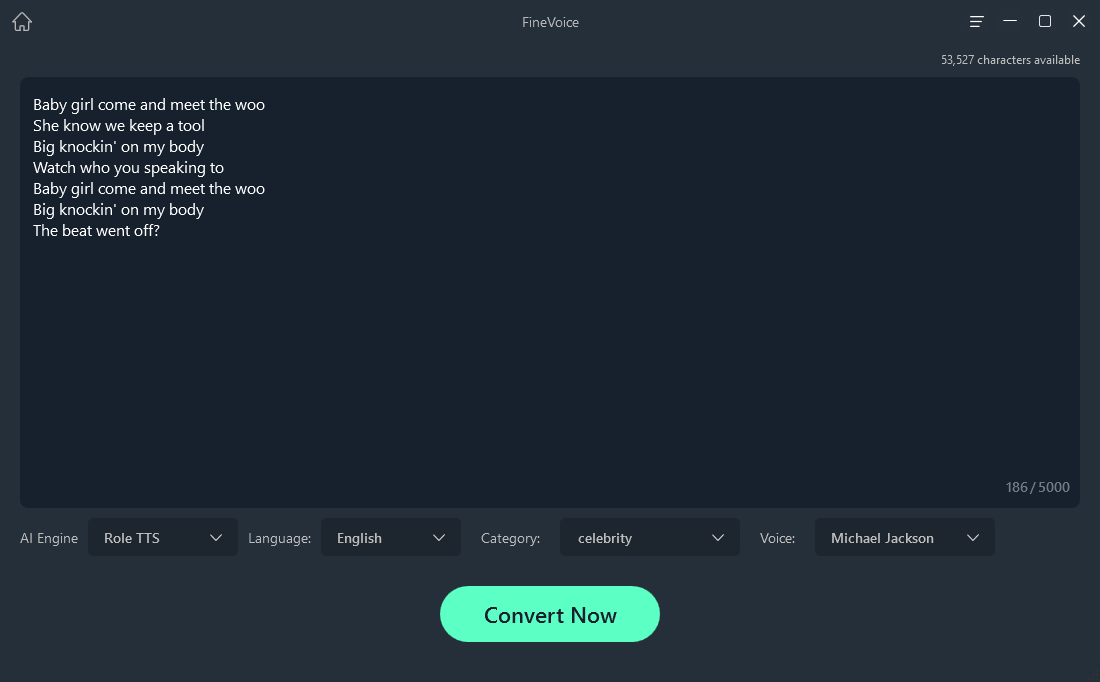 Pros:
220+ realistic voices in 40 languages and accents for voiceovers
Easy-to-use and intuitive user interface
30+ voice effects and 200+ sound effects for real-time gaming and streaming
Supports custom voice creation with 28 audio effects
Cons:
Only works on Windows PCs
Subscription required for premium features
#2. FakeYou
Unleash your imagination with FakeYou, an AI voice generator crafting high-quality synthetic voices from text or audio. A variety of options awaits, spanning celebrities, politicians, singers, and rappers. Craft custom voices by using your or someone else's voice sample. Simply pick a voice model, input text, or upload audio, and watch the magic unfold.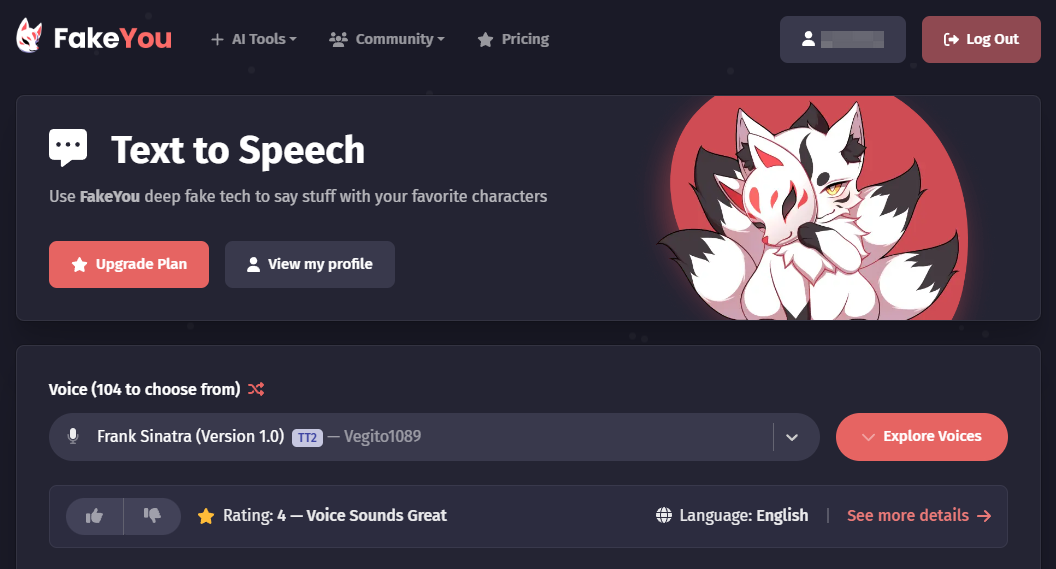 Pros:
More than 100 musicians' voices echo the original
Creates customized voices by uploading your voice models
Supports voice-to-voice audio and lip-sync video creation
Flexible multilingual and dialect support
Cons:
Limitations on the audio length and quality
No audio customization options
#3. PlayHT
Elevate your content with human-like voices through PlayHT, an AI voice generator designed for podcasts, audiobooks, videos, and blogs. With an array of over 800 voices spanning 142 languages and dialects such as Italian, Arabic, Australian, Spanish, etc, you're spoilt for choice. Enhance your voice with calculated pauses, emphasis, and intonation. Pick a voice, enter your text, and let the AI work its magic.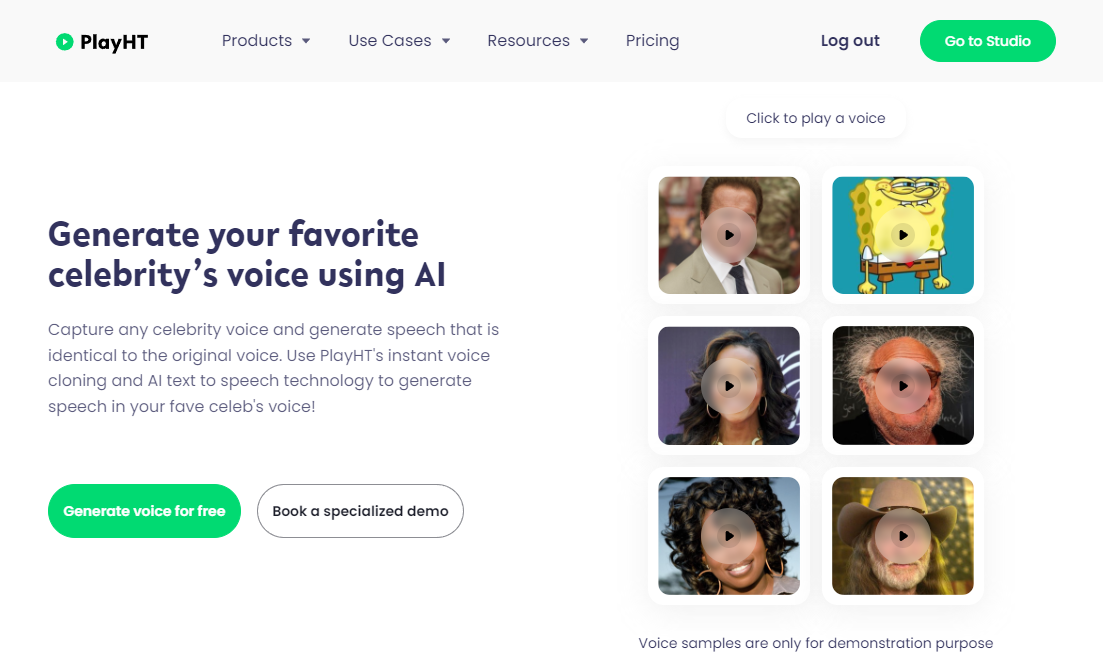 Pros:
Versatile voiceovers for videos, podcasts, gaming, and more
Emotional, expressive voices enhance engagement
Maintains native accent during translation
Customizable speaking styles
Cons:
Subscription fee required
Limited subtlety in speech nuances
Ethical concerns over voice use
May not replicate distinct voices
Why Pop Smoke's Voice Is Unique?
Pop Smoke's voice stands as a distinctive fusion of rare elements within the rap realm. His vocal signature boasts:
Profoundly deep and low-pitched tones, craft an intriguing contrast against the fast-paced beats he effortlessly rides. Infused with abundant bass and resonance, his voice commands an authoritative might.
A gritty, raspy texture, infusing a raw authenticity into his lyrics. With an inherent variance and modulation, his voice becomes an instrument of dynamic expression.
A melodic quality that enables both rapping and singing. His versatile vocals employ vibrato, falsetto, and harmonies, crafting unforgettable hooks. Diverse accents and languages, like Jamaican patois and French, enrich his songs with a distinct flair.
Conclusion
In this post, we have introduced you to six of the best AI tools to create Pop Smoke AI voice. We have also given you some background information about Pop Smoke the rapper, his voice, and his death.
We hope that you have found this post informative and helpful and that you have enjoyed learning more about Pop Smoke and his legacy. Whether you want to have some fun, make some music, or pay tribute to the late rapper, you can use some of the tools that we have recommended in this post.
FAQs
#1. How to get a voice like Pop Smoke?
The Pop Smoke AI voice tools we introduced in this post can give you a voice exactly like Pop Smoke. You can also make a Pop Smoke voice with AI voice cloning technology FineShare offers. Request any rapper voices you want on FineShare Singify.
#2. Where to find Pop Smoke AI Voice free?
You can find Pop Smoke AI voice free on the websites like FineShare Singify and FineShare Online Voice Changer. Take use of them and make Pop Smoke speak and sing what you like.
#3. How to make AI-generated rap voice?
An AI rap song generator like FineShare Singify offers your favorite AI-generated rap voices. You can create any rap song covers with Nicki Minaj, Juice WRLD, and Ice Spice's voice in 3 steps.